You're much closer to the sun when you're sitting at least a mile above sea level in the high-elevation state Colorado. And that means you'll need a spot to cool off.
Luckily, there are dozens of epic swimming holes in Colorado to beat the heat — or perhaps even immerse yourselves in it — hint: think hot springs. If you're within a two-hour drive from Denver, pretty much every spot will be busy. After all, Coloradans are known for their outdoor and active lifestyles. But if you're willing to drive a little further or hike in a little bit, you'll have some peaceful swims with views for days.
Not all of these swimming holes in Colorado are for the faint of heart — why must they call so many swimming holes "Devil's Punchbowl"? Why!? Some even require a bit of a hike, but they're al perfect adventures for a hot summer day. Check out the 10 best swimming holes in Colorado below.
Related read: 10 Best Hikes in Colorado for Getting Out into Nature
1. Brainard Lake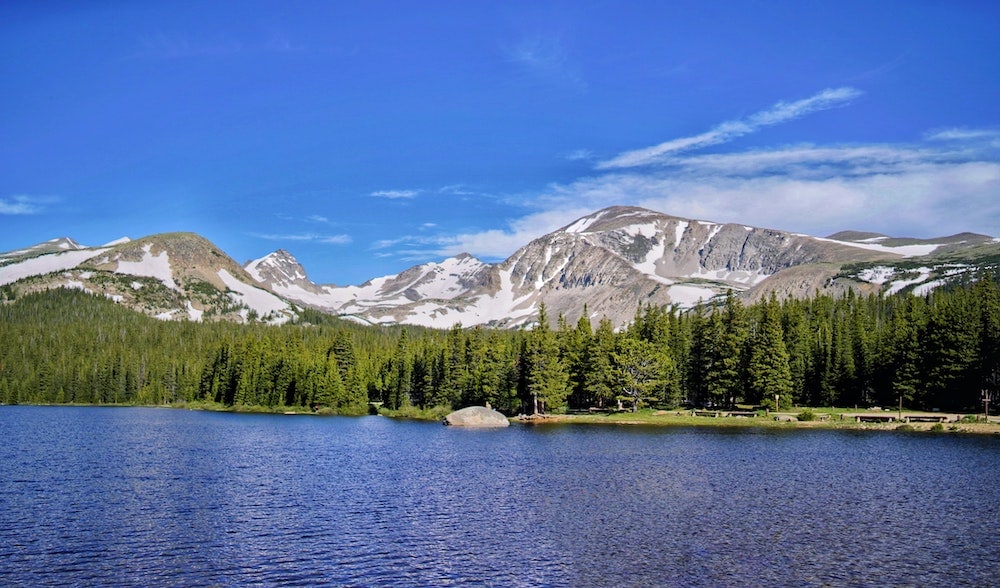 Nearest town: Ward
Hike to swimming hole: Near parking
Due to its close proximity to the Front Range (a.k.a. Denver and Boulder), Brainard Lake Recreation Area gets very busy especially on the weekends. Some of the most beautiful alpine lakes (Lake Isabelle and Mitchell Lake) are only a few miles hike from the parking lot. Brainard Lake, however, is only a few steps from where you park your car and is a perfect place for a family day at the lakeshore. During summer 2021, you'll need to make a reservation in advance.
There might be a bit of a wait on the weekends to get past the ranger station since it closes when the parking lots fill. There's a fee to park past the ranger station or you can use your America the Beautiful pass. If you don't want to pay the fee, you can park in the lot (called the Gateway Trailhead) just before the ranger station and walk the two miles to Brainard Lake.
Related Read: 12 Best Places to Visit in Colorado for Unforgettable Adventures
2. Paradise Cove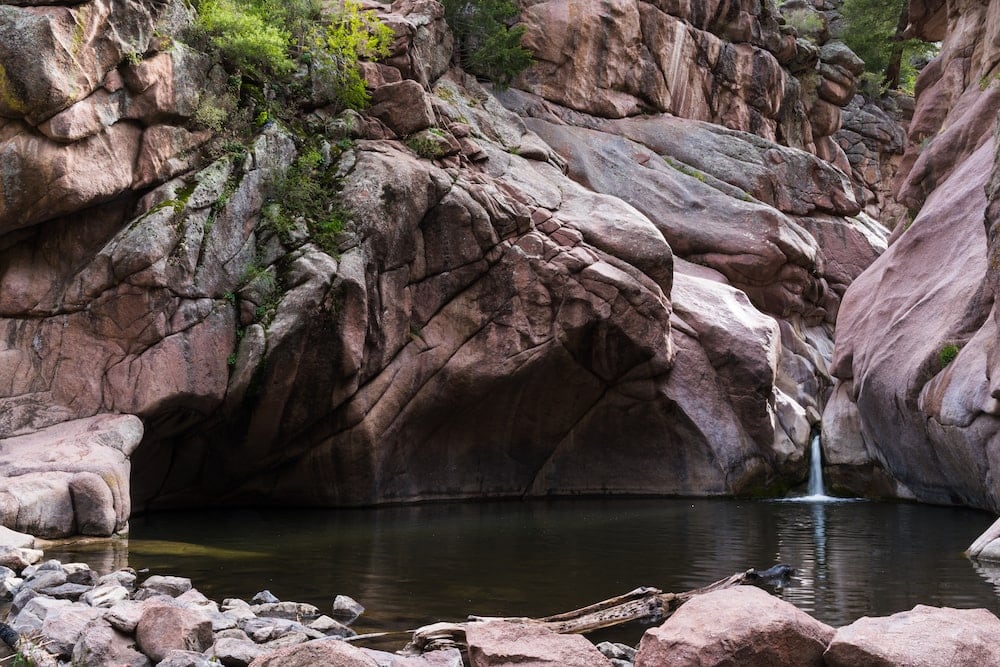 Nearest town: Cripple Creek
Hike to swimming hole: .5 miles one way
After romping around Manitou Springs or hiking up Pikes Peak (which tops out at more than 14,000 feet above sea level), take a dip in Paradise Cove (also known as Guffey Gorge). It's near Cripple Creek and only a short .5-mile one-way hike. It has one of the most picturesque backdrops of curved sandstone and a small waterfall. If you've got a daredevil spirit, there are several different cliff faces to serve as your jumping pad
Divers beware, though: you do this at your own risk since no one is there to save you if something should go wrong. The pool itself is quite deep, but you should always swim in the pool prior to jumping into to make sure there's nothing underwater that may obstruct your dive.
Related Read: 12 Best Cabin Rentals Near Colorado Springs, Colorado
3. Medano Creek
Nearest town: Mosca
Hike to swimming hole: Near parking
One of the coolest things to see in Colorado is the phenomenon of the "surge flow" of Medano Creek at Great Sand Dunes National Park and Preserve. The surge flow can only be seen in a few places on Earth as three elements are needed to produce it: a steep gradient, a smooth creek bed, and sufficient water.
These three combined allow a stream to have enough velocity to create surges. These surges act like rhythmic waves (although there is no tide here). Basically, as water flows across the sand, it creates small dams on the creek bed where water starts to pool. When the water pressure gets high enough, the dams break and release a flow of water downstream.
This means Medano Creek is one of the best swimming holes in Colorado for tubing and wading. You won't have to worry about your bum getting scuffed or scraped from jagged rocks since it's all sand on the bottom. Make sand castles to your heart's content or simply climb the sand dunes and surf down them. This is an experience like no other.
Related Read: Traveler's Guide to the Best Colorado National Parks
4. Missouri Lakes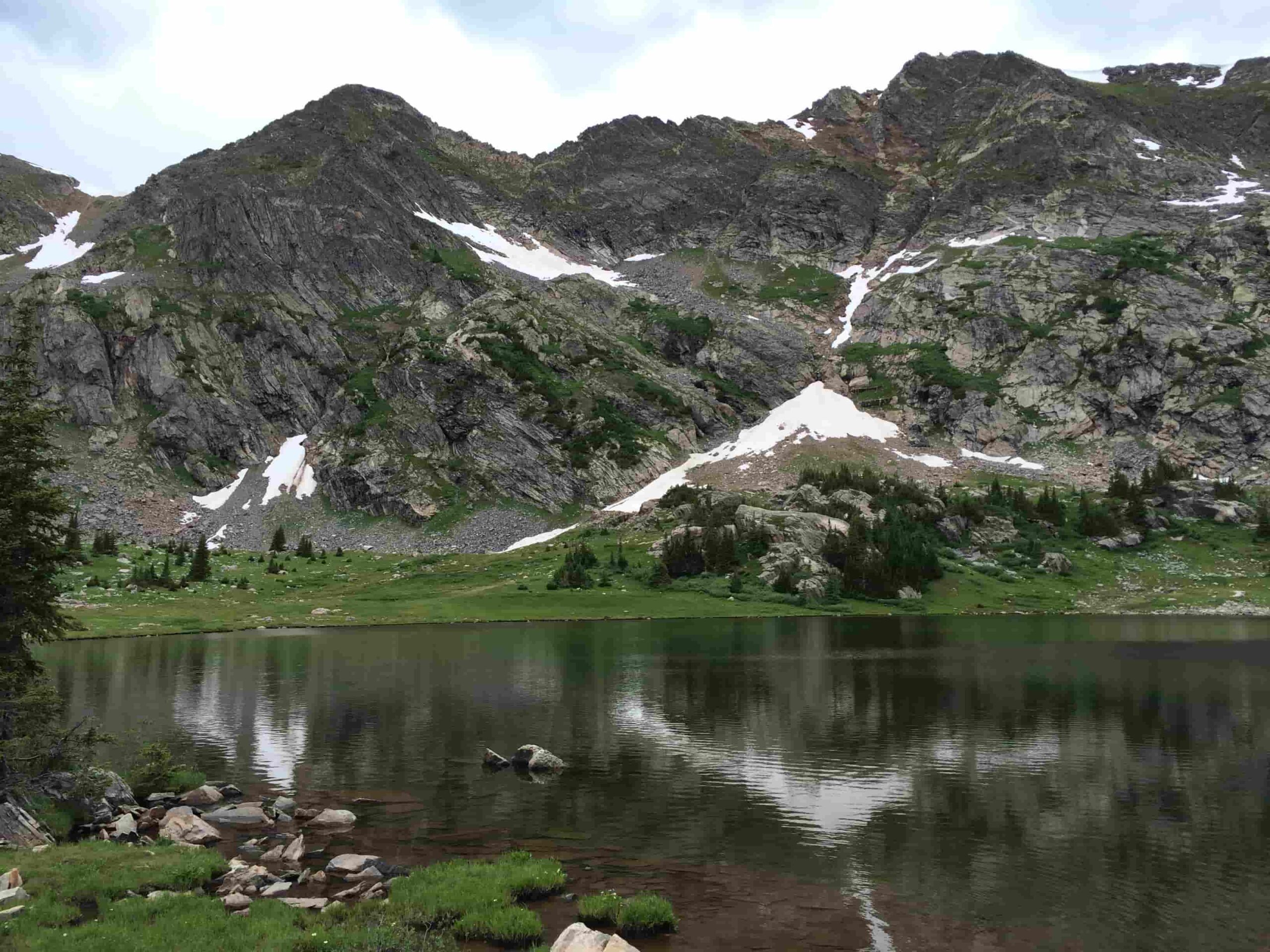 Nearest town: Leadville
Hike to swimming hole: 3.5 miles one way
A lesser-known swimming hole in Colorado, Missouri Lakes is for those who want to get off-the-beaten path and away from people. It's a steep hike to the lakes and at seven miles roundtrip, you won't want to bring too much with you.
There's a popular swimming hole about a half-mile from the start of the trailhead, but for the best spot, head to the lakes that lie further ahead. Just before the treeline, the trail levels out in a lush meadow covered in wildflowers — it's gorgeous come July. The main lake will be on your right as you head up the trail, although you'll pass several other smaller lakes prior. There are plenty of spots to set up camp for the day and boulders to jump from. But be careful: the water can be as cold as 45 degrees, which can quickly put your body into shock.
Related Read: 11 Easiest 14ers in Colorado for Newbies to the High Peaks
5. Big Dominguez Canyon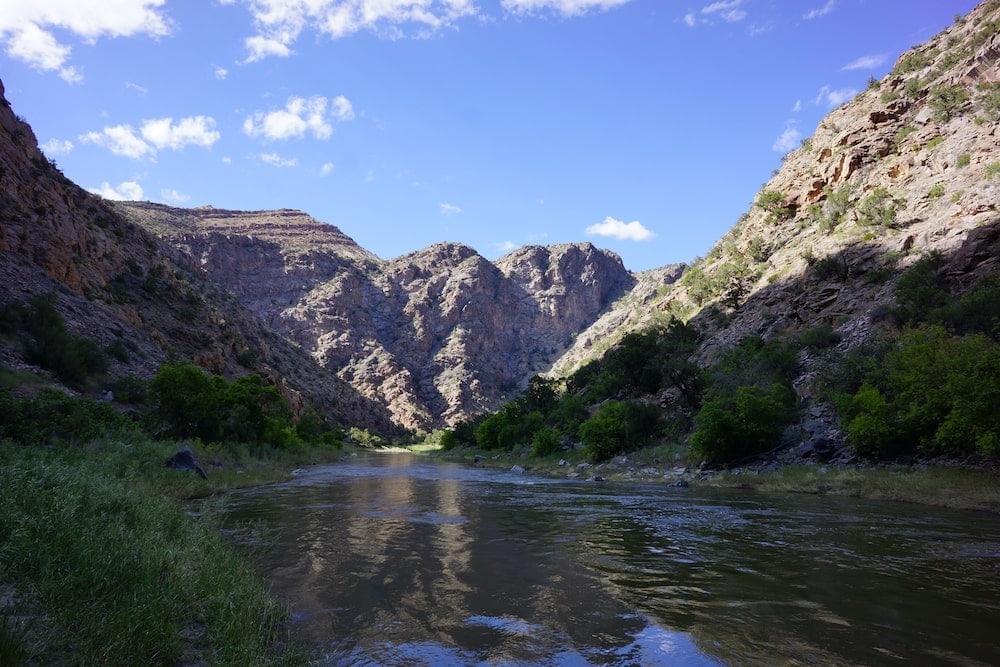 Nearest town: Whitewater
Hike to swimming hole: 1.7 one-way to reach the furthest spot
If you find yourself in need of a western swimming hole in Colorado near Grand Junction, look no further than Big Dominguez Canyon. It's a conservation area with dramatic sandstone cliffs, petroglyphs, and incredible hikes. The watering holes along the Gunnison River, reached via an easy hike from the Bridgeport Trailhead, are calm and easily accessible.
It's also one of the few areas in the state that actually has warmer water. Most lakes, creeks, and rivers in Colorado are fed from winter runoff and move too fast or are too deep to get very warm.
But there are also certain areas along the Gunnison River that are too dangerous to swim in, especially during high springtime runoff. There is one particular area, ominously called the "Death Hole," that you should never access during those times. The name says it all. Take heed.
Related Read: The 10 Best Hikes Near Grand Junction, Colorado
6. Black Hole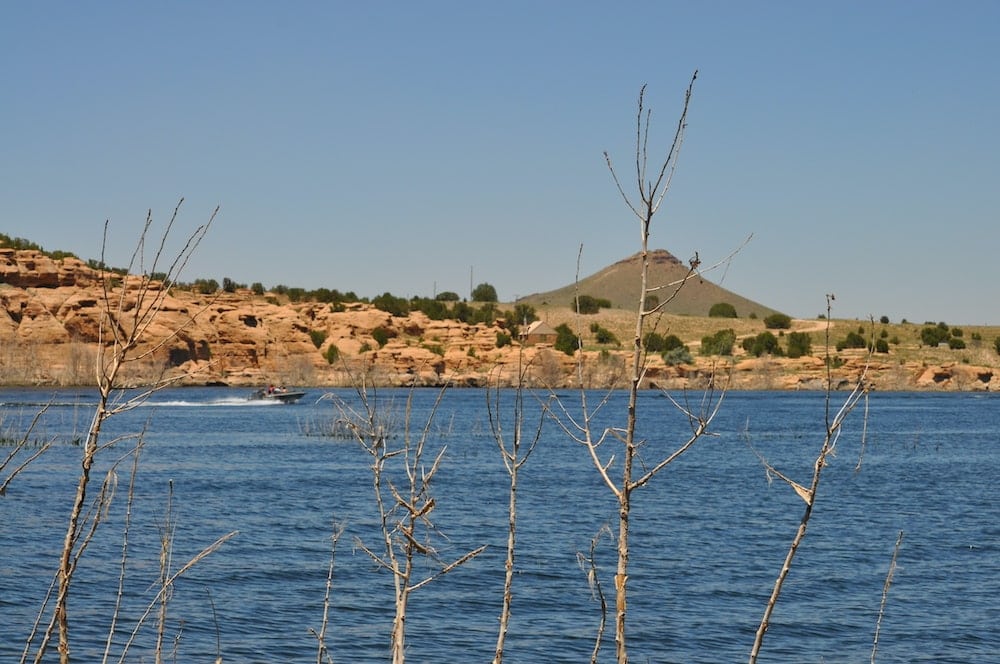 Nearest town: Trinidad
Hike to swimming hole: Near parking
The Black Hole located in the Two Buttes Reservoir just east of Trinidad is a local's favorite Colorado swimming hole, and it shows. Show up on any weekend and you'll see mostly Colorado license plates lining the parking lots. The reservoir is great for fishermen who want to try their luck at catching largemouth bass or bluegill. Those seeking a bit more adventure can head to the swimming hole to get your adrenaline pumping.
Cliff diving is allowed in the area, but as with the rest of the swimming holes on this list, tread carefully. That one flip that you try to do to impress your new girlfriend might not go as planned if you don't check the depth and temperature before jumping in.
Related Read: 11 Best Places to Camp Near Lakes in Colorado
7. Jackson Lake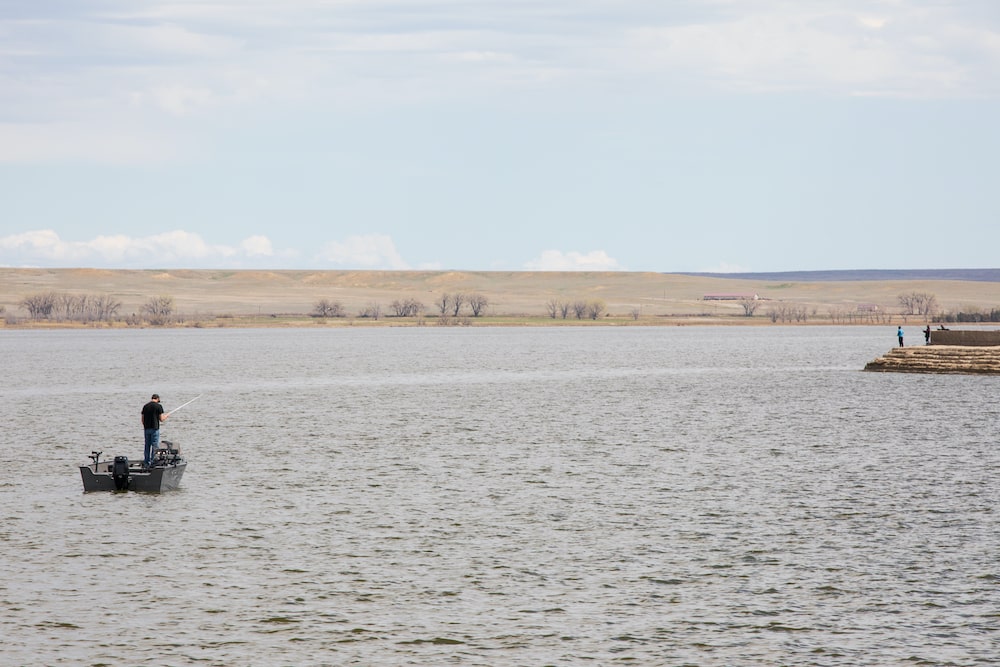 Nearest town: Orchard
Hike to swimming hole: Near parking
If you head to the northeastern part of the state, you'll experience some of the largest sky and widest vistas in the country. You'll also find some incredible oases for both humans and wildlife alike. Jackson Lake State Park attracts visitors from all over the state with its sandy beaches and gorgeous campsites. Who would've thought that a landlocked state could have sandy beaches that rival some of those on the coast?
There are no official swimming area here and no lifeguards on duty, so you can do as you please. You obviously can't swim around the boat launches, and you should stay out of the wake zones (marked with buoys), but otherwise, you do you.
The area is also a well-known birding haven. Whooping cranes make an annual visit while you can see ferruginous hawks and rough-legged hawks throughout the winter. Songbirds are prevalent in the spring and summer months, so expect to hear some larks and birdsongs as you laze the day away.
Related Read: 7 Gorgeous Winter Camping Spots in Colorado
8. Blue Mesa Reservoir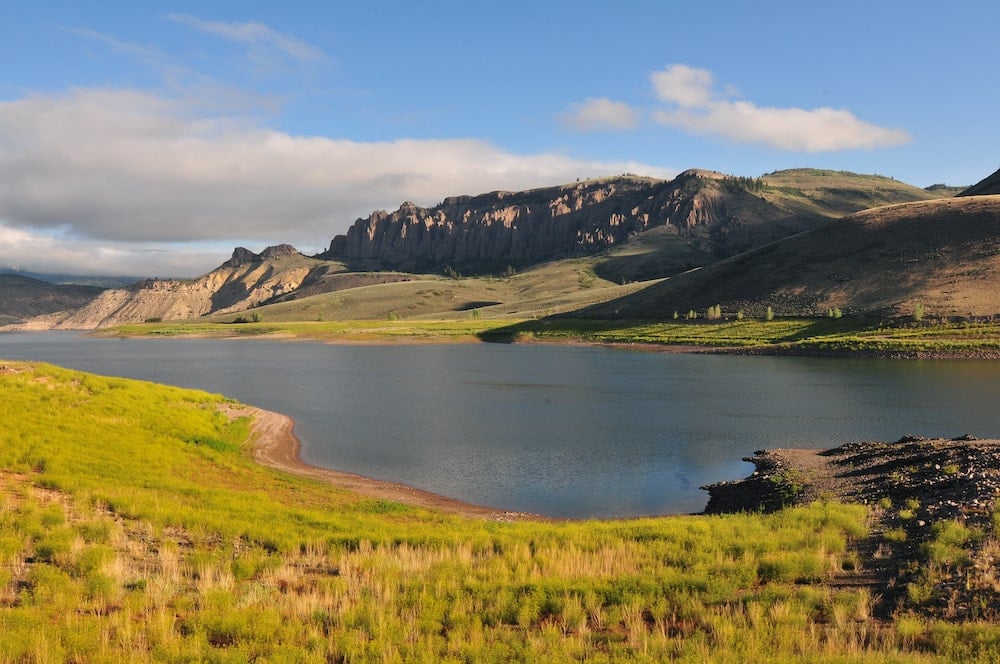 Nearest town: Gunnison
Hike to swimming hole: Near parking
The Blue Mesa Reservoir prides itself as the largest body of water in Colorado. It's reminiscent of the more-famous Lake Powell, with inlets along the canyon's edge. At 20 miles long, the reservoir attracts boaters from across the state. Swimmers, however, should check out Windsurf Beach (1.2 miles west of Elk Creek), Dry Creek, or the Old Highway 50 beach. These spots are considered "no wake" areas for motorboat traffic so you won't get blasted by waves every 15 seconds.
Fun fact: You can try scuba diving while you're here. There are submerged remnants of towns, including an entire road and some bridges. Holler at Flatirons Scuba, though most area shops will run dive trips to the lake.
Related Read: The 10 Best Dog-Friendly Colorado Cabin Rentals
9. Devil's Punchbowl (the Aspen one)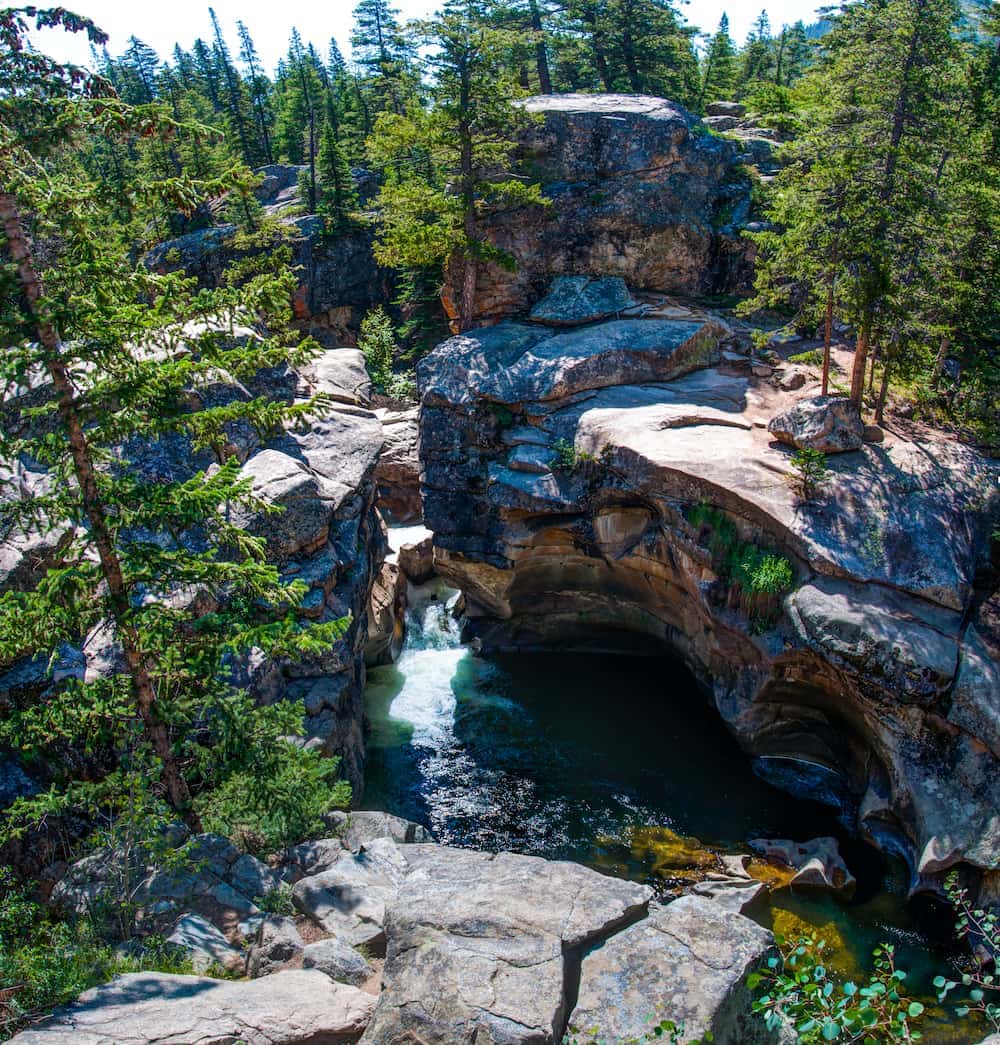 Nearest town: Aspen
Hike to swimming hole: 1 mile
There are actually two swimming holes in Colorado named Devil's Punchbowl. One is located near Marble (which is a fun, albeit dusty, hike) while the other one is near Aspen. It's near The Grottos along Independence Pass, which is a breathtaking scenic drive in and of itself. Local tip: check out the Grottos in the winter to experience the majestic ice caves.
Back to swimming, though: Devil's Punchbowl is not for the faint of heart. A series of waterfalls surrounded by 20-foot cliffs cascade down into a crystal-clear pool. The water is freezing, so be prepared with dry clothes to prevent hypothermia (yes, even in the summer.) Park at the end of Schofield Pass Road, though adventurous types with off-road vehicles can drive almost directly to the punchbowl.
Related Read: 7 Cabin Rentals in Aspen, Colorado for Every Budget
10. Pagosa Hot Springs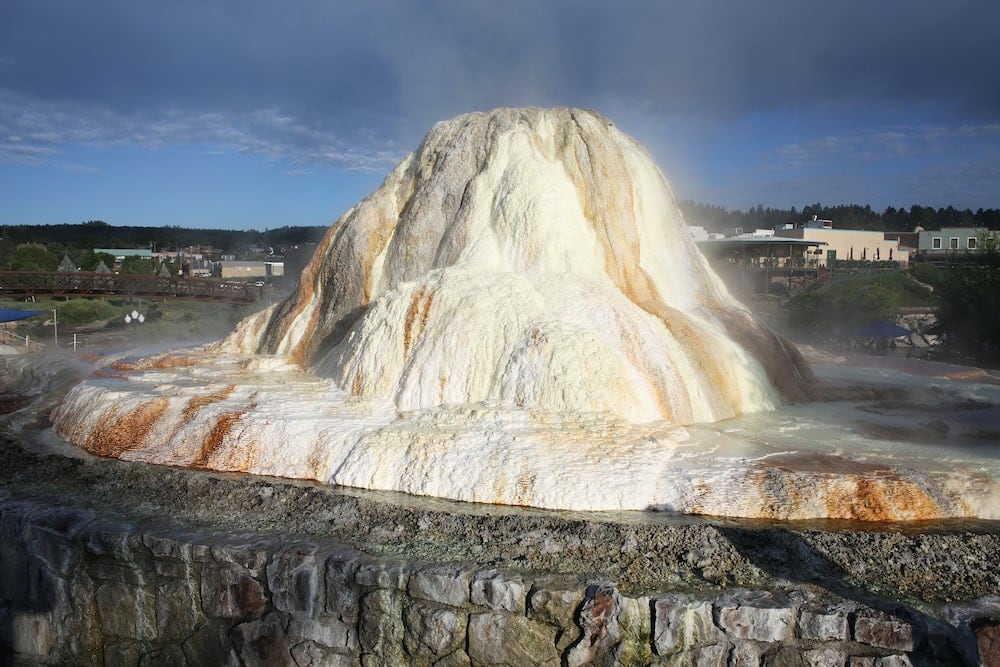 Nearest town: Pagosa Springs
Hike to swimming hole: Near parking
Tired of all the freezing water on offer in Colorado? For those needing some therapeutic, healing waters, head instead to a Colorado hot spring. Pagosa Hot Springs has the title of "deepest geothermal hot spring" in the world (at 1,002 feet deep.) You can only enjoy these hot springs by heading to the Pagosa Hot Springs Resort and Spa. It's well-worth the cost of a day pass (or stay the night, which includes access to soaking.)
There are 25 individual pools with a range of temperatures to suit everyone's desire. After bathing in the mineral-rich waters, your skin will feel rejuvenated and soft. For more rejuvenation, make sure to get a massage or other spa treatment and grab a bite to eat at the in-house restaurant.
Related read: 11 Cozy Pet-Friendly Cabins in Colorado
Explore More in Colorado
Get epic travel ideas delivered to your inbox with Weekend Wanderer, our newsletter inspiring more than 10,000 readers every week.
---