Ready to go sightseeing from behind the wheel? Add one of these scenic drives to your Mile High City vacation for a scenic tour of the greater Denver area.
Whether you've planned your trip to take advantage of the LoDo nightlife or you're using Colorado's capital city as a jumping-off point for other adventures, these six scenic drives offer up a little something more to see and do than if you just stick to the downtown Denver burbs.
From well-known scenic byways to a few lesser-known locals' loops, here are a few fun ways to turn a drive around Denver into a more memorable outing.
Related Read: 7 Scenic Weekend Road Trips from Denver, Colorado
1. Lariat Loop National Scenic Byway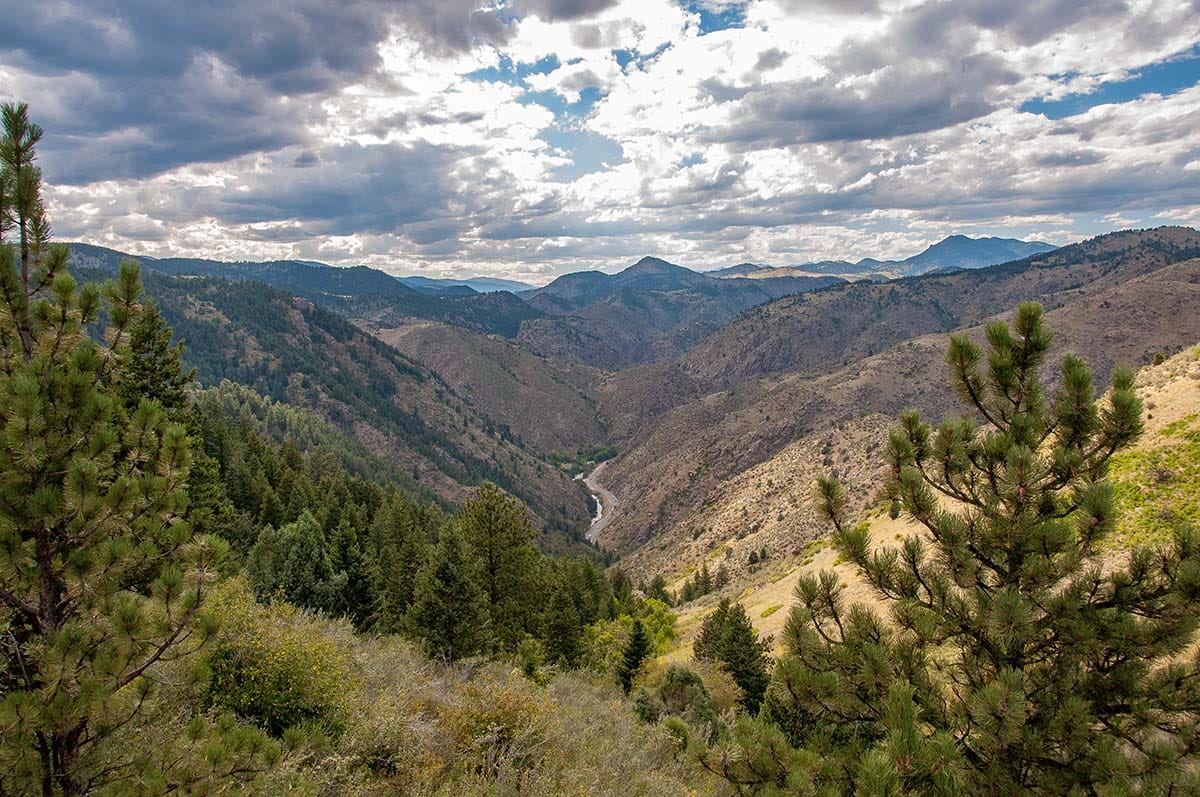 Why you should go: Get a taste of the old Wild West along this historic and scenic route.
Distance: +/- 40 miles
Drive time without stops: 2 hours
Escape into the Front Range foothills on the Lariat Loop. One of Colorados's 13 National Scenic Byways, the loop is packed with loads to see and do. Plan for a full day out if you want to take advantage of all the stops along this route which connects between the towns of Golden, Morrison, and Evergreen.
Along the way, you'll be treated to outstanding mountain and canyon views. For starters, you'll climb out of Golden on the five-mile Lariat Trail which switchbacks up Lookout Mountain. The steep road has some spectacular viewpoints along the way, but may not be your favorite part of the drive if you aren't fond of heights.
Once into the mountains, history buffs will love a stop off at Buffalo Bill's grave and the Hiwan Homestead Museum. And prehistoric adorers will delight in the dino fossils that can be seen at Dinosaur Ridge National Natural Landmark.
Customize your itinerary based on what you want to see — the route passes by dozens of open space parks, museums, and other heritage sites as well as art galleries, historic buildings, restaurants, and shops.
Related Read: Mile High Hiking: 15 Best Hikes Near Denver, Colorado
2. Mount Evans Scenic Byway
Why you should go: Claim your bragging rights for driving the highest paved road in North America. The views aren't too bad either.
Distance: +/- 120 miles
Drive time without stops: 4 hours
This drive might be thin on oxygen, but it won't be short on breathtaking views as Colorado's highest scenic byway takes you to the top of 14,265-foot Mount Evans. From the town of Idaho Springs (a great spot for a brew and a bite pre- or post-summit), the road climbs through ponderosa and aspen forests toward Echo Lake.
Once past the lake, the pavement winds through increasingly sparse vegetation until you pop out above treeline. From here it's sweeping vistas, alpine lakes, and massive skies all the way to the peak where you can take in the views from the Mount Evans Crest House. Keep your eyes peeled for wildlife like mountain goats, bighorn sheep, and the always entertaining marmots.
Be aware that I-70 can get quite congested. Avoid peak weekend traffic, and you can enjoy this stretch of the drive as well. Time your outing poorly, and, well, you'll get to see the I-70 scenery (which is still pretty) at a much slower speed. In the winter, the Mount Evans summit road closes due to weather, though depending on conditions (and your comfort driving in the snow) you may still be able to drive the lower portion of the road around to Bergen Park.
Related Read: 12 Best Places to Visit in Colorado for Unforgettable Adventures
3. Rocky Mountain Arsenal Wildlife Drive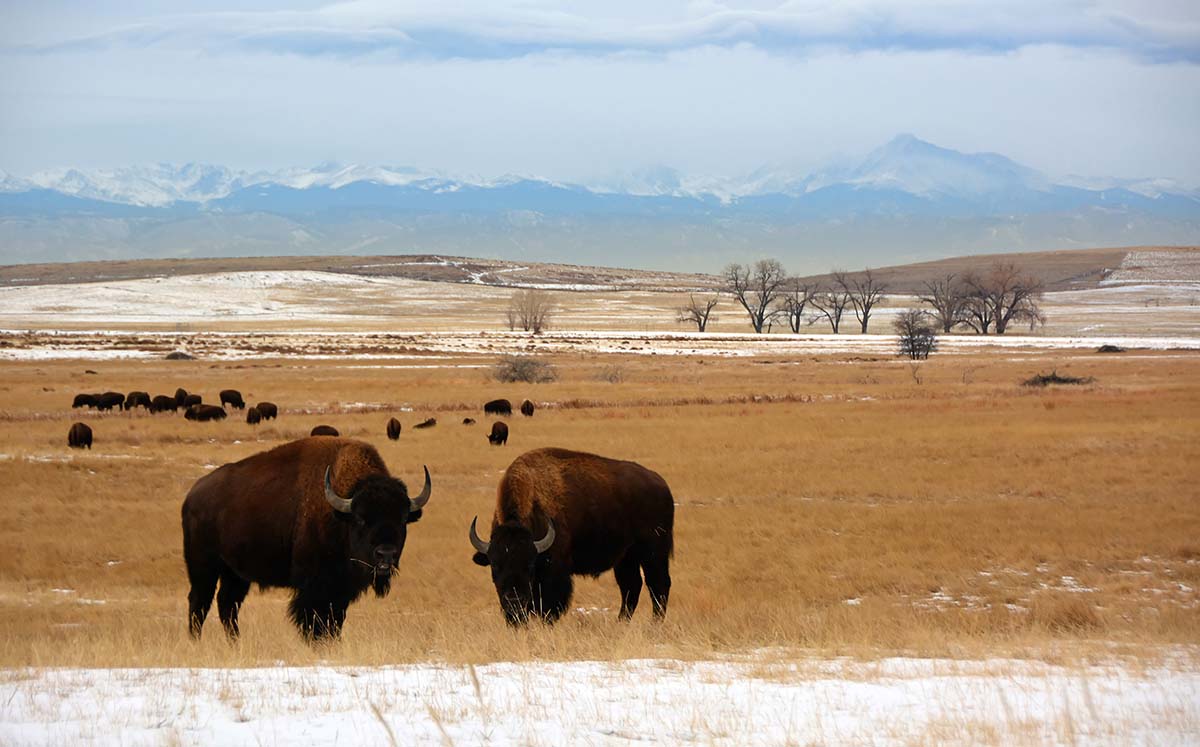 Why you should go: Experience a Colorado-style wildlife safari not far from downtown.
Distance: +/- 11 miles
Drive time without stops: 30 minutes
This 15,000-acre wildlife refuge is home to a huge variety of wildlife—over 330 species—that love this prairie, wetland, and woodland habitat. The 11-mile self-guided driving tour will get you up close and personal with the locals. You can download and follow along with the free audio tour if you'd like to learn more about the refuge and its wildlife.
A favorite spot of local birders, you may spot hawks, eagles, migrating songbirds, and wintering ducks and geese depending on the season. Be sure to bring your camera so you can snap a shot of the refuge's resident herd of bison with the Denver skyline in the background. Depending on the day you might spot deer or coyotes as well.
If, after your scenic drive, you find you want to stretch your legs or see more of the refuge, you have over 20-miles of trails to choose from for an easy stroll or strenuous hike. Be sure to swing by the Visitor Center and Ferrett House — yup, you read that correctly. The refuge is home to a population of North America's most endangered mammal, the black-footed ferret, and several ferrets live in "retirement" at this unique exhibit.
Related Read: 9 Natural Hot Springs in Colorado for Soaking Away Your Troubles
4. Littleton Crabapple Route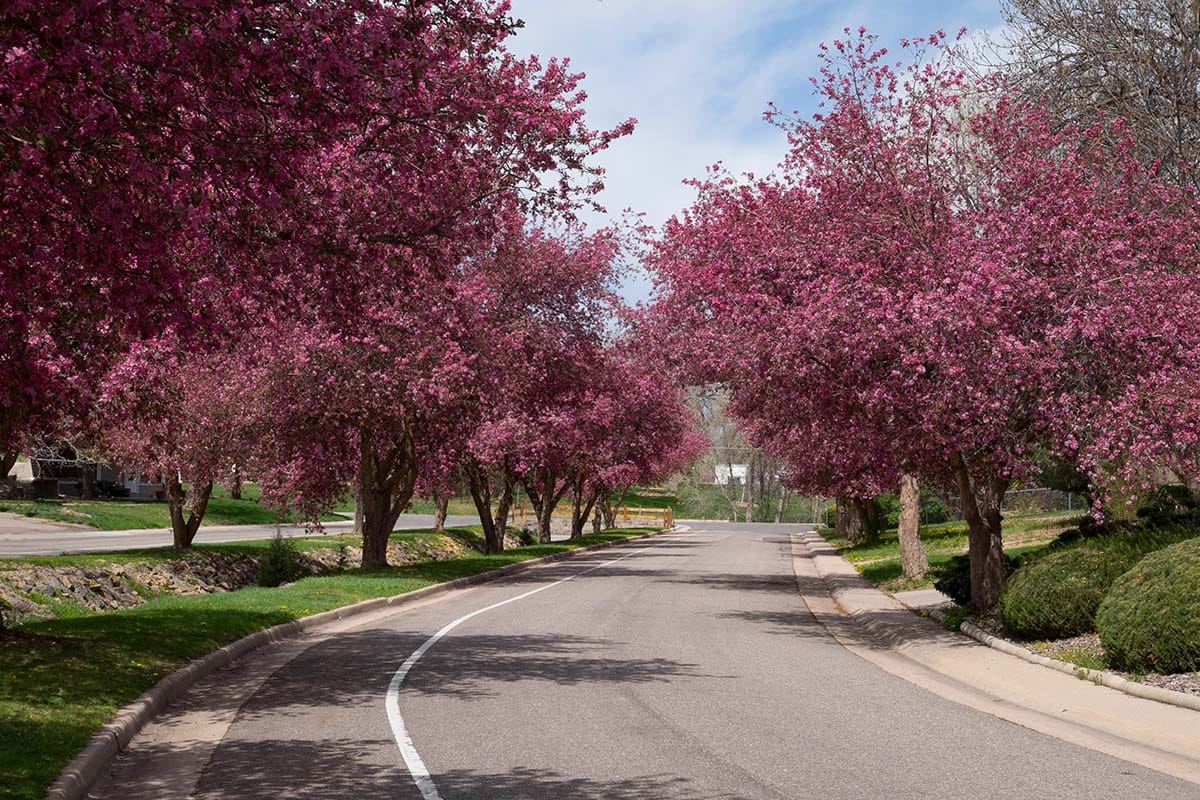 Why you should go: A short, family-friendly drive for a dazzling springtime display.
Distance: +/- 7 miles
Drive time without stops: 20 minutes
If you (or the kids) aren't stoked to spend all day in the car, this short, sweet loop is a fun way to explore the Littleton area on the outskirts of Denver. Best enjoyed in the spring (April to May) when the route's namesake crabapples are in bloom, this delightful drive is a fun way to see the suburbs in full bloom.
More than 7,000 crabapple trees now grow in the Littleton community, and you'll get to enjoy a good sampling of these showy trees along this drive. Be sure to roll down the windows and enjoy the fragrant breeze as well as the pretty pink blooms.
Pack a picnic lunch to enjoy at scenic Sterne Park at the end of your drive. And if you can't get enough floral fabulousness, a walk through the War Memorial Rose Garden will treat you to the sights (and smells) of over 1,800 roses of all different varieties.
Cap your scenic drive off with a stop in historic downtown Littleton. The picturesque Main Street boasts over 250 independent shops and restaurants. You have your pick of boutiques and breweries along with plenty of other treats (like ice cream) should you have the kids in tow. Be sure to follow the official map as we weren't able to reproduce the route 100% correctly in the Google map provided below.
Related Read: 8 Small Towns in Colorado for Outdoor Enthusiasts
5. Guanella Pass Loop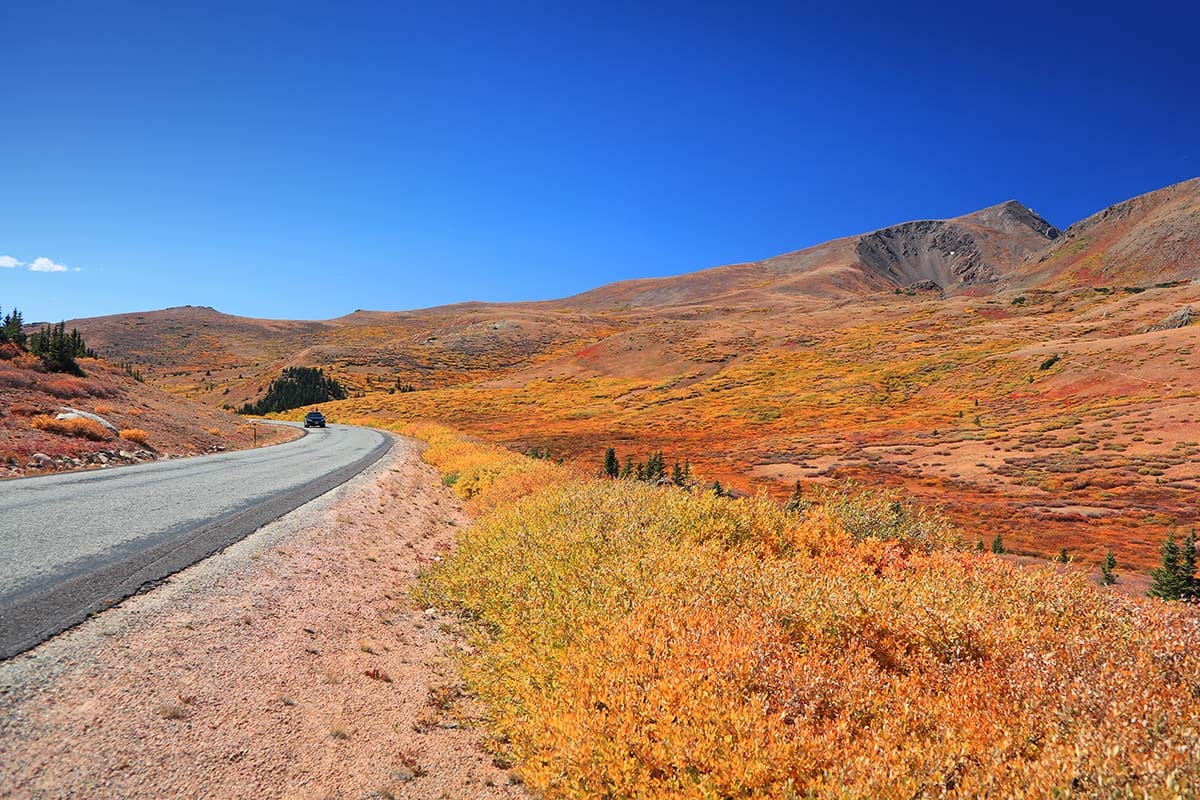 Why you should go: A delightful sampling of Rocky Mountain ecosystems from pine forests to high alpine tundras.
Distance: +/- 130 miles
Drive time without stops: 3 hours
If you're looking for an all-day outing that will take you on a tour of the Colorado Front Range and into the heart of those snow-capped peaks you can see from Denver, this loop is a great way to get a sampling platter of the best of the Rocky Mountains.
From Denver, you can choose to head up either I-70 or Highway 285, both picturesque drives in their own way. Note that both routes can be slow-going on the weekends. This scenic drive is best saved for a weekday or off-hours to avoid the worst of the traffic.
The real showstopper is when you turn on the Guanella Pass Scenic Byway. This paved road climbs through aspen and pine forests up above treeline to a high-alpine expanse. In the summer, the alpine tundra is covered in wildflowers.
From the top of the pass, which peaks at an oxygen-thin 11,669-feet, you'll enjoy spectacular views of Mount Evans and Mount Bierstadt. And don't miss a stop off at historic Georgetown on the north side of the pass — this former mining town has lots to occupy an afternoon from shopping and historic sites to restaurants, breweries, and train tours.
Related Read: 9 Glorious Places to See Colorado's Fall Colors
6. Deer Creek to South Turkey Creek Loop
Why you should go: Get off the beaten path on winding mountain backroads.
Distance: +/- 45 miles
Drive time without stops: 90 minutes
If your ideal scenic drive involves getting off the main drag, this lesser-known loop will take you on winding, two-lane canyon carvers that will allow you to slow down and soak up the scenery. Both Deer Creek Canyon and South Turkey Creek Canyon wind through foothills scenery that is interspersed with scrub oak, aspens, and red rock formations that are beautiful any time of year (though maybe skip this drive if there's been a recent snowstorm).
From C-470, you can access this loop either near Morrison (a great spot for grabbing a bite and catching a concert at Red Rocks Amphitheatre) or from Chatfield State Park (a prime spot for hiking or paddling if you're looking for some outdoor recreation), one of the best state parks near Denver.
And once you leave behind the drone of the highway, you'll be immersed in the solitude and scenery of these twisting canyon roads. The loop climbs up to Conifer and, after a brief jaunt on Highway 285, quickly reverts to its backroad's vibe. Though there aren't any sweeping mountain-top vistas, the forested roads have their own kind of appeal.
Along the way, you'll find plenty of opportunities to put in some miles or have a picnic with a stop-off at a local park or open space. And if quirky shops and hole-in-the-wall eateries are your style, you'll love the eclectic mix found in the small mountain towns along the route. Tiny Town along South Turkey Creek is one such delightfully oddball attraction you won't want to miss.
Related Read: 7 Beautiful Hikes Near Red Rocks Amphitheatre, Colorado
Discover More Colorado Adventures
Get epic travel ideas delivered to your inbox with Weekend Wanderer, our newsletter inspiring more than 10,000 readers every week.
Was this article helpful?
---