Dominated by towering groves of coastal redwood trees, Redwood National Park is a spectacular national treasure.
Redwood National Park is home to the tallest trees in the world. It has been estimated that over 95% of old-growth redwood trees have been destroyed by logging operations and other human activities. The groves in this park are among the last standing in the world, and they are protected from such destruction.
Thankfully, they're also open for all of us to explore and see. There are multiple redwood groves in the park with giants that stand taller than the Statue of Liberty. Some exceptionally tall redwoods, like the world-famous Hyperion, rise nearly 400 feet in height.
The trails that wind through these monumental trees provide opportunities for many different things to do in Redwood National Park. The redwood forest is but one of several different ecosystems to explore.
There are also upland prairies, fern-covered rainforest canyons, and sandy shorelines to see. The redwoods are certainly the star of the show, but there is so much more to uncover than for those with a keen eye and a lust for adventure.
These trails lead to amazing places such as historic ranches that are open to exploration and coastal tidepools that are crawling with all sorts of crustaceans and other sea critters. Read on to see what else you can discover.
Related Read: 14 Life-Changing Hikes on Hawaii's Big Island
1. Lady Bird Johnson Grove Nature Trail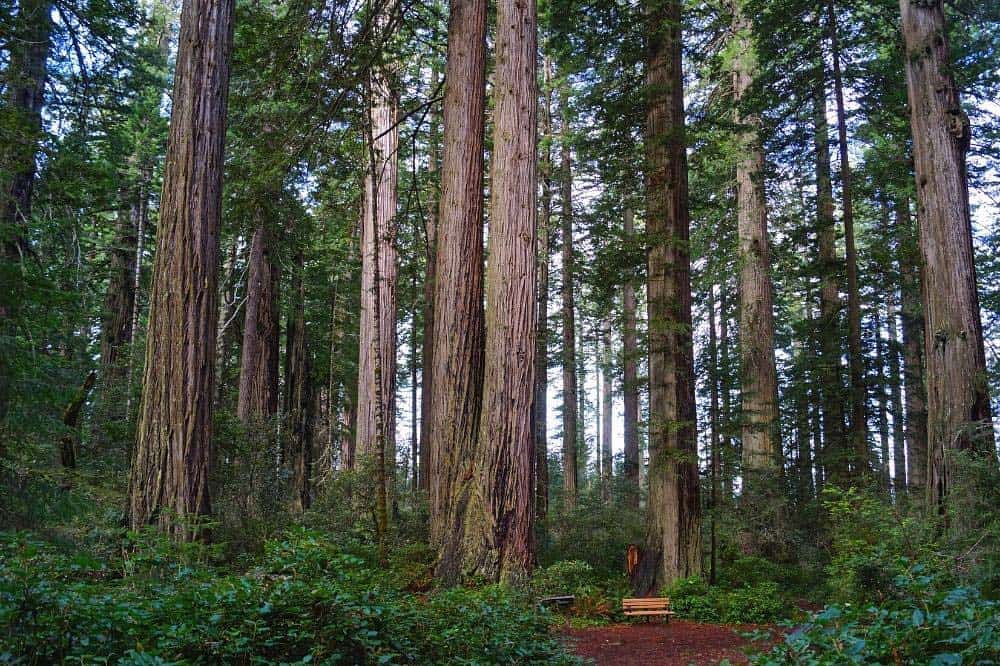 Why you should go: It's a veritable highlight reel of the park's history and spectacles.
Difficulty: Easy
Distance: 1.4 miles
Elevation gain: 88 feet
The Lady Bird Johnson Grove Nature Trail should be the first stopping point on your tour of Redwoods National Park. This well-maintained path has brochures at the trailhead and is decorated with interpretive signage that takes visitors through the park's history.
Some of the tallest trees in the park are found in this grove. The trail has been built around the dedication site of the national park in memory of First Lady Claudia Alta "Lady Bird" Johnson who worked to create and protect natural habitats throughout her career.
Near this trail, though kept somewhat hidden, stands Hyperion, the world's tallest tree. Can you spot it?
The trail is partially paved, though not entirely ADA accessible. No trail in the Redwoods National Park is fully ADA accessible. If you require ADA accessible trails, you'll find better routes in nearby Jedidiah Smith Redwoods State Park or Prairie Creek Redwoods State Park.
Related Read: 11 Sweet Camping Spots Near Fort Bragg, California
2. Lyons Ranch Trail
Why you should go: An easy-to-access walk through historic ranchland prairie.
Difficulty: Easy
Distance: 3.6 miles
Elevation gain: 463 feet
The entire Lyons Ranch Trail takes place on an old dirt road that crosses over grassy hillsides, offering up a stark contrast to the damp and claustrophobic depths of the redwood forests. This hike is a breath of fresh air set among wide open spaces.
Though the beauty of the prairie is astounding, the history is even more captivating. During your walk, you'll come upon an old barn and some bunkhouses built by the Lyons family who took possession of the land, settled the area, and turned it into a thriving ranch. The 19th-century farm and the family cemetery can be explored by hikers.
Prior to the white settlers, native Yurok, Hupa, and Chilula tribes lived off of these lands for millennia. They shaped the land, setting fires that burned down the oak forest and grasslands to promote the growth of food-bearing plants.
3. Carruthers Cove Trail
Why you should go: A berry-lined beach access trail frequented by wildlife.
Difficulty: Moderate
Distance: 1.6 miles
Elevation gain: 543 feet
A short but rather steep descent down to the beach, the Carruthers Cove Trail may seem like a walk in the park during the initial descent, but it can be quite a strenuous climb for some during the return trip. Either way, be sure to peel your eyes away from the views on occasion to pay attention to your footing.
It'll be difficult to not let your eyes wander, however. You'll be following an old skid road down to the beach that is lined with blackberries and huckleberries. Elk, deer, and a wide range of seabirds are frequently seen along the trail, especially when the berries are in season during the later summer months.
The beach provides solitude for those who make the journey. It is bookended by large rocks at either end, forming a semi-protected cove. The sandy shoreline and roaring ocean waves can occupy the mind and spirit for hours on end, at least when the weather is cooperating.
Related Read: 9 Stunning Hikes Near Malibu, California
4. Coastal Trail: Lagoon Creek Segment
Why you should go: Multiple beach and road access points as well as several outstanding viewpoints.
Difficulty: Moderate
Distance: 5.1 miles
Elevation gain: 1187 feet
The entire length of the Lagoon Creek Segment of the California Coastal Trail is a feast for the eyes. Though footing can be a bit tricky in places, it is relatively flat, and there are multiple access points that will enable you to hike at any length you wish. It can also be combined with other segments of the Coastal Trail for an extended journey.
But the Lagoon Creek Segment is special because it extends to the mouth of the Klamath River, passes by a lagoon that is teeming with wildlife, provides access to Hidden Beach, and is home to a viewpoint overlooking False Klamath Important Bird Area.
You could drive around and visit these locations individually, or you can opt to hike the entire route. The journey is yours! Coastal weather is rarely calm here at any time of year, however, so be prepared to wear a windbreaker or a rain jacket.
5. Damnation Creek Trail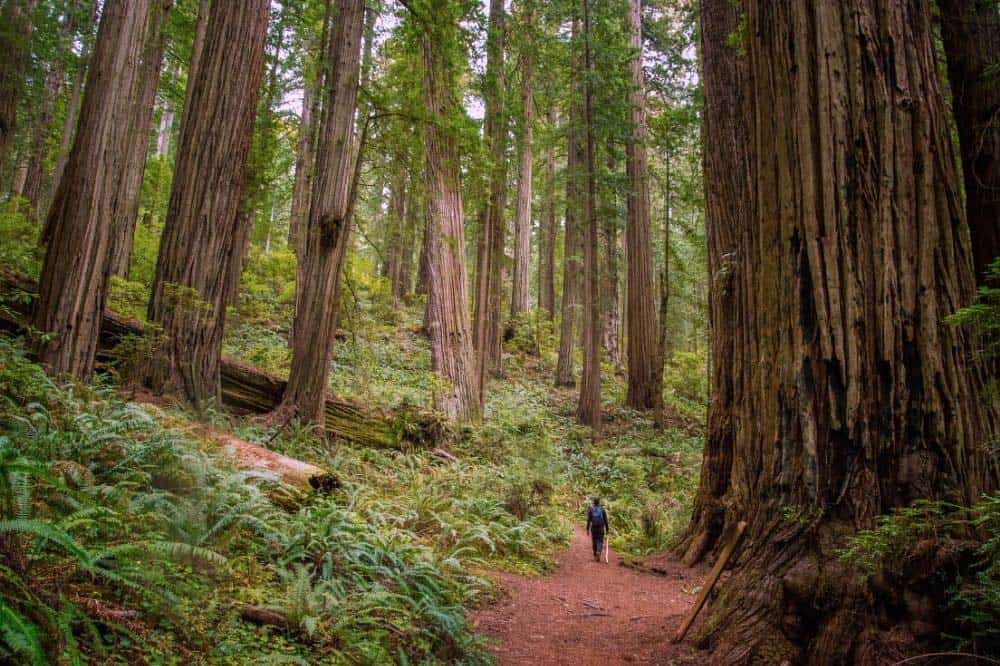 Why you should go: Experience the redwoods, rainforest, and beach all in one hike.
Difficulty: Moderate
Distance: 3.7 miles
Elevation gain: 1215 feet
The Damnation Creek Trail guides hikers through three amazing ecosystems that, together, make the Northern California coastline wholly unique in this world. You'll start off this trek with wide-open eyes staring straight up into the sky as you try to take in the unbelievable size of the coastal redwoods.
Then, the trail descends into a temperate coastal rainforest that is typical of the Pacific Northwest. Decomposing logs, vibrant moss, clinging lichen, and verdant foliage like fern and clover blanket the landscape. The air will be damp, and likely saturated with mist.
Finally, you'll reach a secluded beach. The forest gives way to shore grass which then fades into sand and rock at the mouth of Damnation Creek where there are tidepools and rock-clinging sea creatures to discover. Take your time at the beach because it's going to be a tough climb back up to the trailhead.
6. Redwood Creek Trail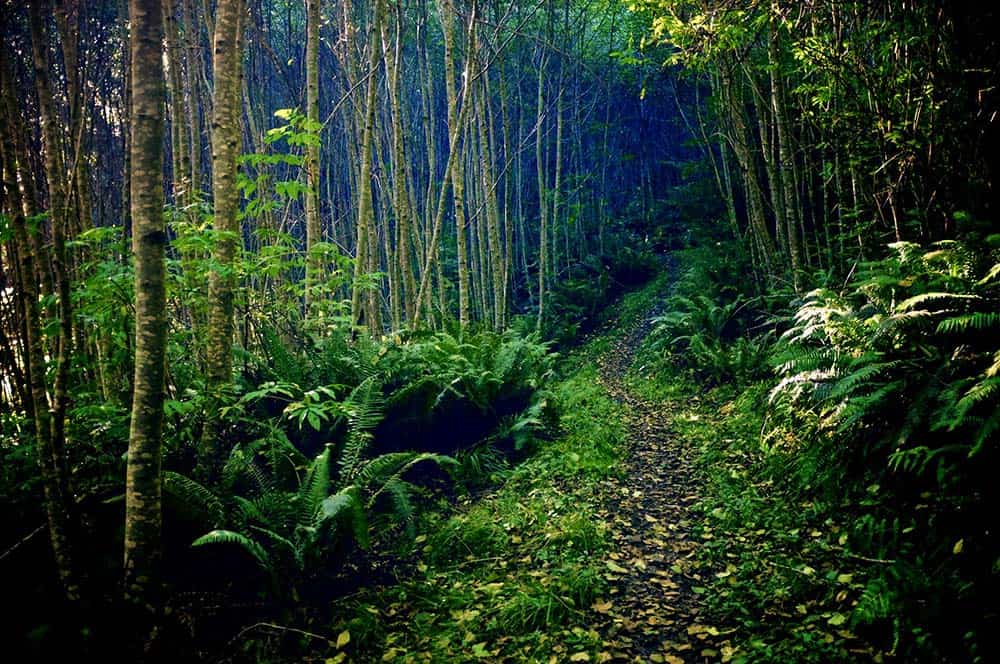 Why you should go: Dive deep into the heart of redwood country and camp along the creek.
Difficulty: Moderate
Distance: 16 miles
Elevation gain: 1198 feet
The Redwood Creek Trail follows the meandering creek and acts as a passageway between the Lady Bird Johnson Grove and the Tall Trees Grove of redwood behemoths. There are eight miles of trails between the groves, making it 16 total out-and-back.
Beginning near Lady Bird Johnson Grove, this early portion of the trail is paved and ADA accessible. Clusters of tall redwoods can be surveyed amid the open forest of alder, fir, and maple. Several camping areas are available along the gravel beds of the creek when water levels are low.
Though the trail doesn't officially close, the seasonal bridges that cross the creek are removed during the winter when the water rises. All gravel camping spots are flooded out during the wet winter months, and the creek could be dangerous to ford.
7. Tall Trees Grove Loop
Why you should go: More big trees where fewer people roam.
Difficulty: Moderate
Distance: 3.3 miles
Elevation gain: 748 feet
Tucked back into the deep recesses of Redwood National Park, the Tall Trees Grove Loop circles around some of the park's most colossal giants. Many of the trees here are over 300 feet tall where they stand in a magical, viridescent alluvial flat alongside Redwood Creek.
The trailhead for this hike is found down a windy dirt road that is not recommended for RV travel. This, in combination with the length of the hike, keeps away the bulk of the visitors. While other areas of the park also feature many towering trees, the tranquility in this grove makes it all the more special.
You'll also have access to the creek about midway through the journey. The wide gravel bar provides plenty of space to spread out and soak in some sun, making it a perfect spot for a mid-hike picnic.
8. Trillium Falls Loop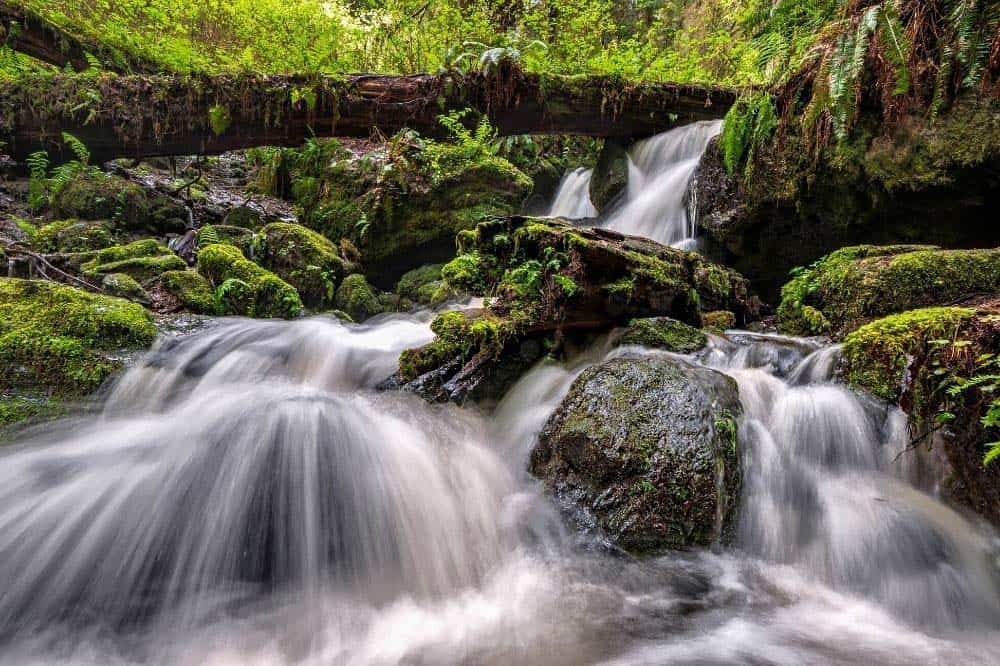 Why you should go: A charming waterfall underneath a canopy of redwood and maple trees.
Difficulty: Moderate
Distance: 2.7 miles
Elevation gain: 510 feet
The entire Trillium Falls Loop takes hikers past the waterfall on a tour of redwoods interspersed within a lush section of temperate rainforest. If you are only interested in Trillium Falls, however, this hike can be turned into an easy one-mile out-and-back trip.
Trillium Falls is a small waterfall, but quite charming. Its cascading waters tumble down river rocks that are covered with dripping wet ferns and moss-covered fallen trees. As its name implies, there are many vibrant trillium flowers dotting the landscape along the trail and around the waterfall.
Further in, this loop climbs above Berry Glenn on a meandering route through the woods. Many of the park's rangers consider this to be the best walk in Redwoods National Park, and local herds of Roosevelt elk frequent the area.
9. Dolason Prairie Trail
Why you should go: Upland redwood forest and prairie far off the beaten path.
Difficulty: Challenging
Distance: 9.2 miles
Elevation gain: 2236 feet
The Dolason Prarie Trail starts high above much of the redwood forest where upland prairie reigns supreme. A century-old barn and ranch mark the beginning of the hike, and from here can be seen expansive views of the redwood forests from above. The checkerboard pattern of redwood clear-cuts from decades past remains visible across the undulating landscape.
The trail then descends over 2000 feet toward the Redwood Creek Valley. Hikers will travel down from the prairie grasses and through forests of fir and maple with huckleberry-laden understory. Eventually, the trail will pass around smaller upland redwood trees that will gradually grow in size during the descent.
This trail intersects the Emerald Ridge Trail at its lower terminus which you can choose to follow down to Redwood Creek for a respite before your return journey. The uphill climb to the trailhead may be a bit of a slog, but the fact that you'll be working your way from the darkness of the redwoods back to the sunshine of the prairie is a nice incentive.
10. Redwoods Splendor Loop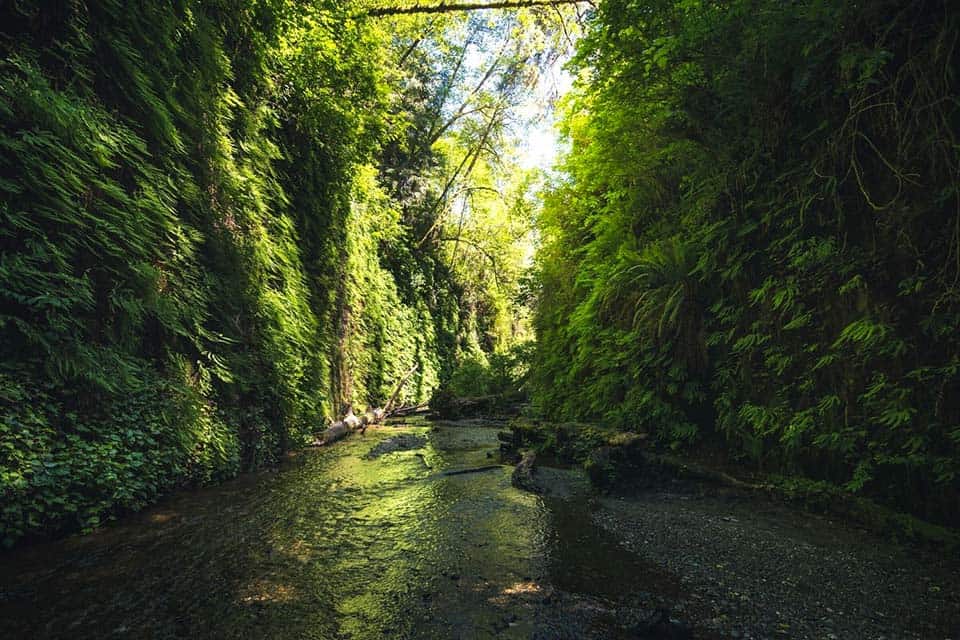 Why you should go: One trail to see all of the best that Redwood National Park has to offer.
Difficulty: Challenging
Distance: 16.9 miles
Elevation gain: 3718 feet
From gigantic redwoods to hidden waterfalls and ocean beaches, the Redwoods Splendor Loop has it all. This route also includes the mesmerizing wonder that is Fern Canyon. You'll be able to stop at many of the park's popular highlights and then quickly disappear into solitude down paths that few others travel.
By starting at the Prairie Creek Visitor Center and hiking counterclockwise, you'll get most of your uphill hiking out of the way early and be able to find a spot along the coastline for lunch. This trail is truly what you make of it. You can spend your time exploring the redwood forest, taking a side trip down the beach, or hunting out the many unmarked waterfalls along the route.
Keep an eye out for brightly-colored banana slugs, wandering elk, owls, shorebirds, and, if you're extra lucky, migrating whales or dolphins. The possibilities are endless on this loop, which is what makes it such a splendiferous hike.
Explore More of NorCal & the PNW
Sign up for our free email to join thousands of readers getting epic travel, hiking, and camping ideas every month.
---