At 9,600 feet above sea level, scenic views are never in short supply around Breckenridge.
Situated on the north side of the Continental Divide at the foot of Colorado's Tenmile Range, Breckenridge delivers a highlight reel of Rocky Mountain hikes with alpine lakes, picturesque waterfalls, and lush forests teeming with wildlife.
The substantial snowmelt leads to roaring falls and cascades in the spring, and the mountain meadows are painted with wildflowers in late summer.
The historic ski town is surrounded by towering peaks and rocky ridgelines, with 14,271-foot Quandary Peak and 13,690-foot Bald Mountain beckoning to adventurous peak baggers. Make the 1.5-hour drive from Denver to Breckenridge in late fall, and you'll enjoy a magnificent eruption of golden aspen as the leaves change colors.
Like many Rocky Mountain towns, Breckenridge also has a rich mining history dating back to the 19th century. Many of the hikes around Breckenridge follow old mining trails, so you'll often come across abandoned mining operations, mine shafts, and mining equipment along the trail.
Our list of the best hikes near Breckenridge has something for everyone, whether you're an adventurer looking to bag a 14er or a parent in search of a kid-friendly nature walk. Many of these trails are dog-friendly, too, so feel free to bring your furry family members along to enjoy the fresh mountain air.
Related Read: 10 Relaxing Cabin Rentals in Breckenridge, Colorado
1. Spruce Lakes to Mohawk Lakes Trail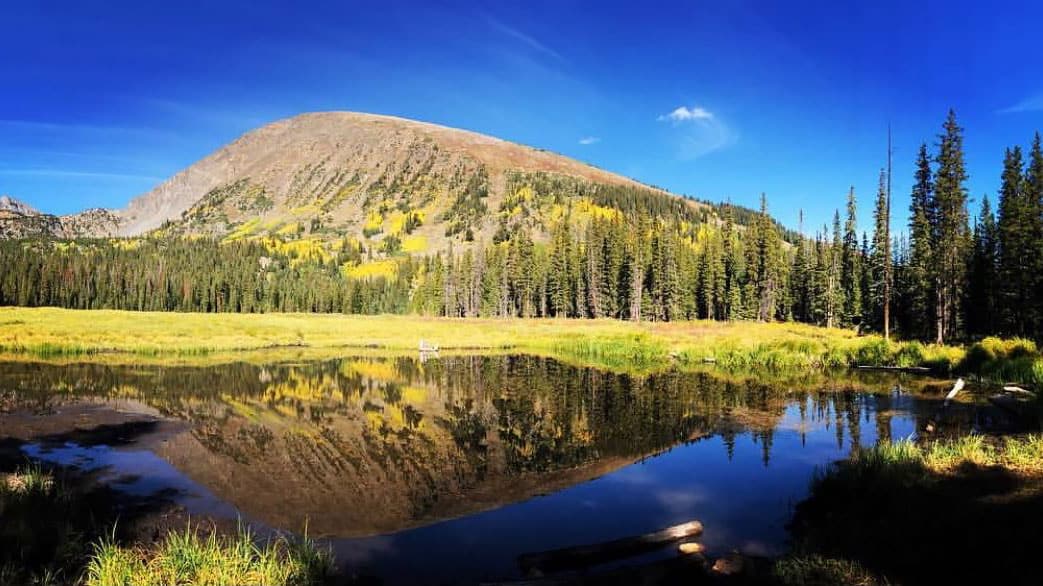 Why you should go: An epic waterfall, an abandoned mining operation, alpine lakes, and expansive views of the Tenmile Range.
Difficulty: Challenging
Distance: 8.6 miles
Elevation Gain: 2,130 feet
As one of the most popular hikes near Breckenridge, a day trip to Continental Falls and Mohawk Lakes on the Spruce Lakes to Mohawk Lakes Trail definitely deserves a spot in your travel plans.
Following the Spruce Creek Trail, you'll have a chance to step back in time as you pass through an old mining operation replete with cabins, mining equipment, and mine shafts. Look but don't touch, especially when it comes to the old shafts — you wouldn't be the first hiker to suffer an injury if your curiosity goes too far.
You'll reach Continental Falls about halfway through the hike. The picturesque waterfall carves through a gully in the granite hillside, tumbling down three chasms to create a multi-tiered natural masterpiece. It's a fairly popular local attraction as the largest waterfall near Breckenridge, so expect a small crowd during peak hours and weekends.
Most of the trail's elevation gains come after Continental Falls, so take a good breather before trekking onward. When you reach Mohawk Lakes, you'll enjoy a great view of Mt. Helen from Lower Mohawk Lake, and outstanding views of the Tenmile Range from Upper Mohawk Lake.
If an 8.6-mile trek sounds is too much, keep in mind that 4WD vehicles can park further up the trail and shave off a couple miles. You can also opt for shorter hikes to Mohawk Lakes with the Spruce Creek Road to Mohawk Lake or Mayflower Lake and Lower Mohawk Lake hikes.
2. Burro Trail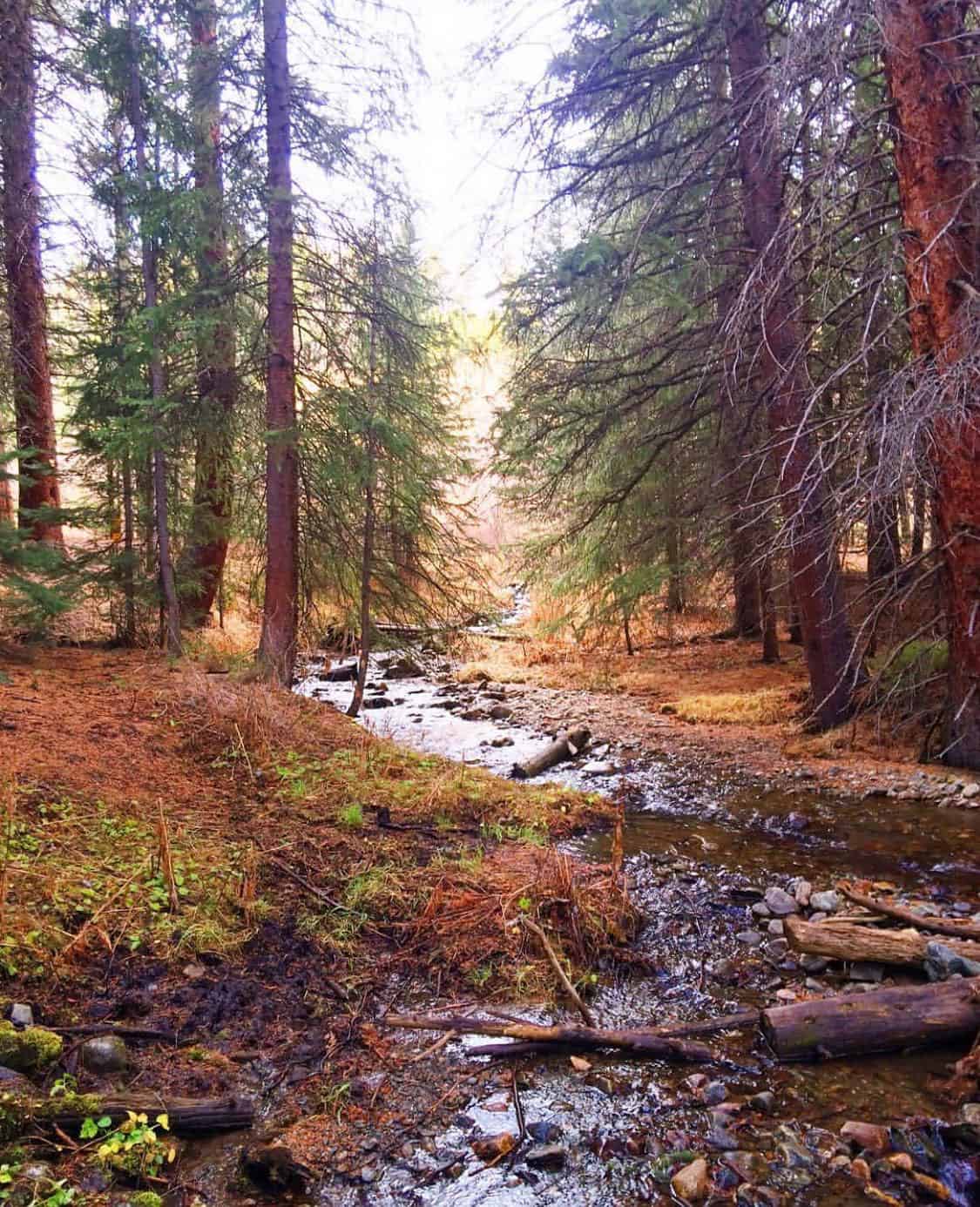 Why you should go: A family friendly stroll along the creek through pine forest and meadows.
Difficulty: Moderate
Distance: 6.1 miles
Elevation Gain: 920 feet
The Burro Trail is a family favorite in Breckenridge, especially for travelers staying at one of the many lodging options along Village Road. Whether you complete the full out-and-back hike, shorten it to a one-hour nature stroll, or continue onward to one of the many other connecting trails, you'll enjoy plenty of fresh mountain air in the pine forest and meadows.
The Burro Trail starts at the base of Peak 9 at Breckenridge Ski Resort, near the Quicksilver chairlift. The relaxing trail through White River National Forest has a moderate elevation gain of 918 feet, making it a great hike for families. Dogs are allowed on the trail, though they'll need to be on a leash.
Related Read: 11 Beautiful National Forests in Colorado for Outdoor Recreation
3. Bald Mountain Trail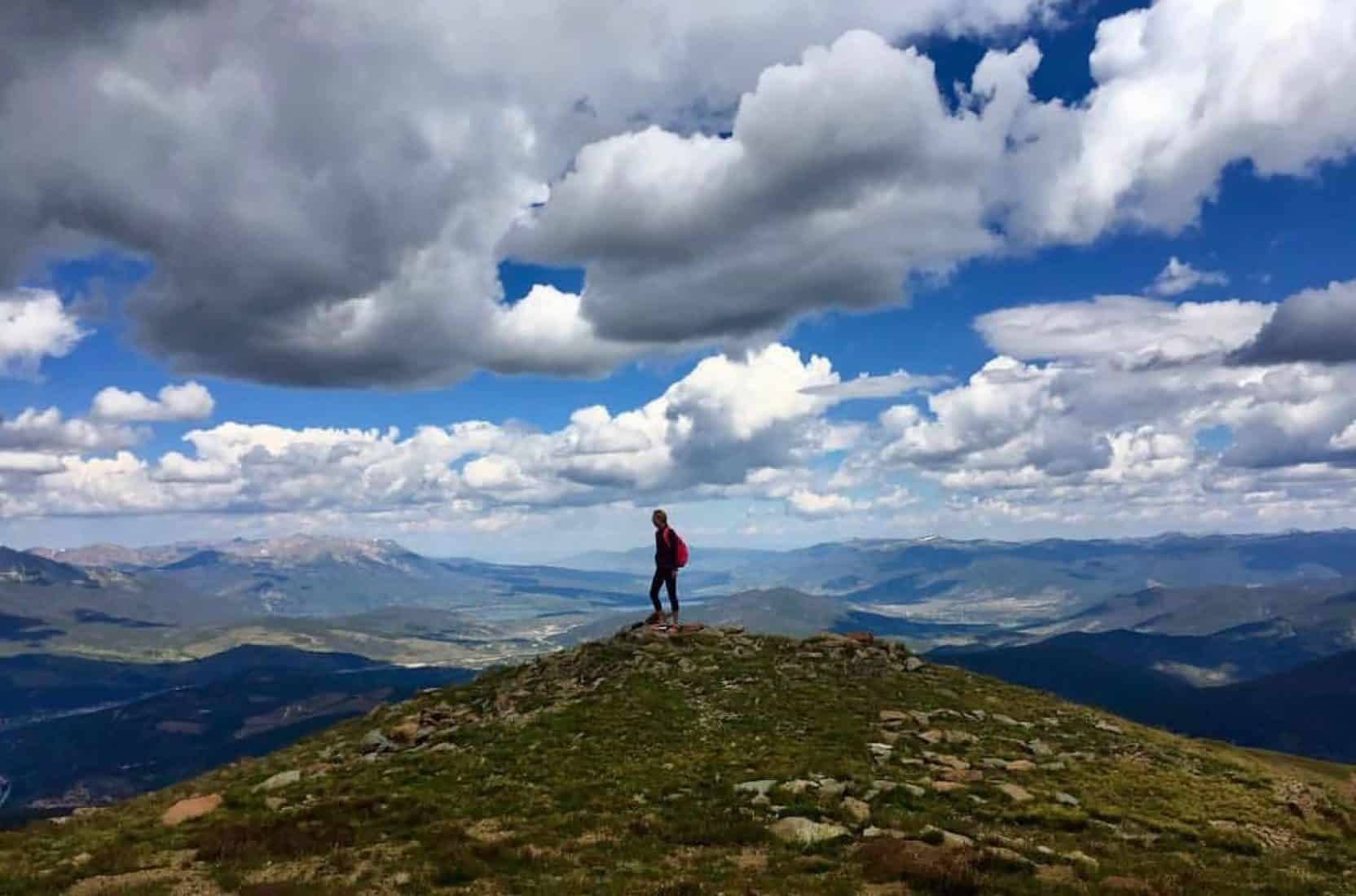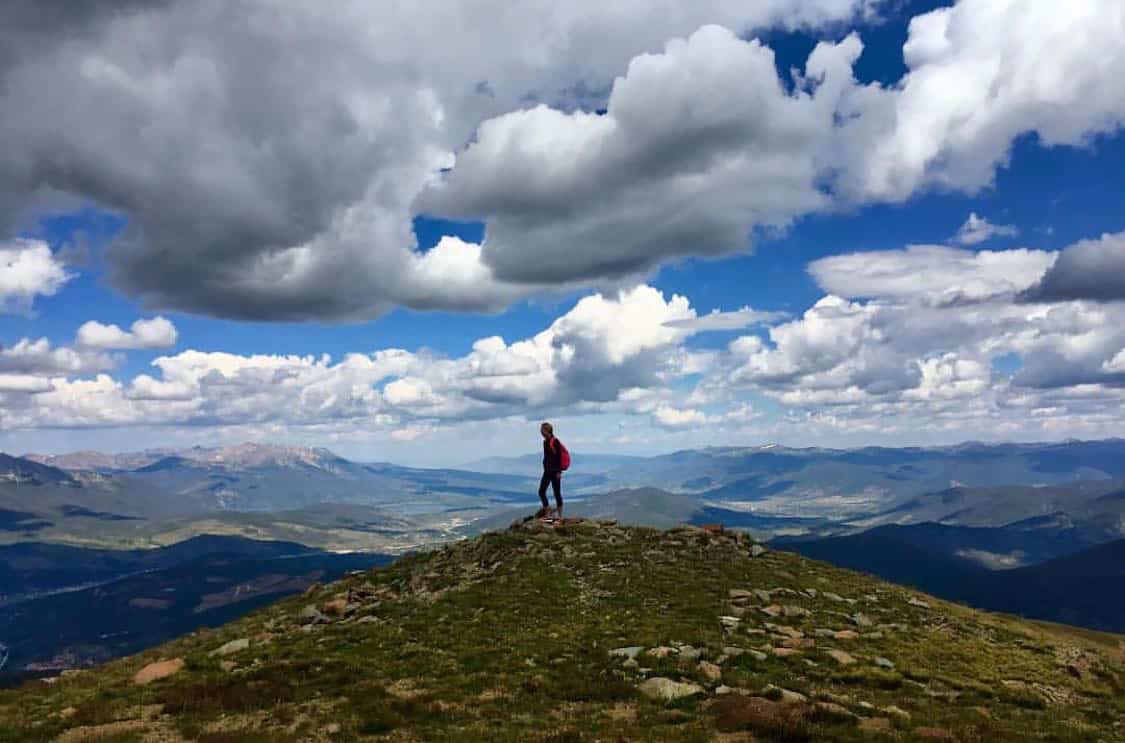 Why you should go: A classic, easily accessible 13er offering panoramic views of Breckenridge and the surrounding mountains.
Difficulty: Moderate
Distance: 8.1 miles
Elevation Gain: 2,320
There are 27 Bald Mountains in Colorado, but at 13,690 feet, this particular peak in Arapaho National Forest stands high above the rest. Sometimes called Mount Baldy or Baldy Mountain, it's one of the most iconic peaks in the Breckenridge mountainscape, and a popular hike for Colorado peak baggers.
The full Bald Mountain Trail is a little over 8.1 miles from the 2WD parking lot to the summit and back, but you can shave that down by bringing a 4WD vehicle. In fact, vehicles with enough clearance can climb the trail for about 2.5 miles, cutting almost 5 miles off of your trip.
As the name suggests, you'll climb through a thin pine forest before reaching the mountain's bald spot — a rocky, desolate alpine tundra with little vegetation. The trail isn't well defined, but it's pretty easy to follow the ridgeline. You'll pass several false summits before reaching the true summit, marked by a cairn and wind shelter.
The summit of Bald Mountain offers outstanding panoramic views. The Town of Breckenridge and the Tenmile Range lie northwest, with Swan Mountain and Dillon Reservoir nearby to the north. You'll also enjoy an excellent vantage of Mt Guyot and Boreas Mountain.
4. Baker's Tank Trail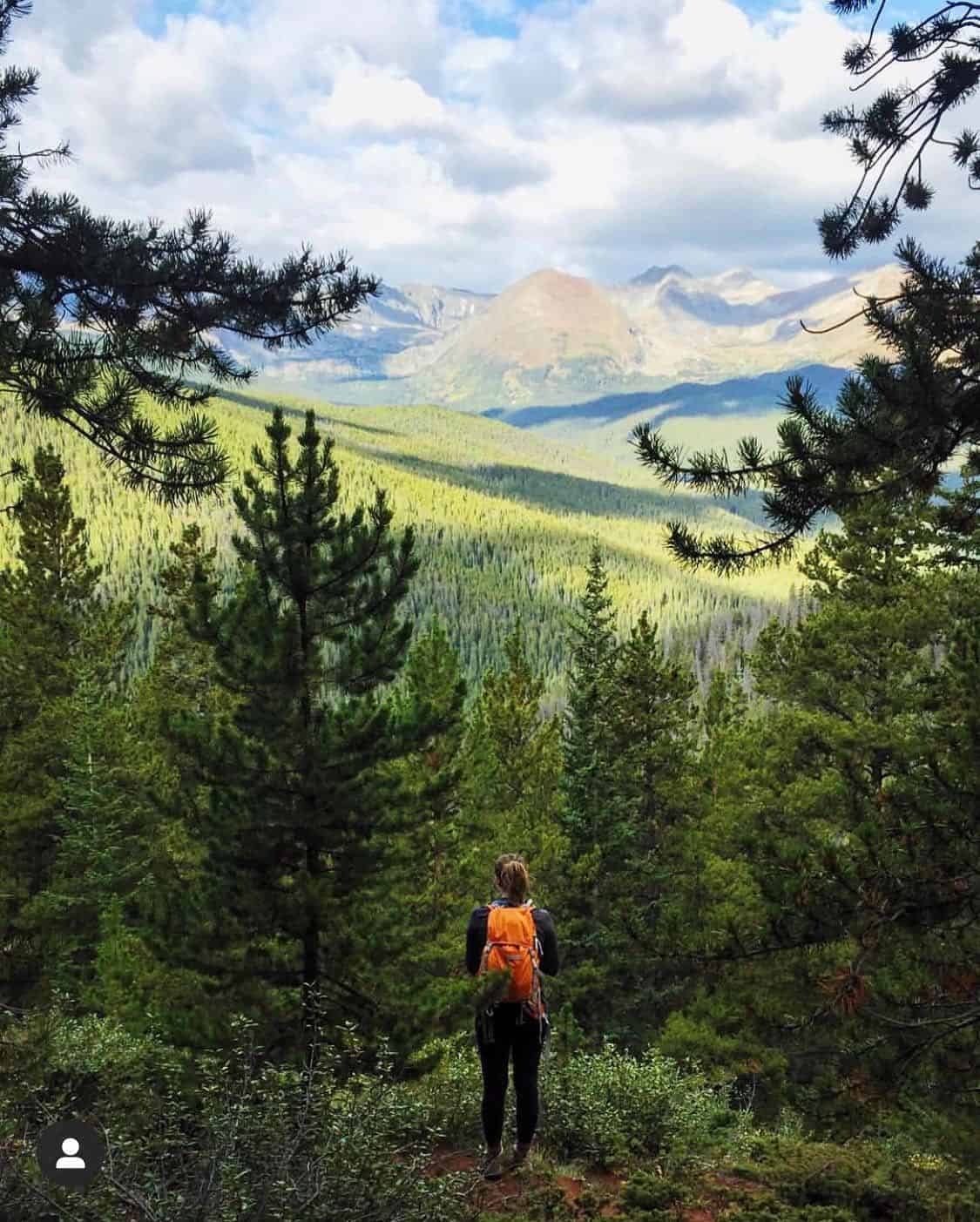 Why you should go: A gorgeous fall hike featuring golden aspens and excellent views.
Difficulty: Moderate
Distance: 5.1 miles
Elevation Gain: 880 feet
The Baker's Tank Trail is a great year-round trail with moderate elevation gain, but this trail especially shines in the fall. It's hands-down one of the best hikes in the entire state for enjoying golden aspens, offering grand views of the Tenmile Range and Quandary Peak.
The high point of this hike is Baker's Tank at 11,030 feet. During the late 19th century and early 20th century, steam locomotives would stop at this historic tank to fill their water reserves before tackling the steep grades and curves of the Rocky Mountains.
Some parts of the Baker's Tank Trail offer solitude and tranquility, but you'll be sharing the road with mountain bikers and off-road vehicles through many portions. To avoid the crowds, it's best to complete this hike early in the mornings and avoid the weekends.
Of course, if you can't beat them you might as well join them. Feel free to bring your own bike or off-road vehicle to kick up some dust yourself, or cruise along Boreas Pass Road with a 4WD vehicle to take in the golden aspens from the comfort of your SUV.
5. Cucumber Gulch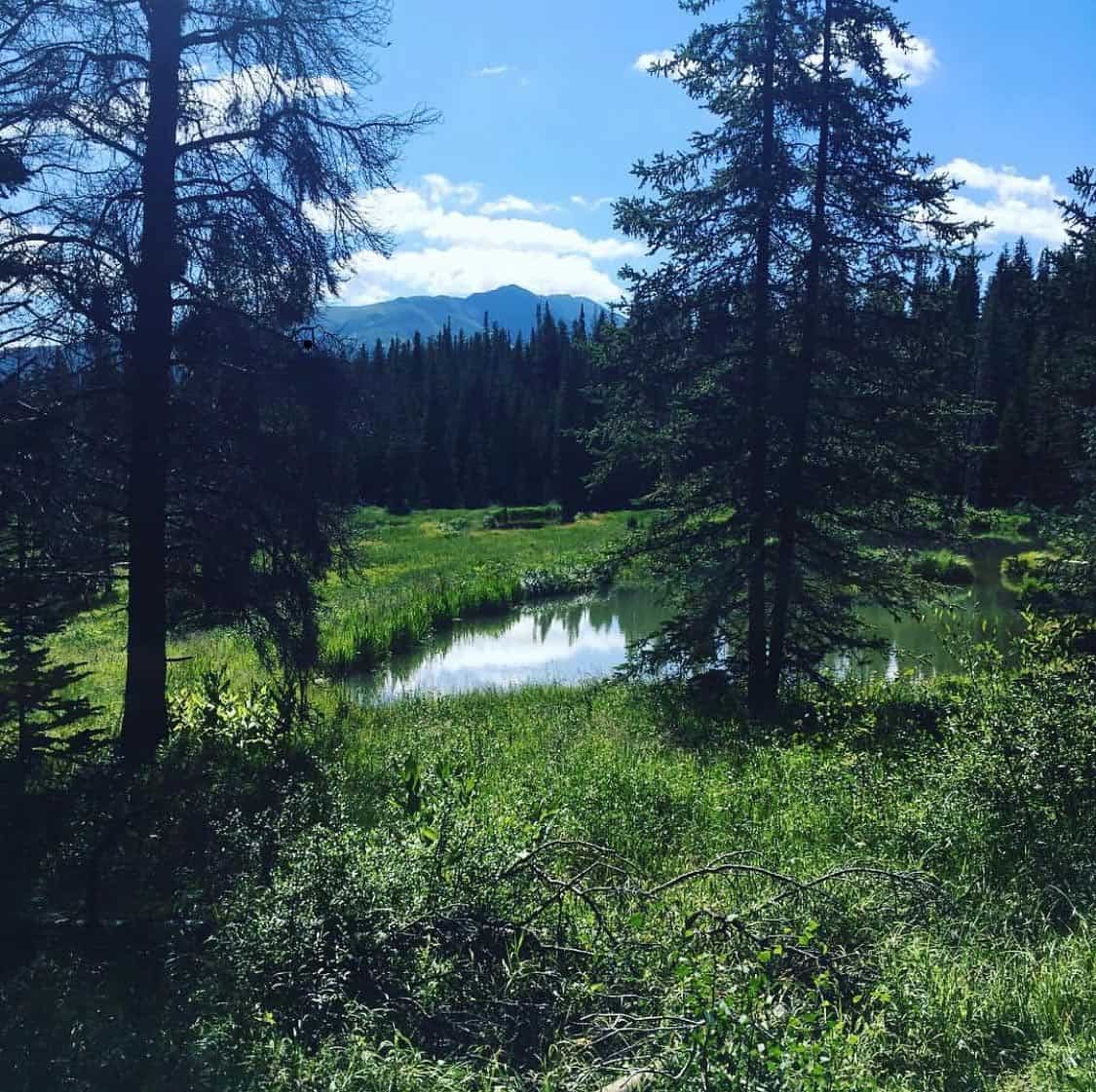 Why you should go: A family friendly nature walk through the Cucumber Gulch Wildlife Preserve.
Difficulty: Easy
Distance: 2.9 miles
Elevation Gain: 300 feet
The Cucumber Gulch Wildlife Preserve sits below the Peak 8 gondola at Breckenridge Ski Resort. A fascinating array of wildlife call this 77-acre wetland home, including deer, elk, moose, beavers, mountain lions, and 47 species of birds. Given the well-maintained trail and lack of elevation gain, this is an excellent trek for everyone from toddlers to seniors.
There are a few ways to hike Cucumber Gulch, including out-and-back routes and loops. The out-and-back Cucumber Gulch Trail is the crowd favorite, but it's safe to say any Cucumber Gulch hike will be rewarding. Keep an eye out for the lookout point on Shock Hill, where you'll enjoy views of Breckenridge with the Tenmile Range in the background.
Over the winter, Cucumber Gulch and the surrounding trails are part of the Breckenridge Nordic Center. The cross-country ski trails are groomed daily, and the snowshoe trails are mapped, marked, and maintained. There are even warming huts along the way to keep you comfortable.
Cucumber Gulch is a local treasure that's constantly threatened by human traffic and surrounding developments. To minimize the impact on local wildlife, no dogs are allowed on the surrounding trails.
6. Crystal Lake Trail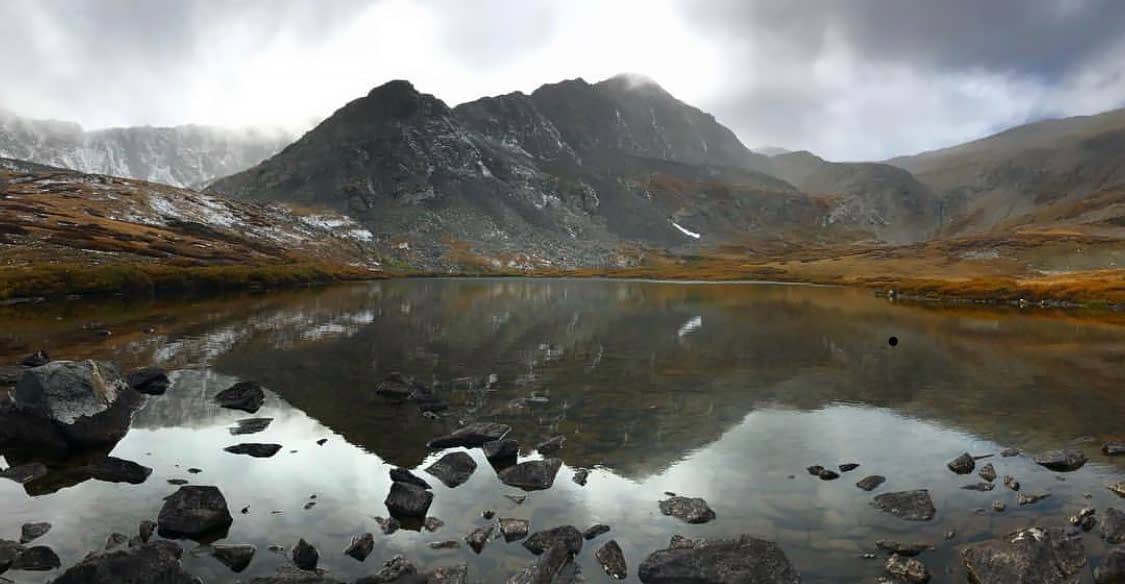 Why you should go: Alpine lakes with commanding views of Mount Helen, Crystal Peak, and Father Dyer Peak.
Difficulty: Challenging
Distance: 8.4 miles
Elevation Gain: 2,560 feet
The Crystal Lake Trail is challenging but rewarding, bringing you to two pristine alpine lakes at the head of a broad glacial valley in the Tenmile Range. If you're short on time, consider driving the first portion of the hike up to Lower Crystal Lake with a 4WD vehicle, then hiking up to Upper Crystal Lake to enjoy the views.
The trail initially climbs through thinning forest until you pass the treeline, where you'll find the best views of the surrounding mountains. As you're following Crystal Creek, keep an eye out for elk and deer in the flower-filled meadows.
Lower Crystal Lake sits in a shallow basin up Crystal Creek drainage. Upper Crystal Lake is about 900 feet higher in a high-walled cirque carved into the slopes of Crystal Peak and Father Dyer Peak. Dogs are allowed on this trail, though you and your pup will need to be in good physical condition to make the final leg of the journey from Lower Crystal Lake to Upper Crystal Lake.
7. Quandary Peak Trail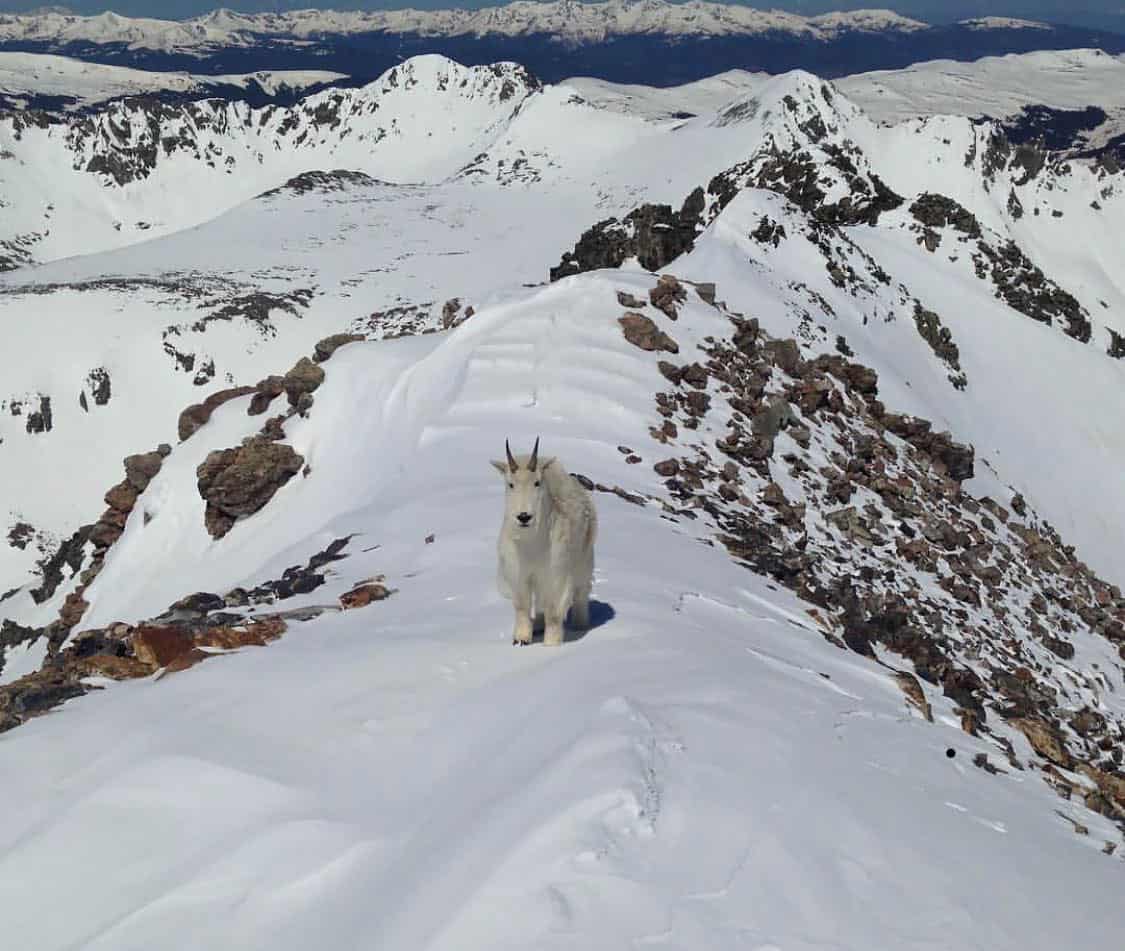 Why you should go: Hike the 13th highest peak in Colorado and bag the only 14er in the Tenmile Range.
Difficulty: Challenging
Distance: 6.7 miles
Elevation Gain: 3,330
If tackling the most challenging hike on the list sounds like your thing, set your sights on Quandary Peak. At 14,265 feet, Quandary Peak is the highest mountain in the Tenmile Range — a worthy adversary for any peak bagger visiting Breckenridge.
The Quandary Peak Trail begins north of Hoosier Pass in White River National Forest. It's a relatively short hike with less elevation gain than other 14ers in Colorado, but don't let that fool you. The majority of the elevation gain comes in two short sections, and they're definitely not for the faint of heart.
From the summit of Quandary Peak, you'll enjoy outstanding views of nearby 14ers including Mount Democrat, Mount Cameron, Mount Lincoln, and Mount Bross. You'll see Crystal Peak and Pacific Peak to the north, and the Gore Range off in the distance.
Be sure to start your hike early enough to reach the summit before noon, as you don't want to get caught above the treeline in an afternoon thunderstorm. Keep an eye out for mountain goats, too — they're can be a little aggressive if you encounter one on the trail.
8. Blue Lakes to Monte Cristo Gulch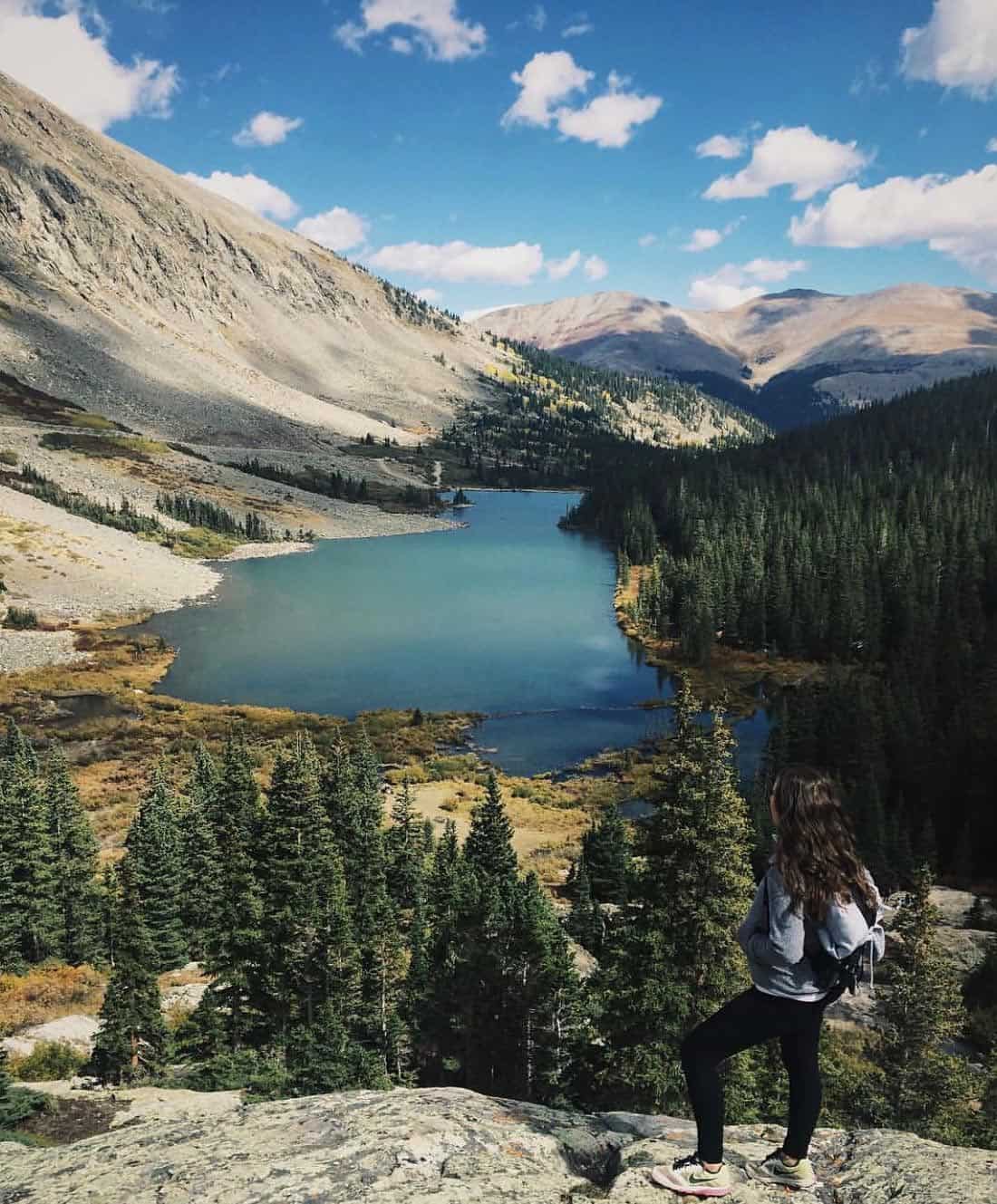 Why you should go: A gorgeous mountain hike with pristine alpine lakes, a waterfall, and the remnants of an old mining operation.
Difficulty: Challenging
Distance: 2.8 miles
Elevation Gain: 1,130 feet
If you're a fan of alpine lakes and waterfalls, add the Blue Lakes to Monte Cristo Gulch hike to your list. It's a bit of a drive south from Breckenridge and the trail is far from easy, but it's well worth the drive and climb.
The fun thing about this hike is that you start from a scenic location near Blue Lakes. After exploring the alpine lakes, follow the trail up to Monte Cristo Gulch to see the remnants of an old mining operation. The entire hike is above the treeline, so you'll enjoy breathtaking views from start to finish.
Some of the trail reviews out there indicate this is a moderately difficult trail, but don't let them fool you. It's certainly easier if you're acclimated to the altitude, but the hike requires some rock scrambling, creek crossings, and steep descents. It's definitely worth the effort, though, rewarding you with waterfalls, wildflowers, and plenty of local wildlife.
9. McCullough Gulch Trail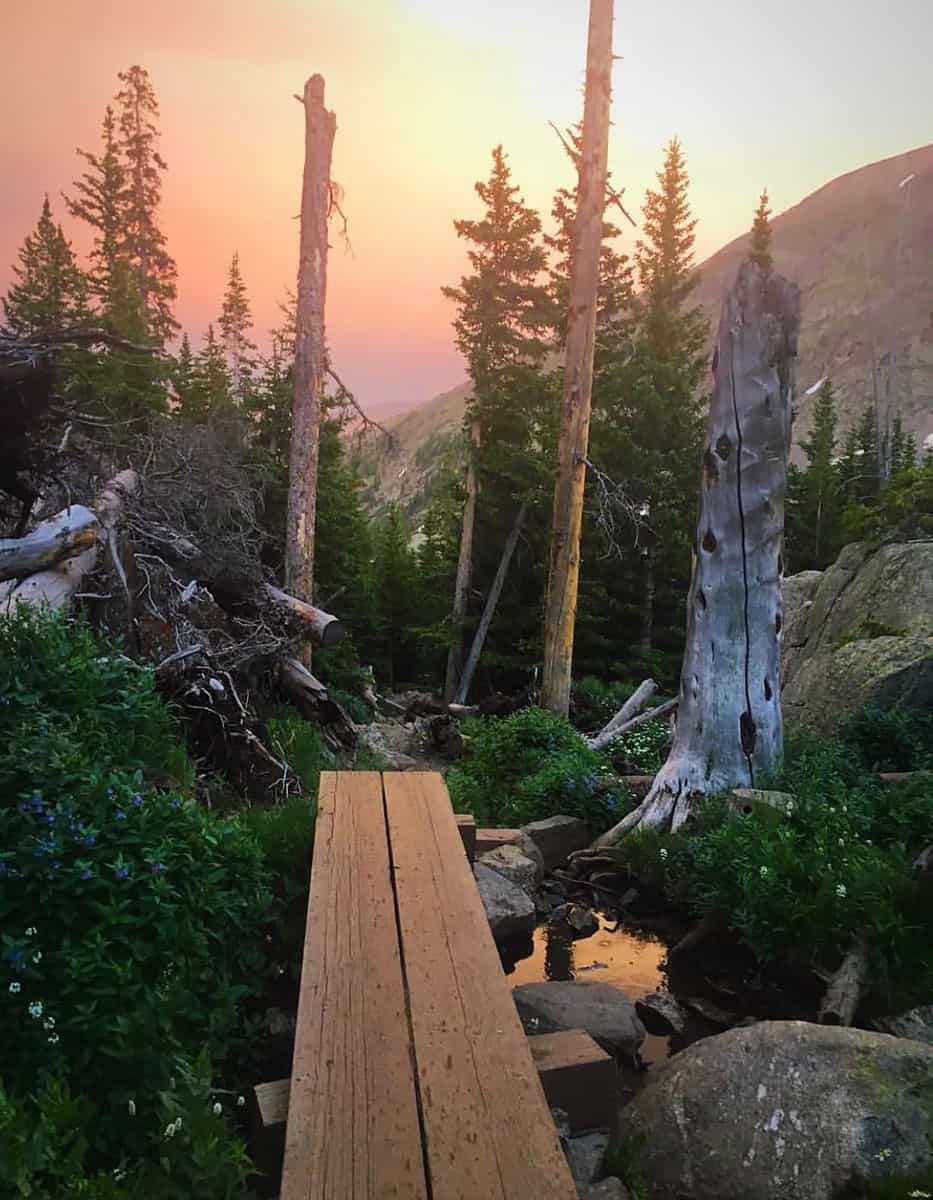 Why you should go: Hike the family friendly portion up to Upper Blue Reservoir and enjoy excellent fishing, then continue climbing to the upper valley with six more alpine lakes.
Difficulty: Moderate
Distance: 6.2 miles
Elevation gain: 1,570 feet
The McCullough Gulch Trail is definitely in the running for the most popular hike near Breckenridge. You'll find this trail on the north side of Quandary Peak, the tallest mountain in the Tenmile Range.
The McCullough Gulch Trail initially follows an old mining road up the drainage before splitting on a rugged path to White Falls and Upper Blue Reservoir. We recommend making the one-mile-loop detour to White Falls when you reach the trail marker, though White Falls itself isn't actually part of this particular itinerary.
Upper Blue Reservoir is popular with families and fishermen, so expect to find a crowd here unless you're an early riser. The beautiful lake features a long, open shore with plenty of nooks and vantages to explore.
Most hikers (especially those with kids) stop for a picnic at Upper Blue Reservoir before heading back, but the truly adventurous continue onward and upward.
Climbing to the top of the waterfall brings you to the vast upper valley, where you'll find six more lakes and tarns. There's a faint trail through the alpine meadows up here, but it's mostly open tundra so you can do your own route-finding.
10. Sally Barber Mine Trail
Why you should go: A quick and easy hike along a creek to an abandoned mining operation.
Difficulty: Easy
Distance: 2.8 miles
Elevation Gain: 400 feet
The Sally Barber Mine Trail is great little hike for history buffs. Originally founded in 1880 by a group of Bald Mountain miners, the 365-foot Sally Barber Mine is one of the few well-preserved sites in the area that you can safely explore.
Much of the original mining equipment is still strewn throughout the site, and you'll find several information signs to provide a brief history lesson.
Of course, the Sally Barber Mine Trail isn't just about taking a history lesson — the mining area provides an excellent vantage of the surrounding area with beautiful mountain views.
The trail itself is family friendly and great for kids, while experienced hikers looking for more of a challenge can continue their day hike on one of the many backcountry trails that connect to the Sally Barber Mine.
If you find yourself in Breckenridge over the winter, don't cross the Sally Barber Mine off your list just yet. It's a popular trail for snowshoeing and cross-country skiing, too.
Hike Colorado!
Sign up for our free email to join 50,000+ readers getting epic travel, hiking, camping and gear ideas every month.
---