Climbing Colorado's 14ers runs the gamut from drive-up summits to casual hikes to treacherous climbs — even in perfect conditions. Despite the range of challenges, one thing is true of all 14ers: the views are epic.
Besides the physical and mental challenge, the views from the summit of a 14,000+ foot mountain are the #1 reason people like to climb them. That said, hiking a 14er, no matter how "easy", has its risks and dangers. And in this case of 14ers, "easy" is relative — be ready to do a lot of hard work with little oxygen.
The two main problems most hikers will encounter are the altitude and weather, and neither should be taken lightly. Pack lots of water and snacks to help deter altitude sickness. If you start to feel unwell, the only cure for altitude sickness is to descend to a lower altitude.
Bring plenty of layers in case the weather changes suddenly. It is not uncommon to get snowstorms and lightning strikes in the alpine zone, even in the summer. During the height of the summer thunderstorm season, the best practice is to be off the summit by noon before the afternoon storms develop.
That said, here's a look at 11 of the easiest 14ers in Colorado to hike — and in some cases, just drive up to the top.
Related Read: 10 Best Hikes in Colorado for Getting Out into Nature
1. Pikes Peak
Why you should go: Take a car, shuttle tour, or train to the top!
Summit elevation: 14,110 feet
Elevation gain: negligible
Distance: 100 feet
Nearest town: Colorado Springs
Pikes Peak is one of several drive-up 14ers in Colorado, and boy, do you want to take the road! If you are looking for the easiest 14er to tackle, what's easier than jumping in a tour bus or train that guides you all the way to the summit of a mountain?
If you do choose to hike it from one of the lower trailheads, just know that it's no longer one of the easiest 14ers in the state — the popular hike via the Crags Trail is 14.5 miles round-trip!
Related Read: 9 Natural Hot Springs in Colorado
2. Mount Evans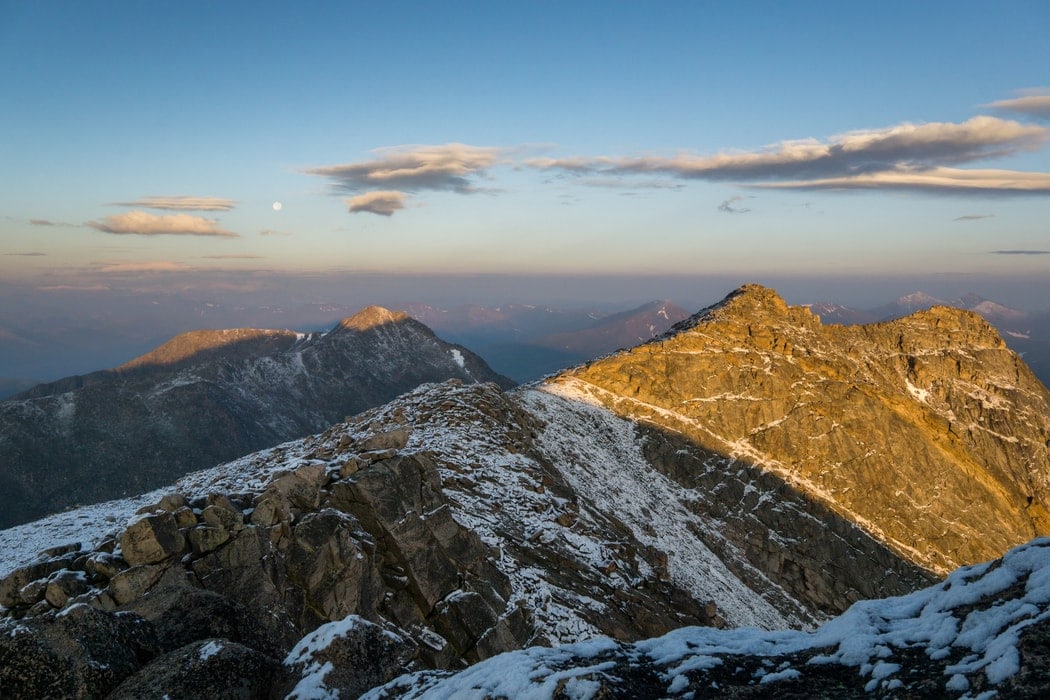 Why you should go: Easy access from Denver with the option to hike from below or drive all the way up.
Summit elevation: 14,264 feet
Elevation gain: 2,100 feet
Distance: 5.4 miles
Nearest town: Denver
Though you can drive to the top of this 14er, the hike up Mount Evans is even more epic! The route from Summit Lake Park is short but steep with some light scrambling near the top — so it's easy as 14ers go, but not for the faint of heart. That said, the route is stunning, and you will also cross the summit of Mount Spalding (13,853 feet) before continuing onto Evans.
Starting at about 13,000 feet, the hike is entirely above treeline, and you will have open views for the entire hike. Once you return to the trailhead, take the ache out of your feet by dipping them in Summit Lake.
Related Read: 9 Glorious Places to See Colorado's Fall Colors
3. Mount Bierstadt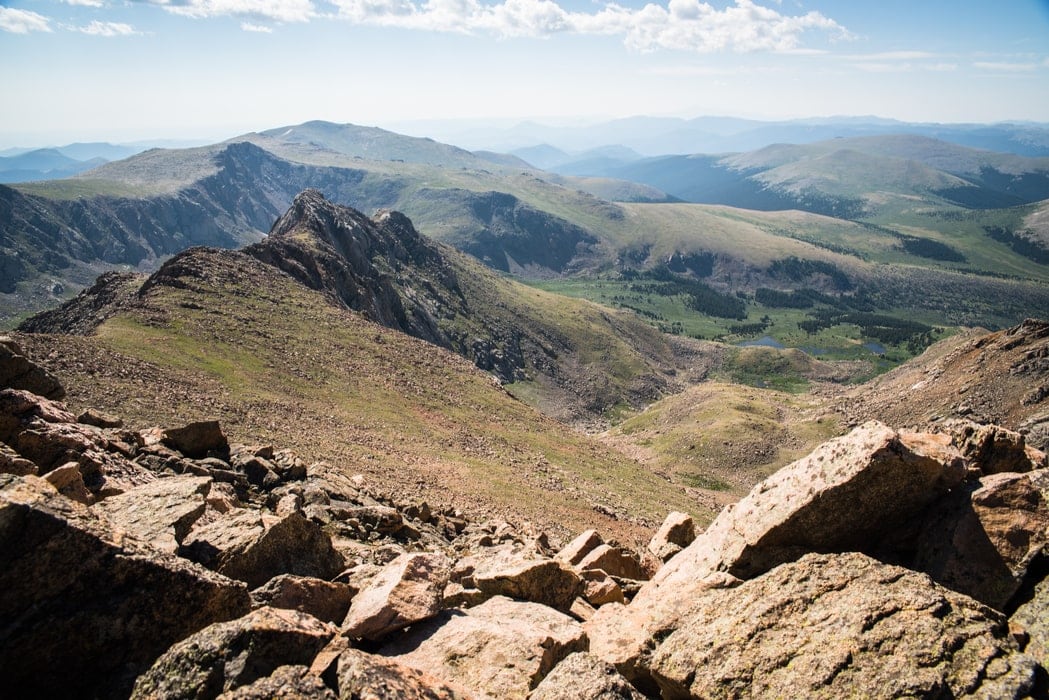 Why you should go: One of the easiest 14ers is a great introduction to the Colorado high country.
Summit elevation: 14,060 feet
Elevation gain: 2,800 feet
Distance: 7.2 miles
Nearest town: Denver
Starting at Guanella Pass at 11,700 feet, there are two large parking areas and a bit of dispersed camping, making it easy to get an early start for those willing to spend the night.
The parking area and trail will be extremely busy on any nice summer weekend, so if you're looking for a quieter experience, this one is best tackled during the week. The hike begins by winding through the willows over boardwalks along the creek before ascending the shoulder.
Related Read: 10 Best Mountain Cabins to Rent Near Denver, Colorado
4. Quandary Peak
Why you should go: Just outside Breckenridge, this is one of the most popular 14ers in Colorado.
Summit elevation: 14,265 feet
Elevation gain: 3,300 feet
Distance: 6.6 miles
Nearest town: Fairplay
As one of the more heavily trafficked 14ers in Colorado, parking here is regulated and requires a permit in the summer. However, a free shuttle operates from the Airport Road Lot to the trailhead every 30 minutes.
Once you make it to the trailhead (pro tip: try weekdays), Quandary Peak is a straightforward uphill hike. It's also one of the more accessible 14ers for winter hiking as it snakes up the ridgeline and stays mostly out of avalanche terrain.
There are some great opportunities to view wildlife along this route, including mountain goats!
Related Read: 11 Best Winter Hiking Destinations in Colorado
5. Grays Peak and Torreys Peak
Why you should go: Knock off two 14ers in one go!
Summit elevation: 14,270 feet and 14,267 feet
Elevation gain: 3,479 feet
Distance: 8.3 miles
Nearest town: Denver
Rising high above on the Continental Divide, you can catch a glimpse of these two prominent peaks as you drive up I-70. Just a glimpse, though. To understand their full scale, you'll have to attempt these two.
Hiking from Steven's Gulch, wind up the valley via a gentle grade before ascending the ridge. Head up the saddle and a before switchbacking up to Grays Peak. From there, Torreys is a hop, skip, and a jump away — but hiking at over 14,000 feet, it won't feel quite that easy.
While you climb, make sure to keep an eye (and ear) out for marmots and pikas that call the alpine home. If you're really lucky, you may even spot a ptarmigan strutting through the alpine meadows!
Related Read: 15 Best Hikes Near Denver, Colorado
6. Mount Antero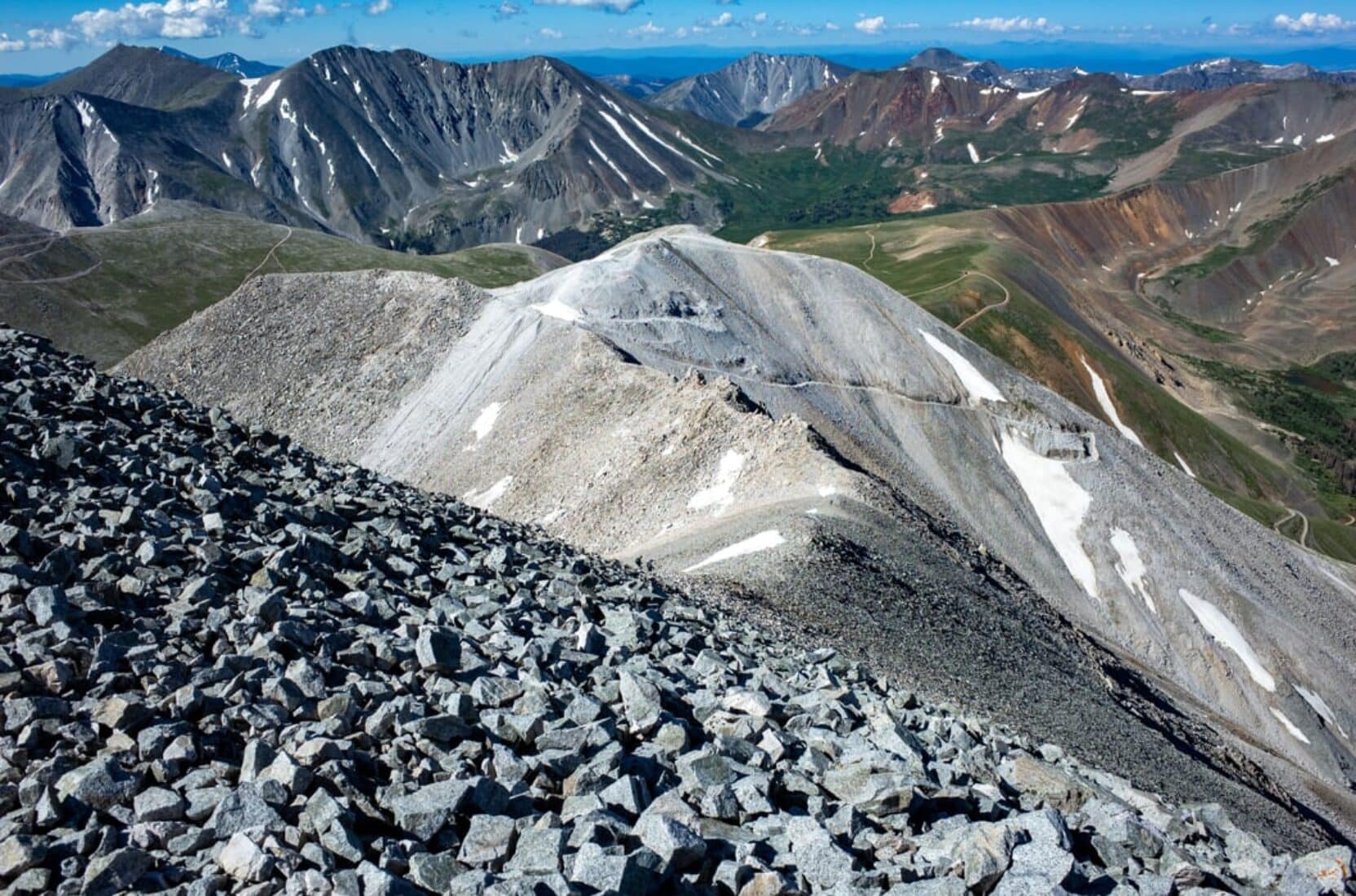 Why you should go: Long but not too difficult trail follows a rough two-track road almost all the way to the top.
Summit elevation: 14,269 feet
Elevation gain: 600 feet
Distance: 1.1 miles
Nearest town: Salida
The key to making Mount Antero easy: drive an ATV most of the way up the road to 13,800 feet, where the on-foot class 2 scrambling begins. Not generally highly rated, this hike is certainly one of the more straightforward Colorado 14ers to tackle.
However, if you have to hike the whole road — a 15.2 mile round-trip hike — it's likely going to feel like a bit of a drag and not nearly as easy.
Related Read: 10 Tiny House Rentals in Colorado
7. San Luis Peak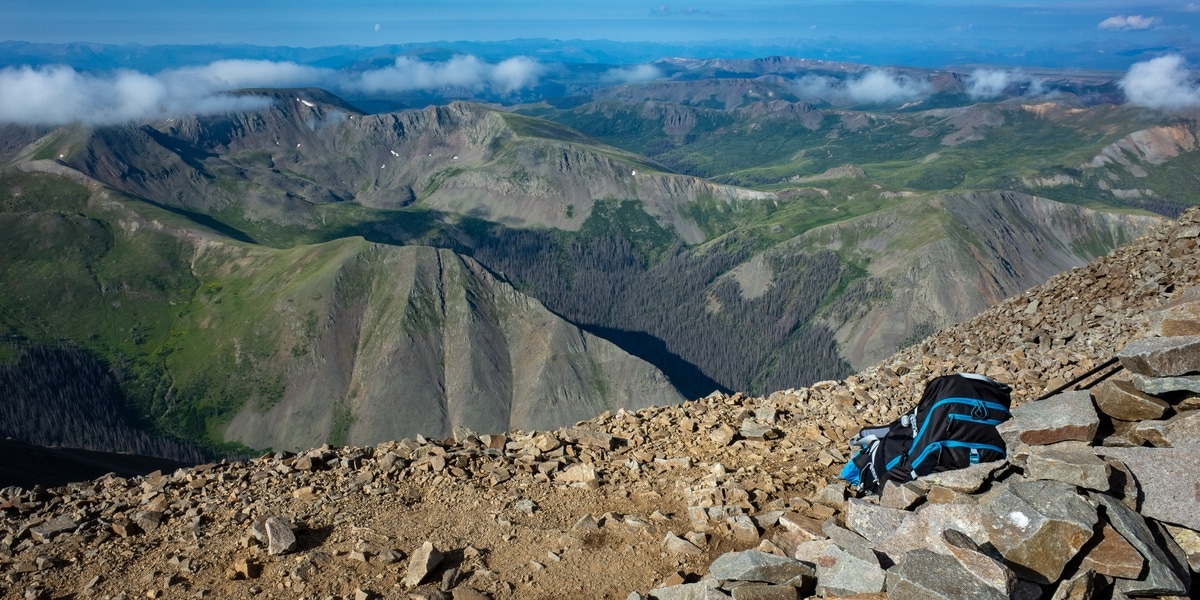 Why you should go: One of the most remote 14ers in Colorado.
Summit elevation: 14,014 feet
Elevation gain: 4,800 feet
Distance: 11.2 miles
Nearest town: Creede
With its remote location, getting to the trailhead can be more of an adventure than actually hiking to the summit of San Luis Peak.
The start of this hike is about two hours (via car) from the nearest paved road and the parking is limited. This may be considered an "easy" 14er, but it's still a pretty long hike — and when you're this far from civilization, you need to be prepared for anything.
The first 4.5 miles of the hike are the mellowest as it winds up along Stewart Creek. Eventually, the trail steepens and finally, around 13,000 feet, becomes a talus field before ascending the last ridge to the summit. Given how remote this one is, it's likely that even on a perfect summer weekend, you won't have to battle any crowds.
Related Read: 8 Small Towns in Colorado You Don't Want to Miss
8. Mount Sherman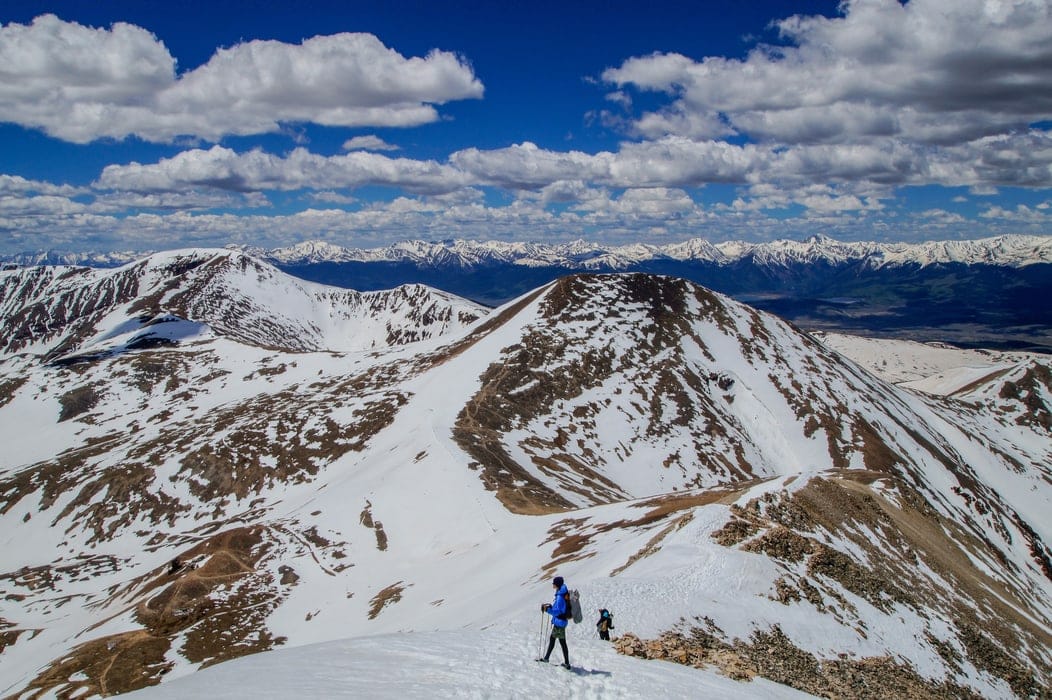 Why you should go: One of the shorter hikes on the list, with epic views over Breckenridge.
Summit elevation: 14,036 feet
Elevation gain: 2,000 feet
Distance: 4.8 miles
Nearest town: Fairplay
With the Four Mile Creek trailhead sitting at over 12,000 feet, Mount Sherman one of the highest 14er access points. And heading up from the east, the grade is much easier than the the hike from the west side.
Once you reach the saddle, head north and ascend the ridge via some loose braided trails to reach the summit — from there, enjoy the views of Leadville, Fairplay, and Twin Lakes.
If you still have gas in the tank after summiting Sherman, take the time to head up Mount Sheridan. Not a 14er, Sheridan is still a worthwhile side trip.
Related Read: 10 Best Things to Do in Leadville, Colorado
9. Mount Elbert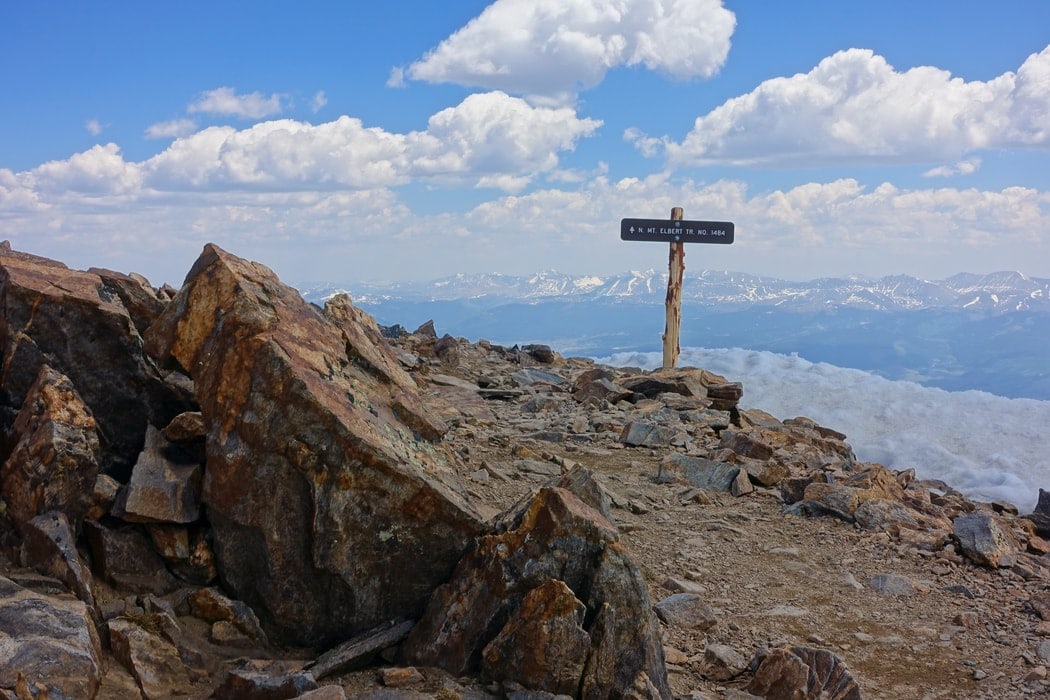 Why you should go: It's Colorado's tallest peak!
Summit elevation: 14,433 feet
Elevation gain: 4,500 feet
Distance: 10.5 miles
Nearest town: Twin Lakes
As the highest summit in Colorado, Elbert may seem intimidating, but it is generally not that much harder than many of the others on this list. With camping available at the trailhead, it's easy to get out and start the North Mount Elbert Trail early in the day.
Enjoy the beautifully maintained trail and wildflower meadows once you leave the dense forests. The trail is definitely steep but is usually in great shape due to the efforts of the Colorado Fourteener Initiative. Be wary as you ascend this mountain, as there are three false summits along the way before you get to the real peak.
Related Read: 7 Gorgeous Winter Camping Spots in Colorado
10. Huron Peak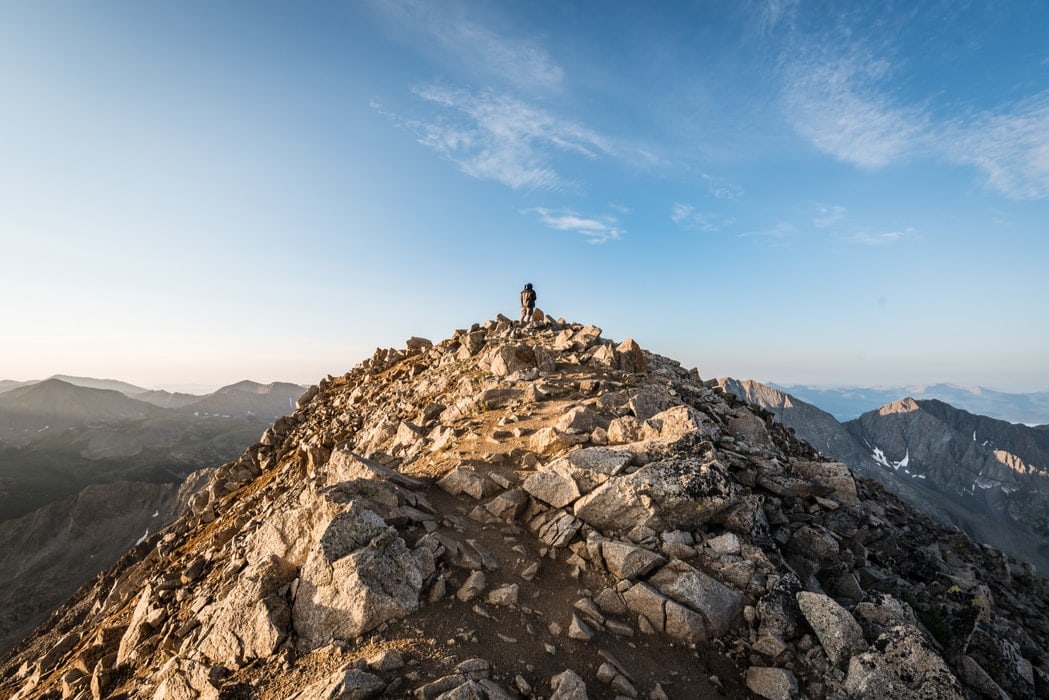 Why you should go: Barely a 14er — but it still counts! — with unparalleled views of the surrounding area.
Summit elevation: 14,003 feet
Elevation gain: 3,400 feet
Distance: 6.6 miles
Nearest town: Twin Lakes
The North Huron Trail can be a little eroded in places, especially where it gets steep, but the effort is rewarded. The upper third of the hike is all above treeline, and the scenery is absolutely stunning.
With snow-capped mountains backdropping wildflower-filled meadows, it's breathtaking and not just because of the altitude. From the summit, enjoy epic views of the Three Apostles, a cluster of 13ers that are harder and more technical than any 14er on this list.
Related Read: 10 Unique Places to Stay in Colorado
11. Handies Peak
Why you should go: hard-to-reach trailhead with views worth the effort.
Elevation: 14,048 feet
Elevation gain: 2,400 feet
Distance: 5.4 miles
Nearest town: Silverton
To reach the trailhead up the south slopes up Handies Peak, you'll want a high clearance and 4-wheel drive vehicle. Otherwise, your hike might be a little longer than you're expecting.
However, if you can get to the main trailhead, the hike isn't too bad. The grade is fairly moderate the entire way, with a bit of a steep grade right at the end. Heading up the valley at the start, as you wind through wildflowers and willows, you'll have amazing views of the craggy mountains above.
The trail is mostly quite reliable, with only a few sections of rockiness here and there. After enjoying the summit, stop by Sloan Lake on the way back down for a lunch break or a dip (if you can tolerate the cold).
Related Read: 11 Perfect Romantic Getaways in Colorado
Explore Colorado
Sign up for Weekend Wanderer to join 10,000+ readers getting epic travel ideas every week.
---