We research, evaluate and select travel destinations based on a number of factors, including our writers' experience and expertise, user reviews and more. We may earn a commission when you book or purchase through our links. See our editorial policy to learn more.
Was this article helpful?
---
Texas is known for its hot summers, and there's no better way to beat the heat than at the lake.
From swimming to boating, hiking, or even just lounging on the shore, Texas' top lakes offer something for everyone. Every lake has its own personality, from secluded escapes in the wilderness to party-packed hotspots, everyone can find a lake that fits their vibe. Conveniently, many of these lakes are close to major cities, making them easy day trips or weekend escapes.
While the Lone Star State might be more famous for its cowboys and barbecue, it's a surprisingly great destination for any lake lovers out there. Here are 12 Texas lakes you need to check out!
Related Read: 10 Beautiful Texas Hill Country State Parks You Need to Visit
1. Lake Texoma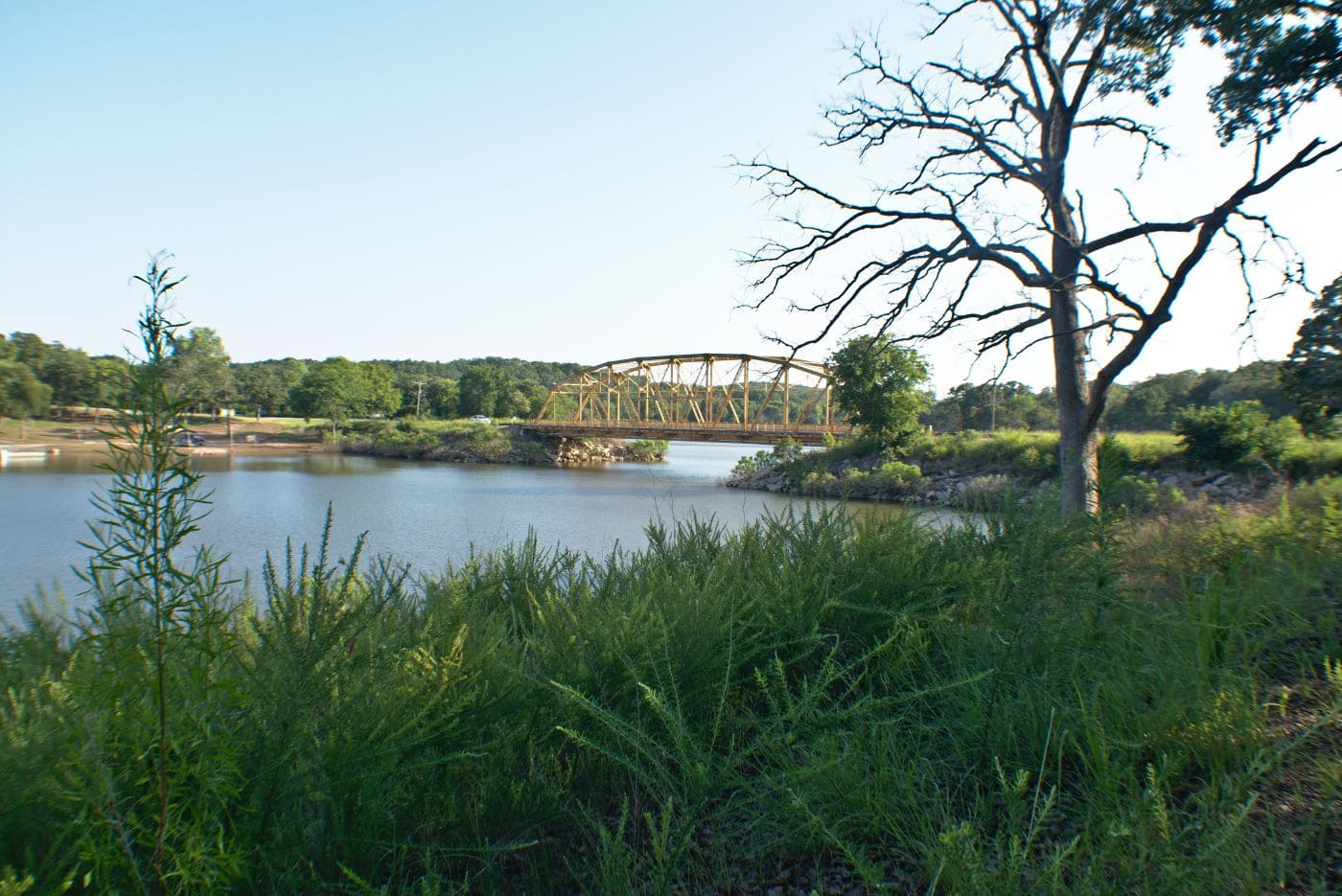 Lake living is turned up a notch at Lake Texoma, one of the five largest lakes in Texas. It's named for its location, straddling the border between Texas and Oklahoma along the Red River. From Dallas, it only takes about an hour and a half by car to reach the lake.
Aside from all the boating, jet skiing, and swimming you can do, Lake Texoma is a fisherman's paradise because of the millions of striped bass that live in its waters. Some people even refer to it as the "Striper Capital of the World." There's RV and tent camping too if you want to extend your visit.
Related read: 11 Best Cabin Rentals Near Lake Texoma for a Relaxed Getaway
2. Lake Travis
Just a 30-minute drive west of Austin, Lake Travis has fun stuff for all ages along its shores and waters. You can watch the first-rate sunsets over the lake from The Oasis, aka "The Sunset Capital of Texas;" you can go swimming from one of the many beaches, including the popular clothing-optional Hippie Hollow; or, you can set up camp at a waterfront spot like Windy Point Park or Arkansas Bend Park.
There are also tons of yacht charters, scuba diving excursions, fishing trips, and kayaking opportunities. Find your favorite spot among the lake's many bends and peninsulas, or stay the night (or weekend) at one of the many nearby resorts.
Related read: 12 Refreshing Swimming Holes Near Austin, Texas
3. Caddo Lake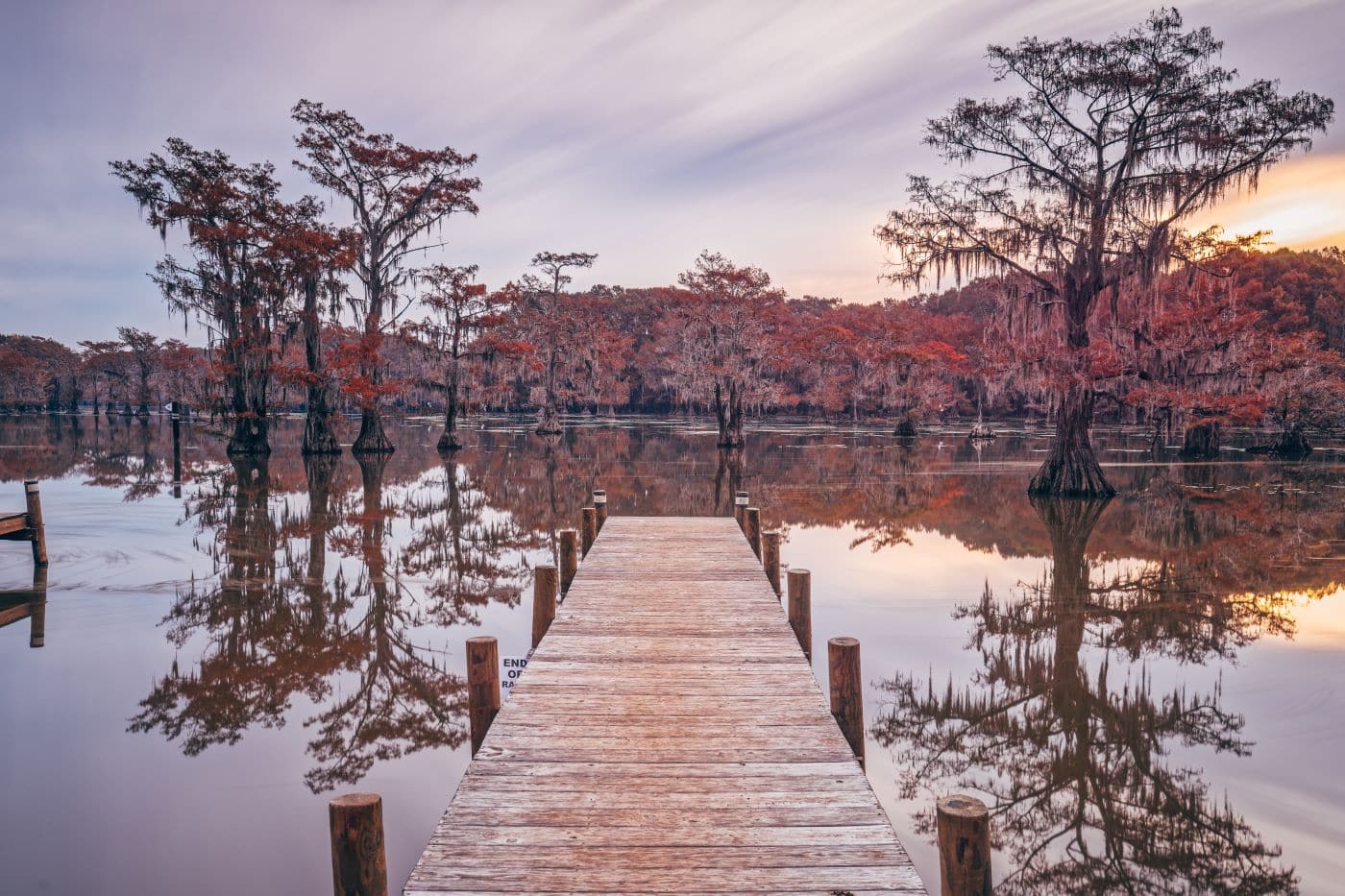 Unlike many of the other lakes on this list, Caddo Lake isn't a place where you'll find crowds of beachgoers sunbathing or rowdy folk flying across the water on jet skis. Instead, this lake, located in a swamp, is actually a tangle of bayous and wetlands where bald cypress trees covered in Spanish moss sprout from the water and alligators lurk in the murky waters.
While there's no right or wrong way to explore Caddo Lake, one of the most popular is to rent a canoe and make your way across the many paddling trails. As you weave your way through the trees, you can fully take in the beauty of the swamp and spot those who call it home, like the endangered American paddlefish and the bright yellow prothonotary warbler, who arrive from South America every spring to make their nests and breed at Caddo Lake.
Related read: The 8 Best Texas Lake Camping Destinations
4. Lake Conroe
Drive about an hour north of Houston and you'll reach Lake Conroe, right next to the Sam Houston National Forest. The pristine lake offers 157 miles of shoreline along with a bevy of opportunities for outdoor adventure. Thanks to numerous rental companies like Lake Conroe Boat Rentals, you can easily hop on a boat, jet ski, or kayak. You can even partake in a fishing excursion if you want to reel in some bass or catfish.
There are also tons of great restaurants like GuadalaHARRY's where you can enjoy a mix of Mexican and pub fare, along with terrific lake views. Another unique destination at this lake is Margaritaville – perfect for anyone who wants a full resort experience with pools, bars, a waterpark, and more.
Related read: 10 Best Camping Spots Near Houston, Texas
5. Possum Kingdom Lake
West of Fort Worth, Possum Kingdom Lake is a beautiful retreat tucked among rolling green hills known for its picturesque rock cliffs (like its iconic Hell's Gate formation). On land, you can hike or bike the Possum Kingdom Trail, which will definitely get your heart pumping with its 200-foot rise. On the water, boating, fishing, paddling, and swimming options are aplenty.
While there are many places to camp or lodge along the lake's 310 miles of shoreline, one hotspot is Possum Kingdom State Park, which has sites for both tent and RV campers.
Related read: 12 Unique Places to Stay in Texas
6. Lake Livingston
An hour and a half north of Houston is Lake Livingston, one of Texas' largest lakes. It boasts 83,000 surface acres and over 450 miles of shoreline, so needless to say, there's plenty of room to play.
There's swimming, great fishing for white bass, paddle rentals, hiking, and mountain biking. Birding is also popular here since the lake is situated along the Central North American Flyway as well as the Mississippi Flyway (keep an eye out for bald eagles!).
There's so much to do, you might want to book a campsite at Lake Livingston State Park or another campground along the lake's shores, like Wolf Creek Park, to make the most of your trip.
Related read: The Best Stops on an Epic Dallas to Houston Road Trip
7. Canyon Lake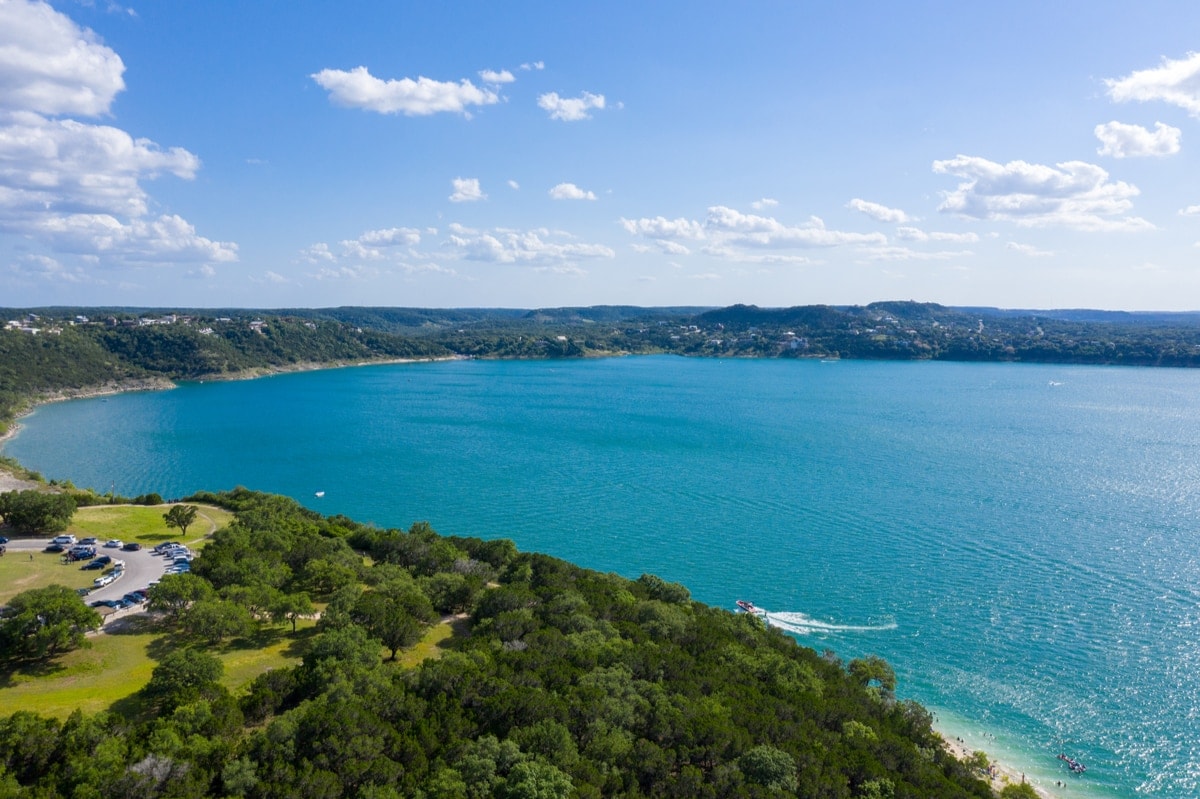 Nestled in the Texas Hill Country, Canyon Lake sits between Austin and San Antonio, just west of San Marcos. During your visit, be sure to check out Overlook Park where you'll get excellent views of the lake and a great spot to watch the sunset.
The lake is notable for how deep it is, reaching down 125 feet, so scuba diving is a popular activity here. Many divers are lured by the chance to see remnants of a submerged ghost town that was evacuated when the lake was created. If you'd rather keep your feet on solid ground, check out the Madrone Trail or hike around the nearby Canyon Lake Gorge.
Related read: 8 Awesome Cabin Rentals Near San Antonio for a Country Getaway
8. Lake Buchanan
Tucked right between Llano and Burnet, Lake Buchanan is connected to Inks Lake State Park. A great way to appreciate the flora and fauna of the area is to hop on a cruise with Vanishing Texas River Cruises.
Along with their standard scenic wilderness and sunset cruises, the company does eagle and birding cruises from mid-November through February, since bald eagles spend their winters at the lake.
Fishing for striped and white bass is another popular past-time here, and even if you don't have your own gear or boat, you can hire a local company like Lake Buchanan Striper Fishing Guide to show you a good time.
Related read: 8 Beautifully Secluded Cabin Rentals in Texas
9. Lake Lewisville
Lake Lewisville is situated at the northern end of the DFW metroplex, giving all the city folk an easily accessible escape into nature. The lake has earned the nickname "Urban Bass Fishing Capital of Texas," so if you can't pass up a good fishing opportunity, you'll be happy here.
Even if you're not into fishing, there's still lots to catch your interest – swimming, beaches, boat marinas, hiking and biking trails, and lakefront golf courses all await visitors.
In the mood to party? Party Cove is the place to go on weekends. Friday through Sunday, this cove comes alive with boaters, tubers, and paddleboarders all listening to music and drinking on the water.
Related read: 9 of the Best Romantic Getaways in Dallas, Texas
10. Lake Granbury
A lake in the Brazos River, Lake Granbury sits southwest of Fort Worth in the town of Granbury. The lake is long, narrow, and winding, and the main access points are Thorp Spring, Hunter Park, City Park, Rough Creek, and De Cordova Bend.
If you don't have too much time to explore Lake Granbury, aim for City Park since that's the most popular access point and is just a couple of blocks from the historic Granbury Square. Another focal point of the lake is Lake Granbury Marina where you can rent pontoons and enjoy some good fish tacos at Stumpy's Lakeside Grill.
Related read: The 11 Best Small Towns in Texas To Visit This Year
11. Lake Whitney
The Dallas area is spoiled with excellent lakes, isn't it? Here's another one for you: Lake Whitney, located about an hour and 20 minutes south of Fort Worth. It's known for being gorgeous, with its combination of clear waters, rock cliffs, and shaded coves. A great place to start your visit is at Lake Whitney State Park.
There, you'll have everything at your fingertips, like fishing, swimming, boating, and camping. There are also two easy hiking trails, one that takes you through the forest and another that brings you along the shore for some lake vistas and fantastic photos.
Related read: 12 Relaxing Texas Cabin Rentals with Hot Tubs
12. Lake O' the Pines
Over in East Texas, Lake O' the Pines isn't too far from the borders with Arkansas and Louisiana. Its name is right on the nose since this area of the state is called the Piney Woods, and the area is lush with towering pine trees. If you're looking to camp out by the lake, Brushy Creek campground on the south shore of the lake is one of the most popular. Another is Johnson Creek Camp on the north shore.
Want to kayak or canoe? Get in touch with Riverbend Outfitters. They can deliver the boats right to your campsite or predetermined launch location, or take you out on a guided tour. For fans of the paranormal, it should also be mentioned that the Lake O' the Pines region is the Bigfoot capital of Texas.
Related read: 5 Must-Do Scenic Train Rides in Texas
Explore more in Texas
Get epic travel ideas delivered to your inbox with Weekend Wanderer, our newsletter inspiring thousands of readers every week.
Was this article helpful?
---