Territory Supply is reader-supported and may earn a commission when you book or purchase using our links. Learn more about our editorial policies here.
---
Home to some of Colorado's most impressive mountain ranges and natural attractions, Colorado Springs is a perfect outdoor escape for families and couples.
Colorado Springs is a beautiful city that lies along the eastern edge of America's impressive Rocky Mountain Range. Located just a quick drive away from the city, the epic Garden of the Gods and Pikes Peak await you. Thousands of visitors stop by every year just to enjoy the unique rock formations and mountainous terrain in the area.
Not only is the city a fantastic family-friendly destination where kids can enjoy the Cheyenne Mountain Zoo and the Royal Gorge Route Railroad, but it's also a hiker's paradise with various levels and types of hiking trails around Colorado Springs.
There are so many stunning cabin rentals near Colorado Springs awaiting you – and we're here to help you find the perfect one. Here's a look at 12 of the best cabin rentals near Colorado Springs for your next trip.
Related: 10 Free Things to Do in Colorado Springs, CO
1. Eagle Crest Cabin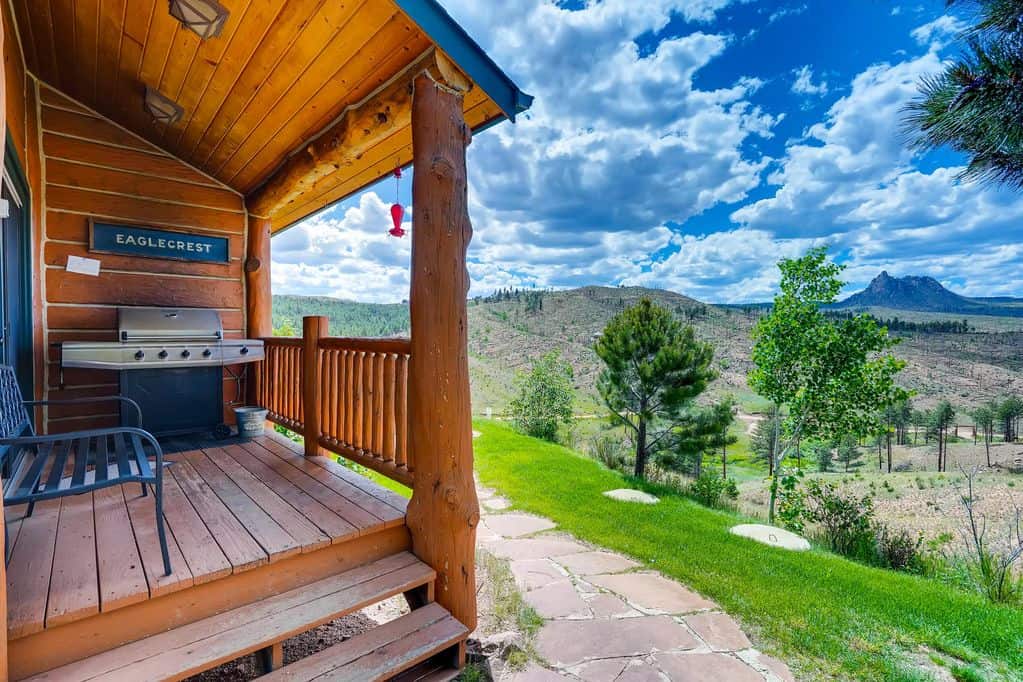 Why you should stay: Relax in a unique log cabin amongst the wooded seclusion of The Pike National Forest northwest of Colorado Springs.
Sleeps: 6
Minimum stay: 2-3 nights
Pets allowed: no
Perched overlooking a creek valley on a 160-acre mountain ranch, Eagle Crest Cabin features striking views, fantastic wildlife watching, and a private hot tub.
Undergoing a complete renovation in January of 2020, the kitchen and baths all have sparkling clean and updated appliances, flooring, fixtures, and furnishings. There are two bedrooms and two beds for four people, plus a sleeper sofa for an additional two guests if needed.
Related read: 9 Glorious Places to See Colorado's Fall Colors
2. Cabin in the Pines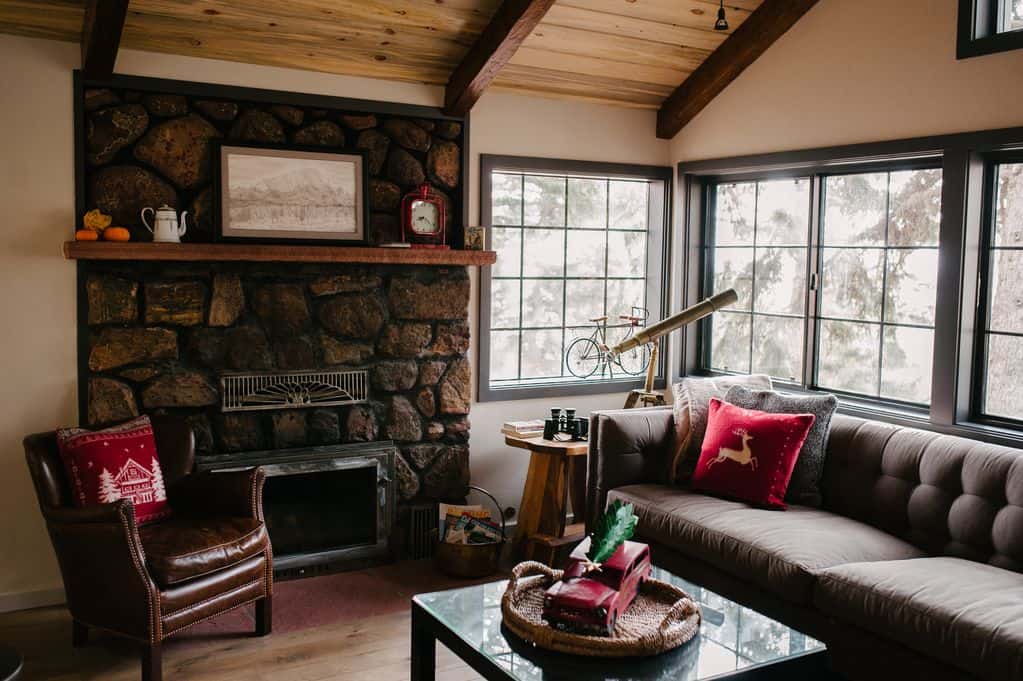 Why you should stay: Elegant and stylish cabin that's been thoughtfully renovated and redesigned in Green Mountain Falls, CO.
Sleeps: 4
Minimum stay: 2-4 nights
Pets allowed: no
This cabin in the pines is a picture-perfect Colorado rental that will please anyone who appreciates classic and minimalist beauty. Oak plank flooring is found throughout the house, as well as gleaming exposed beams and woodwork on the ceiling.
There is a gourmet kitchen with soapstone countertops, a farm sink, and an induction stove waiting for a cozy home-cooked meal, as well as a skylight in the master bedroom for nighttime stargazing.
3. Angler Cove Cabin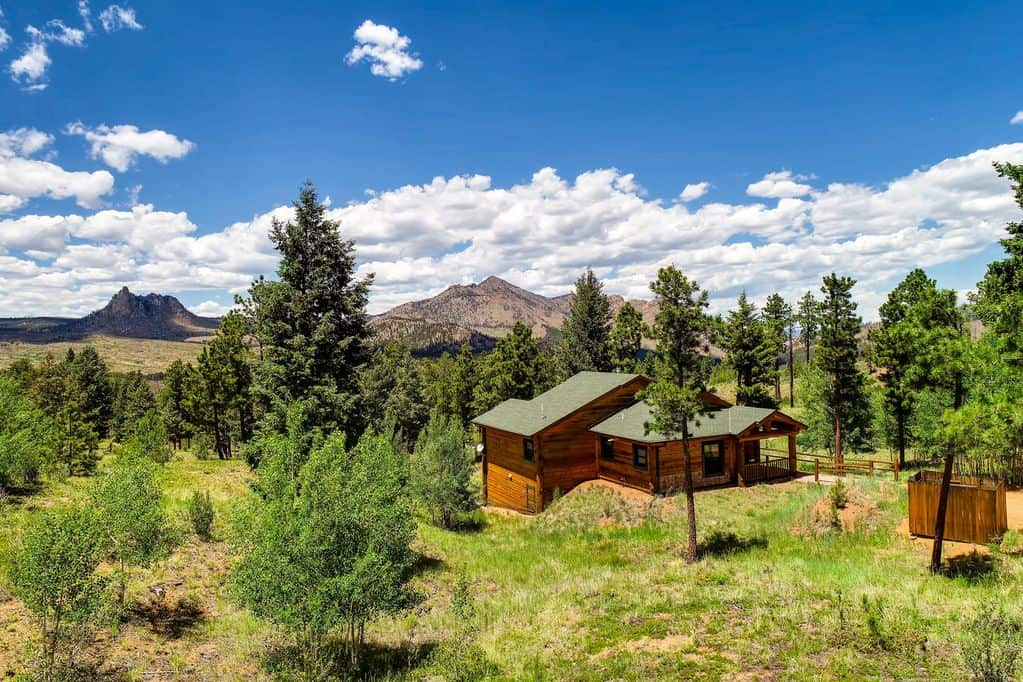 Why you should stay: Luxury log cabin located away from the hustle and bustle of city life.
Sleeps: 6
Minimum stay: 2-3 nights
Pets allowed: no
Angler Cove Cabin is a 1,100-square-foot log home for six in Pikes Peak Resort and happens to be one of the most secluded of all this area's resort cabin rentals. From the back patio, light up a roaring fire and enjoy the serenity of the local landscape.
Decorated to impress the angler in your life, the wooden furnishings and accents add a pleasant touch to this mountain space. The kitchen has been well-appointed for your stay so you can whip up meals at home. There are two bedrooms and two baths at this cabin rental.
4. The Drunken Bear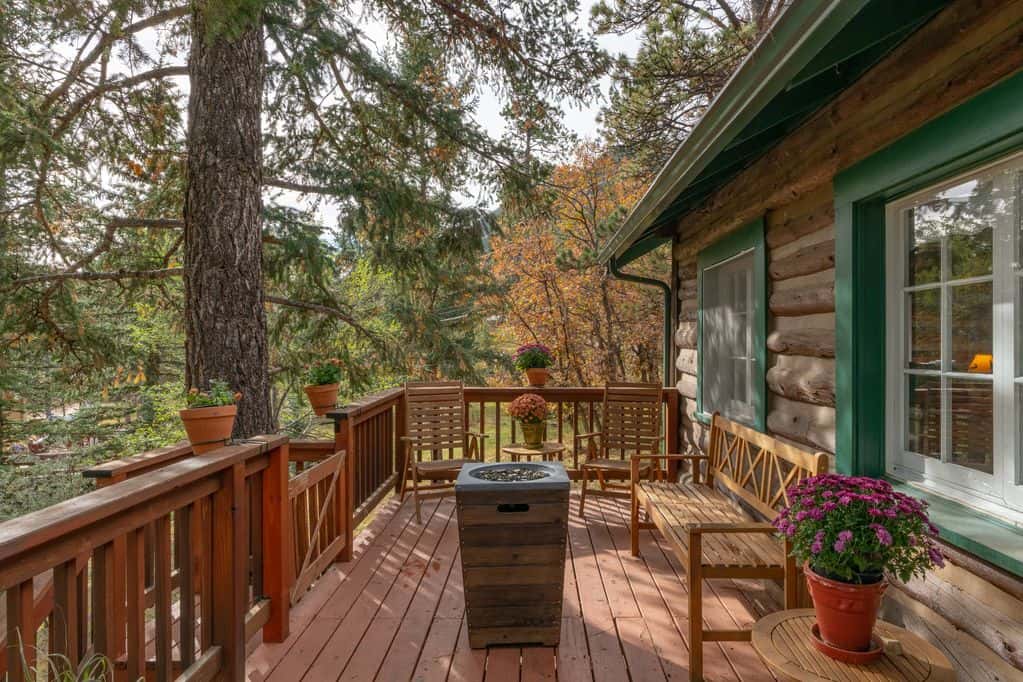 Why you should stay: Sip wine and nibble chocolate in the home's cozy wine gazebo and enjoy a bottle of red or white on the hosts.
Sleeps: 2
Minimum stay: 3-6 nights
Pets allowed: no
Built in 1938, The Drunken Bear is a charming mountain log cabin on a wooded acre of private land. A permanent wine gazebo stands tall in the back, beckoning hosts to nosh and chat over a delicious glass of wine the hosts graciously provide for free.
The home also has a back porch with a fire pit for pleasant evenings under the stars and makes for a romantic getaway for two. The property is just a short two-minute drive to Peak Highway that will quickly take you to Pikes Peak.
5. Mountain Vacation Home
Why you should stay: Stunning and unique modern mountain home overlooking Manitou Springs.
Sleeps: 6
Minimum stay: 1-7 Nights
Pets allowed: No
A Mountain Vacation Home perched above downtown Manitou Springs, this rental property is a stunning and unique home that was once owned by Frank Llyod Wrights' granddaughter.
The eye for architectural detail can be found in every corner of the property from the unique open-concept design, floor to ceiling solar design windows and triangular rooftop.
As you step inside, you're immediately greeted with sweeping views of the Colorado mountain landscape and a glimpse of Pike's Peak. The three bedrooms and three baths in the home very comfortably accommodate up to six guests, and there are plenty of restaurants and shops that are just a short drive away.
6. Modern Vacation Retreat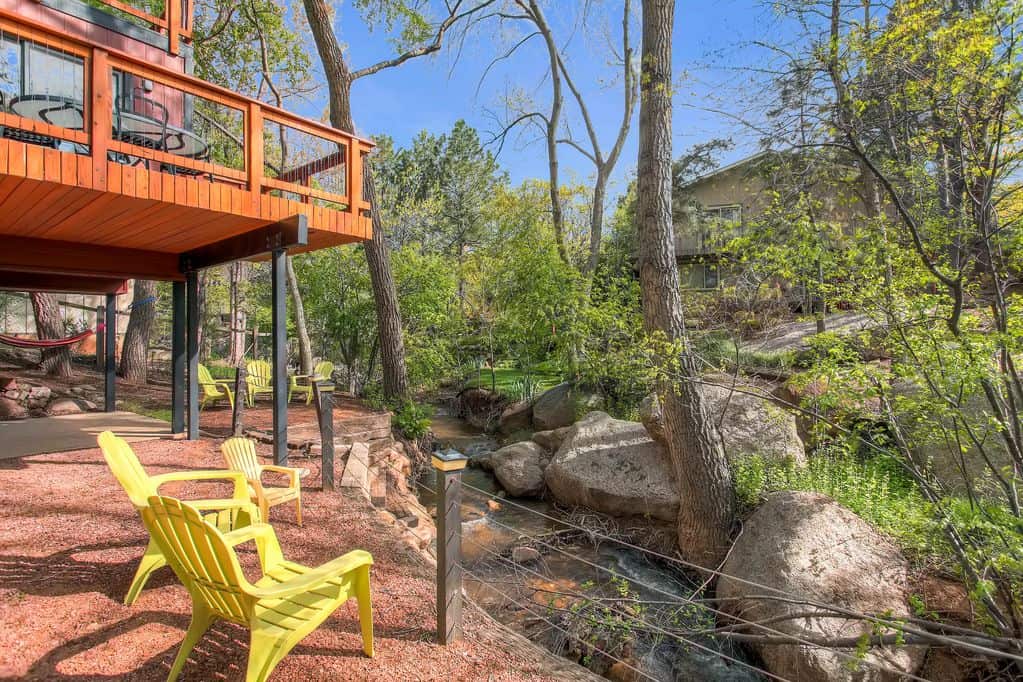 Why you should stay: Spacious modern home that's a secluded retreat just outside of the city.
Sleeps: 10
Minimum stay: 2-7 Nights
Pets allowed: No
Sitting stream-side amongst large cottonwood trees, this Modern Vacation Retreat is a quick two-minute drive to downtown Manitou Springs and ten-minute drive to Colorado Springs. The unique structure of the home and gorgeous windows that nearly cover the entire facade, make the home feel open and inviting.
This stay can sleep up to ten guests and features amenities perfect for a large family gathering. The commercial style kitchen is well equipped, and the living spaces feature a working fireplace, flatscreen TV, and foosball table.
Outside are two beautiful balconies that jut off of the living room and master bedroom as well as ten outdoor Adirondack chairs and a hammock in the back. Your family has everything you need for a comfy stay!
7. The Mountain Modern
Why you should stay: A beautiful wooden house with fantastic and unobstructed views of Pikes Peak.
Sleeps: 10
Minimum stay: 2 Nights
Pets allowed: No
The Mountain Modern is a stunning mountain home that faces a large 6-acre family-friendly park and features open views of Pikes Peak. The large and spacious gourmet kitchen is the perfect space to host a family vacation or reunion. Outside, enjoy the sunken fireplace and backyard farm table that can accommodate a large dinner party.
This vacation rental has five bedrooms to comfortably sleep up to ten guests and is located a short ten-minute walk from the Garden of the Gods. When you're hungry, the best restaurants and cafes in Colorado Springs are only five minutes down the road.
8. Luxurious Family Lodge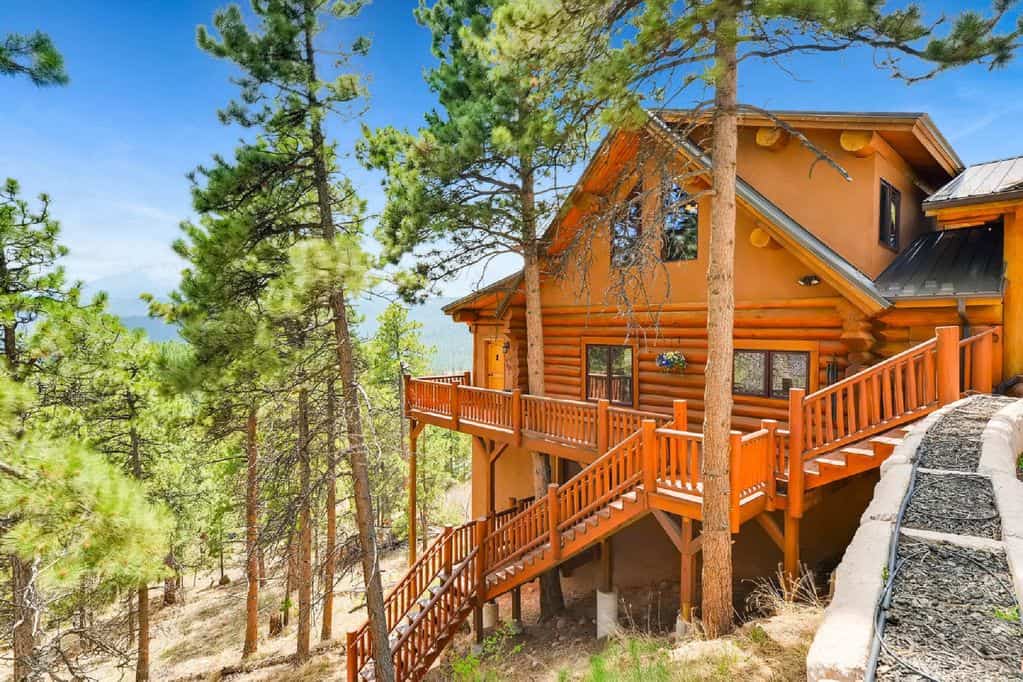 Why you should stay: Spacious and outdoorsy five-bedroom lodging with a killer view of Pikes Peak from the balcony.
Sleeps: 18
Minimum stay: 3-5 nights
Pets allowed: no
For large groups itching to escape to nature, look no further than this massive luxurious family lodge that can comfortably sleep up to 18 guests.
Inside you'll find five bedrooms and five baths, plus plenty of living space for memorable family bonding that includes a fireplace, pool table, and cozy seating.
Step outside to the back balcony where unobstructed mountain views will make your jaw drop. There's a BBQ grill provided for family picnics under the sun as well as a bubbling hot tub for a relaxing soak after long days of hiking.
9. Pikes Peak Chalet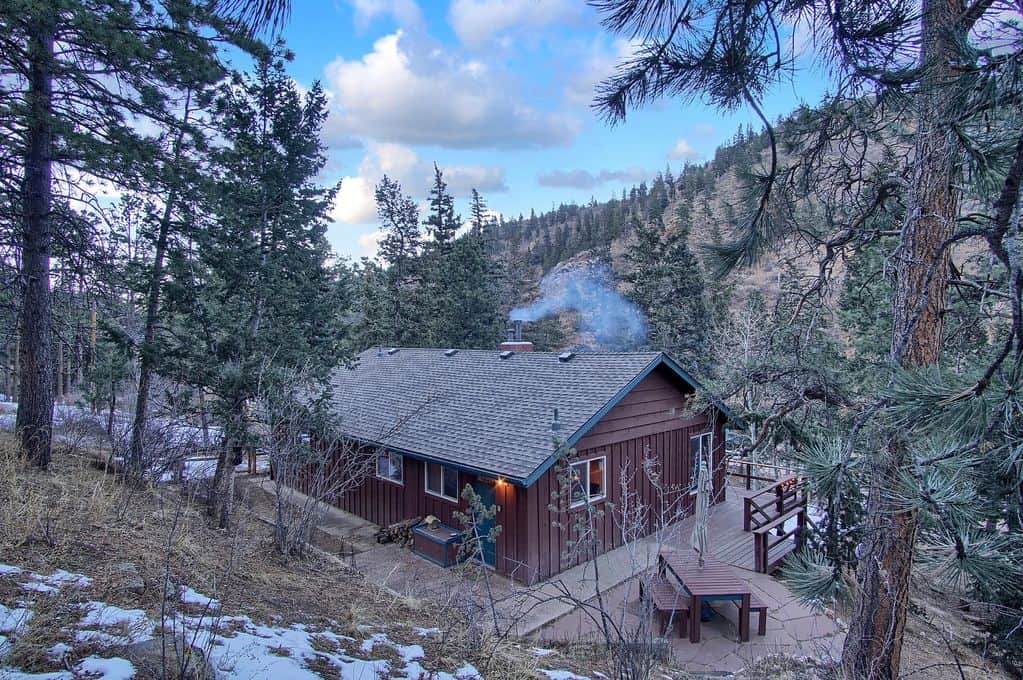 Why you should stay: A great home base in Green Mountain Falls, and a gateway to the best things to do in the region.
Sleeps: 6
Minimum stay: 1 night
Pets allowed: no
Pike's Peak Chalet is a modern and sparkling clean home located near the cute mountain village of Green Mountain Falls.
The cabin's 20 minutes from Colorado Springs and 15 minutes from Manitou Springs, and you can easily drive to some of the state's best natural attractions such as the Garden of the Gods, Pikes Peak, Manitou Cliff Dwellings and more.
When you're spending time at home, enjoy the views of Fountain Creek from the deck and jump in the luxury hot tub with a glass of wine or a cold Colorado brew. From the property, there are numerous hiking trails you can walk to with ease.
10. Updated 1930s Home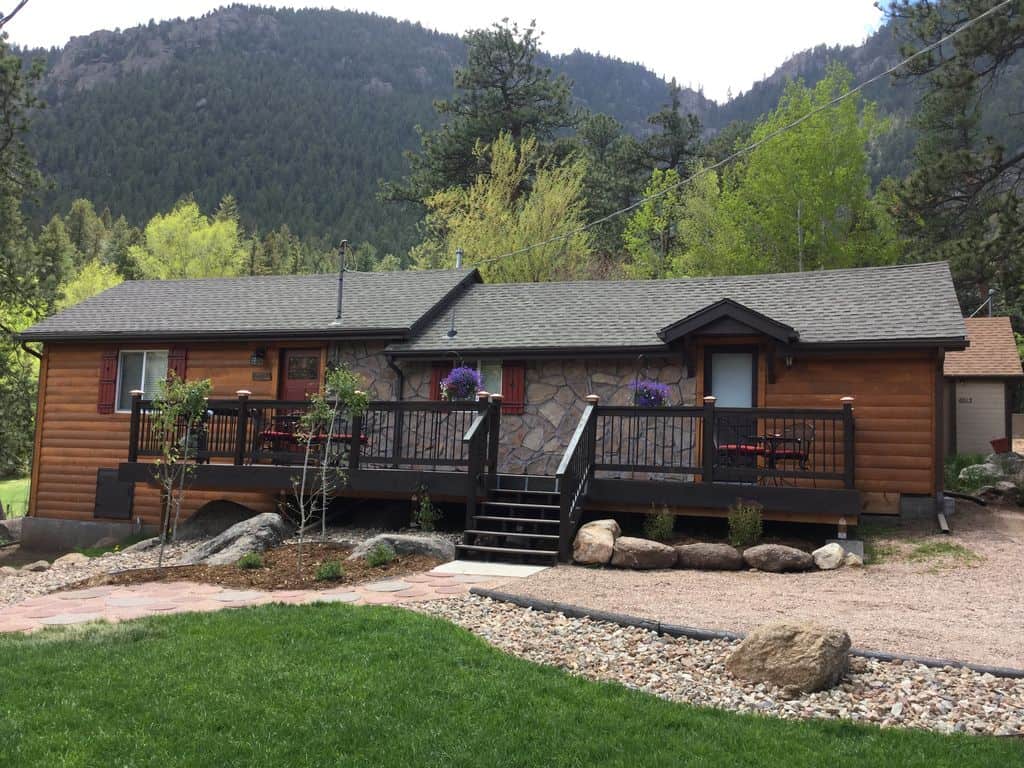 Why you should stay: A beautifully updated historic home near hiking trails and perfect for pets.
Sleeps: 6
Minimum stay: 2 nights
Pets allowed: yes
This Green Mountain Falls updated 1930s home should be at the top of your list for your Colorado Springs getaway. It has two bedrooms and two baths for up to six guests, but the property next door may also be rented for multiple families traveling together. Family pups are allowed to stay too!
The home is conveniently located within walking distance to town, where great restaurants and fun nightlife can be found. Colorado Springs is just 12 miles away, and local outdoor attractions can be easily reached by car.
11. Mountain Symphony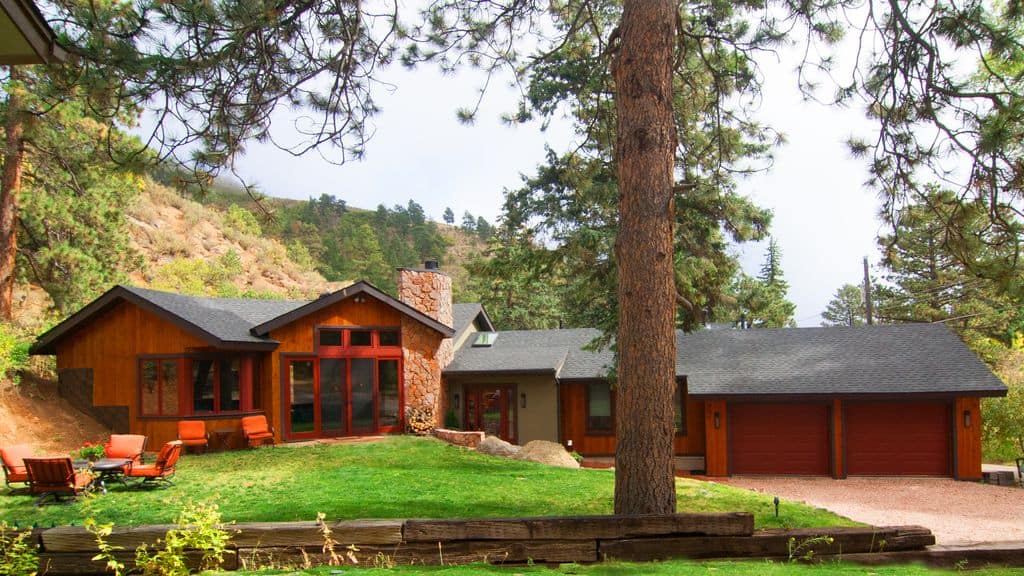 Why you should stay: Indulge in five-star amenities while appreciating the charm of rustic mountain living.
Sleeps: 6
Minimum stay: 2-7 nights
Pets allowed: no
Mountain Symphony is an exceptional cabin rental in Woodland Park. Here you and your family can escape to nature without sacrificing the finer things in life. This three-bedroom home is decorated in high-end furnishings with polished and elegant wooden accents.
Although located in a resort-style village, natural sights surround the home with Mount Dewey right out back, and a bubbling mountain stream out front. Tall and towering pines fill the yard and will invigorate your senses. Excellent restaurants are all within close proximity to the home for your convenience.
12. Elk Ridge Cabin
Why you should stay: Find peace in nature in a stunning log cabin complete with the quality comforts of home.
Sleeps: 6
Minimum stay: 2-3 nights
Pets allowed: no
Elk Ridge Cabin is another superb cabin rental in Pikes Peak Resort. Their slogan is "Where Wilderness & Luxury Meet," and they truly live up to that motto. The cabin has been recently renovated, and all appliances and furniture are brand new.
Elk Ridge boasts not only a beautiful interior but also panoramic views of mountains and wildlife crossings. The outdoor deck has a fire pit for family s'mores, and there's a hot tub to top off relaxing nights.
Explore More of Colorado
Sign up for the Weekend Wanderer to join thousands of readers getting epic travel, hiking, camping and gear ideas every week.
---