We research, evaluate and select travel destinations based on a number of factors, including our writers' experience, user reviews and more. We may earn a commission when you book or purchase through our links. See our editorial policy to learn more.
---
Montana's far-reaching natural beauty is best experienced from the comfort of a deluxe glamping rental, offering an experience that'll leave you with memories for a lifetime.
Also known as The Treasure State, Montana's unique past centers around the state's historically rich deposits of valuable minerals (including sapphires!) and cattle ranchers who made the most of public domain land.
This large state is loaded with countless mountain peaks, verdant river valleys, and lush forests. And it's biologically impressive, with wildlife that roam, like grizzlies, lynx, moose, and mountain lions.
Experience your own outdoor adventure when you book an incredible glamping rental in Montana.
Related Read: The 9 Best Glamping Spots in Wyoming
1. End of the Road Yurt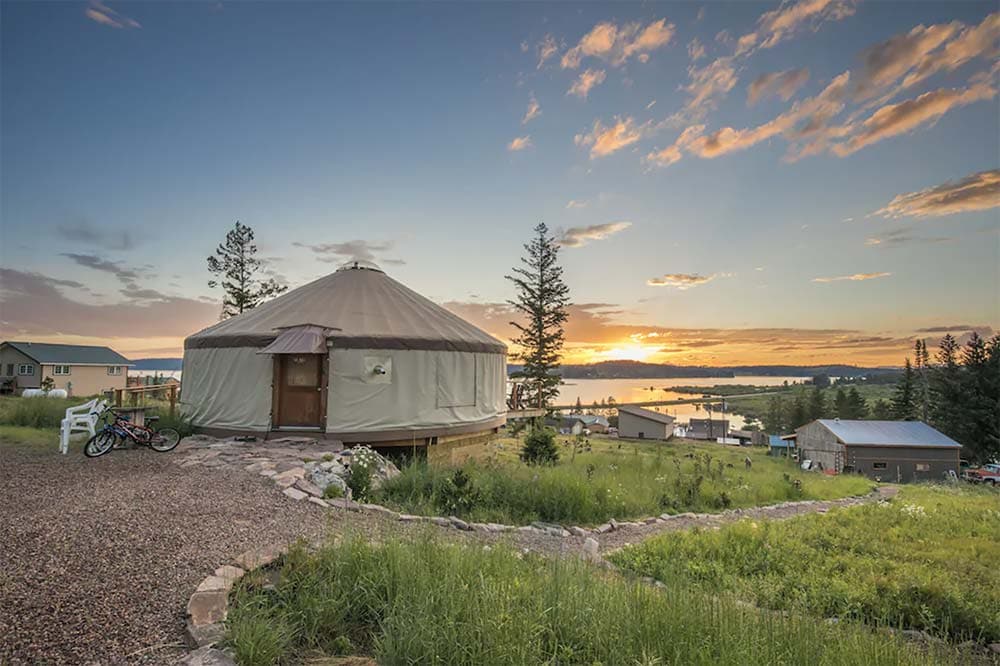 Why you should stay: Spacious yurt overlooking the peaceful waters of Georgetown Lake.
Location: Georgetown
Sleeps: 6
Minimum stay: 2 nights
Rates from: $150/night
At the End of the Road Yurt, you'll find peaceful solitude among sprawling fields and enjoy the colorful sunsets that reflect in the nearby lake. Although this yurt is somewhat secluded, interesting Montana attractions like the Granite Ghost Town State Park and Discovery Ski Area are a quick drive away.
The layout of the yurt consists of an open floor plan with a lofted sleeping space, a gas stove, and a domed skylight. It also features a wraparound deck with an ADA-compliant accessible ramp, making it a great Montana glamping rental if you have guests who may not like taking stairs up and down. It also has an indoor bathroom, which is more than you'll find in many yurts.
Check Availability
Related Read: 6 Gorgeous Treehouse Rentals in Montana
2. Luxury Yurt on Flathead Lake
Why you should stay: A lovely year-round yurt with roaming wildlife and epic night skies.
Location: Somers
Sleeps: 4
Minimum stay: 3 nights
Rates from: $160/night
This luxury yurt on Flathead Lake is a quaint Montana VRBO in the north on the border of Flathead National Forest. It has two bedrooms and an open area with a dining table, a living room, and a kitchen with high-end appliances. The yurt even has on-site laundry and an impressive deck on the northern end of Flathead Lake.
Numerous windows, french doors, and a center skylight allow natural light and ventilation to flow through the home. From the elevated, spacious deck, you can take in panoramic views of the surrounding valley and the Swan and Blacktail Mountains. This Montana glamping rental is well-heated and has cozy furnishings and blankets, so it's great for winter stays in the snow, too.
Check Availability
Related Read: 6 Epic Backpacking Routes in Glacier National Park, Montana
3. Montana Treehouse Retreat
Why you should stay: Two-story treehouse near Glacier National Park and Whitefish Mountain Ski Resort.
Location: Columbia Falls
Sleeps: 4
Minimum stay: 3 nights
Rates from: $399/night
Enjoy a fairytale stay at the Montana Treehouse Retreat, a breathtaking wooden treehouse situated on a rural seven-acre property. Catching the attention of "The Treehouse Guys", a show on the DIY Network, this impressive Montana glampsite is worth all the attention it so often gets. From the stunning spiral staircase to the homey decor and the living tree that passes through the home, this treehouse offers a stay of a lifetime. It books pretty far in advance, so try to plan your stay as early as possible (or be flexible with your dates.)
Check Availability
Follow 'em: @MtTreehouse
4. Ponderosa Chalet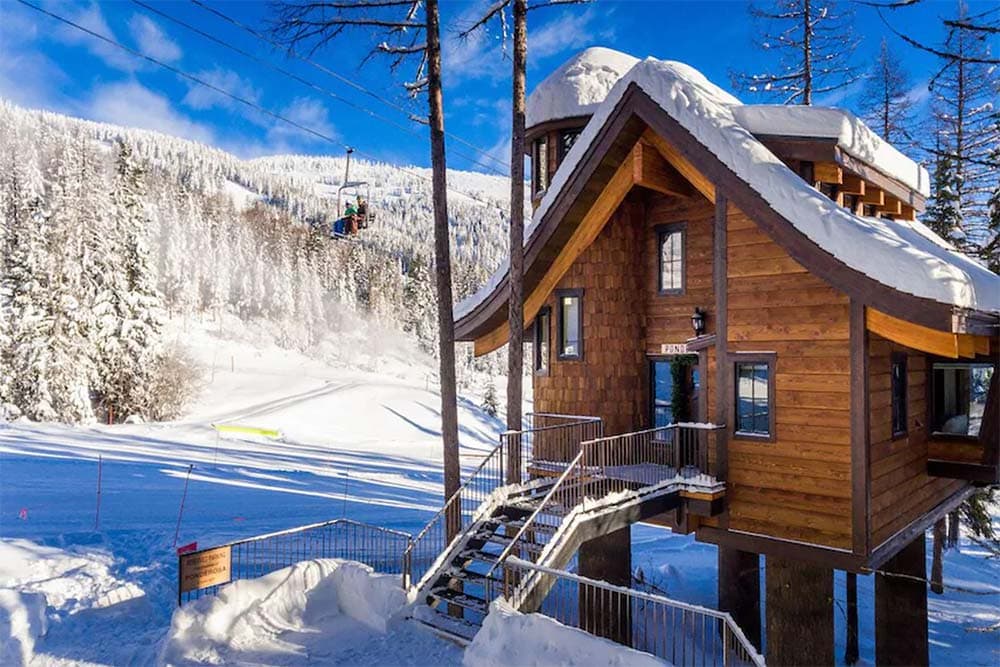 Why you should stay: Ski-in, ski-out chalet with a hot tub at Whitefish Mountain Resort.
Location: Whitefish
Sleeps: 6
Minimum stay: 1 night
Rates from: $734/night
Managed by the super-professional Snow Bear Chalets, the 9 Best Airbnbs & Vacation Rentals in Missoula, Montana is a storybook treehouse brimming with charm. The shingled turret, floor-to-ceiling windows, and exposed wooden beams are just the tip of the luxury iceberg. This modern home also has a fireplace and a large deck and expansive patio doors. Whether you visit in the winter to hit the slopes or in the summer to hike and bike the surrounding mountain trails, this Montana VRBO is a treat.
It's one of the more expensive glamping rentals in Montana, but guests who don't mind the price tag will likely find themselves booking and rebooking year after year.
Check Availability
Follow 'em: @SnowBearChalets
5. Airstream in the Wild
Why you should stay: Minimalist airstream far from cell service.
Location: Livingston
Sleeps: 6
Minimum stay: 1 night
Rates start from: $155/night
Escape to the airstream in the wild, a retro camper nestled on a remote 10-acre property with a peaceful creek. Spend your days relaxing around the fire ring, floating down the stream on inner tubes, or playing board games with your travel crew. The RV is solar-powered and fully equipped with a kitchen, bathroom, and 50-gallon water tank topped off for each new guest.
Yellowstone's north entrance is 40 miles away, and Livingston is 20 minutes by car. The starting rate will set you back just $25 per person per night, and the photos on the Airbnb listing have seriously Bohemian, home-on-the-range vibes.
Check Availability
Related Read: 11 Extraordinary Glamping Stays Near Glacier National Park, Montana
6. Tiny Town Campground
Why you should stay: Mountain-view A-frame tent with access to a shared outdoor camping area.
Location: Emigrant
Sleeps: 2
Minimum stay: 1 night
Rates from: $105/night
Experience glamping in studio tents at the Tiny Town Campground, a glampsite specializing in boutique camping. There are only five units so you could book out the whole place with a small group, and you get access to a community kitchen and a bathhouse with shower stalls. Trendy and bright decor fill the tents, where queen beds, night tables, and private porches create a comfortable place to lay your head in Montana's Paradise Valley. Plus, the north entrance for Yellowstone is a 30-minute drive away.
It's one of the more affordable glamping rentals in Montana at just over $100 a night. Expect shared restrooms, no Wi-Fi, and a good time for all.
Check Availability
Follow 'em: @TinyTownCampground 
7. The Resort at Paws Up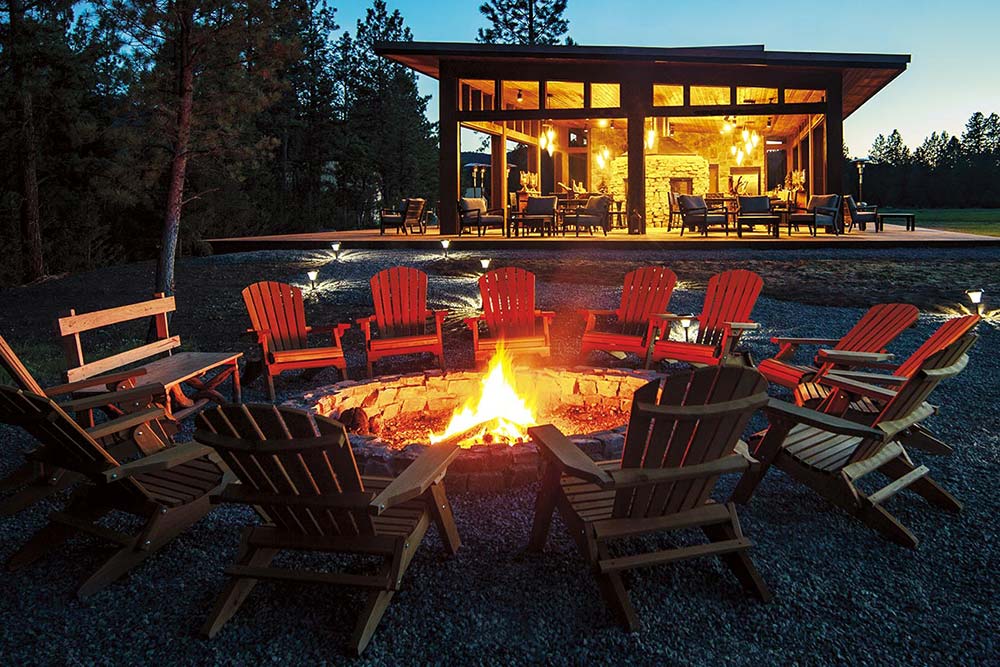 Why you should stay: All-inclusive ranch resort with lux dining, exciting outdoor adventures, and spa services.
Location: Greenough
Sleeps: 1+
Minimum stay: 2 nights
Rates from: $1,695/night
The Resort at Paws Up offers a truly unique experience, allowing guests to sleep on a working cattle ranch spread across a staggering 37,000 acres. The resort has various glamping units ranging from tents to cabins in remote or central areas of the property.
The nightly rates include at minimum three daily meals and beverages, plus daily full-service housekeeping and insanely luxurious accommodation. It's possible to upgrade your stay to include airport transfers and a car rental. Some bookings even include a credit for the resort's activities that include horseback riding, fly fishing, white water rafting, and guided hikes. As far as glamping rentals in Montana go, it's definitely one of the most luxurious options in the state.
Check Availability
Follow 'em: @TheResortAtPawsUp
8. Under Canvas Glacier
Why you should stay: Hipster heaven with great amenities just seven miles from Glacier National Park.
Location: Coram
Sleeps: 2+
Minimum stay: 1 night
Rates from: $209/night
As one of the U.S.'s most popular outdoor resort chains, Under Canvas Glacier brings guests closer to nature without sacrificing comfort. The resort offers accommodation options that include tents distinguished as suites, deluxe, or safari, plus treehouse glamping.
During your stay, enjoy extras such as complimentary camp activities, a fire pit and s'mores, organic toiletries, and more. It's a social atmosphere, but the large property has plenty of space to escape for a bit if you'd rather not hear your fellow guests singing campfire songs.
If venturing to Yellowstone, you may also want to check out Under Canvas Yellowstone property and stay in both properties for an epic Montana glamping getaway.
Check Availability
Follow 'em: @UnderCanvasOfficial
9. The Ranch at Rock Creek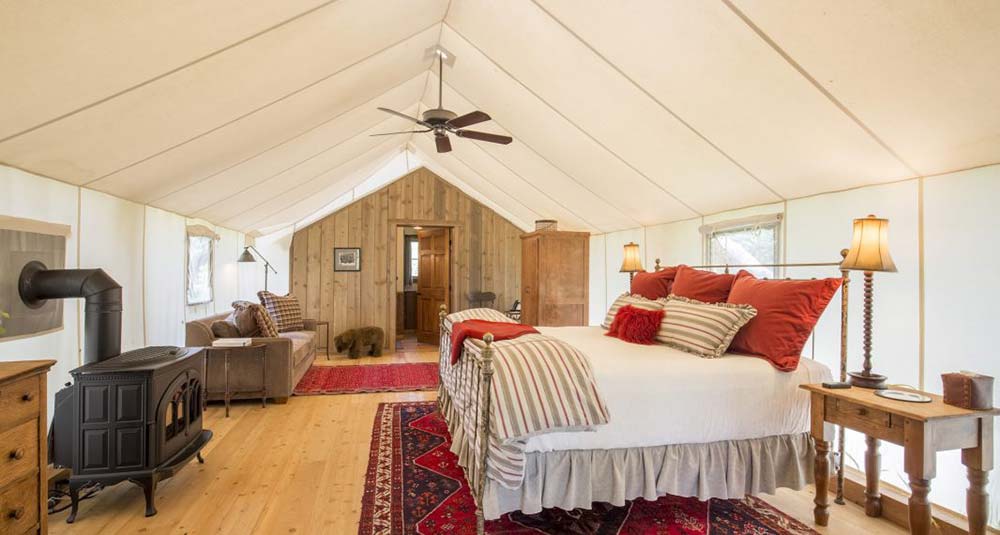 Why you should stay: Upscale glamping at a sustainable resort with activities and meals included.
Location: Philipsburg
Sleeps: 2+
Minimum stay: 3 nights
Rates from: $850/night
The Ranch at Rock Creek offers guests an all-inclusive experience. The resort has four different room options and tries to be sustainable whenever possible – all of the tents can be removed without leaving a trace to ensure they don't damage the landscape and the resort leads annual river clean up efforts. If you're seeking unique accommodation, it's possible to book a stay in a Conestoga wagon renovated into a glamping rental.
Each glampsite booking includes fresh ranch-style cuisine, unlimited beverages including alcohol, and access to the fitness center pool and hot tub. Your booking also includes daily scheduled activities like yoga and mountain biking, and airport transfers from nearby airports. Heck, you can even pan for sapphires!
Check Availability
Follow 'em: @TheRanchAtRockCreek
10. Bar W Guest Ranch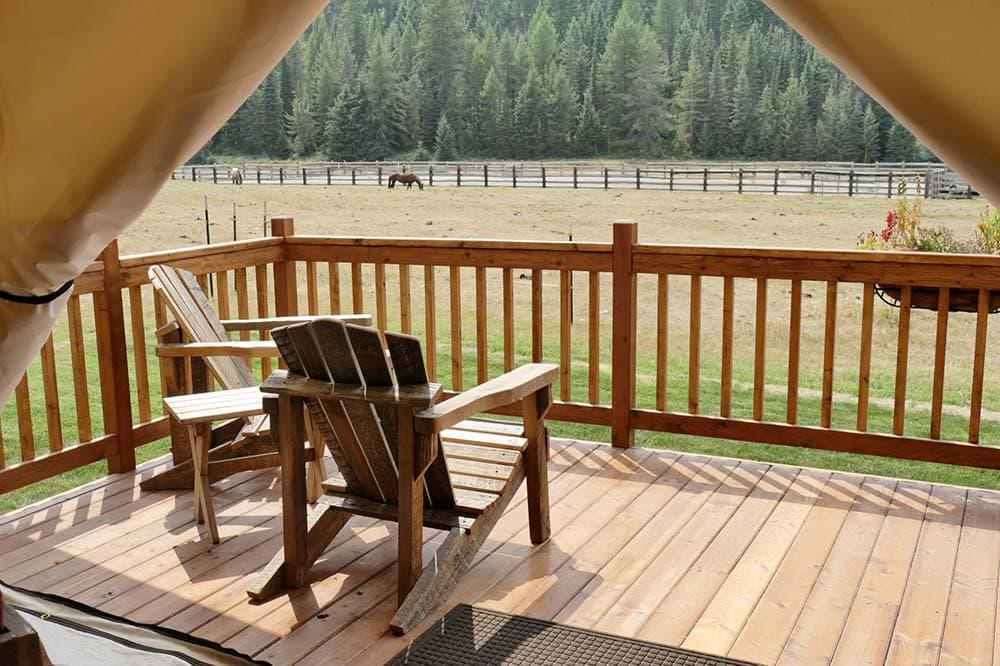 Why you should stay: A classic Dude Ranch not far from the beauty of Glacier National Park.
Location: Whitefish
Sleeps: 1+
Minimum stay: 1 night
Rates from: $841 for three nights
The Bar W Guest Ranch is a comfortable glamping home base near iconic Montana attractions like downtown Whitefish, the Whitefish Lake Golf Club, and whitewater rafting, to name a few. The grounds are dotted with luxury canvas tents, each of which have a queen bed, a private porch, and access to a private heated bathroom.
The ranch offers guests unique three-night or six-night glamping packages and limited one-night availability. You can also opt to stay in the main lodge, a cabin suite, or skip the all-inclusive for their Bed and Breakfast experience. While on the ranch, be sure to try your hand at horseback riding, which is included as part of the price. You can also help our with ranch chores and daily tasks, go rafting, jump in a wagon ride, try archery or skeet shooting, and plenty more.
Check Availability
Follow 'em: @BarWGuestRanch
11. Clear Sky Resorts
Why you should stay: Sleep in a dome tent under a dark sky with clear stargazing.
Location: Pinnacle
Sleeps: 2+
Minimum stay: 1 night
Rates from: $395/night
The Clear Sky Resorts take the fun of unique accommodations, the beauty of camping in nature, and the comfort of a resort to create a totally special experience you'll only find in Montana — and the Grand Canyon, where their other property is located. The luxury skydomes come furnished with stylish and modern decor and a stargazing set-up, complete with a panoramic window, skylight, and a telescope. You'll also be provided with cozy touches that include supremely soft bathrobes and hammocks on your private deck.
The domes are available for booking between June and October, and the resort offers onsite activities like daily happy hour, live music, yard games, and more. The property is 15 minutes from the West Glacier Park entrance.
Check Availability
Follow 'em: @ClearSkyResorts
Explore More in Montana
Sign up for the Weekend Wanderer to join thousands of readers getting epic travel and gear ideas every week.
---