We research, evaluate and select travel destinations based on a number of factors, including our writers' experience, user reviews and more. We may earn a commission when you book or purchase through our links. See our editorial policy to learn more.
---
ColoRADo is THE place to bask in the sun, hike some killer mountains, ski some beautiful slopes, and drink all the beer you want.
Well, maybe go easy on the beer since there are over 400 breweries in the state. There are also nearly 100 distilleries and 150 wineries if beer isn't really your style. Whatever you're drinking, there is a boatload (despite being a landlocked state) of things to do.
Take a dip in the world's largest natural hot springs pool (or deepest hot springs for that matter) or drive the highest paved road in the U.S. or cross the nation's highest suspension bridge.
And what better way to immerse yourselves in the Rocky Mountain culture than by staying in some seriously rad glamping spots? You can still feel cool that you're basically camping in nature but without the tent setup or lack of amenities. Also, if camping like Bear Grylls is your thing — check out some free camping spots in the state.
Find your ideal getaway for your next adventure in the Centennial State with our list below. Whether it's a tiny home, an Airstream Land Yacht, or even a tipi, Colorado's got something magical for everyone.
Related Read: 7 Rad Campgrounds in San Juan National Forest, Colorado
1. Tiny Off-Grid Home
Why you should stay: close to world-renowned skiing without the price tag.
Nearest town: Red Cliff
Sleeps: 5 guests
Minimum Stay: 2 nights
Rates from: $169/night
This year-round off-grid tiny house is an outdoor recreationalist's paradise! It's only 30 minutes south of some of the best skiing in the country and surrounded by fourteeners (mountains above 14,000'). Speaking of fourteeners; want to wake up in your loft bedroom with unobstructed views of Mount of the Holy Cross? Then this place is for you!
You can see where it gets its name when the cross-shaped gullies on the northeast face are filled with snow. This small yet spacious home is beautiful anytime of the year with aspens galore and nonstop wildlife viewing.
Check Availability
Related Read: 9 Glorious Places to See Colorado's Fall Colors
2. Refurbished 1958 Airstream Land Yacht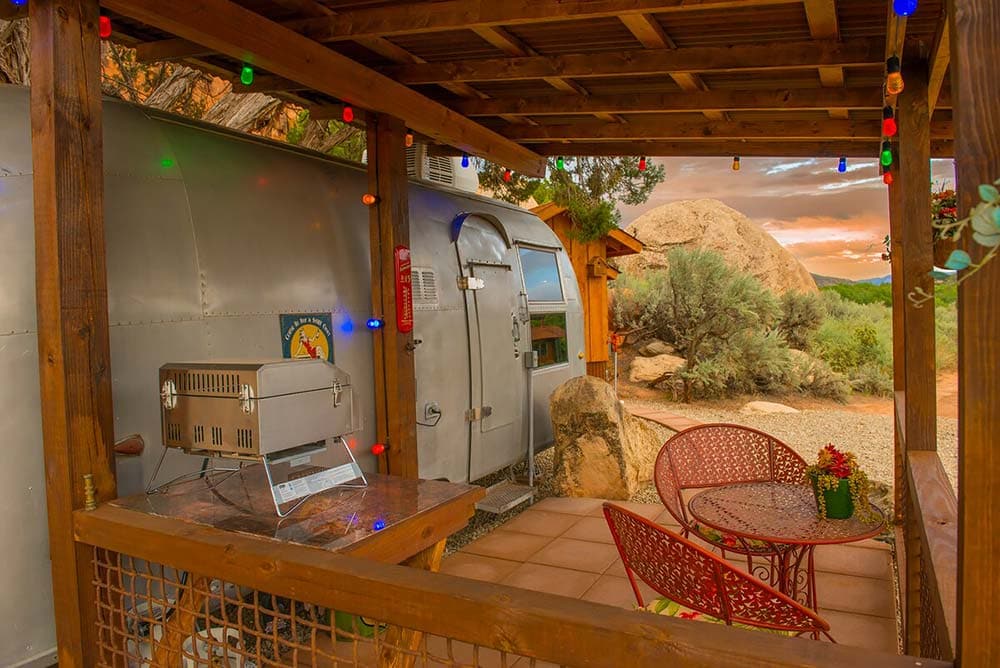 Why you should stay: immerse yourself in pioneer life with simple basins and a hand crank wringer to do your laundry.
Nearest town: Cortez
Sleeps: 2 guests
Minimum Stay: 2 nights
Rates from: $122/night
Live like a nomad without having to drive anywhere in this retro Airstream trailer. The small home is surrounded by 80 acres of red rock cliffs and abuts the Canyon of the Ancients National Monument. Walk among the historic civilizations that once inhabited the area straight from your front door.
A bonus for staying here is access to 8 ruins in the backcountry that is only accessed from this property and not open to the public. Your host is a site monitor for them and will gladly give you access. If you want to really immerse yourself in the history, ask the hosts to stay in the tipi up on a ridge on the property.
Check Availability
Related Read: 11 Perfect Romantic Getaways in Colorado
3. The Green Yurt
Why you should stay: stay in the autumn and it'll feel as if you're in a sea of golden leaves.
Nearest town: Mancos
Sleeps: 4 guests
Minimum Stay: 2 nights
Rates from: $120/night
It's worth noting twice that this yurt is in the middle of a large quaking aspen grove. You'll learn where the trees get their name from when the wind starts blowing through the property. You won't ever need a "warm" filter for any of the photos you're bound to take.
Which reminds us, make sure you have plenty of space on your phone or camera to take thousands of photos. The yurt is on a private homestead in-holding within the San Juan National Forest. Some of the most beautiful hikes is found nearby including the Ice Lake Basin.
Check Availability
Related Read: 10 Gorgeous Cabin Rentals in Grand Lake, Colorado
4. Fisher Mountain Hut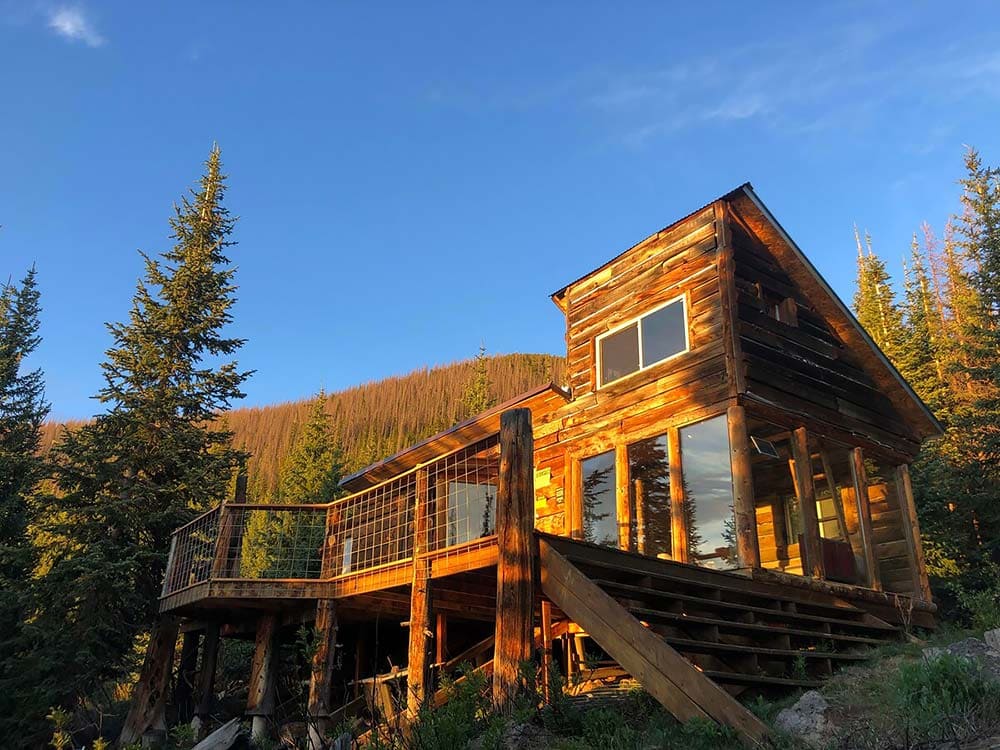 Why you should stay: with the exception of the guests that come with you, there won't be a single person within miles of this place.
Nearest town: Creede
Sleeps: 6 guests
Minimum Stay: 1 night
Rates from: $111/night
Seclusion isn't better defined than this mountain getaway. In the winter, the Fisher Mountain Hut can only be accessed by 5 miles of skiing/snowshoeing. Driving up in the summer is a tad easier and gets you within 400 feet of this backcountry hut.
There's no electricity, refrigeration, or water so come prepared. The home did just get a 100W solar panel installed in 2020, so you can at least charge your phone. We doubt you'll want to use it other than to snap a few photos though.
Being one of the more remote places to stay, make sure to check out the nearby Wheeler Geologic Area. The "City of Gnomes" used to be one of Colorado's busiest attractions but is now the perfect remote adventure. The trail is filled with bizarre and unique formations that resemble gnomes (hence the nickname). We suggest renting (or bringing) an ATV to get to the trailhead.
Check Availability
Related Read: 9 Woodsy Cabin Rentals Near Durango, Colorado
5. Canvas Villa
Why you should stay: it comes with a personal chef.
Nearest town: Ouray
Sleeps: 8 guests
Minimum Stay: 1 night
Rates from: $75/night
It's no reason Ouray is considered the Little Switzerland of Colorado since it's situated in the middle of towering cliffs and cascading waterfalls. You get to be in the middle of it if you rent out at this enormous canvas tent. With minimal sleeping quarters (a few bunk beds and cots), this place is just a step above pitching your own tent.
The exception being it comes fully catered by the owners (lunch is on your own though). It's no easy feat to get to this tent either; 4WD and high clearance is required or it's a day hike in.
Check Availability
Related Read: Traveler's Guide to the Best Colorado National Parks
6. The Lucy Desi
Why you should stay: get a taste for the Continental Divide Trail without having to hike it.
Nearest town: Del Norte
Sleeps: 2 guests
Minimum Stay: 2 nights
Rates from: $100/night
Put in your hair curlers and stretch out on the deck of this 1968 Silver Streak Trailer with your pastel Mumu dress. It sits on the 35-acre off-grid Angel Rock Ranch smack dab in the middle of the Continental Divide Trail. You'll be embracing your inner granny obsessed with flamingo yard art and lace doilies during your stay.
You can even bring little Fido since dogs are welcomed here. If you don't own a dog, no worries. You'll find you're never truly alone during your stay with the hundreds of chickens, dozens of goats, and several miniature horses that roam the property.
Check Availability
Related Read: The 10 Best Dog-Friendly Colorado Cabin Rentals
7. Yurt with Valley Views
Why you should stay: see the Milky Way without a telescope.
Nearest town: Whitewater
Sleeps: 5 guests
Minimum Stay: 2 nights
Rates from: $190/night
The views from this glamping gem cannot be beat. It's surrounded by the floral scent of sagebrush and the shade of juniper trees.
Those natural wonders give way to the sweeping valley and open pastures in front of the yurt. Although it's considered a studio-style yurt, there is more than enough room and privacy in this space including a full-size fridge and oven! And a big bonus – dogs are allowed and there is complimentary whiskey. Sign us up!
Check Availability
Related Read: 12 Best Places to Visit in Colorado for Unforgettable Adventures
8. The Silver Fox
Why you should stay: go poo with a view.
Nearest town: Durango
Sleeps: 2 guests
Minimum Stay: 2 nights
Rates from: $73/night
We're not talking about Richard Gere (get it, Silver Fox?) when you stay in this vintage 1954 Airstream Safari. Instead, it gets its name from the steel that lines the outside and inside of the trailer.
It was originally used a hunting/fishing hut on a lake in Colorado but has been meticulously refurbished. You'll still be able to do some fishing, though, with a crawdad pond just across the way on the property.
Check Availability
Related Read: 10 Relaxing Cabin Rentals in Breckenridge, Colorado
9. Black Tree Resort
Why you should stay: you only need to bring yourself and some clothes, everything else is taken care of.
Nearest town: Lake George
Sleeps: 4 guests
Minimum Stay: 1 night
Rates from: $595/night
Their tagline "where high end meets high country" couldn't be more accurate in this incredible retreat two hours from Denver. The price point might be high but that's because all meals, snacks, and non-alcoholic drinks are included.
You'll really feel as if you're staying at the Ritz Carlton with fresh, delicious cuisine delivered straight to your tent. If you want, there's no need to leave your tent except to shower (there's a separate bath house). But the views and surrounding area shouldn't be missed either. If you're still not convinced to stay here, check out our full review here.
Check Availability
Related Read: 9 Natural Hot Springs in Colorado for Soaking Away Your Troubles
10. Authentic Tipi
Why you should stay: live like Kevin Costner in Dances with the Wolves.
Nearest town: Canon City
Sleeps: 4 guests
Minimum Stay: 2 nights
Rates from: $97/night
No seriously, this tipi was made by the same people who made the ones in the famous movie "Dances with Wolves". Staying in the 20-foot oval interior of this majestic rental will leave you wondering why you should ever return to your daily life.
With no internet, tv, or running water, this place is exactly the spot to unwind and unplug. Don't worry though, you can still take a hot (solar) shower and use the pit toilet (the hosts even provide reading material for those needing a little time).
Check Availability
Related Read: 7 Incredible Glamping Destinations Near Denver, Colorado7 Incredible Glamping Destinations Near Denver, Colorado
11. Dunton River Camp Tents
Why you should stay: there's an on-site sauna.
Nearest town: Dolores
Sleeps: 2 guests
Minimum Stay: 3 nights
Rates from: $1800/night
Tents along this former cattle ranch have all the amenities you would expect in a five-star hotel in New York City. This includes en-suite bathrooms with a shower and tub PLUS towel warmers. Say what?!?
If you're wondering about the high price-tag, it's because everything is included. Breakfast? Yup. Dinner with wine? Yup. Midnight snacks? Yup and yup! You won't need to bring anything but the clothes on your back to enjoy this truly secluded resort.
Check Availability
Related Read: 8 Beautiful Cabin Rentals in Buena Vista, Colorado
Explore Colorado
Get epic travel ideas delivered to your inbox with Weekend Wanderer, our newsletter inspiring more than 10,000 readers every week.
---