We research, evaluate and select travel destinations based on a number of factors, including our writers' experience, user reviews and more. We may earn a commission when you book or purchase through our links. See our editorial policy to learn more.
---
Next time you're planning a trip to Colorado, whether you're planning to bag some 14'ers or hit the slopes, book one of these dog-friendly Colorado cabins so you can bring the entire family along.
Whether you've got an adventurous pup or a faithful older companion who doesn't want to leave your side, Colorado is a great destination for dog-friendly adventures. From pooch-friendly patios to many miles of trails that welcome your dog (though some may have leash laws), this dog-friendly state has lots of fun activities where you can bring the whole family along, including those with four legs.
When you book one of these dog-friendly cabins in Colorado, you can rest assured that your dog will be happy enjoying new sights, new smells, and a new place to curl up without ever having to be separated from his or her favorite person: you. Your dog will certainly thank you when you book one of these cabins.
Related Read: 10 Unique Places to Stay in Colorado
1. Ridge Top Cabin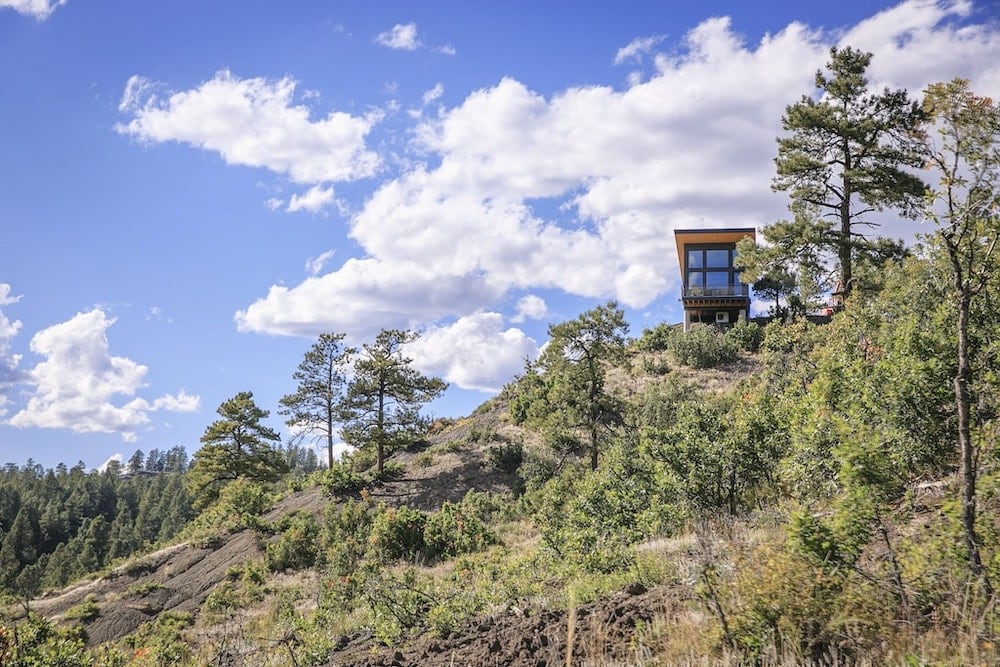 Why you should stay: Views for days on a 72-acre private pooch paradise.
Location: Pagosa Springs
Sleeps: 5  
Minimum stay: 1 night
Rates from: $245/night
Just outside of Pagosa Springs, this modern and minimal cabin offers just the right vibe for a casual, pet-friendly vacation. Up to two pets are allowed with approval from the host. Your dog will love soaking up the sun under the big windows in the living room or catching a siesta on the back deck.
In the summer and fall, take your dog out for a walk straight from the front door on the property's private hiking trails. Nearby downtown Pagosa Springs offers several dog-friendly patios if you're interested in hitting up a local brewpub, and if you visit in the winter, take your pup out to the Pagosa Nordic Center for some energy-burning skijoring
"Our family loved staying at the Ridge Top Cabin! My husband and I, plus two adult daughters and a pup, were able to relax, enjoy cooking meals together, hike on the private trail, and watch incredible sunsets from this location."
Check Availability
Related Read: 9 Best Resorts in Colorado for Rocky Mountain R&R
2. Sierra Sky Mountain Cabin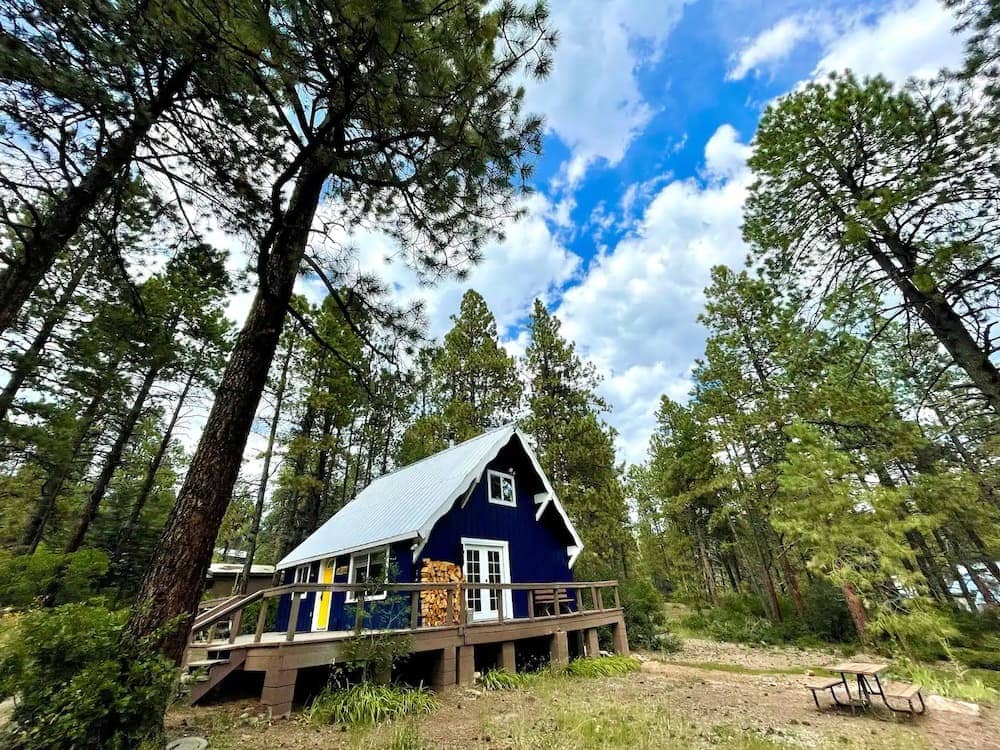 Why you should stay: For dog-friendly hiking trails right outside your Rocky Mountain cabin.
Location: Durango
Sleeps: 6  
Minimum stay: 3 nights
Rates from: $171/night
If you and your dog are looking for a remote cabin with prime access to miles of hiking trails and pristine Colorado wilderness, this Sierra Sky Mountain Cabin is the perfect escape. Pets are welcome at the cozy blue cabin with a non-refundable $100 fee. When you aren't out exploring, you can kick up your feet (or rest your tired paws) by the cozy wood-burning stove.
About 25 miles outside of downtown Durango, you can easily pop into town and treat your dog with a stop-off at the Durango Dog Park to have an off-leash romp and meet some new friends. But you can just as easily leave civilization behind as the cabin abuts the San Juan National Forest and the Weminuche Wilderness. Dogs who love the great outdoors will love romping around this dog-friendly Colorado cabin.
Check Availability
Related Read: 9 Woodsy Cabin Rentals Near Durango, Colorado
3. Purgatory Designer Studio Cabin
Why you should stay: Cozy cabin near Purgatory for a summer or winter getaway.
Location: Purgatory
Sleeps: 3 
Minimum stay: 2 nights 
Rates from: $230/night
Quaint, cozy, and relaxing, this delightfully decked-out studio cabin has everything you and your dog need to make your vacation (or staycation) extra-special. You can enjoy the sauna and hot tub and your dog will appreciate the covered porch and sunny spots for napping.
The big draw is that you're half a mile from Purgatory Ski Resort. If your dog is content to nap away an afternoon, you can book a day of mountain biking, skiing, or a host of other activities to fill your day. And if you'd rather hang out with your furry companion, hit up the hiking trails before treating the whole family at the nearby Nugget Mountain Bar, which has a great dog- and kid-friendly lawn space.
"This was a delight! I needed some away time and booked four nights and brought my little pup with me. It was so cozy and warm and the perfect tiny home for us for a long weekend."
Check Availability
Related Read: 12 of the Best Airbnbs in Leadville, Colorado
4. 94 Creekside Cabin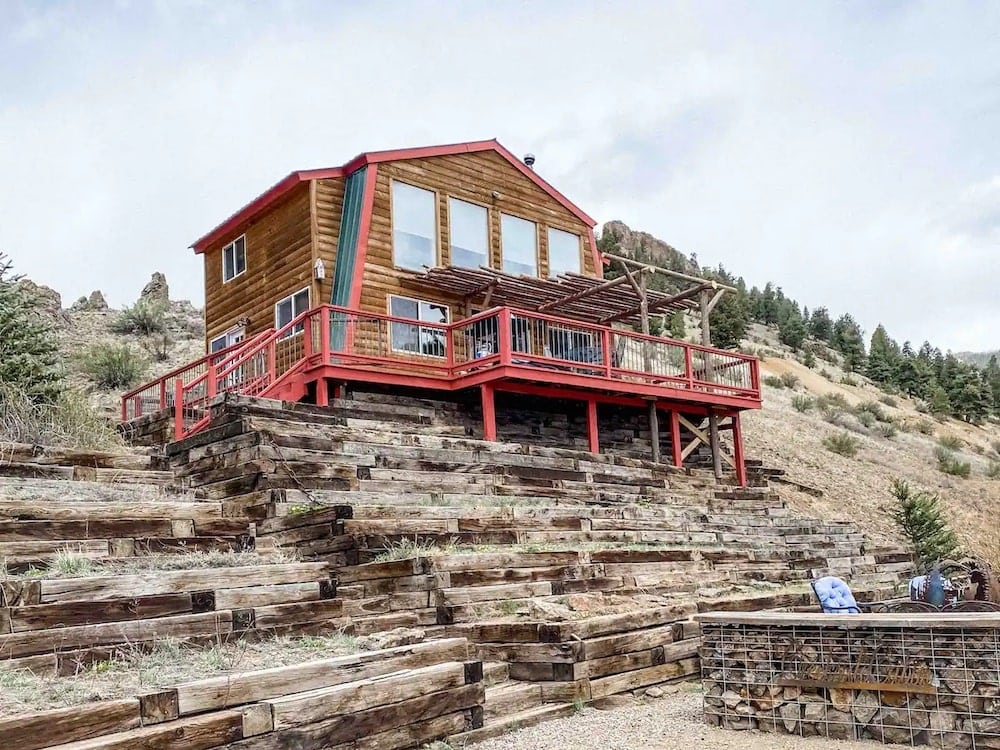 Why you should stay: Fish from a private stream while your dog splashes nearby.
Location: Creede
Sleeps: 6 
Minimum stay: 2 nights
Rates from: $310/night
94 Creekside Cabin isn't just dog-friendly — it's dog-obsessed, as the photos clearly show. This secluded cabin is designed to give both you and your pooch the quintessential Colorado mountain experience, from the cozy cabin to the wide-open spaces made for roaming.
The bright, mountain-modern interior makes the cabin alone quite the draw. But outside is where you really get the most bang for your buck as the property offers access to a creek perfect for fishing and world-class hiking and ATV trails. The town of Creede is also just a few minutes up the road, and it's hard to overstate how cool of a town it is (and it also has an annual chocolate festival!)
"My dog was happy as could be, and the house is definitely set up to be pet friendly, so it was not a worry to have her here. The area has tons of hiking and history, and gorgeous night skies."
Check Availability
Related Read: 7 Cabin Rentals in Aspen, Colorado for Every Budget
5. Crystal River Cabin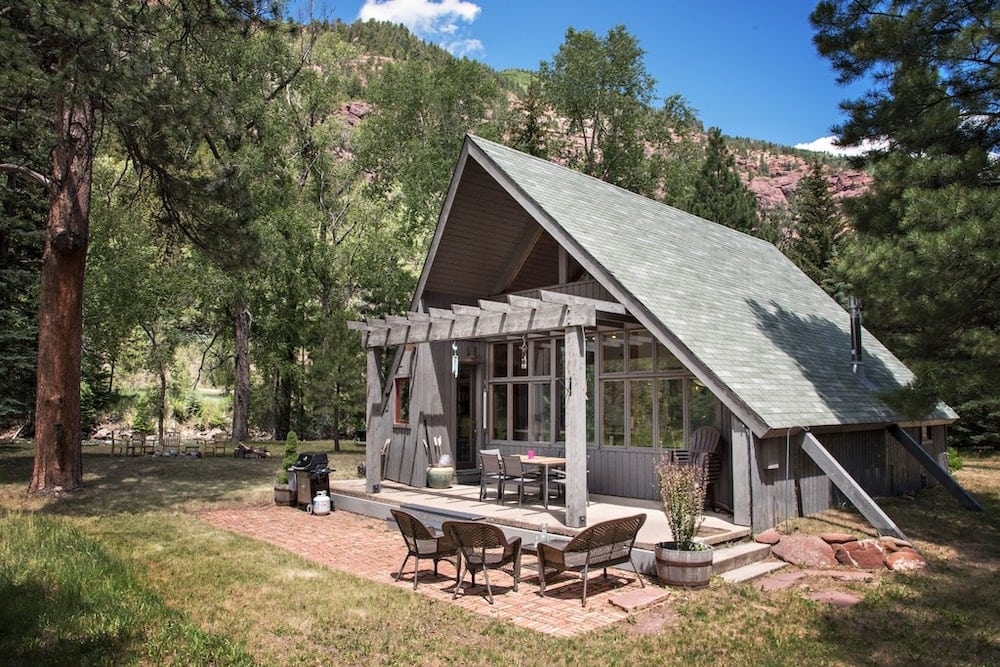 Why you should stay: Riverside retreat perfect for your water-loving pup.
Location: Redstone
Sleeps: 7 
Minimum stay: 2 nights
Rates from: $339/night
Welcome to a pet-friendly Colorado cabin that's a dream stay for both fly-fishing humans and water loving dogs, thanks to the scenic Crystal River flowing  through the backyard. And while the back patio certainly takes top honors for the best ambiance, the rest of the cabin is equally cozy with great views from every room.
Be sure to inquire about the pet fee when booking this cabin, and you'll be limited to two dogs during your stay. The location is great for all kinds of pet-friendly outings, especially if you have an active or adventurous dog who loves to go exploring. If you have an elderly pup or a small dog who isn't up for big days on their feet, not to worry. Simply set up their bed by the fireplace for an afternoon of napping, and you'll be sure to come home to one happy dog.
Check Availability
Related Read: 12 Best Places to Visit in Colorado for Unforgettable Adventures
6. The Robyn's Nest
Why you should stay: Rustic retreat for you and Fido to live the simple life.
Location: Cañon City
Sleeps: 2 
Minimum stay: 1 night
Rates from: $115/night
Seeking an off-grid, dog-friendly Colorado cabin with mountain views you won't soon forget? The Robyn's Nest at Roggi Mountain Ranch won't disappoint. This cabin is the perfect mix of rustic and remote; it really feels miles away from the daily grind (and modern civilization). Your pup will love exploring the 35 mostly fenced acres on your own private mountain top.
You'll be 35 minutes by car from from Canon City and Royal Gorge if you're looking for tourist activities. But once you reach the cabin, you might just find that all you want to do is sit on the front deck with your dog by your side soaking up the scenery. It's a tiny cabin with no running water, so just keep that in mind if your pup wants to snuggle with you on the couch after a muddy spring hike.
"The views are beyond what you can imagine, during sunrise AND sunset. I brought my dog with me and she just loved it too, totally safe for her to wander around."
Check Availability
Related Read: 10 Tiny House Rentals in Colorado
7. Creede Cabin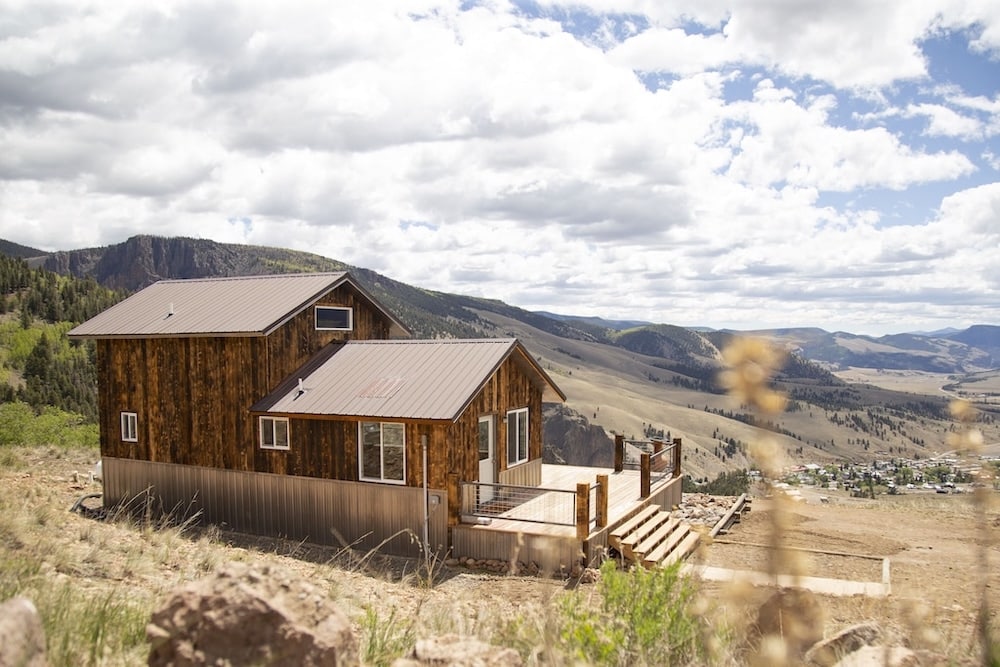 Why you should stay: Panoramic views and plenty of space for the whole fam.
Location: Creede
Sleeps: 6  
Minimum stay: 3 nights
Rates from: $222/night
This recently remodeled cabin boasts some outstanding views overlooking the town of Creede. And between the cozy living room, sunny back deck, and spacious hot tub, you'll find there are plenty of spots to relax and take in the scenery. Your dog will agree.
The cabin is perfect for a family escape or a romantic retreat, so bring the ones you love and the pup you love. Pets are welcome for an additional $150 fee. There's a lot to do in the area for the humans in your group, including hiking, mountain biking, climbing, and leaf peeping around the Continental Divide come fall.
Check Availability
Related Read: 10 Gorgeous Cabin Rentals in Grand Lake, Colorado
8. Classic Mountain Cabin
Why you should stay: Lux ski cabin in one of Colorado's most amazing ski towns.
Location: Breckenridge
Sleeps: 10 
Minimum stay: 3 nights 
Rates from: $450/night
This ritzy, upscale cabin is the perfect way to enjoy the resort town of Breckenridge with your pup in tow. The luxury cabin has a beautiful decor scheme and some outstanding mountain views. The pet fee is $50 per pet per night, along with a refundable $500 damage deposit fee. It'd a little steep, but considering how fancy some of the homes in Breck are, it can be challenging to find a dog-friendly cabin that doesn't have a hefty pet fee.
In the summer, you and your dog can enjoy the setting from the wraparound deck, head into downtown Breckenridge to stroll Main Street, or check out the dog-friendly shops and restaurants. Or head to the high country to put in some miles on the many dog-friendly trails in the area. In the winter, you'll love cozying up by the fire together after a day out playing in the snow – there are plenty of snowshoe trails in the area where pups are welcome. You may want to bring some musher's wax for their feet if you're doing a long route.
Check Availability
Related Read: 10 Relaxing Cabin Rentals in Breckenridge, Colorado
9. Pikes Peak Cabin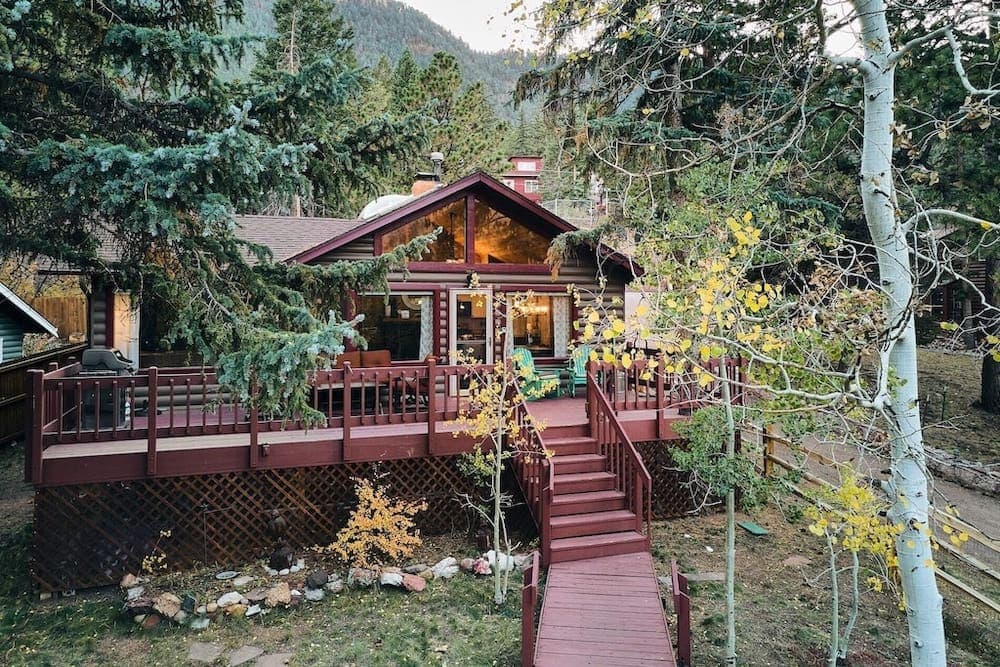 Why you should stay: Explore Pike's Peak with this fenced-in yard as your basecamp.
Location: Colorado Springs
Sleeps: 6  
Minimum stay: 3 nights
Rates from: $272/night
Near the base of Pikes Peak just outside of Colorado Springs, this pet-friendly log cabin has amenities to make you feel at home, from the spacious back deck to the hot tub where you can unwind after a day out exploring. The cabin is close to everything, whether you're looking for outdoor adventures or downtown experiences.
Your dog will love romping around the fenced-in yard; there's nothing worse than bringing your dog somewhere and having to leave him or her in the crate all afternoon. This pet-friendly cabin in Colorado Springs welcomes up to two pups, with a $50 fee per dog. Remember that you are in the mountains and wildlife might wander near the yard, so keep an eye on your dog (or keep them leashed) if they might not get along with the locals.
Check Availability
Related Read: 12 Extraordinary Cabin Rentals in Colorado
10. Red House in Rico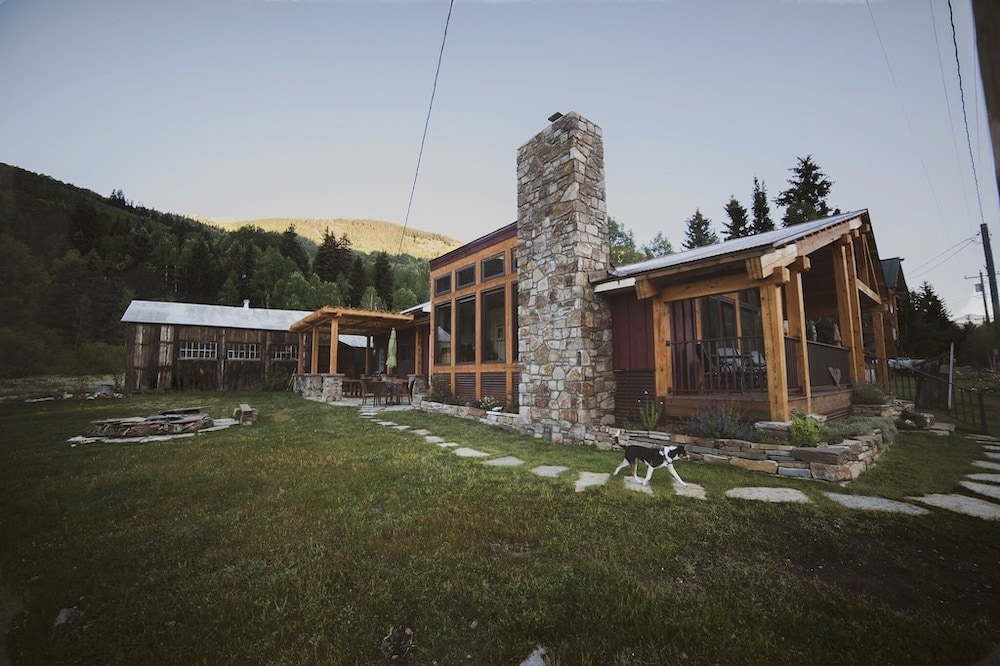 Why you should stay: Large cabin in a fabulous location the entire family – Fido included – will enjoy.
Location: Rico
Sleeps: 10 
Minimum stay: 3 nights
Rates from: $350/night
A 30-minute drive from Telluride, this exquisitely finished cabin gives you the feel of stepping onto your own historic ranch. From the roomy kitchen to the flagstone patio and fire pit, this cabin boasts some unique touches that step it up from a rustic retreat to a luxury one.
Up to two dogs are allowed during your stay, although no pets are allowed from November 1 to April 30. Your dog will love stretching their legs on the lawn or catching a few winks on the deck.
Be sure to spend an afternoon in downtown Telluride to stroll the main street with your pup. You can even take your leashed dog on the free gondola (look for the cars marked with paw prints) for a bird's eye view of the overall pet-friendly mountain town.
Check Availability
Related Read: 8 Beautiful Cabin Rentals in Buena Vista, Colorado
Find Your Next Colorado Adventure
Sign up for the Weekend Wanderer to join thousands of readers getting epic travel and gear ideas every week.
---