Summers in Arizona can be brutally hot. Thankfully, the land and its waterways offer adventurous swimming holes no man-made waterpark can match.
More than 90,000 miles of rivers, creeks, and streams course through Arizona, so you're never more than a dirt road and hike away from water — especially after the spring snowmelt. And when summer rolls around, Arizona's best swimming holes become damn near mandatory trips when the Valley's temperatures start hitting the triple digits.
In advance of that time, read up on these 17 best swimming holes, creeks, rivers, and lakes in Arizona to make your summer more bearable. For more summer adventures, check out 21 of Arizona's best waterfall hikes, 30 of Flagstaff's best hikes, and the 16 best places to camp in Arizona.
Sedona Area Swimming Holes
Oak Creek is home to some of the best swimming holes in Arizona, but that also makes them some of the busiest destinations come summertime. These are Sedona's most popular swimming spots, though there are plenty of low-key pools and under-the-radar stretches of the creek from West Fork to Sedona ideal for off-the-beaten-path sunbathing.
1. Slide Rock
The Travel Channel named the half-mile stretch of Oak Creek that makes up Slide Rock State Park one of the best swimming holes in America. It's worthy of the claim, which also makes it one of the most popular swimming holes in Arizona — if you go during summer or holidays weekends, expect a line to get in.
But even when it's packed, there's still room to spread out and relax on red rock benches, and plenty of spots to enjoy the water other than the creek's signature 80-foot sandstone slide.
Related Read: The 15 Best Resorts in Arizona
2. Grasshopper Point
Grasshopper Point is a solid alternative when Slide Rock is too crowded. There, you'll get a classic swimming hole vibe with more shade, a few deep pools, and more boulders to navigate.
It doesn't have the same flat rock benches that Slide Rock offers, but there's sufficient space to set up and spread out for the day. The parking lot here is on the smaller side, so get here early on the weekends.
Related Read: Red Rock Hiking: 16 of the Best Sedona Hikes
3. Midgley Bridge
The iconic bridge just north of Sedona offers excellent red rock views up top, but you can also hike down to the creek here for an easy in-town swimming hole.
Hike up the creek toward Grasshopper Point for other spots to swim, though more adventurous types may prefer hiking the nearby Huckaby Trail, Wilson Canyon Trail, or Wilson Mountain Trail. The small parking lot at Midgley Bridge fills quick, so get here early or on a weekday for better chances of snagging a spot.
Related Read: The 7 Best Campervan Rental Companies in Phoenix
4. Red Rock Crossing
Red Rock Crossing is a mellow creek spot southwest of Sedona — a warmer and flatter swimming hole compared to Grasshopper Point and Slide Rock to the north. Photographers will love the iconic views of Cathedral Rock.
If you're spending the whole day there, grab at spot at nearby Crescent Moon Picnic Site. As with nearly every Sedona swimming hole, it's popular on summer weekends, so visit on a morning or weekday for smaller crowds.
Related Read: 9 of the Best Places to Camp Near Sedona, Arizona
Verde Valley Swimming Holes
Several creeks in the Verde Valley eventually drain into the Verde River, but along the way, they're created countless swimming holes perfect for beating the heat.
Here's a look at some of the most popular swimming spots in the Verde Valley area.
5. Wet Beaver Creek
"Try to go on weekdays to avoid any crazy crowds. I also suggest walking past it and exploring beyond The Crack on both sides for some more incredible beauty." – Fraser Laveay,
InspireTravelEat.com
The Crack is the most popular section of Wet Beaver Creek at about 3.5 miles in, but there are other spots to explore when this area's crowded (and on warm weekends, it will be.) Head out early to beat the crowds, but also check out the pools and small falls before and after the main attraction.
Related Read: 12 Best Hikes in Arizona, From Desert to Tundra
6. West Clear Creek
The Territory Supply crew has backpacked West Clear Creek more times than we can count, and it never gets old. If you come from the west side, park it at the Bullpen Day Use Area for the easiest creek action.
Head east into West Clear Creek Wilderness for more pools, small falls and hiking. You can also leave from West Clear Creek Trailhead on the eastern side of the creek for higher elevations and more mountainous scenery.
7. Fossil Creek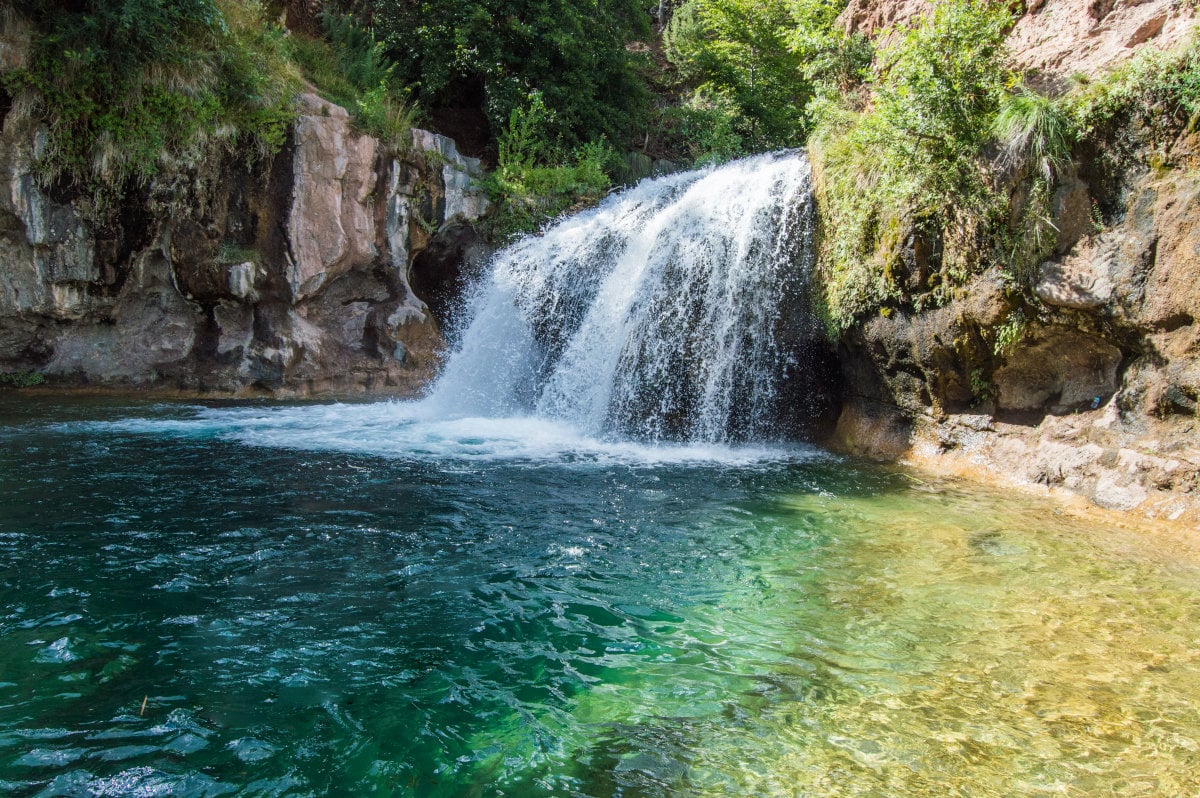 Look: if you need an explanation of Fossil Creek's appeal, maybe you weren't cut out for the #SwimmingHoleLife. So there's no need to extol its obvious virtues.
But some good-to-know things: a permit is required from April 1st to October 1st, there are a few trails you can take (Waterfall Trail is just over two miles and Bob Bear is about eight) and the trek in can be hot and sunny, so pack and dress accordingly. There's a reason this is an Instagram hot spot, so shoot for a weekday or off-season trip to avoid encounters with influencers.
Related Read: The 7 Best Caves in Arizona for Subterranean Exploration
Central & Northern Arizona Swimming Holes
8. Ellison Creek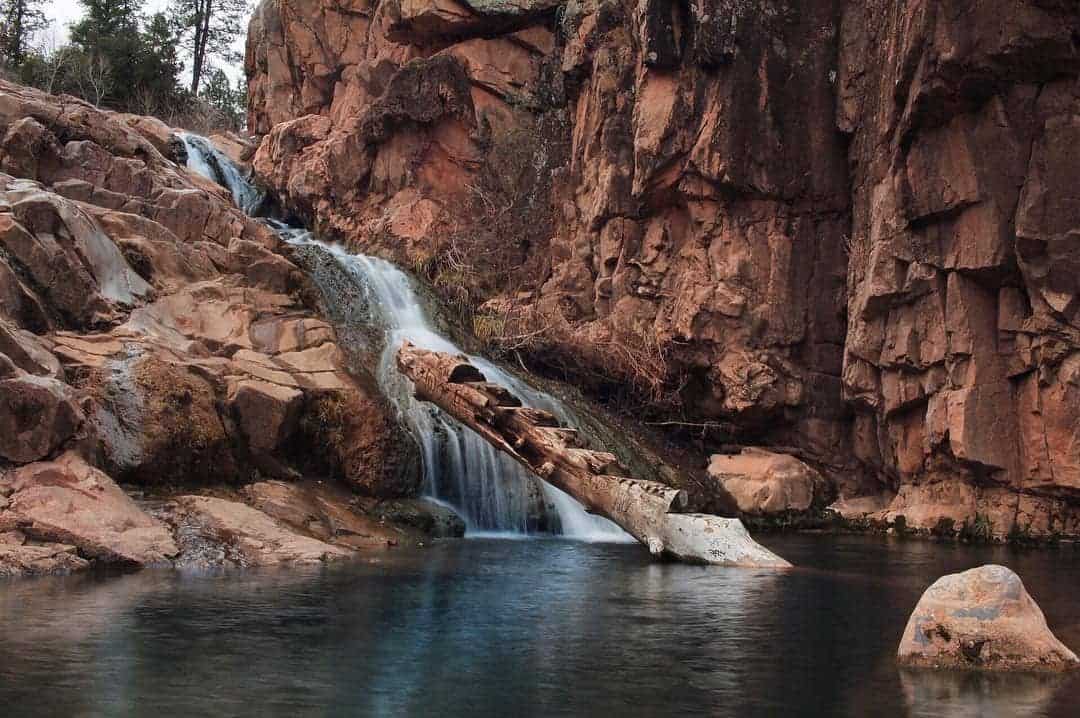 The East Verde River and Ellison Creek meet just north of Payson, creating an easy-to-access swimming area with waterfalls and small pools along the creek.
You can start at the Water Wheel day use area and cross over to Ellison Creek, or hit up a few other crossings off Houston Mesa Road. It's a short hike no matter where you start, but rockhopping further up Ellison Creek can make it a longer, more interesting journey.
Related Read: 9 Unique Places to Stay in Arizona for an Unforgettable Vacation
9. Cibecue Falls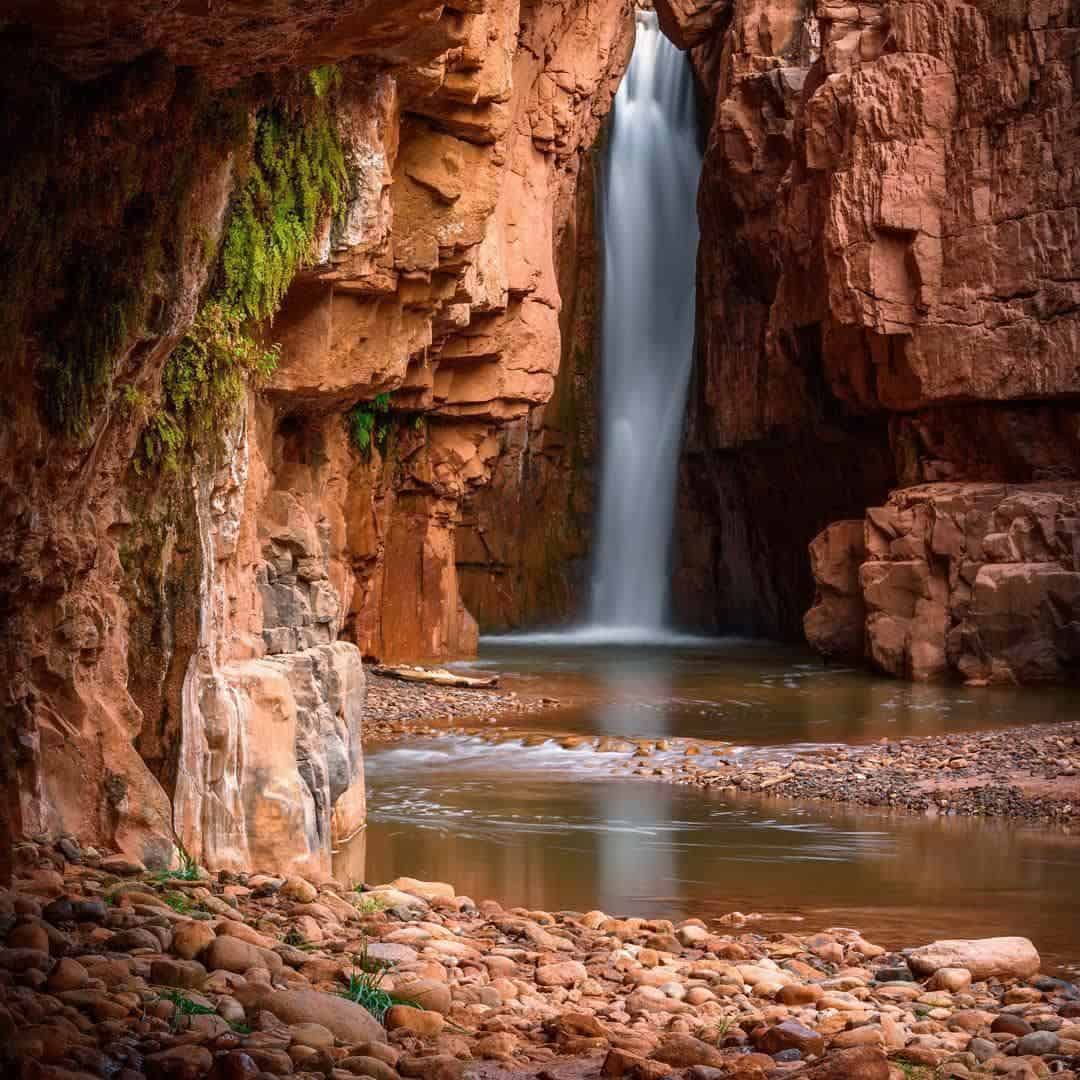 Cibecue Falls is a picturesque watering hole about 2.5 hours east of Phoenix, on White Mountain Apache Tribe land. The trail's not long – three or four miles depending on how well you navigate the creek – and dips in and out of the water, so be prepared for multiple crossings along the way.
There's a $30 permit required to visit the area, and although the trail has been closed recently due to COVID-19 measures, hikers on AllTrails reported the falls are open as of April 2021.
Related Read: 21 Epic Waterfall Hikes in Arizona
10. Salome Creek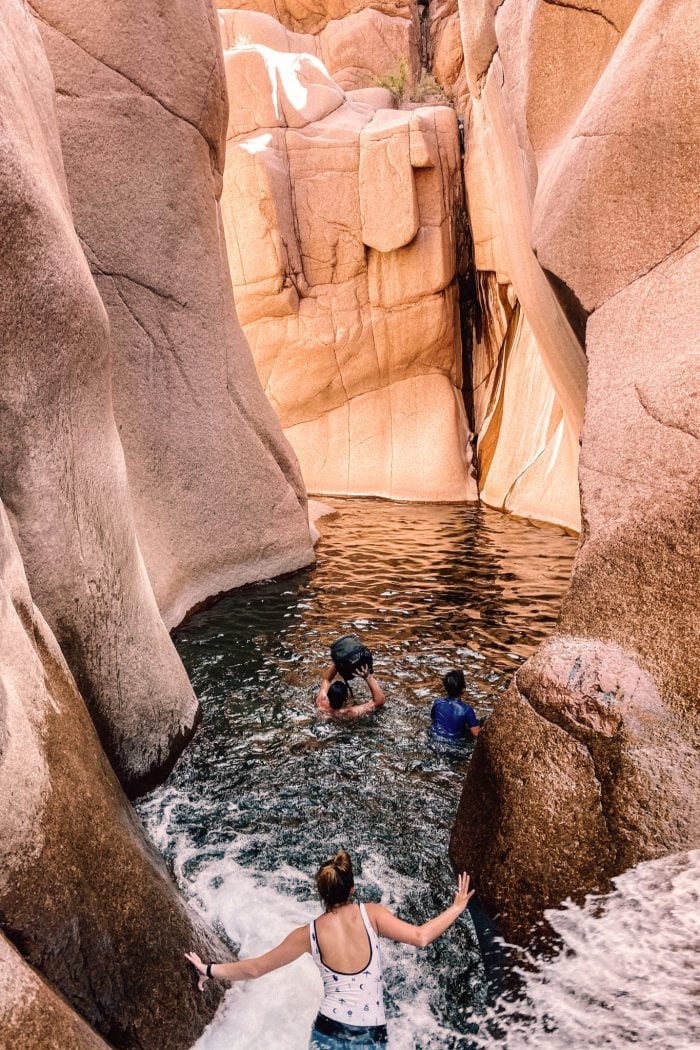 The Jug at Salome Creek isn't your average swimming hole. It's slot canyon that requires rappelling or jumping down a waterfall, and said waterfall can be dry or flowing depending on the season. Before getting to the main chute, you'll navigate the creek as it flows through the ever-slimming canyon, encountering natural slides, small pools, waterfalls, and plenty of boulders to hop.
Needless to say, it's for experienced adventurers only, says blogger Jamie Young.
"As fun as the canyon is, this last jump, known as the 'heart of the jug,' is what earns it the difficult rating. This is also the reason that this hike is not for everyone, particularly young kids and those afraid of heights." – Jamie Young,
JustSimplyWander.com
11. Havasupai
There's no way around it: Havasupai is an Arizona swimming hole on steroids. It's one of the best swimming holes in the entire country.
As you make the eight-mile hike to the Supai Village, you'll get a glimpse of the creek's aquamarine water winding through the canyon. Over the next few miles, you'll hit Fifty Foot Falls, Navajo Falls, Havasu Falls, Mooney Falls, and Beaver Falls. In between, you'll find countless spots to swim in the creek. For an added challenge, make the eight-mile trek from Mooney Falls to the Colorado River confluence to see where Havasu Creek meets the Colorado's murky waters.
As of April 2021, Havasupai is still closed to visitors, and everyone who lost their reservation in 2020 gets rescheduled for 2021, so this one might be on the bucket list backburner for a while.
Related Read: 13 Waterfalls in the Grand Canyon You Won't Believe are Real
Southern Arizona Swimming Holes
12. Seven Falls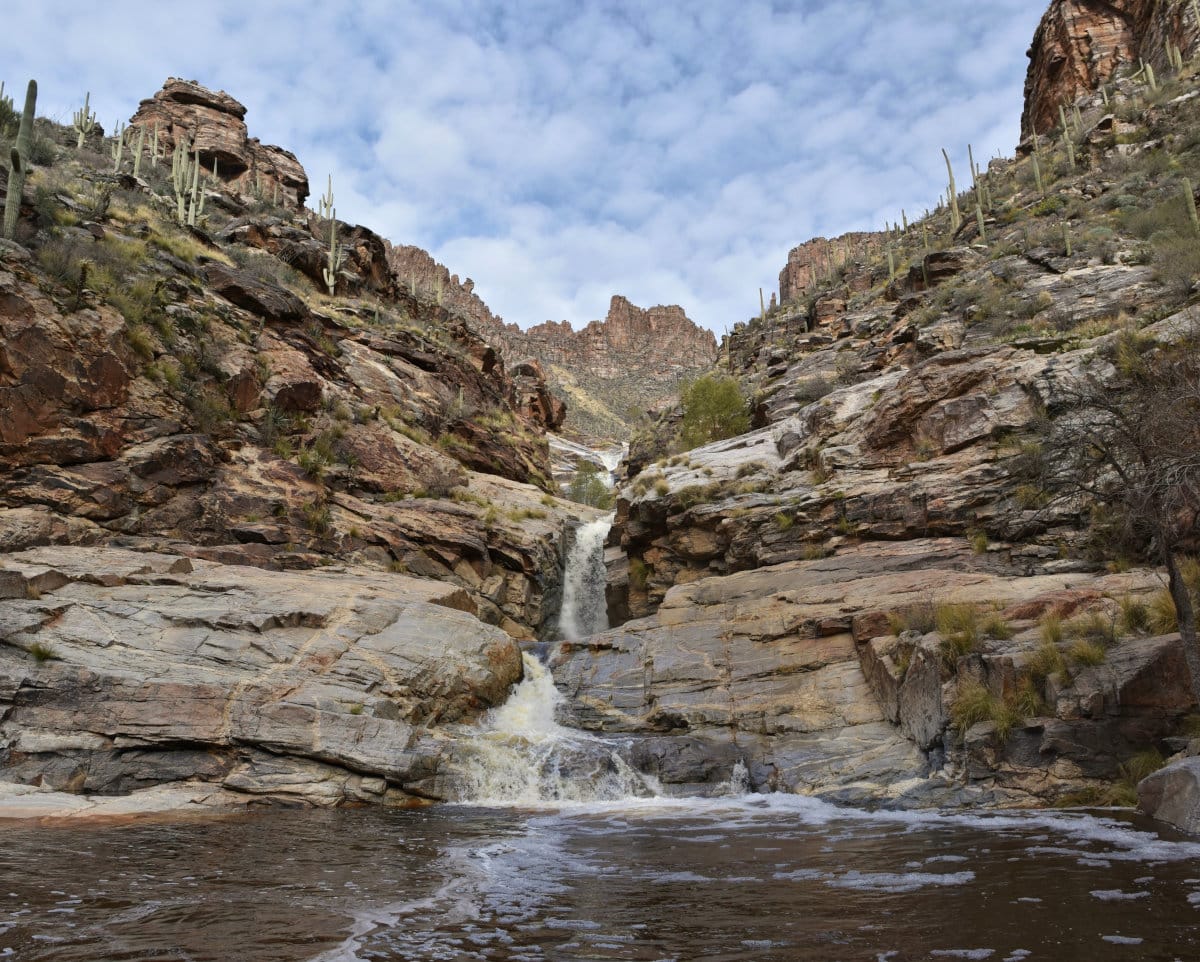 The hike to Seven Falls is one of the most popular in Tucson and with good reason. Creek crossings and beautiful desert scenery make the eight-mile trek through Sabino Canyon Recreation Area go faster than you'd expect, and the falls are a welcome sight when hiking in warmer weather.
The best time to visit is in spring (snowmelt and storms), and if you're in the area during the summer, be watchful of sudden heavy rains that can quickly swell the creek.
Related Read: 9 Rad Camping Spots Near Saguaro National Park, Arizona
13. Tanque Verde Falls
Tanque Verde Falls isn't far from Tucson and it's not a long hike, so it's a popular swimming hole that's easier to access than Seven Falls. Once you hike down to the creek bed, you'll climb back up the canyon until you hit the falls area and a beach that's good for vibing before the trek back.
The falls may be dry if it hasn't rained recently, and the area can flood quickly during monsoon season, so watch the weather for the best time to visit.
Related Read: 9 Awesome Weekend Road Trips from Tucson, Arizona
Swimmable Lakes & Rivers
While most of Arizona's best swimming holes are on creeks, you can also find lakes and rivers that are great for swimming, kayaking, fishing and more.
Here's a look at some of the best lakes and rivers to hit when the popular swimming holes fill up during the summer.
14. Salt River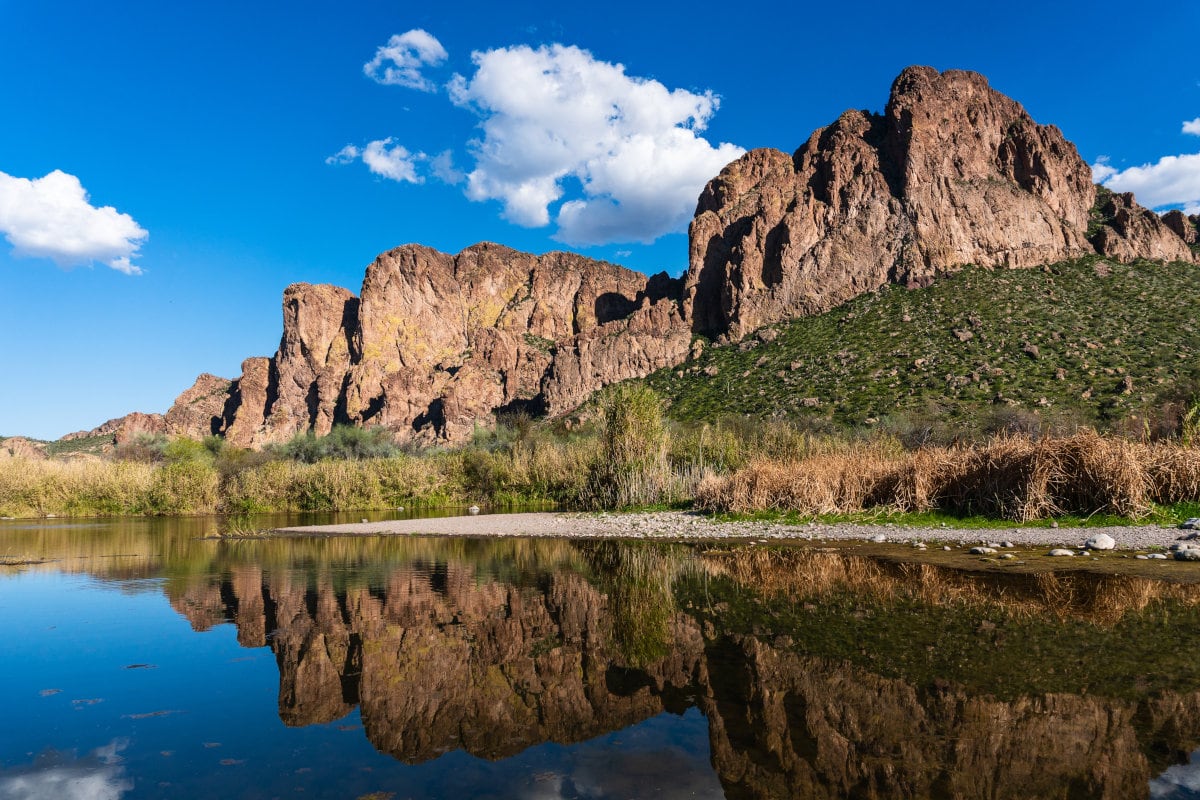 Swimming the Salt River doesn't have to involve a tube and swaths of rowdy, sunburnt floaters. There are plenty of spots in the river to chill for the day, including Pebble Beach, Coon Bluff, and Phon D Sutton.
On the north side of Saguaro Lake, Butcher Jones offers a lake beach and hiking, and between lakes you'll find other spots to explore the river on both shores.
Related Read: 11 Best Places to Go Camping Near Water in Arizona
15. Colorado River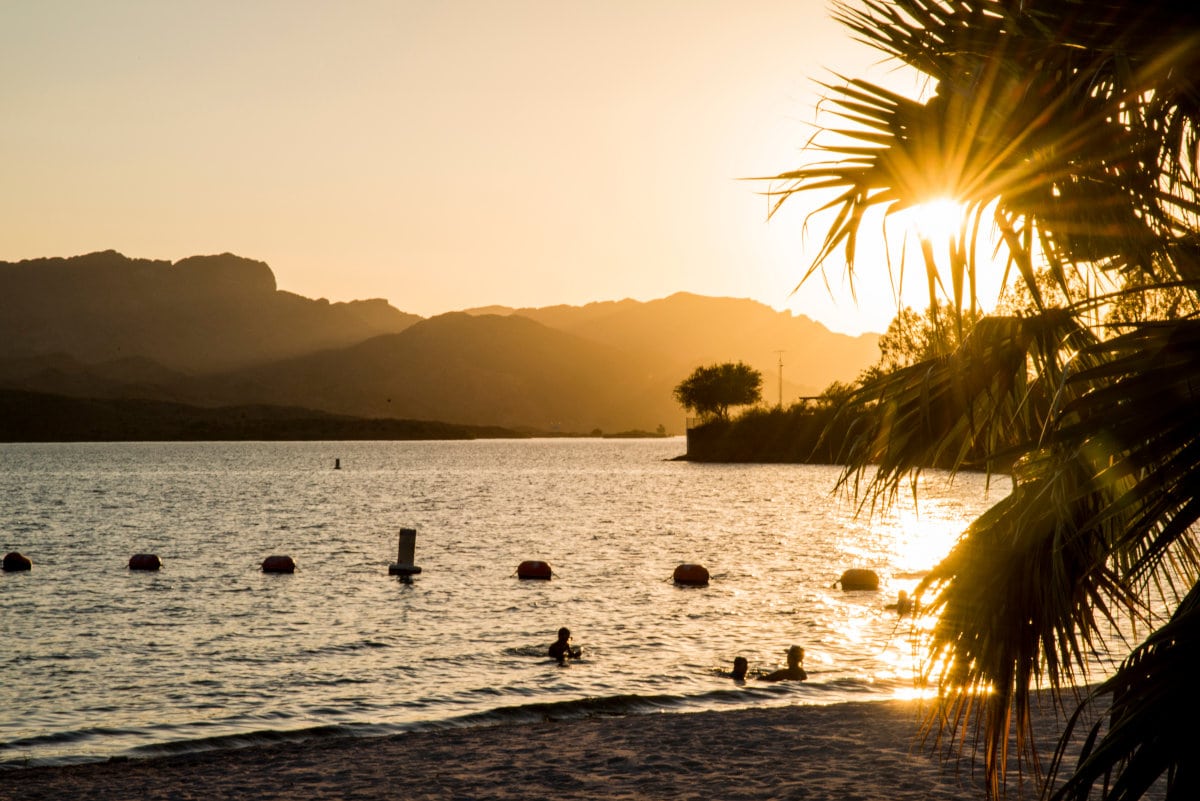 Four Arizona State Parks offer designated swimming areas on the Colorado River, including Lake Havasu State Park, Cattail Cove State Park, River Island State Park, and Buckskin Mountain State Park.
The first two are on Lake Havasu, while River Island and Buckskin Mountain offer swimming a few miles south of Parker Dam. Sandy beaches and campgrounds make these enticing summer destinations as the river stays cool when the desert heats up.
16. Lake Powell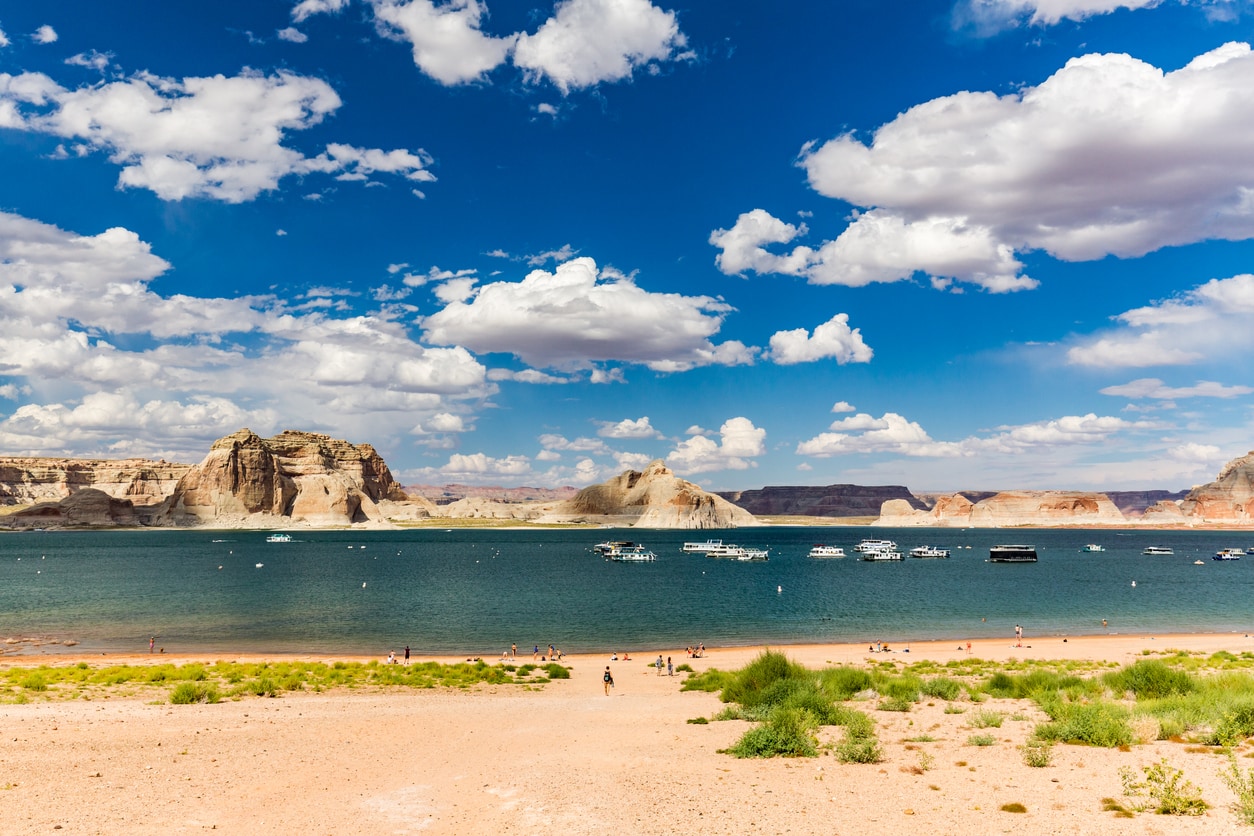 The majority of Lake Powell is in Utah, but Wahweap Marina (on the Arizona side) offers plenty of room to swim and roam the shoreline. Wahweap Swim Beach is within walking distance of the campground, marina, and grill, so it has everything you'll need for a relaxing waterfront getaway.
The lake has thousands of miles of shoreline that offer more areas to explore, like The Chains just north of Glen Canyon Dam.
Related Read: 10 Unforgettable Destinations for Glamping in Arizona
17. State Park Lakes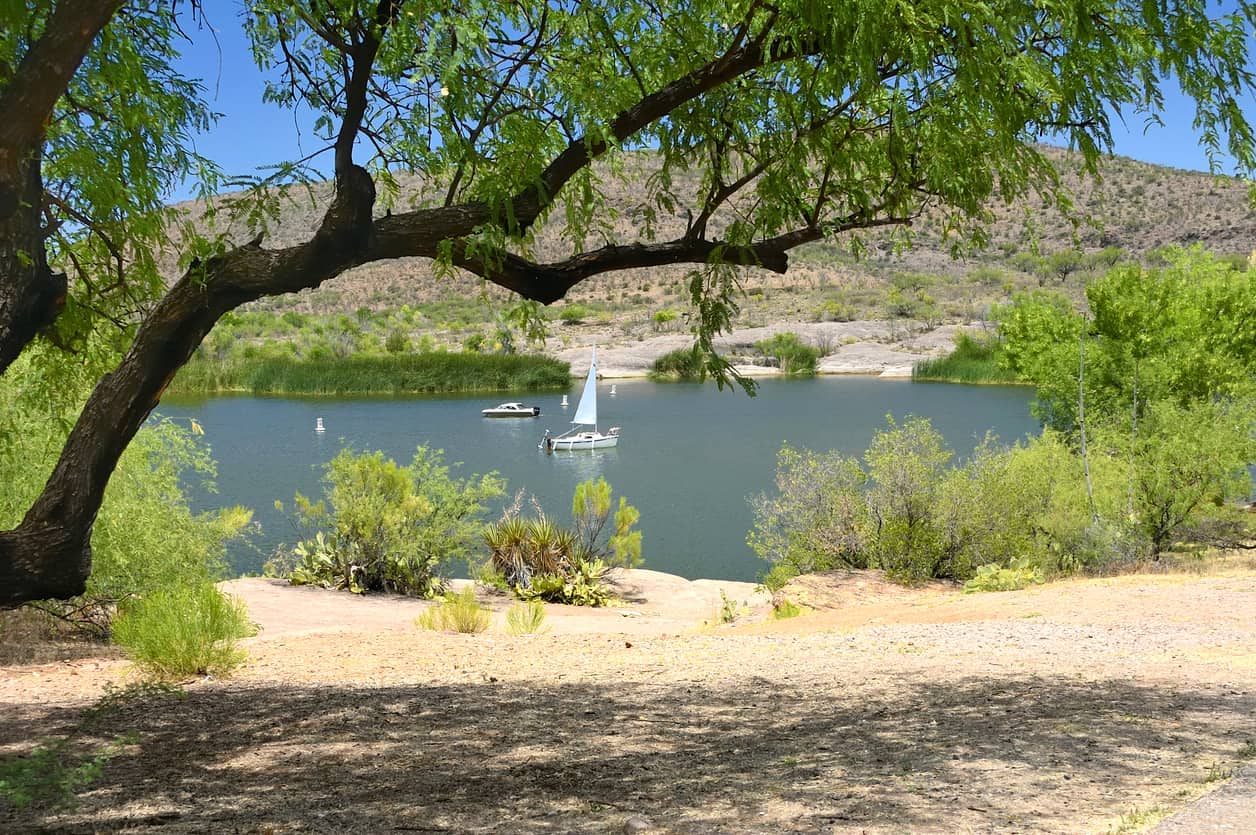 Several of Arizona's State Parks have swimmable lakes, including Patagonia Lake, Roper Lake, Alamo Lake and Lyman Lake. Patagonia Lake allows swimming in all parts of the lake, but there's a designated swim area at Boulder Beach near the campground.
Roper Lake and Lyman Lake both have designated swim areas, and Alamo Lake allows swimming throughout the lake, though there's no designated beach.
Explore More in Arizona
Sign up for Weekend Wanderer to join thousands of readers getting epic travel ideas every week!
---