Eager to get away but don't want to head too far from home? If you're a resident of the mile-high city, incredible road trips from Denver are just outside your door.
Colorado is an outdoor lover's dream playground and holds hidden (and not-so-hidden) gems throughout the state. All you'll need to visit these incredible places is a thirst for adventure and some wheels to get you there — preferably a car, because a bike will likely take too long. Throw the mountain bike on the back of your car though, of course.
Whether you're looking for cute mountain towns, butt-bustin' hikes, smooth and gnarly mountain biking routes, or taking a ride on a carousel, the list below of road trips from Denver should have what you need. Below, you'll find a list of the ten best Denver road trips you can take for an epic weekend outside the city.
Related Read: 10 Unique Things to Do with Kids in Denver, Colorado
Road Trip Planning
Before you head out, there are a couple of things to know about traveling around the state, including weather and traffic. Colorado is weird when it comes to seasons insofar as there aren't really four of them. Warm temperatures can hit the Centennial State in the dead of winter (think 70 degrees F in February) and the snowiest months are, in fact, March and April (what?)
These seasons are followed by some gloriously hot days and then monsoon season July through September. Fall is one-of-a-kind here and snow sports abound as soon as the powder hits the slopes, which in some cases can be as early as late September.
Four-wheel drive (or at least AWD) is a must-have going anywhere in the mountains, unless you want to dig out your vehicle. During winter, it's now a requirement that all passenger vehicles either have snow tires, 4WD/AWD, or carry chains to get over mountain passes on I-70. Dirt roads can turn to rivers in a matter of seconds during monsoon season, so check the weather often.
If you're anywhere near the Denver metro area during rush hour (3:00–5:30 p.m., give or take), expect long delays getting out of the city. If you're heading to the mountains on a long weekend (or during the winter), I-70 is usually at a standstill from Golden all the way to Idaho Springs at the very least. Give yourself way, way more time than you think you need.
Be sure to come with some good podcasts for road trips or a book on tape to keep you entertained. The best apps include the COTrip, which gives the most up-to-date information regarding traffic and road closures, followed by AllTrails or the COTrex apps to help you find the best local trails.
Related Read: 6 Scenic Drives Near Denver for When the Mountains are Calling
1. Nederland
Just west of Boulder, Nederland is one of the shortest drives from Denver on this list. Many just pass through the town on their way up to Estes Park or on a scenic drive along the Peak to Peak Highway (which is a must-do item). But rarely do folks stick around to truly immerse themselves in the joy this quirky mountain town brings.
Pro Tip: go the second weekend of March for Frozen Dead Guy Days. It's one of the best festivals Colorado hosts.
You can grab a coffee at Train Cars right before you hit the town center. Some favorite local places are the Mountain Peoples Cp-op, where you can stock up on all your adventure treats, and Alpine Botanicals. If you're lucky, the Farmer's Market might be open — go pick up some of best produce Colorado has to offer.
If adventuring is what you're after, Brainard Lake Recreation Area takes the cake, especially the Lake Isabelle trail. It's 8.6 miles, gains just under 1,000 feet of elevation, and has some seriously rad alpine lake views. When you're done adventuring, head back to town and take a ride on the Carousel of Happiness to cap off a great day.
Distance from Denver: 45 miles (approx. 1 hour)
Related Read: 7 Beautiful Hikes Near Red Rocks Amphitheatre, Colorado
2. Georgetown
Another road trip from Denver worth a longer layover than most people give it is Georgetown, which has an old-timey feel with some modern updates.
One of the best times to visit is during the second weekend of December when they host a Christmas Market. The city closes the main drag for carriage rides and to create a European-style festival ambiance. Grab some mulled wine and warm chestnuts while wandering around all the shops. If you're there for Christmas, also think about heading to the Georgetown Loop Railroad's Santa Train. It's great for kids and adults alike.
But winter isn't the only time to visit. The scenic byway heading up to Guanella Pass closes during the winter but is stocked with color come spring (ahem, wildflower season) and fall when the slopes are on metaphorical fire with aspen trees. Snap a few photos when you get to the top or climb Mount Bierstadt for an even better view of one of the easier fourteeners in the state.
Distance from Denver: 45 miles (approx. 45 mins)
Related Read: Take the Scenic Route on an Epic Denver to Albuquerque Road Trip
3. Manitou Springs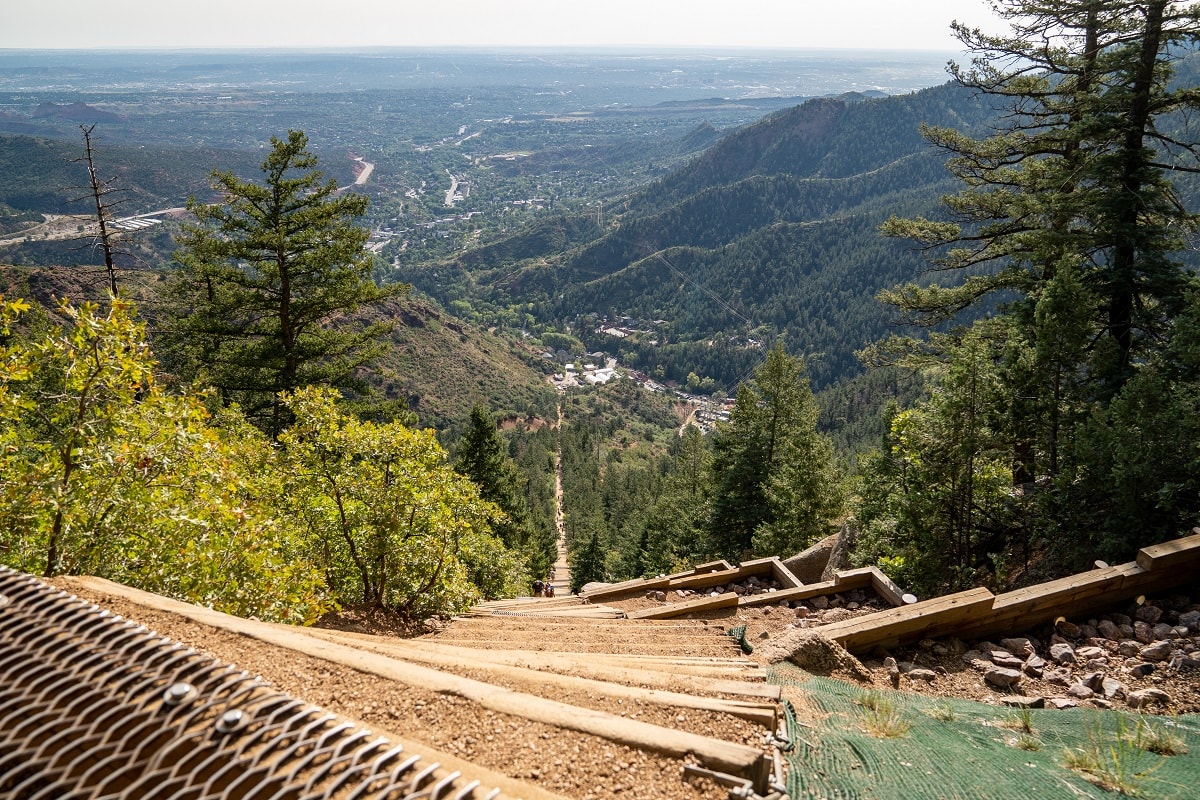 This artsy, hippie town is just a stone's throw from its polar opposite in terms of political stance, Colorado Springs. Manitou Springs is a breath of fresh air for those wanting to find a local art scene with around a dozen art galleries to its name. To see works from a variety of artists, head to the Commonwheel Artists Coop.
If sweating and torturing yourself is more your jam, head on up the Manitou Incline (or even climb Pikes Peak, a fourteener), or check out the many hikes near Colorado Springs. Garden of the Gods has some incredible rock formations as well as a scenic driving route if your legs are already a bit sore.
Distance from Denver: 76 miles (approx. 1 hour 15 mins)
Related Read: 7 Incredible Glamping Destinations Near Denver, Colorado
4. Ouray
Called "Little Switzerland," Ouray is one of the farther treks from Denver on this list, making it a great weekend trip from Denver but a lot to pack into a day. It's in the southwest deep in San Juan National Forest. The town is best known for its iconic Ice Festival that happens every January that invites pro ice climbers from around the world for some of the most competitive and incredible ice climbing you'll ever see.
If you'd rather visit in the warmer months, there's still plenty to do. You could head to one of the many hikes in the area, including the majestic Ice Lake Basin. For more mellow hikes, the Ouray Perimeter Trail and Box Canyon are doable for hikers of most ability levels.
You can also take a quick trip over to Silverton and ride the Durango & Silverton Narrow Gauge Railroad. It specializes in themed rides including the Polar Express, Wine & Rails, Winter Photographer's Special, and the Shamrock Express.
Distance from Denver: 300 miles (approx. 5 hours 30 mins)
Related read: 7 Best State Parks Near Denver, Colorado
5. Fruita
Not many venture past Grand Junction to this town on the Utah border. But Fruita is a mountain biker's paradise. It's considered to be one of the premier places to hit the dirt and get some potential bruises. Take the 18 Road Trails or test your ability on the incredible Kokopelli Loop. It's also a good place to spend the night if you're doing the epic 32-mile Palisade Plunge, which drops nearly 6,000 feet — skilled bikers only, of course.
Dinosaur National Monument is only an hour and a half away and well worth the trek, too. For closer trails, hit Rattlesnake Arches Trail in McInnis Canyon National Conservation Area or Colorado National Monument — take the Monument Canyon Loop Trail for the best views.
But if sweetness is what you're after, the western slope of Colorado is known for its sumptuous fruits: the world-famed Palisade peaches. Visit during the Palisade Peach Festival every August or visit one of the many wineries and tasting rooms in the area.
Distance from Denver: 254 miles (approx. 4 hours)
6. Crested Butte
This not-so-secret gem pulls visitors from all over the world and for good reason. It's one of the most popular road trips from Denver for sure, but even if it's crowded it's worth a stop. No matter the time of year, Crested Butte has something for everyone. The winter is full of every snow sport you can think of, like downhill skiing, snowshoeing, and cross-country skiing (psst, it's the Nordic Ski Capital of Colorado!)
Spring and summer bring seas of wildflowers blanketing the surrounding purple mountains. In fact, the purple hues of the flowers are what gave the famed Maroon Bells its name. Every July, Crested Butte holds their Wildflower Festival. And if you visit in the fall, take the road out of town to Kebler Pass, home of the largest aspen grove in Colorado. Come October, it's an ocean of yellow and orange hues with no end in sight. Take the Dark Canyon, Irwin, and Dyke Trail Loop for the best autumn views.
Distance from Denver: 190 miles (approx. 4 hours)
7. Glenwood Springs
Rounding out the list of the best road trips from Denver is a town that makes the perfect basecamp for photographing some of the most popular places in Colorado. One of those places is the base of the famous Maroon Bells. You'll get on the shuttle for Maroon Bells 50 minutes south of Glenwood Springs – yes, the site is so popular that they had to create a shuttle system to manage the crowds. The good news is that if you're hiking with a dog, they're welcome on the bus, too.
Pro tip: if you have a kid 2 or younger, you can drive to the Maroon Bells parking area rather than taking the bus.
You can also head slightly east on I-70 to Hanging Lake, another highly trafficked trail that also had to enact a shuttle system. The area around Hanging Lake burned in 2020 and was nearly lost but, thankfully, it was left unscathed and is open to the public starting in May 2021. Reservations are a must.
Lastly, head south to the very tiny town of Marble (yes, there's a marble mine), where you can take a hike to Crystal Mill. It's 10 miles roundtrip. The walk is along a dusty and dirty dirt road, and you can explore it via four-wheeler by renting an ATV RPS ATV Rentals.
After your long day of adventuring, soak your weary bones at the Glenwood Hot Springs Resort. It's home to the world's largest hot spring pool and is the perfect place to wrap up a weekend of dusty excursions.
Distance from Denver: 157 miles (approx. 2 hours, 30 mins)
Find Your Next Colorado Trip
Sign up for Weekend Wanderer to join thousands of readers getting epic travel ideas every week!
---