Known for its ritzy downtown, gorgeous mountain backdrop, glitzy clientele, and celebrated ski slopes, Aspen might not be the first place that comes to mind when planning a summer vacation in Colorado.
But you shouldn't overlook this resort hotspot as the summer months in the Roaring Fork Valley offer just as much to see and do as its powder-filled winter days.
From family-friendly downtown activities and outstanding trails with iconically gorgeous Colorado summer scenery to fine dining and high-end fashion boutiques, here are 10 fun ways to explore Aspen in the summer.
Related Read: 7 Cabin Rentals in Aspen, Colorado for Every Budget
1. Take a Hike at Maroon Bells
The striated peaks of Maroon Bells as photographed from Maroon Lake might be one of the most recognizable spots in Colorado. The trails in and around these scenic peaks make for a great day hike where you will have the opportunity to see lakes, aspens, wildlife, and wildflowers in the summer.
With a variety of trails to choose from, you can keep your hike short or spend all day on the trails. Note that due to the popularity of the trailhead, reservations are required to visit Maroon Bells by personal vehicle or shuttle in 2022.
If catching the shuttle to this touristy hotspot isn't your jam, you can easily pick one of the manyother trails in the Aspen area for an equally stellar summer hike. During the early summer, the wildflowers will be in their prime, so don't forget to bring a camera (or your phone) to snap some pics of the showy slopes.
Related Read: 11 Beautiful National Forests in Colorado for Outdoor Recreation
2. Cycle Around Town
Bring your mountain bike, gravel grinder, or around-town cruiser for a cycling tour of Aspen. The bike-friendly town offers trails that range from casual cruises to adrenaline-inducing downhills plus some sweet singletrack if you know where to look. Depending on how you like to roll, you can choose your own adventure to see the town on two wheels.
For a mellow outing, check out the Rio Grande Trail which runs from Aspen to Glenwood Springs. This relatively flat, easy trail follows along the Roaring Fork River for a scenic, easy pedal. If you're seeking out some singletrack, Sky Mountain Park up the road in Snowmass offers some quick climbs and flowy descents with fun features through scenic terrain.
And for the adrenaline junkies, Snowmass Bike Park has 25-miles of purpose-built downhill trails ranging in difficulty from beginner to expert, all accessible via a short lift ride so you can save your legs for those downhill jumps, pumps, and rollers.
Related Read: 12 Best Places to Visit in Colorado for Unforgettable Adventures
3. Paddle or Float the Roaring Fork River
Grab a tube or rent a stand-up paddleboard for a lazy meander down the Roaring Fork River. Aspen offers several local spots for great paddling, rafting, or just floating around in an inner tube with a cold beverage, the perfect activity for a hot summer day,
Located just outside of town, North Star Nature Preserve (also known locally as Stillwater) is a popular local spot for a relaxing float or easy paddle. If you're looking for some slightly more challenging rapids to test your paddling prowess, the lower Roaring Fork near Carbondale dishes up some small spicy rapids.
And if you're looking for a full whitewater rafting experience, you can easily book a guided trip down the Roaring Fork or the Colorado River. Aspen Whitewater Rafting Adventures offers "mild" to "wild" options so you can select a trip to match your experience and adventure level. Tours run regularly through the summer months.
Related Read: 5 Awesome Hikes in the Lost Creek Wilderness, Colorado
4. Dine Out Downtown
Foodies rejoice! Aspen is well-known for having quite the culinary scene. From fine wine to fine dining and plenty of fancy fares, you can certainly find a long list of award-winning restaurants and eateries on the downtown drag. Many restaurants offer outdoor patio or rooftop seating — the ideal spot to enjoy mountain views on a cool summer evening.
If you're feeling fancy, you can definitely treat yourself to some high-end (and high-dollar) fare. Top restaurants like Betula Aspen, Matsuhisa, and Element 47 offer up the glamorous Aspen ambiance and top-rated dishes in a wide variety of cuisine. No matter your epicurean tastes, Aspen likely has a restaurant that will fit the bill.
If you're looking to satisfy your gastronomic tastes on a budget, you can still find plenty of other tasty food around town. Some local favorite spots include the Red Onion, the White House Tavern, and J-Bar at Hotel Jerome. For local brews and fancy spirits, hit up the Aspen Tap or take a drive to the nearby Woody Creek Distillery just down the road in Basalt.
Related Read: 9 Natural Hot Springs in Colorado for Soaking Away Your Troubles
5. Camp Under the Stars
Though Aspen has many luxurious hotels and cool Airbnb rentals, if you want a change of pace, consider camping out instead. White River National Forest offers a wide variety of developed and dispersed camping options for everything from backpacking to RV camping.
If you're looking to stay close to town, several small campgrounds are located a short drive up Independence Pass that offer great scenery, easy access to trails, and are close enough to pop into town for a bite or beverage as you desire.
If you plan ahead, you might be able to snag one of the coveted reservations at Silver Bar, Silver Bell, and Silver Queen campgrounds at the Maroon Bells Scenic Area for an overnight you won't soon forget. But if you miss the reservation window, don't worry as there are plenty of other fabulous campgrounds around Aspen to satisfy your tenting needs.
Related Read: 9 Cozily Romantic Stays Near Denver, Colorado
6. Ride the Silver Queen Gondola
Just because it's summertime doesn't mean the slopes are closed. Take a ride on the Silver Queen Gondola to see the resort in the summer.
The lift tops out at the peak of Aspen Mountain at 11,212 feet where, in the summer, the slopes are turned into a different kind of playground. In addition to the world's highest disc golf course, you can book a yoga session, head out hiking, or catch a Sunday afternoon bluegrass concert.
If you brought the kids along, Aspen Mountain has lots of family-friendly activities for the little ones, too. So grab lunch at the Sundeck, and plan to spend an afternoon on the mountain. The panoramic views of the Elk Mountain Range, the Maroon Bells, and Aspen Highlands in all their green summer glory won't disappoint.
Related Read: 10 Best Hikes in Colorado for Getting Out into Nature
7. Hit the Shops
Retail therapy on your agenda? Downtown Aspen offers everything from charming local shops to high-end fashion boutiques. Whether you're wanting to spruce up your wardrobe for your fancy evening out or you forgot to pack an essential component of your hiking gear, you can find both fashion shops and gear and apparel hubs to meet your needs.
Additionally, the downtown strip has a wide variety of fine art and home goods stores along with the other fun stop-offs like Explore Booksellers, a cute bookstore located in a restored Victorian home, and the Rocky Mountain Pet Shop which carries everything from doggie treats and natural products to pet toys. In fact, Aspen has quite a few dog-friendly spots if bringing your pup along is part of your summer vacation plans.
Related read: 9 Picturesque Campgrounds Near Aspen, Colorado
8. Drive to Independence Pass
If a mellow cruise with fantastic scenery sounds like your kind of a driving outing, Independence Pass delivers on the mountain vistas without the bone-jarring washboard or harrowing drop-offs of some of Colorado's more rugged mountain passes.
Running from Aspen to Twin Lakes, the paved road climbs through aspen and pine forests following along the Roaring Fork River. Along the route, you'll pass several campgrounds and trailheads if you're looking for a place to pull over and snap some pics or have a roadside picnic. Independence Ghost Town is another cool spot to learn a bit more about Colorado's mining history.
The pass tops out at 12,095 feet atop the Continental Divide before winding down to Twin Lakes south of the town of Leadville. Independence Pass does close seasonally due to snow and usually opens for the summer sometime in late May.
Related Read: The 10 Best Scenic Drives In Colorado
9. Enjoy a Summer Festival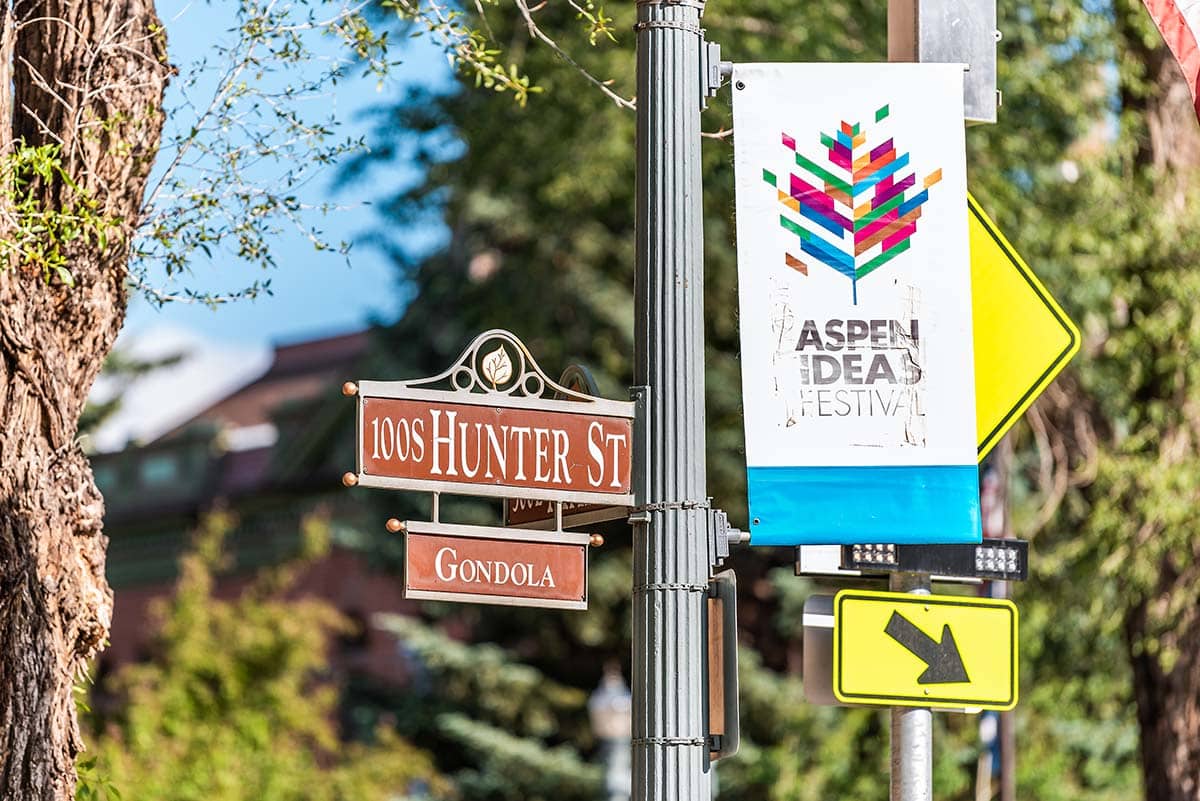 Summer in Aspen is a great time to plan a trip around a local festival. With everything from food, wine, beer, art, and music to choose from, you can easily find an event that fits your tastes.
Some of the better-known and most popular festivals held annually include the Aspen Arts Festival, the Food & Wine Classic, and JAZZ Aspen Snowmass.
The Aspen Ideas Festival is another unique option with several days of public conferences featuring well-known speakers covering topics such as politics, arts, technology, and more.
10. Take to the Sky by Tandem Paragliding
For a truly memorable and unique view of Aspen, book a tandem paragliding session with Aspen Paragliding. Perfect for adventure lovers, the summer flights launch from Aspen Mountain and give you a bird's eye view of the Roaring Fork Valley.
The tandem session will have you hooked in and soaring high above the slopes for some panoramic views you won't soon forget. Though summer flight times will vary based on conditions, with favorable thermal conditions, your pilot may choose to maneuver the glider to gain several thousand feet above Aspen Mountain.
According to the Aspen Paragliding website, achieving altitudes up to 18,000 feet is not uncommon when the weather cooperates. Reservations are required.
Explore More in Colorado
Get epic travel ideas delivered to your inbox with Weekend Wanderer, our newsletter inspiring more than 10,000 readers every week.
Was this article helpful?
---