Colorado's lakeside campgrounds are a paradise for nature lovers, water enthusiasts, anglers, and anyone seeking a tranquil escape from the hustle and bustle of life. The mile-high state is home to over 4,000 pristine lakes, with plenty of places to explore once summer rolls around.
Lake life is lovely. Sipping morning coffee (or tea) on the quiet shore before the world wakes up is a delightful way to start the day. Once the sun rises, the options for recreational opportunities are endless. Whether you want to take a dip on a hot summer morning, glide your paddle through calm waters, or rip around on a power boat, lakes are the quintessential way to spend your summer.
Lake camping is a hot commodity during peak months, so make sure you plan ahead as many reservations open six months in advance. We've compiled a list of some of our favorite waterfront campgrounds to get you started.
Bookcliff Campground, Highline Lake State Park
Why you should camp here: The Bookcliff Campground is a haven from the heat in the high-altitude desert. Over-sized, grassy sites are spread out under old-growth trees, a short stroll from the swim beach.
Reservations accepted: Yes

Best season: Spring, summer, fall

Campsite type: Tents, RV's

RV hookups: No
Campground Information
Reading the forecast for Memorial Day Weekend, with temperatures soaring in the 90s, I thought it would be too hot to camp at Highline Lake State Park near Loma on Colorado's western border. As it turns out, the Bookcliff Campground is an oasis in the desert. A lush campground is sprinkled with large cottonwood trees among the 36 well-spaced and shaded sites.
Highline Lake is ideal for families because it has easy access to the shallow sandy swimming beach across from the campground. It's only a two-minute walk to the beach (even with a toddler in tow), but a wagon is handy for lugging a picnic, swim gear, and kids' toys. A graded stroller-friendly, handicap-accessible ramp leads right up to the sandy shores. The lake is popular for powerboating and is frequented by those who love waterskiing, jet skiing, sailing, paddling, and fishing.
Convenient trail access to mellow, rolling dirt trails that circle the lake is perfect for kids who want a short loop. It's also ideal for parents who tag-team watching the kids at camp while logging longer miles. For more incredible biking opportunities, head to the nearby Kokopelli Trail System in Loma or 18 Road Trails in Fruita. Alternatively, drive through the Colorado National Monument and hike through towering canyons.
Sylvan Lake State Park
Why you should camp here: A small and serene lake, surrounded by the White River National Forest, has waterfront access with numerous opportunities for nearby outdoor activities.
Reservations accepted: Yes

Best season: Summer, fall

Campsite type: Tents, RV's, yurts, cabin

RV hookups: No
Reserve Now
The first camping trip I went on with my firstborn (at five weeks old) was at Sylvan Lake State Park. It was only one night, and it was close(ish) to home, but it was just the escape I needed as a new mother. I also needed a quiet campground (so the baby could sleep) and space between campsites (so everyone around us could sleep). At this point, I took short, mellow walks daily, and the flat 1.5-mile trail around the lake was just my speed.
Sylvan Lake is small, but its calm waters are ideal for canoeing, paddling, and kayaking, which can be rented on-site. Campsites in Fisherman's Paradise campground have beautiful spots overlooking the lake but are close together. The spots are a little more spacious if you're willing to walk the extra 50 feet to the Elk Run Campground.
Venture just outside the park's gates for popular hiking trails to other high-alpine lakes, including Nolan Lake and Lake Charles. The nearby town of Eagle has an extensive singletrack system for hiking and biking.
Pearl Lake State Park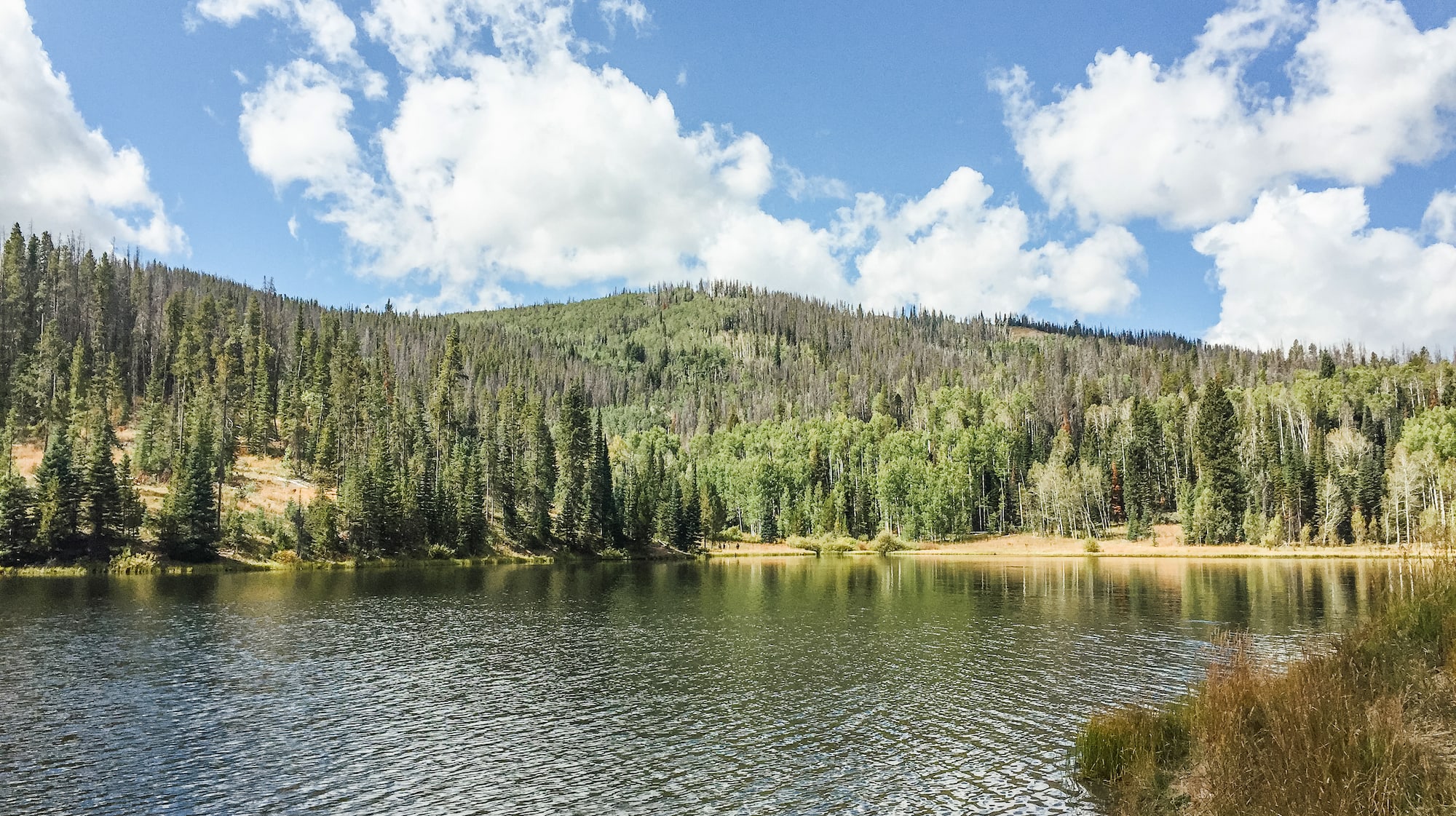 Why you should camp here: Skip the crowds in Steamboat Springs and enjoy a peaceful and pristine campground in a pine forest.
Reservations accepted: Yes

Best season: Summer, fall

Campsite type: Tents, RV's, yurts

RV hookups: Yes
Reserve Now
Nestled in the Routt National Forest north of Steamboat Springs, Pearl Lake attracts fewer people than the other lakes in the area. The campground is quiet, and sites offer enough distance between each other for privacy but not so far away that you can't hear the neighbors squeal in surprise when your black husky-mix dog crawls into an open camp chair around their fire. The best spots, if you can snag them, are within a stone's throw of the lake.
Pearl Lake is wakeless, providing ideal conditions for fishing, paddleboarding, and sipping coffee beside the still waters. Surrounded by a National Forest, the lake is lovely for a quiet getaway or as a home base to access the area's hundreds of miles of hiking, biking, or OHV trails.
Cottonwood Campground, Rifle Gap State Park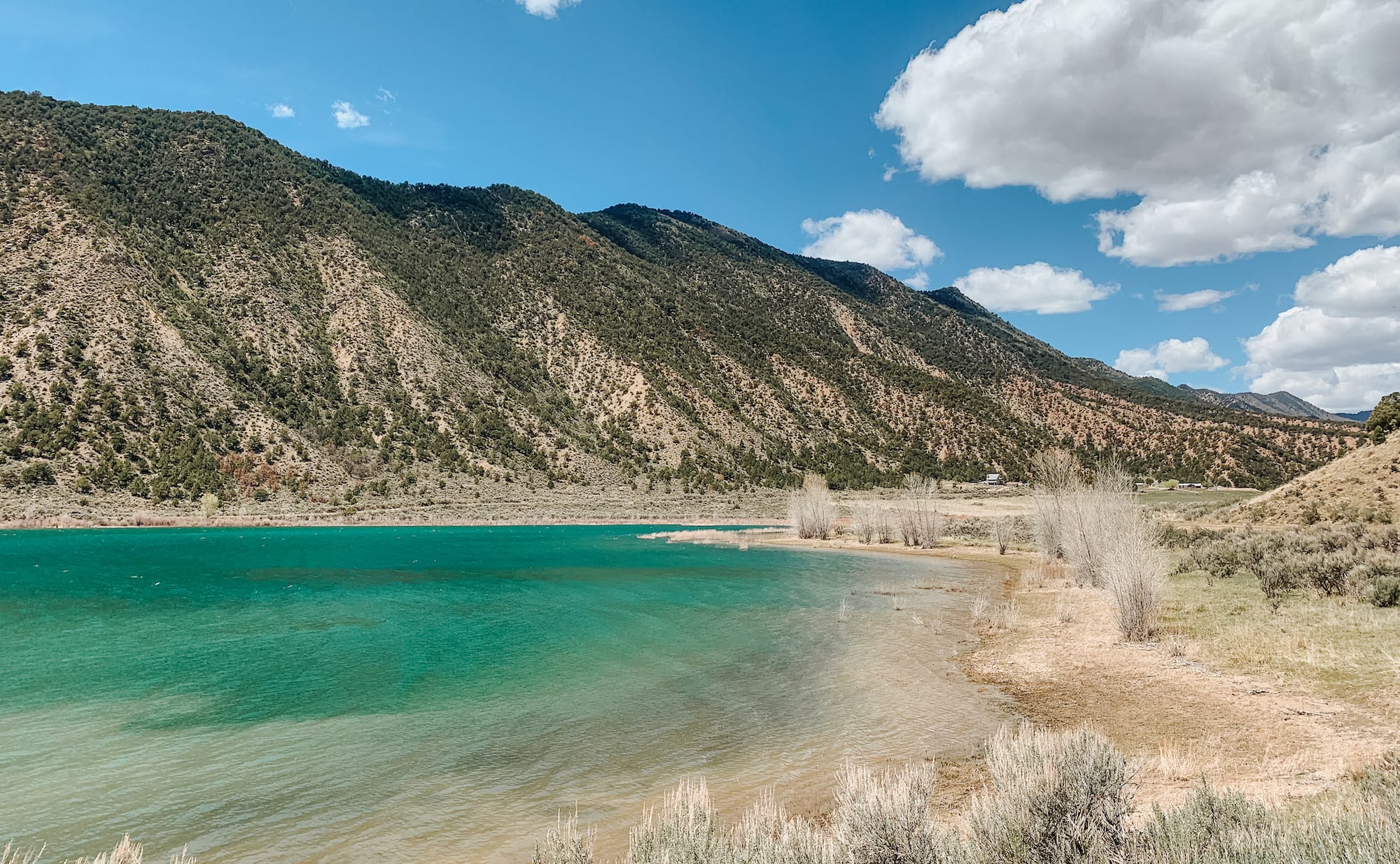 Why you should camp here: Water enthusiasts enjoy swimming and water-skiing in warm turquoise water while enjoying expansive mountain vista views.
Reservations accepted: No

Best season: Spring, summer, fall

Campsite type: Tents, RV's

RV hookups: Yes
Reserve Now
I've driven on I-70 past Rifle hundreds of times while heading to other destinations, not knowing what lies off the exit west of Glenwood Springs. When I finally took the turn to Rifle Gap State Park, only 15 minutes from downtown Rifle, I was surprised to stumble across clear blue waters that were warmer than many of the other reservoirs in the state.
Powerboats zip around the lake with waterskiers. By the afternoon, sailers and windsurfers take advantage of the wind that blows through the long, narrow reservoir. Of the five campgrounds inside the State Park, the Cottonwood Campground is the only one with waterfront access.
While in the area, don't miss Rifle Falls State Park, a picturesque cascading triple waterfall along a short loop trail. Climbers should head to Rifle Mountain Park, which offers some of the country's best limestone sport climbing routes.
Pa-Co-Chu-Puk Campground, Ridgway State Park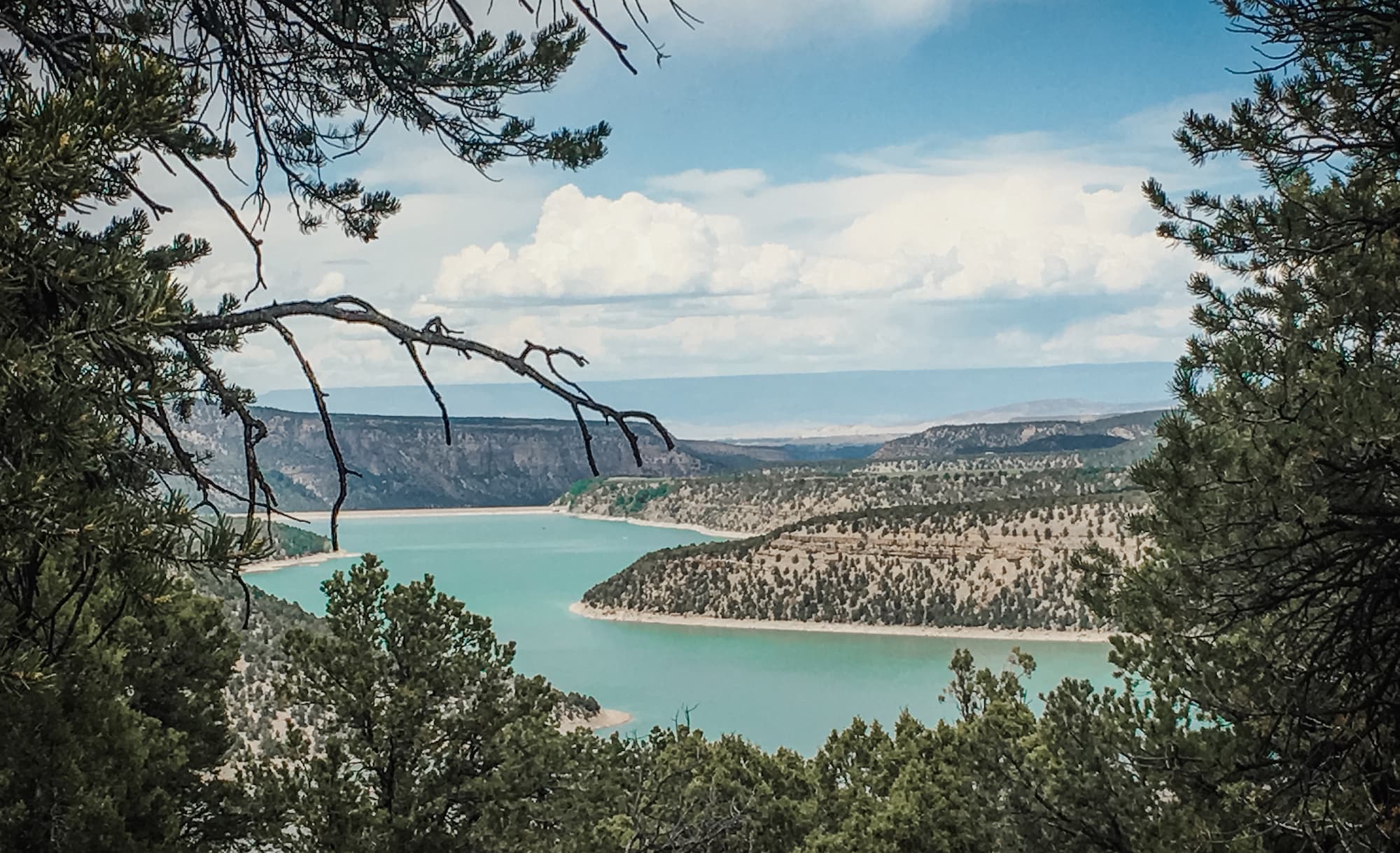 Why you should camp here: An expansive campground is set on a beautiful, 5-mile-long reservoir with a stunning backdrop of southern Colorado's San Juan Mountain range.
Reservations accepted: Yes

Best season: Spring, summer, fall

Campsite type: Tents, RV's, yurts

RV hookups: Yes
Reserve Now
Ridgway is a small town that's big on adventure. While many people pass through on their way to the southern ski resorts, it's worth staying awhile. Just north of town, the Ridgway Reservoir has stunning views of the San Juan Mountains and is a favorite spot for boating, biking, birding, and swimming. You'll find electric blue lakes, natural hot springs, and fantastic fresh roast coffee outside the park.
Within the sprawling State Park, the Pa-Co-Chu-Puk Campground has sought-after sites with views that span the Uncompahgre River. Across the river are several walk-in tent campsites in a quiet pine forest.
There are several miles of walking and biking trails around the reservoir through forests and open grasslands. Alternatively, head across the highway to the Ridgway Area Trails (RAT Trails) for an extensive trail system with over 40 miles of singletrack.
Silver Jack Campground, Silver Jack Reservoir
Why you should camp here: Take a stunning drive over Owl Creek Pass for a remote alpine lake with rugged mountain views.
Reservations accepted: No

Best season: Summer, fall

Campsite type: Tents, Small RV's

RV hookups: No
Campground Information
Silver Jack Reservoir was a secret a friend told me about years ago. I first visited the lake for a girls' camping weekend in early June. I loved the lack of crowds and the dramatic views of the jagged mountain peaks as the backdrop for an isolated lake. I returned a few years later in mid-August, which was much warmer at 9,000 feet for sunning and playing in the sand.
The inlet on the south end of Silver Jack Reservoir is the best spot to post up because of the juxtaposition of the beach and mountains. It's a short haul to drag your stuff from the parking lot on the east side of the lake to a sandy spot close to the water, but with no crowds, the effort is worth the solitude. You can launch non-motorized boats from the boat ramp, including kayaks, paddleboards, or canoes. Anglers can fish for brown, rainbow, and cutthroat trout in the reservoir and the Cimarron River.
The campground is close to, but not directly on, the lake. Instead, you'll receive ample coverage underneath an aspen grove at these first-come, first-serve spots. The heavily wooded campground offers big sites and limited amenities.
Arapahoe Bay Campground, Lake Grandby
Why you should camp here: Relax in calm waters on the southeast corner of Lake Grandby while being close to Rocky Mountain National Park.
Reservations accepted: Yes

Best season: Summer, fall

Campsite type: Tents, RV's

RV hookups: No
Reserve Now
Arapaho Bay Campground lies on its namesake on the eastern corner of Lake Granby. Lake Granby is one of the largest reservoirs in Colorado, and the lake's open water can be rough if you're hoping to paddle. However, Arapaho Bay has natural barriers that create still water for self-powered activities.
The nearby towns of Granby and Grand Lake host some of the best recreation in the state. Fishing is fantastic in the bay and the nearby Monarch Lake. Or drive through the western entrance of Rocky Mountain National Park, known for its dramatic beauty and gorgeous alpine lakes. Head to the Trestle Bike Park at Winter Park Ski Resort for those who crave a gravity descent. With over 600 miles of well-maintained trails, this is the second-biggest bike park program in the world.
Baby Doe Campground, Turquoise Lake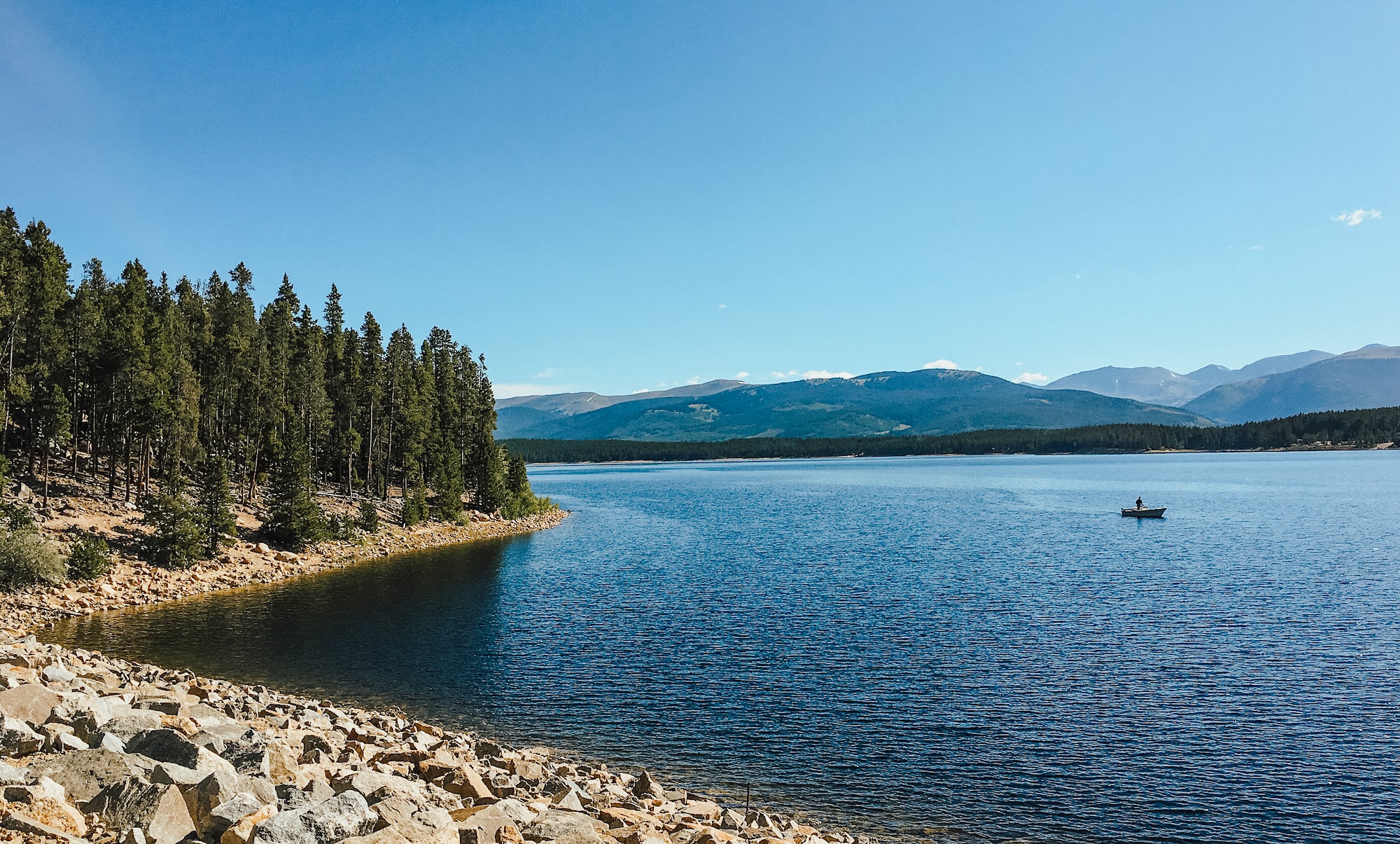 Why you should camp here: A family-friendly campground has large sites near the lake, ample shade from evergreen trees, and a good home base for the nearby 14ers.
Reservations accepted: Yes

Best season: Summer, fall

Campsite type: Tents, RV's

RV hookups: Yes
Reserve Now
Camping hits differently with kids. I look for conveniences, such as spacious shaded campsites and quick access to easy trails where we can walk, ride our bikes, or I can sneak out for a short run. Baby Doe Campground on Turquoise Lake checks all those boxes.
Located just outside of Leadville and at 10,000 feet, Turquoise Lake's cold waters are surrounded by dense forest. There are numerous campgrounds around Turquoise Lake, but Baby Doe is a favorite because of its proximity to the lake.
Turquoise Lake is an ideal spot to camp if you're looking to tackle a 14'er. Several trailheads for Colorado's highest mountains are located nearby, including Mt. Elbert, Mt. Massive, and Mt. Sherman.
Heaton Bay Campground, Lake Dillon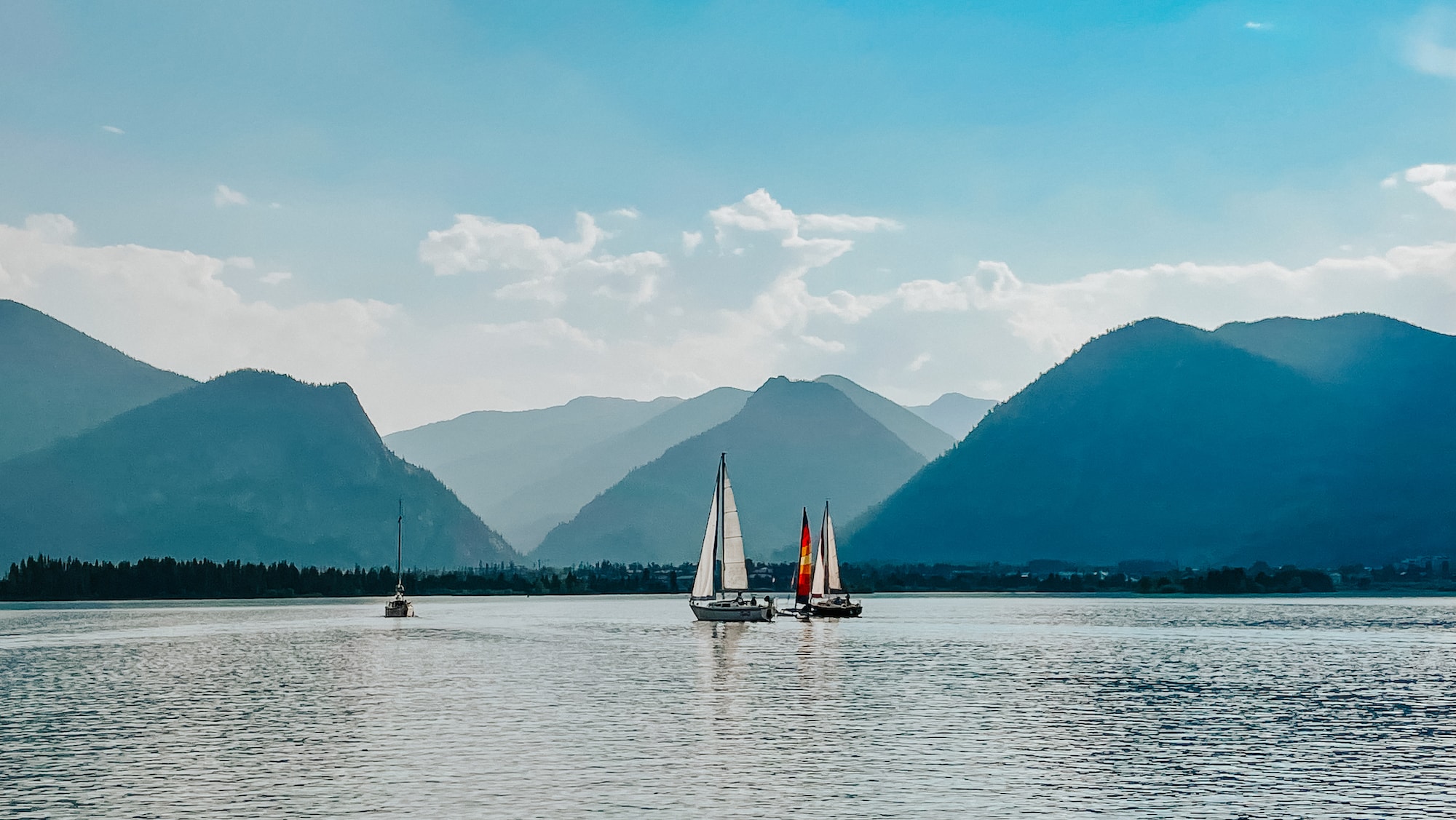 Why you should camp here: Located on the shoreline of sprawling Lake Dillon, the Heaton Bay Campground feels remote even though you're only 10 minutes away from Breckenridge and Keystone.
Reservations accepted: Yes

Best season: Summer, fall

Campsite type: Tents, RV's

RV hookups: Yes
Reserve Now
While it's right off I-70 and Lake Dillon is no secret, this campground is. Tucked into a sheltered cove, the Heaton Bay Campground sits on a quiet corner of a busy lake. Relish in the tranquil setting with easy lake access and open views of the surrounding mountain ranges from one of the forested sites.
While there's no swimming allowed in the lake, it is open to motorized and non-motorized boating. Launch a vessel from the rocky shore, or rent a Pontoon boat, kayak, and canoe at the Dillon Marina to explore the expansive 3,233-acre lake encircled by mountain peaks of the Tenmile Range, Gore Range, and Continental Divide. Or, explore the lake via a 20-mile paved bike path that circles the lake. While cruising around the lake, stop at the waterfront Tiki Bar in Dillon for fruity frozen drinks.
Lost Lake Campground
Why you should camp here: A scenic hiking loop originates at the campground, where a small lake has a stunning backdrop of the surrounding rugged mountain ranges.
Reservations accepted: No

Best season: Summer, fall

Campsite type: Tents, RV's

RV hookups: No
Campground Information
The forest outside of Crested Butte is one of my favorite summer and fall destinations. In the summer, the hills of the Wildflower Capital of Colorado bloom into a kaleidoscope of color with bright yellow sunflowers, purple lupines, and Colorado blue columbines. When fall rolls around, the aspen groves paint the mountains gold. Crested Butte knows how to put on a show regardless of when you visit.
Lost Lake is a hidden gem in the Gunnison National Forest outside Crested Butte. The campground is nestled in one of the world's most extensive aspen groves and set against a beautiful mountain backdrop. Horseback riding is also popular, and some campsites accommodate horse trailers. It's a gorgeous spot for anglers to wet their line in the lake.
The 3.4-mile Lost Lake Loop (also known as the Three Lakes Trail) originates at the campground and is a well-marked loop that passes by three scenic lakes. It's a popular hiking loop with numerous viewpoints for photo opportunities of lakes, waterfalls, and surrounding mountains.
Explore More of Colorado
Get epic travel ideas delivered to your inbox with Weekend Wanderer, our newsletter inspiring more than 10,000 readers every week.
Was this article helpful?
---