Milwaukee is a vibrant city filled with excellent attractions, but there are plenty more incredible Wisconsin travel experiences to be had nearby.
If you've had your fill of the hustle and bustle of the city's concrete streets, a day trip from Milwaukee may be just the ticket. Thankfully, the city is conveniently located in southeastern Wisconsin along the shores of Lake Michigan. That means Milwaukeeans and visitors alike enjoy day-trip distance to exciting places like Chicago, Madison, and all the beautiful state parks and resort towns in between.
Whether you're a local looking to escape for a day, or a traveler seeking the best attractions outside of Milwaukee, this list should satisfy your itch for new adventures. Check out these amazing day trips from Milwaukee for classic Wisconsin fun.
Related Read: 11 Peacefully Secluded Cabin Rentals in Wisconsin
1. Devil's Lake State Park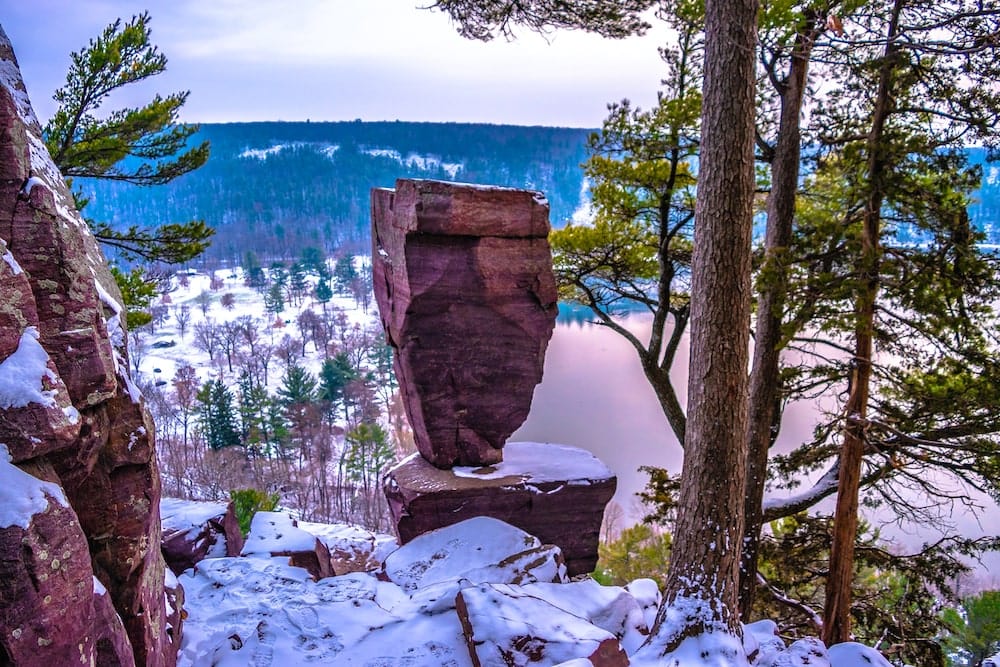 Devil's Lake State Park offers a fantastic day trip destination from Milwaukee, attracting over three million nature lovers each year. The park is best known for 500-foot tall bluffs that surround the pretty waters of Devil's Lake.
Wisconsin is pretty flat, so that means the park's hiking trails are amongst the most challenging in the state. If you're up for a steep climb, take the Balanced Rock Trail up and over rocky terrain to the East Bluff Trail. From there, you can hike the length of the bluff to Elephant Rock.
Visitors also come to swim, kayak, hike, and picnic using the public grills and tables. Pets on leashes are welcome into the park, as are chill picnic brews. If you have more time to spare, consider visiting nearby attractions in Baraboo such as the Circus World Museum, Balanced Rock Winery, and Ski-Hi Apple Orchard.
Distance from Milwaukee: 119 miles (approx. 1 hour and 55 minutes)
Related Read: 10 Best Lake Camping Destinations in Wisconsin
2. Chicago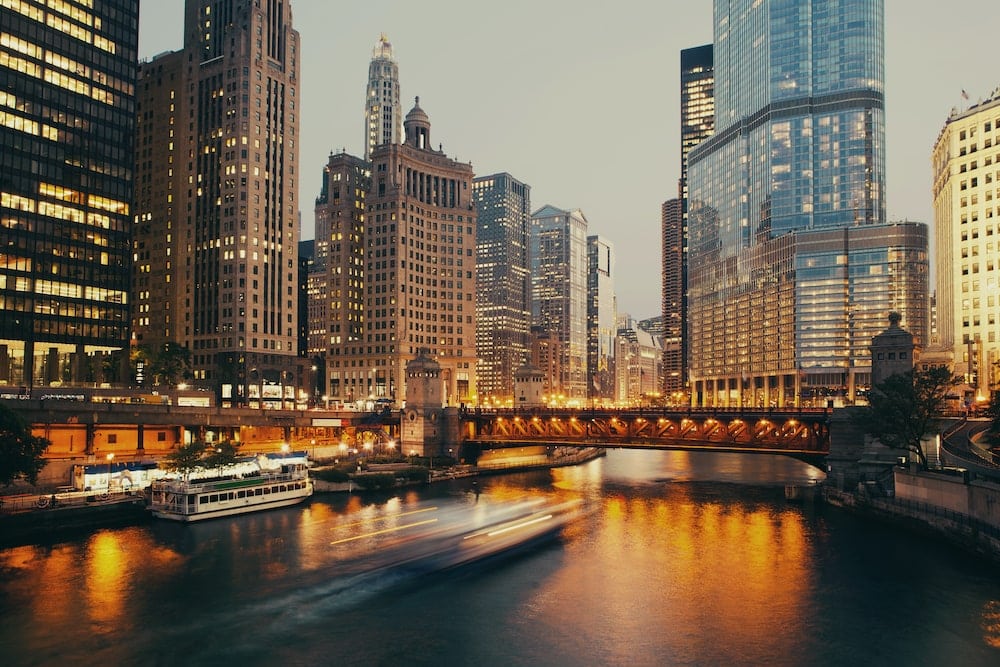 Chicago is a city that needs no introduction and has been voted the "Best Big City in the U.S." by Condé Nast the past few years. Its prime location along the scenic shores of Lake Michigan, historic landmarks, and striking modern skyscrapers leave visitors in awe. While a day is only enough to scratch the surface of the Windy City, making time for the classic attractions is a must.
Be sure to take a stroll along the Chicago Riverway, where river cruises, bars, restaurants, and cafes make for a pleasant first stop. The reflective Bean sculpture in Millennium Park and famous Navy Pier are other iconic Chicago landmarks perfect for first-time visitors. Don't forget to save room for a classic Chicago hot dog from Superdawg Drive-In or a deep-dish pizza from Lou Malnati's.
For something off the beaten path, consider exploring the Lincoln Park and Wicker Park neighborhoods. Places like Garfield Park Conservatory and The Violet Hour speakeasy offer less busy Chicago experiences as well.
Distance from Milwaukee: 92 miles (approx. 1 hour and 35 minutes)
Related Read: 10 Best Places to Visit in the Fall Across the U.S.
3. Lake Geneva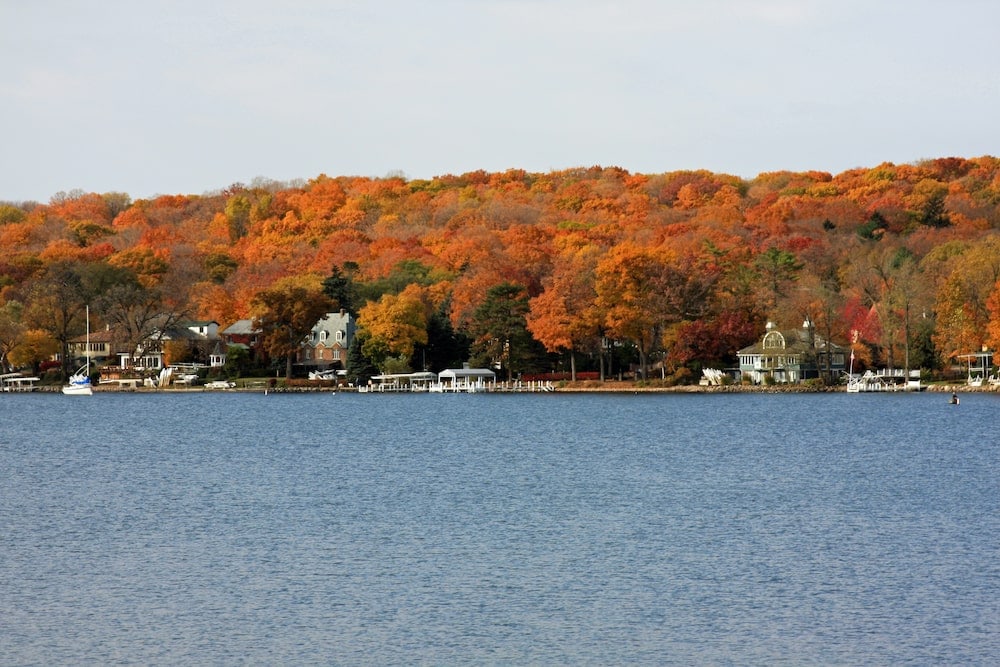 Lake Geneva is a charming resort town that's long provided the city folk of both Chicago and Milwaukee a reprieve in nature. Named after the nearby Geneva Lake, many of the best attractions are centered around the area's beaches and numerous bodies of water.
Big Foot Beach State Park is a popular place to swim, camp, fish, and hike. If you're up for a longer hike, challenge yourself to a walk around the Lake Shore Path that circles the entire lake and totals 26 miles. Other things to do in Lake Geneva include golfing, zip-lining, visiting local orchards, and more.
When hunger hits, consider local favorites like Next Door Pub & Pizzeria for a pie or Freddie's West End for a classic fish fry.
Distance from Milwaukee: 55 miles (approx. 55 minutes)
Related Read: 10 Amazing Small Towns in Wisconsin for a Charming Escape
4. Madison
As the state's capital and second-largest city, Madison has a lot of worthwhile attractions to easily fill a day's visit. It's famous for its unique location surrounded by two large lakes where people often boat, kayak, paddle boat, and more. It also boasts a unique art-focused culture and a fantastic food and bar scene.
While any day of the week is suitable for a visit, try to come on a Saturday to stroll around the Capitol Square Farmers Market. Be sure to stop at Stella Bakery's stand for their famous Hot and Spicy Cheese Bread and Farmer John's for squeaky fresh cheese curds.
After you've fueled up at the market, take a walk down State Street for shopping and cafes and end your trip at the colorful Memorial Union Terrace for a beer and pretty Lake Mendota views. Other things to do in Madison include touring the historic capitol building and smelling the flowers at the Olbrich Botanical Gardens.
Before you head back to Milwaukee, grab a juicy grass-fed burger from popular joints like The Old Fashioned and Dotty's Dumpling's Dowry.
Distance from Milwaukee: 80 miles (approx. 1 hour and 20 minutes)
Related Read: 10 Cozy & Comfortable Wisconsin Tiny Home Vacation Rentals
5. High Cliff State Park
Nestled along the shores of Wisconsin's largest inland lake, High Cliff State Park is a great place for nature lovers seeking fresh air. It's famous for towering limestone bluffs that make up part of the Niagara Escarpment, and sweeping views of Lake Winnebago. The park also features a 40-foot tall observation tower that looks out onto nearby cities like Oshkosh and Neenah.
As if that wasn't enough, visitors can also enjoy seeing ancient Native American effigy mounds and a 100-year old abandoned lime kiln. When the weather is warm, pack a swimsuit and a picnic to enjoy at the park's beach. Additionally, four boat launches and accessible shore make the lake popular for boating, windsurfing, and other water sports.
Some of the best hiking and walking trails are the Lime Kiln Trail, a 2-mile loop that passes the abandoned kiln, and the Red Bird Trail, which takes you to the top of the cliff with lake views. Many people also come to High Cliff to enjoy colorful fall foliage.
Distance from Milwaukee: 100 miles (approx. 1 hour and 45 minutes)
Related Read: 9 Absolute Best State Parks in Wisconsin
6. Green Bay, Wisconsin
Green Bay is a football town through and through, thanks to the historical legacy of the state's beloved Green Bay Packers. Visiting the Titletown District and seeing a Packer's home game at Lambeau Field is a bucket list item for many Wisconsinites. It's also a fantastic glimpse into the die-hard football fandom that exists in Green Bay. But football isn't all there is to do in this mid-sized city.
Housed within an old brick train station, Titletown Brewery is an excellent stop on any Green Bay itinerary for many reasons. Not only do they serve up delicious local food and beer, but the microbrewery sits along the Fox River, looking out onto the city skyline.
Other can't miss attractions include visiting the Green Bay City Deck, exploring Bayshore County Park, and getting a history lesson at the National Railroad Museum.
Distance from Milwaukee: 118 miles (approx. 1 hour and 50 minutes)
Related Read: 10 Beautiful Scenic Drives in Wisconsin
7. Wisconsin Dells
Family-fun and beautiful nature awaits at the Wisconsin Dells, a tourist resort area where the Wisconsin River meets Lake Delton. As its nickname "The Waterpark Capital of the World" suggests, the city is best known for the sheer volume of water parks clustered in town. Summer is undoubtedly the best time to visit for outdoor water fun found at top attractions like Noah's Ark and Lake Delton Beach.
Warm weather also presents the best conditions for taking a Wisconsin Duck tour through the striking gorges of the Wisconsin River. Be sure to take the Upper Dells Tour to witness the impressive beauty of the Witches Gulch, a mossy canyon lined with boardwalks offering jaw-dropping views.
However, once cold weather strikes, indoor water parks are a fantastic way to escape the harsh Wisconsin cold. Highly-rated resorts like The Kalahari and the Great Wolf Lodge offer day passes for visitors to experience indoor water slides, swimming pools, spas, and dining.
Distance from Milwaukee: 122 miles (approx. 1 hour and 50 minutes)
Related Read: 12 Best Cabin Rentals Near Wisconsin Dells
8. Six Flags Great America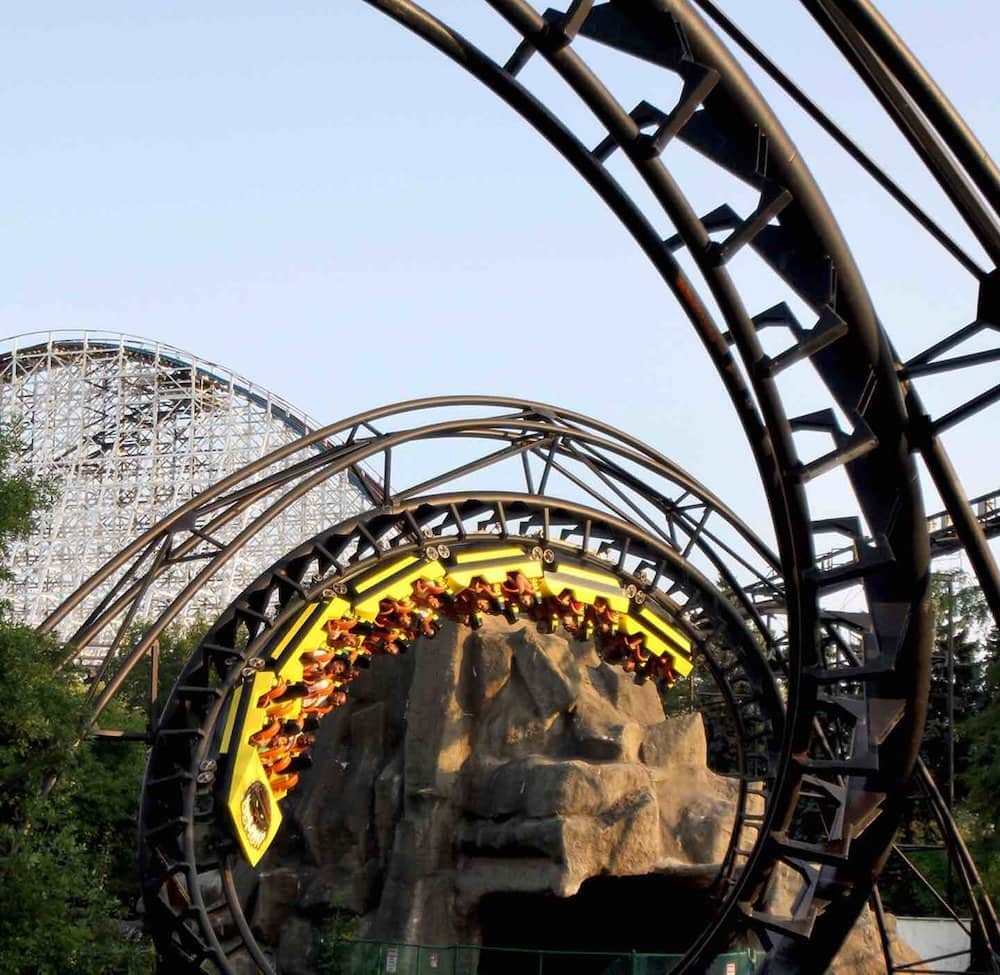 Roller coasters are certainly not everyone's cup of tea, but if you're a thrill-seeker, Six Flags Great America in Gurney, Illinois is a fantastic day trip from Milwaukee.
As one of the largest amusement parks in the Midwest, the park has fifteen roller coasters spread amongst four themed areas. Rides in the park that range from scary to kid-friendly making Six Flags suitable for a family day trip too.
Six Flags also puts on live shows and seasonal events so you can have a different experience every time you visit. For those who don't enjoy coasters, the Six Flags grounds also feature a 20-acre waterpark dubbed Hurricane Harbor. You can purchase day passes online before you arrive to skip the lines.
Distance from Milwaukee: 50 miles (approx. 50 minutes)
Related Read: 10 Best Illinois Glamping Rentals
10. Kettle Moraine State Forest
The Kettle Moraine State Forest spans over 55,000 acres and offers numerous ways to enjoy a day trip. The state forest displays Wisconsin's unique glacial landscape.
It's filled with notable landmarks like kettle lakes and wooded glacial hills. The forest is so large that it's broken up between the northern and southern units and is connected via the impressive 1,200-mile-long Ice Age National Scenic Trail.
Aside from exploring the various segments of the Ice Age Trail, some of the best things to do in the northern unit include hiking to the Parnell Observation Tower. Measuring 60 feet tall, it offers the highest vantage point in the forest. Other places to visit include Long Lake, Dundee Mountain, and Greenbush Recreation Area.
The southern unit is best known for beaches and watersports at Ottawa and Whitewater Lakes. There are also impressive hiking trails to explore that span tens of miles. The most popular include the Emma Carlin, John Muir, and Nordic Trails, which pass through native prairies, forests, and waterways.
Distance from Milwaukee: 45 miles (approx. 45 minutes)
Related Read: 10 Relaxing Wisconsin Cabin Rentals with Hot Tubs
Explore Wisconsin
Sign up for Weekend Wanderer to join thousands of readers getting epic travel ideas every week.
---