If you're itching to explore somewhere new, these exciting road trips from Minneapolis offer plenty to do in the span of a single weekend.
There's no denying that Minneapolis is a hub for exciting things to do and places to see. But when you call a place home, the once-interesting attractions can quickly become ordinary and mundane. So one of the best cures for hometown boredom is to venture off to new and unknown places to reinvigorate your spirits.
Thankfully, Minneapolis isn't far from worthwhile destinations that offer various experiences such as big-city escapes, outdoorsy getaways, or small-town living. And Minnesota isn't exactly expensive, so you don't have to spend an arm and a leg to hit the road or book a hotel for a few nights. When you've been bitten by the travel bug, these fantastic weekend road trips from Minneapolis may be just the ticket.
Related Read: 8 Spectacular Places to See Fall Colors in Minnesota
1. Duluth, Minnesota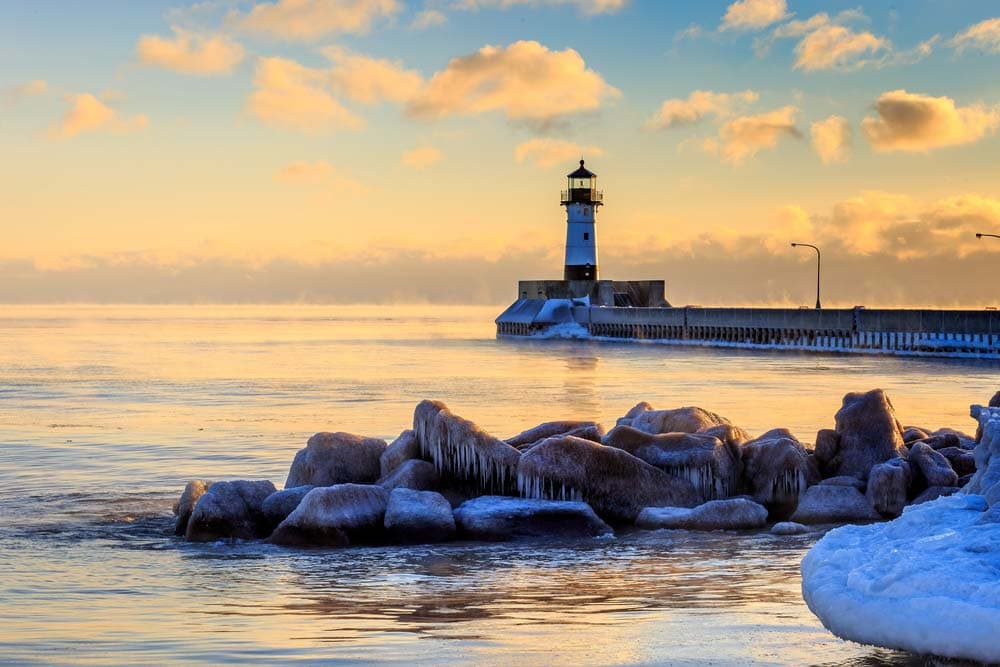 Duluth, Minnesota, is an idyllic port city along the shores of Lake Superior. Its Canal Park and Lakewalk area are great places to enjoy a daytime stroll and visit fantastic restaurants, breweries, and local shops. Taking time to marvel at Duluth's historical landmarks is also a great way to pass the time, especially at impressive sites such as the Glensheen Mansion and the 115-year old Aerial Lift Bridge.
There are also many ways to see the natural surroundings of this part of the state. The Enger Tower rewards visitors with sweeping views from the bluffs, while the 310-mile-long Superior Hiking Trail offers hikers a front row seat to the beautiful rugged coastline of the Great Lake.
Distance from Minneapolis: 154 miles
Drive time without stops: Approx. 2 hours, 15 mins
Related read: 9 Fun Weekend Road Trips from Kansas City, Missouri
2. Red Wing, Minnesota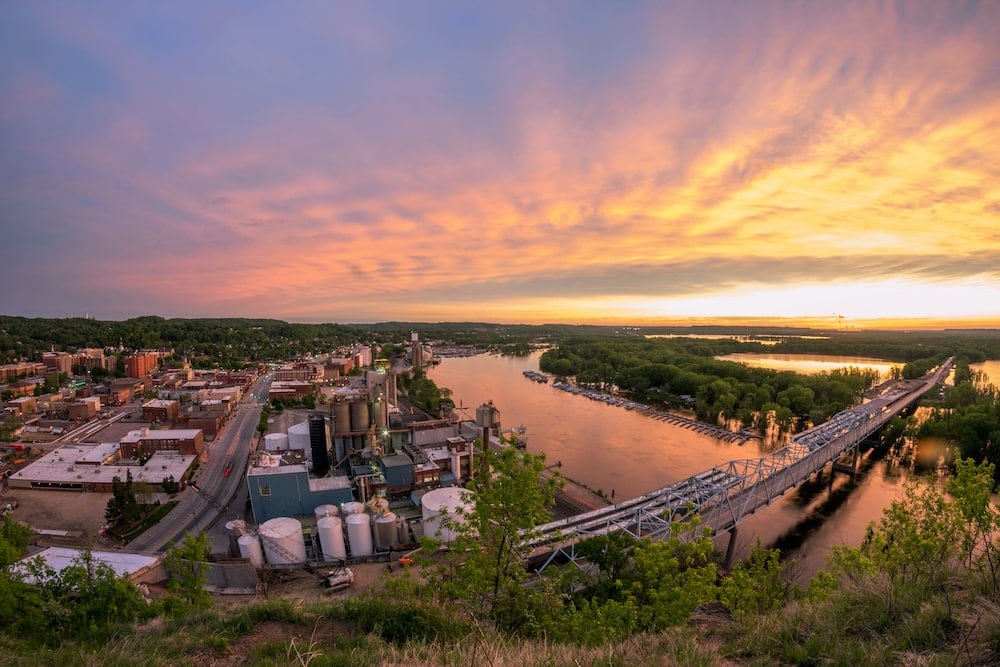 Red Wing, Minnesota is a popular weekend road trip from Minneapolis not only because of its conveniently close location, but because of the sheer number of attractions. Many people come to enjoy the local music festivals, delicious restaurants, and outdoor adventures on and around the Mississippi River.
Some favorite things to do include hiking the Barn Bluff Trails around Sorin's Bluff, hitting a round of golf, and learning a bit about the area's pottery history at the Red Wing Pottery and Stoneware Museum. Spending a day at the beautiful Frontenac State Park is also a guaranteed good time, as is sipping wine at the Falconer Vineyards.
Distance from Minneapolis: 55 miles
Drive time without stops: Approx. 1 hour
Related read: The 10 Best Airbnbs in Minneapolis, Minnesota
3. Madison, Wisconsin
Madison, Wisconsin, is nicknamed the "City of Lakes" for its unique location on an isthmus surrounded by four great bodies of water. It's home to Wisconsin's largest state university and the capitol building, which adds a distinct vibrancy and creative atmosphere to the city. It's a classic college town, filled with young people and lots of activity. Visiting the Saturday morning Farmers Market is a must, where you can treat yourself to farm-fresh produce and homemade treats around the capitol square.
After a morning of wandering the market, be sure to save room for highly-rated restaurants from renowned chef Tory Miller at one of his two of his famous establishments: L'Etoile and Graze. Grabbing a beer at the colorful Union Terrace while watching the sun set over the waters of Lake Mendota is also highly recommended.
Distance from Minneapolis: 270 miles
Drive time without stops: Approx. 4 hours
Related Read: The 9 Best Airbnbs in Madison, Wisconsin
4. Apostle Islands National Lakeshore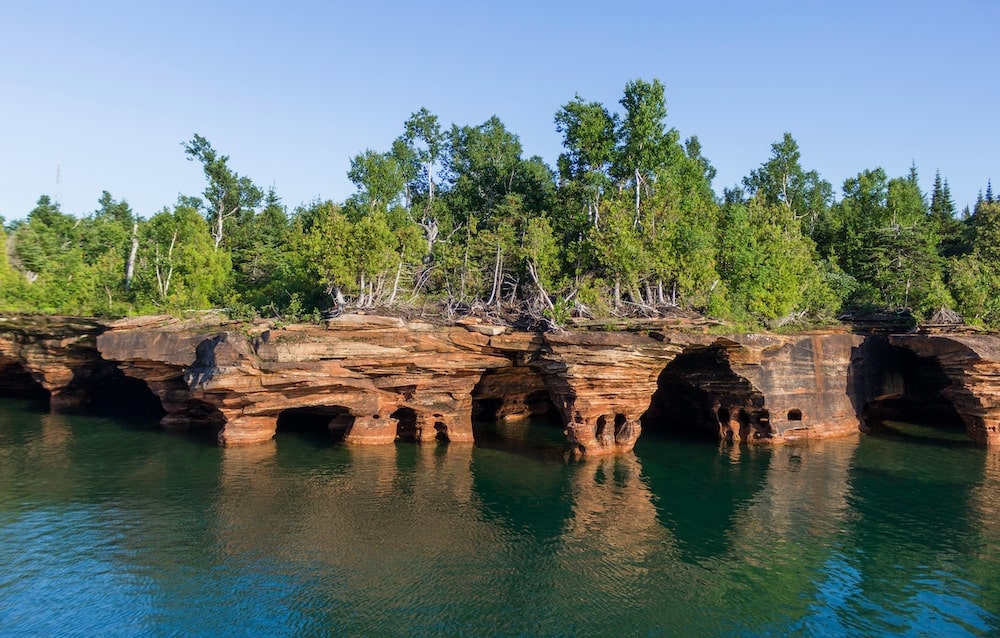 The Apostle Islands National Lakeshore is a gorgeous string of islands in the waters of Lake Superior. To visit, you must first make the drive to Bayfield, Wisconsin. From there, you can opt to take a ferry to Madeline Island or rent kayaks to see the islands that aren't accessible by car.
There are also island cruises available that tour the striking sandstone shores for those unable to kayak or boat. The islands have numerous hike-in camping sites, unique hiking trails, and historic lighthouses. In the winter, the sea caves become frosted in a dramatic show of sparkling icicles. When the conditions are right, you can reach it on foot over the frozen surface of Lake Superior.
Distance from Minneapolis: 211 miles
Drive time without stops: Approx. 3 hours, 45 mins, plus a 30-minute river crossing
Related Read: 9 Cozy Cabins in Northern Wisconsin For Your Next Trip Up North
5. Brainerd, Minnesota
Brainerd is a small city in northern Minnesota that's often referred to as the Brainerd Lakes Area, thanks to the more than 500 lakes surrounding it. With so many public lakes and beaches to choose from, Brainerd is an obvious summertime destination. Many flock to the sandy shores of Gull Lake and Whipple Lake, often considered two of the best.
The area also lays claim over Paul Bunyan Land, a delightfully cheesy amusement park filled with carnival rides and a 25-foot-tall talking lumberjack. Other popular tourist attractions include riding on a Gull Lake Cruise, testing your courage at the Brainerd Zip Line, and catching a race at the Brainerd International Raceway.
Distance from Minneapolis: 129 miles
Drive time without stops: Approx. 2 hours, 10 mins
Related Read: 8 Amazing Cabins in Northern Minnesota for a Relaxing Getaway
6. Two Harbors, Minnesota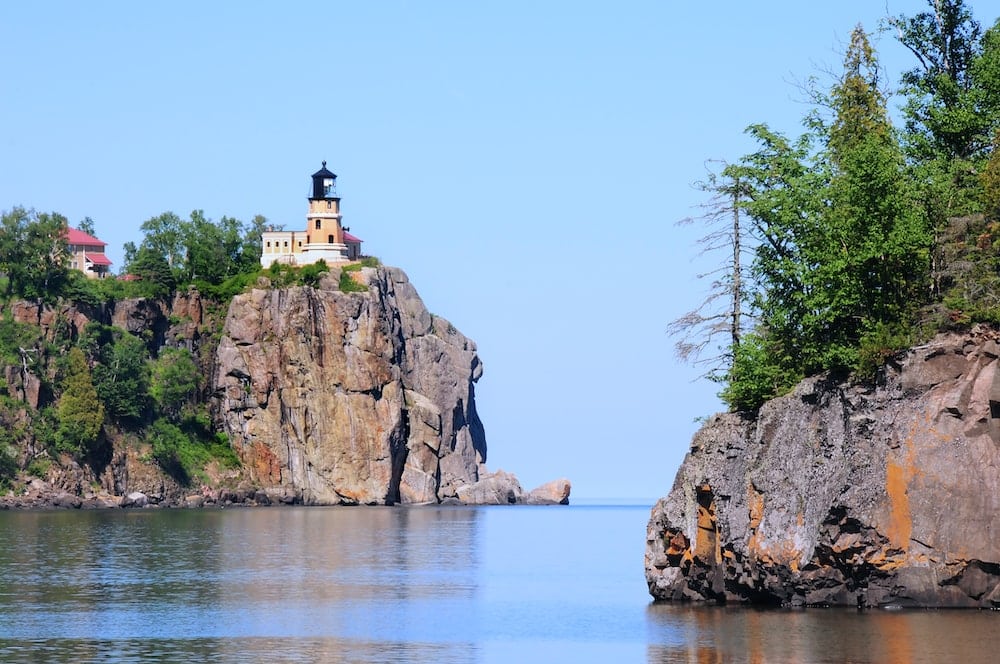 Two Harbors, Minnesota is the place to be for those interested in slowing down and relishing small-town living. Just 30 minutes north of Duluth, this charming "up north" escape is also a fantastic home base for outdoor adventure.
Some of the best outdoorsy things to do include exploring the stunning waterfall at Gooseberry Falls State Park, hiking the Superior Hiking Trail, and taking advantage of the waters of Lake Superior. If hiking or water sports sound like too much action, don't fret. The area is also known for more relaxing activities like sipping brews at Castle Danger Brewery, sunset photography sessions at the idyllic Split Rock Lighthouse, and watching the waves crash against Stoney Point.
Distance from Minneapolis: 181 miles
Drive time without stops: Approx. 2 hours, 40 mins
Related read: 7 Cozy Cabins for Rent Near Minneapolis, Minnesota
7. Grand Marais, Minnesota
Grand Marais is a small and unsuspecting town north of the Twin Cities, but don't let its small size fool you. You'll find big adventure and a lovely art scene in this northern getaway, surrounded by the beauty of Lake Superior and the Grand Portage State Forest.
Top things to do in Grand Marais include walking to the end of Artist's Point, cross-country skiing in the winter, and embarking on bucket-list-worthy excursion paddling the remote Boundary Waters Canoe Area Wilderness. Refuel after your busy days at beloved local joints like the Angry Trout Cafe and the Voyageur Brewing Company.
Distance from Minneapolis: 264 miles
Drive time without stops: 4 hours, 15 mins
8. Wisconsin Dells
The Wisconsin Dells is the waterpark capital of the world, offering visitors the choice between 20 different indoor and outdoor water resorts. It's actually the largest concentration of waterparks in the world. The most popular include Noah's Ark, The Kalahari, and Mt Olympus.
No kids? No worries: family-friendly resorts aren't all this road trip from Minneapolis has to offer. The city also has fantastic restaurants and is tucked away in an area known for its glacial-carved geological formations from millions of years ago. See the natural beauty yourself with a hike around the bluffs at Devils Lake State Park or the reflective waters of Mirror Lake. Another unique thing to do is to take a ride on a Wisconsin Duck, a water-capable truck, to see the towering sandstone cliffs along the Wisconsin River.
Distance from Minneapolis: 216 miles
Drive time without stops: Approx. 3 hours
9. Des Moines, Iowa
Cropping out over a sea of corn fields, Des Moines, Iowa is a mid-sized city brimming with unique things to see and do.
Iowa's capital city is also known for its numerous pretty gardens, lively fairs and events, and artistic scene. Among the best places to visit include the Des Moines Botanical Garden and the Iowa State Fair, which you should head to if you're visiting in August. When hunger strikes, consider trying the Iowan "Steak de Burgo" or fried catfish, two of the state's delectable local dishes.
Distance from Minneapolis: 244 miles
Drive time without stops: 3 hours, 40 mins
10. La Crosse, Wisconsin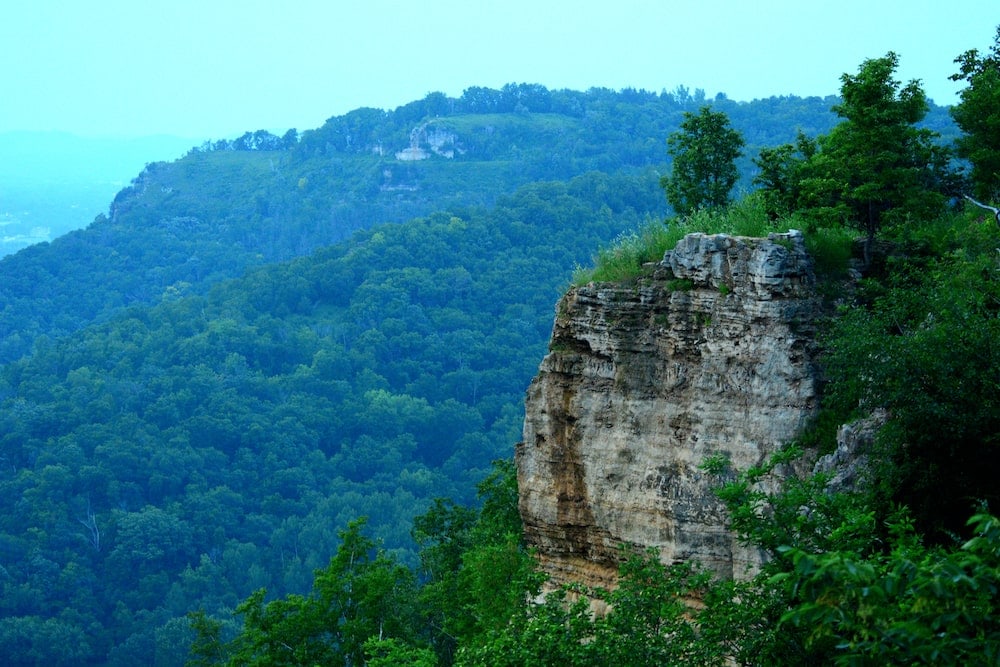 La Crosse, Wisconsin, is a small college town set along the Mississippi River just over the Wisconsin state border. Acres upon acres of public land surround the city, highlighted by excellent hiking and mountain biking trails through Hixon Forest, the Great River State Trail, and Grandad Bluff, a lookout point with sweeping views of the city.
The state's time-honored tradition of brewing lives on in La Crosse, where visitors can sip craft beers from notable breweries such as Pear Street, 608 Brewing, and Turtle Stack. You can even pose for a photo in front of the "World's Largest Six Pack." If you're feeling nostalgic, the Pearl Ice Cream Parlor and Rudy's Drive-in embody the spirit of the 1930s, with Pearl's mixing up cream and sodas and Rudy's serving juicy burgers on skates.
Distance from Minneapolis: 159 miles
Drive time without stops: Approx. 2 hours, 30 mins
11. Bemidji, Minnesota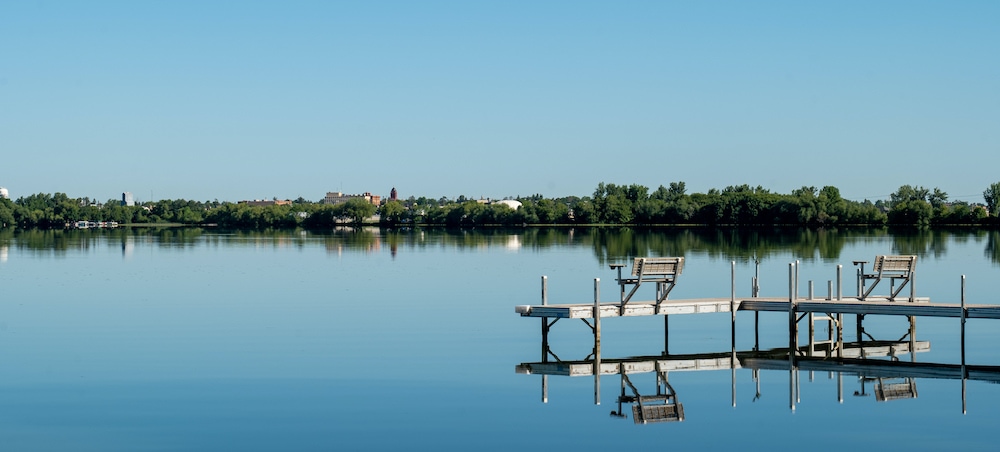 Bemidji is a quaint Minnesota town celebrated for its Native American and Scandinavian cultures, natural beauty, and interesting logging history. Considered by many to be the birthplace of legendary lumberjack Paul Bunyan, no visit is complete without a picture in front of the towering statues of Paul and his blue ox.
For those who appreciate the cold, the area's miles of snowmobile trails and slopes of Buena Vista Ski Area make Bemidji a great wintertime road trip from Minneapolis. There's also plenty to do during the summer in the pine-scented air of the Mississippi Headwaters State Forest or on the waters of Lake Bemidji. It's a never-crowded, affordable, and super outdoorsy weekend road trip from Minneapolis – don't rule this one out until you look into it a little more.
Distance from Minneapolis: 216 miles
Drive time without stops: Approx. 3 hours, 40 mins
More Adventures Near Minnesota
Sign up for Weekend Wanderer to join thousands of readers getting epic and gear travel ideas every week.
---