We research, evaluate and select travel destinations based on a number of factors, including our writers' experience, user reviews and more. We may earn a commission when you book or purchase through our links. See our editorial policy to learn more.
Was this article helpful?
---
Thanks to unique sandstone outcroppings and cascading waterfalls, Hocking Hills is considered one of the most beautiful regions in Ohio.
Hocking Hills State Park and the lovely attractions of Hocking County are located about an hour south of Columbus. Known for can't-miss spots like Cantwell Cliffs, Cedar Falls, and Ash Cave, there's so much to see in and around the more than 2,000 acres that make up the state park! So much so that visitors typically need more than a day to thoroughly soak up the region's natural beauty.
Staying in a classic cabin rental is a cozy way to get up close and personal to Ohio's incredible, rugged landscape. And what's better than a regular ole cabin? One with a bubbling hot tub, of course! A cabin with a hot tub means that you can relish in the comfort of upscale lodging and the rugged joys of untouched wilderness.
This ultimate list shares the best Hocking Hills cabins with hot tubs to help take the pain out of planning and ensure utmost relaxation during your trip.
Related Read: 6 Cozy Treehouse Rentals in Ohio
1. The Ledge@LostCavern
Why you should stay: A glass cabin in the woods perched above a picturesque rocky cavern.
Location: Benton Township
Sleeps: 6
Minimum stay: 2 nights
Rates from: $445/night
The Ledge@LostCavern is a mid-century modern dream. Impeccably designed with the surrounding Hocking Hills landscape in mind, the home's impressive wall of windows allows forest and cavern views to take center stage. Unique touches also fill the interior, including a free-standing Malm fireplace, Chesterfield sofas, and a breakfast nook with upholstered bench seating.
Through the all-glass front door is the home's asymmetrical deck where you'll want to spend your time lounging and marveling at the rocky outcropping. In the back, a fire pit provides the perfect place to roast marshmallows. Next to the firepit, the home's spacious eight-person hot tub has built-in speakers so you can jam as you soak. This three-bedroom cabin is less than ten minutes from Hocking Hills State Park.
Check Availability
Follow 'em: @Lost_Cavern
2. Walnut Lakes Cabin Retreat
Why you should stay: An outdoorsy cabin on the lake with a rowboat and a paddleboat.
Location: Clinton
Sleeps: 6
Minimum stay: 2-3 nights
Rates from: $328/night
Situated on a sprawling 100-acre property, the Walnut Lakes Cabin Retreat provides a peaceful lake escape to the Hocking Hills region. Natural light floods through the cabin's numerous sliding glass doors filling every corner of the inside, creating a cozy atmosphere. This cabin has two bedrooms, one of which is a lofted sleeping space furnished with two twins and a private balcony.
From the home's elevated deck, panoramic views of the lake create a beautiful backdrop while grilling out or dining al fresco. Around the side of the house, a six-person hot tub stands ready to soothe your tired bones. The property also has a fire pit on the water's edge and a floating dock where you can cast a line or dip your toes.
Check Availability
Related Read: 12 Charming Barndominiums for Your Next Rural Getaway
3. Chieftain Meadows
Why you should stay: A five-bedroom cabin perfect for large groups and four-legged friends visiting Hocking Hills.
Location: Rockbridge
Sleeps: 12
Minimum stay: 2-3 nights
Rates from: $450/night
You'll find Chieftain Meadows about 20 minutes north of Hocking Hills, perched atop a gentle grassy slope surrounded by forest. The outdoor space is a top feature of this spacious home and is ideal for those seeking a bit of seclusion. There's nothing but peace and quiet to occupy your mind while out on the covered wraparound deck, open sun deck, and of course, the bubbling hot tub.
Inside, vaulted ceilings and chalet-style windows open up the ground floor comprised of the living room and kitchen. The living room's wood-burning fireplace is the perfect place to cuddle up with loved ones when it's chilly outside. For more quality family time, head down to the finished basement where table games like foosball and shuffleboard welcome a dose of healthy competition.
Check Availability
Related Read: 8 Magnificent Red River Gorge Cabins with Hot Tubs
4. Cozy Farmhouse Cottage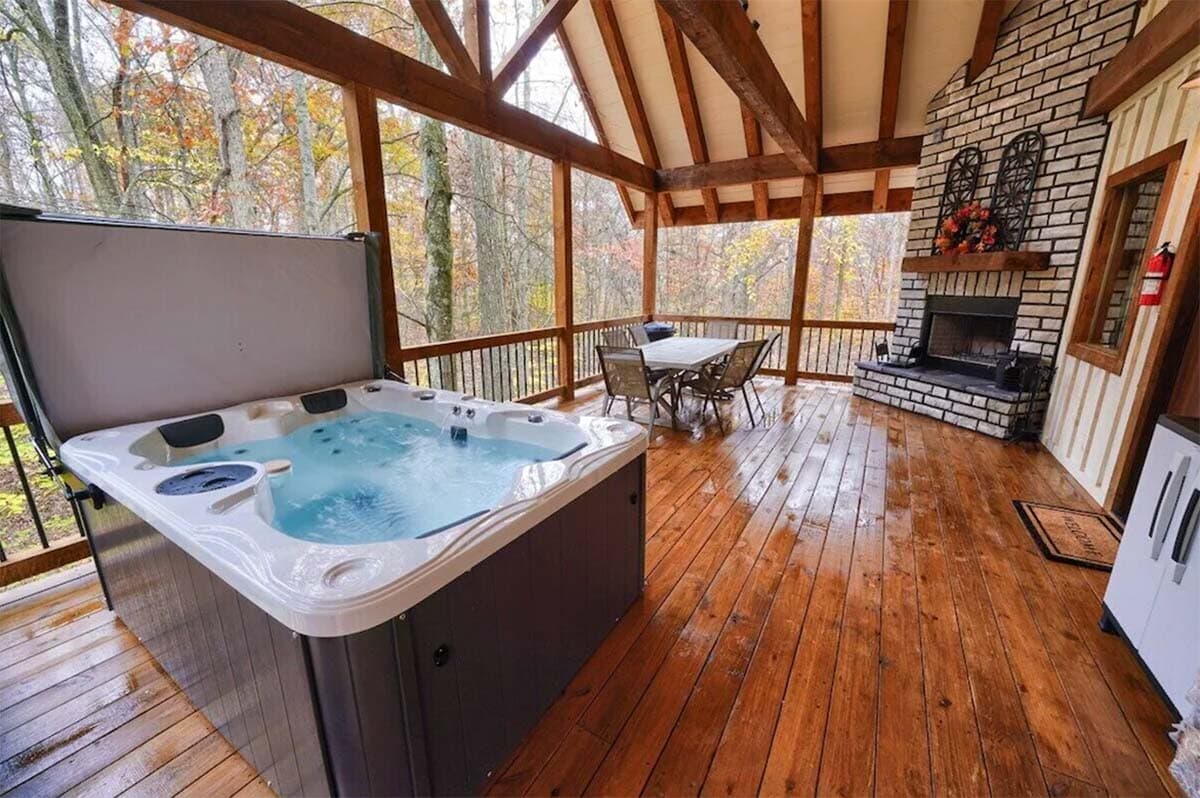 Why you should stay: An idyllic cottage with modern amenities fully immersed in the Wayne National Forest.
Location: Carbon Hill
Sleeps: 6
Minimum stay: 2 nights
Rates from: $189/night
Get away from it all at this intentionally rustic but oh-so-cozy farmhouse cottage located about 30 minutes from the state park. This 2020 cabin is brimming with cottage-core style and features sliding farmhouse doors and exposed beams. In the living room, a cream brick fireplace casts off some soothing warmth.
While this cabin is technically a one-bedroom, it's equipped with a pull-out sofa bed as well as a sleeping loft that's accessed via a ladder. Outside, take a seat out on the deck as a fire blazes in the second brick fireplace, making the space an open-air living room.
Guest Jeffrey shares, "This is a beautiful spot. We enjoyed the deer feeding on the hillside while soaking in the hot tub. The fire was so warm and cozy too."
Check Availability
Related Read: 9 Secluded Cabins in Ohio for Private Getaways
5. Ivy Cottage
Why you should stay: An industrial building turned homey cabin with classic country style and a bright interior.
Location: Logan
Sleeps: 6
Minimum stay: 2 nights
Rates from: $629/night
Conveniently located a short drive from the famous Old Man's Cave hike, the Ivy Cottage is a trendy barndominium that oozes charm with its industrial meets rustic-chic design. Especially in the kitchen, where a farmhouse sink and stainless steel appliances not only look fabulous but make whipping up home-cooked meals a breeze.
Other noteworthy features include the beautiful barn-style sliding doors and gas fireplace. This barndominium is on 15 acres, complete with a back deck and luxurious hot tub. All this, plus its fantastic location in Logan, a small town known as the gateway to Hocking Hills, make Ivy Cottage a dreamy Ohio cabin rental that's earned its status as bucket-list worthy.
Check Availability
Related Read: 9 Beautiful Cabin Rentals Near Cincinnati, Ohio
6. Whitetail Pines Cabin
Why you should stay: A lovely log cabin a short drive from Cantwell Cliffs.
Location: Good Hope
Sleeps: 9
Minimum stay: 2 nights
Rates from: $325/night
The Whitetail Pines Cabin is a classic three-bedroom log cabin nestled in the forest. It features an open floor plan and vaulted ceilings that are complimented nicely by the interior's all wooden surfaces and stone fireplace. Not to mention, the home's simplistic decor and emphasis on natural elements ensure guests feel at one with the natural beauty of the surrounding woods outside.
Although the decor is a touch minimalist, the amenities are certainly not. Upscale features like a Jacuzzi tub and a Keurig machine are there to make your stay extra special. Plus, outdoor seating on the wraparound deck and, of course, the hot tub provide even more to do during your stay.
Check Availability
Follow 'em: @WhitetailPinesCabin 
7. Ashmoor Cabin
Why you should stay: An Amish-built cabin on a private, forested ridgetop 20 minutes from Ash Cave.
Location: Starr
Sleeps: 6
Minimum stay: 2 nights
Rates from: $175/night
Get away from it all at Ashmoor Cabin, a semi-secluded two-bedroom cabin that offers utmost peace and quiet. As one of several units that make up the Nine Pines vacation rentals, guests staying at the Ashmoor enjoy access to meandering walking trails that traverse the expansive property. Inside, tasteful cabin decor like knotty pine walls and neutral tones set the scene for a welcoming stay.
Around the home, a covered and gated porch makes lounging outside with the kiddos safe and enjoyable. After a day filled with explorations, take a dip in the hot tub or huddle around the bonfire as stars twinkle above you. The main attractions of Hocking Hills aren't the only nearby things to do. Lake Hope State Park is a short drive from the property, where you can swim, fish, boat, and more.
Check Availability
More Adventures in the Mid-West
Get epic travel ideas delivered to your inbox with Weekend Wanderer, our newsletter inspiring more than 10,000 readers every week.
Was this article helpful?
---