We research and recommend travel destinations based on a number of factors, including our writers' own experience, user reviews and more. We may earn a commission when you book or purchase through our links. See our editorial policy to learn more.
---
There's a lot of outdoor beauty and more than a few natural wonders in Wisconsin. So why not see them with your furry friend by your side?
As incredible as the Wisconsin cabin rentals available throughout the state are, there's nothing worse than having to leave behind your beloved pet and best buddy. Thankfully, there are numerous pet-friendly cabins in Wisconsin that allow four-legged guests to also stay near some of the best state parks and natural attractions.
And although pets aren't allowed inside Wisconsin restaurants, many have outdoor terraces where pets can sit by your side while you dine. That means the whole family — pups included — can spend a look weekend in exciting destinations like Door County, Lake Geneva, and everything in between.
These dog-friendly cabins in Wisconsin guarantee you won't see any sad puppy-dog eyes the next time you head out on a trip.
Related Read: 10 Charming Day Trips from Milwaukee, Wisconsin
1. Birchwood Blue Cabin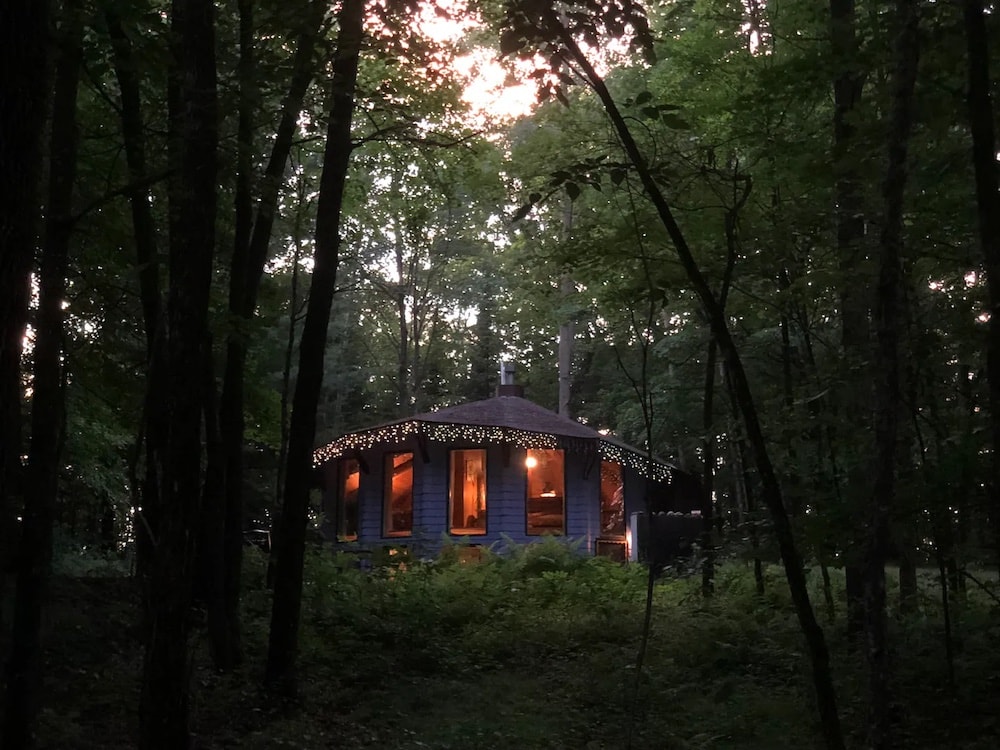 Why you should stay: Homey two-bedroom cabin in the woods near a stream and lake ripe for fishing.
Location: Birchwood
Sleeps: 4
Minimum stay: 2 nights
Rates from: $129/night
The Birchwood Blue Cabin is a unique circular home with beautiful exposed log beams. This pet-friendly airbnb exudes fairytale vibes not only due to the pretty and remote setting, but also because of the whimsical decor. The interior is brimming with cozy touches such as a spiral staircase, a record player, and an electric fireplace. In the upper-level loft, you'll find a futon and a queen bed to accommodate an additional pair.
There are numerous areas to relax outside surround the home, including a wooden deck and a fire circle. There's also a trail on property for hiking or snowshoeing, making this one of the best dog-friendly cabins in Wisconsin if your dog is your number one hiking companion.
Check Availability
Follow 'em: @BirchwoodBlueCabin
2. Clyde Cabin
Why you should stay: Historic two-bedroom designed by a student of Frank Lloyd Wright.
Location: Avoca
Sleeps: 4
Minimum stay: 2 nights
Rates from: $195/night
Clyde Cabin offers an escape to a quiet neck of the woods just a short distance from the lush Wisconsin River. The interior's gleaming hardwood surfaces pair nicely with tasteful decor often illuminated by sunshine pouring through the expansive windows. In the living room, a unique wood-burning fireplace casts a warm glow, keeping you and your loved ones — including furry loved ones — cozy.
Connected to the living room via a sliding glass door is a spacious deck furnished with ample seating and a picnic table and grill. The beautiful attractions of the surrounding Wisconsin River Valley are just a short drive away, including Governor Dodge State Park and the quirky House on the Rock.
Check Availability
Follow 'em: @ClydeCabin
3. Bunker Hill Cabin
Why you should stay: Wake up in Wisconsin's Driftless Area at this elegant ridge-top cabin.
Location: Mindoro
Sleeps: 4
Minimum stay: 2 nights
Rates from: $140/night
Bunker Hill Cabin is a beautifully maintained property in High Point Retreats. It sits at an elevation of 1,360 feet, which happens to be one of the highest points in the state. Inside, the open-plan ground floor features vaulted ceilings with exposed beams that make the living room and kitchen feel spacious and inviting. It's not a huge home, but feels a lot bigger than it is.
The cabin has two bedrooms, one on the ground floor and a second upstairs in the exposed loft. Off of the living room, a lovely balcony looks out over the ridge and provides an excellent place to socialize outdoors. The home is in a quiet and remote area about 35 minutes from La Crosse in Wisconsin's "Driftless" area, which is still pretty under-the-radar but is super affordable and has tons to do.
Check Availability
Follow 'em: @HighPointRetreats
4. Wood River Retreat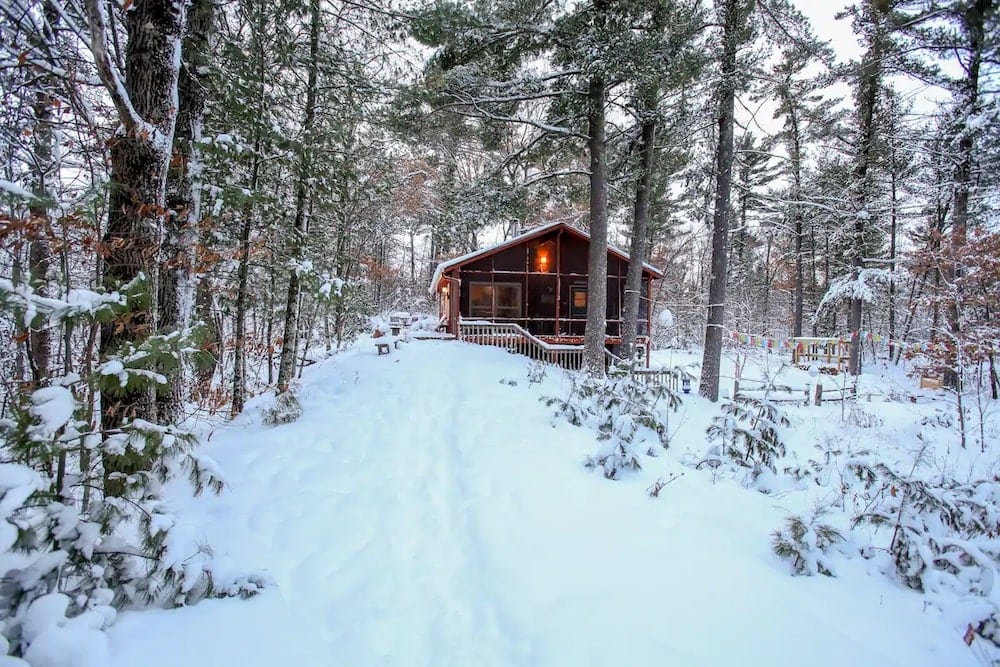 Why you should stay: Solar-powered cabin where guests can hike down to swim in the nearby Wood River.
Location: Grantsburg
Sleeps: 4
Minimum stay: 2 nights
Rates from: $169/night
Get away from any and all urban noise at the Wood River Retreat, a secluded two-bedroom an hour from Minneapolis. This pet-friendly cabin in Wisconsin allows up to two dogs who are sure to enjoy the roomy 16 acres of forested land where they can run and play.
There's a screened-in porch in front and a back deck perched over the ravine. There's also a fire pit where you'll hear the relaxing sounds of the passing Wood River in the distance. The home's interior is exactly what you'd expect from a wooded cabin, complete with a wood-burning stove, knotty pine walls, and cozy touches such as board games and a solid DVD collection
Check Availability
Related Read: 14 Best Things to Do in Wisconsin in Every Season
5. Loon Lodge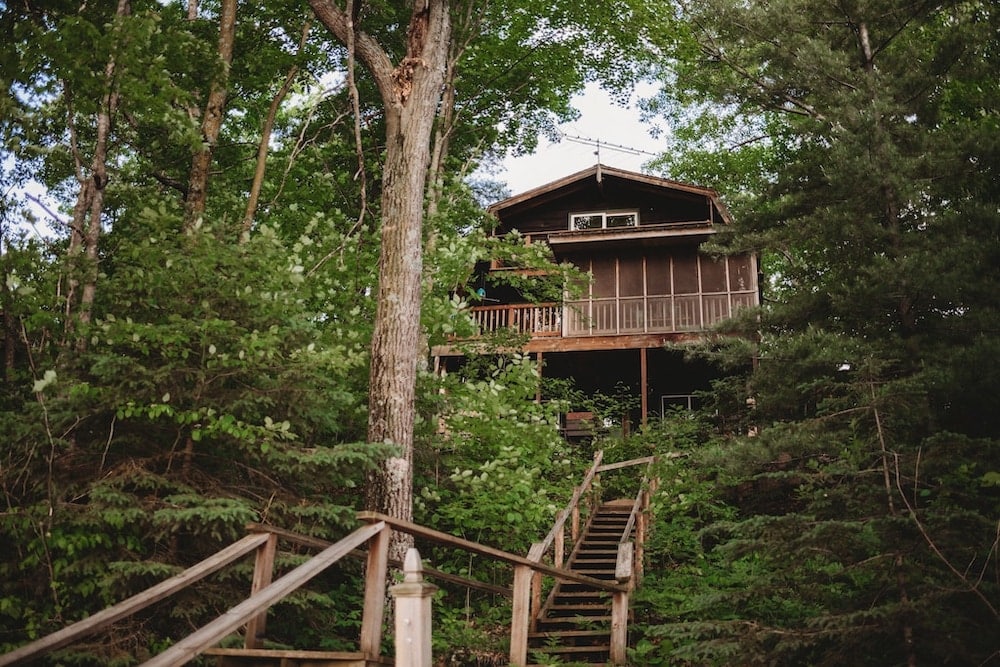 Why you should stay: Modern lakefront cabin in northern Wisconsin.
Location: Comstock
Sleeps: 8
Minimum stay: 4 nights
Rates from: $235/night
The Loon Lodge is a modern three-bedroom cabin with stylish decor and high-end amenities, the best of which is probably the huge screened-in porch with views of the lake. There's also a small lofted catwalk and seating area above it that leads to an upper-level balcony for even more epic views.
In the basement, take part in a bit of friendly competition with a game of foosball or darts. Of course, if it's sunny, you'll probably want to be outside, which is easy to reach — a wooden staircase leads from the home to the lakeshore where a private pier and kayaks await. This pet-friendly Wisconsin cabin is just south of Spooner, home of the Wisconsin Great Northern Railroad Train Ride. The ride is pretty fun and the company offers everything from family pizza rides to wine and cheese afternoon trips.
Check Availability
Related Read: 10 Best Resorts in Wisconsin for Some Rest & Relaxation
6. Tallkabin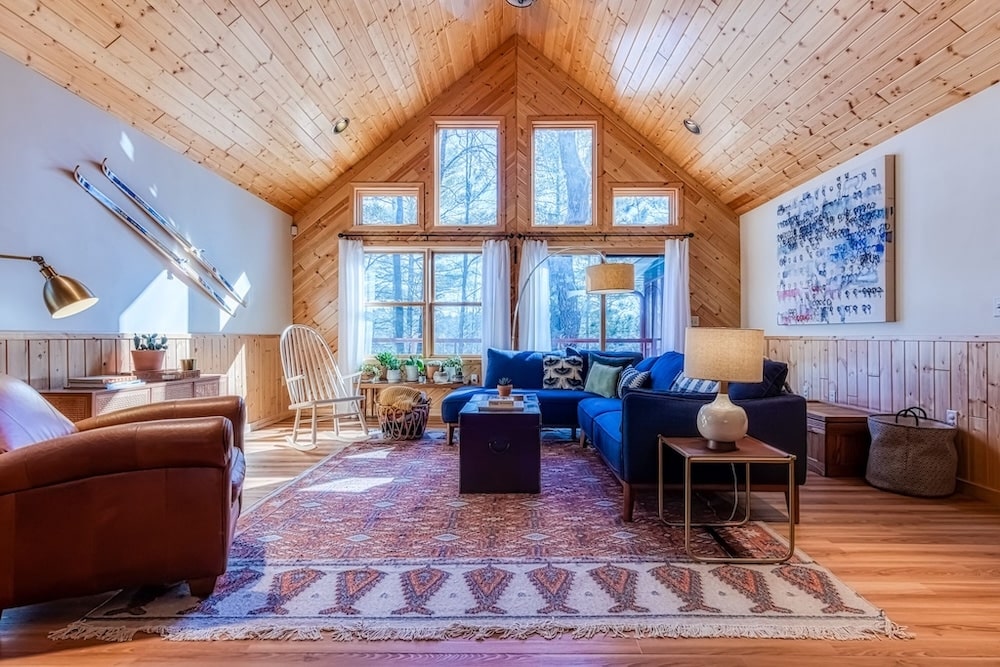 Why you should stay: Lakefront cabin fantastic views and plenty of outdoor living space for a big group.
Location: Webster
Sleeps: 12
Minimum stay: 3 nights
Rates from: $175/night
The Tallkabin owners artfully updated this 1960s cabin with contemporary amenities while still maintaining the mid-century modern vibes of when it was built. There are three bedrooms in the home, plus a family room and sunroom with additional beds, making it a great dog-friendly cabin for larger groups. This Scandinavian-inspired home also has not one but two outdoor decks and a screened-in porch so you can spend quality time as a group in nature.
Warner Lake is just steps from the house and you're free to use the included canoe or talk to the owners about renting their canoes and paddleboards. Other thoughtful touches at this Wisconsin airbnb include fishing poles, yard and board games, an outdoor shower, and the ability to bring up to two dogs. If you decide to go fishing, make sure you have a Wisconsin fishing permit.
Check Availability
Related read: 12 Indoor Dog Parks Active Pups Absolutely Love
7. Vintage Log Cabin
Why you should stay: Rustic cottage overlooking Green Bay within walking distance to downtown Sister Bay.
Location: Sister Bay
Sleeps: 6
Minimum stay: 3 nights
Rates from: $225/night
If you know anything about outdoor recreation in Wisconsin, you probably know that the Door Peninsula is one of the most beautiful and active places in the state. And this dog-friendly vintage log cabin is in Door County near the water. The home features two bedrooms (a private room with a queen and a shared upstairs bunk room) and the original walls maintain the cabin's cozy, old-world charm. Lean into the old-school cabin vibes in the evenings by making a fire and having a late-night outdoor gathering.
The hosts allow one dog per booking for an affordable nightly rate. Door County is pretty dog-friendly, so you won't have to leave Fido at home snoozing in his crate while you go have fun.
Check Availability
Related Read: 10 of the Best Airbnbs in Door County, Wisconsin
8. The River Birch Cabin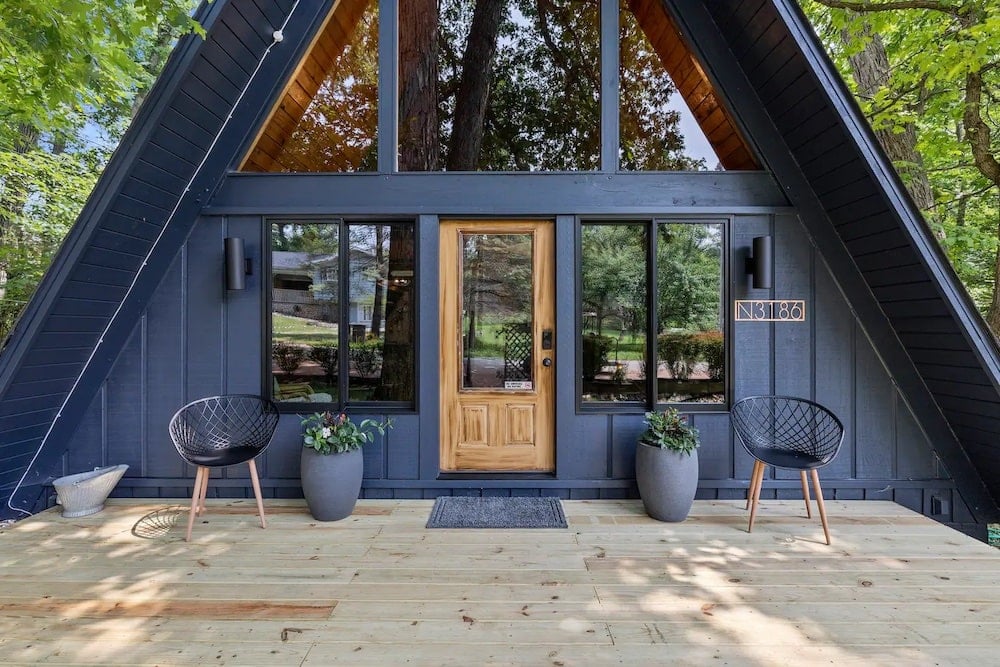 Why you should stay: Hip Lake Geneva A-frame with shared beach access and a partially wooded yard.
Location: Lake Geneva
Sleeps: 5
Minimum stay: 2 nights
Rates from: $239/night
The River Birch Cabin is a gorgeous two-bedroom home with eye-catching architectural lines and expansive windows. The sunny interior boasts attractive elements such as a mid-century modern fireplace and a stained glass accent wall. And the outside of cute A-frame is just made for human-doggo photo shoot.
The home also features an upstairs balcony and a fire circle in the yard. This pet-friendly Wisconsin cabin allows any-sized dog and is walking distance from sandy shores of Lake Como. Geneva Lake's Riviera Beach is also just a 10-minute drive from the property, so you'll have plenty of options for things to do. By the way, Lake Geneva has more than a few great breweries, many of which have dog-friendly patios.
Check Availability
Follow 'em: @RiverBirchCabin_CabinFever
9. The Honey Barn
Why you should stay: Remote getaway in the Kickapoo Valley, famous for lush foliage and amazing ice caves.
Location: Westby
Sleeps: 6
Minimum stay: 2 nights
Rates from: $175/night
What better way to explore southwestern Wisconsin than with a stay at The Honey Barn, a beautiful red farmhouse turned vacation rental? Inside, vaulted ceilings, farmhouse elements, and a stone fireplace help make this one of the coziest dog-friendly cabins in Wisconsin. It's in Wisconsin's "Driftless" area, so expect lots of nearby streams. Fishing is big here.
Other noteworthy amenities include a spacious sleeping loft and a large grassy property where dogs can run free. This Wisconsin cabin is not far from Viroqua, a classic Wisconsin small town with some good restaurants and a great farmers market. You can also walk to the Kickapoo River from the house — which your pup will love!
Check Availability
Related Read: 9 Fantastic Weekend Road Trips from Milwaukee, Wisconsin
10. Lion Downe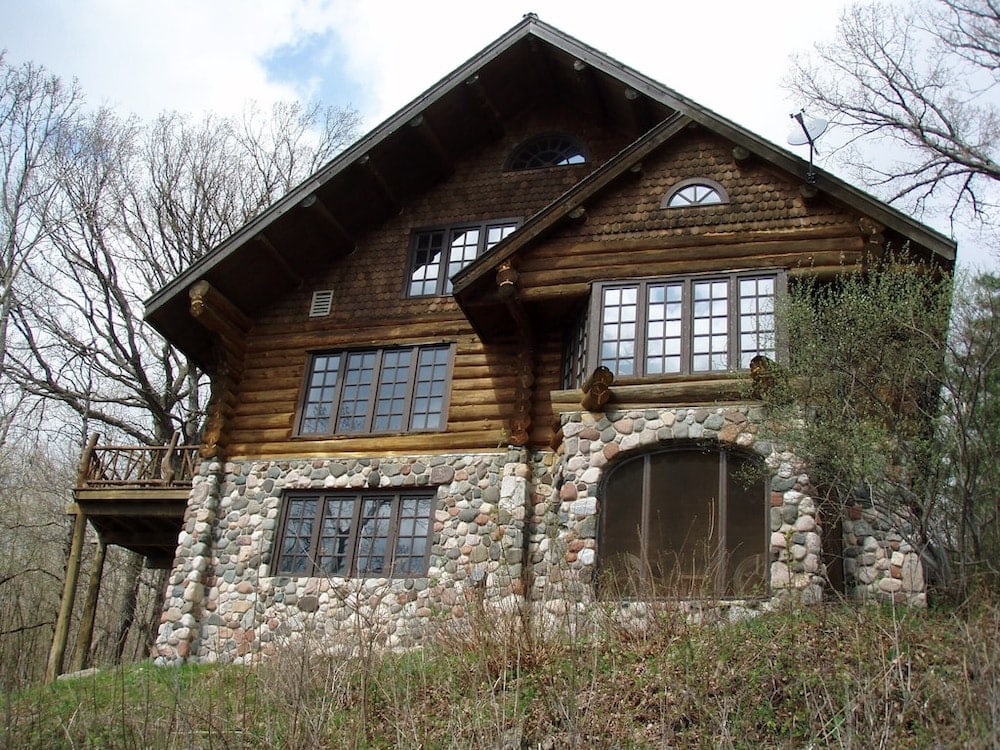 Why you should stay: Spectacular cabin with epic views of Lake Pepin from the elevated deck and hot tub.
Location: Maiden Rock
Sleeps: 13
Minimum stay: 2 nights
Rates from: $300/night
The Lion Downe is an epic vacation rental on rolling bluffs high above the Rush River Valley, a tributary of the Mississippi River. Inside, expect to be wowed by the striking log beams and a stone accent wall and fireplace. Up to four dogs are allowed to accompany guests in this dog-friendly cabin, making this spot an ideal place to stay for the entire family.
Top Wisconsin attractions are not far from the property, such as Frontenac State Park (for epic winter snowshoeing) and Maiden Rock Winery & Cidery, which does tastings for an exceptionally reasonable $7 per person. The charming small town of Stockholm is down the road, which is famous for its scenic waterways and Scandinavian heritage.
Check Availability
Related Read: 9 Cozy Cabins in Northern Wisconsin For Your Next Trip Up North
Find Your Next Wisconsin Adventure
Sign up for the Weekend Wanderer to join thousands of readers getting epic travel ideas every week.
---