Mount Shasta dominates the landscape of north-central California — it's one of the most prominent peaks in America's west.
There are many wonderful trails around Mount Shasta, but not too many on the mountain itself. There are a few, but much of Mount Shasta is steep, covered in glaciers, and its summit routes are quite technical.
The summit is for experienced mountaineers and guided ascents. Of course, you can't see the mountain when you're on top of it, which is why it's great that there are so many awesome trails in the surrounding parks and wilderness areas.
From the Shasta–Trinity National Forest to Castle Crags State Park, there's a wealth of trail for hikers of all skill levels to uncover. Most have stellar views of Mount Shasta, and they're often the source of other natural wonders such as enchanting waterfalls and imposing craggy cliff faces.
There are some wonderful trails in Mount Shasta City and on the slopes of the mountain as well. Below, we've highlighted many of the best hikes on and around Mount Shasta.
Related Read: An Epic Guide to California's 14ers: Hiking & Climbing the High Peaks
1. Castle Lake to Heart Lake
Why you should go: Two epic alpine lakes and stunning views of Shasta.
Difficulty: Moderate
Distance: 2.2 miles
Elevation gain: 600 feet
The trek from Castle Lake to Heart Lake is on the easy side of moderate difficulty — most should be able to complete it with little issue. Despite its minimal challenge, this hike is exceptionally rewarding. It's no wonder why this is one of the most popular hikes in the area.
The trail is well-trodden, though signage is minimal and the path can be difficult to navigate after a fresh snowfall. You'll ascend through a pine forest that deteriorates as you climb. The trees become sparse and scraggly by the time you make it to Heart Lake.
Once at the lake, you'll be met with an awesome viewpoint that includes Mount Shasta, Black Butte, and a distant Mount McGloughlin. Those with some gas left in their tank can hike up the ridges around the lake for more all-encompassing views of the region.
Related Read: 9 Adventurous Things to Do in Yosemite National Park, California
2. Lake Siskiyou Loop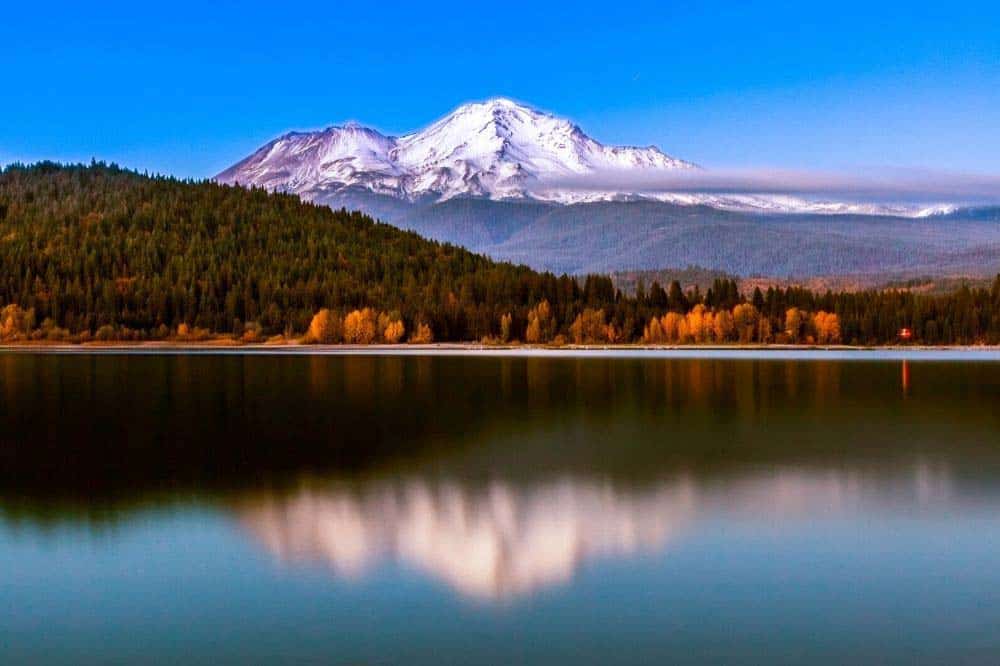 Why you should go: A long, flat, and easily-accessible walk with good views and lots of wildlife.
Difficulty: Easy
Distance: 7.0 miles
Elevation gain: 400 feet
The Lake Siskiyou Loop encircles the reservoir and is accessible year-round. The bridge over the Sacramento River Delta is removed during the winter, however, making it so that you can only complete the entire route during the summer.
There are multiple trailheads that access the route, and it's a popular location for watercraft and other forms of recreation. The hike itself, though, is quite beautiful. Lake Siskiyou is surrounded by forest and is often frequented by all forms of area wildlife including deer and black bears.
Shasta looms overhead, popping in and out of view betwixt the treetops. A few alternative spur trails and loops leave from the main trail, leaving plenty of room for exploration.
Related Read: 9 Soak-Worthy Hot Springs in California
3. Mount Shasta Summit via Avalanche Gulch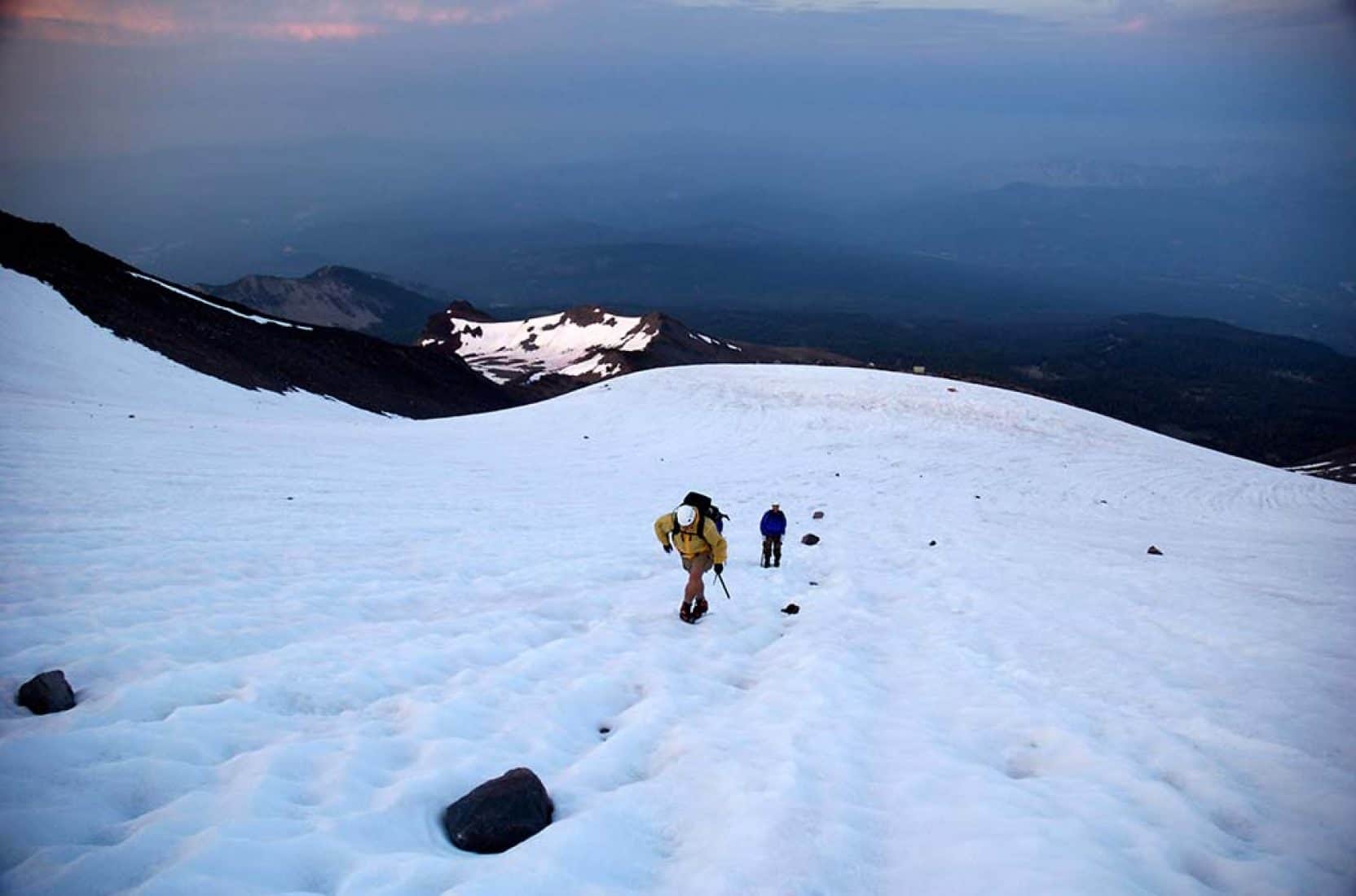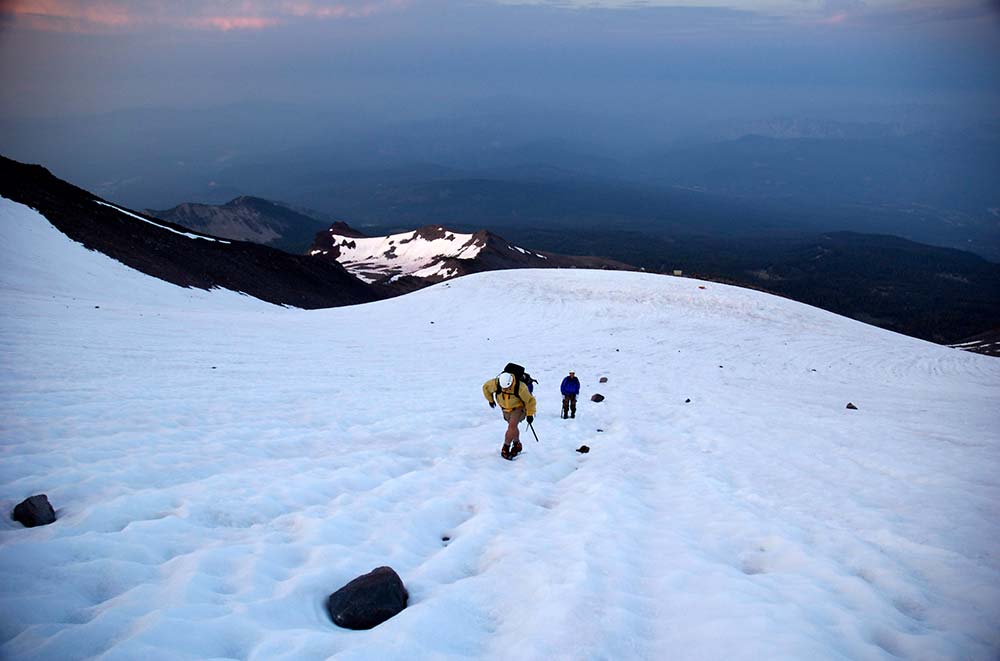 Why you should go: This is the big one. You'll need mountaineering skills, or a guide — or both, to make it to the summit.
Difficulty: Challenging
Distance: 11 miles
Elevation gain: 7300 feet
Not for the faint of heart, or the undetermined, reaching Mount Shasta Summit via Avalanche Gulch is one of the easier routes to the top of this stupendous mountain, but it's still tough as heck. You'll want to grab your mountaineering gear and brush up on your technical skills for this one.
Avalanche Gulch is the most popular path to the summit during any season other than winter. Some people prefer to take on this route with the help of a guide, while many opt to do it alone or with a group of friends. The entire journey can take up to four days to finish, but some can do it in a single day.
You're going to need both a Mount Shasta Wilderness Permit and a Summit Pass before climbing the mountain. Snow, glaciers, and crevasses are present throughout the year, so you'll need to be prepared. The journey is epic, though. Godspeed!
Related Read: 11 Epic Winter Camping Spots in California
4. Ney Springs and Faery Falls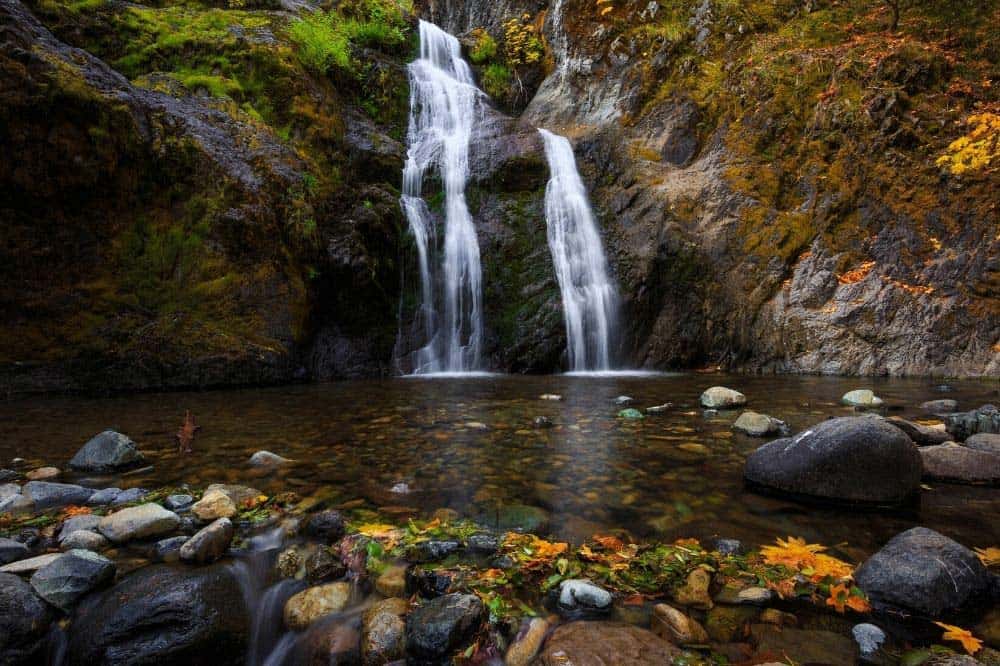 Why you should go: It's a wide and well-maintained creekside trail to a charming waterfall.
Difficulty: Easy
Distance: 1.3 miles
Elevation gain: 255 feet
Ney Springs and Faery Falls is a popular hiking destination because of its enchanting beauty and accessibility. It's not far from the interstate highway or Mount Shasta Resort, and it's accessible year-round.
The main trail is wide and maintains a gentle uphill slope toward the falls. There are numerous offshoots that drop down to the creek where children can splash around and play. You'll be in the forest for the entirety of the hike which makes for great shade in the summer and colorful foliage come fall.
It's an easy route to follow during winter, too. Whatever the season happens to be you visit, Faery Falls will be a magical treat. There's a bit of a wading pool at its base, and the water is always crystal clear.
Related Read: 7 Gorgeous Spots to See Fall Colors in California
5. Mount Shasta Horse Camp
Why you should go: One of the easier higher-elevation hikes on Shasta and it leads to a historic stone cabin.
Difficulty: Moderate
Distance: 3.5 miles
Elevation gain: 940 feet
Get a taste of high-elevation mountain adventure on the Mount Shasta Horse Camp trail. You'll pass through fading forests as you approach the timberline, cross over alpine meadows, and be subjected to dusty volcanic trails.
The views are spectacular, of course, and the destination is superb. The Horse Camp stone cabin is a relic of the Sierra Club which still maintains the property.
This is also a popular route for extended adventures. Decked-out mountaineers use this route to begin their journey to the summit. If you're interested in pushing a little further, continue up the Hidden Valley Route from the cabin to where multiple waterfalls and even grander views can be found.
Related Read: The 11 Best Hikes Near Big Bear Lake, California
6. South Gate Meadows Trail
Why you should go: Alpine meadows galore! The greenery never ends, unless it's covered by snow.
Difficulty: Moderate
Distance: 3.8 miles
Elevation gain: 966 feet
There are two routes to the South Gate Meadows Trail. The main trailhead begins near the Old Ski Bowl, with ample parking. An alternative route starts from the Panther Meadows Campground and follows the Gray Butte Trail until it intersects with the main trail.
Hikers will travel over many acres of meadows on their way through the Mount Shasta Wilderness. Numerous signs will advise hikers to stick to maintained trails in order to not damage the sensitive flora.
You'll walk around a few buttes which are sparsely covered in trees, but other than those few obstacles you'll have near endless views to the south including the Castle Crags and the Trinity Alps.
Related Read: 14 Unforgettable Hikes in Northern California
7. Spring Hill Trail
Why you should go: Take a leisurely stroll up one of Shasta's satellite cones in Mount Shasta City.
Difficulty: Moderate
Distance: 3.25 miles
Elevation gain: 650 feet
Spring Hill Trail is essentially a city park trail. There are numerous benches and picnic tables beside the trail, and it starts at the northern end of this mountain town.
The trail is supremely well-maintained and easy to follow. Even though it's an uphill trek, it's not a difficult walk by any measure. This is a great way to spend a couple of hours in town while still getting your daily dose of nature.
Like many other area hikes, you'll find this journey is host to awesome views. Mount Shasta and Black Butte are eerily close by — strikingly slow, and the town of Mount Shasta City buzzes below.
Related Read: 5 Best Backpacking Trips & Trails in Big Sur, California
8. Bunny Flat to Panther Meadow
Why you should go: A campground to campground trek with dramatic mountain views.
Difficulty: Easy
Distance: 7 miles
Elevation gain: 1354 feet
There are multiple ways to hike the Bunny Flat to Panther Meadow Trail. There's camping available at either end, and a road also connects the two trailheads. Hiking the entire out-and-back can be cut in half if you organize a car ride return trip.
The trail itself is easy to access and makes for easy walking. Rocks and roots do frequent the path, making for uneven footing at times, but it's generally well-graded and in good shape.
As the trail crosses a number of small creeks and meadows, there's a good chance you'll see some wildlife during your hike. If not, don't dismay, because the mountain views are incredible — not just Shasta's peak, but also the buttes, canyons, and spur ridges that are formed at this elevation of the mountain.
Related Read: How To Go Backpacking Solo & Start Enjoying Solitude Like No Other
9. Mount Shasta City Park Meadows Loop
Why you should go: A creekside web of trails with a playground and footbridges.
Difficulty: Easy
Distance: 0.9 miles
Elevation gain: 62 feet
Mount Shasta City Park sits at the base of Spring Hill. This specific loop follows the widest path around the park, though there are multiple trails that can be used to form smaller loops if you don't feel like walking so far.
This cute park features forest, meadows, and is divided by Big Springs Creek. It's an excellent spot for a leisurely stroll. If you choose to walk alongside the creek you'll encounter several footbridges, including planks that'll help keep you above the marshy meadows, and there is a small waterfall to discover.
Related Read: 9 Stunning Yurt Rentals in California
10. Black Butte Trail
Why you should go: Climb atop a satellite lava cone for panoramic views.
Difficulty: Challenging
Distance: 5.2 miles
Elevation gain: 1789 feet
The Black Butte Trail is an interesting hike. The trail spirals up and around a dacite lava dome that is nearly as well-known to the Shasta-area landscape as the mountain itself. Black Butte is a satellite cone of lava rock that rises above the busy interstate. It's imposing, and it's can be a tough trek.
Though the trail is rather steep, it's the loose rock and crumbling nature of the trail that can make it difficult. Large sections of trail and its supporting architecture have fallen away in the past. That said, it still remains a popular hike despite its inherent difficulty.
That's because the views at the top, and on the way to the top, frankly, are nigh unbeatable. You'll come face-to-face with Shasta, and you'll stand above all else in the nearby vicinity.
Related Read: 18 Stunningly Secluded Cabin Rentals in California
11. Mount Eddy
Why you should go: Hiking and backpacking options with high-elevation lakes and meadows.
Difficulty: Moderate
Distance: 10.7 miles
Elevation gain: 2232 feet
There are several ways to get to Mount Eddy, and the shortest route is this out-and-back along the Pacific Crest Trail. You'll encounter three intersections with other trails along this route, and there are a number of excellent campsites around the Deadfall Lakes, making this a compelling backpacking option.
The Deadfall Lakes are deep and pristine mountain lakes surrounded by lush meadows and picturesque peaks. There are a number of lakes in the basin to explore. This route turns off the PCT at Upper Deadfall Meadows and turns onto the Sisson-Callahan National Recreation Trail.
At the summit of Mount Eddy, you'll find the remnants of an old fire lookout and exceptional views of mountains in all directions. Shasta, of course, steals the show, but Mount Lassen and Pilot Rock are also visible on clear days.
Related Read: 16 Spectacular Northern California Camping Spots
12. McCloud River Waterfall Trail
Why you should go: Waterfalls, a campground, and a swimming hole make this a perfect trail for some family fun.
Difficulty: Easy
Distance: 4.1 miles
Elevation gain: 302 feet
The McCloud River Waterfall Trail is a short segment of the entire McCloud River Trail. Known as a world-class fishing river, the McCloud River Trail is most frequented by trout-hungry, pole-carrying fishers, but this waterfall-strewn segment is perfect for families.
There are three different waterfalls to see along this easy trek, and there are a number of good swimming spots, including one deep swimming hole. The Fowler Public Camp at the trailhead is a fine place to set up for your trip along the river.
Related Read: 6 Beautiful California Treehouse Rentals For an Above Average Stay
13. Elsa Rupp Nature Trail
Why you should go: A forested, creekside jaunt near a fish hatchery and museum.
Difficulty: Easy
Distance: 1.3 miles
Elevation gain: 32 feet
A stroll along the Elsa Rupp Nature Trail is a fantastic place to spend an afternoon while you're visiting Mount Shasta City. The trail begins at the Mount Shasta Fish Hatchery and hugs the banks of Big Springs Creek which is a protected habitat for the fish.
This lovely forested walk is on a flat, well-maintained trail that features a couple of footbridges over the creek. The surrounding forest is thick with ferns and lichen-covered trees.
The Mount Shasta Sisson Museum, which features history and science exhibits related to the mountains, can also be found near the trailhead. The kids will love this place.
Related Read: 12 Best Hikes Near San Diego, California
14. Hedge Creek Falls
Why you should go: Stretch your legs and walk behind a waterfall!
Difficulty: Easy
Distance: 0.6 miles
Elevation gain: 160 feet
Hedge Creek Falls is a plummeting waterfall that pours over the lip of a basalt cliff, the lowest portion of which has eroded away, allowing the trail to guide hikers behind the waterfall. It's magical.
The hike is short and sweet, and there is plenty to look at. The waterfall creates a bit of a pool that you can dip your legs into, and the trail continues past the falls, following Hedge Creek to the Sacramento River where you can explore further and even swim if you so desire.
Explore More of California
Get epic travel ideas delivered to your inbox with Weekend Wanderer, our newsletter inspiring more than 10,000 readers every week.
---