Southern California boasts one of the most diverse hiking landscapes in the entire country.
With breathtaking desert vistas, high alpine lakes, hillsides full of dense chaparral, and riverside forests of oak and pine, there's something for everyone to enjoy.
The best part? All of these hikes are located within easy day hiking distance of a major city, which make them great for a 12-hour escape or a quick weekend getaway. However, even with their close proximity to civilization, there are a few precautions we recommend before embarking on a hike in SoCal.
First of all, the temperature swings in Southern California can be outlandish at times, with a 60-degree sunrise giving way to a 95-degree afternoon in full sun. Pack plenty of water, and don't forget to reapply that sunscreen.
Each biotic zone has its own quirks to look out for. Creekside strolls will often have large stands of poison oak nearby, desert treks are best completed away from scorching summer months, and any excursion venturing above 6,000 feet might face intense mountain winds and late-season snow.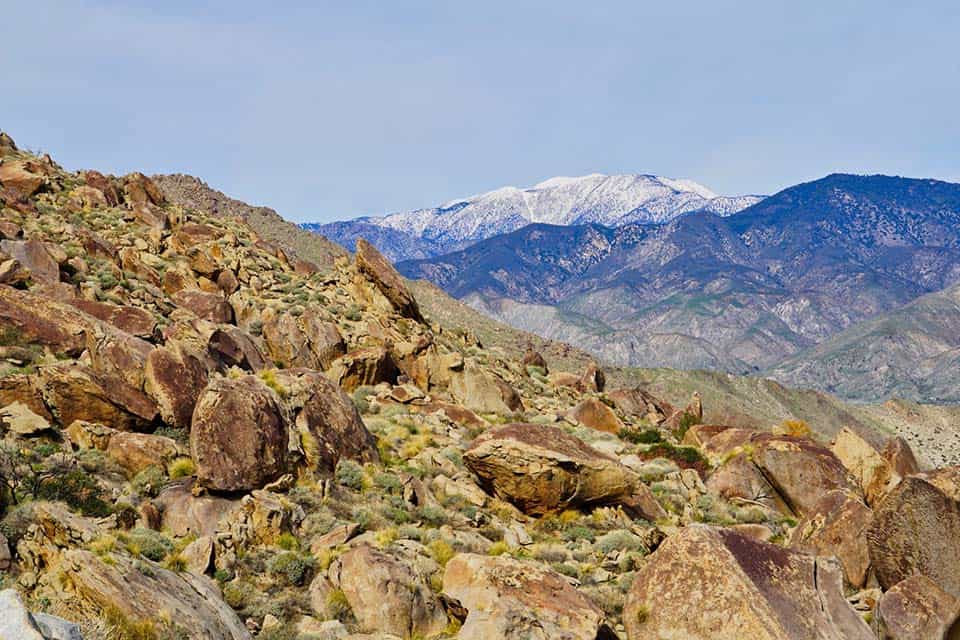 When in doubt, do a little research and call the nearest ranger station before venturing out on any of the trails listed below. They'll be able to give you far more up-to-date river, snow, and trail information than a Google search.
Parking at SoCal's most popular trails fills up quickly, especially on the weekends. Take care to ensure that you aren't blocking driveways or parking on private property when public lots fill up. Go early to grab the best spots and enjoy the cooler temperatures and fewer crowds that come with waking up at the crack of dawn.
Lastly, a word for our Fido-loving friends: Most national parks do not allow dogs on any unpaved trail.
However, many national forests and state parks are happy to have you go for a hike with your four-legged friend, provided they are on a six-foot (or shorter) leash at all times. Check on the regulations of the wilderness area before you hit the trail.
Related Read: The 20 Best Places to Camp in Southern California
1. Mishe Mokwa Trail to Sandstone Peak
Why you should go: A moderate, dog-friendly day hike to the highest point in the Santa Monica Mountains (3,111 feet) with sweeping views of rolling hills, the Pacific Ocean, and rust-colored sandstone cliffs.
Location: Malibu
Difficulty: Moderate
Distance: 6 miles
Elevation Gain: 1,670 feet
Though the trailhead is only 45 miles from the teeming metropolis of Los Angeles, the Mishe Mokwa Trail will make hikers feel like they've stumbled into the far-out Malibu of yesteryear.
Surrounded by the rugged chaparral of the Santa Monica Mountains, this six mile loop traverses a recent burn zone that pops with purple wildflowers during spring months.
The trail starts climbing immediately from the parking area, winding right by Echo Cliffs, a popular rock climbing area — bring your binoculars and try to spot a few climbers!
From there, it traverses an easy creek crossing, passes a trail junction for Tri Peaks (a great view and worthy detour), and winds through shrub-lined hillsides making a comeback before a modest scramble brings trekkers to the phenomenal view of the ocean and surrounding mountains at the summit.
Take the shorter, steeper trail down to create a loop or simply return the way you came.
Related Read: 11 Unique Places to Stay in Southern California
2. Mt. San Antonio via Devil's Backbone
Why you should go: This bucket-list hike is the highest point in the sprawling San Gabriel Mountains, offering a challenging trek up a 10,064-foot peak.
Location: San Gabriel Mountains
Difficulty: Challenging
Distance: 11 miles
Elevation Gain: 3,900 feet
Hiking to the top of Mt. San Antonio — or Mount Baldy, as locals commonly call it — is a rite of passage for SoCal hikers. This challenging, 11-mile loop trail starts at the Manker Flats Trailhead (elevation 6,164 feet), where a large parking area and pit toilet await the throngs of hikers.
Start by hiking up the fire road, passing a few cabins and the delicate cascade of San Antonio Falls, then continue along the wide, dirt road to Top of the Notch, a quaint restaurant with bathrooms, beer, snacks, and a small ski area in winter.
From here, the tough climbing begins in earnest, as hikers continue onto the thin spine of the Devil's Backbone Trail. After passing Mt. Harwood to the right, it's just a short trek up a series of high alpine switchbacks to reach the summit proper.
From here, the views of Iron Mountain, Mt. Baden Powell, and the entire San Gabriel Mountain Range are seriously epic, and even the most seasoned hiker will feel accomplished. From the summit, turn towards the south to take the ski hut trail down and create a loop, passing through steep, stone stairs and fragrant pine forests as you descend.
3. Lost Horse Mine Loop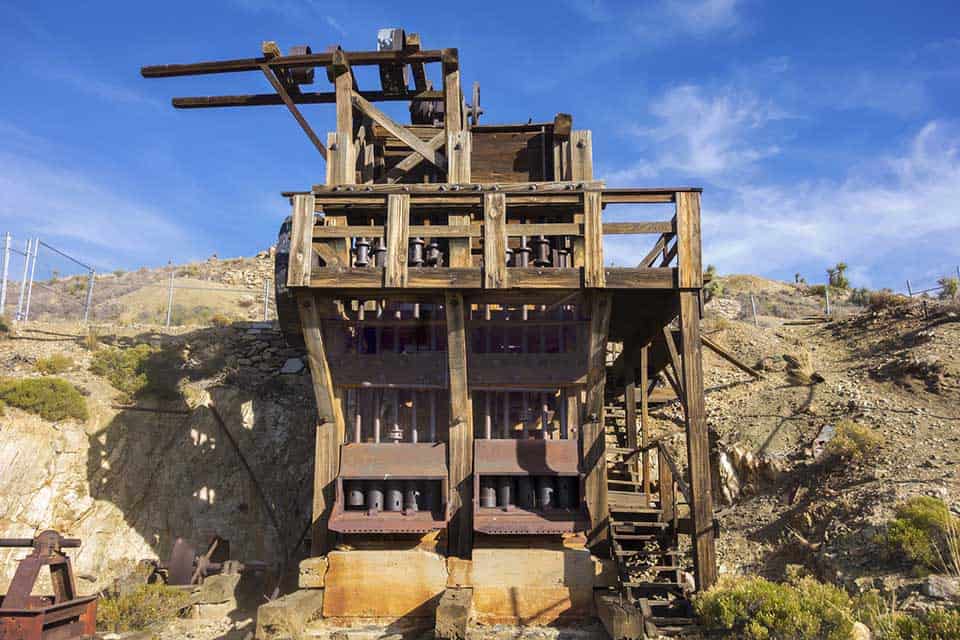 Why you should go: Soak up some wild west history and amazing views of Pleasant Valley on this moderate Joshua Tree hike. 
Location: Joshua Tree National Park
Difficulty: Moderate
Distance: 6.8 miles
Elevation Gain: 1,250 feet
Go early to nab parking at this popular Joshua Tree trail, then get ready to soak up some of the best scenery in the entire park. The Lost Horse Mine Loop starts by ascending a wide wash full of the park's namesake, Seussian trees before climbing up to a low-lying saddle near the stone ruins of the failed, unfortunately named Optimist Mine.
From here, the views of the surrounding Pleasant Valley wilderness area really open up, and the trail begins a steep climb towards the main attraction.
At about 4.5 miles in, hikers will catch their first glimpse of Lost Horse Mine. It's a good idea to allow for some extra time in this section to scramble around on nearby rocks and check out the impressively well-preserved ruins of one of the area's most successful gold mines of yore.
To finish, travel along the more direct, 2-mile trail over low desert hills back to the parking area.
Related Read: 6 Phenomenal Backpacking Trails in Joshua Tree National Park
4. Backbone Trail
Why you should go: This 68-mile stretch of trail winds along the spine of the Santa Monica Mountains, providing serious hikers, bikers, and equestrians with options galore for overnight treks or long days out. 
Location: Malibu
Difficulty: Challenging
Distance: 68 miles
Elevation Gain: 13,000 feet (total)
The Backbone Trail is one of the most unique thru-hikes in the country. It passes through several different biotic zones, from coastal mountain chaparral to creekside oak woodlands and grassy meadows. The trail can be completed as a several-day backpacking trip with support from a friend and an overnight reservation at Musch Trail Camp or as a series of day hikes.
Some of the most notable day hiking sections of the trail include Castro Crest, Sandstone Peak, and the scenic ocean views of the Ray Miller Trail. T
hese pieces of trail can be hiked point-to-point if you have a friend to shuttle cars, or as long out-and-back treks. Either way, just a mile from the trailhead you'll leave the crowds behind and have those breezy, coastal mountain views all to yourself.
5. Torrey Pines State Reserve Loop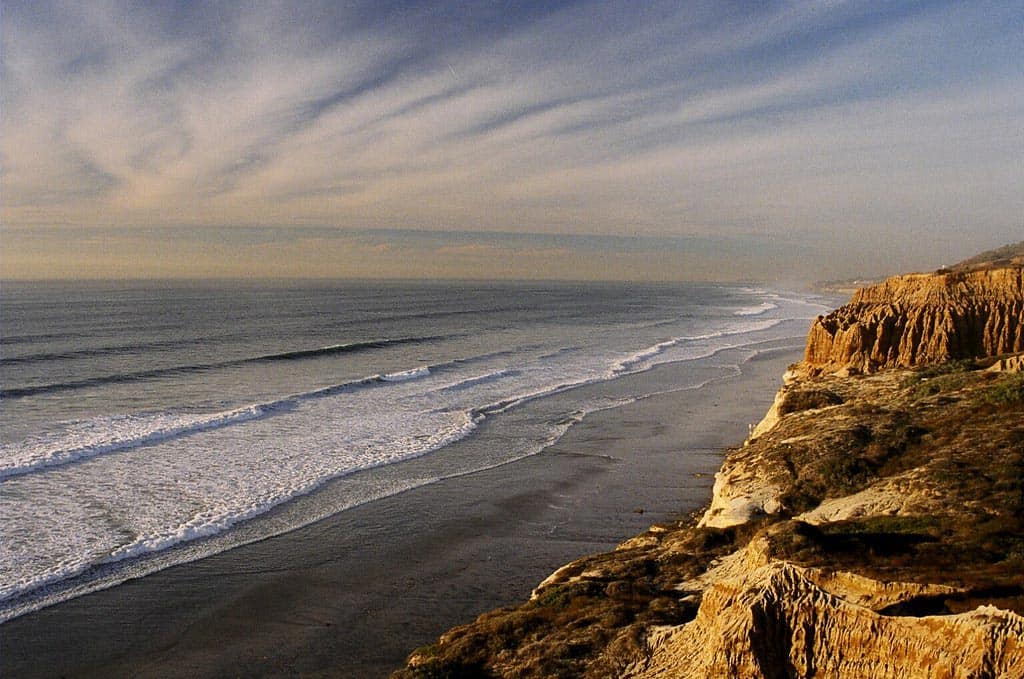 Why you should go: Feel the spray of the sea and the wind in your hair on this short hike that climbs up and over a series of impressive coastal cliffs.
Location: San Diego
Difficulty: Easy
Distance: 2.5 miles
Elevation Gain: 330 feet
Park at the Torrey Pines Lodge parking lot, then follow the "Beach Trail" signs towards a unique rock formation known as Red Butte.
Then, continue down along the trail, passing several Torrey pine trees as you descend. Allow for some extra time as you maneuver your way down to the beach, as there are many turn-offs to lovely overlooks like Razor Point and Yucca Point.
The final descent to the sandy beach below is the real highlight of the trail. Carefully tread on the 100+ stairs cut into the adjacent cliffs as you near the Pacific Ocean.
When you've had enough sunshine and beach time, head back up via the South Fork Trail and the Broken Hill Overlook to take in more outstanding views of the coastline and the densely rippled rock formations nearby.
6. Seven Falls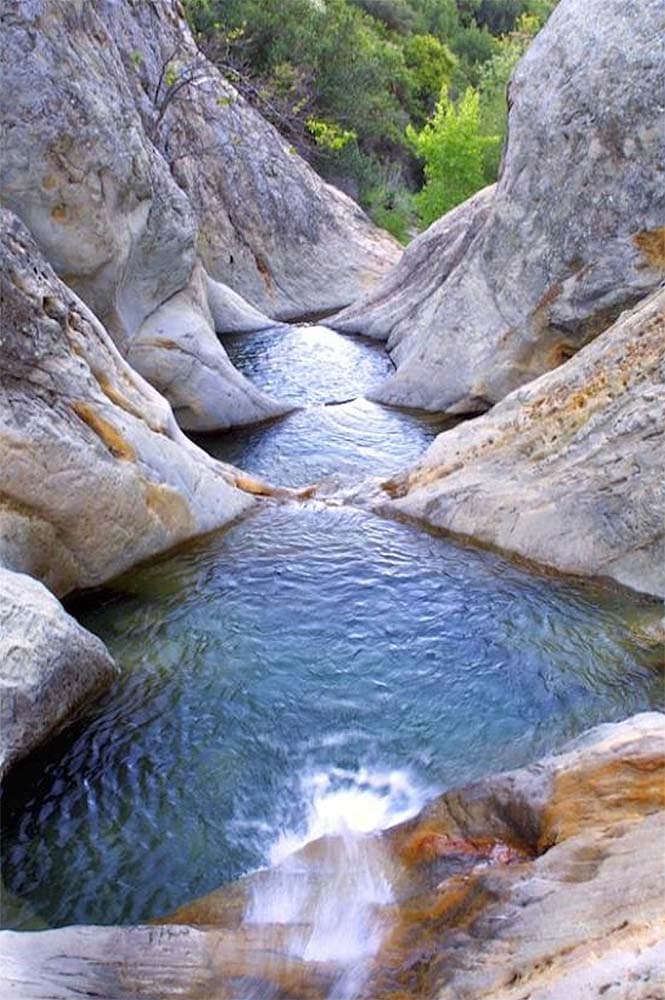 Why you should go: A series of swimming pools etched into beautiful sandstone rock features lies at the terminus of this easy, 2.5-mile roundtrip trail.
Location: Santa Barbara
Difficulty: Easy
Distance: 3.2 miles
Elevation Gain: 843 feet
To get to the trailhead, park off Tunnel Road, near the junction with Spyglass Ridge Road, then follow a steady incline up a paved path lined with lush oak trees.
Before you finish the first mile, the trail will switch to dirt singletrack, and hikers will need to hop or wade across a gently rushing Mission Creek (depending on rainfall).
Continue following the creek upstream until you reach Seven Falls, a series of seven naturally eroded stone pools that are perfect for an afternoon of lounging and swimming when it's hot out.
Bring a swimsuit and enjoy the mellow, cool waterfalls cascading into each pond. Turn around and hike back to the car when you're done for the day.
7. Borrego Palm Canyon Loop
Why you should go: Search for elusive bighorn sheep and stand in awe of neighboring Indianhead Peak on this easy oasis trail in Anza Borrego.
Location: Anza Borrego State Park
Difficulty: Easy
Distance: 3 miles
Elevation Gain: 520 feet
Bring plenty of water and hike in early spring to enjoy the bursts of color from blooming desert wildflowers on this incredibly popular loop trail in Anza Borrego State Park. Begin at the well-marked trailhead at the end of the paved road near the campground, then head up the small wash/creek towards the mouth of the canyon.
As you hike, you'll want to look out for colorful monkeyflower, bright red ocotillo blooms, and electric pink barrel cacti flower crowns. At the turn around point, trekkers come face to face with a stand of native California palm trees and a series of small waterfalls.
Sadly, many of the trees were burned in January 2020, but experts are confident the area will bounce back. This is a great place for a snack break and a quick boulder scramble before returning via the hillside trail to the west (veer right at the junction).
8. Cucamonga Peak
Why you should go: Hike along a burbling creek and check out the utterly jaw-dropping summit views on this challenging trek that would fill any peak bagger with glee.
Location: San Gabriel Mountains
Difficulty: Challenging
Distance: 12 miles
Elevation Gain: 4,314 feet
This trail has everything a serious hiker desires on a day-long weekend jaunt: leg busting climbs, high alpine forests, and a spectacular summit view. Start by parking at the Icehouse Canyon Trailhead, then grab a walk-up permit before beginning the journey.
The trail starts climbing almost immediately and doesn't stop for nearly 4,000 vertical feet as it parallels a mountain stream and passes by several vintage cabins.
About 3.6 miles in, hikers will come to Icehouse Saddle, a large junction of trails shaded by lush green pine trees. From here, look for signs pointing towards Cucamonga Peak, then follow along a flatter stretch of trail that winds around the backside of the mountain.
Climb a series of steep switchbacks cut into a talus slope, then wind through limber and lodgepole pine trees before reaching the rocky summit block. Snap a few triumphant photos, then return the way you came.
9. Cougar Crest to Bertha Peak
Why you should go: Enjoy majestic views of Big Bear Lake and take in the fragrant alpine pine forest on this moderate day hike.
Location: Big Bear
Difficulty: Moderate
Distance: 8 miles
Elevation Gain: 1,290 feet
Starting at the Big Bear Discovery Center, this 8-mile out and back takes hikers through some of the best scenery Big Bear has to offer. Sweeping views of the lake, forests of pine and cedar, and a rocky alpine trail combine to make this trip a summer favorite, once the snow has melted.
The trail starts out mellow, but steadily begins its climb about a mile in. At the three mile mark, it intersects with the famous Pacific Crest Trail before turning east to hike up the peak's ridge.
Enjoy a steep climb for the last mile before landing on the summit, then treat yourself to some seriously awesome views of the landscape you just traveled across.
10. Solstice Canyon Loop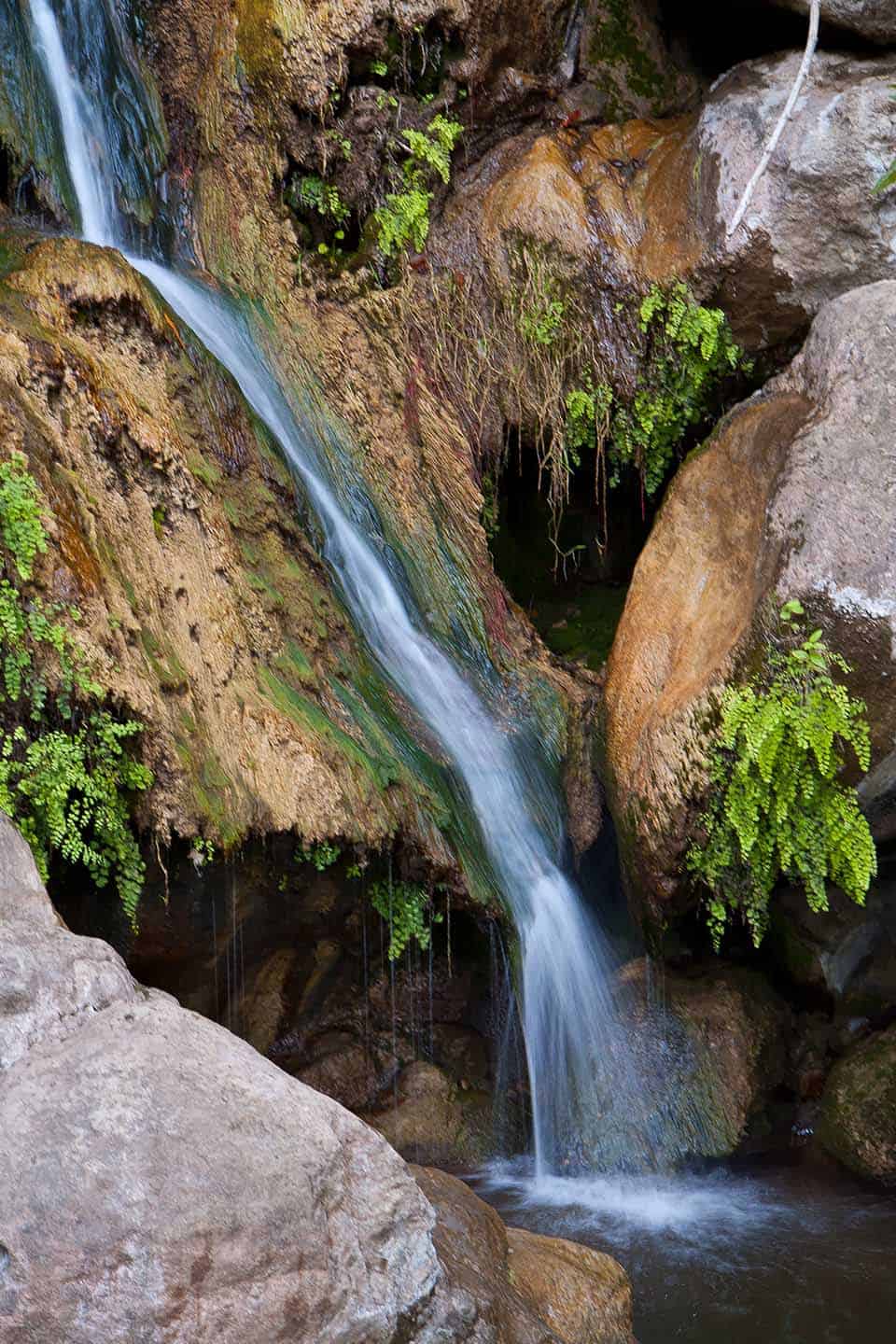 Why you should go: A great workout just a short drive from Los Angeles with coastal views and the ruins of an abandoned mansion. 
Location: Malibu
Difficulty: Moderate
Distance: 6 miles
Elevation Gain: 797 feet
There's so much that this quick, popular hike trail in Malibu has to offer. A small waterfall, an old stone cabin, and many, many hillside vistas are just a few of the treats in store along this 6-mile journey.
Turn off coastal Highway 1 on Corral Canyon Road and drive just a short distance to the large parking lot for the trailhead. Soon, you'll be swimming in views of the Pacific Ocean and the chaparral-lined mountains along its edge.
Climb up the Rising Sun Trail, gleaning better and better views of the valley below before descending a few hundred feet to the ruins of the Roberts Ranch House.
Scramble north along the rocks to the waterfall and dip your feet or head in the nearby stream to cool off, then continue along a shady, tree-filled path. You'll pass a huge, historic oak tree and the remains of the old Keller house before meandering along the trail back to your vehicle.
11. Potato Chip Rock via Mt. Woodson Trail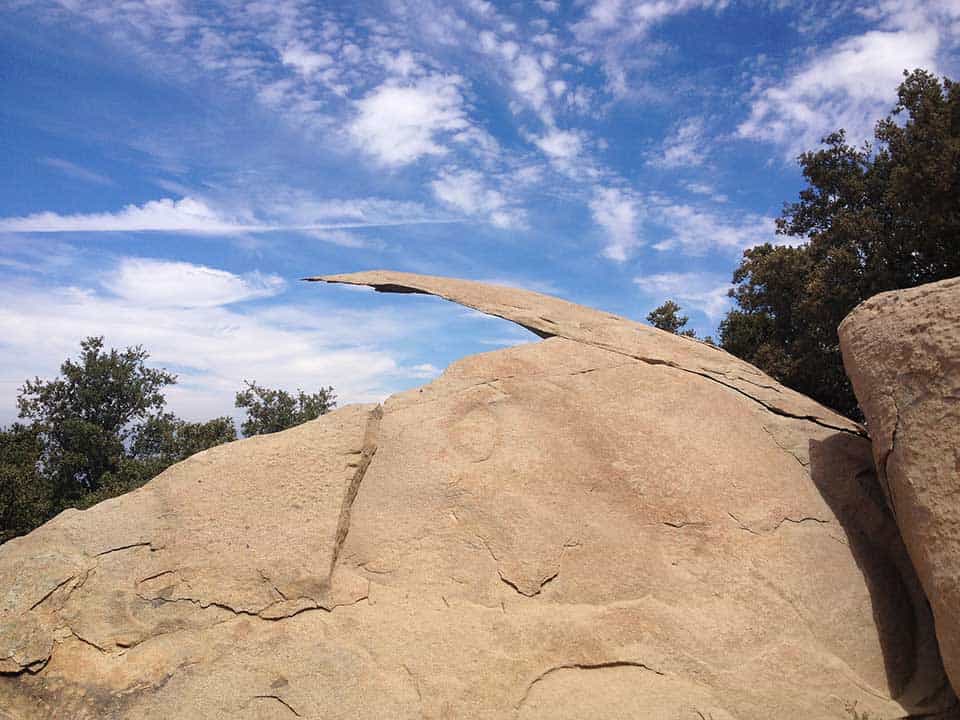 Why you should go: A steep climb brings intrepid visitors great views of San Diego and one of the most unique summit photo ops in Southern California.
Location: San Diego
Difficulty: Challenging
Distance: 7.5 miles
Elevation Gain: 2,132 feet
Leave your car in the parking area of Lake Poway Park, then look for signs marking the trailhead. You'll begin with scenic views of Lake Poway on your left, crunching your boots along a wide trail of hard-packed dirt.
Turn right at the large bulletin board to head up the Mount Woodson Trail, then get ready to really climb. After this point, the trail ascends over 1,800 feet in just 2.5 miles.
The trail gets rockier as it gets higher, occasionally widening into great spots to stop for a break or a picnic lunch. Continue up the switchbacks and through the dense chaparral until you reach Potato Chip Rock and the true summit, a bit further up the trail.
On busy weekends, one might have to wait in line to snap a photo on this famed, razor-thin rock. When you're done, just turn around and head back to the car the way you hiked in.
Editor's Note: At Territory Supply, we promote Leave No Trace ethics. Thus, we encourage you to not climb on Potato Chip Rock. Please be responsible so fragile places are not loved to death.
12. Maze Loop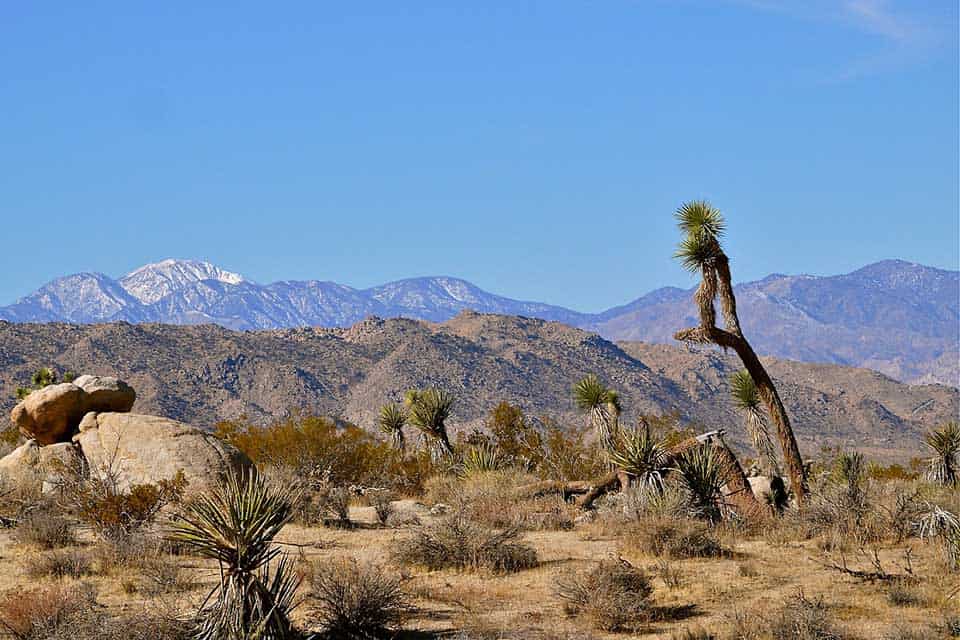 Why you should go: A long but moderate hike full of big views, quirky cacti, and staggering boulder fields located just past the west entrance of Joshua Tree.
Location: Joshua Tree National Park
Difficulty: Moderate
Distance: 6.5 miles
Elevation Gain: 770 feet
If you've only got a day to spend in Joshua Tree, this is one of the best hikes you can do.
You'll get ample views of the park's unique plant life, opportunities to scramble up massive boulders, and incredible views to the north and the surrounding mountains. Turn off into a small parking area located 1.8 miles from the fee station to begin this trek.
The trail (when hiked counter clockwise) starts off mellow, travels through a sandy wash, then takes a hard left into some wildly rocky outcroppings. Follow the trail markers for the Big Pine Trail before splitting off onto the North View Trail.
The path here undulates up and down along rocky hillsides, occasionally jutting out onto small, use trails featuring truly incredible views of Twentynine Palms and park's immense acreage to the east. Continue along the loop until it reaches the parking area once again.
13. Mt. Baden Powell via Vincent Gap
Why you should go: Hike along the famous Pacific Crest Trail, passing through ancient pine forests on the way to the top of a stunning and lesser-known summit in the San Gabriels.
Location: San Gabriel Mountains
Difficulty: Challenging
Distance: 8.7 miles
Elevation Gain: 2,900 feet
Mount Baden Powell (elevation 9,406 feet) may be my favorite summit in the San Gabriel Mountains. It has everything a mountain-loving, peak bagging hiker could desire: gently graded switchbacks, lush, shady pine forests, and a hair-raising ridge walk to reach the summit proper. It's a phenomenal all-day adventure for the hiker who wants a great workout and gorgeous views.
Start at the Vincent Gap Trailhead and hop onto the trail at the southwestern corner of the parking lot. You'll quickly feel a world away from Los Angeles as you climb through a massive evergreen forest of ponderosa and lodgepole pines.
About 3.5 miles in, you'll begin to notice some epic views of Antelope Valley creeping into your vision. The trees grow ever more gnarled, and, near the summit, hikers will pass by a 1,500-year-old limber pine tree that's clinging to the edge of the harsh alpine slope.
From here, it's just a short uphill walk until you're standing on top of the bare summit, admiring the sensational views of rugged mountains all around.
14. Hot Springs Mountain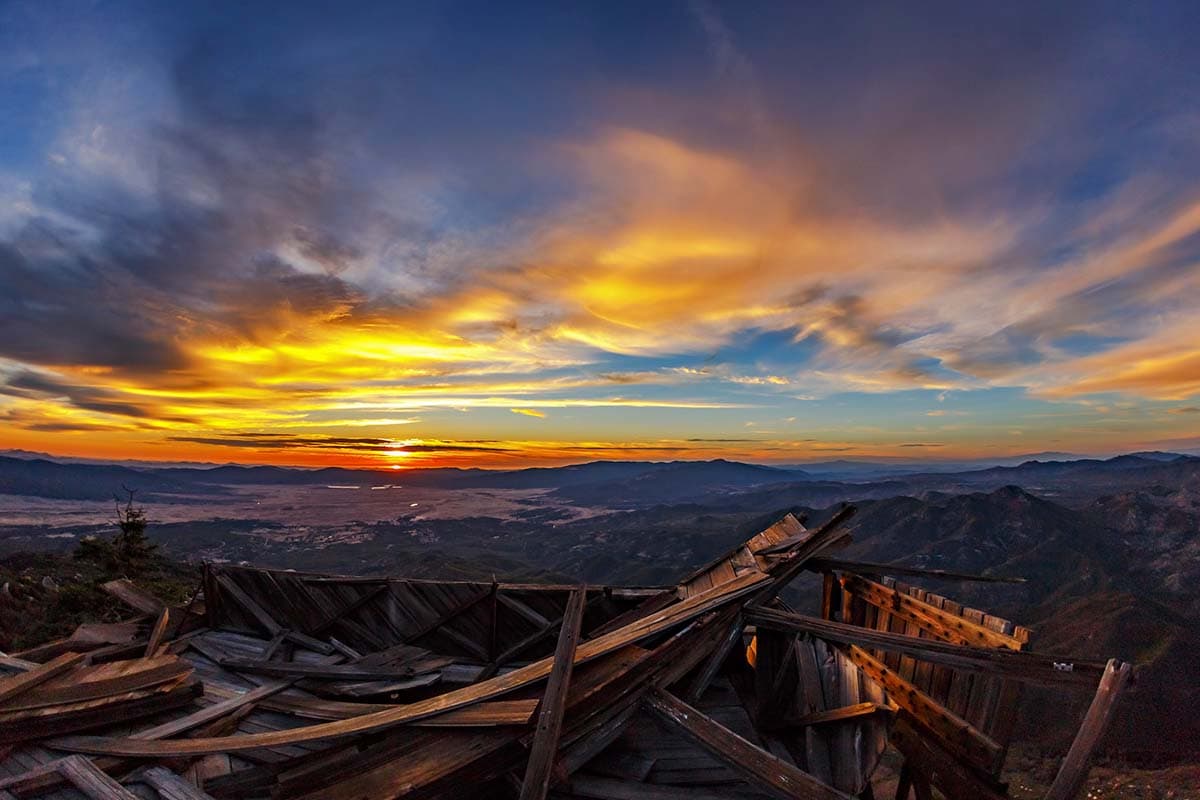 Why you should go: Climb to the top of the highest peak in San Diego County on this strenuous trail that's also known for its brilliant fall colors.
Location: San Diego
Difficulty: Challenging
Distance: 10 miles
Elevation Gain: 2,500 feet
Situated on the Los Coyotes Reservation, the trailhead for Hot Springs Mountain begins just off the campground and requires a small fee for day hikers. This trail starts off steep and promises a hamstring-busting day right out of the gate, climbing 1,500 vertical feet in the first 2.2 miles. It's a great reminder to pause, take a breath, and turn around to enjoy the ever-improving views of the Volcan and San Ysidro Mountains.
The path eventually mellows out and traverses a lovely, emerald forest full of Jeffrey pines, incense cedar, and white fir trees. In autumn months, the forest's oak trees put on a glorious show as they turn dazzling shades of yellow and orange in October.
Ignore junctions with other fire roads until you come upon the well-signed turn off onto Hot Springs Mountain Road. As hikers near the summit, they'll pass by a rickety old fire tower before a brief, class 3 scramble brings them onto the top of the peak.
Gaze out at the impressive views of Agua Caliente Canyon, the Cuyamaca Mountains, and, on a clear day, Mount San Jacinto. This hike is an out-and-back, so simply turn around and walk down the peak when you've soaked up enough vistas.
15. Echo Mountain via the Sam Merrill Trail
Why you should go: Check out the ruins of an old resort and railroad on this moderate hike located just outside Los Angeles.
Location: Altadena
Difficulty: Moderate
Distance: 6 miles
Elevation Gain: 1,500 feet
This trail starts off in the middle of a mountainous Altadena neighborhood. Look for signs marking the historic Cobb Estate, and you'll find your way to the trailhead.
Begin ascending the gradual, sunny switchbacks (bring plenty of sunscreen and water!), and enjoy the lovely views of the city to the south.
Keep right at the junction and you'll find yourself walking along what used to be the historic Mt. Lowe Railway. Scattered about are huge gears and chunks of metal machinery that once served as a way for wealthy Angelinos to ride up the peak to the once vibrant Echo Mountain House Hotel.
The old hotel's ruins mark the turnaround point. Be sure to give a shout through the "Echo Phone" to see why it's called Echo Mountain before turning around and descending to the car. Or, if you're looking to add mileage, consider continuing on to Inspiration Point.
16. Lost Palms Oasis
Why you should go: This gently graded trek through huge stone boulders traverses a stunning desert landscape before spitting hikers out at a large, shaded oasis.
Location: Joshua Tree National Park
Difficulty: Moderate
Distance: 7.2 miles
Elevation Gain: 510 feet
Easily the best hike in southern Joshua Tree, the trek out to Lost Palms Oasis climbs up and over rolling hills and the park's famous boulder fields. Start by parking at Cottonwood Spring Oasis, follow a few interpretive signs about the plants and native people of the area, then begin hiking deeper into the harsh, desert landscape.
Just .7 miles into the hike, you'll have the option to add-on an adventurous scramble up Mastodon Peak and a side trek to the ruins of the 100-year-old Mastodon Mine. Add 1 mile of distance if you decide to embark on this worthy extra trail.
After that, the trail climbs up and down a series of dusty desert hills before bringing hikers to a stunning lookout point for the oasis itself. It's a steep, rocky scramble down to the oasis, which makes a great, shaded place to stop for lunch. Climb back out of the canyon and head down the trail you came in on when you're ready to drive home.
17. Trans-Catalina Trail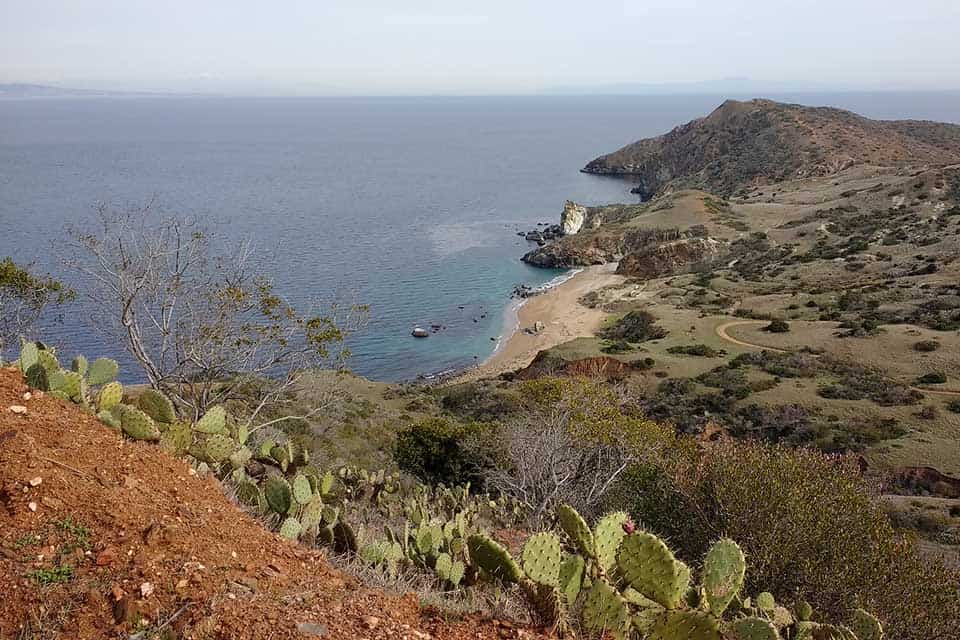 Why you should go: A short thru-hike across a rugged, island landscape that'll have hikers feeling like they've stepped back in time.
Location: Catalina Island
Difficulty: Challenging
Distance: 46 miles (with the backtrack to Two Harbors)
Elevation Gain: 9,600 feet
Hunt for bison, eagles, and the elusive Catalina Island fox on this superb, 4-day thru-hike that's just 27 miles off the coast of Los Angeles and perfect for intermediate trekkers.
This journey begins by taking a ferry to Avalon early in the morning and picking up campground permits before hitting the trail. Soon enough, hikers will be greeted by undulating, grassy hillsides and too many ocean panoramas to count.
Most opt to complete the trek in four days, camping at Black Jack on night one, Two Harbors on night two, and Two Harbors again on night three after hitting the trail's terminus at Starlight Beach and backtracking.
The trail promises blissful solitude on the long stretches through the island's verdant backcountry. Booking a ferry out of Two Harbors is the most efficient way to get back home.
18. Eaton Canyon Falls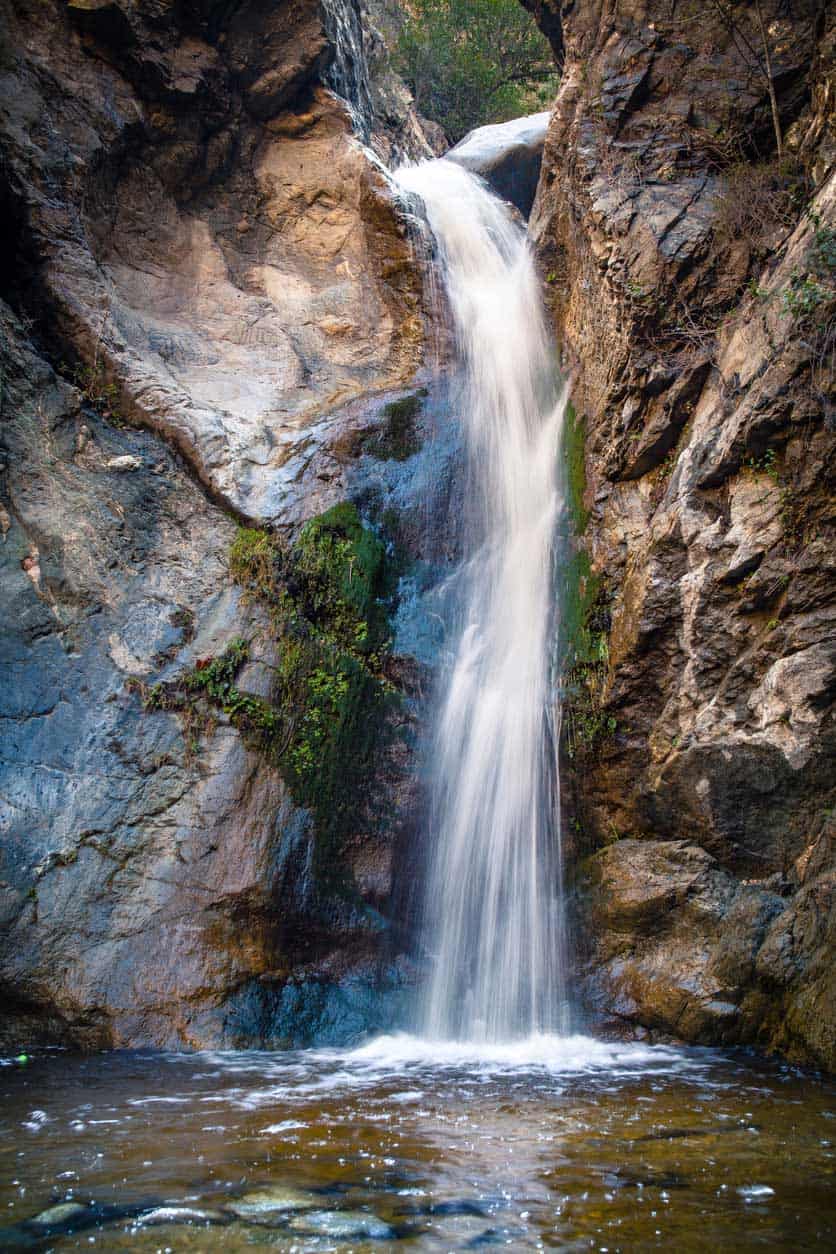 Why you should go: Perhaps the most famous waterfall hike in Los Angeles, Eaton Canyon Falls is a wonderful, moderate outing through the San Gabriel Mountains that the whole family can enjoy.
Location: Altadena
Difficulty: Easy
Distance: 3.8 miles
Elevation Gain: 595 feet
Eaton Canyon Falls is the most impressive of the waterfalls in the San Gabriel Mountains. Its roaring cascade of water drops an impressive 40 feet onto the rocks below, perfectly framed by a stone amphitheater and hanging gardens of emerald ferns.
In spring, delicate wildflower blooms put on a show all across the early portion of the hike, making this an excellent shoulder season trek when Mt. Baldy is still covered in snow.
Park near the Eaton Canyon Natural Area and continue along a gently graded, wide dirt path as it makes its way towards Eaton Canyon Creek. Follow the signs marked "waterfall," and you won't get lost. Be prepared to wade or rock-hop across the creek multiple times before finally reaching the falls.
There's a small pool beneath the falls that's perfect for a quick dip to cool down before slogging back down the trail to the car. If you're looking for more mileage, consider tacking on the trail to Henninger Flats or visiting the nearby Nature Center.
19. Mount San Jacinto via Mountain Station
Why you should go: Summit one of the tallest and most prominent mountains in Southern California on this challenging trek that will leave even experienced hikers gasping for air.
Location: Palm Springs
Difficulty: Challenging
Distance: 11.5 miles
Elevation Gain: 2,210 feet
If you're not planning to hike up from the desert floor via the Cactus to Clouds Trail, park at Valley Station and purchase a tram ticket for the Palm Springs Aerial Tramway.
The tram takes hikers up nearly 6,000 vertical feet to a restaurant and a lookout point where they can hop onto the summit trail. Follow the paved path and the signs towards Mt. San Jacinto and Round Valley.
The trail starts off mellow, but soon enough, you'll begin feeling the altitude as you traverse Round Valley Meadow and its nearby campground.
Be sure to stop for a snack break and photo op at Wellmans Divide, easily the best non-summit view of the journey. From here, the trail really steepens and begins to feel like a true alpine adventure.
Huge rocky outcroppings, towering pine trees, and clusters of slate-colored boulders adorn every corner of the ascent. After a brief scramble up the summit block, hikers will find themselves on top of one of the most prominent peaks in the country, standing at 10,834 feet above sea level (10,400 feet above the desert floor).
20. Bridge to Nowhere
Why you should go: This long but easy hike follows and crosses a gently flowing river multiple times before ending abruptly at a historic, abandoned bridge where visitors can often spot bungee jumpers. 
Location: San Gabriel Mountains
Difficulty: Moderate
Distance: 10 miles
Elevation Gain: 810 feet
Park in the lot for the East Fork Trailhead, put your forest adventure pass on your dashboard, and get ready for a long, sunny stroll through the foothills of the San Gabriel Mountains. Observant hikers might even spot a few bighorn sheep as they maneuver through the hillsides. Hike upstream, through the canyon, and enjoy springtime wildflowers and epic mountain views.
Depending on the year's rainfall, you may want to bring shoes that can get wet, as the trail crosses the East Fork of the San Gabriel River many times in its 11 miles. We recommend hiking in late spring or fall, when it's not too hot and the crossings are easier. Step from rock to rock or ford the river as it suits you, gleaning ever-better views of the San Gabriel wilderness.
After passing countless mountains covered in yucca and chaparral shrubs, you'll come upon the bridge itself. Be sure to walk across the bridge and scramble down the boulders on the north side to check out the swimming holes and take in the magnificent lower view of this 120-foot architectural marvel from the 1930s.
The trail is an out-and-back hike, so feel free to turn around the way you came when you've had enough river fun.
Explore More of SoCal
Sign up for our free email to join thousands of readers getting epic travel, hiking, and camping ideas every week.
Was this article helpful?
---