We research, evaluate and select travel destinations based on a number of factors, including our writers' experience, user reviews and more. We may earn a commission when you book or purchase through our links. See our editorial policy to learn more.
---
California is world-renowned for its wine regions, redwood forests, magical theme parks, and stunning beaches…but islands usually don't make that list.
However, along its 840 miles of coastline, there are islands aplenty, all awaiting discovery. From the shores of Northern California to just off the border of Mexico, here are seven island groups to visit and explore.
While many of these islands are loaded with coastal beauty, some might surprise you, offering up lighthouses, casinos, and one very infamous prison…
1. Channel Islands
Off the shores of Ventura, along the deep, nutrient-rich Santa Barbara Channel, lie eight islands, five of which make up Channel Islands National Park. These gorgeous isles each have unique characteristics, including endemic species found nowhere else in the world.
Anacapa is long, tall, and skinny, and a remote breeding ground for seagulls who nest amongst giant coreopsis and sunflower plants. Venture here in spring for a spectacular day trip filled with hiking along its 1 1/2 mile ring around the island and views that go for miles.
The most popular island is Santa Cruz, beloved by day-trippers who kayak to the island's sea caves, hike its rocky ledges, swim and snorkel amongst rays, and seek the adorable island fox, no bigger than a house cat. Although you'll need to hike your gear in, this also makes a great camping destination.
Further out is Santa Rosa, known for its ranching history, endemic Torrey Pine trees, and epic hiking. For those willing to make the trek, you'll be treated to some of California's most beautiful and rugged beaches, which you'll have all to yourself.
Related read: The 20 Best Places to Camp in Southern California
2. Catalina Island
Catalina Island is technically a member of the Channel Islands archipelago. However, its feel is more "tropical getaway" than "rugged escape", and not just because there are more palm trees. The island was developed as a resort destination at the turn of the century and is best known for its Art Deco casino and gorgeous bay in the historic town of Avalon. In contrast, Two Harbors is more rustic, perfect for spending time with nature and getting some solitude.
Visitors can catch the Catalina Express from Long Beach or San Pedro to get to either destination. Once on the island, you can choose from an abundance of activities, including zip lining, ropes challenge course, glass boat excursions, scuba diving, and jeep tours to the island interior where you catch sight of the island's oddest resident…a wild herd of bison that were brought here in 1924 for the filming of The Vanishing American.
Related read: 11 Breezy Oceanfront Camping Spots in California
3. Farallon Islands
Thirty miles west of the Golden Gate Bridge lie the Farallon Islands, technically a part of the city of San Francisco, but a world and a half away. The rocky outcroppings are a National Wildlife Refuge teeming with seabirds, sea lions, porpoises, seals, and a variety of whale species.
You can visit the islands on full-day guided weekend tours from April through November with the Oceanic Society, where experienced naturalists will guide your eyes and fill you with knowledge of the flora, fauna, and natural history found in this remote location.
If you are looking for a bucket list excursion, check out Shark Dive Adventures to watch great white sharks from the safety of a specially-designed underwater shark cage – no diving experience required. The best dates for cage diving is from September through November.
Related read: 12 Best Bay Area Camping Spots Near San Francisco, California
4. Angel Island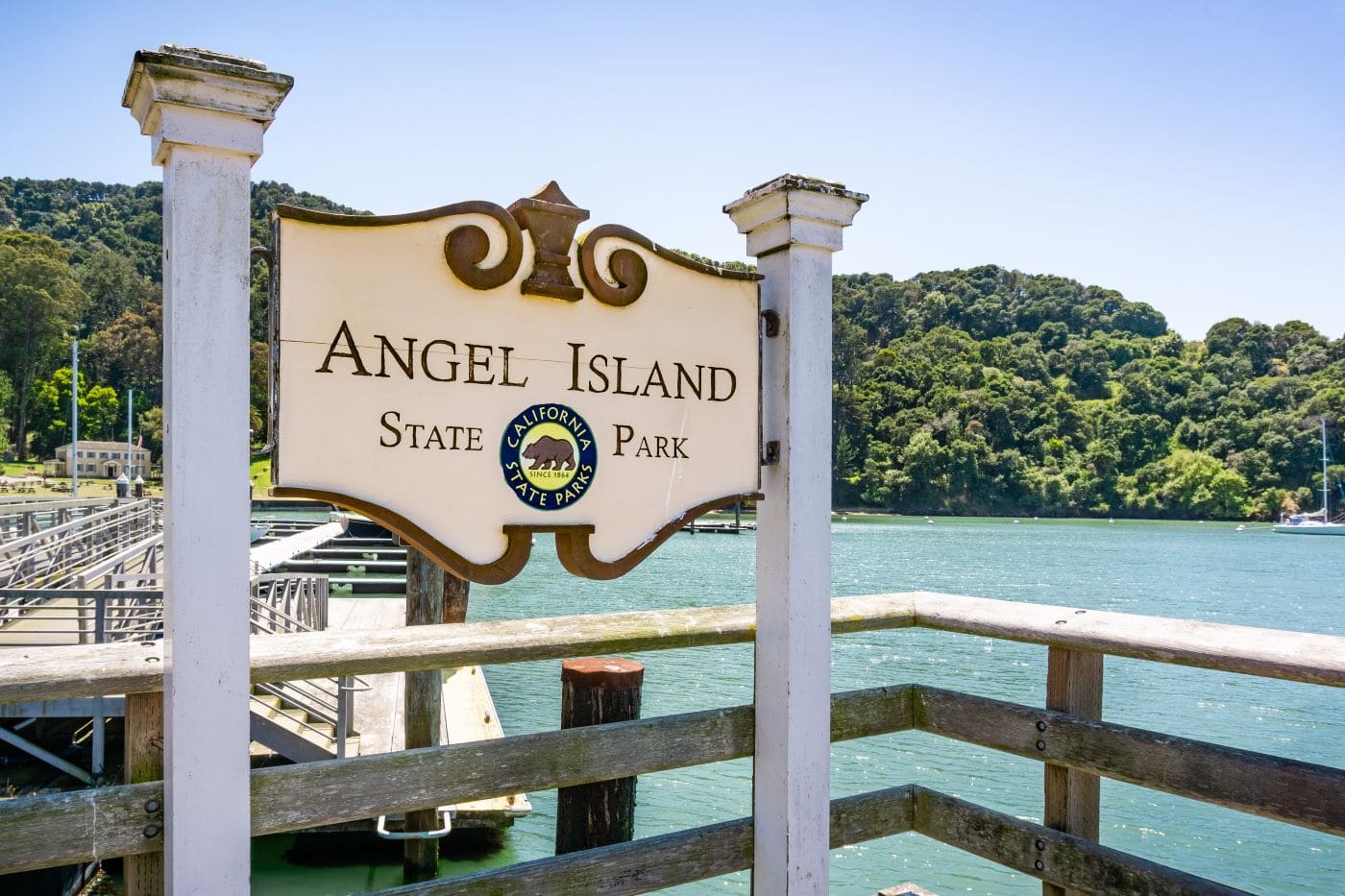 Angel Island is the largest natural island in the San Francisco Bay, making it a favorite spot for hiking and exploring thanks to the magnificent views of the city's skyline, the Marin Headlands, and Mount Tamalpais.
Thousands of years ago the island was an important place for hunting for Coastal Miwok people. By the 1900s it functioned as the Ellis Island of the West Coast, being the principal port of entry for immigrants to the U.S. Today it is part of Angel Island State Park.
Visitors can hike to the top of Mount Caroline Livermore (a mere 788 feet) or explore the island's unique history as an immigration entry point. You can bring your bicycles on the ferry to explore on wheels or hop on a tram that showcases the fascinating wildlife and history of the island.
Related read: 7 Awesome Weekend Road Trips from San Francisco, California
5. Alcatraz Island
A visit to Alcatraz Island is an iconic (and highly memorable) California experience. This tiny island in the San Francisco Bay has been the site of a fort, a military prison, and, most notoriously, a maximum security federal penitentiary that housed criminals like Al Capone and Machine Gun Kelly. The island is now run as a historic site by the National Park Service, and you can hear the stories and explore the buildings where infamous prisoners spent their sentences.
Expect scandalous stories and salacious surprises, including hidden doorways, secret tunnels, underground jails, and special gardens. This is a popular tourist destination, so advanced tickets are highly recommended, available on Alcatraz City Cruises. We especially recommend the Alcatraz Night Tour, a unique and ever-changing program reserved for just a few hundred visitors per day.
Related read: The Ultimate Los Angeles to San Francisco Road Trip
6. East Brother Island, San Francisco
Another island with fantastic views of the San Francisco skyline is East Brother Island, located in San Pablo Bay. On its tiny footprint is a historic Victorian lighthouse that functions as a quaint bed and breakfast.
Given its remote island locale, guests are offered hors d'oeuvres and champagne upon arrival, followed by a multi-course dinner and wine. Best of all, you won't have to fight any crowds to capture those fantastic views.
Related read: Bay Area Hiking: 11 Best Hikes Near San Francisco, California
7. Coronado Island, San Diego
The Coronado Island tagline, "just across the bridge and a world away," is the perfect descriptor for this easy-to-access island paradise. Located just across a strip of the bay from downtown San Diego, Coronado Island makes for a fun-filled retreat, a romantic escape, a family vacation, or a weekend getaway.
The island is anchored by the sprawling and historic Hotel de Coronado. Built in 1888, "The Del," as locals call it, sits on one of California's most beloved shorelines, Coronado Beach. Here, sunbathers love the soft, mica-rich golden sand, the gentle surf, and a shoreline perfect for walking or running along. At nighttime, enjoy s'mores on the beach at a bonfire hosted by the resort as part of their Daily Roasts.
Related read: 12 Best Hikes Near San Diego, California
Explore California
Sign up for Weekend Wanderer to join thousands of readers getting epic travel ideas every week.
---