While burritos, beer, and beaches may be San Diego's claim to fame, you won't want to pass up the trails.
I spent a good chunk of my young-adult life soaking in the San Diego sun. While there are many things I miss, the sun-drenched trails are near the top of the list. From the coast to the mountains, San Diego hikes feature a range of remarkable landscapes just begging to be explored.
These landscapes are also home to an incredible array of flora and fauna, which won't come as a surprise to folks who know that San Diego is widely considered a biological hotspot. According to Conservation International, to be considered a biological hotspot a region must have at least 1,500 plants found nowhere else in the world and only have "30% or less of its original natural vegetation."
All of that means San Diego is home to some rare life and the best way to find it is by taking a hike.
Whether you're looking to feel the cool ocean breeze or get your legs pumping, there's a San Diego hike in store for you. Grab your sun hat and slip into your hiking boots — here's your guide to the best San Diego hikes.
1. Cowles Mountain Trail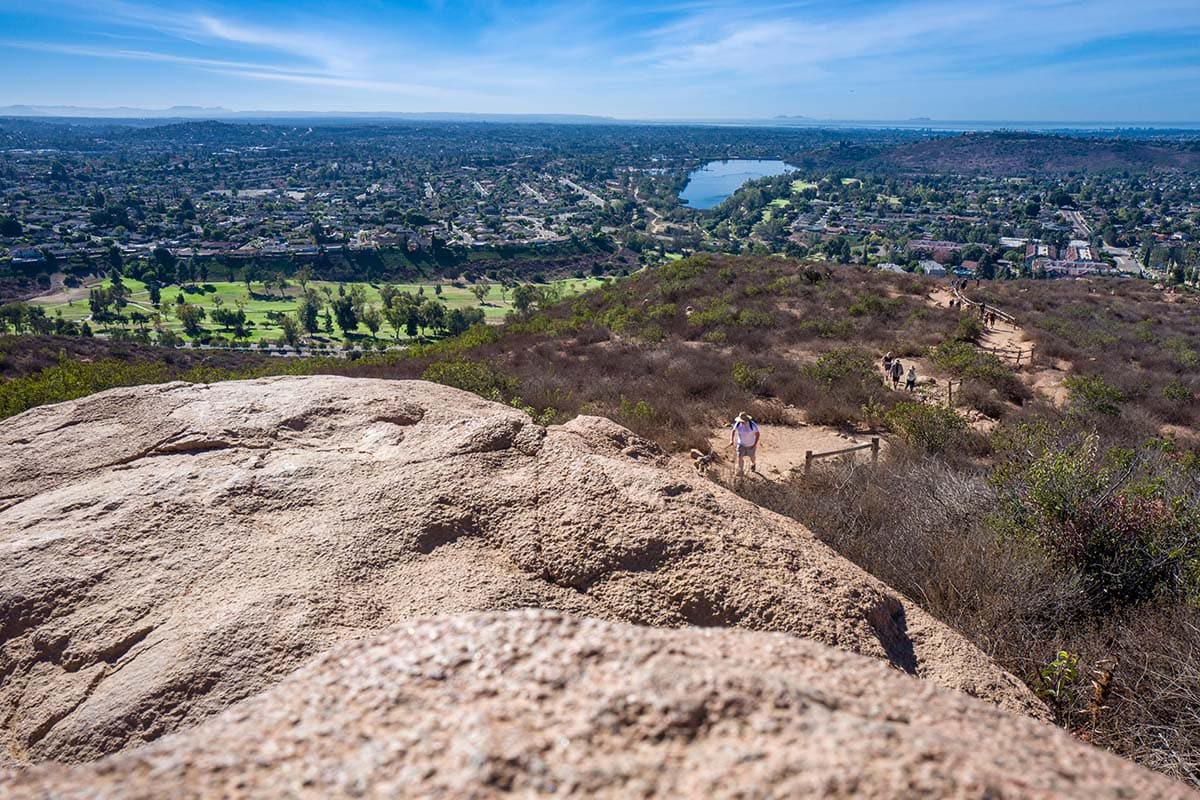 Why you should go: An extremely accessible trail to the highest point in San Diego.
Distance: 2.9 miles
Elevation Gain: 912 feet
Difficulty: Moderate
Locals flock to Cowles Mountain for one reason: a good workout. One look at all the switchbacks and you'll quickly see why.
If you're looking to get in a pumper, slap on your lightest trail shoes and huff-and-puff your way to the top. Don't be surprised if hikers on the descent come blasting by you at full speed — you'll pick up a lot of momentum heading downhill!
While this is an excellent workout, there's another reason to hike Cowles: the incredible view. At 1,593 feet, Cowles Mountain is the highest point in San Diego and boy does it have a view. On a clear day, you can see Mexico to the south and the ocean to the west.
Bring the dog if you like, but be sure to have plenty of water for the climb.
2. Torrey Pines State Reserve Loop
Why you should go: Magnificent scenery throughout a beach and bluff trail with an opportunity to see endangered Torrey Pines.
Distance: 2.3 miles
Elevation Gain: 365 feet
Difficulty: Easy
If a coastal hike is on your to-do list, you won't find anything better than the Torrey Pines Reserve Loop. One of the wildest stretches of Southern California coast, the Torrey Pines Loop gives you a quick taste of the breathtaking scenery that this reserve has to offer.
Along the way, you'll be greeted by a stunning landscape of ocean views and wind-battered bluffs. Keep a lookout for dolphins swimming in the distance as they frequent these water.
Be mindful of your step — this reserve is a conservation area protecting sensitive habitats, chief among them the endangered Torrey Pines.
The beginning of the hike requires a short ascent up a paved road. It's a little steep for some, but absolutely worth it.
3. Iron Mountain Trail
Why you should go: A highly accessible trail offering an invigorating climb and panoramic views.
Distance: 5.2 miles
Elevation Gain: 1,100 feet
Difficulty: Moderate
Located in Poway, Iron Mountain is a very popular and accessible hike. If you and your hiking buddies are looking for a solid hike to really earn your burrito, this is a good one to tackle.
Winding through a short grove of shady oak trees, it's not long before you begin to embark on the ascent. Soak in the shade now because the canopy quickly dissipates.
Before reaching the peak you'll hit some rocky switchbacks, so watch your step. Once you reach the top you'll be greeted by a sweeping panoramic view of San Diego County.
While the uphill journey may present a bit of a challenge, it's nothing the average hiker can't handle.
4. Los Peñasquitos Canyon Trail
Why you should go: A tranquil, easy going family- and dog-friendly hike through a rich ecosystem.
Distance: 6.8 miles
Elevation Gain: 150 feet
Difficulty: Easy
Los Peñasquitos Canyon is truly a refreshing oasis in the middle of the suburbs. This family- and dog-friendly trail presents a lovely flat stroll for hikers of all skill levels.
Step onto the trail and you'll feel like you stepped into another realm of San Diego.
This hike meanders through a rich ecosystem featuring woodlands, a waterfall, and a riparian stream that allow the diverse plethora of flora and fauna to thrive. Sycamore, California live oak, egrets, blue heron, mule deer, and bobcats are only a handful of the species living here.
This is a tranquil hike, though mountain biking is permitted so don't be surprised if a few bikers whiz past on the trail.
5. Cuyamaca Peak Trail
Why you should go: A grand view from mountain to ocean from the top of San Diego's second-highest peak.
Distance: 6 miles
Elevation Gain: 1,610 feet
Difficulty: Moderate
If Cowles Mountain is too crowded for your liking, head out to Cuyamaca Peak. At 6,512 feet it's the second-highest peak in San Diego, and depending upon who you're talking to it delivers the best views in town.
On a clear day, you'll have an exceptional vantage point from the summit of Cuyamaca Peak. Gaze off to the west and you can see as far as Coronado. Turn your attention east and you'll get an incredible view of the Cleveland National Forest along with Cuyamaca Lake nearby.
With a landscape like this, it's not hard to see why the Kumeyaay called this area home.
If you can muster up the energy, check out Stonewall Peak after you've conquered Cuyamaca Peak.
6. Three Sisters Falls Trail
Why you should go: An adventurous hike to three large waterfalls cascading into swimming holes.
Distance: 4.5 miles
Elevation Gain: 1,000 feet
Difficulty: Challenging
The Three Sisters Falls Trail is as challenging as it is rewarding.
On the way out, the path will be fairly easy as it's all downhill until you get to the falls. I say "fairly easy" because it can get steep and slippery. Enjoy the descent, because it's going to turn into a grueling climb on your way back to the trailhead.
When you reach the Three Sisters Falls, spend some time basking in the sun's rays as you chill out by the waterfalls. Take a dip if you're daring, or scramble up to the third waterfall. The peaceful sight of the three waterfalls cascading down the rocky slope is well worth the climb.
Accidents here are common, so be careful on this trail. One trip to the emergency room and 10 staples in the head later, my hiking buddy found out the hard way. Watch your step!
Related Read: 6 Serene Cabin Rentals in San Diego to Get Away From It All
7. Mount Woodson Trail to Potato Chip Rock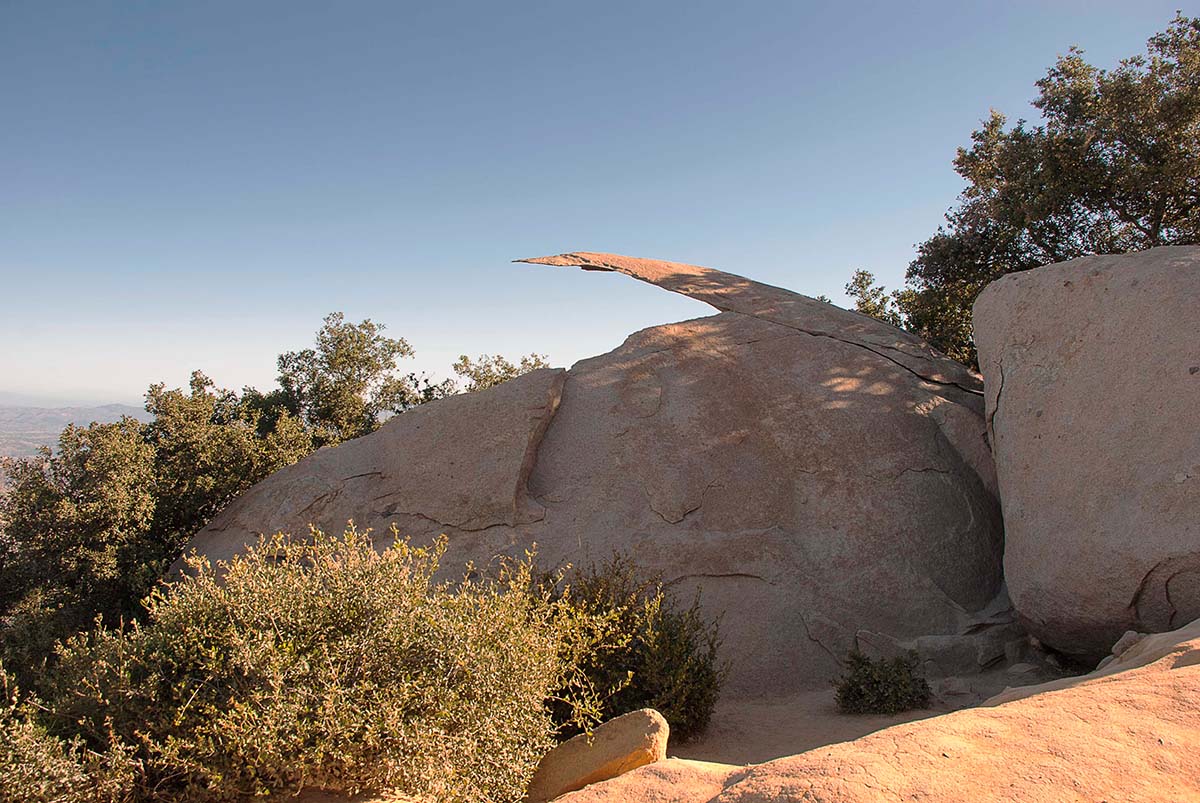 Why you should go: A strenuous hike with an intriguing photo-op of Potato Chip Rock.
Distance: 7.6 miles
Elevation Gain: 2,100 feet
Difficulty: Challenging
Mount Woodson, also known as Potato Chip Rock, is a challenging out-and-back day hike and a must-do for San Diego hikers. Although this hike is strenuous at times, one can't pass up the opportunity to feast their eyes on the iconic geological formation Potato Chip Rock.
Along the way, you'll wind through a sea of chaparral with massive granite boulders scattered about. Don't worry, the trail is maintained and well trafficked so bush whacking won't be required.
When you finally reach the apex of your journey, you'll find yourself standing atop Mount Woodson's peak at 3,000 feet. Be sure to bring your camera to capture the stellar views, and pack plenty of sunscreen.
Editor's Note: At Territory Supply, we promote Leave No Trace ethics. Thus, we encourage you to not climb on Potato Chip Rock. Please be responsible so fragile places are not loved to death.
8. Cedar Creek Falls Trail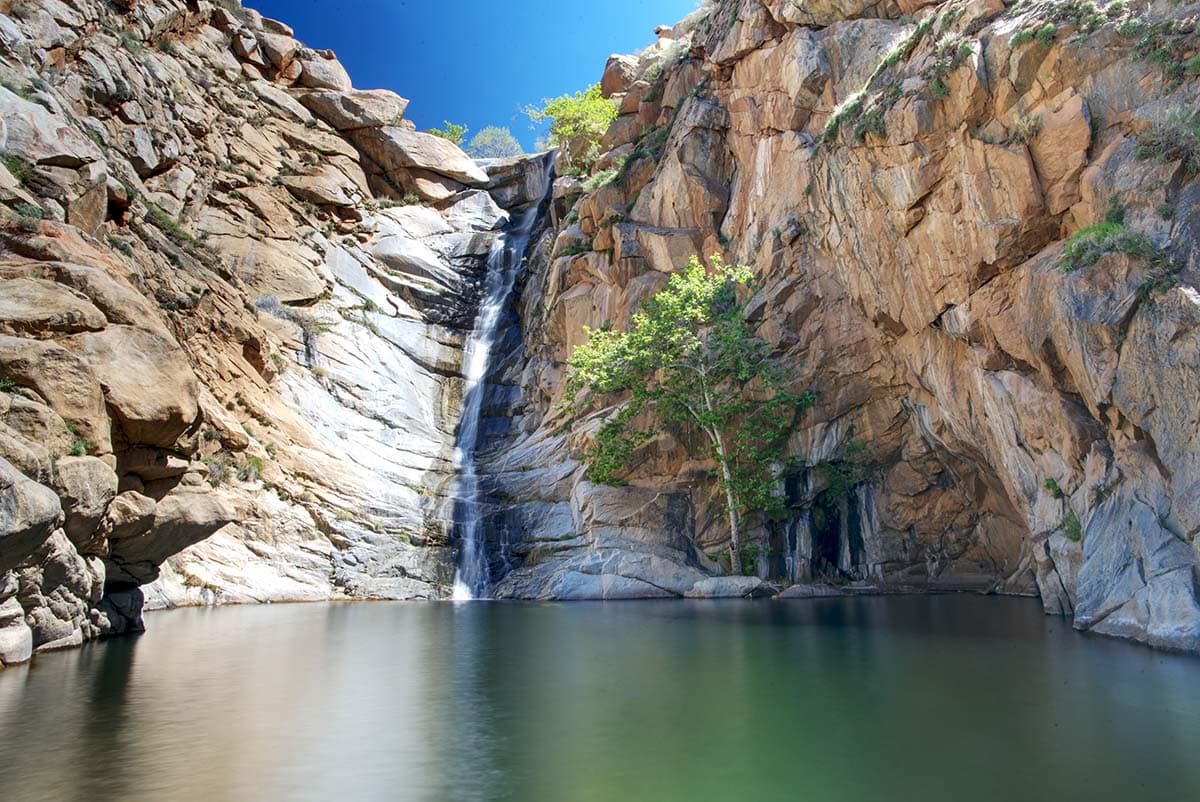 Why you should go: A moderate trail meandering through San Diego's backcountry with a refreshing waterfall.
Distance: 6.6 miles
Elevation Gain: 600 feet
Difficulty: Moderate
If you're chasing waterfalls for your photo collection, you won't want to pass up a chance to visit the Cedar Creek Falls Trail. Also known as the Devil's Punchbowl, Cedar Creek Falls presents a refreshing contrast among the arid landscape as it plummets down 80 feet into the watering hole below.
Located in Cleveland National Forest, hikers here will wander through a difficult out-and-back trail in the heart of San Diego's hot backcountry. Take a break underneath the black oaks and cottonwoods when you can, you'll be at the falls soon enough.
Hiking the Cedar Creek Falls Trail requires a permit, so hop on over to recreation.gov to plan your trip ahead of time.
10. Fortuna Mountain Trail
Why you should go: A challenging day hike through one of the largest urban parks in the United States.
Distance: 6.3 miles
Elevation Gain: 1,360
Difficulty: Challenging
Ready for a challenge? Head out to Mission Trails to spend the day tackling Fortuna Mountain Trail.
Nestled in the center of San Diego, Mission Trails Regional Park is one of the largest urban parks in the United States, encompassing a whopping 7,220 acres with 60 miles of trails.
Here, you'll find as many trails as you will history. All of them are worthwhile, but Fortuna Mountain should be at the top of your list.
This dusty trail winds through thickets of chaparral with the chance of seeing a waterfall (season permitting) before summiting the peak at 1,291 feet. Take your time looking off into the distance and peering down at the city below — it's definitely a view that you have to earn the hard way, so it's worth appreciating.
Should you be rearing for more or find this hike a little out of your comfort level, Old Mission Dam and Oak Canyon Trail are also great hiking options.
11. Cabrillo National Monument Bayside Trail
Why you should go: An easy family-friendly hike featuring ocean views and historical highlights.
Distance: 2.5 miles
Elevation Gain: 300 feet
Difficulty: Easy
The Bayside Trail at the Cabrillo National Monument is an easy stroll for all ages. For those looking to learn more about San Diego history, this is a great place to start.
This hike starts at a lighthouse and features several informational wayside markers highlighting the historical significance of the area. Your ultimate destination is the Cabrillo Monument itself, standing atop the 300-foot bluff.
If the inviting ocean views are too enticing to resist, head on over to the Coastal Trail and check out the tide pools below.
12. Boucher Trail & Palomar Mountain Loop
Why you should go: A long trail through a coniferous forest with a historic fire lookout.
Distance: 8.7 miles
Elevation Gain: 1,520 feet
Difficulty: Moderate
Sprawled out across 1,862 acres at about 5,000 feet, Palomar Mountain State Park is a breath of fresh air with its coniferous forest, tranquil streams, and grassy meadows filled with wildflowers during the spring. The best way to explore the park is via the Boucher Trail and Palomar Mountain Loop.
Nearly nine miles long, this loop takes you through all the highlights of the state park including the historic Boucher Lookout Tower. The tower marks the peak of your climb and delivers a rewarding view.
If you don't have time to cover this much ground in a day, you can still explore Palomar Mountain State Park with one of the many shorter trails in the area.
13. Florida Canyon
Why you should go: Walk through native vegetation offering a glimpse into San Diego's original landscape.
Distance: 2.2 miles
Elevation Gain: 200 feet
Difficulty: Easy

Florida Canyon is located in Balboa Park right outside of the downtown area. Hikers here will traipse through a canyon to get a feel for what San Diego's landscape was like before it became inhabited.
As you stroll through this well-preserved canyon you'll encounter a variety of native plants, including coastal sage scrub and buckwheat. During spring, this area is dotted with colorful flowers.
Short and sweet, this is a hike the whole family can enjoy.
More Great Hikes in California
Sign up for our free email to join thousands of readers getting epic travel, hiking, camping and gear ideas every week.
Was this article helpful?
---