We research, evaluate and select travel destinations based on a number of factors, including our writers' experience, user reviews and more. We may earn a commission when you book or purchase through our links. See our editorial policy to learn more.
---
Standing on the rim of the Grand Canyon is one of those experiences that everyone talks about, but no one can adequately describe. You simply have to see it for yourself.
So, if the neon lights of the Sin City have started to feel too bright, then a short road trip to the Grand Canyon South Rim is definitely in order.
With dark skies, amazing scenery and vistas, and an abundance to do along the way, a trip to the canyon is an amazing way to spend a weekend — or week!
Related Read: 10 Adventurous Campervan Rentals in Las Vegas, Nevada
Las Vegas to Grand Canyon Road Trip by Section
The route to the main South Rim visitor center of the national park is not long of a drive — if done in a straight shot, it takes only a bit over four hours (280 miles) — however, it is the perfect section of road to break up into mini trips.
If you have the time, pick a few or all of these highlights to visit along the way. It's worth taking three or four (or more) days to get to the Grand Canyon.
Segment 1: Las Vegas to Kingman
This segment is about 107 miles in a straight line, but you'll barely make it out of town before you start finding side trips to enjoy. From petroglyphs to dams, this segment is packed with history.
If you're a history buff, take your time on this leg and get into learning about these unique areas with stories from our country's past.
Related Read: 8 Amazing Las Vegas Airbnbs for an Unforgettable Sin City Vacation
Highlight 1: Sloan Canyon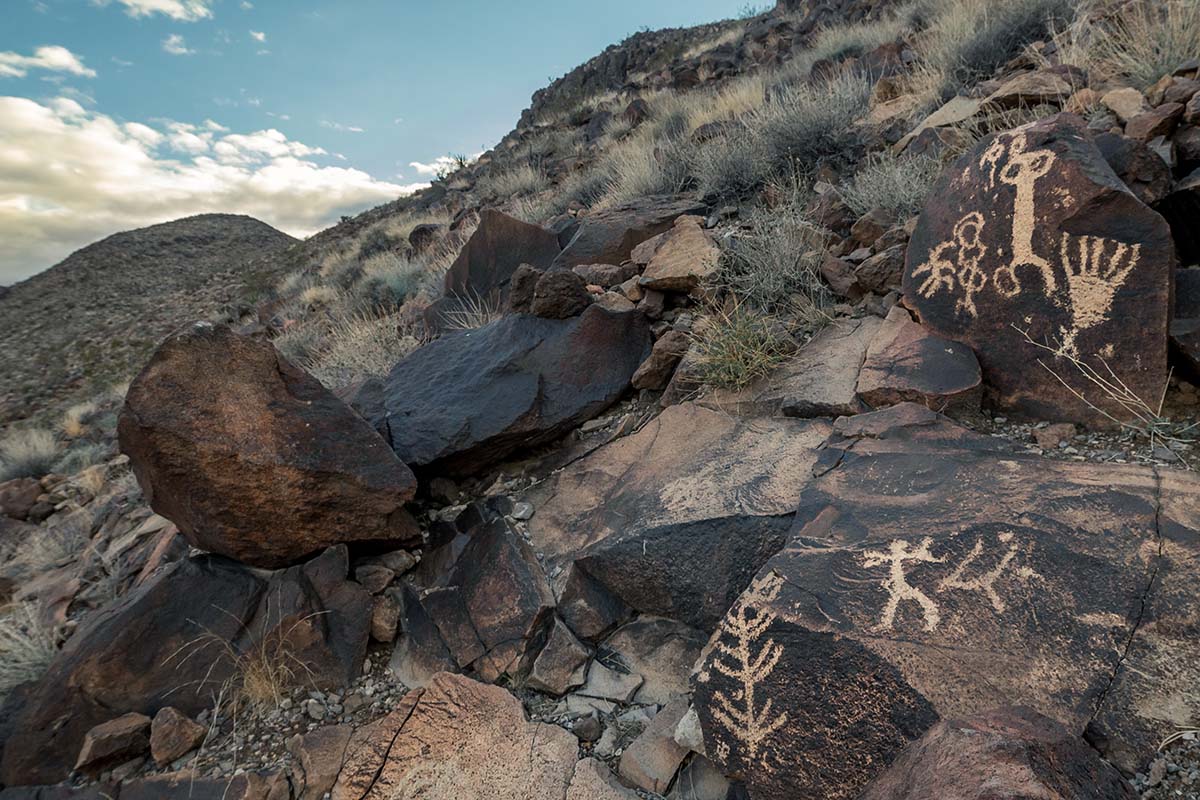 Just 30 minutes out of downtown Las Vegas is Sloan Canyon, a National Conservation Area managed by the Bureau of Land Management (BLM). The conservation area is generally considered one of the most significant natural and cultural resources in the area.
Besides fascinating geology, including extinct volcanos and lava flows, the site is home to 300 rock art panels featuring 1,700 designs depicting native cultures raging from archaic to historical times. The Petroglyph Trail will take you around to the best highlights.
Related Read: 8 Wildly Scenic Drives in Nevada to Explore this Year
Highlight 2: Hoover Dam & Lake Mead NRA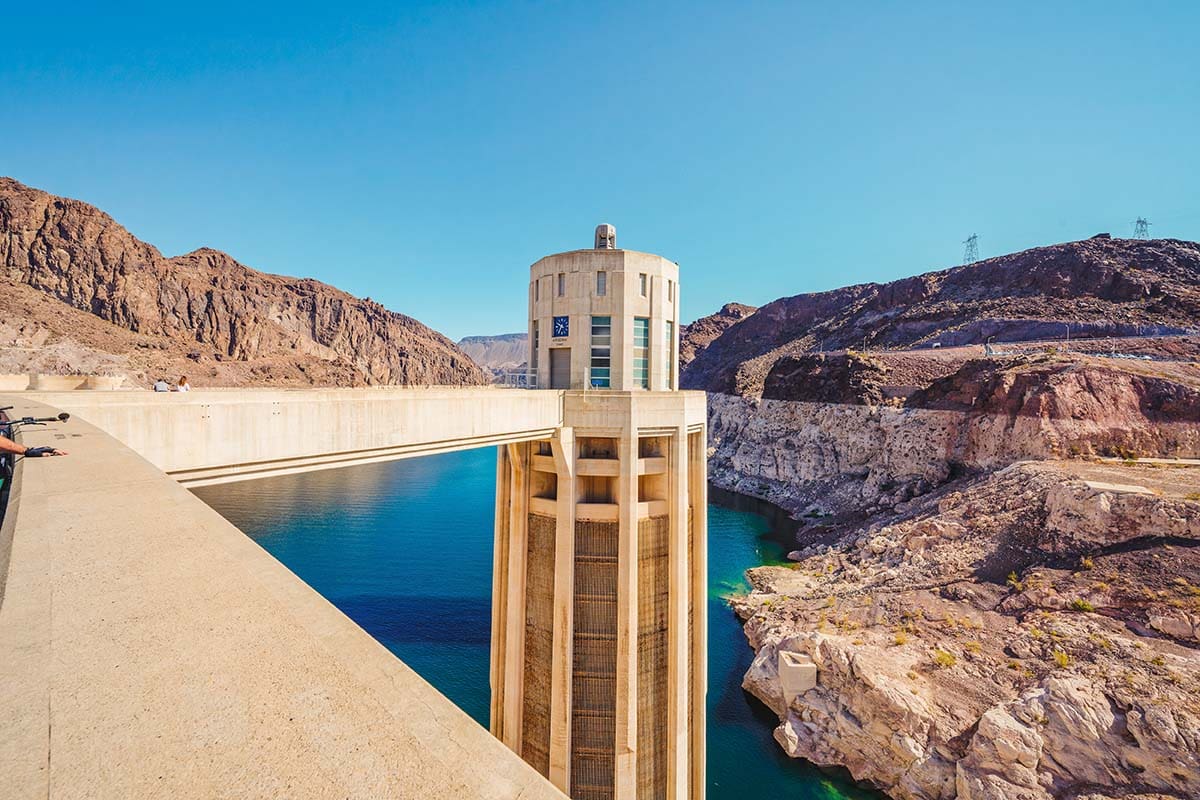 This is perhaps an obvious one since you have to drive right over the Hoover Dam to get to the Grand Canyon. But make sure you at least pull off to enjoy views of the dam. There are a few great spots to view the dam from afar, but you can also park and take your time here.
Walk across to experience the stark difference in water levels on each side of this massive manmade feature. You can take a guided tour or a self-guided tour of the dam to learn about its history, construction, and purpose.
If you're planning on staying in the area for a bit, Lake Mead National Recreation Area has plenty of options to keep you busy, from hiking, boating, camping, and history.
Related Read: Hit the Nature Jackpot: 15 Hikes Near Las Vegas, Nevada
Side Trip: Grand Canyon West & Skywalk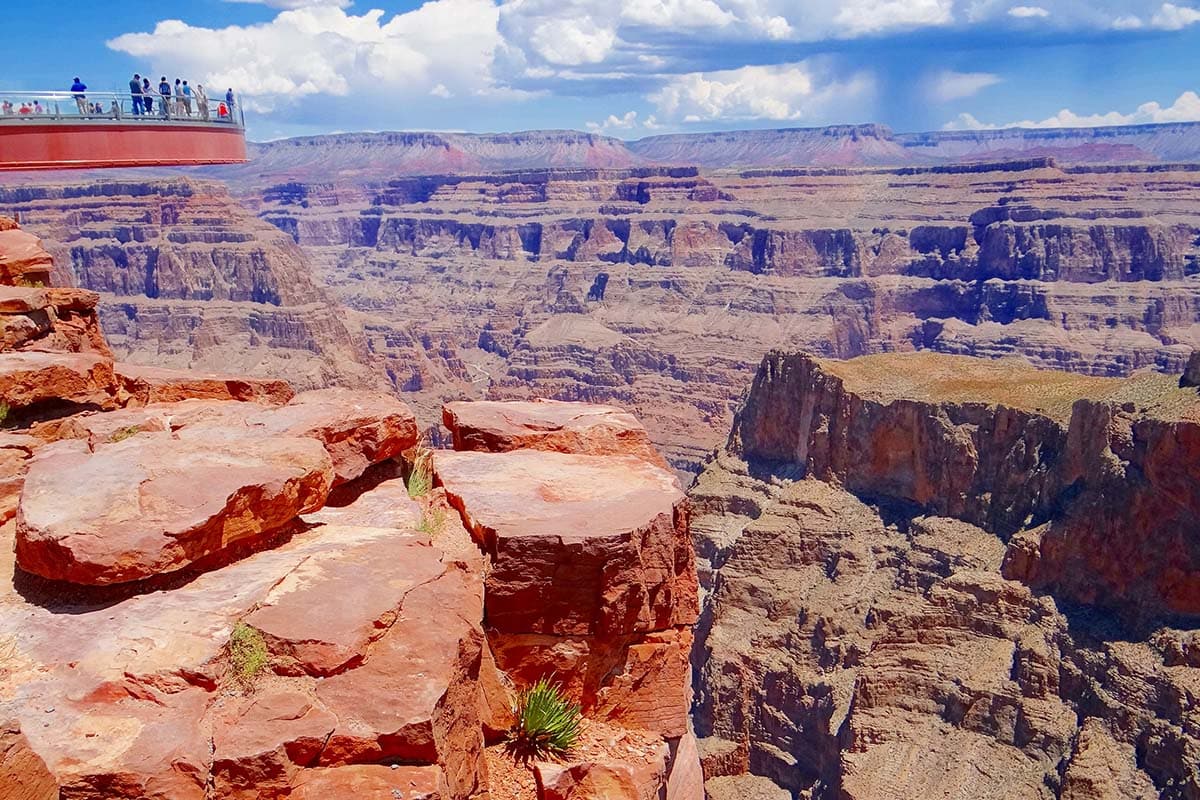 The trip out to the Grand Canyon West and Skywalk is only about an hour detour each way, and it will be one of the most surreal experiences you can have. This section of the Grand Canyon is part of the reservation of the Hualapai Tribal Nation — who have called the Grand Canyon home for centuries.
Yes, you're already heading to the Grand Canyon National Park, but the Skywalk is a unique experience that lets you stand over the canyon and look down through a glass floor! If you're worried, fear not. They claim the Skywalk is strong enough to hold 70 fully loaded 747 jets.
If you're looking for even more adventure, book the "Grandest Package" to add on a helicopter ride and a river float on a pontoon boat! You can also go ziplining or visit Eagle Point to learn about the Hualapai Tribe.
Lodging: There is quite a bit of camping around Boulder City, Nevada — near Lake Mead and the Hoover Dam. Further down the line, there is an RV park at Grand Canyon West and a BLM campground at Windy Point. Or, if you're looking for more hookups and comfort, the KOA in Kingman is a great option.
If camping isn't your thing, there are plenty of hotels to choose from in Boulder City, or stay at the Hoover Dam Lodge & Casino. There are a few motels out by Grand Canyon West, but the more exciting option would be a stay at the Grand Canyon Western Ranch. Finally, if you're looking to make distance, there are plenty of hotels in Kingman, Arizona, to choose from.
Related Read: 6 Epic National Parks Near Las Vegas, Nevada
Segment 2: Kingman to Williams
Looking at the map, you might not think there is much to do along this bit of road, but it might surprise you! This is the wildlife segment! From alpacas to bears, this is a good leg of your trip for the animal-loving members of your crew.
Related Read: Attractions (And Oddities) Along Arizona's Interstate 40
Highlight 1: Alpacas of the Southwest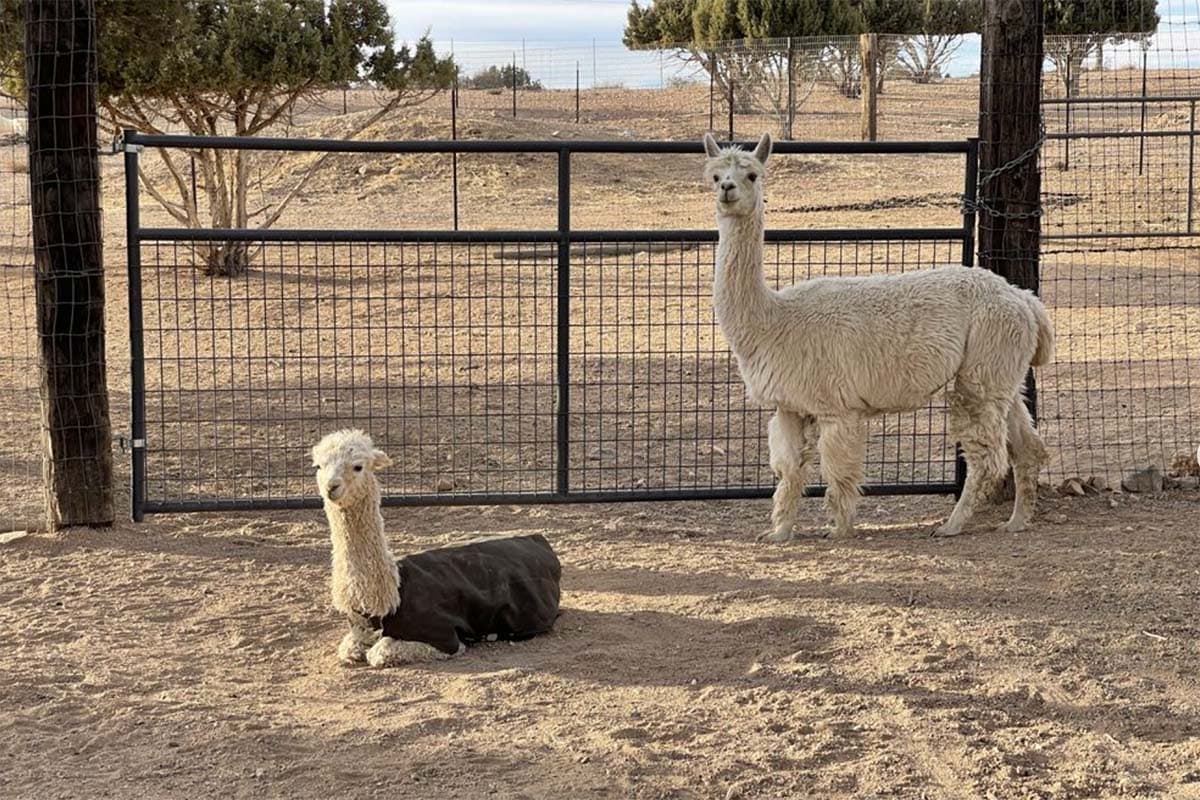 Just 20 minutes out of Kingman is the fun adventure of the Alpacas of the Southwest Ranch. Kids and animal lovers alike will appreciate taking an alpaca tour!
Not only will you get to visit with and pet the animals, but you'll be able to learn about the history of alpacas, their demeanor, and of course, how their wool is used in clothes production. Make sure to pick up a pair of cozy alpaca wool socks before you head out!
Highlight 2: Bearizona Wildlife Park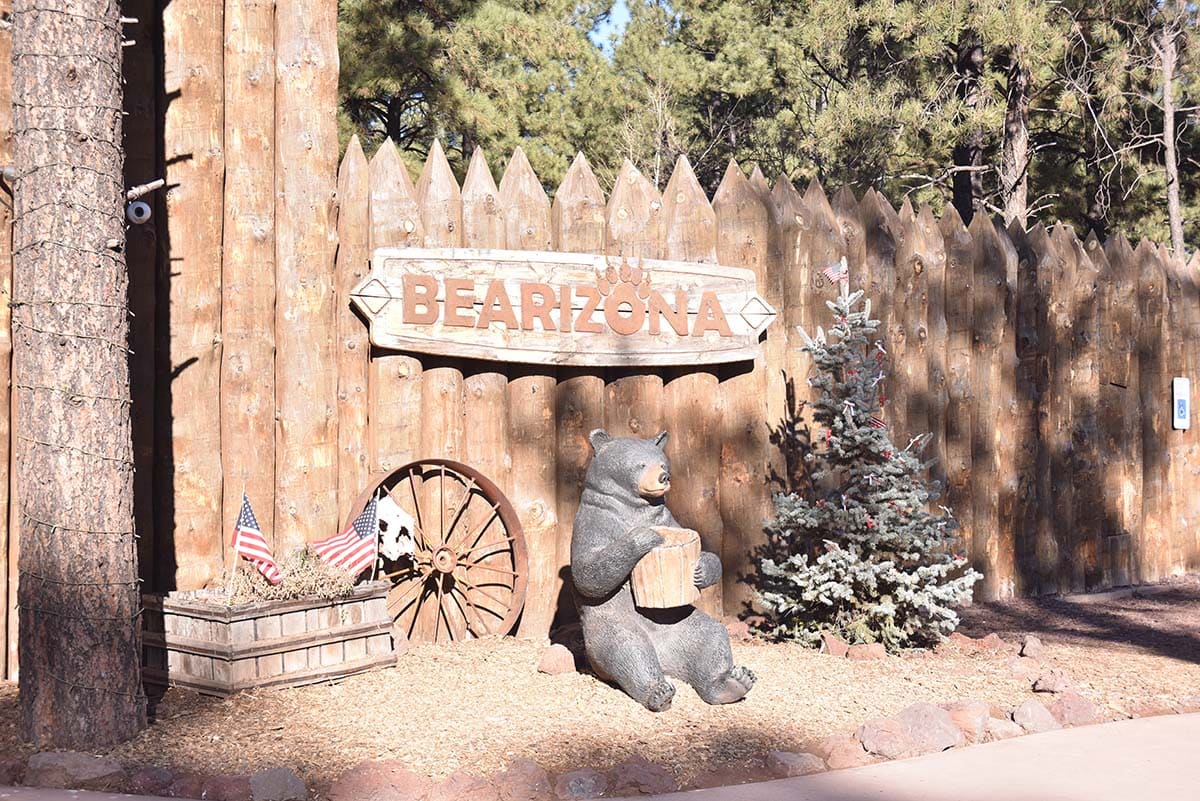 Since we're on to the animal train, make sure you stop at Bearizona Wildlife Park in Williams, Arizona. You can choose to do the drive-thru wildlife tour (stay in your car with the windows up, please!), the walk-thru park, or both. There is so much to see and learn at Bearizona that the kids will forget about the long car ride.
From wolves to otters to, of course, bears, there are so many fascinating creatures to visit and learn about. Bearizona was created to educate the community about conservation, so take your time exploring and let their message soak in.
Related Read: 9 Unique Places to Stay in Arizona for an Unforgettable Vacation
Side Trip: Sedona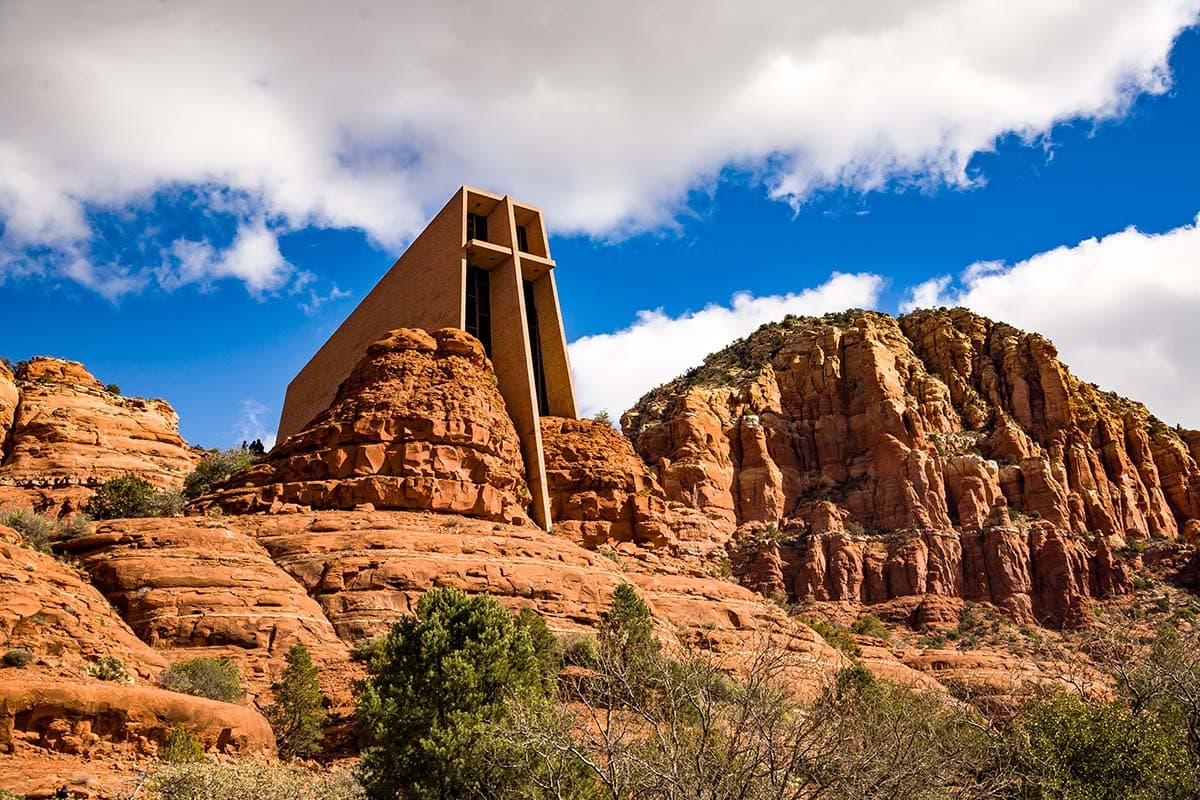 It may seem a little out of the way, but Sedona is a great place to spend an afternoon — or a few days if you have time. Sedona has so much to do, from Pink Jeep and helicopter tours to mountain biking, hiking, and even natural water slides!
It's also home to a wide community of artists, so there are plenty of small shops and galleries to explore in town. Stay for a few days to experience the sites of Sedona. The unique and beautiful landscape is awe-inspiring, and it's no wonder it's considered the vortex capital of the southwest.
Lodging: There are plenty of lodging options in Sedona, from dispersed camping and campgrounds to swanky Airbnbs. If you're going to stay near Williams, there are plenty of camping options from National Forest campgrounds to KOAs to cabin rentals. Also, with its proximity to the national park, it's no surprise that there are numerous hotels in town.
Segment 3: Williams to South Rim
The main event! Only a short drive (59 miles, approximately an hour) to the South Rim visitor center, you'll make easy work getting into the park.
There is so much to do in the Grand Canyon you'll certainly want to stay for a few days. Make sure to pick up the handy pocket map to help you navigate the trails, roads, and shuttle system once in the park.
Related Read: 11 Unforgettable Things to Do at the Grand Canyon
Highlight 1: Walk the Rim Trail
The Rim Trail is a paved and (mostly) ADA trail that runs along the south rim of the canyon, with beautiful vista stops along the way. The great part about the Rim Trail is that you can make it as short or long as you like.
The shuttle system in the park is excellent, so you can hike for as long as you'd like and ride the bus back to your starting point.
Highlight 2: Yavapai Museum of Geology
Yavapai Museum of Geology is a stop along the Rim Trail but is also worthy of a visit in its own right. With 3-D models, interpretive exhibits, and a plethora of photos, you'll get to learn about how the history of the Grand Canyon from the first layers deposited at the (now) bottom of the canyon, to how powerful forces carved the canyon.
From inside the museum, large view windows give expansive views of the Grand Canyon itself as you move through the exhibits. The museum is also the start of the Trail of Time, a section of the Rim Trail outlining the canyon history.
Related Read: 13 Waterfalls in the Grand Canyon You Won't Believe are Real
Highlight 3: Hike into the Canyon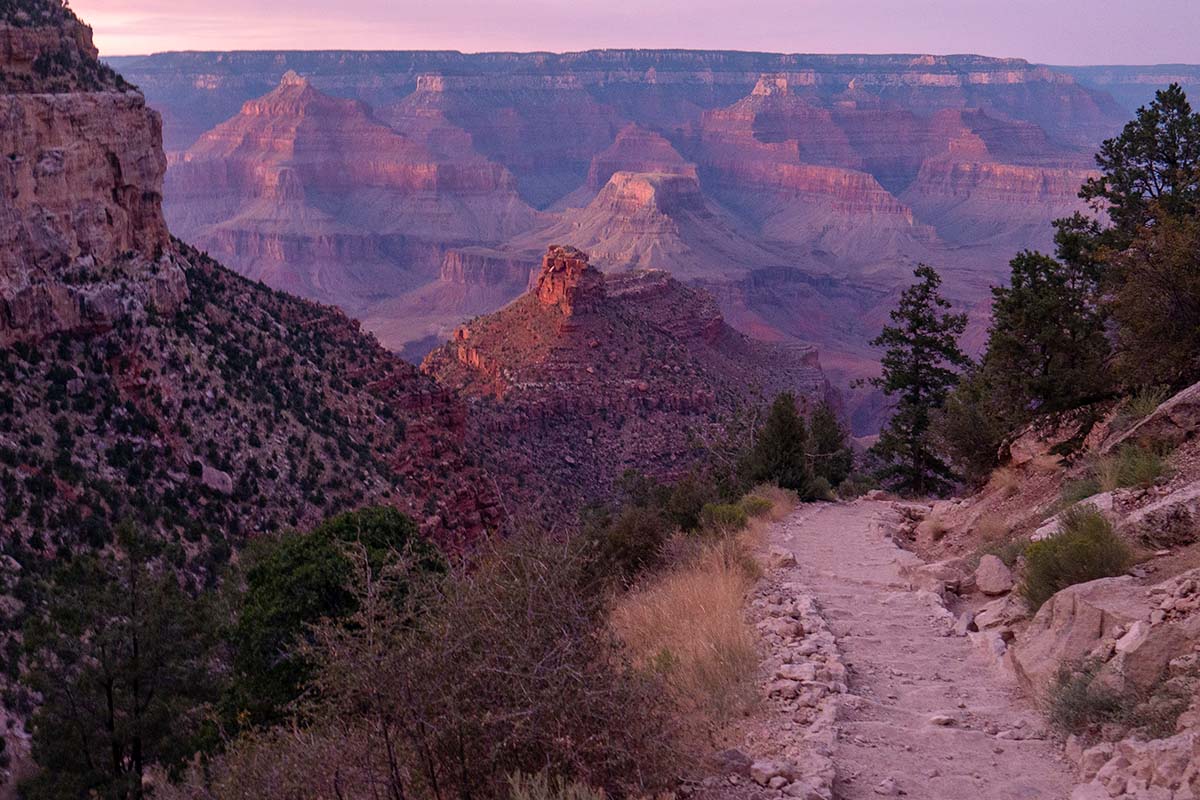 If you have the know-how and means to hike into the canyon, it is a must-do. To hike down and look up, surrounded by the massive rock walls, is a remarkable experience. However, it is not a hike to be taken lightly. The canyon is hot, dry, and you must be prepared to face the elements.
A trail such as the Bright Angel Trail will have some water stops along the way (unless a pipe breaks), but others require you to be a bit more self-sufficient. Most day hikers turn around at Mile-and-a-Half Resthouse or Three-Mile-Resthouse, while a great option for experienced hikers is the 9 mile round-trip hike to Indian Garden, a small oasis with water refill options. This makes for a spectacular out-and-back day hike.
Highlight 4: Take a Mule Tour
If you want a truly unique experience, reach out to Xanterra to book a spot on a Mule Tour. There are 2-hour ride options for day users, but for the more adventurous, you can book a spot on an overnight tour into the canyon, spending the night at Phantom Ranch at the bottom of the canyon.
These rides fully book nearly 15 months in advance, so get your name on the list as soon as you can!
Lodging: There are several campgrounds, and lodges in the park. However, they all book up fairly quickly each year, so it's best to plan your stay early. There are also Airbnbs and glamping spots within 20 to 40 minutes of the South Rim, hotels just outside the park gate in Tusayan, and plenty of hotels an hour south in Williams.
Explore the Grand Canyon State
Get epic travel ideas delivered to your inbox with Weekend Wanderer, our newsletter inspiring more than 10,000 readers every week.
---