We research, evaluate and select travel destinations based on a number of factors, including our writers' experience and expertise, user reviews and more. We may earn a commission when you book or purchase through our links. See our editorial policy to learn more.
---
Secluded cabin rentals can be hard to come by in a state with nearly 40 million people. But you'll find them if you try hard enough — or just read through this list.
With a state as popular (and populous) as California, it's understandable if you're feeling like you can't find anywhere to yourself. Cities like San Francisco, L.A. and San Diego are dense and urban, and if you didn't know any better, you might think all of California was like that. But the state is home to some of North America's best outdoor destinations, which can feel like your private getaway if you know where to go.
There are some exceptional cabins across SoCal and NorCal. Whether your travels take you to the Mojave Desert, the majestic Sierra Nevada, or the redwood-laden northern coast, there are a number of private and secluded California cabin rentals that can make your stay feel remote, even if they're only a few minutes from town.
No matter where in California you plan to roam, plan to book your secluded cabin rental as far in advance as possible – many of these rentals book up quickly.
Related Read: 7 Best Airbnbs & Vacation Rentals Near Yosemite National Park
1. Romantic Secluded Cabin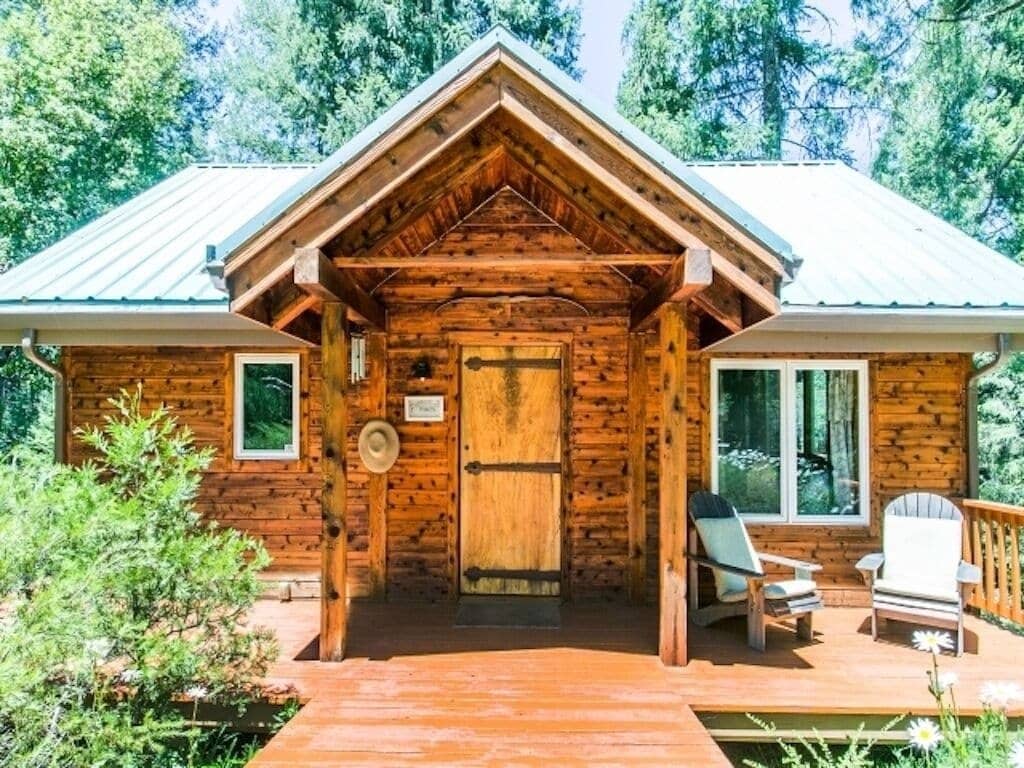 Why you should stay: Romantic cabin getaway above a waterfall-strewn creek.
Nearest town: Nevada City
Sleeps: 2
Minimum stay: 2-4 nights
Rates from: $310/night
Most of this home's 30-acre property consists of thick forest, but right below the cabin runs Rock Creek, where swimming holes and small waterfalls await endless exploration. It's just a short stroll to some of the best sunbathing spots, and more challenging hikes will take you past beautiful granite rock formations.
When you're not rock-hopping on the creek, take in forest views from the cabin deck's hot tub, or mosey through downtown Nevada City, one of California's most important mining towns during the Gold Rush days.
Check Availability
Related Read: 18 Exhilarating Things To Do At Lake Tahoe
2. Valerian Retreat
Why you should stay: A luxurious cabin near Yosemite and California's gold country.
Nearest town: Mariposa
Sleeps: 6
Minimum stay: 2 nights
Rates from: $272/night
Parked on a quintessential pastoral landscape in the Sierra Nevada foothills, Valerian Retreat is a stunning piece of property. The rolling hills and bushy green trees that dot the landscape provide the perfect backdrop for a mountain getaway, and the home itself isn't too shabby, either.  With two bedrooms spread across 1,100 square feet, plus a huge outdoor living space, there's plenty of space to spread out.
But the location is what this place is all about. The property is near Yosemite National Park's western entrances and the town of Mariposa, where there's a fantastic museum on the town's gold-mining history. You've got direct access to more than enough to fill a vacation at this inviting retreat.
Check Availability
Related Read: 9 Adventurous Things to Do in Yosemite National Park, California
3. Getaway Big Bear
Why you should stay: tiny modern cabins tucked between lakes in the San Bernardino Mountains.
Nearest town: Lake Arrowhead
Sleeps: 2-4
Minimum stay: 1-2 nights
Rates from: $229/night
Depending on traffic, Getaway Big Bear is about two hours from Los Angeles, making it an easy spot for spontaneous cabin trips away from the city. The vibe here is all about disconnecting from the daily grind, which explains the cell phone lockbox in each cabin, the limited cell reception and no WiFi.
All that adds up to a relaxing stay in the woods, and the limited technology only helps guests connect with the surrounding forest in Running Springs. The 59-acre property's located between Lake Arrowhead and Big Bear Lake, so it's easy to explore both areas before coming back to a quiet basecamp.
There are cabins scattered across the "Outpost," so you'll have neighbors nearby, but the property itself is private enough to feel like a proper escape from the buzz of L.A.
"Absolutely amazing to stay here," said guest Angela Holmes. "It is secluded enough to feel like a nice vacation in nature, while also being close to town so you can pick up fresh groceries or grab a coffee in town if you'd like."
Check Availability
Related read: 11 Best Hikes Near Big Bear Lake, California
4. Trabucco Gardens
Why you should stay: A cozy cabin hiding a high-tech surprise: robotic stargazing telescopes.
Nearest town: Mariposa
Sleeps: 6
Minimum stay: 3 nights
Rates from: $99/night
Yep, you read that right: at Trabucco Gardens, you get to use the property's advanced, high-end robotic telescopes to search the skies to your heart's content. On 17 private acres, there's very little to get in the way between you and the universe. This is exploration on a whole other level: a galactic level.
The property has a rich history, too, which you can see as you walk through the grounds. You'll see the ruins of a gold-mining-era vegetable garden, and a now-eroded stone wall mark the border of an old farm that probably fed hungry '49ers as they attempted to find every once of gold available.
Check Availability
Related Read: 14 Unforgettable Hikes in Northern California
5. Fern Creek Cottage
Why you should stay: Direct access to the redwoods, the beach, and several state parks.
Nearest town: Caspar
Sleeps: 4
Minimum stay: 2 nights
Rates from: $150/night
You'll feel right at home at Fern Creek Cottage, which reviewers say is one of the most welcoming places they've ever stayed. This exquisite cabin was built by the property owners who will treat you like family. They have toys and trikes on request if you bring your little ones, and the family dog is a friendly fellow.
The cabin is adjacent to the Jackson State Forest. There's a trail from the cabin that heads directly into the woods where you can experience the redwoods in complete solitude. As you might expect, much of the material used to build the cabin also came from local redwoods, as you'll see in the the cabin's features. The bedroom opens partially to the living room below, so don't except total privacy if you're traveling with more than two people.
Check Availability
Related Read: 9 Soak-Worthy Hot Springs in California
6. Hilltop Lupin Cabin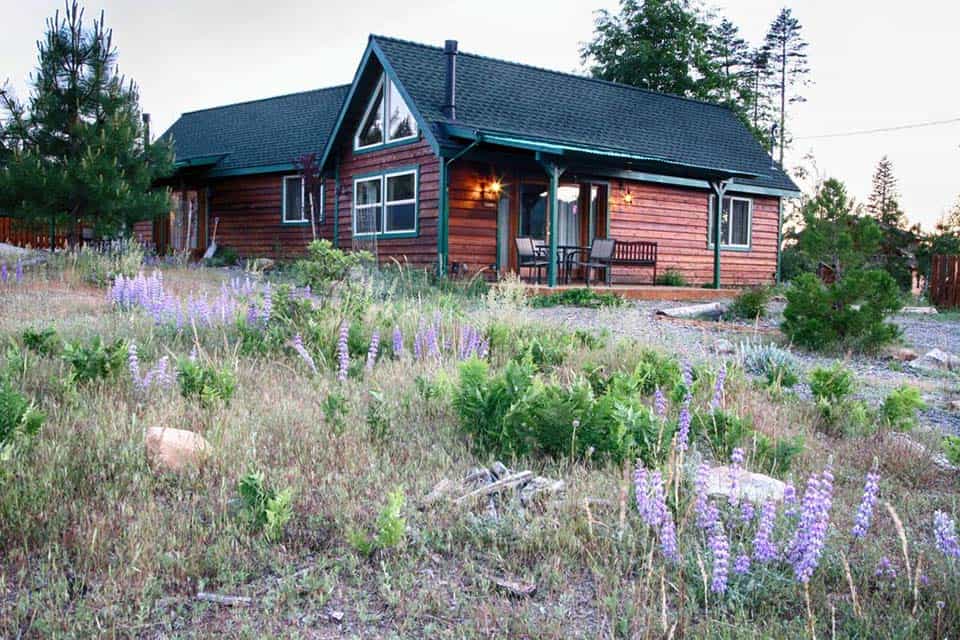 Why you should stay: A private cabin literally inside Yosemite National Park.
Nearest town: Yosemite Village
Sleeps: 4
Minimum stay: 1 night
Rates from: $185/night
Stay in the heart of Yosemite National Park at this hilltop lupin cabin. It's in a quiet neighborhood just 15 minutes or so west of the Yosemite Valley. You'll feel like you're one with nature and be only minutes away from the best sights Yosemite has to offer. You could even walk or bike into the valley to take early morning photos of the sunrise on Half Dome, stargaze from the valley across from Camp Curry, or snag the best spot on the bouldering walls behind Camp 4.
There are other cabins in the immediate area, but they all feel fairly private – you'll hardly notice your neighbors through the pine forest setting. As with most parts of Yosemite, wildlife sightings are common, though for more exotic animals like big horn sheep, you'll have to head higher up. Keep an ear and an eye out for all sorts of creatures throughout the day and night.
Check Availability
Related Read: The 10 Best Hikes in Redwood National Park, California
7. Wildflower Cabin
Why you should stay: hand-cut log cabin in a gorgeous Southern California landscape.
Nearest town: Palm Springs
Sleeps: 2
Minimum stay: 2 night
Rates from: $365/night
The views of Palm Springs' wind turbines from Wildflower Cabin prove how private this 5-acre property truly is, and the only other neighbor is the wind that blows through Whitewater Canyon. There's not a bad place to enjoy the solitude, from the interior's modern living spaces to the outside deck and hot tub.
Although there's plenty of space to explore right by the home, Whitewater Preserve is just a bit up the road, and the Pacific Crest Trail cuts through the region just north of the cabin. If you're looking for peace and quiet in the Palm Springs area, this is it.
"The Wildflower Cabin is INCREDIBLE," said Hipcamp guest Jenna. "This spot has everything you could possibly want or need, not to mention the fact that it's so private and secluded."
Check Availability
Related read: 11 Places that Get Snow in California to Fuel Your Winter Wanderlust
8. Woods by the Sea Ashram
Why you should stay: x
Nearest town: Albion
Sleeps: 2
Minimum stay: 2 night
Rates from: $216/night
This chic mountain studio in Northern California offers convenient seclusion just minutes from Pacific Coast Highway and the Mendocino Coast. But no one will blame you if you just hang around the cabin, where the peaceful redwoods and a babbling creek set an unforgettable scene.
If you do wander out, Navarro Point Preserve and Coastal Trail is just down the road, and there's plenty of hiking trails in the area, like Fern Canyon Scenic Trail. World-class wineries in the region, like Lula Cellars, are less than an hour's drive away.
"This place was exactly what I needed," said Hipcamp guest Amanda. "Total seclusion and the peaceful sounds of nature."
Check Availability
9. Navarro House
Why you should stay: Private beach access with stellar views on the Mendocino coast.
Nearest town: Albion
Sleeps: 6
Minimum stay: 2 nights
Rates from: $349 per night
The intricately designed Navarro House was built by a master fabricator, and his exquisite work is plain to see in the detailed iron and woodwork throughout the cabin. It's as beautiful on the inside as it is on the outside (almost.)
Visitors have a private deck overlooking the beach where the Navarro River feeds into the crashing waves of the Pacific Ocean. There's private beach access, and the bedroom has wall-to-wall windows overlooking the beautiful river.
"The Navarro House is incredible in every way. My husband and I had an absolutely beautiful weekend getaway here that completely reset us."
Check Availability
Related Read: High Seas & Summit Breeze: 10 Best Hikes in Big Sur, California
10. Shasta A Frame
Why you should stay: Private woodland acreage overlooking Shasta Lake.
Nearest town: Shasta Lake
Sleeps: 4
Minimum stay: 1 night
Rates from: $159/night
There are so many awesome outdoor options to choose from when you stay at Shasta Lake, but this Shasta A Frame is a strong contender for the best home base for your explorations – the lake itself provides more than enough entertainment to fill a week-long vacation. Fishing, swimming, and hiking are all popular activities around this massive body of water.
Mount Shasta, of course, is another reason to visit. Whether your plans involve hiking, climbing, or skiing, Mount Shasta is one of the best areas for all three activities in Northern California. And even if you don't enjoy hiking, you'll find plenty of new-age shops, small restaurants, and secret waterfalls to fill a weekend.
Castle Crags State Park and Lassen Volcanic National Park are two more spectacular areas to explore. You may want to check out the best hikes in Northern California to make a shortlist of places to see during your stay.
Check Availability
Related Read: 14 Wow-Worthy Hikes at Mount Shasta, California
11. Lassen Log Cabin
Why you should stay: Sleep at high elevation in the forest by Mount Lassen.
Nearest town: Shingletown
Sleeps: 4
Minimum stay: 2 nights
Rates from: $180/night
A peaceful respite from the noise of everyday life, this Lassen Log Cabin is the perfect getaway for those needing an escape to focus on something other than work for a few days. There's no Wi-Fi or cable T.V, and cell service is extremely limited. So like it or not, this remote cabin rental in California is going to be an escape to the wilderness.
Lassen Volcanic National Park has plenty to explore and see, despite being one of the country's least-visited parks. You'll find serene forests (like the one you'll be staying in,) rocky mountain peaks, alpine lakes, and the remains of past volcanic eruptions. This area sees a lot of snow in the winter, so come prepared with a proper vehicle and plenty of warm, waterproof clothing.
Check Availability
Related Read: 16 Spectacular Northern California Camping Spots
12. Homestead Cabin
Why you should stay: Withdraw to the emptiness of the desert near Joshua Tree National Park.
Nearest town: Joshua Tree
Sleeps: 4
Minimum stay: 2 nights
Rates from: $175/night
This cinder block homestead cabin is raw, rustic, and perfectly designed for desert living as it's well insulated against the extreme desert temperatures. The minimalist decoration is functional and versatile, and thanks to a Murphy bed, the space feels like an open and spacious living room when the bed is folded up, instead of a cramped studio.
Guests will have their own private yard and hot tub on a peaceful and quiet five-acre desert homestead with the town of Joshua Tree and park nearby.
Check Availability
Related Read: The 10 Best Hikes in Joshua Tree National Park
13. The Owl Pine
Why you should stay: A historic cabin overlooking a popular mountain town.
Nearest town: Idyllwild
Sleeps: 2
Minimum stay: 3 nights
Rates from: $246/night
The Owl Pine isn't the most secluded place to stay on this list, but it is one of the most spectacular. This historic residence sits high above the town of Idyllwild, providing the chance to sleep in forested seclusion while having the immediate conveniences of the iconic mountain town nearby.
The cabin itself is exceptionally charming and quite gorgeous. Tucked east of L.A. in the San Jacinto Mountains., Idyllwild is known for being one of SoCal's best mountain towns. And if there were an Airbnb that summed up the Idyllwild experience, this would be it – the home's rustic-meets-Spanish decor, vintage details, and natural wood accents mirror the town's vibe.
Check Availability
Related Read: 12 Best Airbnb Rentals in Lake Arrowhead, California
14. Romantic Creekside Cabin
Why you should stay: A well-appointed couple's cabin in a redwood forest near wineries and the coast.
Nearest town: Guerneville
Sleeps: 2
Minimum stay: 2 nights
Rates from: $161/night
Live life in a fairytale forest in this romantic creekside cabin. Well-furnished and wonderfully decorated, this cozy hand-built cedar home comes fully equipped for your stay. The owners describe the cabin as "rustic," but with a full queen bed, couches covered in throw pillows, and a full kitchen, it looks pretty darn comfortable.
The location will work well for those who simply want a private escape into the woods, but it's close enough to Sonoma County to please travelers who want to do a bit of exploring. Within a short drive, you can be on the coast, at a winery, or strolling through the cute town of Guerneville.
Check Availability
Related Read: 11 Best Resorts in California for Rest & Relaxation
15. Redwood Architect Cabin
Why you should stay: Relax the day away in a unique loft cabin surrounded by redwood trees.
Nearest town: Cazadero
Sleeps: 3
Minimum stay: 2 nights
Rates from: $130/night
The Redwood Architect Cabin features unique design elements that give it some serious M.C. Escher vibes. There are nooks and crannies galore and most furniture leans towards being mid-century modern or even mod — but there's a vintage wood-burning stove. The mix of design styles and decor is all very interesting, as is the location.
This cabin is in a thicket of coastal redwoods with a golf course nearby and the beach not much further. You'll also find plenty of trails in the area that wind between the enormous redwoods, especially around Armstrong Redwoods State Reserve. And wineries are less than 40 minutes away. What's not to like?
Check Availability
Related Read: 7 Awesome Weekend Road Trips from San Francisco, California
16. Sweet Sierra Mountain Cabin
Why you should stay: A secluded cabin near Lake Tahoe and some lesser-known small towns.
Nearest town: Alta
Sleeps: 4
Minimum stay: 2 nights
Rates from: $97/night
This Sweet Sierra Mountain Cabin is the ideal place to stay for couples or small groups that want to be near the fun activities of Lake Tahoe, but may not be keen on paying the high rates of rentals around the lake. The cabin is on 10 private acres of land and butts up against Tahoe National Forest.
Despite its relative seclusion, you can be in the town of Truckee in an hour or at the north shore of Lake Tahoe in about 15 minutes more. There are also plenty of hikes closer by along the various exits of Highway 80, plus some great swimming holes and historical sites. And the home is fairly close to Nevada City, a cute small town known for its excellent mountain biking trails.
Check Availability
Related Read: The 9 Best Airbnbs in Napa Valley, California
17. Sequoia River Ranch Cabin
Why you should stay: Serenity on a spacious ranch resort near Sequoia National Park.
Nearest town: Three Rivers
Sleeps: 4
Minimum stay: 2 nights
Rates from: $145/night
Get two parks in one when you stay at the Sequoia River Ranch Cabin. Not only will you be minutes away from Sequoia National Park (and some of the largest trees in the world,) but the 380-acre ranch you'll be staying on feels like another massive park to explore.
Thoughtfully designed and perched along the Kaweah River, the ranch is home to miles of hiking trails, its very own waterfall and multiple large ponds for fishing, boating, and swimming – so if you like adventuring and wildlife watching, you're in luck. The nearby national park is simply a bonus.
Check Availability
Related Read: 15 Best & Most Unique California Airbnb & Vacation Rentals
18. The Enchanted Lookout
Why you should stay: Escape to a private hideaway near the historic gold mining village of Julian.
Nearest town: Julian
Sleeps: 6
Minimum stay: 2 nights
Rates from: $194/night
Perched upon its own hillside overlooking the Volcan Mountain Preserve, The Enchanted Lookout lives up to its name. The property is surrounded by a richly mixed forest and features both a large front deck and a separate patio deck, each of which provides awesome area views.
If you've never been to Julian, you're probably going to love it. Just a mile from the home, the darling gold-era village is now a California Historical District. Visiting breweries, farms, wineries, or even touring a gold mine are all possibilities in town. Hiking trails dot the nearby mountains, and east of Julian lies an expansive swath of desert where you can hike segments of the Pacific Crest Trail.
"Excellent home, every amenity and an extraordinary outdoor space! Book now before we do AGAIN. Honestly, this was a one of a kind experience and I think anyone would agree."
Check Availability
Related Read: 7 Gorgeous Spots to See Fall Colors in California
Explore More in California
Get epic travel ideas delivered to your inbox with Weekend Wanderer, our newsletter inspiring thousands of readers every week.
---