Every Arizonan knows our state is underrated — and you'll be hard pressed to find an out-of-stater that's heard of the Mogollon Rim.
What outsiders perceive to be millions of acres of dirt and tumbleweeds is actually a world-class collection of canyons, vistas, creeks, waterfalls, mountain ranges and forests. The Mogollon Rim — just northeast of Payson — is a fine example of the abundant (non-desert) beauty Arizona has to offer.
The Mogollon Landscape
The Mogollon Rim rises to nearly 2,000 feet above the rugged country to the south. The southern edge of the vast Colorado Plateau, the Rim "proper" — its most prominent section — runs east to west for some 50 miles.
When approaching the escarpment from the south, a grand line of cliffs floats on the horizon. Once reached, you're greeted by a rich forest of Ponderosa pine, Douglas fir, Quaking aspen and Bigtooth maple.
On a quiet day and with a hint of magic, you can experience wildlife sightings of elk, deer, black bear, and coyote. Keep your eyes peeled for the finer details like Canadian white violet flowers in the spring, or Bald eagles soaring the skies in the winter.
Rim Country is the real deal in every season, too. From June to August, you can expect temps in the 70s and 80s during the day. August is the wettest month — compliments of Monsoon season. Double check the weather as the Rim is a hot spot for lightning strikes.
Come October, the daytime highs typically simmer down to the 50s, while the weather may turn frigid from December to February. If there's been heavy snowfall, check road conditions in case the Forest Service closes FR 300 — the scenic dirt road running along the Rim's edge.
You can embrace temperatures in the 60s through April and May, when camping season kicks in.
The Rim Country is managed by three National Forests: Coconino (Rim District), Apache-Sitgreaves (Black Mesa District), and Tonto (Payson District). Contact the Forest Service for the latest information on road closures, fire danger, and more.
The Backstory
It may be beyond our comprehension to think that hundreds of millions of years ago, during the Mesozoic times, this stretch of land was a tropical rainforest catering to dinosaurs and flying reptiles. If it weren't for tectonic plates shifting to lift the Mogollon Rim, we wouldn't know this land like we know it today.
Fast forward to 300 B.C., and the Mogollon Rim meets its first settlers — the Mogollon people. These indigenous people migrated from New Mexico, and come A.D. 1500, the Hohokam and the Ancestral Puebloans had also rooted down in the region.
In the midst of people declaring the Mogollon Rim their home, it received its name. The Mogollon Rim was named after Juan Ignacio Flores Mogollon. He was the governor of the Spanish territory in New Mexico and was chosen to serve the region in the early 1700s.
Many moon cycles later, the Yavapai and the Tonto Apache began settling in the area. By the mid-1800s, the war against European settlers and the natives was underway.
More than 1,000 years later, after disputes settled and the region and its people evolved, the Mogollon Rim suffered a natural disaster that no human could control — the 1990 Dude Fire. On June 25, 1990 a lightning bolt struck the area.
Before containment on July 1, 1990, the Dude Fire took the lives of six firefighters, 60 homes and charred nearly 24,000 acres of natural land, (this Arizona Republic article is a must read). Remnants of the fire are still visible today, but life is determined to continue growing.
Source: https://www.arizonahighways.com/mogollon-rim-almanac
Forest Road 300: The Scenic Drive
You've made it to Forest Road 300, what's next? The amount of ways to spend your day in Rim Country are practically limitless, but if you want the most bang for your buck and a true lay of the land, taking a scenic drive is your best bet. All you need is a healthy tank of gas, some of your best people and your favorite playlist.
View this post on Instagram
You can do this drive starting from the east, by Woods Canyon Lake, or from the west, which is north of Strawberry. The following directions are from the east. The road begins paved and you'll soon discover the magnitude of these vistas just by looking out your window to the left — the view is jaw dropping.
About two miles down the road, look out for Military Sinkhole Vista. This is the first of three viewpoints with convenient parking, and also the trailhead for the Rim Lakes Vista Trail — one of the hikes covered in this piece.
At mile 5, you can turn right to visit Woods Canyon Lake. Once you're back on FR 300, you'll settle into grassy meadows and the thickening forest of ponderosa pine and evergreen and aspen.
During the fall, the aspens show their true color. Along the way, there are numerous one-off forest roads. These roads, so long as there is a message board before the turn off, offer mostly primitive camping. However, if you're wanting to pitch your tent along the cliffs, stay tuned.
A side trip to Chevelon Canyon Lake may be in the cards at mile 9 if you plan on staying more than a day. Another 15 miles is required to get to Chevelon Canyon Lake Campground, as well as a short, but steep hike to get to the shoreline.
View this post on Instagram
With its difficult access though, and luck on your side, you might have this lake to yourself. If you strap on a backpack and setup camp next to the shore, you're guaranteed to have a peaceful night with you, the soft sounds of water and the blazing stars.
Continuing on Rim Road and still deep within the trees, the turn off for Bear Canyon Lake is only 4 miles ahead. This lake also requires a short hike, but is much more accessible than Chevelon.
If you're up here in the summer, don't be afraid to take a dip into Bear Canyon's brisk waters. Moving forward, you'll come to a fork in the in road. Stay left toward Knoll Lake – another worthy side trip.
View this post on Instagram
Up to this point, you've been wrapped by your surroundings. The dense forest leaves you feeling warm and comfortable, and this long journey along Rim Road has a tendency to wash away the worries you may have forgotten to leave at home.
Just when you're ready for eye-opening views again, they appear. This is also the point along the drive that a handful of prime, primitive camping along the Rim reveals itself. Spend the night at one of these spots, and at dawn, Mother Nature will greet you with her finest. First come first serve.
About 25 miles in, you leave Apache-Sitgreaves National Forest and enter Coconino National Forest. The views are still magical and plentiful, but after another 5 miles, remnants of the Dude Fire come into sight — one of the most devastating fires Rim Country has seen.
After about 3 miles, you'll leave the fire ruins behind and spruce, hardwood and evergreen will fill your peripherals. The drive comes to end in another 7 miles, but before you say your goodbyes, you can pop by Potato Lake or simply breathe in the life around you before heading home.
The Rim Lakes
The Mogollon Rim wouldn't be what it is today without its finest ingredient — water. Of course, the views are unparalleled and could easily stand alone, but the six major lakes in the region add an extra hint of magic. Visit any one of the following lakes and you can take a cool dip, launch your kayak, fish for trout or layout on the shore.
Black Canyon Lake
Located in the Apache-Sitgreaves National Forest, Black Canyon Lake is another 30 minute drive after passing the initial left-hand turn onto FR 300.
View this post on Instagram
But it's worth it. On your way out there, you'll pass through remnants of the 2002 Rodeo-Chediski Fire, but eventually you will be greeted by a forested lake.
Spend your day wandering around the shore, string a hammock or fish for some Rainbow Trout, Largemouth Bass or Green Sunfish.
You can camp at Black Canyon Rim Campground or Gentry Group Campground — which you'll see on your way in. Both take reservations (follow the links above), and Gentry is available by reservation only.
To get there, continue on the 260 for another 9 miles after you pass FR 300 on your left. FR 300 picks up again on your right. Turn here. After about 2.4 miles, turn left onto FR 86 for another 3 miles. You'll see the lake turnoff.
Willow Springs Lake
Willow Springs Lake is one of the most easily accessible lakes on the Rim. It's the second largest, too. Its shores and beyond are covered in Douglas fir, Gambel oak and Ponderosa pine.
Because of its accessibility, crowds tend to flock here, but don't let that stop you from enjoying the beauty. There's plenty to go around.
Bring your favorite lunch and spread out at one of the picnic tables, or set out for an afternoon paddle from the boat dock — you're bound to find an area on the shoreline to yourself.
You can pitch your tent at Sinkhole Campground (reservations accepted) located along the road to the lake. It's open year-round.
To get to Willow Springs, drive just under a mile after you pass FR 300 on your left. Turn left on FR 149 and the signs will lead you the rest of the way.
Woods Canyon Lake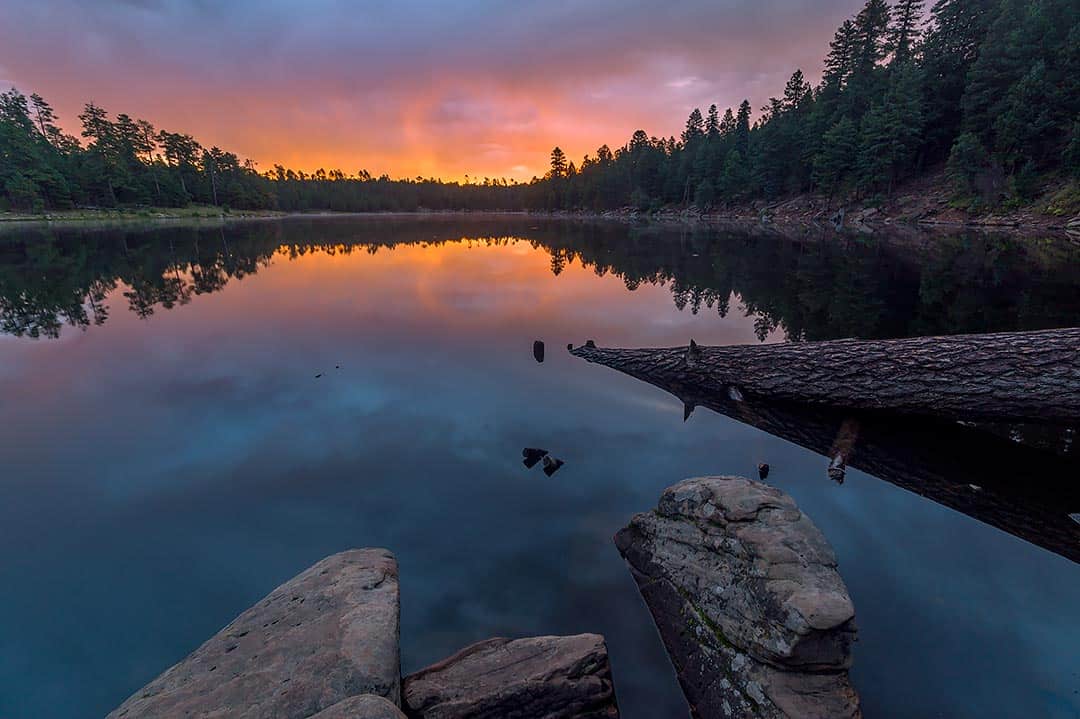 Similar to its sister lake, Willow Springs, Woods Canyon is another easily accessible lake and perfect for your family camping trip. Crowds tend to migrate here as well, but for good reason.
There's a camp store and boat rental service right on the shore. Not to mention, the area is heavily forested and the waters are calm and inviting.
There's some nearby campgrounds to choose from — Spillway Campground, Aspen Campground, Crook Campground, and Mogollon Campground. Spillway, Aspen and Crook are all along the road to Woods Canyon Lake. Mogollon Campground is located just after the turnoff for Woods Canyon on the left side of FR 300.
To enjoy your weekend at this lake, you'll turn left onto FR 300 off of the 260. After about 3.3 miles, you'll see the turnoff for the lake. Head straight for another mile and a half.
Chevelon Canyon Lake
This deep, canyon lake is for those not afraid to get into the backcountry and work hard for the sake of peace and quiet. Chevelon Canyon Lake is the largest of the six. It's most difficult to access, but also the most serene and remote.
View this post on Instagram
On the right day and at the right time, you may be the only human in sight. You'll trade in noisy chatter for sounds of trees swaying in the wind and water gently crashing onto pebble shorelines.
At the beginning of FR 300, you'll drive for 8.5 miles until you see the turn off for Chevelon Canyon Lake. Continue for another 12 miles until you reach the parking lot and the first-come first-serve Chevelon Canyon Campground — in case you'd like to stargaze. Once you've parked, you'll notice a large trail. This is the start to the steep three quarters of a mile hike down to the lake.
Bear Canyon Lake
Bear Canyon Lake is begging you to spend your summer days here. Its chilly waters are medicine for the desert heat.
View this post on Instagram
Bear Canyon isn't nearly as difficult to access as Chevelon, but does require short jaunt to get to the shore. It's also another 20 minute drive along FR 300 once you pass the turn off to Chevelon. Just keep following the signs and you'll have the choice of two parking lots.
With all this being said, if you're willing to go the extra miles, you'll be happy you did. Bear Canyon is one of the most scenic of the six.
Only the determined souls would dare to bring kayak onto the lake considering the short hike and lack of a boat launch, but if you're up to challenge, you'll be rewarded.
There's also no shame in lying down on a towel and getting a full dose of Vitamin D. You can camp at the firest-come first-serve Bear Canyon Campground, too.
Knoll Lake
Knoll Lake is the only lake out of the six in Coconino National Forest. It's the last big lake along FR 300 — if you entered from the east side, that is.
The beauty of Knoll Lake is that it's situated about half way from each entrance of FR 300, is easily accessible and there is a boat dock.
After you've passed the sign for Bear Canyon, continue on for another 7.8 miles until you reach the turnoff. Follow the signs from here.
Not every person is up for that drive, but if you are, you can conveniently fish, kayak or wander without the crowds at Woods Canyon.
Be sure to explore the island in the middle of the lake. If you're fortunate, you may be the only one on the water, or you'll only be sharing it with a couple other fishers and paddlers.
These moments are ripe for relaxation, breathing in crisp oxygen and watching the sunlight flicker on the water's surface. Similar to other lakes tucked deep in the forest, Knoll Lake Campground is first-come first serve.
The Other Lakes
Aside from the six major lakes up on the Rim, there are several lakes throughout the region that you may want to put on your agenda. Some are just smaller and hidden away (e.g. Potato Lake), while others are located further north of the Rim proper (e.g. Blue Ridge Reservoir).
Camping on the Rim
The Mogollon Rim is undoubtedly a camping mecca for Arizonans. Nature lovers flock from every direction to experience its wonders.
And if can snag a camping spot on the Rim's edge, it's an experience like no other. Crawl out of your tent for sunrise, and you can watch almost half of Arizona glow into existence. See it for yourself.
View this post on Instagram
A majority of designated campgrounds are open from May to October, dependent upon weather and other hazards. But if you'd rather take matters into your own hands, primitive camping is open year-round.
Keep in mind that after heavy snowfall in the winter, FR 300 can be closed permanently. Be sure to check road conditions before you head out. Aside from the camping mentioned in "The Lakes" and "The Scenic Drive" — here's a few more options.
Rim Campground
If you want to camp near Woods Canyon Lake and all the other nearby campgrounds are full, the Rim Campground is a fantastic back-up plan. It's only .8 miles from the east entrance onto FR 300.
Reservations must be made 4 days before your arrival, but you can make them 6 months in advance. Sites are $18 a night for one car ($9 per extra vehicle). The grounds are equipped with picnic tables, fire rings, bathrooms, drinking water and trash service.
FR 9350 Campground
If you prefer to do without the additional camping amenities, FR 9350 Campground offers delightful views and a primitive experience.
View this post on Instagram
It's only 6 miles down Rim Road on the left — where you have your first sight of Aspen trees. Stay left at the fork and the road will eventually take a hard right. Numerous spots are available along this road, but all are first-come first-serve.
Great Rim Camping Near Potato Lake
In case you start down FR 300 from the west side — just north of Strawberry — there is killer free camping near Potato Lake. From the west entrance, drive about 4.6 miles and it'll be on your left. Luxury camping amenities are not included, but you can count on a quiet night in the forest.
Kehl Springs Campground
Kehl Springs Campground serves as another lovely option if you're coming from the west entrance.
View this post on Instagram
These grounds are free of charge so they don't come with every bell and whistle. But you'll still have the luxury of a picnic table, fire ring and vault toilets. Plus, it's situated close to the edge of the Rim — the perfect setting for sunset. To get here from the west entrance, go 7 miles and the campground will be on your left.
Camping Below the Rim
There numerous campgrounds located in the forests below the Rim too. Clustered along Highway 260 a few miles below the crest of the rim, the nearby creeks make these great options for camping near water if you don't care about being near the lakes.
Camping in these elevations between 5,000-6,000 feet means it's a bit warmer, which can really make your trip if you're planning to go early (April-May) or late (October) in the camping season. However, know that the hottest summer days can approach 100 degrees in this region.
Christopher Creek Campground
The 43-site Christopher Creek Campground is the best of the below-the-rim offerings. Score a reservation in advance or get super-lucky as a walk-up and you might get to camp creekside.
View this post on Instagram
Even if you don't get a creekside spot, every campsite is nice in this pine-forested valley. The campground is located about 20 miles east of Payson on the south side of Highway 260.
Ponderosa Campground
While this one isn't creekside, Ponderosa is still a beautiful campground set in — you guessed it — a stand of old-growth Ponderosa pine. This 48-site campground is nice and spacious too.
Reservations are available on reservation.gov. Drive from Payson on Highway 260 for 14 miles for the signed turnoff to the south.
Sharp Creek Campground
On the other side of Christopher Creek is the Sharp Creek Campground, 23 miles east of Payson. Once again, towering Ponderosa pines keep this campground cool.
Sharp Creek itself is usually dry, but the cool waters of Christopher Creek are only 3 miles down the highway. Make your reservation in advance as this campground only has 20 sites.
Tonto Creek Campgrounds
These two campgrounds are located within a half-mile of each other, however Upper Tonto Campground is the more desirable of the two — the lower campground is right next to the highway.
These campgrounds have rugged ground, so you'll be more comfortable navigating in a truck or SUV than a sedan. Campsites are first-come first-serve, so come early in the day to snag a spot.
The popular Horton Creek Trailhead is located at the north end of the upper campground — it's a great location to camp for creek-hungry hikers and anglers — but expect to see a lot of foot traffic.
Nearby Tonto Creek also has plenty of roadside spots to dip your feet or your fishing line in the water.
Hiking Above the Rim
It's a scorcher to hike in the desert during the summer. But the Mogollon Rim is an exception due to cool temps at high elevation matched with shade from the trees. If you don't feel like being bound by walls to stay cool, take a drive and give one of these hikes a go. We've broken them down by difficulty: easy, moderate, and challenging.
Rim Lakes Vista Trail
Difficulty: Easy
The trailhead for this hike is located at the Military Sinkhole Vista parking lot — about 2 miles from the east entrance of FR 300. If you're facing the glorious views, which you should be, the trail is on your right.
View this post on Instagram
This 7 mile out-and-back trail will guide you along the edge of the Rim through Gambel oak, Quaking aspen, and boulders too. This easy-to-follow trail has a handful of paved sections and plenty of stunning photo ops. A must do!
Woods Canyon Lake Loop
Difficulty: Easy
Woods Canyon Lake has it all. Camping, boating, fishing and even a general store. Additionally, it has a 5-mile loop hike that hugs the shore line.
View this post on Instagram
Woods Canyon may be known for its crowds, but this hike will quickly drown out the voices and surround you with Ponderosa pine, Bracken fern, and wildflowers. From the east entrance of FR 300, drive a little over 3 miles and you'll see the turn off on your right.
Head straight for another mile and half. Once you park, head east toward the dam where you'll find a dirt path. Blue, plastic diamonds will guide you the rest of the way.
Cabin Loop Trail System
Difficulty: Moderate
The Cabin Loop Trail System is made up of 5 different trails that penetrate deep into the forest, making it an area ideal for backpacking. This area is where the Forest Service first started spreading its roots, so not only will you be trekking through changing landscapes, lush forests, creeks and streams — you'll be walking through history.
If you want to dive head first into a hefty backpacking trip and explore this whole region, we recommend starting with the Fred Haught Trail to keep all your options open. Once you're at the trailhead, you can tour through General Springs Cabin and observe the Battle of the Big Dry Wash monument.
After three miles on Fred Haught, you can veer left onto the Arizona Trail (Blue Ridge Segment). This section of the Arizona Trail will wind you through meadows and canyons all the way to Blue Ridge Reservoir and beyond for a total of 15.8 miles.
If you decide to stay the course of Fred Haught, the trail will fork after another 3 miles and you can choose the Houston Brothers Trail or the U-Bar Trail. Houston Brothers leads you through the valley of Houston Draw and parallels a spring-fed stream for 7 miles.
U-Bar will take you through forested canyons and various water sources for 6.5 miles. The end of the U-Bar Trail connects you to the beginning of the Barbershop Trail, which meanders through grassy meadows, creeks and thriving trees for 4.5 miles.
View this post on Instagram
The end of the Barbershop Trail links to the last segment of Houston Brothers. Houston Brothers, Barbershop and U-Bar make a loop of their own.
To set out on your hiking excursion, it's best to come from FR 300's west entrance C north of Strawberry. Once you're on FR 300, keep going for about 12 miles. Turn left at Arizona National Scenic Trail/Forest Road 393 and continue on for just a few more minutes. The Fred Haught Trailhead will be on your right.
Turkey Springs Trail
Difficulty: Challenging
For those looking for a challenge that gets your blood pumping, Turkey Springs Trail is your go-to hike. It's just under three miles out and back, but it's quite the decent going down, and quite the climb coming up.
View this post on Instagram
However, the stunning, panoramic views and pine-scented air make it all worth it. Plus, you'll feel accomplished afterward. That's part of the reward, right? If you're looking for even more of a challenge, you can loop it with a couple of extra miles on the West Webber Trail.
To get your scenic, workout-of-the-day in, hop onto FR 300 from the west entrance. Stay south for about 1.4 miles, then take a right onto Milk Ranch Point Rd. The trailhead will be on your left.
Hiking Below the Rim
Truth be told, the best hiking in the Rim country might actually be along the creeks that sprout from the wall of the Rim. There's dozens of hiking options combining different trails, so we'll cover the most popular ones.
Horton Creek Trail
Difficulty: Easy / Moderate
The Horton Creek Trail is the most popular hike in the Rim Country, and for good reason. Horton Creek's tumbling cascades and pine forests are as idyllic as they come.
And this is definitely a hike where there's not one climatic destination — although Horton Spring is darn cool. It's completely reasonable to turn back whenever you feel you've gotten your fix.
If you wish to go all the way to see Horton Spring, it's worth it the 7 mile round-trip hike. It's the source of the creek, and it's an incredible sight to see.
The trail parallels the creek, with lots of spur trails that drop down creek side, making this best suited for those ready to explore rather than simply pound up the trail.
This trail is absolutely backpackable, and makes for a pretty easy trip with great water access. And of course, it's in the forest so it's great for hammock camping.
Access the Horton Creek Trailhead about 1/2 mile up Tonto Creek Road after turning off from Highway 260.
See Canyon Trail
Difficulty: Easy / Moderate
The See Canyon Trail is a nice alternative to the crowds of Horton Creek. Of course, the trailhead is often a zoo because it's a popular car camping spot. But once you're on the trail, it's usually pretty mellow.
The trail parallels the Christopher Creek all the way up to the Rim (7 miles round-trip), but this is another one where you can go just as long as you want.
About a mile from the trailhead, a spur trail shoots off to the east and takes you to See Spring.
To get to the See Canyon Trailhead, take Highway 260 to the turnoff for Christopher Creek village. From the village, take FR 289 a mile and a half to its end.
Water Wheel / Ellison Creek Cascades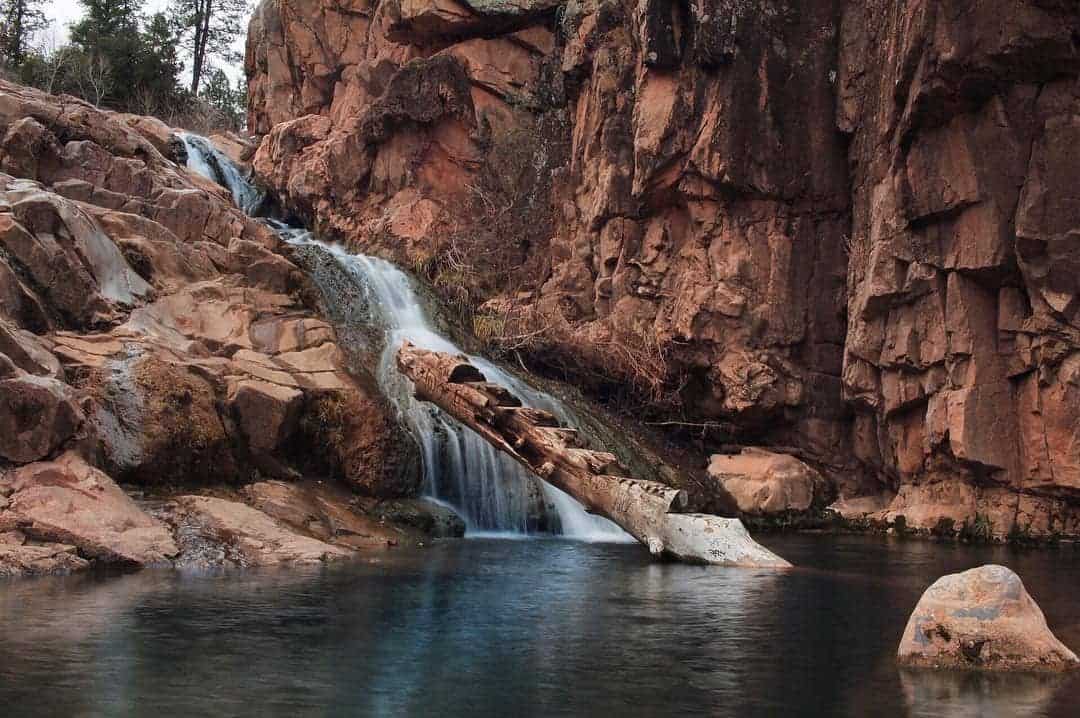 Difficulty: Easy
This is a pair of waterfalls and swimming holes that can each be done alone, or combined into one hike as they're super close to each other near the confluence of the East Verde River and Ellison Creek.
Parking is available at both the Water Wheel Trailhead and the Second Crossing Picnic Area, located within a half-mile of each other on Houston Mesa Road.
If you're just shooting Ellison Creek, park at Second Crossing and it's an easy mile hike down an old Jeep road.
If you're combining the two, rock hop and wade your way through the creek, and you can even loop back by walking along Houston Mesa Road.
Be warned, this area is more scrub than forest, and at 5,000 feet elevation, can climb over 100 degrees in summer. Be prepared with lots of drinking water, sunblock, and the desire to swim.
Other Activities
In case you'd like to indulge in other recreational activities, we've listed a few more options. If any of these experiences sound sublime to you, but you don't have the gear, not to worry.
We recommend renting all your equipment needs from Rim Country Recreation. It's a family business. All you need to do is call them, give them the details of your trip, and you can organize a pickup or delivery. They will even strap the rentals to your car.
Fishing
If you ask Arizonans what their favorite pastime is, many a local will say, "Fishing on the Rim." All of the lakes in Rim Country present golden opportunities for fishing.
View this post on Instagram
Most are stocked with rainbow and brown trout. Bear Canyon Lake also has brookies, cutthroat, and arctic grayling. And even though Chevelon Canyon Lake is the most difficult to access, you'll catch some of the biggest fish on the Rim.
Wherever you decide to fish, just remember there is a six trout maximum.
Mountain Biking
If you prefer a bit more speed and exhilaration than hiking, nearly every trail on the Rim in suitable for mountain biking, too. We recommend the Cabin Loop Trail System, considering the dozens of miles the trails make up and the variety of terrain you'll pass through. You can read more about the Cabin Loop Trails in the hiking section above.
Kayaking & Paddleboarding
Every major lake, aside from Bear Canyon and Chevelon, are equipped with boat ramps for you to launch your kayak. That's not to say you can't kayak or paddleboard at Bear Canyon or Chevelon, but it requires a bit more work.
View this post on Instagram
You can learn more about these potential challenges in "The Lakes" section. Give your tired soles a rest and spend your day floating on water.
Mogollon Rim Visitor Center
If this guide hasn't provided you with all the information you need when you get out into the wild, there's always the Mogollon Rim Visitor Center for back up. Granted, going to the visitor center is part of the Rim Country experience. Not only can you get all your questions answered about the region, but there is a viewing deck — the one thing this guide can't offer.
There's no actual address, but if you're taking the east entrance to the Rim off Highway 260, the visitor center is directly across the road on your right.
Explore More of Arizona
Sign up for Weekend Wanderer to join 10,000+ readers getting epic travel ideas every week.
Was this article helpful?
---