We research, evaluate and select travel destinations based on a number of factors, including our writers' experience and expertise, user reviews and more. We may earn a commission when you book or purchase through our links. See our editorial policy to learn more.
---
Big Sur is a hiker's paradise. With panoramic coastal views, backcountry camps aplenty, and towering groves of those famous redwoods, it's hard not to fall in love with this slice of central California.
Unlike California's national parks or the Eastern Sierra Mountains, Big Sur does not yet require permits for intrepid hikers looking to spend a night among the big trees and stunning ocean vistas. This makes it an excellent option for last minute backpacking trips coming from Los Angeles, Sacramento, or San Francisco. It's also a great locale for winter and spring months when the Sierras are still socked in with snow.
California's famous Highway 1 cuts right through the heart of the woodsy little town, cruising right past notable spots like Nepenthe, Julia Pfeiffer Burns State Park, and the Piedras Blancas elephant seals. With only one main road into and out of Big Sur retains its rugged remoteness.
Far away from large cities and bordered by mountains and sea, there's no cell service for about a mile radius in any direction. Backpackers here will want to purchase or print out paper trail maps or download a topographic map onto a GPS app before hopping into the car.
Every season brings a little something different to Big Sur, making the optimal tourist season year-round. In spring, Indian paintbrush and California poppies burst with color along every hillside. In summer, sunny skies and warm temperatures crowd the trails. In fall, you'll see moderate temps and seasonal color changes, and winter brings gray whale watching, more rain, and fewer crowds.
For those planning to camp overnight in the Ventana Wilderness / Big Sur backcountry, California fire permits are required if you intend on lighting a fire or even using a camp stove. They are free to obtain and can be found here.
Fires are only allowed in pre-existing fire rings, and fires must be completely extinguished with water and a shovel before you go to bed. Check the Big Sur Parks and Recreation website to see if any seasonal fire restrictions are in place before you venture out.
Visitors to Big Sur will want to note a few more things – ticks and poison oak are common sights in the backcountry. Day hikers and overnight travelers will want to come prepared with a hardy bug spray and long hiking pants.
Related Read: How To Go Backpacking Solo & Start Enjoying Solitude Like No Other
Big Sur's Best Backpacking Trails
From creek-fed oak groves, to fern-covered redwood forests, to enchanting ocean viewpoints, there's something for everyone in the Big Sur backcountry. Escape the crowds and plan an overnighter to really experience the magic of this far-flung locale. Here's a list of our favorite backpacking trips in the area, with a few hidden gems thrown in for good measure.
For tips on day hiking or car camping in Big Sur, check out our other two articles:
1. Kirk Creek Trail to Vicente Flat Camp
Why you should go: Steep hike to epic mountaintop views of the Pacific Ocean.
Distance: 10.1 miles (round trip)
Elevation Gain:

3,308 feet

Difficulty:

Challenging
The Kirk Creek Trail offers a taste of the best that Big Sur has to offer, all crammed into an epic overnight trip that's only 5 miles each way.  This makes it a great hike for beginner-intermediate backpackers who just want to escape for the weekend.
The trail starts off across the street from the Kirk Creek Campground, a car camper's paradise (if you can snag one of the always booked reservations!). Park off the road and you'll see a large, wooden sign boasting the mileage up to Vicente Flat Camp and beyond.
"Vicente Camp is in a beautiful redwood grove and both Cone Peak and Vicente Flat are amazing hikes, depending on whether you want to see the ocean or the trees," said backpacker Sarah Peloquin on AllTrails.
When it's sunny outside, the beginning of the trail is very hot and exposed, a 3-mile uphill climb with little shade. But the views are to die for. The aquamarine waters of the Pacific Ocean can be heard rumbling below as trekkers ascend a series of dusty switchbacks.
If your legs have had enough after the 3,000-foot climb in just three miles, you could pitch your tent at Espinosa Camp around mile 3.25, but we recommend going the distance and passing the lovely green hillsides and lush meadows on the way to Vicente Flat Camp proper. There are more sites here, and the water is much more reliable.
Peakbaggers camped at Vicente might want to add on an extra day and an extra 5-mile round trip hike to tackle the trail to Cone Peak, the highest in the region.
When you're ready to go home, simply turn around and head back the way you came. This is one of the most magical hikes in Big Sur and is truly a gem that only California could boast.
Related Read: 6 Phenomenal Backpacking Trails in Joshua Tree National Park
2. Salmon Creek Trail to Estrella Camp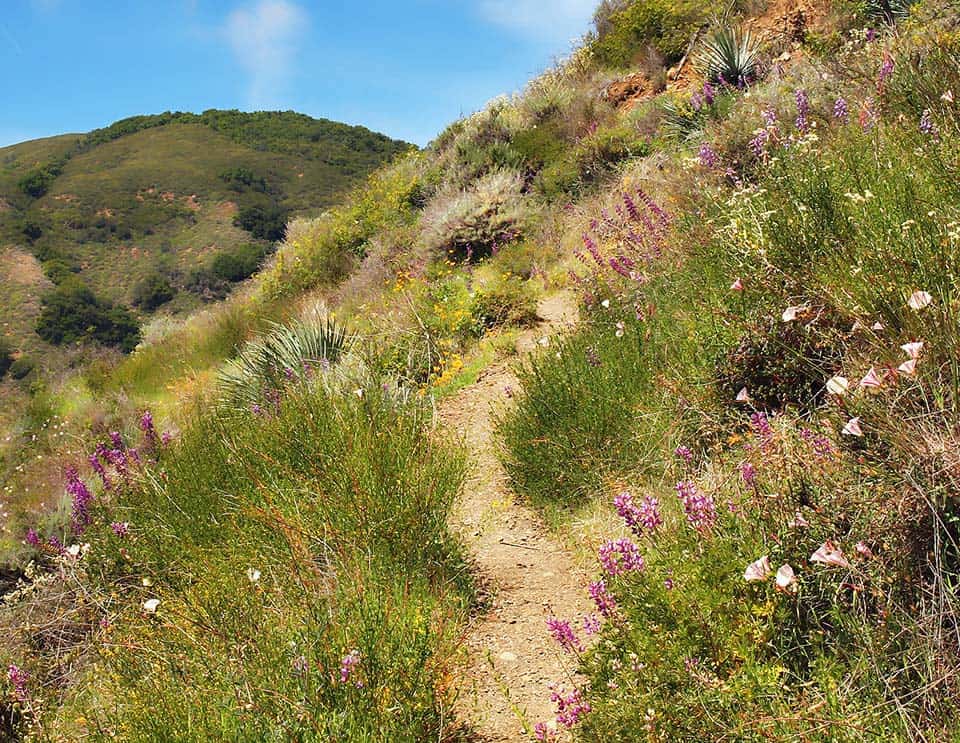 Why you should go: Short trek through coastal chaparral to creekside campsites.
Distance: 6.5 miles (round trip)
Elevation Gain:

2,077 feet

Difficulty:

Moderate
The Salmon Creek Trail veers past a magical double waterfall before ascending to a lush meadow in the Santa Lucia Mountains with plenty of space to sprawl out.
Located in the more southern Silver Peak Wilderness, this quick overnight trek through Big Sur's wooded mountains is awesome for those driving in from Los Angeles or San Diego who want a shorter commute. Park just off Highway 1 at Salmon Creek, where a brown metal sign states the mileages to nearby camps (Spruce Camp – 2 miles, Estrella Camp – 3.25 miles).
"The whole terrain was amazing to me. The trail is often cut into a high ledge on a steep mountainside, but the plant life is so abundant you sometimes don't notice. Beautiful!" said visitor Scott Hadley on AllTrails.
Take the spur trail to check out the enchanting Salmon Creek Falls, then get ready for a work out. Hike up through coastal chaparral and grasslands before the trail intersects with Spruce Creek, which can swell up to four feet after a big rain. The first campground (Spruce Camp) is located here.
Veer left and continue the slow and steady climb up to Estrella Camp, the real gem of the trek. In hot summer months, there are ample opportunities to cool off by hopping into the creek near the campsites. Bring a hammock, chill out, and enjoy the ultra dark night skies.
When you've had enough, you could continue onward to Three Peaks Camp for a longer journey, or simply turn around and head back to your car the way you came in. Enjoy those sweeping ocean views on the way down – you've earned them.
Related Read: 11 Stunning Hikes Near Santa Cruz, California
3. Buckeye Trail to Alder Creek Camp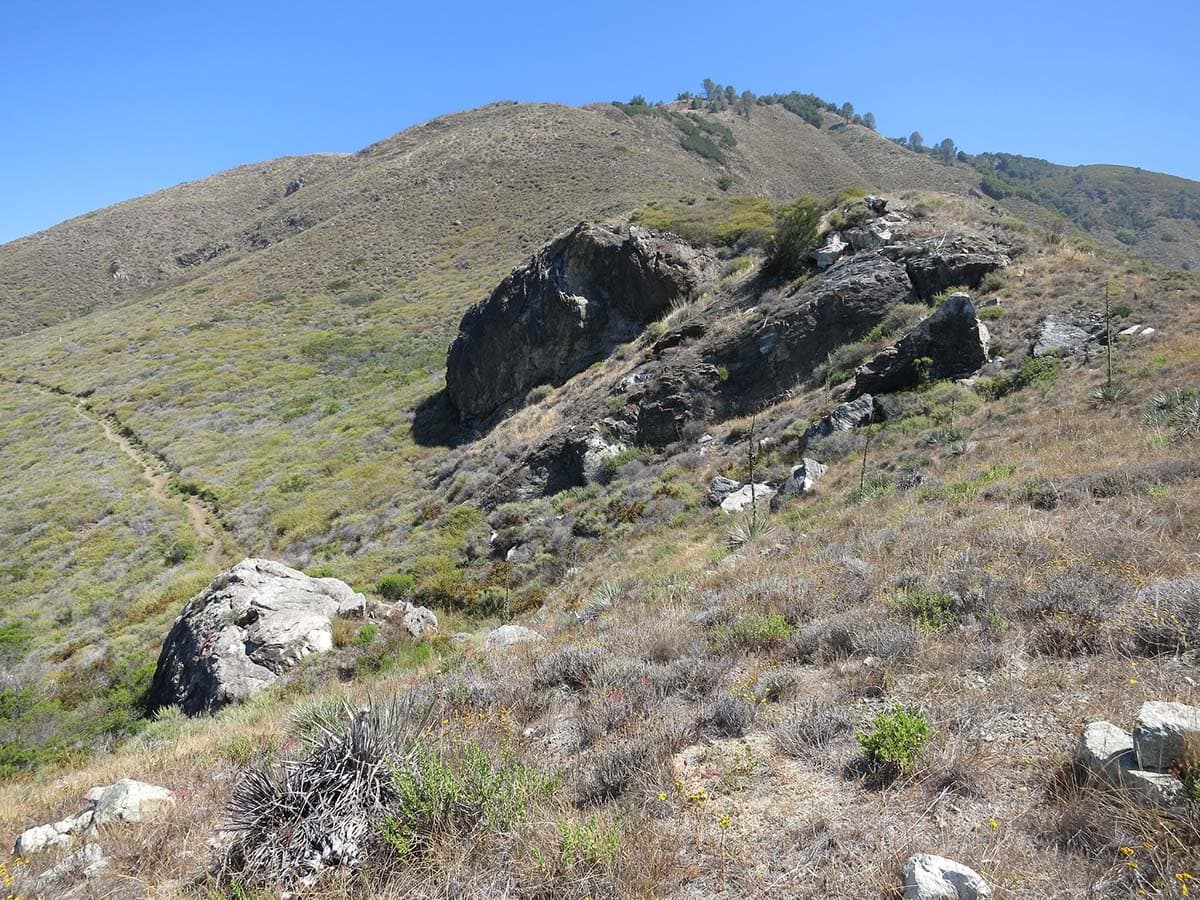 Why you should go: See the southernmost grove of coastal redwoods and camp among laurels, ponderosa pines, and sycamore trees.
Distance: 17 miles (round trip)
Elevation Gain: 2,000 feet
Difficulty: Moderate
Park at the historic Salmon Creek Ranger Station (now closed) in the Silver Peak Wilderness and lace up your hiking boots — you're about to climb. As you ascend the Buckeye Trail, those magnificent coastal views that Big Sur is famous for will soon come into view, and you'll feel well rewarded for your efforts.
Pass through the Southern Redwood Botanical Area, then continue on to Buckeye Flat and Upper Cruikshank Camp. These are both great options for camping if you're looking for a shorter trek or would like to break the distance into a two-night backpacking excursion.
Be careful crossing Villa Creek, then swing through the Alder Creek Botanical Area, a less-traveled but well worth it hidden gem. Enjoy crowd-free spectacular views along the verdant, grassy hillsides before calling it a night in the woodsy wonderland of Alder Creek Camp.
Related Read: The 14 Best Hikes at Point Reyes National Seashore
4. Pine Ridge Trail to Sykes Hot Springs
Why you should go: Glides up and down a series of mountain ridges then pass through redwood forests on the way to Sykes Hot Springs.
Distance: 20 miles (round trip)
Elevation Gain:

3,810 feet

Difficulty:

Strenuous
The Pine Ridge Trail is, by far, the most well-known and well-worn of the Big Sur backpacking trails.
Because of its incredibly crowded nature, we recommend doing this trail in the off season or on a weekday, when you're more likely to have the pools to yourself. Start off by parking at the Big Sur Ranger Station, then traverse a relatively easy 1-mile stroll through forest and grasslands before the first big climb.
The first climb is also the largest of the journey, a sunny 1,200-foot jaunt up the side of a huge canyon that was eroded by the churning Big Sur River. Look east, and you'll see the towering peaks of the Ventana Wilderness. Look west, and you see the deep blue surf of the Pacific Ocean.
As you continue to hike over rolling hills towards the hot springs, you'll pass a series of less crowded backcountry camps that are great if you're looking for a more mellow vibe. Ventana Camp is 5 miles in, while Barlow Flat Camp (the largest on the trail) is a bit closer to the springs, 6 miles in.
"The hot springs felt great and were truly an amazing experience. The river is beautiful and the camp is very comfortable," said visitor Priscilla Lee on AllTrails.
The trail involves crossing the Big Sur River twice, so check conditions before you go and bring water shoes. Once you've arrived at Sykes Camp, look for a wide, flat area near the river to pitch a tent. The hot springs are about a half-mile walk from the camping area. Just follow the river downstream (and hunt for salamanders along the way!) until you see a series of three small stone pools.
The pools can only comfortably fit 8-10 people at a time, so go early if you'd like some solitude. If your legs are ready for more hiking, continue on another 3 miles to Redwood Camp, a gorgeous, secluded site in a huge grove of old growth redwood trees, far from the weekend warrior madness at Sykes.
When it's time to go, just head back the trail the way you came and consider making a donation to the parks department at the ranger station for all the hard work they do.
Related Read: South Bay Hikes: 14 Hikes Near San Jose With Stunning Views
5. Stone Ridge Trail to Goat Camp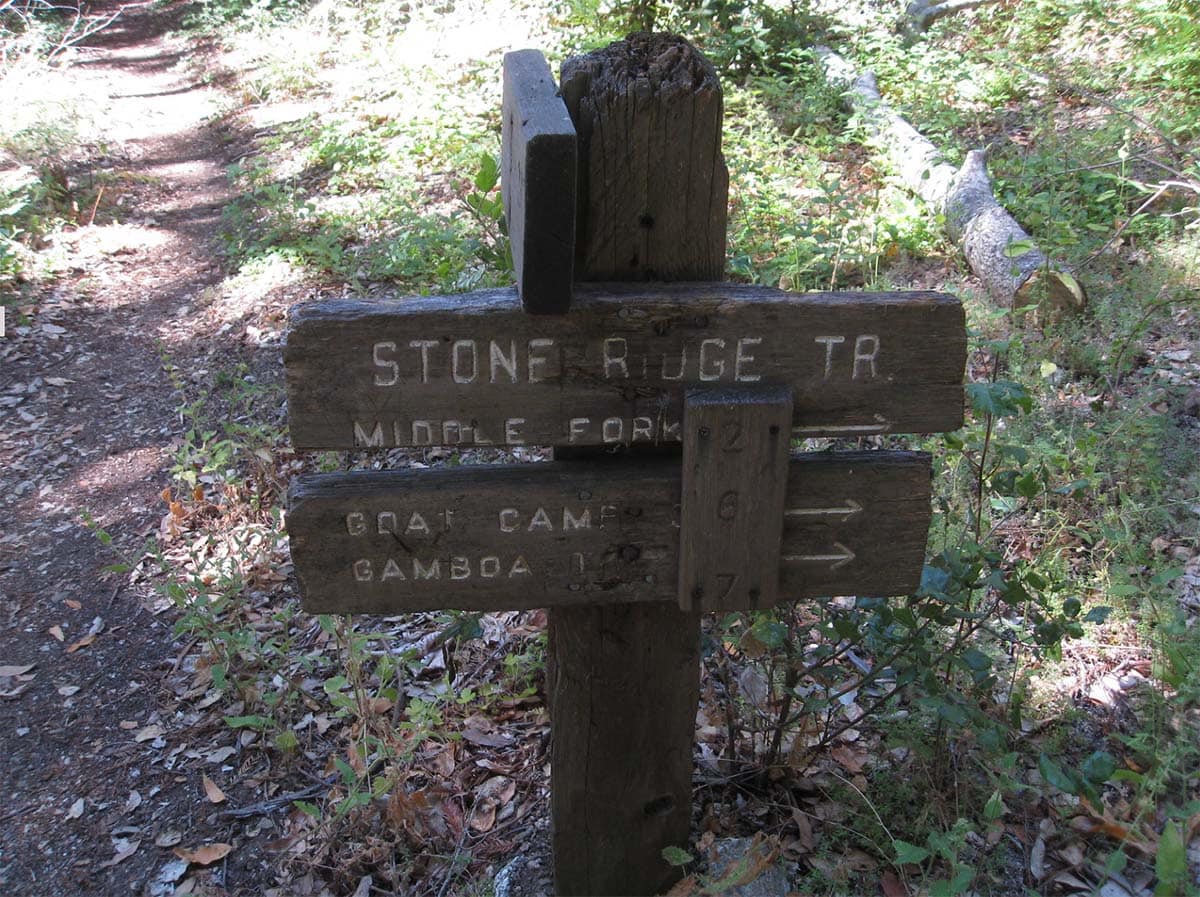 Why you should go: Steep, lesser-known path in the heart of Big Sur serving up some of the best ocean views in town.
Distance: 22 miles (round trip)
Elevation Gain:

2,400 feet

Difficulty:

Challenging
Park in the wide shoulder off Highway 1, between Lucia and Limekiln, then cross the street and look for the sign marking the Twitchwell Flat Use Trail. Head through the small gate and onto the trail itself. Alternately, hikers could tack on a visit to Goat Camp by adding a 5-mile round trip hike onto the Kirk Creek Trail.
"We decided to take Stone Ridge to Goat Camp which was 2.5 miles further up the trail past the intersection. Absolutely the most stunning views from the intersection!" said backpacker Scott Campbell on AllTrails.
This trail starts climbing almost immediately and doesn't quit until you reach the flat, grassy campsites at Goat Camp. Follow the trail up a steep, 2,000-foot climb through grasslands, forests, and wood sorrel, being careful not to step into poison oak along the way.
Eventually, you'll come to a four-way intersection of trails. Veer left onto the Stone Ridge Trail and climb another 400 feet until you reach the top of the ridge where Goat Camp is located. Pitch your tent, grill up some dinner, and gaze out at the wide-open Pacific as the sun turns nearby clouds into neon shades of marigold and lavender.
From here, hikers could connect to other campgrounds along the Stone Ridge Trail, or simply head downhill and back to the car.
If you're not too exhausted from the hike, there's a nearby and worthy detour to be found in Limekiln State Park. A series of short, easy trails take hikers up and into the mossy redwood forests and around a series of historic limekilns, remnants from the Big Sur of yesteryear.
Related read: 7 Dreamy Glamping Spots in Big Sur, California
More Backpacking Ideas
Sign up for our free email to join thousands of readers getting epic travel, hiking, camping and gear ideas every week.
---