Looking for a high mountain oasis without the long drive to Mammoth? Look no further than Big Bear Lake.
It's a paradise for hikers, mountain bikers, boaters, and equestrians seeking tranquil forests, big vistas, and moderate peakbagging treks.
Located an easy two-hour drive from Los Angeles and just three hours from San Diego, Big Bear Lake is a quintessentially woodsy mountain town that's well worth a visit year-round.
Pick Your Season
In winter, the ski slopes open up, and many trails are accessible for snowshoeing. In spring, snowmelt fills rushing creeks and Big Bear's namesake tarn. Wildflowers begin to pop in mid-spring and continue filling the valley with color through early summer.
In summer, temperatures heat up, and hiking and fishing season begins in earnest (bring plenty of bug spray!). Fall sees fewer crowds, cooler temperatures, and the occasional burst of fiery orange from aspen trees along the trail.
The alpine wilderness of Big Bear Lake is the perfect salve for city dwellers who need a break from the smog. Situated at a base elevation of 6,752-feet above sea level, it's a haven for lush ponderosa, Jeffrey, and lodgepole pine trees. Douglas fir and incense cedar are also a common sight.
As for wildlife, the Big Bear area is home to hundreds of fascinating and rare creatures, from mountain lions, to black bears, to bald eagles.
Stay Nearby
There are tons of lodging and camping options in the area, and whether you're seeking a luxury cabin vacation rental or a far-out wilderness campsite, you're sure to meet your match at Big Bear. Serrano Campground and the Big Bear Yellow Post Sites are two of our favorites — check out a few more of our favorite places to camp in SoCal.
A word to the wise — the San Bernardino National Forest (where Big Bear is located) is often under moderate to high fire warnings.
Fires are only allowed in developed recreation sites within Forest Service provided campfire rings. Smoking is only allowed in enclosed buildings, vehicles, and locations with at least a three-foot diameter of nonflammable space (like a parking lot), not on trails or in wild spaces.
As for parking, most trailheads offer their own parking lots with vault toilets. A National Forest Adventure Pass (or any pass that includes USFS land) will need to be displayed on your vehicle while parked within the forest boundaries.
Want to bring your four-legged friend along? No problem. Dogs are allowed on trail in the Big Bear Lake area, as long as they are on a six-foot or shorter leash and under your control at all times.
Related Read: An Epic Guide to California's 14ers: Hiking & Climbing the High Peaks
The Best Hikes at Big Bear Lake
View this post on Instagram
1. Cougar Crest to Bertha Peak
Why you should go: Hop onto the PCT and summit a forested peak overlooking the entirety of Big Bear Lake on this moderate outing.
Difficulty: Moderate
Distance: 8 miles
Elevation Gain: 1,295 feet
The trek up to Bertha Peak (8,201 ft.) is one of those quintessentially Big Bear hikes that you won't find anywhere else.
It starts at the popular Big Bear Discovery Center, winds through a lovely old growth forest full of fragrant pine trees, hops onto the Pacific Crest Trail, and ends on top of a mountain with panoramic views of the town of Big Bear and the massive alpine lake it borders.
It's on the southern, sunnier side of the mountain, too, which means it'll be free of snow earlier in the year than many of its counterpoints.
To hike this trail, park at the Big Bear Discovery Center, a family-friendly destination full of friendly volunteers, area exhibits, and wildlife info. Next, follow the wide, half mile bike path to a sign marking the true beginning of the Cougar Crest Trail to Bertha Peak.
Three miles in, you can get your kicks on the PCT, as the trail briefly turns and heads east along this famous footpath. Hikers will complete their ascent by traversing a fire road to the true summit. Crack a summit bear or have a snack while enjoying the phenomenal views before heading back the way you came.
Related Read: 9 Epic Cabin Rentals in Big Bear for Snow or Sunshine
2. Pine Knot Trail to Grand View Point
Why you should go: Climb up and into a true alpine landscape in Southern California and finish with a stunning view of San Gorgonio Mountain on this all-day excursion.
Difficulty: Moderate
Distance: 7 miles
Elevation Gain: 1,095 feet
Few places in Southern California will bring hikers face to face with real, alpine wilderness. Most wanderers would have to travel deep into the Sierra Nevada to catch a glimpse of the types of wonders that the Pine Knot Trail holds.
From lush meadows full of penstemons and corn lilies, to forests full of ponderosa pines and mixed conifers, to sweeping views of 11,000-foot snow-capped peaks, this hike up to Grand View Point really delivers the goods.
The trek begins at the woodsy, Aspen Glen Picnic Area. The trail starts as a shaded path near the parking lot and restrooms and quickly climbs through grassy meadows full of colorful pops of wildflowers.
Keep a lookout for brown trail markers that say "PINEKNOT" in bold as you ascend – the trail is well signed and easy to follow. As you climb, the landscape will begin to open up, with fields of manzanita dotting the high hillsides between towering pines.
From the trail's end at Grand View Point, one can check out some epic views of San Gorgonio Mountain, San Bernardino Peak, and Sugarloaf Mountain.
Related Read: 9 Stunning Hikes Near Malibu, California
3. Woodland Interpretive Trail
Why you should go: This easy, family-friendly stroll gives hikers the opportunity to self-guide a nature walk and learn about the area's flora and fauna.
Difficulty: Easy
Distance: 1.5 miles
Elevation Gain: 220 feet
Ever wanted to learn more about the trees and wildflowers that call Big Bear Lake home? This mellow stroll through the forest has got you covered. With easy parking, free brochures at the trailhead, and a gently graded footpath, this interpretive trail provides a great way for little ones to dive head-first into some SoCal forest knowledge.
Start out by parking just off Woodland Road on the north shore of Big Bear Lake. Vault toilets are available at the trailhead.
The trail is meant to be hiked counter-clockwise, if you're following along with the brochure. Visitors will have the opportunity to check out massive, 1,500-year-old juniper trees, scarlet penstemon flowers, live oaks, woodpecker roosts, and views of San Gorgonio peeking out from above the surrounding mountains.
Reserve 45 minutes to an hour to complete the full loop with nature guide.
Related Read: 10 Best Hikes In Mammoth Lakes, California
4. Skyline Trail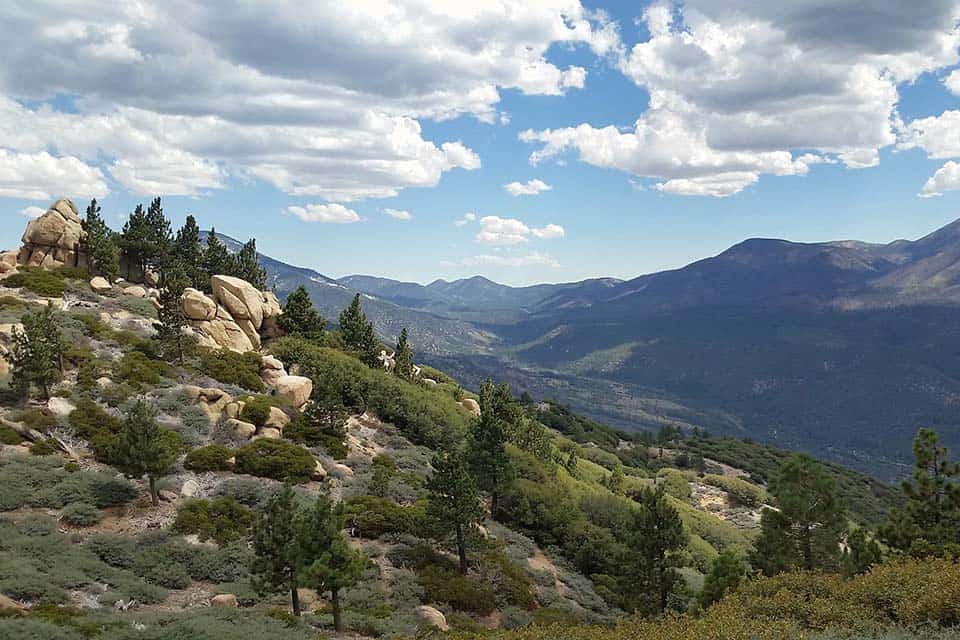 Why you should go: This dirt singletrack trail is one of the longest in the area — providing a great lengthy trek for trail runners, mountain bikers, and overnight backpackers.
Difficulty: Challenging
Distance: 15 miles (point to point)
Elevation Gain: 1,535 feet
The Skyline Trail passes through many of the top sights a visitor to Big Bear Lake would want to see on their trip — expansive views of the deep sapphire tarn, huge forests of Jeffrey pine, and a quick jaunt past Grand View Point, another trail that made our "best of" list.
The trail itself technically begins at the intersection of Forest Roads 2N10 and 2N06, but hikers and bikers here can choose to hop on or off at a different junction to create a shorter or longer journey around the south side of the lake.
Start at the end of Dogwood Drive, near Big Bear's Moonridge neighborhood. The road will eventually turn to dirt, and then you'll know you're in the right place. The trail wastes no time in climbing for the first two miles along well-graded switchbacks cut into the mountainside. Hikers will wind through huge pine trees, bright green swaths of manzanita, and fields of alpine boulders.
A little past the halfway mark, Grand View Point comes into view, and it's an excellent place to stop for a lunch break to take in the marvelous views of the area's high peaks, including San Gorgonio Mountain.
From here, it is possible to detour onto the 12.5-mile Aspen Glen/Skyline Loop and possibly even overnight at the Deer Group Campground, just off trail. If you're committed to being a Skyline Trail purist, continue along the ridgeline, taking in the jaw-dropping views, then follow the trail as it curves north along a forest road.
The route ends at Metcalf Creek, from which hikers can jump onto the aforementioned Aspen Glen/Skyline Loop to a shuttled car, or turn around and hike the long, long trek to the starting point.
5. Castle Rock Trail
Why you should go: Journey through Big Bear's lush pine forest to an impressive rock outcropping with views of the lake peeking through the trees on this popular hike.
Difficulty: Moderate
Distance: 2.5 miles
Elevation Gain: 755 feet
This trail up to Castle Rock is the most popular hike in all of Big Bear, and it's easy to see why. It manages to tow that line of being accessible to most beginner and intermediate hikers while still providing a fun workout and rock scrambling options for the more experienced in your crew.
Visitors looking to add on some extra mileage can continue along the intersecting forest road towards Champion Lodgepole Pine Trail and Bluff Lake.
The trail begins on the side of Highway 18, just 1.1 miles east of the dam. Parking for this trailhead is very limited, so arrive early if you want to grab a spot.
The trail follows a mellow ridge up the side of a mountain, passing through cedar and fir trees before spitting hikers out at the base of a jumble of boulders known as Castle Rock. Those who trust their rock climbing skills can try their luck at scrambling to the summit of the rocks, where they'll be rewarded with impeccable views of Big Bear Lake.
Related Read: 7 Beautiful Camping Spots in Mammoth Lakes, California
6. Grays Peak
Why you should go: Try to spot a nesting bald eagle from this heavily forested trail to a rounded peak on the north side of Big Bear Lake.
Difficulty: Moderate
Distance: 7 miles
Elevation Gain: 1,185 feet
On my first visit up Grays Peak (7,920 feet), I was absolutely awed by the sheer size of the towering pines all around me. It was exactly the respite I needed from too many years of living in Los Angeles. The trail is full of visual treats for a mountain-addicted hiker, with fragrant conifers, lichen-crusted boulders, and lengthwise lake views dotting the entirety of the journey. Be aware: this trail is closed from November 1st – April 1st yearly for bald eagle nesting season.
This trek begins half a mile west of the town of Fawnskin, across the road from the Grout Bay Picnic Area. The trail is well-graded dirt singletrack that climbs a steady incline for the entirety of its length. Enjoy the shade and take your time, the summit beckons. From the top, you can check out epic views of the entire Big Bear Lake area and stop for a snack break under a canopy of pine needles before turning around and heading back down the way you came.
7. Hanna Flat Trail
Why you should go: This less-traveled woodland trek takes hikers from the town of Fawnskin to a remote, high mountain campground.
Difficulty: Moderate
Distance: 9.5 miles
Elevation Gain: 1,110 feet
Sure, the trail up to Hanna Flat Campground doesn't end atop an awe-inspiring summit or towering rock formation, but it is a fantastic excuse to escape the crowds on more popular Big Bear hikes while enjoying all the same scenery.
The trail begins from the same parking lot as the Grays Peak Trail, but takes a turn heading north about a mile and a half from the trailhead.
Once on the Hanna Flat Trail proper, you'll begin to see hikers from the more traveled Grays Peak summit trail fade away, and you'll be left to experience 3.7 miles (each way) of lovely, dry forest.
The turnaround point for this trip is at Hanna Flat Campground, a remote but popular car camping haven for people looking to get away from the town of Big Bear Lake. Those who want a little extra leg burn might want to tack on the optional jaunt to the top of Grays Peak, bringing the day's total length to 11.5-miles.
8. Sugarloaf Mountain
Why you should go: Feel the burn on this epic, all-day journey to the top of Big Bear's high alpine wilderness that features great views on the way to the summit of Sugarloaf Mountain.
Difficulty: Challenging
Distance: 11.6 miles
Elevation Gain: 3,228 feet
The trail up to the top of Sugarloaf Mountain (9,952 feet) is an epic day hike for experienced trekkers looking for something away from the hustle and bustle of Big Bear Lake's main strip.
Though the summit itself is round, forested, and does not provide the 360-degree views some travelers expect, the stunning ridgeline on the way up offers excellent spots to stop, look out, and admire sweeping vistas of the valley below and the far-away San Gorgonio wilderness.
Those with a 4WD will be able to shave off a couple of miles and park directly at the trailhead, while others might want to skip the rugged dirt road and park at the intersection of Highway 38 and Wildhorse Meadow Road.
The first small section of trail is on a dirt road. When the trail begins in earnest, it parallels Green Creek for the first two miles before beginning a leg-busting ascent. Meander through verdant meadows, take in the alpine wildflowers, and enjoy the views of San Gorgonio, San Bernardino, and Mt. San Jacinto that only get better as you climb.
Enjoy forests of white fir and sugar pine until the top portion of the trail (near 9,000 feet) gives way to the subalpine biozone. It's a great place to check out old growth lodgepole pines that don't grow in many other spots in SoCal.
The forest-lined summit isn't great for views, but it is a fantastic spot to stretch, stop for lunch, and rest a bit before starting the long descent back to the car.
9. Butler Peak Fire Lookout
Why you should go: Hike to what is arguably the best lookout point in all of Big Bear on this strenuous, all-day trail.
Difficulty: Challenging
Distance: 10 miles
Elevation Gain: 1,550 feet
Down a remote, dusty forest road lies a trailhead that some people consider the best kept secret in Big Bear Lake. Just a quick 30-minute drive up from Fawnskin brings hikers to the intersection of Rim of the World Drive and Forest Road 2N13. Park here and look for signs marking the ascent towards the Butler Peak Lookout.
The path up to Butler Peak (8,535 feet) mostly follows a series of wide, gently-graded fire roads unsuitable for 2WD vehicles. It meanders through the San Bernardino National Forest, and along the way, hikers can nab great views of Bertha Peak, Hanna Rocks, and Delamar Mountain.
The final .25 miles follows a signed junction and veers off the road towards the historic fire lookout. When in season, the lookout tower is staffed from 8am-5pm by friendly volunteers who can help answer questions about the area.
The view of the Big Bear Valley from the top of the lookout is the best in the area, with magnificent, forested peaks stretching out for miles in every direction. When you've taken in enough scenery, simply turn around and hike back the way you came.
Pro tip: The forest roads in the area close each winter due to snow. This hike is best attempted May – October.
10. Siberia Creek Trail
Why you should go: Solitude, ancient lodgepole pines, and epic mountain views all await the hikers brave enough to attempt this challenging trek from the edge of the highway to Big Bear's valley.
Difficulty: Challenging
Distance: 16.7 miles
Elevation Gain: 2,310 feet
Are you looking for a strenuous romp through old growth forests with backcountry camping options? Look no further than the Siberia Creek Trail. This rugged and steep trek starts five miles east of Running Springs, just off Highway 18. Lace up your boots and get ready for a staggering descent of nearly 2,500 feet.
Along the way, you'll pass through old growth mixed conifer forests, dense California chaparral, and regrowth areas from old burn zones. At the end of the descent, hikers will cross Bear Creek, a reliable water source, just before reaching Siberia Creek Camp.
Backpackers will want to grab a good spot and set up camp, while day hikers might consider extending their trip to include the Champion Lodgepole Trail to a record-breaking 450-year-old pine tree or a stroll along the neighboring fire road to Castle Rock.
11. Alpine Pedal Path
Why you should go: Families of hikers and bikers alike will fall in love with this easy, lakeside multi-use trail.
Difficulty: Easy
Distance: 6.4 miles
Elevation Gain: 275 feet
Big Bear Lake's Alpine Pedal Path is a wonderful way for families of all ages to get out and explore the high mountain scenery that makes the area so famous.
This paved multi-use pathway is one of the few accessible trails in the area, and is a fantastic dog and kid-friendly way to get some mild exercise in between lakeside lounging sessions.
The official trail stretches from the Stanfield Cut-off to the Serrano Campground (one of our favorites in the area!).
The path meanders along the north side of Big Bear Lake and features benches and lookout points for those who want to rest and admire the view. Around the halfway mark, hikers will see Juniper Point, a shady picnic area beneath a massive, gnarled juniper tree complete with a picturesque picnic table.
The trail is 3.2 miles point to point, but unless you want to shuttle cars, we recommend only completing a section of the path or traveling it as a 6.4-mile out and back.
Hike Southern California
Sign up for our free email to join thousands of readers getting epic travel, hiking, camping and gear ideas every week.
Was this article helpful?
---