We research, evaluate and select travel destinations based on a number of factors, including our writers' experience and expertise, user reviews and more. We may earn a commission when you book or purchase through our links. See our editorial policy to learn more.
---
Renting a treehouse for your next outdoorsy vacation is an excellent way to relieve your childhood and enjoy a new experience with your travel buddies.
Maybe your parents spent a weekend hammering a ramshackle hut of two-by-fours and plywood into your favorite tree when you were a kid. Maybe you pretended you were steering a pirate ship or a space shuttle from the balcony.
Whether you feel the need to reminisce about simpler backyard summer days or you want to live out your dream of escaping into leafy and lofty branches centuries-old, California has some of the most enchanting treehouse stays imaginable.
Without further ado, these are the best California treehouses available to rent for your next West Coast weekend.
Related Read: 23 Incredible Treehouse Airbnb Rentals in the U.S.
1. Eagle's Nest Treehouse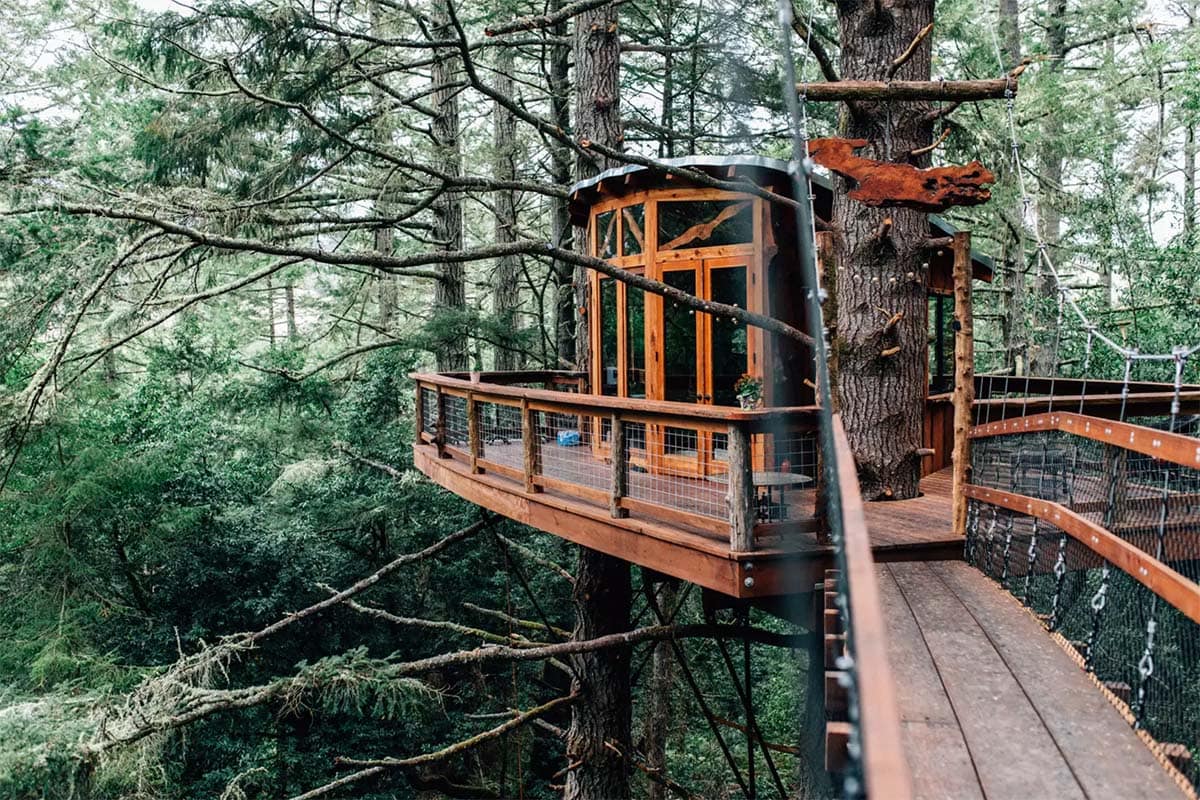 Why you should stay: Get a big dose of seclusion while you listen for the distant sound of the Pacific Ocean's crashing waves.
Location: Bodega
Sleeps: 4
Minimum stay: 1 night
Rates from: $399/night
Perched 40 feet off the ground in the forest of the Sonoma Coast, the Eagle's Nest Treehouse feels like something out of a fantasy novel. This farmstay is located on a 400-acre organic farm, where you can opt to help bring the ducks in at night, hike miles of nearby trails through the forest and along the creek, or just relax a little out on the wrap-around porch.
You'll access the secluded treehouse via a 40-foot tall spiral staircase that leads to a suspension bridge. The treehouse itself is nestled between to towering Douglas Fir trees. While you might call this a glamping experience, it's a pampered one where you'll have electricity, a space heater, and the coolest shower you've ever seen.
Check Availability
2. Redwood Cathedral Treehouse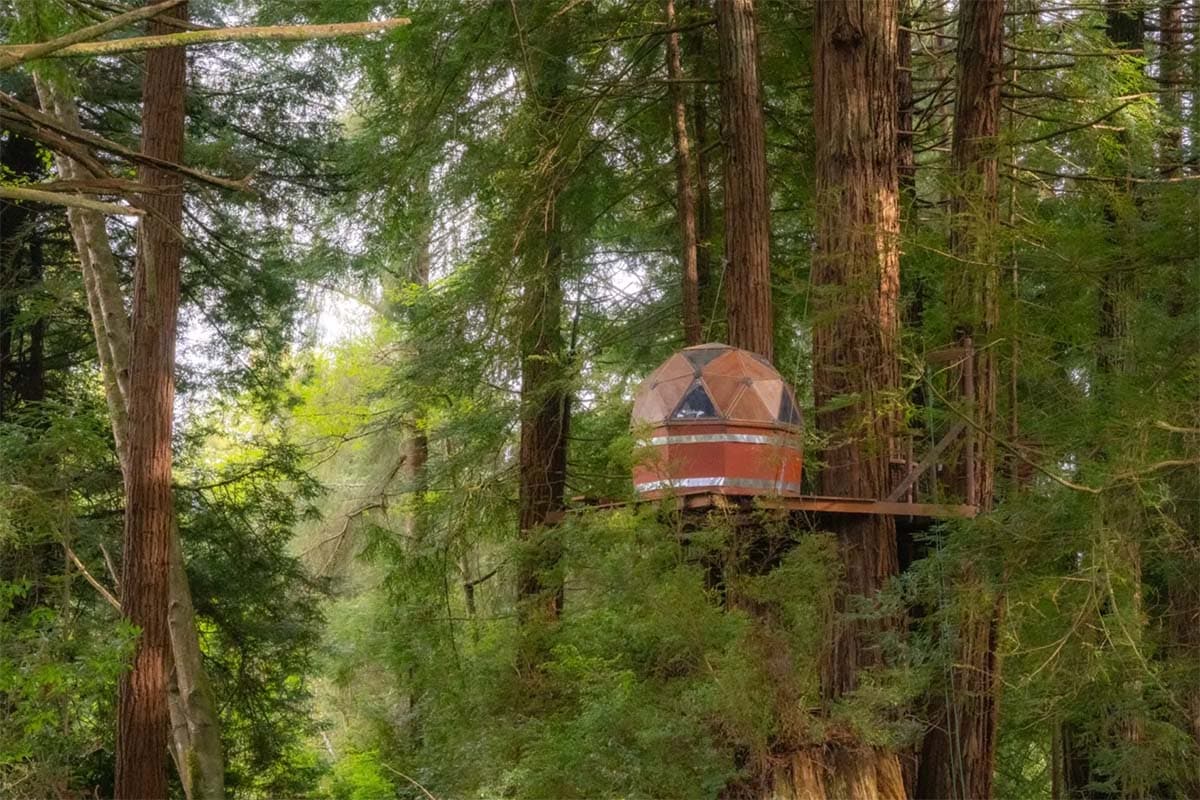 Why you should stay: Get up close and personal with California's glorious Redwoods.
Location: Crescent City
Sleeps: 2
Minimum stay: 1 night
Rates from: $89/night
Experience a glamping experience like no other at the Redwood Cathedral Treehouse. If for some reason you've ever dreamed of slumbering high in a Redwood tree, this is the chance you've been waiting for. You'll sleep in a geodesic glamping dome — a must-do experience of its own — 22-feet above the forest floor amid a majestic "cathedral".
The stairways and double-tiered deck are built from reclaimed Redwood, with a spiral staircase for access. A dumb-waiter is provided to easily bring your belongings up, and once you're settled in, give the rope swing a try for a special bit of treehouse adventure. If you're ready to explore the Redwoods on foot, the property is just a 3-mile stone's throw from Jedediah Smith Redwoods State Park — or you can take in the surf at Tolowa Dunes State Park.
Check Availability
Related Read: The 10 Best Hikes in Redwood National Park, California
3. Sanctuary Treehouse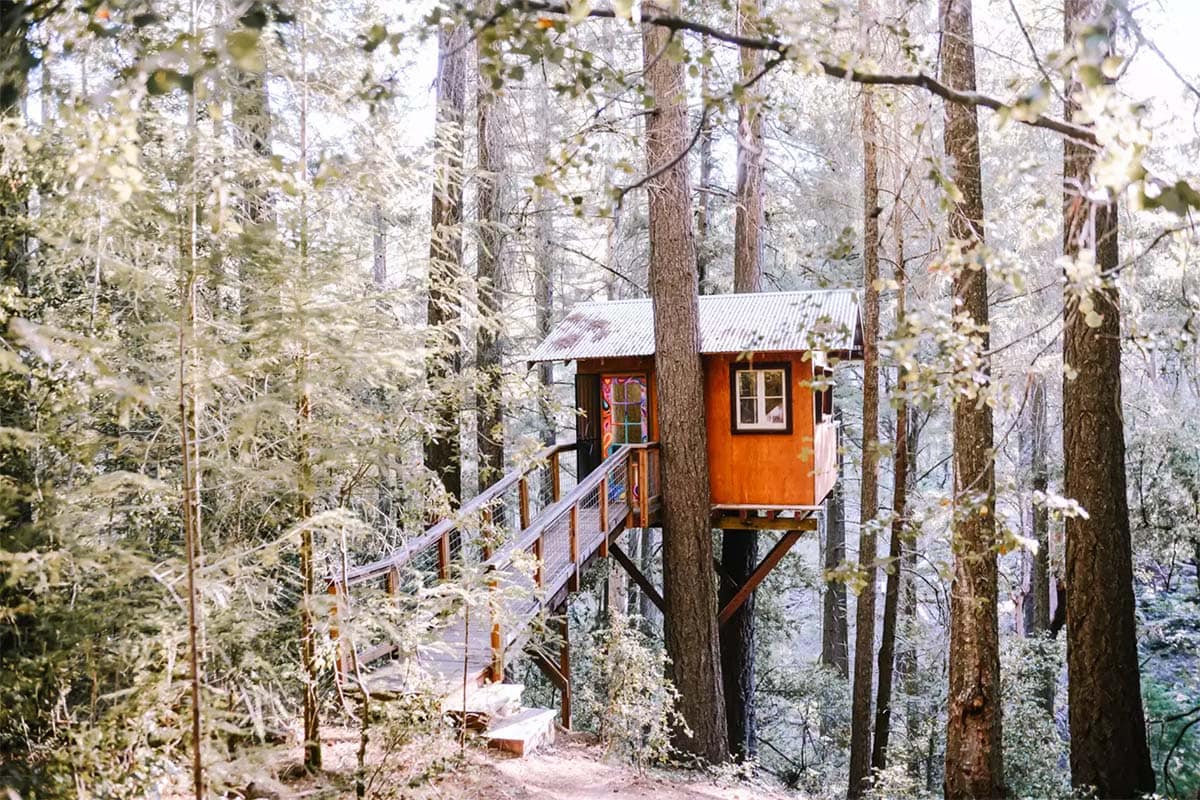 Why you should stay: get back to the basics with a romantic getaway in the Douglas Firs over an idyllic creek.
Location: Cobb
Sleeps: 3
Minimum stay: 2 nights
Rates from: $175/night
If you're looking to take refuge from the bustle of modern life, The Santuary Treehouse is ready to serve as your haven. Tucked up among the cool forest of Cobb Valley, this treehouse makes its home on the 40-acre Pine Grove Cobb Resort. While there are other cabins and glamping sites located on the property, this humble abode offers plenty of seclusion.
If you're looking for a luxury treehouse, you may have to look elsewhere, but if you're looking for a rustic retreat focused on immersion in nature, this is a fantastic spot. Consider it for an anniversary or honeymoon getaway as the sounds of the bubbling creek and nighttime star-gazing will surely set the mood.
Check Availability
4. Luxury Treehouse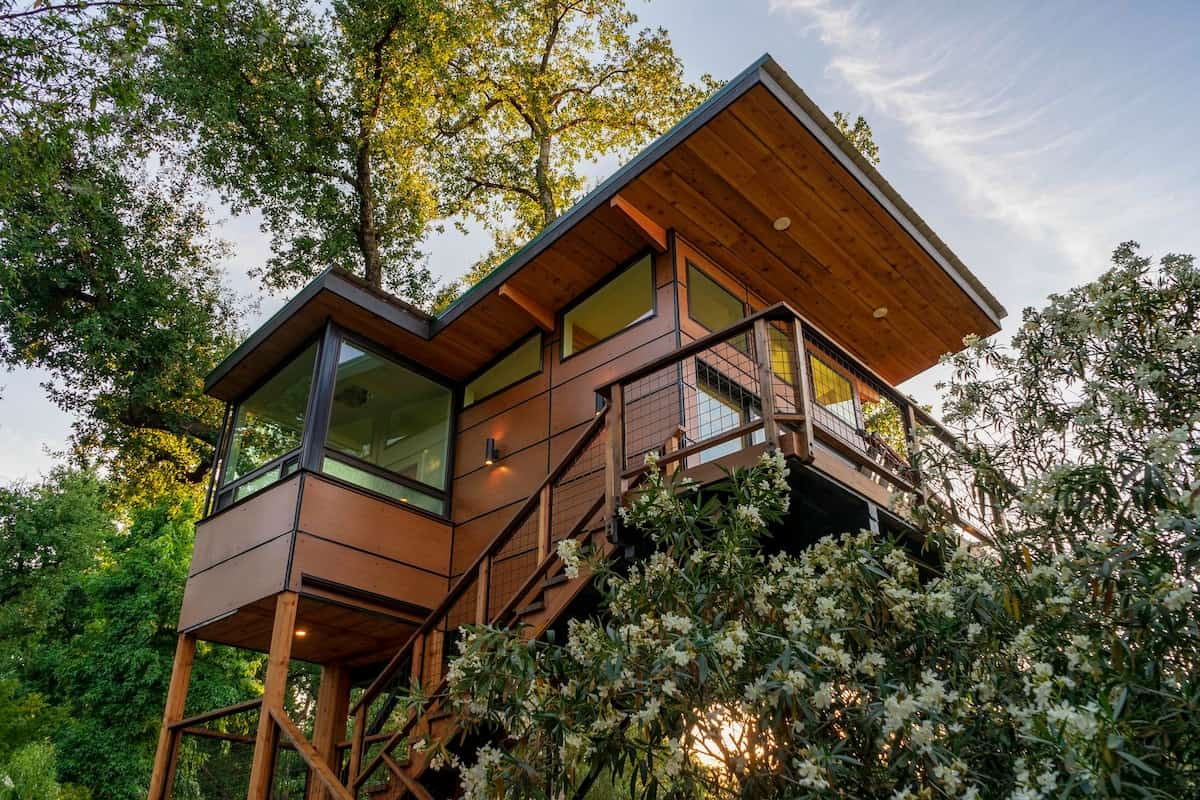 Why you should stay: The Sierra Nevada mountains are the last thing you see before bed and the first thing you see when you wake up.
Location: Visalia
Sleeps: 2
Minimum stay: 2 nights
Rates from: $225/night
Modern and industrial somehow perfectly blends with rustic and cozy in this sky-high one-bedroom treehouse, which stares directly out at the drama of the snowy Sierras. The bedroom has a double-wide sliding door leading to the deck, where you can sip coffee or wine and contemplate escaping into the mountains like a 21st-century Von Trapp sibling.
Downstairs, treehouse guests can access both the pool and the outdoor kitchen, which are shared with the main house on the property. The pool house features an outdoor shower, but the full bathroom in the treehouse might be more accurately described as a luxury spa — it's well worth the trip back up the stairs. This is technically a treehouse, but it's one of the most luxurious stays you'll find in the area.
Consider spending a day exploring nearby Sequoia and Kings Canyon National Parks — but don't be surprised if you find yourself hurrying back to enjoy this unique spot getaway in the leaves.
Check Availability
Related Read: 12 Magical Tiny House Rentals in California
5. Poolside Treehouse
Why you should stay: the only treehouse with a full-sized swimming pool just a few feet away.
Location: Occidental
Sleeps: 2
Minimum stay: 2 nights
Rates from: $299/night
If you're into swimming pools and saunas, here's a NorCal treehouse that might fit your style. Located along the appropriately named Bohemian Highway, this quirky treehouse offers lots of character and a swimming pool literally built at deck level. Of course, you'll want to come during warm weather to maximize pool use, but this spot is a worthwhile stay year-round too — and you can always opt to do a Nordic Plunge after a stint in the ground-level sauna.
This is also a great place for outdoor adventures, with tons of great hikes nearby, including a trail to Salmon Creek accessible right from the property. This Sonoma County retreat is also within striking distance of the Pacific Ocean (a 20-minute drive) and of course, the Sonoma Wine Country too.
Check Availability
6. Oceanview Treehouse
Why you should stay: Spacious and upscale enough for you and five of your most high-maintenance friends.
Location: Aptos
Sleeps: 6
Minimum stay: 1 night
Rates from: $521/night
This property would be impressive even if it were planted firmly on the ground. Indulge in two levels of heated floors, a kitchen fit for a celebrity chef cooking show, loads of outdoor deck space, and yes, even a strategically strung hammock with an ocean view in case you needed extra help relaxing.
The details are what set this pad apart from its competition. A half-spiral staircase leads to the second floor, floor-to-ceiling windows allow you to soak up every last bit of your surroundings, and even the walk-in shower has its own potted plant.
Round up a gaggle of pals and split the nightly price six ways for a cheaper experience, and spend whatever money you save on sunscreen and beach refreshments. The treehouse is just a short trip away from multiple state beaches and the Seacliff Pier. If you want to stick close to trees, head north to find redwood forests with plenty of idyllic hiking opportunities.
Check Availability
Related Read: 11 Enchanted Glamping Retreats in Northern California
7. Vineyard Treehouse
Why you should stay: Forget a treehouse…zip yourself into this tree-tent.
Location: Los Gatos
Sleeps: 2
Minimum stay: 1 night
Rates from: $230/night
Rolling vineyards, elaborate treehouses, and luxury "tentals" (tent rentals) are all their own highly sought-after experiences these days. This treehouse combines all three for an accommodation you have to wake up in to believe.
The quirky combination of ladders will have you asking where the chutes are, and the looming Douglas firs will reassure you of the sturdiness of the whole setup. The spot features a queen bed, electricity and Wi-Fi, and the private bathroom is downstairs through french doors in the main house — so you'll have to climb up and down a few times a day. The tent and supporting platform are above the grapevines of Lago Lomita Vineyards.
San Jose is a half an hour north, and beaches and redwood forests are even closer, but the property's seclusion will make you feel like you're in your own world…or, at least, on top of the same world that everyone else is living in.
Check Availability
8. San Jose Treehouse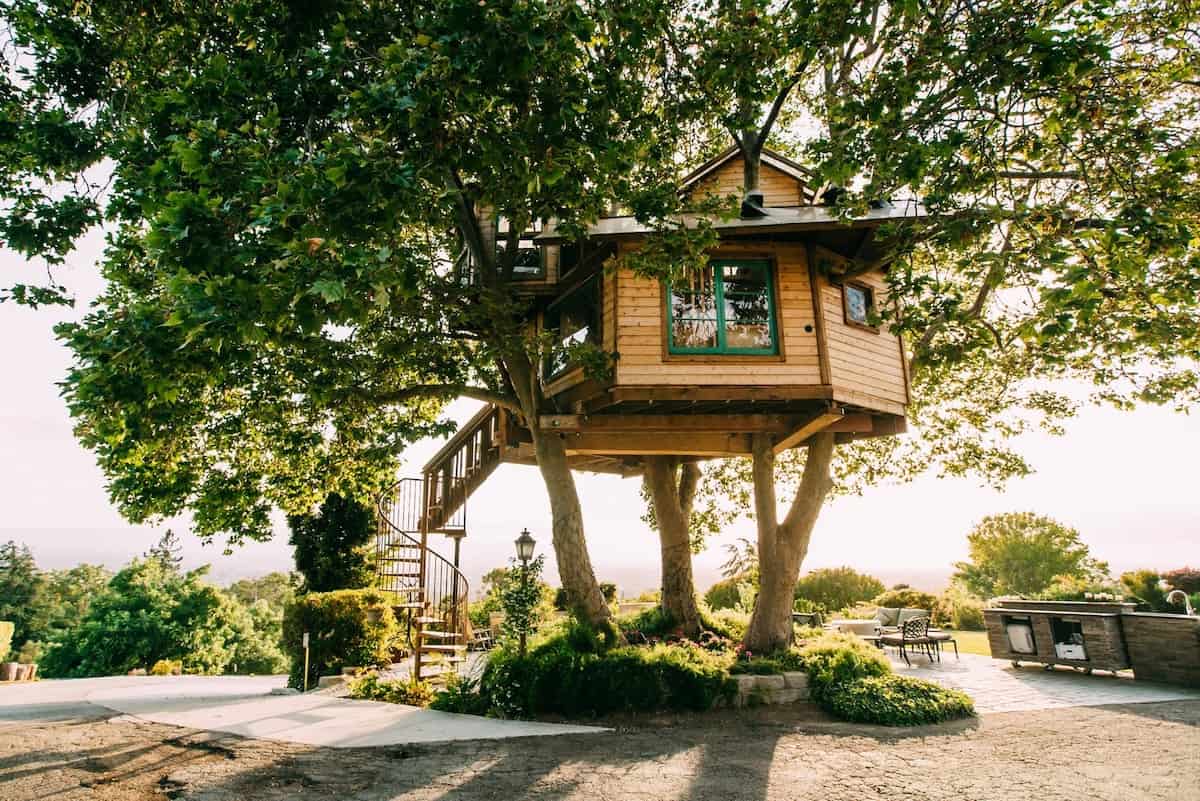 Why you should stay: A treehouse supported almost entirely by sycamores — be sure to hug them to say thanks.
Location: San Jose
Sleeps: 4
Minimum stay: 1 night 
Rates from: $350/night
There might be more tree on the inside of this treehouse structure than on the outside. When standing at the kitchenette and two-top stove, two hulking trunks stand guard on either side of you, with one large branch going right through the wall above the sink.
Follow the winding spiral staircase from the ground-level patio and parking area to this two-floor, two-bedroom house in the sky. While some parts of the space are more rustic and no-frills, if you're a function over form type of traveler, it will absolutely still impress.
The main bedroom has a large hexagonal bed, and the second bedroom is in a loft looking out over the first floor. Smaller comforts include a microwave and a Keurig, and much bigger comforts include the wide open sunset view from the broad balcony.
Located on the northeastern border of San Jose, emerge from the spiral staircase for a quick trip into town or up to the Bay Area. Order pizza in, if you dare – the birds and squirrels don't steal your slice.
Check Availability
Related Read: 12 Best Glamping Spots Near Joshua Tree National Park, California
9. Danehill Hygge House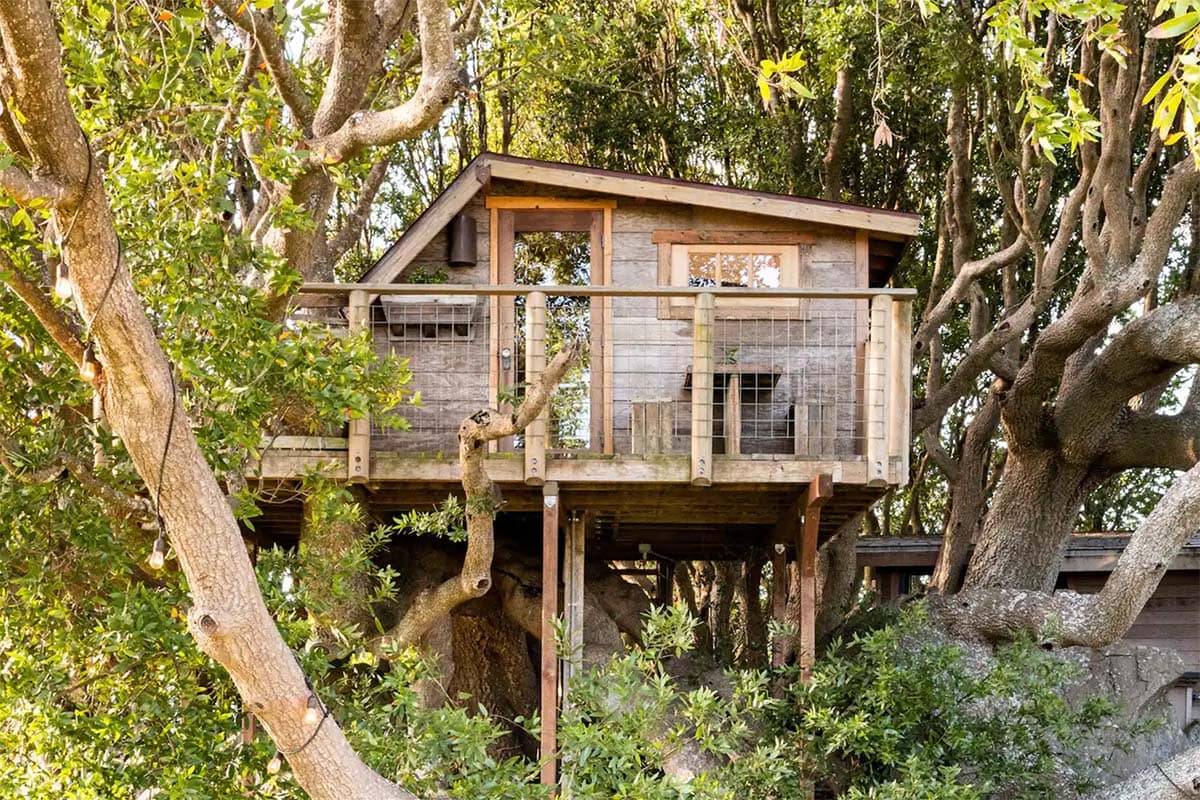 Why you should stay: If you want more "tree" and less "house," this is the spot for you.
Location: Nicasio
Sleeps: 2
Minimum stay: 2 nights
Rates from: $500/night
The small Danehill Hygge House is cradled by a large, wide-reaching tree like an ornament balanced on a Christmas fir. The Danish concept of hygge, which implies extreme comfort and contentedness, is all the rage in modern interior design. The tiny floor plan and abundance of pillows on the queen bed scream "cozy," while the large skylight overhead lets you keep your head up in the clouds.
Even the separate bathroom has an incredible view. Large reflective windows surround the shower, unleashing the wow factor of Point Reyes National Seashore while keeping you covered. Horses roam around outside – feel free to ask host Karin for an introduction.
Danehill Manor is just north of the Bay Area. Head up to Tomales Bay for a unique beach walk, or drop down into San Francisco and transform into a sight-seeing tourist for the day. And if cold weather hits, just climb back up into your treehouse and find your hygge again.
Check Availability
10. Treehouse Adventure
Why you should stay: Get in touch with your inner squirrel by climbing up to the top deck and lounging amid the thick canopy of leaves.
Location: Brea
Sleeps: 3
Minimum stay: 2 nights
Rates from: $115/night
This treehouse might have the closest resemblance to the homemade treehouse of your aforementioned childhood dreams. Between the big yellow slide and the ladders, this stay is part-accommodation and part-jungle gym while being fully-pet friendly as well. There's a recently built full bathroom on the ground in the secluded patio, which features high fences and a fire pit.
The upper deck is furnished with Adirondack chairs and a table for outdoor breakfast or an after-dinner card game under the market lights.  If it starts to rain, escape back down into the cozy sitting room next to the bedroom and heat up some popcorn or leftovers in the kitchenette.
If you still need convincing, head over to the 328 reviews that produced a 4.99-star rating. The numbers don't lie. And, better still, it's one of the most affordable California treehouses on this list.
Check Availability
Watch on YouTube
Find Your Next California Getaway
Get epic travel ideas delivered to your inbox with Weekend Wanderer, our newsletter inspiring more than 10,000 readers every week.
---