We research, evaluate and select travel destinations based on a number of factors, including our writers' experience and expertise, user reviews and more. We may earn a commission when you book or purchase through our links. See our editorial policy to learn more.
---
Located north of Los Angeles, Santa Barbara is a little bubble with a Mediterranean feel and an abundance of coastal charm that offers a relaxing environment to explore and vacation any time of the year.
This oceanside city offers mild temperatures, ocean views, cool breezes, and sunshine.  On top of that, it is a hub for hiking, mountain biking, surfing, swimming, and even paragliding. It is an adventurer's dream spot, especially for those looking to escape the winter cold.
If you're hoping to visit Santa Barbara and don't want to spend big bucks on a hotel or rental, your best bet is to find a campground or RV park. Not only will this be a bit cheaper, but staying overnight in the outdoors will connect you even more to the natural vibes of Santa Barbara. Luckily, there are a plethora of campgrounds and RV parks to choose from. Here, we've outlined ten of the best-rated options in the Santa Barbara region to get you started on planning your adventure.
Related Read: The 20 Best Places to Camp in Southern California
1. Santa Barbara Sunrise RV Park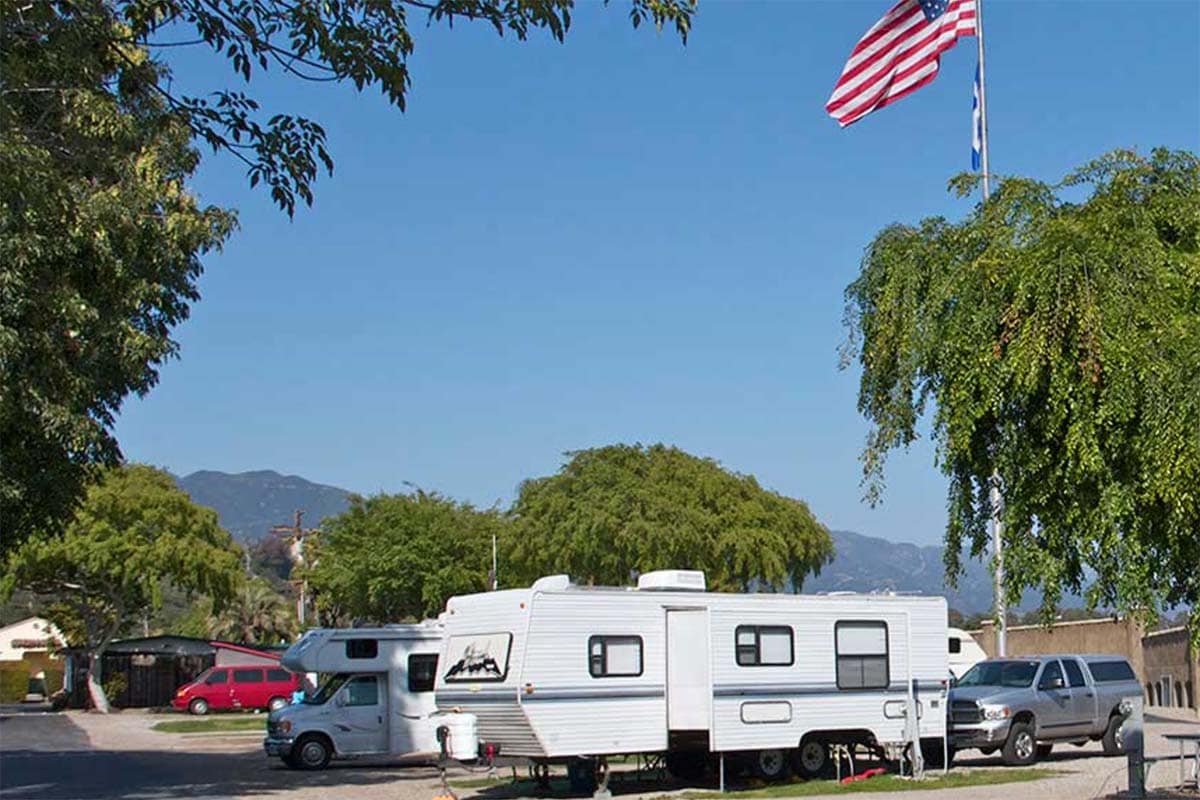 Why you should camp here: Easy city access, with full hookups to accommodate any size rig.
Reservation accepted: Yes
Best season: Year-round
Camping types: RVs, trailers, and fifth wheels
RV Hookups: Yes
Located right in the city of Santa Barabara, this little RV park has 31 sites with full hookups. The sites can accommodate between 25-foot and 45-foot motorhomes, trailers, campervans, or fifth wheels. The park also offers private showers/bathrooms, laundry, free wifi, and basic cable. Plus, pets are welcome!
Sunrise RV Park is located next to a shady park park and just blocks from the beach. Plus, it is right across the street from the zoo, making this a great spot for families. There is easy access to the downtown trolly and opportunities to explore historical sites. Though there aren't any trails out your front door, numerous trailheads are within a short drive, allowing you to plan an adventure that is right for you!
Related Read: 11 Enchanted Glamping Retreats in Northern California
2. El Capitan State Beach
Why you should camp here: Located on the beach, this is a fun place to spend a relaxing beach weekend.
Reservations accepted: Yes
Best season: Year-round
Camping types: Tents, RVs, trailers
RV Hookups: No
North of town on the coast, is El Capitan State Beach, a popular spot for a beach weekend. Though this spot can get a little busy, there are plenty of camping opportunities nearby that helps to keep people spread out. There are 130+ family campsites open year-round and five group sites that can hold from 40 to 100 people. There are also ten accessible sites with firm surfaces and accessible tables. The campground has bath and shower houses and a camp store in case you forgot any necessities.
It is a short walk from most sites to the beach that is perfect for swimming. If you're looking for some exercise before a dip, choose from a self-guided nature trail that heads out to the rocky point overlooking the beach or a 10-mile loop through the hills above, which offers up some amazing views of the Pacific Ocean. On occasion you may even spot some more experienced surfers enjoying the waves when the swells are west to west-southwest.
Related Read: 9 Amazing Glamping Spots Near Los Angeles, California
3. Ocean Mesa RV Resort
Why you should camp here: A convenient campground near El Capitan State Beach with plenty of amenities.
Reservations: Yes
Best season: Year-round
Camping types: Tent, RV
RV Hookups: Yes
If the El Capitan State Beach campground is full, or if you're simply looking for a bit more room for your rig, the Ocean Mesa RV Resort is just across Hwy-1. There are twenty tent camping sites with a 20-foot tent pad and 80 RV sites that accommodate up to 50-foot-long rings, with full hookups and even Wifi.
There is a large bathhouse, onsite laundry, a playground, pool, and easy access to 15 miles of hiking trails. Take a dip in the pool or jacuzzi, head down to the beach, or even get a massage at the onsite treatment center. Seasonally, the park hosts events such as movie nights, wine tastings, and a concert series. Get all the luxuries you can think of, while also enjoying the state beach.
Related Read: 12 Magical Tiny House Rentals in California
4. Jalama Beach County Park & Campground
Why you should camp here: A remote and quiet spot with amazing views. 
Reservations accepted: Yes
Best season: Year-round
Camping types: Tent, trailer, RV, cabins
RV Hookups:  31 electrical hookup sites, dump station
If you're looking to get a little out of town, Jalama Beach County Park is a bit remote and still on the coast. There are 107 campsites, all of which overlook the beach. Thirty-one of the sites offer electrical hookups, and there are dump stations available if needed. Sites all have picnic tables and barbecue pits, and there are showers, restrooms, and water in the campground. A rather unique feature of the park is the opportunity to book one of three large or four medium-sized cabins, all with ocean views. Glamping at its finest, all you need is to pack your bedding, toiletries, and food.
Besides the usual beach-going activities, the beach abuts the Jack and Laura Dangermond Preserve. The preserve is one of the largest regions in southern California still untouched by development. Get out and explore by taking a hike to Point Conception along the De Anza Trail.
Related Read: 15 Best Glamping Spots in Northern & Southern California
5. Refugio State Park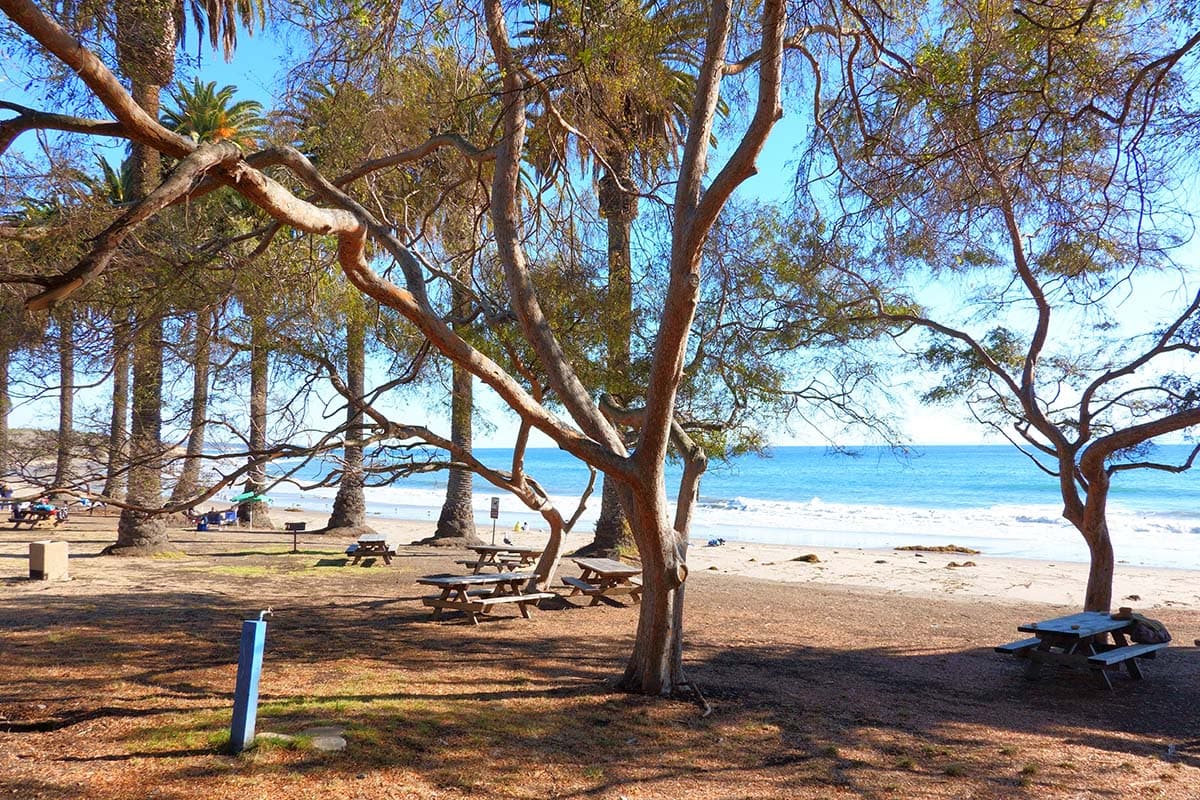 Why you should camp here: A water-filled weekend at a shady oasis along the beach.
Reservations accepted: Yes
Best season: Year-round
Camping types: Tent, RV, trailers
RV Hookups: No
As you arrive at Refugio State Beach, you'll be awed by the mellow and shady atmosphere—palm trees offer up a pleasant ambiance as you set up camp. A smaller beach campground, Refugio has 66 sites—five of them are accessible, and four are considered premium sites with beachfront access—and three group sites. Even though only a few are technically beachfront, it is a very short walk from most of the sites to the beach.
At the time of writing, parts of the California Trail were closed, limiting the amount of hiking available. However, there is still plenty of beach and water fun to be had. From swimming, walking the beach, fishing, surfing, kayaking, snorkeling, to scuba diving, everyone in your party will find ways to enjoy the days out.
Related Read: 11 Breezy Oceanfront Camping Spots in California
6. Lake Cachuma Recreation Area Campgrounds
Why you should camp here: A picturesque getaway on a lake flanked by mountains.
Reservations: Yes
Best season: Year-round
Camping types: Tents, trailers, RV, yurts, cabins
RV Hookups: Yes
Set up above the bustling city, the Cachuma Lake Recreation Area is a refreshing place to visit. The area is tucked in between the Santa Ynez and San Rafael Mountains, offering up some great views and a little bit cooler temperatures. There are hundreds of sites to choose from, including both tent and RV camping. RV sites are full and partial hookups. For a unique experience, book one of four furnished cabins or one of seven yurts located within the campground.
Though you can't swim in the lake (it is a local water supply), there are many easy ways to stay occupied during your trip. There are plenty of hiking trails, fishing, and boat rentals. There is also a nature center with hands-on exhibits and even wildlife lake cruises!
Related Read: 14 Epic Campgrounds Near Los Angeles, California
7. Lake Casitas Campgrounds
Why you should camp here: A full-featured weekend with entertainment for everyone.
Reservations: Yes
Best season: Year-round
Camping types: Tent, RV, trailer
RV Hookups: Yes
Located east of Santa Barbara, this campground is located in the Lake Casitas Recreation Area. This area is quite expansive, with 13 separate campgrounds. Sites range from basic tent sites to partial hookups to executive sites, which include water, electric, and sewer hookups.
There is no swimming allowed at Lake Casitas, but boating and fishing are both permitted. For water fun, check out the water adventure park (will reopen in 2022). Otherwise, there is a disc golf course, movie showings, bird watching, hiking, and even a bike trail.
Related Read: 9 Amazing Scenic Drives Near Los Angeles, California
8. Gaviota State Park
Why you should camp here: Out-there feel with beach access and trails.
Reservations: Yes
Best season: Year-round but limited to weekends in the winter
Camping types: Tents, trailers, RVs
RV Hookups: No
Gaviota State Park is a remote park about 30 miles west of Santa Barbara. The lower portion of the park has a small feel, but there is quite a bit of acreage up in the hills with plenty of trails to explore. The campground has 41 sites total, but two of them are occupied by the camp hosts. Though the campground is small, the access is prime.
The beach is small, tucked in between two bluffs, and there is a large rail bridge that crosses the valley making for some pretty unique views while enjoying the surf. Take your time exploring the network of trails, including a trail to the top of Gaviota Peak, which offers up great views of the Channel Islands and Gaviota Pass. There is also a small hot spring pool tucked up in the lush forest, perfect for winter adventures.
Related Read: 20 Incredible Hikes in Southern California
9. Carpinteria State Beach
Why you should camp here: A full wildlife experience along the beach.
Reservations: Yes
Best season: Year-round
Camping types: Tent, RV, Trailer, en-route/overflow, hike and bike
RV Hookups: Yes, at select sites
Just south of town, Carpinteria State Beach is a mile-long beach with an abundance of activities and camping opportunities. There are four loops with over 200 standard sites and seven group sites. Sites can accommodate tents, RVs, trailers, and vans — some sites have hookups and others are more basic. Coin-operated showers are available at the campgrounds. If needed, en-route camping is available for one night only, and hikers or bikers passing through can stay for one to two nights.
During your stay at Carpinteria, fill your days with all things ocean and wildlife! There is plenty of swimming, surfing, fishing, tidepool exploring, and wildlife viewing. Plus, the park even has indoor interpretive displays, an indoor tide pool with live marine animals, and a summer campfire program! Turn your beach vacation into an educational experience for the kids.
Related Read: 7 Stellar Campervan Rental Companies in Southern California
10. Paradise Campground
View this post on Instagram
Why you should camp here: A lush, shady campground that's a bit more remote.
Reservations: Yes
Best season: Year-round
Camping types: Tent, trailer, RV
RV Hookups: No
Up in the mountains on the Santa Ynez River, you will find a variety of camping options, but Paradise Campground feels a bit more remote than others. However, just a few miles off the main highway, it is still a perfect hub for all your adventures. The campground has about a dozen sites with paved parking spurs to accommodate larger vehicles. There are flush toilets and drinking water in the campground, but no showers or dump stations.
The campground has easy access to the Santa Ynez River and is a large lush space that offers up a shady spot to enjoy those summer days. With easy access to numerous trails, Lake Cachuma down the road, and only a 25-minute drive to the beach, Paradise Campground is, well, paradise.
Related Read: 11 Unique Places to Stay in Southern California
Explore California
Get epic travel ideas delivered to your inbox with Weekend Wanderer, our newsletter inspiring more than 10,000 readers every week.
---