We research, evaluate and select travel destinations based on a number of factors, including our writers' experience, user reviews and more. We may earn a commission when you book or purchase through our links. See our editorial policy to learn more.
---
One of the best things about camping in California? It's a year-round activity. That is, if you know where to look.
With an incredible number of different landscapes, climates, and biotic zones to explore in California, there's no reason to stop exploring the great outdoors, even when the days begin to shorten.
Even though Cali is home to some of the best weather in the world, snow and ice can still be an issue when traveling during winter months, even in a high-desert locale like Joshua Tree.
Be sure to call the nearest ranger station before you head out to check road and weather conditions, and winterize your car with solid all-terrain tires, as well as a set of snow chains, just in case.
To help stave off the evening cold, be sure to bring a bundle of locally-bought firewood, to minimize the potential for harmful bugs and contaminants, which can hitch a ride and damage living trees.
Research and download any trails you'd like to hike before heading out and losing cell signal, and, lastly, save money by purchasing an America the Beautiful Pass for quick, affordable access to every national park and national forest in the country.
Here's a look at our favorite wintertime camping escapes in California, whether you're looking to warm up in the desert sunshine or bed down under a grove of ancient trees.
Related Read: An Epic Guide to California's 14ers
1. Upper Pines Campground
Why you should camp here: Wake up to an incredible view of Yosemite Valley, with easy access to trails and bike paths.
Location: Yosemite National Park
Reservations: Required
Campsite type: RV, tent, car camping
RV hookups: No
The only reservable Yosemite Valley campground to be open year-round, Upper Pines is a phenomenal jumping off point for anyone looking to explore the "must sees" of this famous national park. Hike to Mirror Lake, gaze up at striking views of Half Dome, and enjoy easy access to food and grocery services at Curry Village and Yosemite Village.
With 235 sites nestled under towering pines, each boasting a fire ring, picnic table, and bear locker, Upper Pines doesn't fill up as quickly during winter months, though it's location is truly enviable. The campground also features flush toilets with drinking water and a year-round dump station.
Related Read: 10 Killer Backpacking Trails in Yosemite National Park
2. Coast Campground
Why you should camp here: Solitude, easy beach access, and coastal quiet make this Marin Country campground an all-season stunner.
Location: Point Reyes National Seashore
Reservations: Required
Campsite type: Hike-in
RV hookups: No
An easy, 1.8-mile hike (or horse, or bike ride) brings campers to Coast Campground, a beachside haven in Northern California with ample opportunities for exploring the area's tide pools or digging your toes into the sand.
Grab a permit for this hillside, backcountry campground, print your Recreation.gov email, and set off with your gear in tow. Though no fires are allowed at these secluded sites, potable water, trash collection, and food storage lockers are provided.
Related Read: 14 Best Hikes at Point Reyes National Seashore
3. Elk Prairie Campground
Why you should camp here: Experience the best forest bathing in the country under a canopy of ancient coastal redwoods.
Location: Prairie Creek Redwoods State Park
Reservations: Yes
Campsite type: Tent, RV, car camping, cabins, hike/bike-in
RV hookups: No
Redwood National and State Parks is a patchwork of public lands that encompasses the tallest trees on earth, and at Elk Prairie Campground, visitors can comfortably camp among them. The campground features drool-worthy amenities like hot showers, accessible restrooms, trash services, and food lockers. Plus, each site includes a picnic table and fire ring for groups to gather.
After sipping your morning coffee amidst head-high sword ferns, go for a drive along the Newton B. Drury Scenic Parkway, then explore the mystical redwoods along the Lady Bird Johnson Loop or Tall Trees Trail (permit required).
Related Read: 14 Epic Campgrounds Near Los Angeles, California
4. The Inn at Benton Hot Springs
Why you should camp here: Enjoy epic stargazing and views of Boundary Peak while soaking your bones in a private, naturally-fed hot spring.
Location: Benton, CA
Reservations: Required
Campsite type: Tent, RV, car camping
RV hookups: No
How many developed campgrounds have you been to where each site has their own private hot tub? The Inn at Benton Hot Springs is a thing of California legend, and though pricey, these twelve well-spaced campsites are worth the money.
Set against a backdrop of jaw-dropping White Mountain views in a tiny, old west-style town, each site not only features a spring-fed tub, but also a picnic table, fire grill, and pit. Don't want to rough it? The Inn also hosts a bed and breakfast.
The campground is a great base camp for anyone looking to explore the White Mountains, Mono Lake, or the Eastern Sierra during winter months. Nearby Bishop is a quirky mountain town with ample amenities like grocery stores, gear shops, and mouthwatering restaurants.
Related Read: 6 Phenomenal Backpacking Trails in Joshua Tree National Park
5. Jumbo Rocks Campground
Why you should camp here: Clamber onto enormous boulders right from your campsite at this centrally located national park gem.
Location: Joshua Tree National Park
Reservations: Yes (required September – May)
Campsite type: Tent, RV, car camping
RV hookups: No
One of the most coveted campgrounds in Joshua Tree has always been Jumbo Rocks.
While it may not boast fancy amenities like hot showers, potable water, or flush toilets, its stunning high desert vistas full of the area's trademark boulders, and central location within the park, make it an ideal getaway. Sites are simple but often have a good amount of privacy, either separated by hearty desert trees or jumbo, well, rocks.
Each campsite here has a picnic table and fire ring, plus easy access to vault toilets and communal trash cans. Pack in your own firewood (buy it local!) and bring plenty of water, as neither are available once you arrive, and foraging for downed brush is illegal.
After sleeping under the stars, stretch your legs on one of the nearby hiking trails – Lost Horse Mine and Arch Rock Nature Trail are both excellent.
Related Read: 12 Best Glamping Spots Near Joshua Tree National Park
6. Leo Carrillo Campground
Why you should camp here: Dreamy Malibu beachside camping nestled in a canyon of sycamores.
Location: Leo Carrillo State Park
Reservations: Yes, recommended
Campsite type: Tent, RV, car camping
RV hookups: Yes, electric only (20, 30, and 50 AMP)
Situated 28 miles north of Santa Monica, on California's famous Highway 1 is one of the country's most sought-after beach campgrounds – Leo Carrillo. Its close proximity to cities like Los Angeles, Santa Barbara, and San Diego make it a fan favorite that many families return to year after year.
The campsites here are situated in a lovely, shady canyon full of chaparral and sycamore trees, and each one provides a fire ring and picnic table for visitors. Coin-operated showers add an additional level of creature comfort.
Leo Carrillo State Park is a haven for nature-seeking beach lovers, with 1.5 miles of protected coastline, sea caves, and tide pools to explore. The north section of beach is dog-friendly, provided they are on a six-foot (or shorter) leash.
Looking to get your steps in on the trail? Nicholas Flat Trailhead is right inside the campground.
Related Read: 20 Best Places to Camp in Southern California
7. Ventana Campground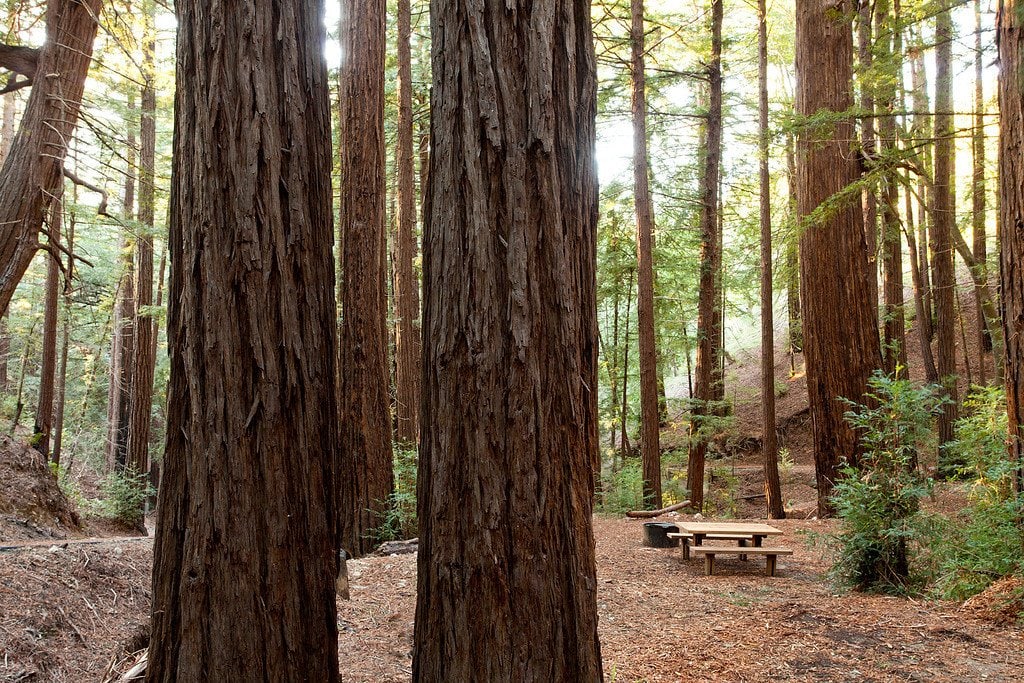 Why you should camp here: Bed down in a 40-acre canyon of old growth redwood trees in the wooded wonderland of Big Sur.
Location: Big Sur
Reservations: Yes
Campsite type: Tents, car camping, glamping
RV hookups: No (RVs not allowed)
Sure, it's one of the pricier campgrounds on the list, but this private swath of stunning redwoods, centrally located in the coastal haven of Big Sur, is so special that we had to list it.
Ventana Campground is a tent and car camping-only mecca that makes up for its prices with seriously great amenities like potable water, modern bathhouses with hot showers (for a fee) and flush toilets, and ice for sale.
Each site has a fire ring and picnic table, and the property specifically requests that guests buy firewood in Big Sur to avoid bugs and contaminants.
Once you've settled in among the tall trees, enjoy one of the area's incredible state parks by going forest bathing in Limekiln or taking in the views at Julia Pfeiffer Burns.
Related Read: 5 Best Backpacking Trips & Trails in Big Sur
8. Potwisha Campground
Why you should camp here: Warmer night temps in the Sierra Nevada foothills, while still being close to world-class hiking and those infamous giant sequoias.
Location: Sequoia National Park
Reservations: Yes (usually required)
Campsite type: Tent, RV, car camping
RV hookups: No
Located just four miles past the park's main entrance station lies the Potwisha Campground, an NPS-run, lower elevation (2,100 feet) campground set in a large stand of shady oak trees.
All 42 sites here are reservable online, and each comes with a picnic table, food storage locker, and fire ring (check restrictions before heading out). Plus, no need to worry about smelly pit toilets: Potwisha has year-round access to flush toilets and potable water for guests.
The park is still recovering from 2021's KNP Complex Fire, but this campground is now fully open and ready for campers who want to experience Sequoia's high-altitude forests and phenomenal views of the Great Western Divide. Consider a hike up to Moro Rock or The Big Trees Trail to uncover the best of one of America's oldest national parks.
Related Read: 8 Epic Backpacking Trips in Sequoia & King's Canyon National Parks
9. Borrego Palm Canyon Campground
Why you should camp here: Authentic, no-frills desert camping in Southern California with seriously epic mountain views.
Location: Anza-Borrego State Park
Reservations: Yes (October 1-April 30)
Campsite type: Tent, RV, car camping
RV hookups: Yes (full hookups on sites 1-48)
If you're wanting to experience the vast, expansiveness of the California desert, with a side-order of incredible mountain vistas, look no further than the Borrego Palm Canyon Campground.
Though the campground itself may look arid and simple, there are great amenities (like potable water, restrooms, and coin-operated hot showers), as well as picnic tables, fire rings, and sites with shade structures.
The Borrego Palm Canyon Trail is the star of the show in this park, especially when the weather's warmer or a superbloom bursts in (generally in March). It's a spectacular place to escape the cold and take in a little dry air and sparkling, Cali sunshine.
Related Read: Where to Camp in Anza-Borrego Desert State Park
10. Scorpion Canyon Campground
Why you should camp here: Explore an uncrowded national park and marvel at island foxes and remarkable biodiversity at this boat-in campground.
Location: Channel Islands National Park
Reservations: Yes
Campsite type: Tent-only
RV hookups: No
One of California's best kept secrets is Channel Islands National Park, and the most accessible, amenity-rich campground within its domain is Scorpion Canyon, on Santa Cruz, the largest island of the bunch.
Here, travelers only have to walk an easy, half- to one-mile flat trail to set up near a secluded cove under the shade of live oaks. Be sure to hide your food and scented items inside the provided food lockers, as precocious little island foxes are known to frequent the area.
Each site comes with a picnic table and access to potable water, as well as pit toilets. From camp there are a variety of hiking trails to stretch your legs, but the two-mile jaunt to Cavern Point is not to be missed.
Related Read: 9 Amazing Glamping Spots Near Los Angeles
11. Texas Springs Campground
Why you should camp here: Get out of Death Valley's Furnace Creek bustle while camping nearby at this first-come, first-served hillside retreat.
Location: Death Valley National Park
Reservations: No
Campsite type: Tent, RV, car camping
RV hookups: No
Pitch your tent in the hills above Furnace Creek and enjoy magnificent sunset views at Texas Springs Campground, a first-come, first-served haven for campers who want to experience the true energy of Death Valley and stay a little out of the city-vibe near the park's hotels.
Soak up the desert silence, since no generators are allowed at Texas Springs, and enjoy late night stargazing with your own picnic table and fire grate.
From this launch pad, visitors have easy access to Zabriskie Point, a famous sunrise spot for photographers young and old, as well as Badwater Basin, the lowest point in North America.
Related Read: 11 Best Campgrounds in Death Valley National Park
Find Your Next California Adventure
Get epic travel ideas delivered to your inbox with Weekend Wanderer, our newsletter inspiring more than 10,000 readers every week.
---