The top third of the Golden State isn't home to any national parks with theme-park like visitor counts, but it is a richly diverse area with some of the best hiking in the state.
From the ever cloud-capped Mount Shasta to the mist-laden coastal redwood forests, NorCal has plenty worth seeing.
That's why we're highlighting our favorite Northern California day hikes. Whether you're looking for a day-long wilderness loop to tackle during your vacation or you're in need of a quick getaway near the interstate as you pass through the area, we've got you covered.
Related Read: An Epic Guide to California's 14ers: Hiking & Climbing the High Peaks
The Best Northern California Hikes
These 14 unforgettable days hikes span across all of Northern California. We've already listed the best hikes in San Francisco and the best hikes at Mount Shasta. You'll find that the trails we've detailed below are even further north than those NorCal hotspots.
1. Hammond Trail
Why you should go: Spend a day at the beach along this multi-use coastal trail.
Difficulty: Easy
Distance: 5.5 miles
Elevation gain: 187 feet
Location: Eureka
Accessible to hikers, bicyclists, horseback riders, and wheelchair users, Hammond Trail is a route that everyone can enjoy. The trail alternates between paved and gravel doubletrack and provides multiple beach access points.
As it follows along the eastern bank of the Mad River, the Hammond Trail is separated from the ocean for most of its length. Along the path, there are multiple spur trails that lead up to viewpoints, and the ocean is visible from much of the trail, but its salty waters are only accessible at the north end of the hike.
The Mad River has its own beaches worth enjoying, however. There are several parking areas along the trail, making every part of it easily accessible.
Related Read: 7 Awesome Campervan Rental Companies in Northern California
2. Lake Almanor Recreation Trail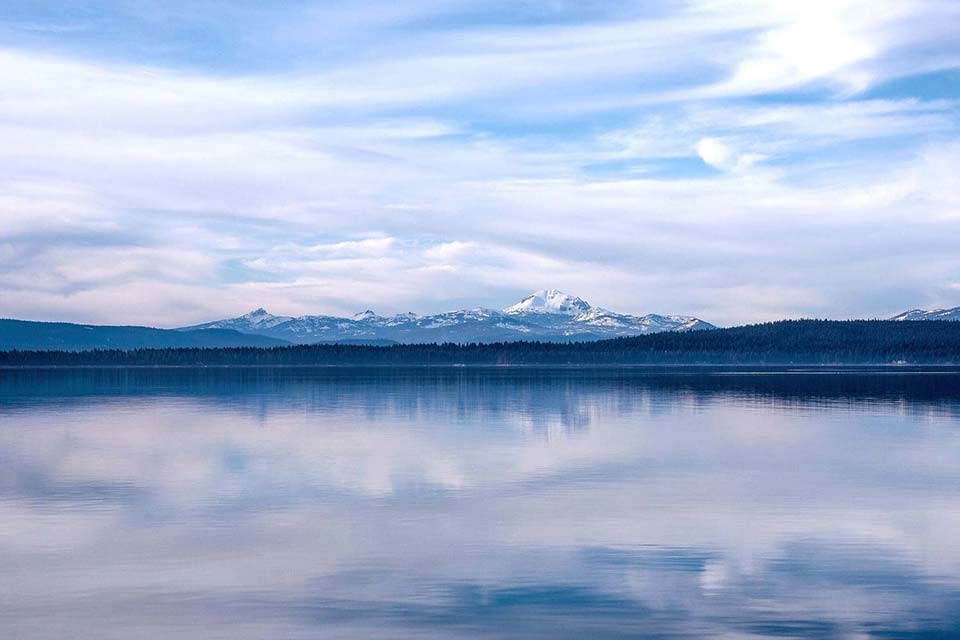 Why you should go: Go for an easy lakeside stroll that's adorned by terrific mountain views.
Difficulty: Easy
Distance: 19.6 miles
Elevation gain: 606 feet
Location: Lake Almanor
The Lake Almanor Recreational Trail is a multi-use, paved trail along the southern shore of Lake Almanor. Set in the mountains east of Redding and Chico, this lake is a popular spot for outdoor recreation.
This trail can be accessed from many different points and is suitable for walking, bicycling, and wheelchair use. There are many great places to stop along the shore of the lake for fishing and swimming, or simply just to lounge.
Awesome views of Mount Lassen, Dyer Mountain, and the lake can be seen from all parts of the trail. There are meadows, cedar forests, and freshwater covers to explore.
Related Read: 9 Stunning Hikes Near Malibu, California
3. Point St. George Trail
Why you should go: An easy walk with views of ocean waves, coastal bluffs, and shoreline meadows.
Difficulty: Easy
Distance: 2.8 miles
Elevation gain: 156 feet
Location: Crescent City
There's nothing else like a weekend walk along the shore. Salty ocean spray fills the air with its scent, and the always-present calls of seagulls both far and near add to the low-key din of the northwest coast.
The Point St. George Trail follows along the edges of the bluffs from one section of rocky shoreline to another. Looming six miles offshore, always in sight except when the fog is thick, the St. George Reef Light stands like a sentinel alone in the vastness of the ocean.
This path is what you make of it. The weather can change in an instant, and the metronome of the ocean waves crashing upon the rocks can captivate you for as long as you'll allow. The hike is simple and scenic, and the endpoint provides an overlooking view of Crescent City.
Related Read: 12 Unique Places to Stay in Northern California
4. Prairie Creek Trail
Why you should go: A family-friendly trail under giant California redwood trees.
Difficulty: Easy
Distance: 8.6 miles
Elevation gain: 400 feet
Location: Redwood National Park
Beginning at the Prairie Creek Visitor Center, the Prairie Creek Trail is a long, meandering walk through an ancient redwood forest. Information, exhibits, and ranger-led programs can be enjoyed at the visitor center before or after your woodland trek.
The trail is relatively flat and gentle for its entire length. Imposing redwood trees line the entire route, as does a diverse and dense understory that is rich with flora and fauna to discover.
About two miles into this out-and-back trail is the bizarre Corkscrew Tree, a colossal giant comprised of four intertwining trunks. There are two Zigzag trails that spur off from the main trail which can be used to form a loop high with the nearby West Ridge Trail.
Related Read: 11 Sweet Camping Spots Near Fort Bragg, California
5. Symbol Bridge Trail
Why you should go: Feast your eyes upon ancient Modoc pictographs and a collapsed lava tube.
Difficulty: Easy
Distance: 1.8 miles
Elevation gain: 106 feet
Location: Lava Beds National Monument
The roadside caves of Lava Beds National Monument may be what draws you to the northeastern corner of the state, but the Symbol Bridge Trail is one surface-level hike that should not be missed.
"The petroglyphs could be up to 6,000 years old, while the pictographs date to some 1,500 years ago," Reported Jamie Hall on OregonLive.
This is an exposed, easy to find trail that winds through western desert staples like sagebrush and juniper trees. About three-quarters of a mile into the hike is a short spur to Big Painted Cave. The cave has collapsed, but the walls immediately within the cave's mouth are home to many faded pictographs.
The big payoff is a bit further down the main trail at Symbol Bridge where the pictographs are much easier to see. There is a short, scrambly trail that leads under the bridge and loops back to it, or you can simply turn around and head back to the trailhead.
Related Read: 10 Invigorating Hikes in the East Bay Area
6. Annie Bidwell Trail
Why you should go: A variety of terrain and trails to choose from for all skill levels.
Difficulty: Moderate
Distance: 5 miles
Elevation gain: 260 feet
Location: Chico
Annie Bidwell Trail is the heart of Bidwell Park. This route climbs to a canyon rim, drops down into an expansive meadow, provides swimming opportunities at Big Chico Creek, and leads to exposed lava rock and basalt cliffs.
The Annie Bidwell Trail is a part of a webbed trail system within Bidwell Park. Many other trails intersect with this trail, and others go further into the Cascade foothills. The Lower Trail at the base of the canyon is great for a relaxing walk with the family, while the Upper Bidwell Park Loop can prove to be quite a challenge.
Any route you take will be diverse and full of beautiful sights. There's something to discover at every turn from vernal pools to volcanic geology to some of the largest oak trees in the world. Wildlife also abounds here. Keep an eye out for beavers, numerous amphibians, and migrating birds.
7. Feather Falls Loop
Why you should go: It's all about the 400-foot plunging Feather Falls.
Difficulty: Moderate
Distance: 8 miles
Elevation gain: 1870 feet
Location: Oroville
There are few types of hikes as exciting and filled with suspense as a waterfall-bound hike, and the Feather Falls Loop is an exceptional sight tucked deep in the Plumas National Forest.
The loop is made up of the Feather Falls Scenic Trail Lower and Upper Routes. From the parking lot, the lower route descends into a dense forest, crosses several creeks, and then climbs up to the falls, providing the best view from a platform below the waterfall.
A steep climb then leads to the upper route which has its own viewpoint for the plunging water. The hike back to the parking area is a gradual uphill slog with beautiful views of the valley and Fall River below.
8. James Irvine to Fern Canyon Loop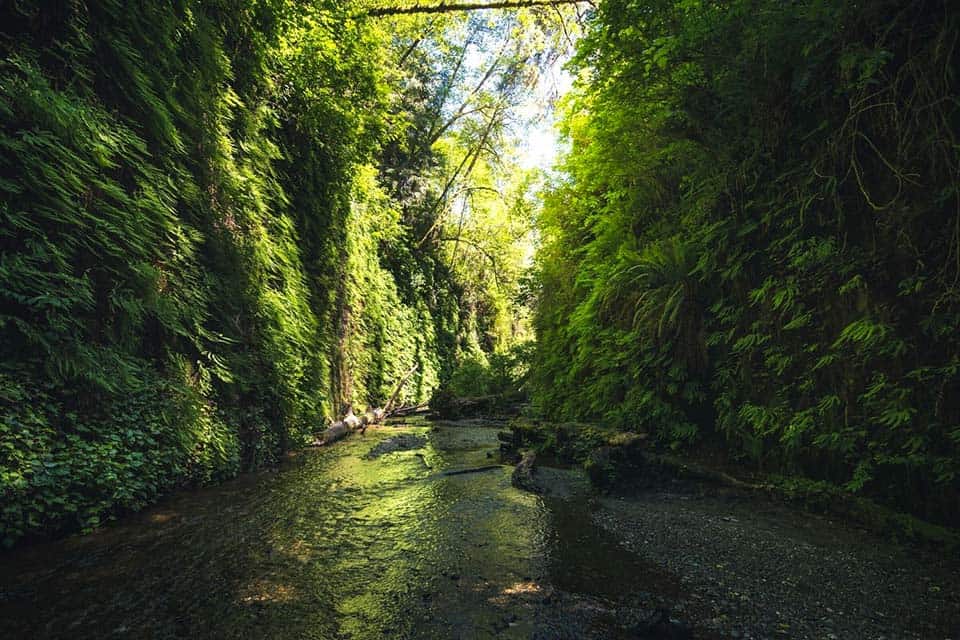 Why you should go: Venture on an all-day hike through the redwoods to the ocean and back.
Difficulty: Moderate
Distance: 12 miles
Elevation gain: 1750 feet
Location: Redwoods National Park
The James Irvine to Fern Canyon Loop is a special kind of hike. It's a day-long adventure that traverses through copses of impossibly tall redwoods, past multiple streams, and over various types of terrain, all the while leading toward the Pacific Ocean.
It's a terrific trail that imprints a destination in your mind when you begin. Once you find that ocean, you will feel relief and awe, but your journey will only be half complete. Enjoy the shoreline at Gold Bluff's Beach for as long as you like.
If you've spent a good amount of time with the crashing waves, you can opt to return back the way you came for a shorter overall hike, but those who want a couple more miles can walk south down the beach and loop back to their cars on the Miner's Ridge Trail.
9. Kings Creek Falls Trail
Why you should go: Alpine meadow vistas and wonderful waterfall overlook.
Difficulty: Moderate
Distance: 2.3 miles
Elevation gain: 470 feet
Location: Lassen Volcanic National Park
Kings Creek Falls Trail starts as a gradual descent down toward the waterfalls, passing by the tranquil Lower Kings Creek Meadow where wildlife can often be seen and mountain top scenery stretches as far as the eye can see.
The descent continues down to a fenced overlook with a grand view of the 30-foot falls. It is possible to scramble down to the waterfall itself, but the way can be dangerous with loose gravel and slick rocks.
The loop continues upstream along a creekside stone staircase to help hikers gain back that elevation they lost on the descent to the falls.
10. Mount Lassen Peak Trail
Why you should go: Stand atop an active volcano and take in the sweeping panoramic views.
Difficulty: Moderate
Distance: 5 miles
Elevation gain: 2000 feet
Location: Lassen Volcanic National Park
Rising to a prominent peak overlooking all of Lassen Volcanic National Park, Mount Lassen is an active volcano that last erupted a century ago, evidence of which can be clearly seen and, unfortunately, smelled from its summit.
The Mount Lassen Peak Trail is an intermediate hike when winter snows have completely melted, but challenging when the trails are covered in ice. Interpretive signage along the route provides history and geological trivia at various viewpoints.
A small amount of rock scrambling must be done to reach the topmost peak, but the unbroken views are with the dust-covered fingertips. Sulfur wafts on the mountain zephyrs, accentuating the visual impact of the lava fields below.
11. Mount Shasta Horse Camp
Why you should go: Hike on the slopes of Mount Shasta toward a historic stone cabin.
Difficulty: Moderate
Distance: 3.5 miles
Elevation gain: 940 feet
Location: Mount Shasta
Mount Shasta Horse Camp is a wonderful hike that serves as a jumping-off point for those who want to venture further up and around the mountain. This heavily-used trail is well-defined and easy to follow, though it is a bit steep.
"The view of the cabin with the mountain looming high above is one of the iconic images of Mount Shasta," said Bubba Seuss at Hike Mt. Shasta.
Beginning at Bunny Flat, this trail weaves through sparse pine trees and over volcanic dust until the path breaks through the woods, opening up to alpine meadows and a grand view of Mount Shasta's snow-capped peak.
Dogs are allowed for half this trail's length, but once you hit the Mount Shasta Wilderness boundary you'll have to turn around if you're out hiking with your pet.
12. Sierra Buttes Trail
Why you should go: Climb high to an active fire lookout post in the Sierra Nevada.
Difficulty: Moderate
Distance: 4.8 miles
Elevation gain: 1500 feet
Location: Sierra City
Located at the northern end of Tahoe National Forest far away from the crowds around Lake Tahoe, the Sierra Buttes Trail climbs high to an active fire lookout station at 8461 feet of elevation.
The trail is steep, but it is well-traveled. Starting on the Pacific Crest Trail, this hike starts as a gentle climb that becomes steeper the further you travel. The tight switchbacks at the top of the climb will be the most arduous part.
But the 360-degree views from the top of the Sierra Nevada are simply outstanding. You can climb the metal staircase to the fire outlook balcony for an even better vantage point. On a clear day, it'll seem as if the entire world is visible from this viewpoint.
13. Tour de Table Mountain
Why you should go: Wander freely around this breathtaking plateau and discover its many secrets.
Difficulty: Moderate
Distance: 6.9 miles
Elevation gain: 783 feet
Location: North Table Mountain Ecological Reserve
There are no marked trails in the North Table Mountain Ecological Reserve. Visitors are free to roam about the plateau as they wish. The Tour de Table Mountain is a GPS track that guides hikers on a path that crosses many of the reserve's most interesting spectacles.
All of the plateau is often blanketed with wildflowers. Though you can walk wherever you want, it'd be best if you avoided trampling any sensitive plants.
Highlights of this route include the cliff-plunging Phantom Falls, smaller hidden waterfalls, exposed lava flows, and overlooking views of the City of Oroville and Oroville Lake.
14. Castle Crags Trail to Castle Dome
Why you should go: Climb toward a pinnacle within Castle Crags with views of Shasta.
Difficulty: Challenging
Distance: 5.5 miles
Elevation gain: 2135 feet
Location: Castle Crags State Park
While most trails in Castle Crags State Park stay low or skirt around the namesake rocky crags, the Castle Crags Trail to Castle Dome is the exception. Steep and rocky, though thoroughly rewarding, this trail is a highlight in the Mount Shasta area that none should miss.
Castle Crags is located right off of Interstate 5 near Mount Shasta. The area is exceptionally accessible for how rugged it is. If you want a grand view to start your trek, or fear that you cannot complete the strenuous hike, there is a half-mile ADA-accessible vista trail from the same parking area that provides awesome views of Castle Dome and Mount Shasta.
But the true spectacle is at Castle Dome itself where exhausted hikers can get up and personal with the crags themselves. The view is incredible at the summit as it combines unhindered views of Mount Shasta, Black Butte, the far off Sierra Nevada, and the rest of the crags themselves.
More California Hikes
Check out more of our California hiking guides featuring the most epic terrain in the Golden State:
Sign up for our free email to join thousands of readers getting epic travel, hiking, camping and gear ideas every week.
---