We research, evaluate and select travel destinations based on a number of factors, including our writers' experience, user reviews and more. We may earn a commission when you book or purchase through our links. See our editorial policy to learn more.
Was this article helpful?
---
A port city perched on Lake Superior's northern shores, Duluth is steeped in maritime history and surrounded by the natural beauty of the world's largest freshwater lake.
Duluth hosts a plethora of four-season activities for everyone. In the summer, take advantage of the water and swim, boat, fish, and more under the sun's warmth.
As the summer months turn to winter, do as the locals do and take refuge in the numerous local breweries and sophisticated eateries. Or throw on your heaviest jacket and escape to the snowy woods for a winter wonderland cabin stay.
If this is your first time to Duluth, no trip is complete without a trip to nearby Apostles National Lakeshore to see the striking limestone shores that freeze into ice caves in January and February. Other classic Duluth attractions include the Aerial Lift Bridge, Duluth Lakewalk, and the Lake Superior Railroad Museum.
Before you take off for the great north of Minnesota, check out 11 of the best cabin rentals near Duluth for your next cozy retreat.
Related Read: 10 of the Best Minnesota Glamping Destinations
1. The Loon Lodge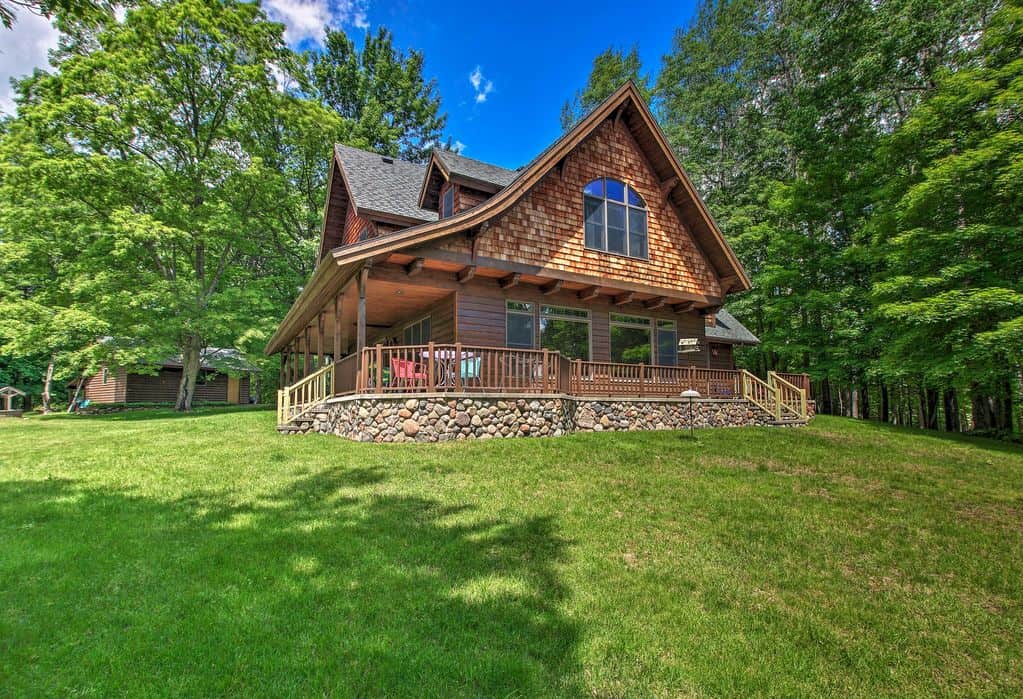 Why you should stay: A lakefront cottage only feet away from the shores of Dowling Lake.
Sleeps: 15
Minimum stay: 2-7 nights
Rates from: $997/night
Plan to host your next family getaway at The Loon Lodge, where you'll find seven bedrooms and ten beds that can accommodate up to 15 guests. This Superior cabin rental is mere steps from Dowling Lake, where the whole family can kayak, canoe, paddleboat, and swim for free.
Spend your evenings relaxing under the stars and roasting marshmallows next to a bonfire or put together a foosball/air hockey tourney for a bit of action. Duluth is a short 25-minute drive away as well as the area's best attractions.
Check Availability
Related Read: 11 Charming Cabin Rentals in Alexandria, Minnesota
2. Peaceful Lakefront Retreat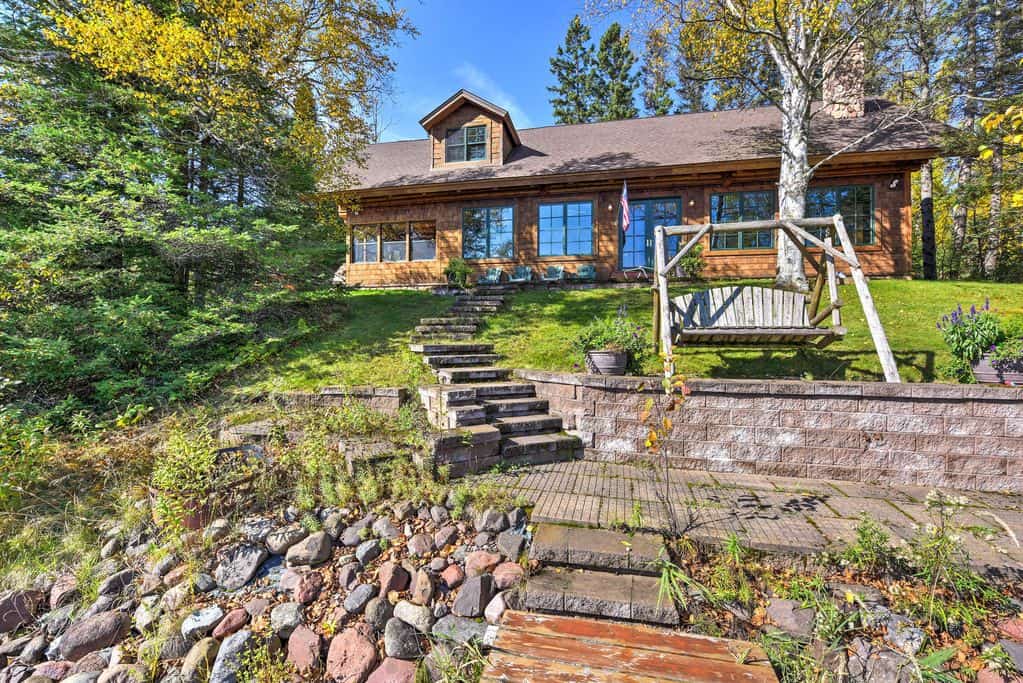 Why you should stay: Find peace on Pequaywan Lake amongst the trees of Superior National Forest.
Sleeps: 8
Minimum stay: 2-4 nights
Rates from: $395/night
This peaceful lakefront retreat is a classic outdoorsy cabin rental near Duluth. Warm wood and exposed log beams cover the ceilings, and the walls are accented with majestic taxidermy displays and a wood-burning, stone fireplace.
Take in the beautiful views of Pequaywan Lake and the Superior National Forest from the furnished viewing deck and treat yourself to a sauna session or two in the attached steam room. You can't go wrong with this stunning three-bedroom lakefront cabin near Duluth.
Check Availability
Related Read: 8 Amazing Cabins in Northern Minnesota for a Relaxing Getaway
3. Superior Pine Tree Lodge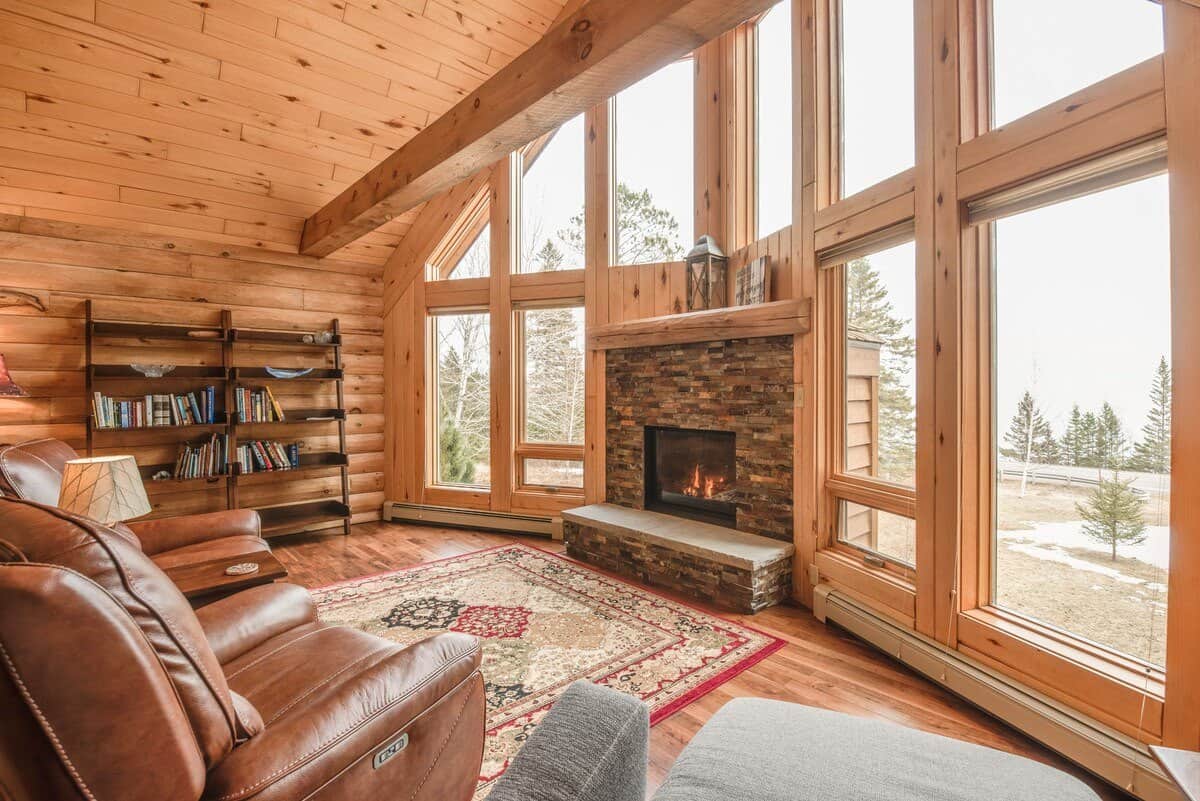 Why you should stay: An impressive family-friendly log cabin featuring views of Lake Superior.
Sleeps: 10
Minimum stay: 4 nights
Rates from: $500/night
The Superior Pine Tree Lodge is a magnificent chalet-style vacation rental just five minutes north of Duluth. From the property, five state parks all lay within your reach for days spent in the great outdoors. The home overlooks the splashing waves of Lake Superior, a view you'll enjoy through the living room's large windows.
There are three bedrooms and 3.5 bathrooms spread through three stories, so everyone can enjoy the privilege of having their own private space. Sip your morning coffee in the quiet of the three-season porch and invigorate your senses in the all-wood sauna.
Check Availability
Related Read: 10 of the Most Unique Places to Stay in Minnesota
4. Rustic Little Cabin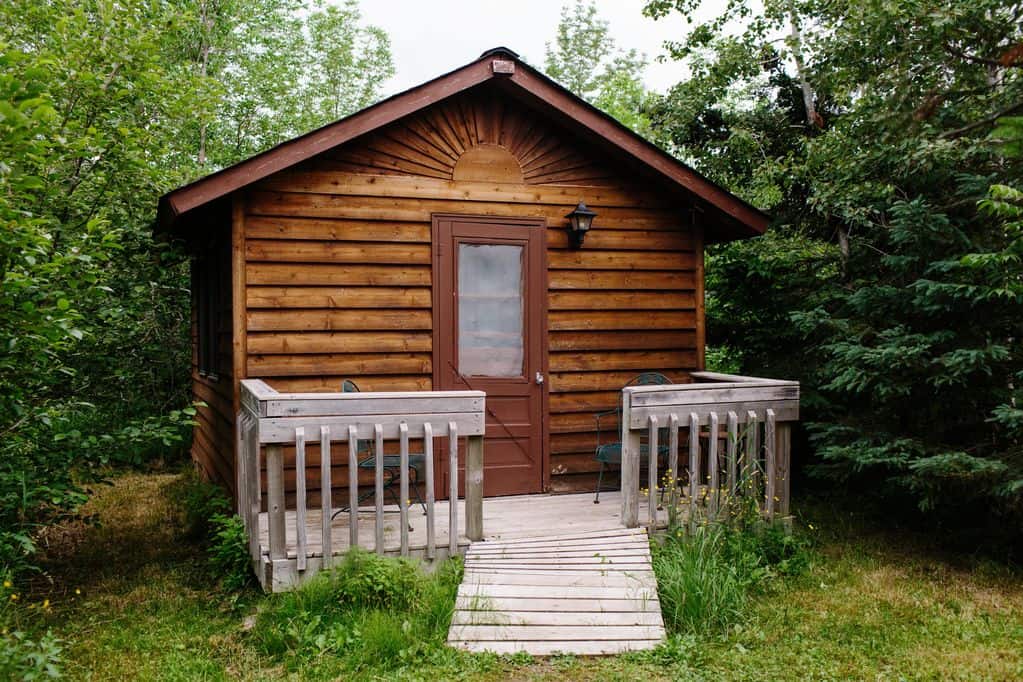 Why you should stay: A cute, tiny cabin for two within walking distance of the shores of southern Lake Superior.
Sleeps: 2
Minimum stay: 1 night
Rates from: $159/night
Escape to the solitude of nature at this quaint rustic little cabin in South Range, Wisconsin, just 30 minutes south of Duluth. Guests from all over the country come to hike, ski, or snowshoe on the surrounding trails. If you're a bird-watching enthusiast, you're going to love taking a stroll through the 500-acre migratory bird research area nearby.
The Amnicon River and a private Lake Superior beach are also just ten minutes away for some water sports fun. This tiny studio cabin rental has a kitchenette, fire pit, and outhouse, and just may be the personal retreat you didn't know you needed.
Check Availability
Related read: 7 Best Camping Spots Near Duluth, Minnesota
5. Secluded Duluth Retreat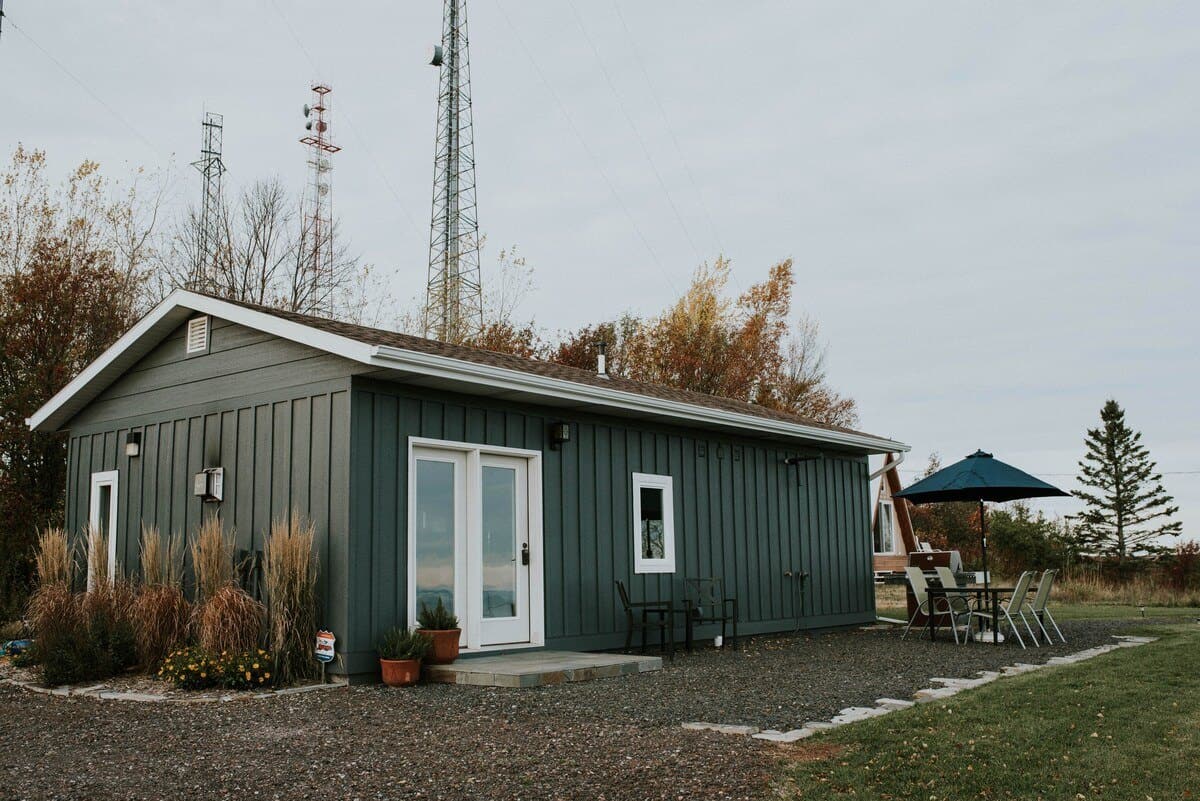 Why you should stay: Enjoy 2.5 acres of private seclusion in the heart of Duluth.
Sleeps: 4
Minimum stay: 2 nights
Rates from: $304/night
A minimalistic beauty with fantastic panoramic views, this secluded Duluth retreat is a cute cottage that makes for a great romantic getaway. The home's artfully decorated in a classic and contemporary style, and you'll find a queen bed and pull out sleeper sofa for traveling groups of four.
Take advantage of the onsite washer and dryer, gas grill, and fire pit seating that overlooks not only Lake Superior, but the Aerial Lift bridge and the St. Louis River as well. The sights of ships coming and going and local sailboats cruising along the shores will stay with you forever.
Check Availability
Related Read: 8 Spectacular Places to See Fall Colors in Minnesota
6. Lakefront Cabin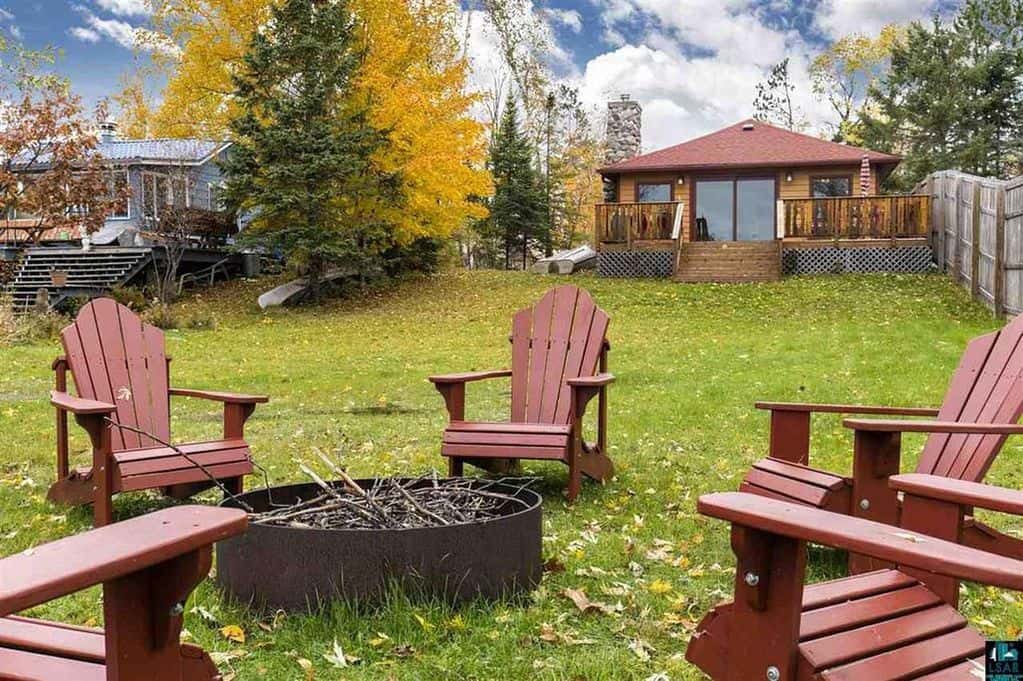 Why you should stay: A three-bedroom lake cabin just 15 minutes from downtown Duluth.
Sleeps: 6
Minimum stay: 2 nights
Rates from: $250/night
Situated on Caribou Lake, this lakefront cabin is a bright and cheery Duluth vacation rental with plenty to do. The property has a large yard and a private dock where you can take a cruise via paddle boat or rowboat.
There's also an attached deck and bonfire circle for lounging outside. This three-bedroom cabin for six is just 15 minutes from downtown Duluth for convenient and fun city outings.
Check Availability
7. The Shabin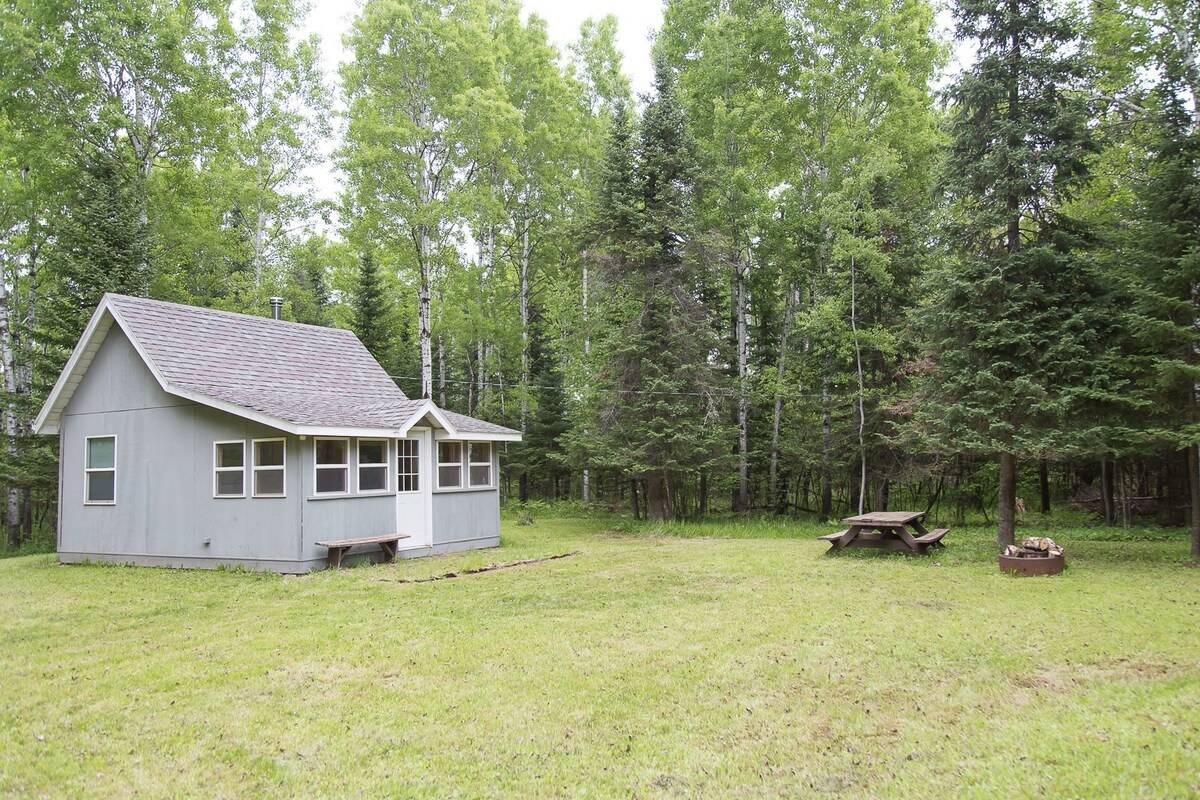 Why you should stay: A cozy little cabin nestled into the woods of northern Minnesota.
Sleeps: 3
Minimum stay: 2 nights
Rates from: $78/night
The Shabin is a unique glamping experience a mile from Lake Superior and the mouth of the Amnicon River. This tiny home offers sturdy shelter from the elements, and a comfy bed and clean linens for your comfort.
The cabin does have electricity inside – a treat on any camping trip – but there is no running water. The hosts provide two nights of free drinking water, coffee supplies, and firewood for your stay. This is how to rough it in style in South Range, Wisconsin.
Check Availability
8. North Shore Cabin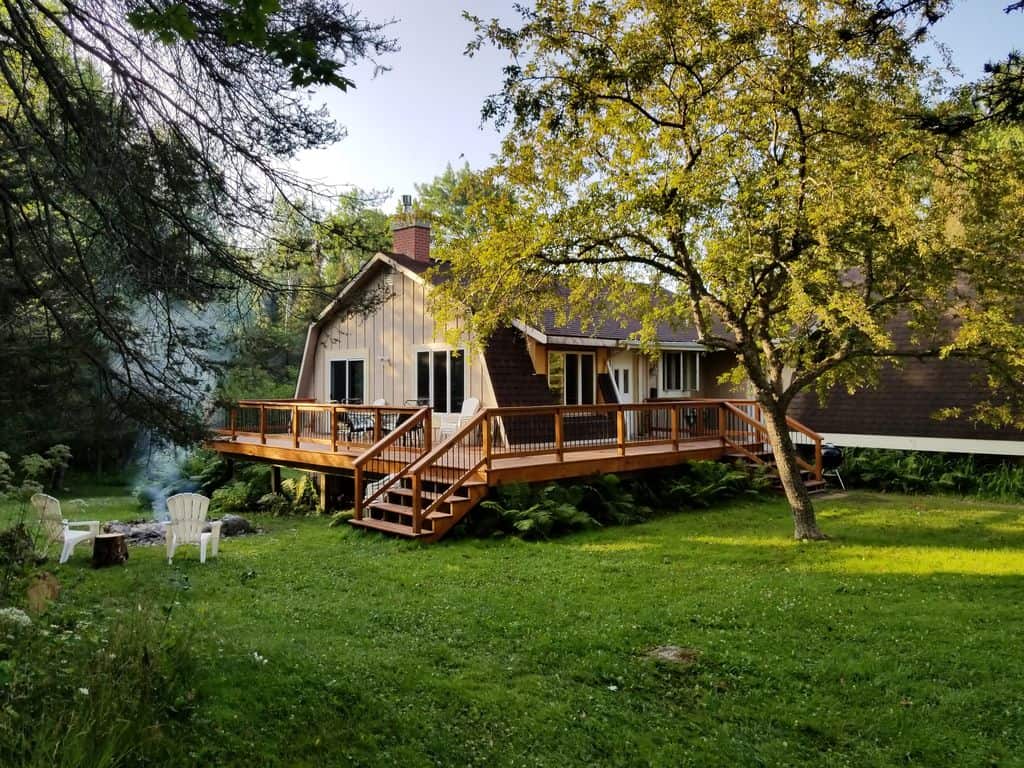 Why you should stay: Experience the scenic property along The Talmadge River while hiking to private waterfalls.
Sleeps: 10
Minimum stay: 4 nights
Rates from: $232/night
Stay in blissful seclusion without being too far from the heart of Duluth in this North Shore cabin. Surrounded by a thicket of birch, fir, and pine trees, this cabin's landscape is truly stunning and offers ample opportunity to relax in peace and quiet, and only the local wildlife to contend with.
Exposed beams, a stone fireplace, and rugged decor create a welcoming atmosphere throughout the cabin. There are four bedrooms and 2,200 square feet of space for ten guests to comfortably lounge, as well as pretty hiking trails throughout the property.
Check Availability
9. Historic Lakeside Cabin
Why you should stay: Historic 1925 log cabin overlooking the waters of a Great Lake.
Sleeps: 6
Minimum stay: 1-7 nights
Rates from: $275/night
This is a classic American log cabin and a proud testament to days gone by. Built nearly 100 years ago, today it's been updated to accommodate our modern needs with a fully equipped kitchen, flatscreen TV, and DVD player.
But the lakeside cabin preserves plenty of its old world-charm: the original fieldstone fireplace still functions, and WiFi is nowhere to be found. Eleven acres and 450 feet of private shoreline await you at this two-bedroom, rugged cabin rental near Duluth.
Follow 'em: Facebook
Check Availability
10. Parkplace Cabin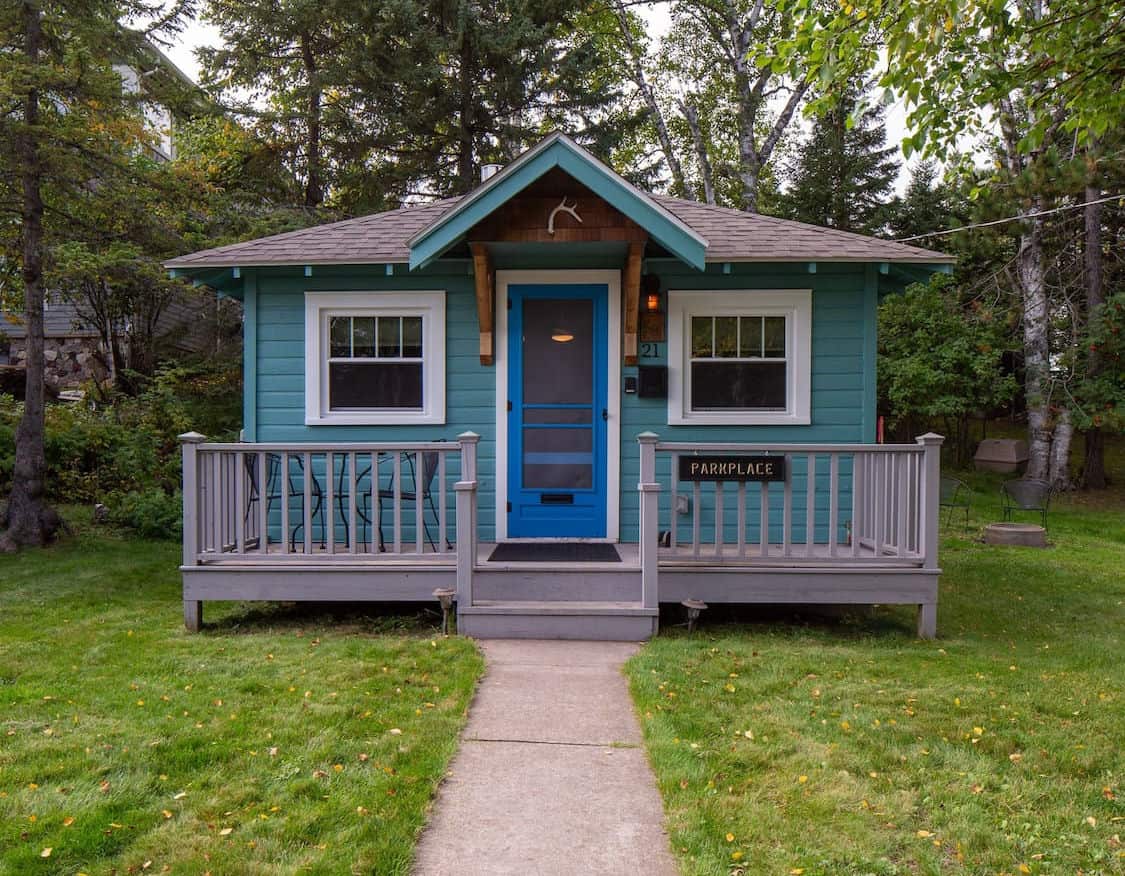 Why you should stay: Rustic little cabin for four just a few blocks away from downtown Two Harbors.
Sleeps: 4
Minimum stay: 1 night
Rates from: $189/night
Parkplace Cabin is a vibrant little studio cabin in Two Harbors, Minnesota, complete with a queen-sized bed and sleeper futon for an intimate stay for four.
The space has recently been updated with a modern kitchenette, all new plumbing and wiring, and a new shower too. For your visit, the hosts have provided an onsite BBQ gas grill, and there's also a fire pit for nightly evenings cuddled up next to the roaring fire.
If you're traveling with a furry friend, they're more than welcome here!
Check Availability
11. Rustic Cloquet Cabin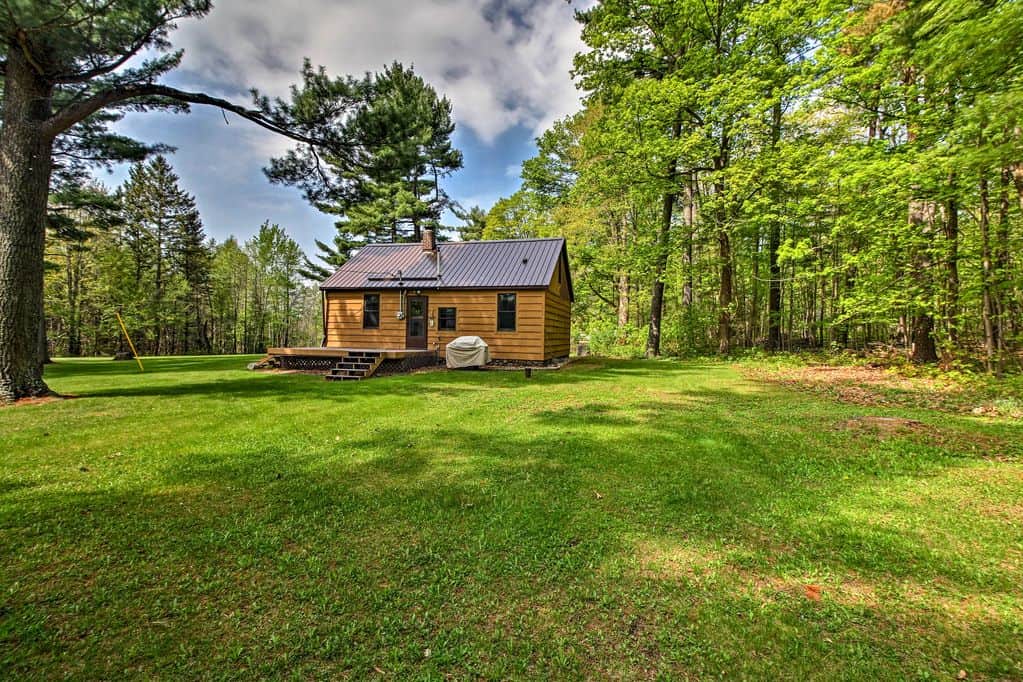 Why you should stay: Sleep across the street from Big Lake in a charming cabin with a three-season porch and fire pit.
Sleeps: 9
Minimum stay: 2-3 nights
Rates from: $213/night
This Cloquet cabin features home-away-from-home comfort that can't be beat. Maxing out at just 960 square feet of space, the cabin's expertly laid out to comfortably accommodate up to nine guests.
Take a stroll to Big Lake where you can use the private dock until mid-October. There's also a three-season screened porch, fire pit and gas grill for days out in the sun. Lake Superior, Canal Park, and Black Bear Casino are also nearby.
Check Availability
Plan Your Trip to Duluth, Minnesota
Now that we've covered some of the best cabin rentals near Duluth, let's dive into the best things to do in northern Minnesota and Wisconsin. While Lake Superior is the star of the show, countless other outdoor and city attractions promise to make your midwestern vacation fun.
Explore More Cabin Destinations
Sign up for the Weekend Wanderer to join 100,000+ readers getting epic travel, hiking, camping and gear ideas every month.
Was this article helpful?
---