We research and recommend travel destinations based on a number of factors, including our writers' own experience, user reviews and more. We may earn a commission when you book or purchase through our links. See our editorial policy to learn more.
Was this article helpful?
---
Fall asleep amongst the rustle of leaves and the peaceful chirping of birds with a stay at one of these enchanting treehouse rentals in Wisconsin.
Wisconsin's natural beauty is what the state is famous for, and nothing helps amplify a journey into nature more than staying in a treehouse. Why just visit nature when you can actually be a part of it?
In the north, you'll find treehouses near jaw-dropping natural wonders like the dramatic sea caves of the Apostle Islands National Lakeshore.
And in the southwest, you can wake up amongst the rolling hills and dense forests of the Driftless Area, a region untouched by advancing glaciers millions of years ago. On top of that, Wisconsin has countless gorgeous places in-between.
Consider one of these unique treehouses in Wisconsin for your next adventure.
1. The Meadow House
Why you should stay: A cozy treehouse-like cabin that sits where the rolling hills meet the prairies of southwestern Wisconsin.
Location: Richland Center
Sleeps: 2
Minimum stay: 2-3 nights
Rates from: $308/night
The Meadow House at Anaway Place is an outdoor resort focused on providing quiet relaxation immersed in the beauty of Wisconsin's Driftless Area.
Perched atop a hill, the cabin's all-glass walls bring the breathtaking surroundings and colorful sunsets indoors. Other lovely touches like reclaimed wooden floors, tall ceilings, and a wood-burning stove provide some of the coziest vibes in the state.
The 80-acre property hosts a few unique vacation rentals spread out to maximize privacy, and guests are free to take a stroll and pack a picnic on the expansive property.
The cabin also has a private fire pit for evenings under the stars. While visiting, you can pick up artisanal goodies and home decor at Anaway's onsite store. Not far from the home, soak up Richland Center's small-town charm with a visit to the Starlite 14 Drive-In or Wild Hills Winery.
Check Availability
Follow 'em: @AnawayPlace
2. Boulderridge Treehouse
Why you should stay: A quaint treehouse cabin nestled in the scenic Northwoods near Apostle Islands National Lakeshore.
Location: Bayfield
Sleeps: 4
Minimum stay: 2 nights
Rates from: $299/night
The Boulderridge Treehouse offers everything you'd expect from a cabin "Up North" and more. Towering 12 feet above the ground, the interior of this charming cabin features knotty pine walls and natural elements sourced from Lake Superior, like a stone wall and driftwood railings.
A little fireplace ensures you stay toasty warm even in the winter, and a basic kitchen nook provides a place to brew coffee and store perishables in the mini-fridge. This little treehouse even has a bathroom with a shower.
A spacious deck with outdoor seating wraps around the treehouse, offering a bird's-eye view of the wooded property. Bayfield is a beautiful Wisconsin destination best known for the striking Apostle Islands National Lakeshore of Lake Superior. Guests can also stroll through local orchards, spend the day at nearby beaches, and indulge in local hiking.
Check Availability
Follow 'em: @bayfieldboulderridgetreehouse
3. TreeTop Tiny House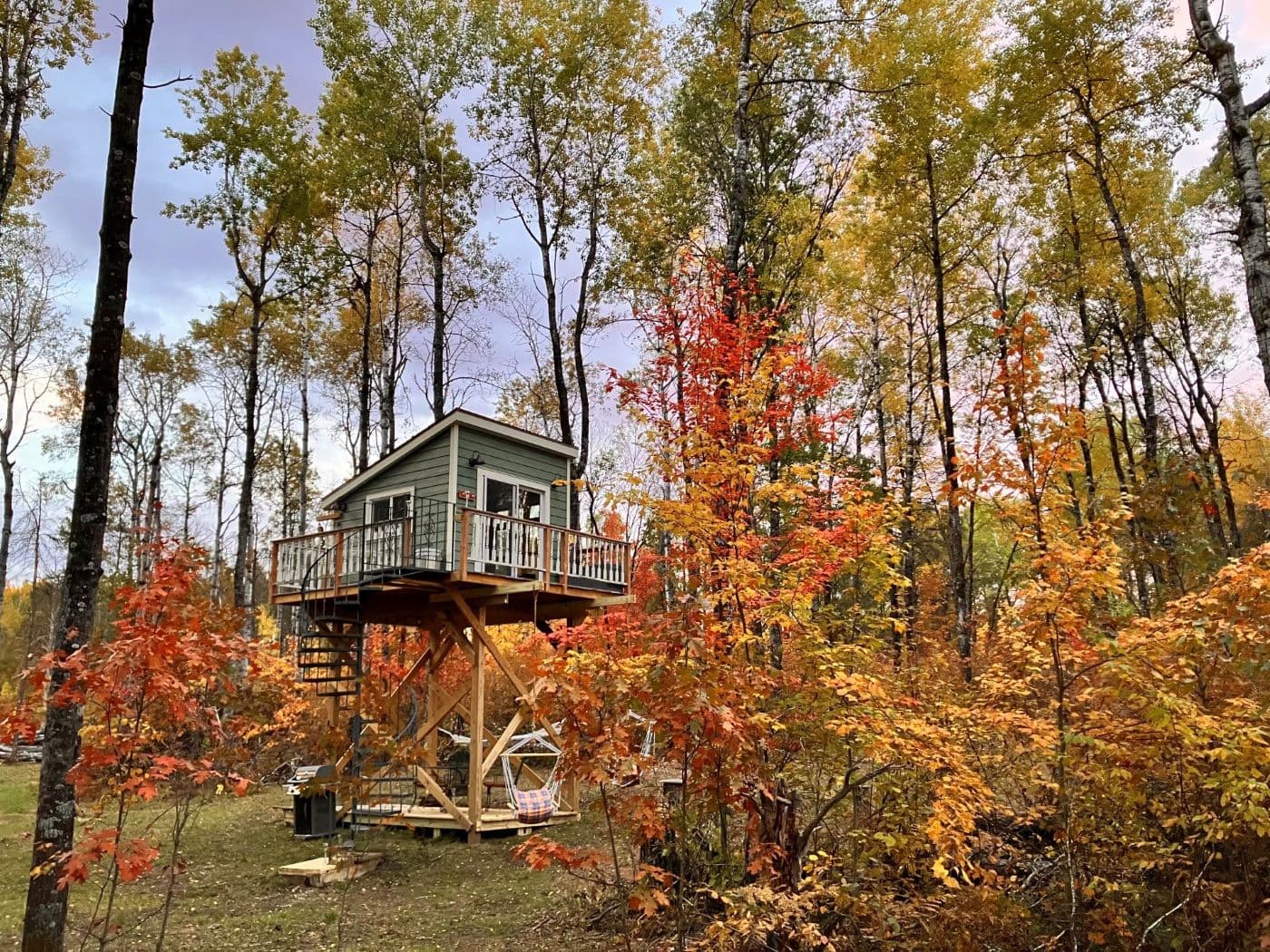 Why you should stay: A dry tiny cabin high above the ground in scenic Marinette County.
Location: Athelstane
Sleeps: 3
Minimum stay: 1 night
Rates from: $199/night
In the middle of the woods, at the top of a spiral staircase, awaits the TreeTop Tiny House. This small but mighty treehouse offers a cozy living space with a seating area, a tiny kitchen, and a convertible futon bed.
Pops of bright color and decor bring life into the tiny home, as does the little deck furnished with a cafe table and chairs. Beneath the treehouse is another deck area with hanging hammock chairs, a grill, and additional seating.
This treehouse is a true glamping experience without running water (but it does have a private porta-potty on the property). However, the hosts provide drinking water and modern comforts like electricity.
Marinette County is home to many incredible waterfalls and vast expanses of public lands, like the Chequamegon-Nicolet National Forest, where you can hike and play. Plus, Green Bay is just a little over an hour away.
Check Availability
Related read: 10 Best Hikes in Wisconsin for Hitting the Trail Any Time of Year
4. The Treehaus at Wild Rice Retreat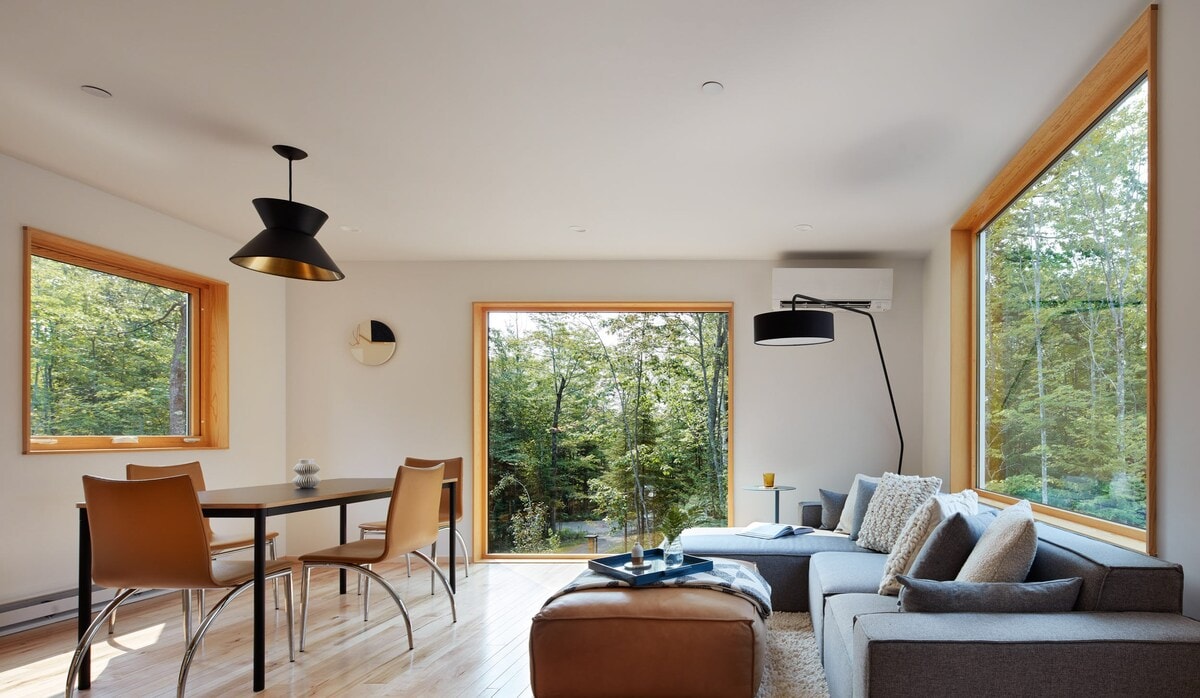 Why you should stay: A modern two-story treehouse not far from the waters of Lake Superior.
Location: Bayfield
Sleeps: 8
Minimum stay: 2 nights
Rates from: $800/night
The Treehaus at Wild Rice Retreat offers a peaceful treehouse-esque getaway just outside the town of Bayfield. This contemporary cabin embodies the spirit of modern minimalism, providing guests with upscale furniture and open living spaces where you can unwind without distraction.
The home's four bedrooms and four baths make it an excellent pick for group getaways. During your stay, you can add on the "Personal Retreat Package," which includes two daily meals and access to the resort's wellness classes.
"What a great space," one guest wrote. "The entire grounds, from the minute you drive in, are spectacular. The buildings, landscaping, pods, and trails are designed to perfection. The interiors, furniture, fabrics, and blankets are all very modern with a Scandinavian touch. Again, very well thought out and luxurious."
Check Availability
Follow 'em: @WildRiceRetreat
5. Modern Treehouse Retreat
Why you should stay: A tower treehouse overlooking wooded surroundings an hour south of Eau Claire.
Location: Merrillan
Sleeps: 10
Minimum stay: 2 nights
Rates from: $285/night
Wake up amongst the treetops at this modern treehouse retreat, a four-story cabin reminiscent of a fire lookout tower.
This surprisingly spacious treehouse has a primary bedroom with an ensuite bathroom and two bunk rooms that sleep an additional eight people. Not only that, but guests enjoy amenities not always found in a treehouse, including a fully equipped kitchen and a wood-burning fireplace.
On the top floor, a balcony offers a cozy place to lounge and the best vantage point of the forest. Surrounding the treehouse is a beautifully landscaped yard with a wooden deck and a fire pit under the twinkle of magical string lights.
There's even a screened-in porch where you can spend quality time in the fresh air, protected from pesky mosquitoes. Black River State Forest and Bruce Mound Winter Sports are a short drive away, offering plenty to do any time of year.
Check Availability
Related read: 12 Amazing Wisconsin Glamping Rentals You'll Love
6. The Treehouse in Waupaca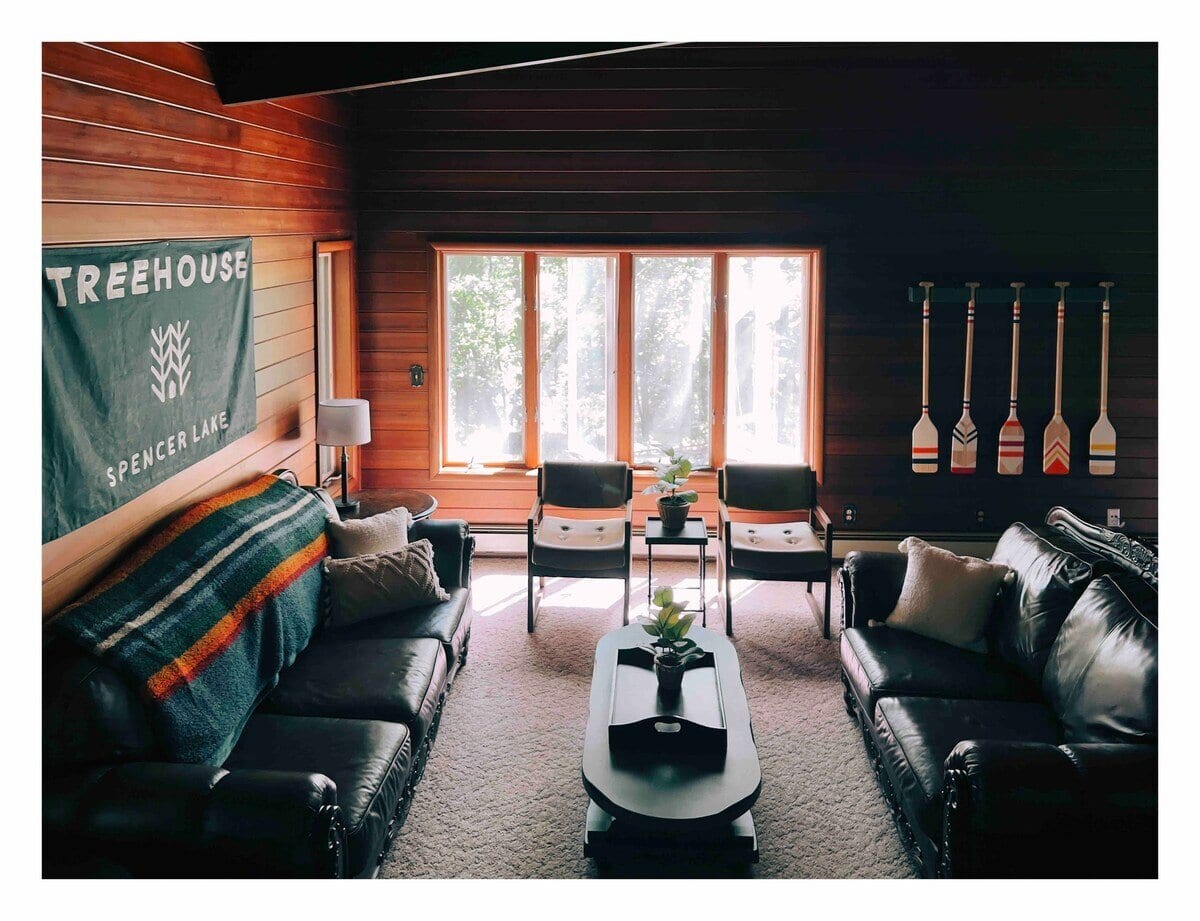 Why you should stay: A 1970's inspired cabin near Spencer Lake in central Wisconsin.
Location: Waupaca
Sleeps: 8
Minimum stay: 2-7 nights
Rates from: $208/night
Retro vibes abound at The Treehouse, a treehouse-like cabin modeled after the summer camps of a bygone era. Eye-catching wood paneling and a stone accent wall with a fireplace create a warm and cozy space throughout the home. The interior is also filled with decor and art that not only celebrates the style of the seventies but also Wisconsin heritage.
While at the Treehouse, put on a record and strike up an exciting game of pool or pull out one of the supplied board games for family game night. A screened-in porch with wooden seating looks over the forested backyard. This pet-friendly property spans 15 acres and is less than ten minutes from Hartman Creek State Park.
Check Availability
Related read: 10 Romantic Getaways in Wisconsin for the Ultimate Retreat
7. The Barn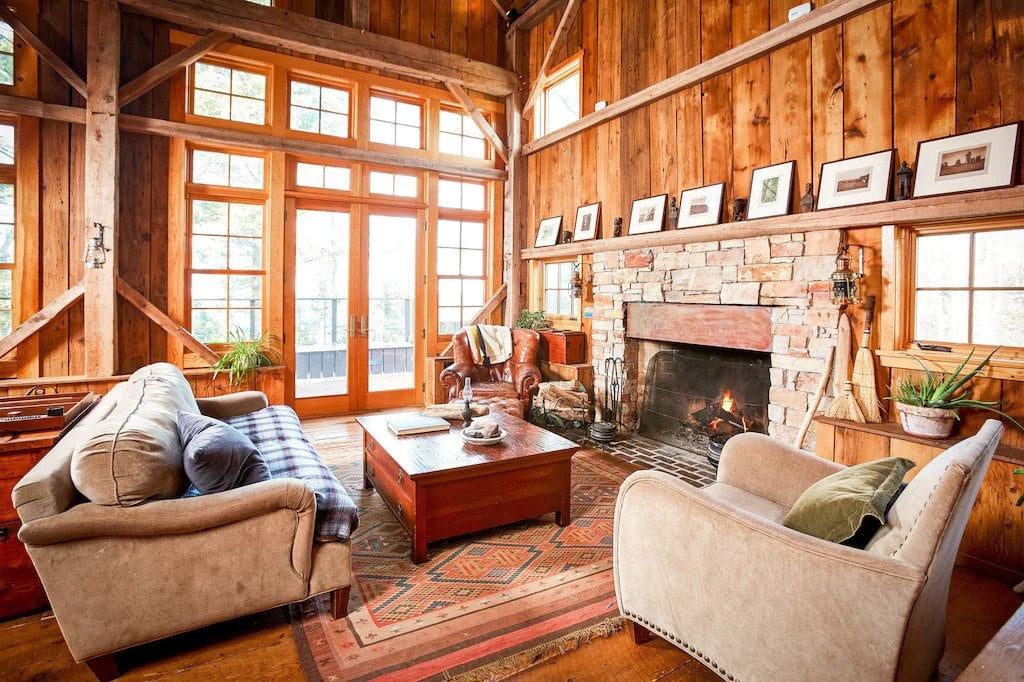 Why you should stay: An exceptional cabin rental with a play treehouse on Madeline Island.
Location: La Pointe
Sleeps: 18
Minimum stay: 3-7 nights
Rates from: $975/night
Treat yourself to an island getaway at The Barn, a six-bedroom vacation rental unlike any other.
This incredible barn-like cabin immerses you in the beauty of the great outdoors in a delightfully rustic space that embodies the spirit of a classic treehouse. Inside, vaulted ceilings and reclaimed wood walls are perfectly illuminated by sunshine streaming in through the home's expansive windows.
Although this isn't a treehouse, there is a little treehouse in the backyard where the kids can play and let their imaginations run wild.
The home also features a screened-in porch, an outdoor fire pit, and an impressive 900-foot stretch of private Lake Superior shoreline. From there, make a splash from the property's deck or on one of the provided stand-up paddle boards.
Check Availability
Related read: 11 Unique Places to Stay in Wisconsin for an Unforgettable Getaway
Explore Wisconsin
Get epic travel ideas delivered to your inbox with Weekend Wanderer, our newsletter inspiring thousands of readers every week.
Was this article helpful?
---