We research, evaluate and select travel destinations based on a number of factors, including our writers' experience, user reviews and more. We may earn a commission when you book or purchase through our links. See our editorial policy to learn more.
Was this article helpful?
---
With a number of exciting vacation rentals and hotels taking Washington by storm, it's not just the destination that's worth visiting. Finding an incredible place to stay makes for an extra memorable adventure.
What sets these unique places to stay in Washington apart are the exciting amenities they offer. Amenities like treehouse-esque architecture, wine barrel bedrooms, and mountain top villas — all of which only scratch the surface. Many of these fabulous accommodations also rock luxury extras like hot tubs and swimming pools, only sweetening the deal.
Where these exciting places are located ain't too shabby either. Home to lush river valleys, snow-capped volcanic mountains, and coastal islands, Washington is a playground for nature lovers. And now you can easily relish the beauty of The Evergreen State in the comfort of epic lodging.
So strap in for a killer adventure with one of these incredible places to stay in Washington.
Related Read: A Winter Guide to Visiting Olympic National Park
1. Beachfront Treehouse
Why you should stay: A quaint, oceanside treehouse near downtown Vashon with a rustic beach cabana.
Location: Vashon Island
Sleeps: 6
Minimum stay: 2 nights
Rates start from: $250/night
Immersed in the serenity of a seaside apple orchard, this beachfront treehouse provides a much-needed respite away. The shores of the Puget Sound are within walking distance from this little cabin, where you can take a dip or simply gaze out onto the calm waters. The property also has a paddle board and a canoe for those interested in a paddle.
The layout of the treehouse is quite unique, and is made up of various separate buildings, including a bathhouse, bedroom, and a living space with a kitchen. All are connected via a deck walk and stairs. As for places to sleep, there is a primary bedroom, a lofted sleeping space, and a pull-out sofa to accommodate your group. The hosts have also outfitted the home with an excellent selection of board games, books and complimentary firewood.
Check Availability
Related Read: 10 Magical Treehouse Rentals in Washington
2. Earthlight™
Why you should stay: A contemporary villa with a hot tub situated high above the Columbia River Valley at an elevation of 6,500 feet.
Location: Orondo
Sleeps: 2
Minimum stay: 1 night
Rates start from: $450/night
At Earthlight™, modern convenience and a focus on nature are at the heart of this Washington vacation rental. Inside, the home boasts an open floor plan complimented by glass walls that allow sunshine and mountain views to make a statement. Other noteworthy features include the free-standing soaking tub, stylish decor, and Keurig coffee maker.
Out on the deck, you'll find the hot tub, where you can take a dip and soak up the beauty of the passing Columbia River. Not to mention, there are two rope swings and a swinging bench that offer front-seat views to the natural surroundings.
Check Availability
Follow 'em: @EarthlightVillas
3. The Society Hotel – Bingen
Why you should stay: A trendy hotel and hostel with a spa, located a 15-minute walk from the Hood River.
Location: Bingen
Sleeps: 1-4
Minimum stay: 1night
Rates start from: $44-$125/night
Housed in what was once an old school, The Society Hotel provides a warm welcome to those itching to explore the Columbia River Gorge. The hotel offers private cabins, standard hotel rooms, and budget-friendly bunks in communal dorms so everyone from large groups to solo travelers can enjoy a visit.
However, no attention to detail has been spared, and trendy decor and high-end touches fill every space, even in the hostel. After a long day exploring the nearby landscape, a visit to the onsite spa is a must, which is equipped with a hot tub, sauna, plunge pools, and more. Portland is only about an hour southwest of the hotel.
Check Availability
Follow 'em: @SocietyHotel
4. Waterfall Sanctuary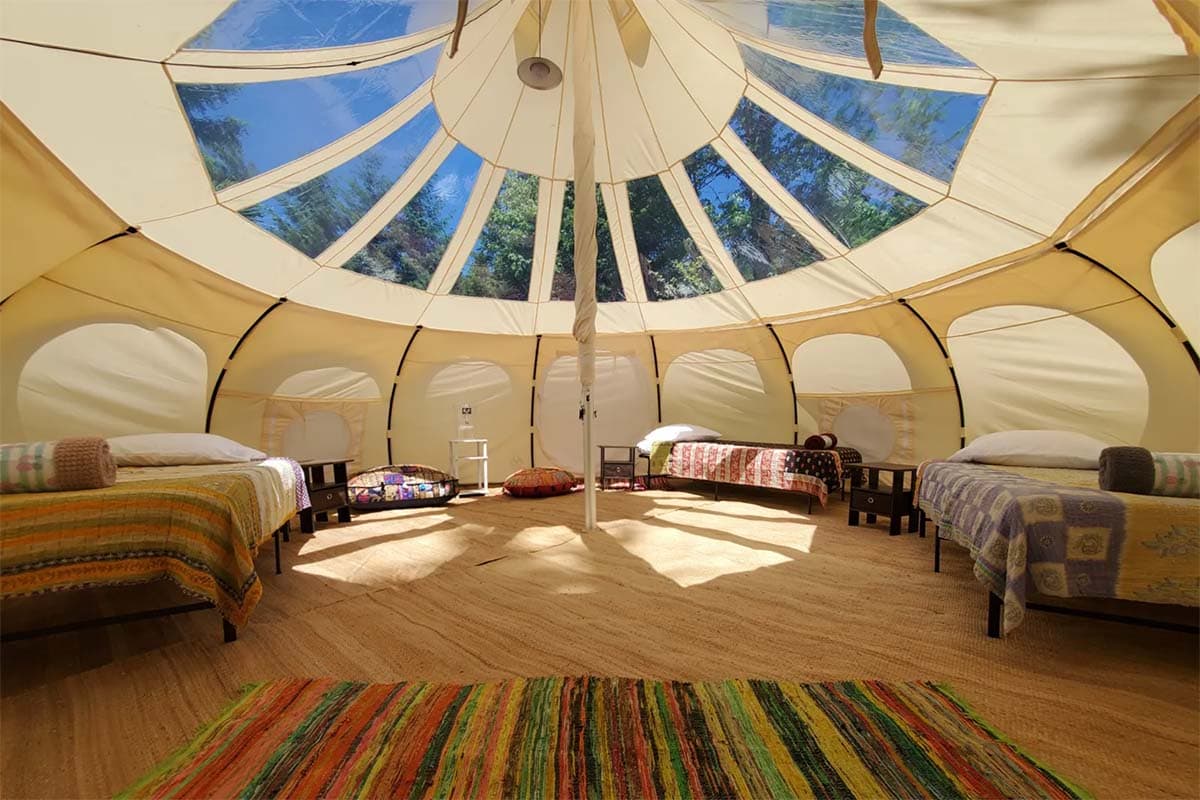 Why you should stay: A rustic farm stay with glamping accommodations bordering the Gifford Pinchot National Forest.
Location: Carson
Sleeps: 2-5
Minimum stay: 1 night
Rates start from: $89/night
Take your pick from safari tents, fun yurts, or a tiny cabin at the scenic Waterfall Sanctuary. This little farm is home to roaming chickens and goats and boasts an ideal location to some of southwestern Washington's top attractions. Water lovers will appreciate the nearby swimming spot with a rope swing at the Wind River as well as the close proximity to the Columbia River.
Guest Jennifer shares, "The kids in our group had a blast exploring the property (and nearby Panther Falls) despite the chilly misty weather. The tents were clean and absolutely beautiful (snag the Stargazer if you can!) and much bigger than we anticipated."
Check Availability
Related Read: 12 Best Washington Coast Camping Spots for a Peaceful Trip
5. Getaway Mount Adams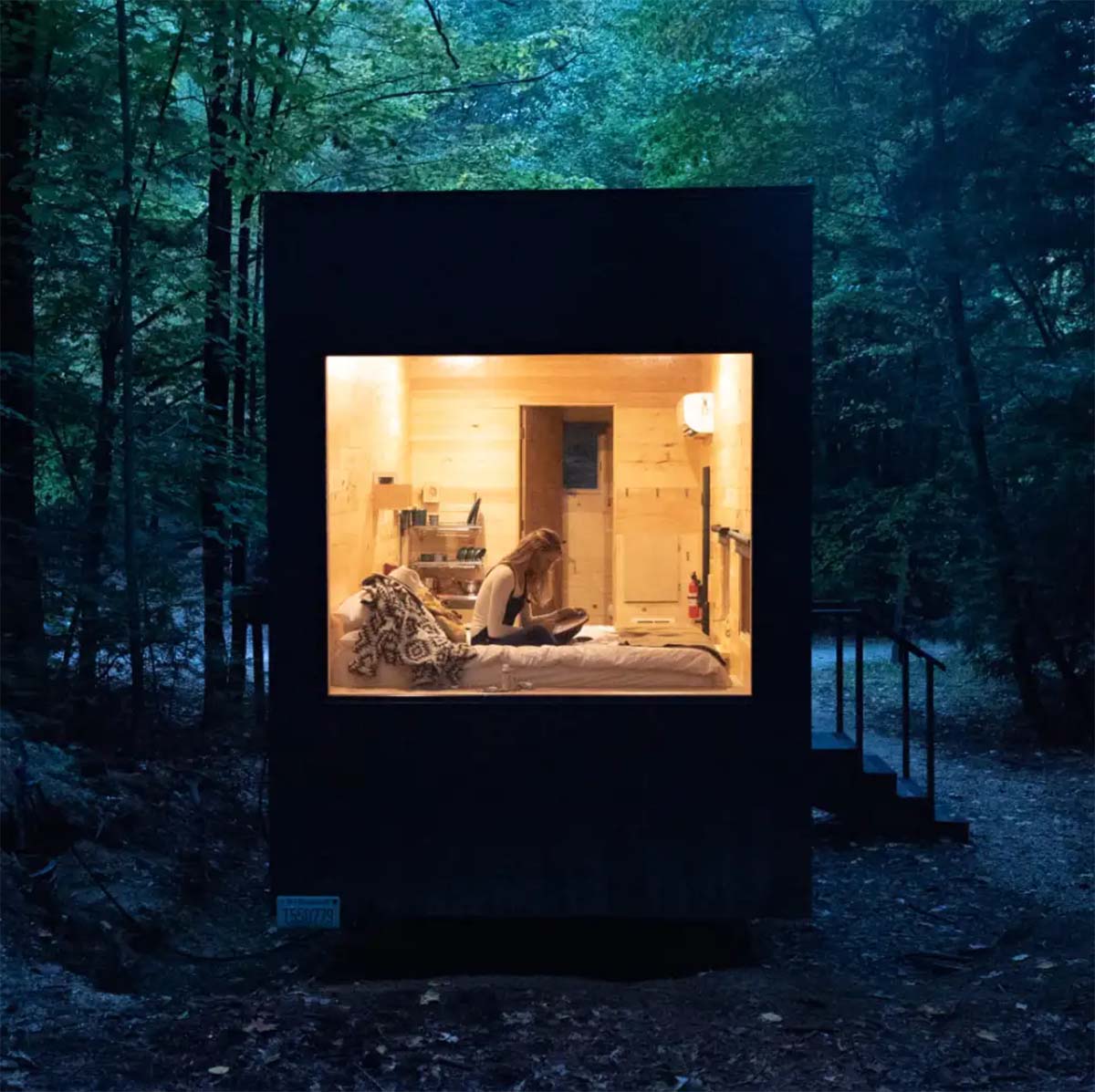 Why you should stay: A pet-friendly tiny cabin resort that puts the glam in glamping not far from Mount Adams.
Location: Glenwood
Sleeps: 2-4
Minimum stay: 1night
Rates start from: $129/night
Getaway Mount Adams is a perfect compromise when the itch to camp hits, but you don't want to haul any gear. This outdoor glamping property features tiny cabins with one or two bedrooms, each of which are furnished with plush sleeping quarters, a kitchenette, and a private bathroom with hot showers.
From your bed, a large picture window makes it easy to gaze out on the serene forest that surrounds you. Every cabin also has a private fire pit and picnic table for evening smores. If in need of any supplies, the outpost store has you covered.
Check Availability
Follow 'em: @GetawayHouse
6. Bryant Barn
Why you should stay: An updated barn with an in-ground swimming pool and a wine barrel bedroom.
Location: Walla Walla
Sleeps: 6
Minimum stay: 2 nights
Rates start from: $262/night
The Bryant Barn not only makes an excellent home base for exploring the famous wineries of Walla Walla but as a vacation destination in its own right. This beautiful home oozes farmhouse-chic style that fills the inviting open floor plan. There's a cozy fireplace for guests visiting in the cooler months and an in-ground swimming pool for those staying in the summer.
The yard also has a fire circle, large grassy area perfect for pets, and a 1,000-gallon wine barrel turned bedroom for two. What better way to wake up in Washington's wine country than inside a larger-than-life wine barrel?
Check Availability
Related Read: 12 Spots to See Gorgeous Fall Colors in Oregon
7. Linford-Shire on Bainbridge
Why you should stay: An eye-catching Hobbit hole across the Puget Sound on Bainbridge Island.
Location: Bainbridge Island
Sleeps: 2
Minimum stay: 1night
Rates start from: $68/night
Whether you're a Lord of the Rings fan or not, Linford-Shire on Bainbridge is a charming getaway unlike anywhere you've probably stayed. Built into a grassy hillside, one step through the circular front door transports you to a storybook glampsite.
The hosts have outfitted the place with a futon bed, coffee supplies, and a fireplace for utmost coziness during your stay. A clean outhouse and hand washing station lie not far from the hobbit hole. And in classic glamping fashion, the property has a fire pit and extras like disc golf nets.
Check Availability
Follow 'em: @hobbithouse98110
8. The Captain Whidbey
Why you should stay: A historic lodge along the rugged shores of Whidbey Island.
Location: Coupeville
Sleeps: 1-4
Minimum stay: 1 night
Rates start from: $205/night
Nestled on Penn Cove, The Captain Whidbey is a modern yet rustic lodge that dates back to 1907. In consideration of every style of travel, guests can choose between private cabins, Scandinavian-inspired lagoon rooms, and lodge quarters that have been kept as they were, shared bathrooms, and all.
When hunger strikes, the hotel's onsite restaurant and tavern are fit for a captain and also retain much of the lodge's original old-world charm. The hotel's wellness studio provides a relaxing space to do yoga and the opportunity to indulge in a sauna sesh. The island's Fort Ebey State Park is five minutes from the hotel.
Check Availability
Follow 'em: @TheCaptainWhidbey
9. The Cabin on Hunter Bay
Why you should stay: A log cabin perched atop a bluff that overlooks the San Juan Islands in Hunter Bay.
Location: Lopez Island
Sleeps: 8
Minimum stay: 2 nights
Rates start from: $325/night
The Cabin on Hunter Bay is a remote getaway situated on a quiet part of Lopez Island. This incredible log home has a spacious interior with tasteful decor and upscale elements like a central fireplace and soaking tub. However, the vaulted ceilings, exposed beams, and log walls nail home that cozy, cabin aesthetic.
This Washington vacation rental also boasts numerous outdoor seating areas, including a covered patio, a sunny deck, and a hammock. But it's from the incredible cliffside deck that you can truly soak up the magnificence of Hunter Bay.
Check Availability
Related Read: 11 Epic Glamping Spots in Washington State
10. Treehouse Place
Why you should stay: A fairytale tiny cabin that oozes treehouse vibes near downtown Snohomish.
Location:Snohomish
Sleeps: 3
Minimum stay: 1 night
Rates start from: $320/night
Immersed in the tranquility of an evergreen forest, Treehouse Place welcomes visitors to the outskirts of Snohomish. To reach the tiny cabin, you must first climb a set of stairs through the trees. But the magical mini-hike is well worth the effort thanks to the serene natural beauty and romantic glow of string lights that guide you.
The interior of this cabin may be tiny, but it's well optimized and boasts upscale amenities like a soaking tub, Alexa operated lights, and a Keurig machine. It also features an eco-friendly incinerator toilet. The cabin is about 45 minutes from Seattle, making it an easy yet exciting staycation near the city.
Check Availability
Related Read: 8 Refreshing Swimming Holes in Washington
Where to Go Next in the Pacific Northwest
Get epic travel ideas delivered to your inbox with Weekend Wanderer, our newsletter inspiring thousands of readers every week.
Was this article helpful?
---