We research, evaluate and select travel destinations based on a number of factors, including our writers' experience, user reviews and more. We may earn a commission when you book or purchase through our links. See our editorial policy to learn more.
---
Book a Nashville cabin and you can experience the sights and sounds of the world's country music capital while staying in the country.
While the charms of city's lively Honky Tonk Highway, historical attractions, and culinary delights entice millions of tourists to Nashville each year, these Nashville cabin rentals just outside the city are the perfect place for anyone who likes peace and quiet in the evenings.
Hidden on the outskirts of Nashville are underrated small towns and they're excellent options for travelers who like to stay away from the city's hustle and bustle. Take your pick from quiet and charming destinations like Franklin, Fairview, and Hendersonville, all of which offer their own attractions and sights.
This list will have you covered when it comes to figuring out which Nashville cabin rental is best for you. No listing is more than a short drive from downtown, offering access to big city attractions with the privacy of a home-away-from-home experience.
Related Read: 12 Amazingly Secluded Tennessee Cabin Rentals
1. Come Away Cabin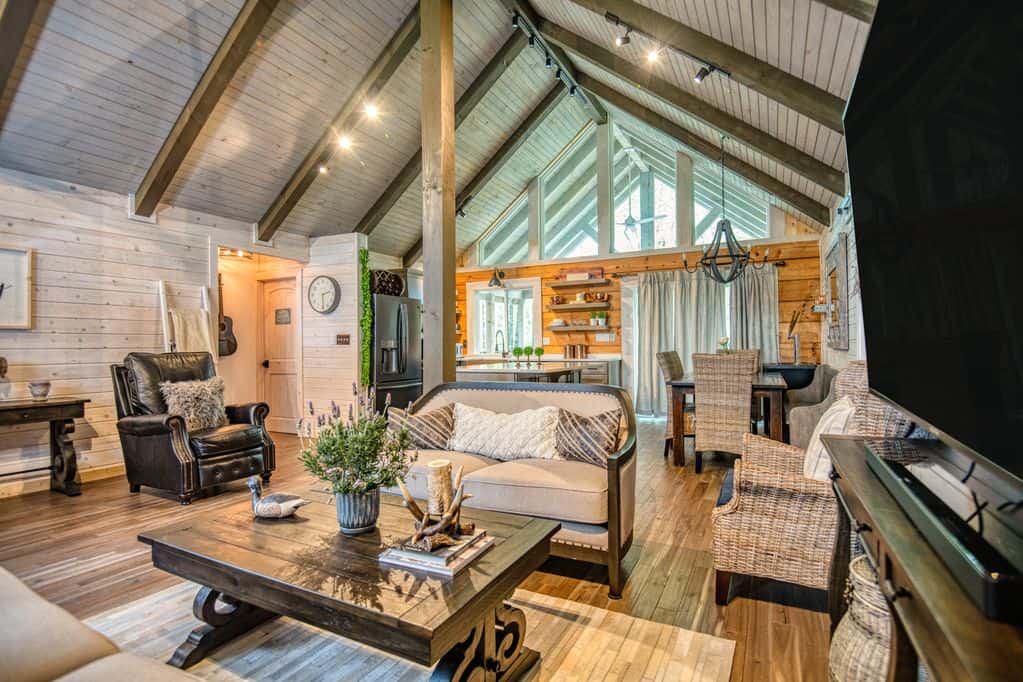 Why you should stay: Brand new cabin with unique amenities nestled on the outskirts of Nashville in Fairview, Tennessee
Sleeps: 8
Minimum stay: 3 nights
Pets allowed: no
Established in 2018, the Come Away Cabin is an impeccably clean and well-cared for-cabin. Chalet-style windows and tall ceilings make the already open floor plan feel even bigger than it is, and you'll likely feel right at home with the modern decor and southern-inspired accents.
This modern cabin makes family bonding easier than ever because the living room, full kitchen, and dining room are all in an open floor plan. The hosts have gone above and beyond to provide unique amenities for your stay, so you can sip complimentary beer on tap, uncork your welcome bottle of wine, fire up the pizza oven, or make yourself a specialty coffee on their espresso machine.
Check Availability
Related Read: 13 Relaxing Cabins in Tennessee with Hot Tubs
2. Getaway Dale Hollow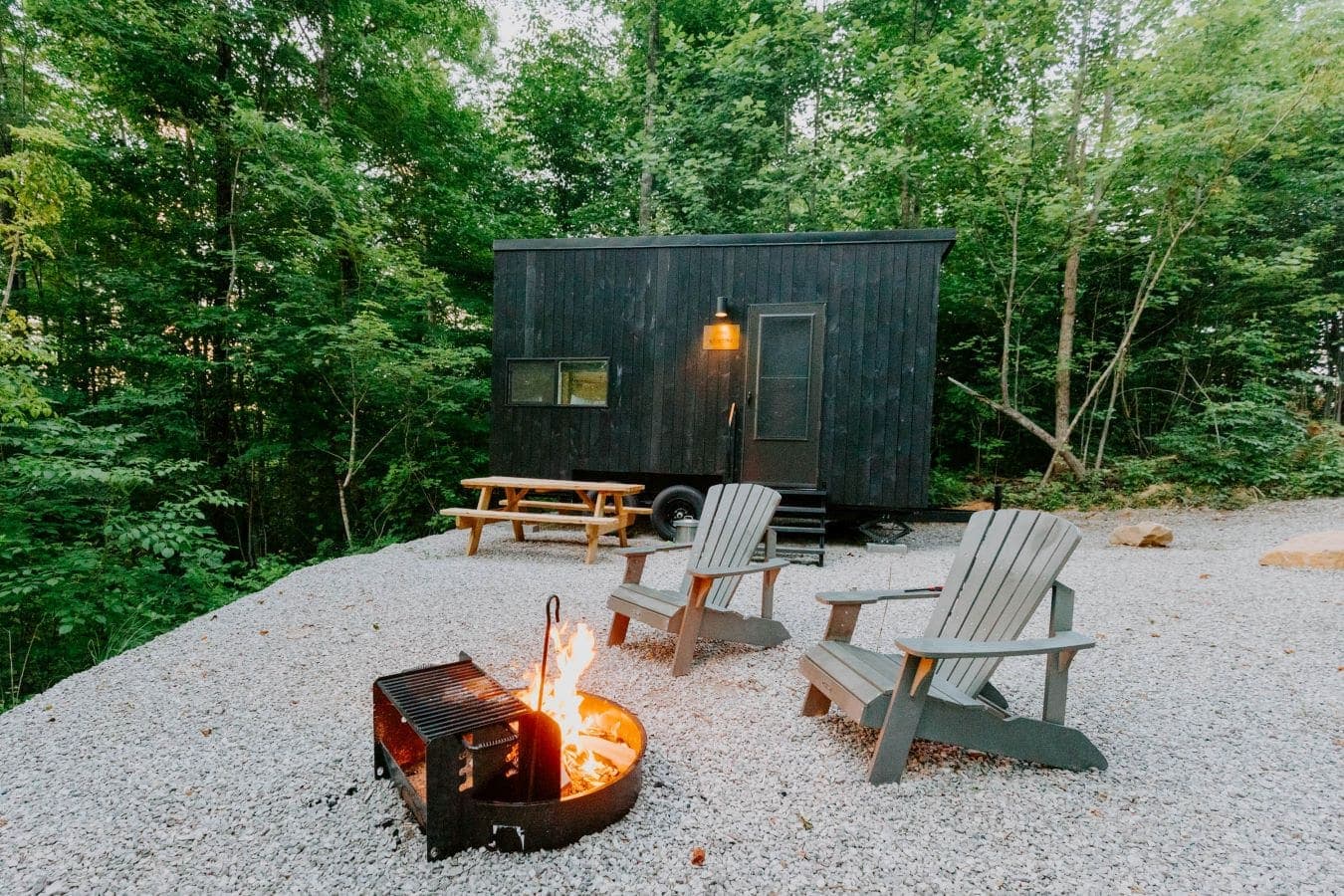 Why you should stay: modern tiny cabins surrounded by gorgeous Highland Rim woods.
Sleeps: 2-4
Minimum stay: 1-2 nights
Pets allowed: yes
Less than two hours northeast of Nashville, near Celina and Dale Hollow Lake, is Getaway Dale Hollow, a serene escape from the bustle of the city.
Getaway is a quiet cabin campground on more than 400 acres of beautiful Tennessee woods, where tiny cabins with one or two beds offer the chance to disconnect and recenter in a safe, clean environment.
Each cabin comes stocked with all the essentials — clean linens, a kitchenette, outdoor fire pit and seating — but little else, so the focus is on you, nature and your travel companions, pets included.
The cabins are affordable, the property is immaculate and walking trails in the area make it easy to explore the surroundings in peace.
Bonus: use code TERRITORY25 to get $25 off when you book a stay at Getaway Dale Hollow.
Check Availability
Related Read: 6 Cool Campervan Rentals in Nashville, Tennessee
3. The Cabin at Roney Creek Farm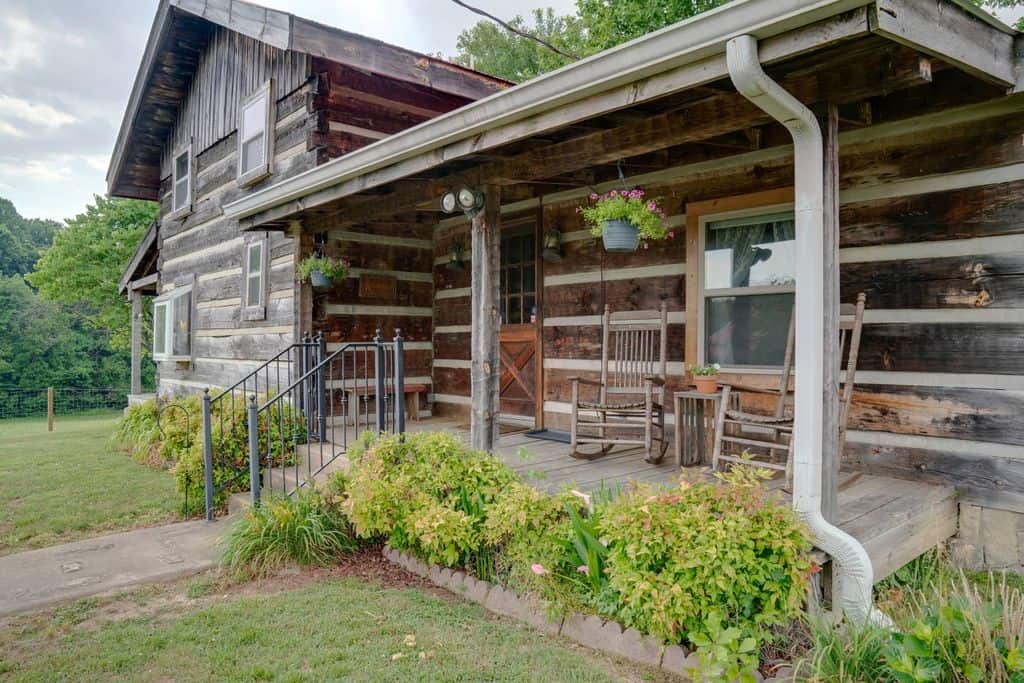 Why you should stay: Quaint Nashville cabin on 15 acres of quiet farmland, 35 minutes from downtown
Sleeps: 6
Minimum stay: 2 nights
Pets allowed: no
From the Cabin at Roney Creek Farm, you can be in Nashville in 30 minutes while staying in the country — so you'll enjoy the best of both worlds. Spend your days exploring the city's vibrant neighborhoods and your evenings in a quiet abode surrounded by fresh air. This log cabin has a beautiful wooden interior and has a stone gas fireplace.
During your stay, you'll have full access to everything in the home. There's also a washer and dryer onsite plus two outdoor patios.
Check Availability
Related Read: 9 Unique Places to Stay in Gatlinburg, Tennessee
4. Luxury Log House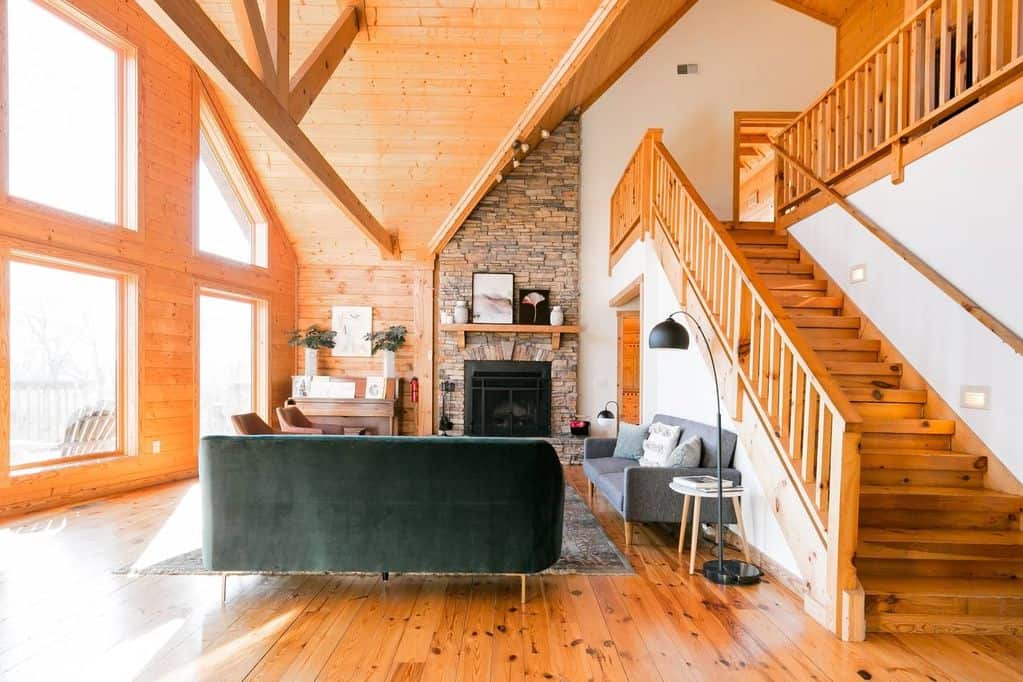 Why you should stay: Indulge in modern luxury in a roomy cabin 30 miles from downtown Nashville
Sleeps: 20
Minimum stay: 2–4 nights
Pets allowed: no
Elevate your Nashville trip with a reservation at this luxury log house,  where the resort-style features are almost too many to count. For starters, the basement is a trendy movie theater room with platform bean bag seating and doubles as a game room complete, with a beautiful wooden card table. Outside, you'll stay entertained with a swimming pool, spa, fire pit, and mini log cabin playhouse for the kiddos.
With enough sleeping space for up to 20 guests, this five-bedroom, 3.5-bath home is a fabulous option for large family events or multi-family getaways. There's something for everyone here, and plenty of room too play on 18 acres of land.
Check Availability
Related Read: 8 Best Resorts in Tennessee for Every Traveler
5. Caspian Cottage
Why you should stay: A classic cabin experience on Paradise Ranch & Retreat's with a fabulous private entertaining area
Sleeps: 6
Minimum stay: 2 nights
Pets allowed: no
The Caspian Cottage is a private and scenic vacation rental with access to hiking trails and idyllic views, sitting on more than 100 acres. Outfitted with cable TV and business-class high-speed internet, you don't have to worry about the inconvenience of being disconnected here. And it's only 20 miles to Music City.
This two-bedroom, 2.5-bath home also features a large gas fireplace in the living room, stainless steel appliances in the kitchen, and a jacuzzi tub for two in the primary bedroom. Spend your evenings relaxing outside in the roomy screened-in porch with a gas fireplace and comfy seating, or let the homeowners arrange a private chef or masseuse for the evening. Oh la la!
Check Availability
Related Read: 7 Awesomely Pet-Friendly Hotels in Nashville, Tennessee
6. Cozy Cabin Surrounded by Farmland
Why you should stay: Escape to the countryside and enjoy views of the rolling hills.
Sleeps: 4
Minimum stay: 2 nights
Pets allowed: no
Located just outside of Gallatin — about 40 minutes from downtown Nashville — this cozy cabin if you really want to escape from the bustle of the city. Of course, you're still close enough to make the easy drive into Music City to enjoy a show or some grub.
Rustic by cozy, the cabin has everything you need for a weekend away, but you'll probably find yourself just wanting to sit outside most of the time. Relax in the rocking chairs on the porch and gaze out across the countryside, and when the sun goes down, take things over the firepit and enjoy the refreshing country air by some crackling logs.
Check Availability
Related Read: 12 Scenic Weekend Road Trips from Memphis, Tennessee
7. The Lodge at Chavis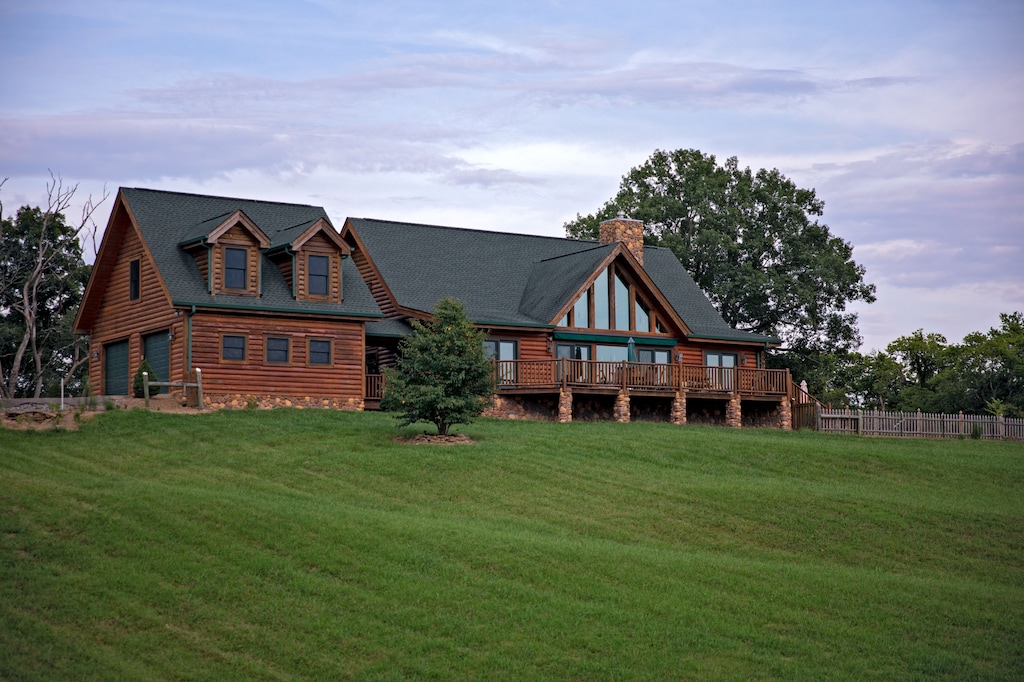 Why you should stay: Expansive four-bedroom log home with an outdoor swimming pool and roomy deck
Sleeps: 12
Minimum stay: 3 nights
Pets allowed: no
The Lodge at Chavis should be your go-to choice for a family vacation near Nashville. This 3,000-square-foot home has the means to comfortably accommodate large parties, with nine bedrooms and 3.5 bathrooms. Prepare your favorite meals in the well-appointed kitchen, and sit down for a family dinner outside on the patio or in the dining room.
In the summer, take a dip in the in-ground swimming pool and catch some sunshine on the home's decks. The cabin has a large yard so kids have free rein to run and play. It's only a few minutes drive to downtown Franklin, and Nashville's famous Lower Broadway street is 19 miles away.
Check Availability
Related Read: The 12 Best Spots to See Tennessee's Fall Foliage
8. Cabin in the Woods
Why you should stay: Pristine log and brick home with a hot tub and huge fire pit in Hendersonville, Tennessee
Sleeps: 12
Minimum stay: 2–5 nights
Pets allowed: no
This cabin in the woods is a lovingly kept five-bedroom home in the woods of Hendersonville, a medium-sized city about 25 minutes from Nashville. Inside, you'll find an open kitchen with everything you need for home-cooked meals and a long dining table to accommodate everyone.
The home features a trendy office area complete with a desk and chair, an attractive brick fireplace, and a minibar so you can whip up a few drinks after you're finished working or sightseeing for the day. Out back, there's a big covered deck with rocking chairs and a hot tub so you can properly relax during your stay.
Check Availability
Related Read: What to See & Do on a Nashville to Gatlinburg Road Trip
9. Billy Goat Hill
Why you should stay: A fun custom home featured in Montgomery-Gentry's "King of the World" music video with a unique outdoor community pavilion.
Sleeps: 6
Minimum stay: 1–4 nights
Pets allowed: no
Once featured in a country music video, today, Billy Goat Hill is a top Nashville cabin rental for family vacations and small business retreats. Behind the home, a wooden pavilion with a bar, barrel standing tables, and plenty of space provides space to play or host low-key gatherings. There's also a fire pit circle for evenings spent roasting marshmallows or sipping local Tennessee whiskey.
The interior has a classic cabin vibe with knotty pine accents and southern-inspired decor throughout the three bedrooms and two baths.  During your stay, you'll be close to a public boat dock and 45 minutes from Nashville. The hosts also offer kayak rentals and can arrange a specialty farm-fresh breakfast from a local southern chef.
Check Availability
Related read: Your Guide for the Ultimate Atlanta to Nashville Road Trip
10. Pecan Valley Cabin
Why you should stay: A hilltop log cabin in the trees with a front porch swing and a beautiful outdoor deck.
Sleeps: 8
Minimum stay: 2 nights
Pets allowed: yes
Pecan Valley Cabin is a pet-friendly, private Nashville cabin rental on 10 acres in the Scottsboro neighborhood. The hosts provide all of the amenities you'd find in a typical hotel, like toiletries, fresh linens, and a coffee maker.
Spend quality time with your family out on the back deck, snacking and sipping beers on the picnic table. Fire up the grill for cookouts under the sun while the kids play foosball or board games inside. Despite how rural the property feels, it's only a 15-minute drive to the honky-tonk bars in downtown Nashville.
Check Availability
Related Read: What to See and Do on a Chicago to Nashville Road Trip
11. The Lodge at Oak Haven Farms
Why you should stay: Secluded cabin on a wooded property near Montgomery Bell State Park
Sleeps: 3
Minimum stay: 2 nights
Pets allowed: yes
The Lodge at Oak Haven Farms is a rustic and woodland-inspired cabin rental for three with lofted ceilings, natural and reclaimed wood accents, and several porch swings and rocking chairs. This cabin doesn't have bedrooms, exactly,  but it has a full-size bed in the open and bunk beds open to the lower level. Guests are more than welcome to bring their pets, who can frolic freely on the home's large property. Impressive mountain biking and hiking trails and Montgomery Bell State Park are only a few minutes away.
Check Availability
Related Read: 8 Dreamlike Treehouses in Tennessee
12. Slayden House
Why you should stay: A lakefront A-frame chalet for eight just 25 miles from Nashville
Sleeps: 8
Minimum stay: 2 nights
Pets allowed: no
The Slayden House is a lakeside Nashville cabin rental ideal for fishing enthusiasts and families who enjoy water activities. Cruise the lake in the provided paddleboat or toss a frisbee around on the grassy shore. Though it's not very far from Nashville, most of the area is farmland, so you can spend an afternoon visiting farms or strolling around orchards.
The kitchen looks like an old-fashioned diner, with cushioned stool seating and all the cooking essentials. There's also an air hockey table, a two-tier porch, and a lovely backyard with a roomy hammock.
Check Availability
13. Hillside Log Cabin
Why you should stay: A magical cottage-style cabin with a swimming pool and immaculate garden
Sleeps: 3
Minimum stay: 2 nights
Pets allowed: yes
Located on 100 acres of well-manicured land, the hillside log cabin in Whites Creek boasts an exceptional five-star rating. Welcoming traveling trios and furry friends, this one-bedroom has a private (and roomy) in-ground swimming pool.
Included with your booking is a complimentary breakfast with homemade bread so you can start your morning right. If you find the strength to pull yourself away from the beauty of this property, Nashville's main attractions like the Grand Ole Opry and Country Music Hall of Fame are less than 10 miles away.
Check Availability
What to do in Nashville
While the best things to do in Nashville often take center stage, there are plenty of noteworthy attractions to enjoy around the city, too! Here are some of the best attractions in and around Nashville.
Explore More
Sign up for our free email to join thousands of readers getting epic travel, hiking, camping and gear ideas every week.
---