We research, evaluate and select travel destinations based on a number of factors, including our writers' experience, user reviews and more. We may earn a commission when you book or purchase through our links. See our editorial policy to learn more.
---
Famous for its lobsters and many miles of scenic, rocky coastline, Maine has a lovely balance of touristy coastal towns mixed with dense, uninhabited acres of forest.
Whether you're looking for a casual day on the water, a challenging hike on less-traveled trails, or a prime spot for some paddling or fishing, the varied terrain of this rugged state will not disappoint.
You can ski and snowboard, visit one of the country's best national parks, whale watch, sail, hit the beach….Maine has an awful lot to do. And if you're looking for a remote getaway in the secluded state, one of these Maine cabin rentals should hit the nail right on the head.
Related Read: 12 Best VRBOs in Maine for a Unique Vacationland Getaway
1. Lake Cottage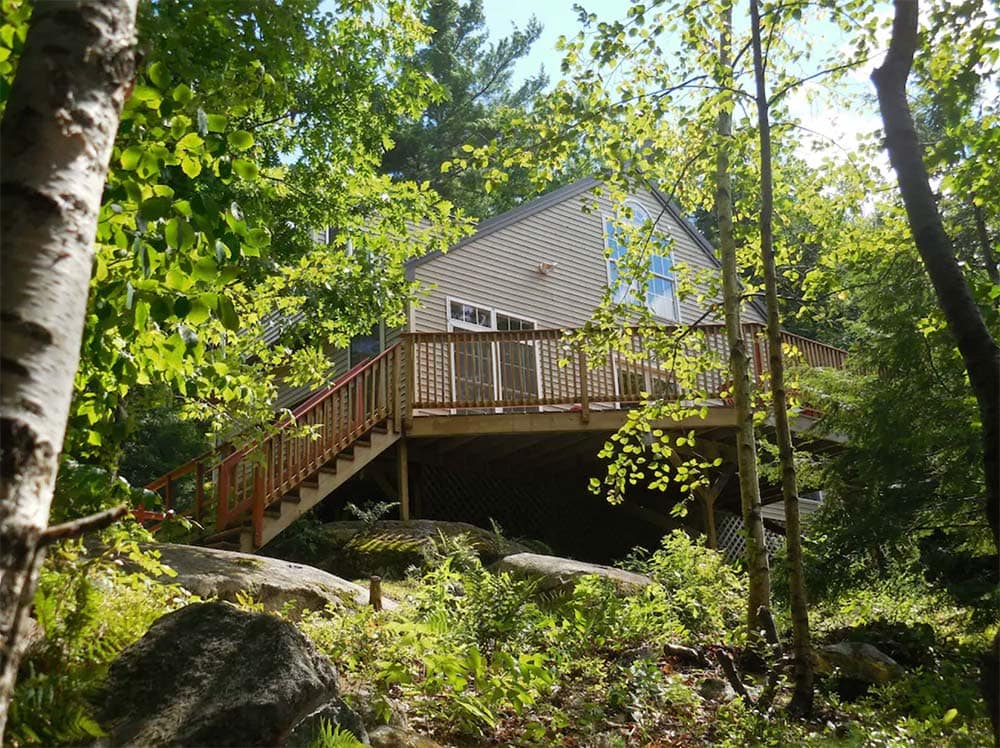 Why you should stay: A lakeside cabin in Maine's capital city (well, town.)
Location: Augusta
Sleeps: 2
Minimum stay: 5 nights
Rates from: $129/night
This lovely little cottage sits on a hillside overlooking a spring-fed 12-acre lake. Tucked on three wooded acres off a private road, the house provides a quiet escape from the daily grind. The interior of the house is cozy with all the modern amenities you would expect in the city. Your new favorite spot might be the back deck where you can enjoy views of the water through the trees.
Head down to the lake for a peaceful paddle on the smooth water – your rental comes with a canoe and lifejackets to use during your stay. Time your paddle with sunset for an even more memorable outing. You can also fish or swim from the backyard shoreline. It's kind of like a private summer camp just for your group.
"This was a gorgeous property in an amazing location. If you want to feel like you're in the middle of nature but don't like "roughing it" this is the perfect spot."
Check Availability
Related Read: 11 Stunning Airbnbs in Portland, Maine
2. Hobby Horse Rustic Cabin
Why you should stay: A quaint cottage with ocean access near Acadia National Park.
Location: Bar Harbor
Sleeps: 3
Minimum stay: 7 nights
Rates from: $99/night
This unique historic cabin was once a blacksmith shop, but now, it's a delightfully rustic Maine cabin rental. On a large slice of private property, it has all the solitude of a remote nature retreat. But you're only a short drive away from Acadia National Park and Bar Harbor, should you want to plan a day of activities.
On the other hand, if you're happy hanging out at your oceanside escape, you also have plenty to enjoy. Take a walk along the shore at Contention Cove to look for shells and other interesting items the tide washed in. In the summer, bring your swimsuit for a dip in the water along the cove. And year-round, keep your eyes peeled for bald eagles, deer, moose, and the other wildlife that also enjoy this peaceful setting.
Check Availability
Related Read: 12 Glamping Escapes in Maine for Your Next Adventure
3. Oak Island Wildlife Preserve
Why you should stay: Enjoy your very own island paradise.
Location: Camden
Sleeps: 6
Minimum stay: 7 nights
Rates from: $375/night
Have you ever wanted to stay at a wildlife preserve? How about your own private island? Well lucky for you, at Oak Island, you can have both. This rental is the definition of secluded, as you'll be staying at a beautiful cabin on 23-island-acres all to yourself. In addition to the cozy cabin, the island has miles of hiking trails and seven different beaches to explore.
Bring your swimsuit for a dip in the crystal-clear waters, warmest in August and September. And you can do your own seafood scavenging at low tide when you can find plenty of mussels along the shore. Though this rental is pricey, you're paying mostly for the location. The restrooms are actually outhouses, and solar power means you may need to conserve electricity on cloudy days.
Check Availability
Related Read: 9 Unique Vacation Rentals in Old Orchard Beach, Maine
4. Acadia Waterfront Home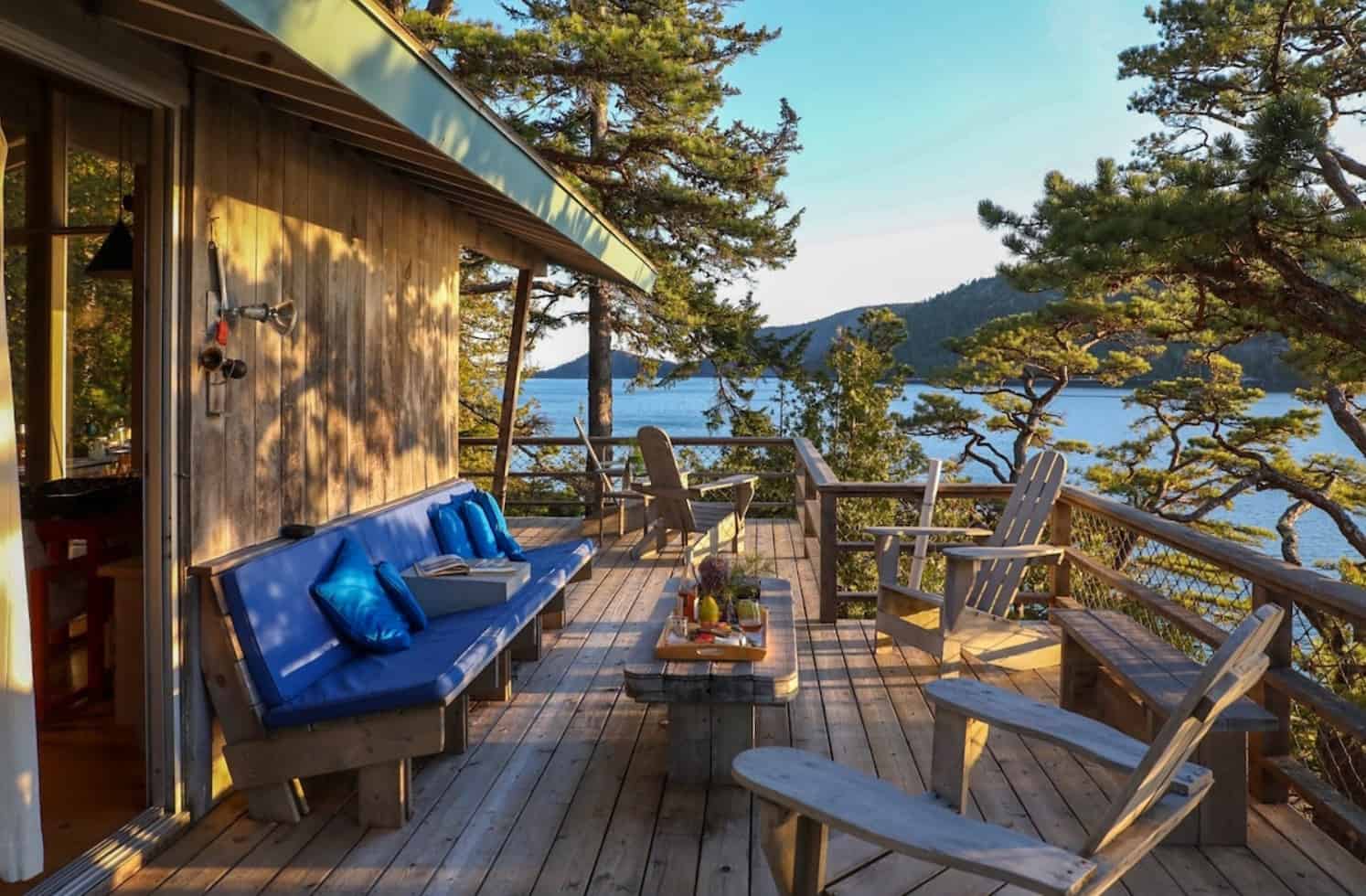 Why you should stay: Modern luxury surrounded by national park-worthy wilderness.
Location: Mount Desert
Sleeps: 7
Minimum stay: 6 nights
Rates from: $615/night
This unique property is within the boundary of Maine's famed Acadia National Park. From your perch on the hillside, you can soak up extraordinary 180-degree views of Somes Sound. Take in the view either from the comfort of the living room or from the large back deck where you look for wildlife like ospreys, bald eagles, seals, and dolphins. It's one of the pricier Maine cabin rentals, but if you want to stay in Acadia, you'd be hard-pressed to find a prettier spot.
From the front door, you can head out hiking or biking on the nearby trails and carriage roads of Acadia. And though you're in the park, you're only a five-minute drive from Northeast Harbor, where you can find restaurants, shopping, and galleries. If luxury is more your style, you can charter a boat for the afternoon or hit up the local golf club for 18 holes.
"This is such a magical spot. We rode our bikes directly from the house into the trails in the park, and enjoyed the views of the water from the deck."
Check Availability
Related Read: The 10 Best Pet-Friendly Cabin Rentals in Maine
5. Birch Point Cottage
Why you should stay: Nature retreat near the bounty of the Maine coast.
Location: Rockland
Sleeps: 6
Minimum stay: 7 nights
Rates from: $435/night
This Scandinavian-style cottage provides a lovely escape from reality. On the property, you'll be transported to five peaceful acres with your own private shoreline and access to a tidal ocean cove. The large home is spacious and has an lawn complete with a raised back deck and plenty of seating. Plan a day out on the water swimming, kayaking, or paddleboarding from your own private cove. You can also bring your pup for a reasonable $10 a night.
You can easily walk to a sandy beach or simply explore the rural residential area on foot. And if you're hankering for a lobster roll or other fresh seafood and local produce, you're a short drive from many great restaurants, eateries, and wineries. Check out the fish market in the nearby town of Rockland, which also has a host of restaurants, cafes, museums, galleries, entertainment, and shopping. The town's Lighthouse Museum is surprisingly interesting!
Check Availability
Related Read: 10 Scenic Oceanfront Campgrounds in Maine
6. Diagonair Cottage
Why you should stay: Modern, minimalist getaway on a remote stretch of Maine coastline.
Location: Sedgwick
Sleeps: 2
Minimum stay: 2 nights
Rates from: $408/night
On 12 private acres surrounded by woods and blueberry fields, this modern cottage comes equipped with all the amenities hopeless romantics will love: fireplaces, a native-species garden, and a large book collection. And don't be fooled by the minimalist design – this secluded cottage has plenty of lux features too, from the three mahogany decks to the steam shower. It's one of the more expensive Maine cabin rentals you'll find, so it'd be a great spot for an anniversary or special occasion.
If you get tired of relaxing, reading, and getting away from it all, you have your pick of iconic Maine activities close by. Plan a day out hiking the local trails, explore the antiques and artists' studios, soak up some sun at a lake or ocean beach, eat fresh lobster at a Mom & Pop seafood restaurant, or enjoy your pick of the day's farmers markets, galleries, and cultural events.
Check Availability
Related Read: 14 Best Hikes in Maine for Exploring the Great Outdoors
7. Frenchman Bay Cottage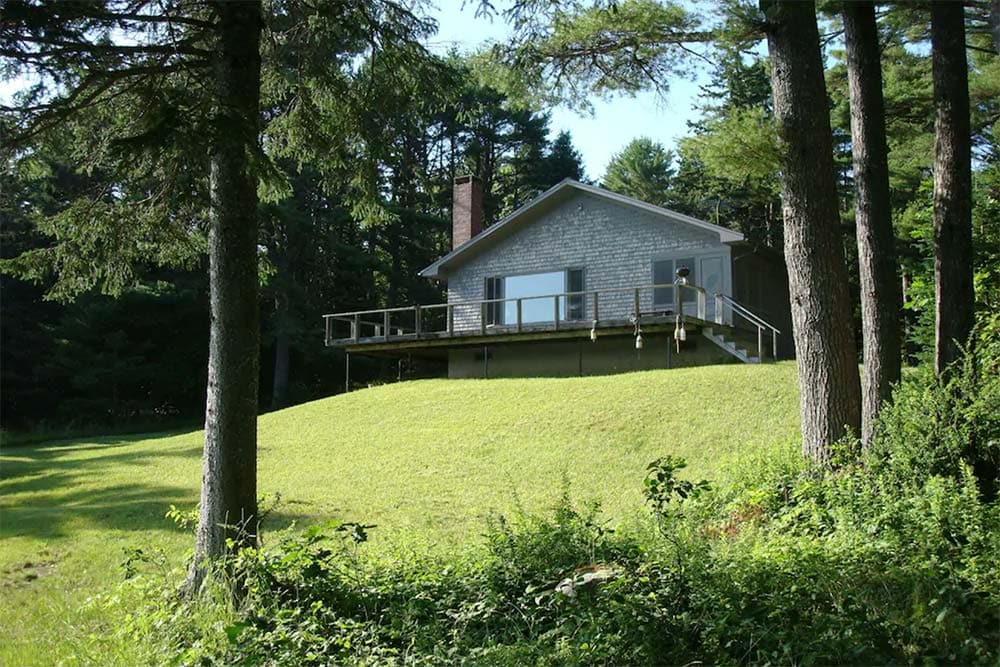 Why you should stay: A private ocean-side paradise in Bar Harbor.
Location: Bar Harbor
Sleeps: 6
Minimum stay: 4 nights
Rates from: $234/night
On 15 wooded acres, this oceanfront cabin is the perfect rustic escape to the wild. From the wrap-around back deck, you can enjoy a fabulous view across the small cove, especially enchanting at sunset. At low tide, take a stroll across the cove to look for shells, driftwood, starfish, and other coastal curiosities. Keep a sharp eye open for the usual Maine wildlife like eagles, ospreys, seals, deer, and the occasional red fox.
This cottage also serves as a great jumping-off point if you plan to take advantage of all that the Bar Harbor area. The small town was once a fishing village, and still is, though now tourism is just as big of a draw. The downtown area still has cobblestone streets and shops selling homemade ice cream, and you can find just about any kind of on-the-water tour you want leaving from the Bar Harbor marina.
Check Availability
Related Read: 12 Charming Yurt Rentals in Maine
8. Lakeside Log Home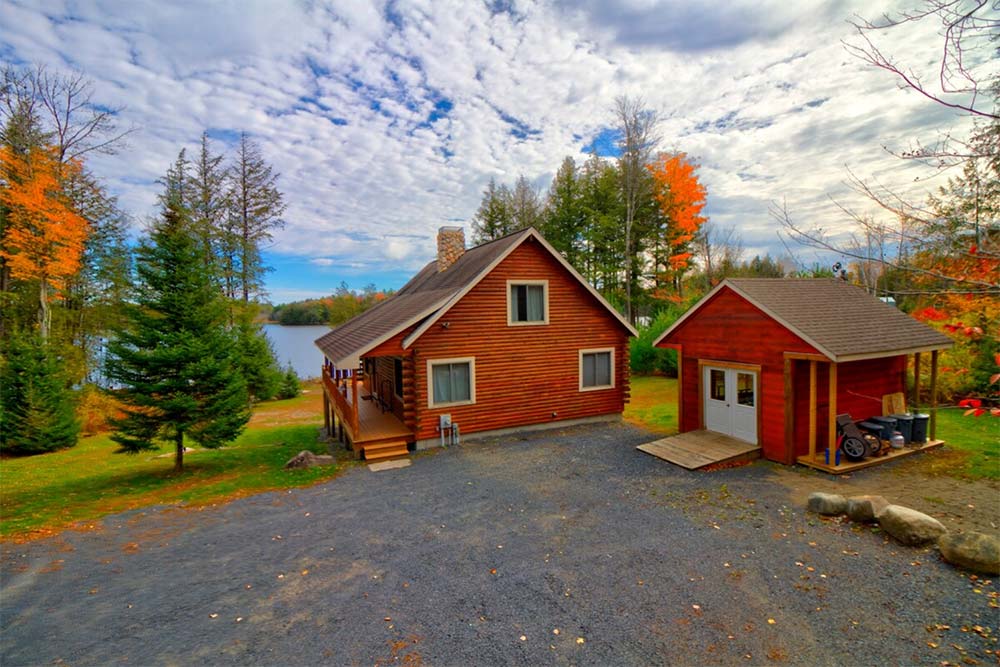 Why you should stay: Roomy, dog-friendly lakefront cabin in Central Maine.
Location: Embden
Sleeps: 7
Minimum stay: 7 nights
Rates from: $350/night
This modern log cabin adds a touch of luxury to your wilderness experience. From the gorgeous wood-burning fireplace and clawfoot tub to the downstairs bar and scenic back deck, this charming home offers a good bit more than a place to sleep. The spacious cabin has room for the entire family and is even pet-friendly so you can bring Fido along.
And though the interior of the cabin is worth a trip alone, the location takes your vacation to the next level. On the shore of 107-acre Sandy Pond, you're steps away from fishing, boating, paddling, and swimming. And don't forget to pack s'mores stuff to enjoy around the campfire under a banner of stars at night.
"Great upscale Maine cabin/house for the family to enjoy. The house is well equipped. The lake views are amazing as are the stars at night."
Check Availability
Related Read: 11 Amazing Maine Swimming Holes & Swimming Beaches
9. Mountain Valley Tiny Cabin
Why you should stay: Pint-sized backcountry retreat for an intrepid adventurer.
Location: Canton
Sleeps: 1
Minimum stay: 1 night
Rates from: $40/night
If your idea of a good time involves getting back to the basics and spending some time alone, this single-person tiny cabin is a great option in a stellar location. The off-grid, 10-foot-by-10-foot cabin comes equipped with a wood-burning stove and camping-style amenities. The simple accommodations allow you to get back to nature.
And there's plenty of nature to explore with over 1,000 acres of nearby forest and trails. The cabin itself is set on 300 acres of private land with few neighbors. In the warmer months, lace up your hiking boots for day hiking or backpacking in the Maine woods. In the winter, bring your skis or snowshoes to explore your own winter wonderland. It's also one of the more affordable cabins rentals in Maine at just $40 a night.
"Absolutely wonderful place. Truly off the beaten path. Cozy little cabin with a wood stove that really keeps things warm."
Check Availability
Related Read: 9 Must-See Waterfalls in Maine You Can Hike To
10. Off-Grid Wilderness Cabin
Why you should stay: A peaceful escape with no neighbors except for the occasional moose.
Location: Seboeis Plantation
Sleeps: 6
Minimum stay: 4 nights
Rates from: $200/night
If your idea of seclusion involves acres of woods between you and your nearest neighbor, this off-grid cabin might be your ideal vacation getaway. The cabin itself is spacious with modern amenities so you won't be roughing it during your stay. However, the nearest convenience store is a 20-minute drive away, so you'll want to pack enough to be self-sufficient for your stay.
Tucked away on 80 private acres, this rustic escape gives you easy access to miles of old logging roads for hiking, mountain biking, or ATVing. You may want to pack a lunch and head up the road about five miles to South Branch Lake for an afternoon of swimming, fishing, boating, or paddling. However, when you do need a little more stimulation, you're only about 45 minutes from Bangor.
Check Availability
More New England Getaways
Sign up for the Weekend Wanderer and join thousands of readers getting epic travel and gear ideas every week.
---