Territory Supply is reader-supported and may earn a commission when you book or purchase using our links. Learn more about our editorial policies here.
---
In beautiful and rugged Utah, ancient rock formations seem to touch vast blue skies, and forested mountains transform into snow-capped peaks.
A haven for outdoor enthusiasts and adventure junkies, Utah ranks highly on the list of America's most beautiful destinations. It's not even a fair competition, really, considering it has world-class skiing resorts, fantastic hiking trails, and beautiful landscapes.
That's probably why Utah cabin rentals are some of the prettiest in the country. And when you throw in the Mighty Five of Zion, Bryce Canyon, Capitol Reef, Canyonlands, and Arches national parks — some of the best parks in the nation — it's easy to see why this is such an amazing state.
So before you embark on a trip of a lifetime to the Beehive State, check out the best secluded cabins in Utah to truly get away from it all in the quiet privacy of the Wild West.
Related: Don't Miss These 10 Awesome Things to Do in Escalante, Utah
1. Midway Mountain Cabin
Why you should stay: Spacious mountain getaway for 12 near excellent hiking, biking, and skiing in Midway, Utah.
Sleeps: 18
Minimum stay: 2 nights
Rates from: $395/night
The Midway mountain cabin is a resort-style home tucked into the mountains of northern Utah. This 3,000-square-foot, four-bedroom home features a unique outdoor deck built around mature trees looking out to the surrounding woods. The property is 30 minutes from Park City and much closer to several hiking trails, three golf courses, and the Park City Ski Resort.
Every bedroom in this roomy home opens to a balcony or patio and luxurious linens. There's also a small  bumper pool table, video games, and plenty of outdoor space to arrange your own 18-person game of Capture the Flag or Hide & Seek.
Check Availability
Related Read: 11 of the Best Glamping Destinations in Utah
2. Remote Ranch
Why you should stay: Massive pet-friendly Utah cabin rental on 80 acres in the Indianola Valley.
Sleeps: 30
Minimum stay: no
Rates From: $350/night
About an hour south of Provo, a historic remote ranch stands ready to host your large group. Initially built by homesteaders in 1882, the same family as owned this quaint, secluded cabin since 1932. With your booking, you have over 5,000 square feet of living space, 80 acres, and five bedrooms at your disposal.
But that's not all that this well-equipped home has to offer. Outside, you'll find a relaxing hot tub, a covered deck with a Weber grill, and a lovely front patio. This Fairview cabin has a heated garage with a ping pong table, a kids play area, a home office with printer and computers, and a pool table, too.
Check Availability
3. Conifer Creek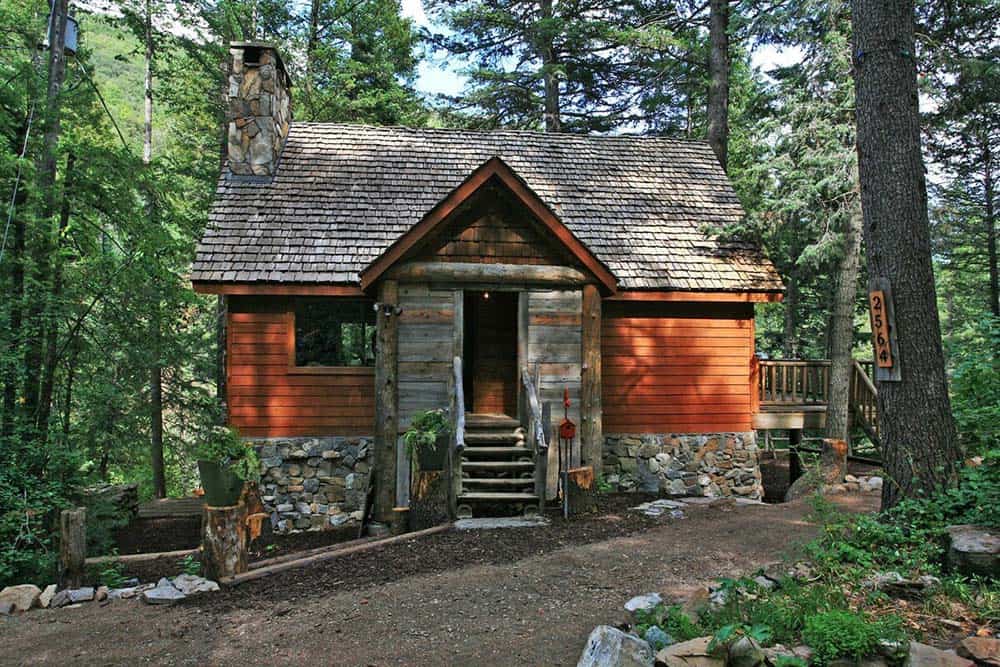 Why you should stay: Charming little cabin hidden away in the woods of Sundance, Utah.
Sleeps: 9
Minimum stay: 2–5 nights
Rates From: $469/night
Tucked away in the woods is Conifer Creek, a secluded Utah cabin rental straight from a storybook. Surrounded by forest, the home sits in a cover cozy cover of lush green trees. Hiking, biking, and snowshoe trails are just steps from the front door, and the property is on the bank of the North Fork stream.
The interior of this four-bedroom home feels warm and inviting, all thanks to exposed beams, hardwood floors, and neutral tones. The recently remodeled kitchen opens up to the great room with a wood-burning fireplace and a cozy dining room. The home also features a hot tub and private access to a charming community picnic area.
Check Availability
4. Strawberry Pinnacles
Why you should stay: A new and modern riverfront cabin on 14 pristine acres.
Sleeps: 15
Minimum stay: 2 nights
Rates from: $450/night
Strawberry Pinnacles is an interior designer's dream, combining classic cabin aesthetics with innovative and modern accents. The home has a trendy kitchen with patterned backsplash, a living room with river views, and an impressive three-story bunkbed in the fourth bedroom. Upstairs, a floating bridge overlooks the space below.
Situated on the Red Creek River near Fruitland, Utah, you'll all 14 sprawling acres to yourself. Spend your free by the fire pit, playing a raucous game of horseshoes, or hiding away in the handcrafted tree-house. This stylish cabin has plenty of space for you and your loved ones to gather and play games, spend time together, and recharge off-the-grid.
Check Availability
5. The Sevier River Retreat
Why you should stay: A private cabin getaway near Bryce Canyon and Zion National Park.
Sleeps: 6
Minimum stay: 1–3 nights
Starting from: $249/night
The Sevier River Retreat is a secluded vacation rental surrounded by nothing but incredible nature views. The Sevier River gracefully winds around the home, framing the vast desert landscape and distant views of Bryce Canyon. Most windows in the cabin overlook the spectacular property, and you'll also love that there are no neighbors in sight. It's an ideal Utah cabin rental for guests planning to visit Bryce or Zion national parks.
Inside, the farmhouse-meets-industrial style artfully weaves throughout the home. Reclaimed barn wood, custom-made lighting, and metal accents create a cozy and stylish atmosphere. The heads of household will likely want to call dubs on the primary bedroom, with a jacuzzi bathtub and elegantly tiled walk-in shower. There are an additional two bedrooms and 1.5 baths so everyone has room to relax.
Check Availability
6. The Utah Hideaway
Why you should stay: Beautiful wooden cabin with a porch overlooking the green valley of the Uinta Mountains an hour from Salt Lake City.
Sleeps: 8
Minimum stay: 3 nights
Starting from: $399/night
The Utah Hideaway offers a convenient escape to nature for visitors flying into Salt Lake City. The property is also about an hour from SLC and only 30 minutes from Park City, so you have the benefits of being secluded with the conveience of a more urban hotel. It's also one of the best Utah cabin rentals if you plan to visit the Smith-Morehouse, Jordanelle, or Rockport reservoirs of the Uinta-Wasatch Cache National Forest.
The cabin has two spacious bedrooms and two sofa beds in the common spaces. For groups traveling with kiddos, tucked away in the loft is a children's hangout with glowing stars and a fun camper feel. The entire home is outfitted with high-speed internet, so you can stay connected even out in the middle of nowhere.
Check Availability
7. The Hideaway
Why you should stay: Trendy farmhouse-modern home minutes from downtown Glendale.
Sleeps: 6
Minimum stay: 1 night
Starting from: $225/night
Escape to Zion and Bryce Canyon national parks easily at The Hideaway. This quaint Utah cabin rental in Lydia's Canyon is just minutes from downtown Glendale and a short drive away from top Utah attractions like The Narrows, Angels Landing, and the East Rim Trailhead of Zion National Park. Thick trees and mountain views surround the property, located down a quiet and private drive.
The interior features a wood-burning stove, laundry facilities with detergent, a full kitchen with new appliances, and a smart TV with satellite in the living room. Out on the wrap-around deck, comfortable patio seating, a propane grill, and a private outdoor bathtub provide endless opportunity to lounge in the fresh air.
Check Availability
8. StarView Retreat
Why you should stay: Recharge at this secluded four-bedroom cabin bordering Starvation Reservoir State Park just ten minutes from Duchesne.
Sleeps: 12
Minimum stay: 2 nights
Rates from: $195/night
StarView Retreat is a pet-friendly secluded Utah cabin rental for families looking to enjoy time on the water during their stay. The house lies on a 40-acre property that's only a few miles from the Starvation Reservoir, which has sandy beaches, walleye and trout fishing, and kayaking. And, bonus: the home has kayaks available for renters to borrow.
If you don't feel like heading towards the lake, no problem, as the cabin sits on 40 acres. You'll fine plenty of canyons and hills to explore (literally) in your own backyard.
StarView Retreat has four bedrooms, two bathrooms, and fantastic desert views — the photos really don't do this rental justice.
Check Availability
9. The Hideaway in Sundance
Why you should stay: Pet-friendly cabin within walking distance to the Sundance Ski Resort.
Sleeps: 8
Minimum stay: 2-5 nights
Rates from: $325/night
Tucked away in the mountains, The Hideaway in Sundance is an exceptionally private cabin with proximity to downtown Sundance and the Sundance Ski Resort. This four-season rental is excellent for snowbirds seeking to ski, snowboard, or snowshoe in the winter, or explorers itching to hike, fish, bike, or zipline in the summer.
Tall ceilings and red pops of color greet you inside this two-bedroom, five-bed Mount Timpanogos cabin. A spacious multi-level deck with a hot tub sits perched above a stream, perfect for stargazing at night or soaking sore muscles during an afternoon après-ski session. Note that there is a steep staircase leading to the home, so it may not be the best choice for anyone with mobility issues.
Check Availability
10. Alton Cabin
Why you should stay: Find tranquility at this pet-friendly secluded cabin near hundreds of miles of ATV and snowmobile trails.
Sleeps: 6
Minimum stay: 2 nights
Starting from: $125/night
With nothing but desert greenery as far as the eye can see, the Alton cabin offers guests peace and quiet about an hour outside of Bryce Canyon and Zion National Parks. A whopping 10.5 acres of land surround the house, which also has a fire pit and front deck.
This first floor has an open floor plan as well as a ladder to the semi-private loft. The cabin is unique and secluded, so it's perfect for guests who want the option of visiting more crowded places (like the parks) but prefer space to themselves in the evenings.
Check Availability
11. Capitol Reef Retreat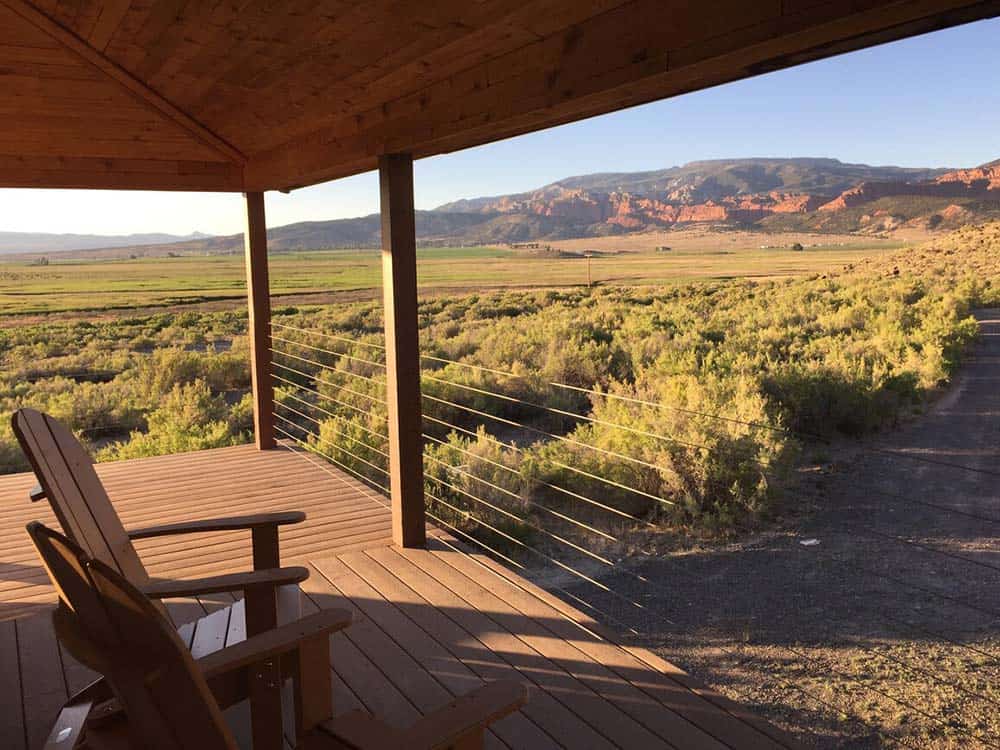 Why you should stay: Red rocks surround this three-bedroom secluded cabin near Capitol Reef National Park.
Sleeps: 16
Minimum stay: 2 nights
Rates from: $280/night
If you have aspirations of ticking off each of Utah's Mighty Five national parks, this year, check out the Capitol Reef retreat. At just 10 minutes from Capitol Reef National Park and five minutes from the charming small towns of Teasdale and Torrey, it offers total seclusion without sacrificing convenience.
Stairs lead up to the wrap-around porch, with both chairs and a rope swing, either of which provides great views of the red rock desert in the distance.The home has roomy kitchen, a loft with a seating area and stone fireplace, and enough conveniences to make sure everyone in your group is comfortable.
Check Availability
12. X-Bar Ranch Retreat
Why you should stay: Southern Utah cabin rental nestled in the red hills and perfect for avid hikers.
Sleeps: 6
Minimum stay: 2 nights
Pets allowed: no
X-Bar Ranch Retreat is a chalet-style log Utah cabin rental on the outskirts of the tourist town of Kanab.It's in an extremely convenient location as it's less than an hour to Zion and Bryce national parks, Antelope Canyon, Brianhead Ski Resort, and Coral Pink Sand Dunes. The property also has its own impressive views, and guests rave over the colorful sunsets that happen almost every day.
A welcoming interior and quaint furnishings help make you feel right at home. There are two bedrooms, each with a queen bed, and a sleeper sofa in the living room. You can hike right from the front door, and night sky enthusiasts will love the epic stargazing; there's almost no light pollution here.
Check Availability
Plan Your Trip to Utah
Now that you've picked your preferred Utah cabin rental, it's time to explore the state's best attractions.
Visit the Mighty Five national parks; Zion, Bryce Canyon, Arches, Canyonlands, and Capitol Reef.
Ride the Wave of Coyote Buttes between Kanab, Utah and Page, Arizona.
While you're at it, consider making the journey to Arizona to see the Grand Canyon and Antelope Canyon.
Check out Utah's most impressive state parks, like Coral Pink Sand Dunes, Dead Horse Point State Park, Goblin Valley State Park, or Escalante Petrified Forest State Park.
Ski and snowboard at Snowbird and Solitude Mountain Resort.
Zoom around unique Utah landscapes on ATVs or snowmobiles.
Take a drive along some of the most scenic roads in Utah, soak in the best local hot springs, and chase waterfalls on pretty hikes.
Explore More in Utah
Sign up for our free email to join thousands of readers getting epic travel, hiking, and camping ideas every month.
---