If you're looking for an upscale spot in Colorado that is known for providing four seasons of adventure, Telluride delivers plenty of year-round activities with a backdrop you won't soon forget.
Whether you want to hit the slopes in the winter, catch a concert in the summer, do some window-shopping downtown, or hit the trails for some aspen leaf-peeping, this mountain town has a little bit of everything for everyone.
Tucked in a stunning canyon among the rugged peaks of southwestern Colorado, Telluride is the kind of vacation destination you won't ever want to leave. Here's what to do the next time you're in town.
1. Visit Bridal Veil Falls.
No vacation to Telluride would be complete without a trip to see the town's iconic waterfall. With a 365-foot drop, Bridal Veil Falls is the tallest free-falling waterfall in Colorado. The historic power plant at the top of the falls adds to the picture-perfect setting.
You can choose to hike, bike, or drive to the base of the falls. Driving will require a 4WD, high-clearance vehicle — and a comfort level with tight switchbacks and heights, as the dirt road is rough and doesn't have any guardrails.
If you head out on foot, plan on a little over a mile climb on a steep, singletrack trail to reach the falls. The falls themselves as well as the view back over the town from this vantage point are sure to leave an impression.
Related Read: 11 Beautiful National Forests in Colorado for Outdoor Recreation
2. Ski or Snowboard at Telluride Ski Resort.
Whether you're a beginner looking for a lesson on mellow runs or an expert in search of above-treeline bowls and steep chutes, Telluride Ski Resort has a wide variety of world-class terrain to choose from.
In addition to great skiing, you'll also appreciate the panoramic views from your vantage point atop the San Juans. And if backcountry touring or heli-skiing is more your speed, Telluride offers some fabulous backcountry and local tour guides to get you to that untracked powder.
Related Read: 7 Best Airbnbs in Telluride for an Amazing Getaway in the Mountains
3. Go Off-Roading on Black Bear Pass.
For hard-core off-roaders, Black Bear Pass offers one of the most scenic, challenging OHV routes in Colorado. Well-known for its technical terrain and challenging obstacles, this route is a bucket-list item for off-road enthusiasts with some superb scenery to enjoy along the way.
The USDA recommends only experienced drivers with high clearance, short wheelbase, four-wheel-drive vehicles attempt this route. You'll probably want a solid spotter, too.
Best done in late summer when the spring run-off declines, Black Bear Pass is a great way to see a lesser-known side of Telluride. If you'd like to leave the driving to the professionals, several local companies also offer off-road tours on the route.
Related Read: 10 Adventurous Things To Do in Colorado in the Fall
4. Walk Around Downtown Telluride.
Telluride's historic mining town roots are on full display with a walk around downtown. Though the downtown drag now features many chic shops, boutique hotels, and high-end eateries, there is still something of an "old west" vibe that hearkens back to Colorado's Gold Rush era.
Plus, with the San Juan Mountains as a backdrop, you can easily enjoy the setting whether you're window shopping or simply want to grab a coffee or a bite to eat. If art galleries or museums are of interest to you, the downtown area features more than a few to check out, too.
Don't forget to take The Gondola, a free 13-minute ride that shuttles visitors more than 2,700 feet up from Telluride to Mountain Village and back.
Related Read: 12 Best Places to Visit in Colorado for Unforgettable Adventures
5. Attend a Festival.
In the summer months, Telluride comes alive with all sorts of festivals and concerts. With everything from music and wine to hot air balloons and classic cars, you can find an event to fit your taste and hobbies.
Some of the town's best-known annual festivals include the Telluride Bluegrass Festival, the Telluride Jazz Festival, and the internationally recognized Telluride Film Festival. Book a cool place to stay and enjoy whatever festival strikes your fancy.
Related Read: 14 Pros and Cons of Living in Colorado
6. Take a Hike.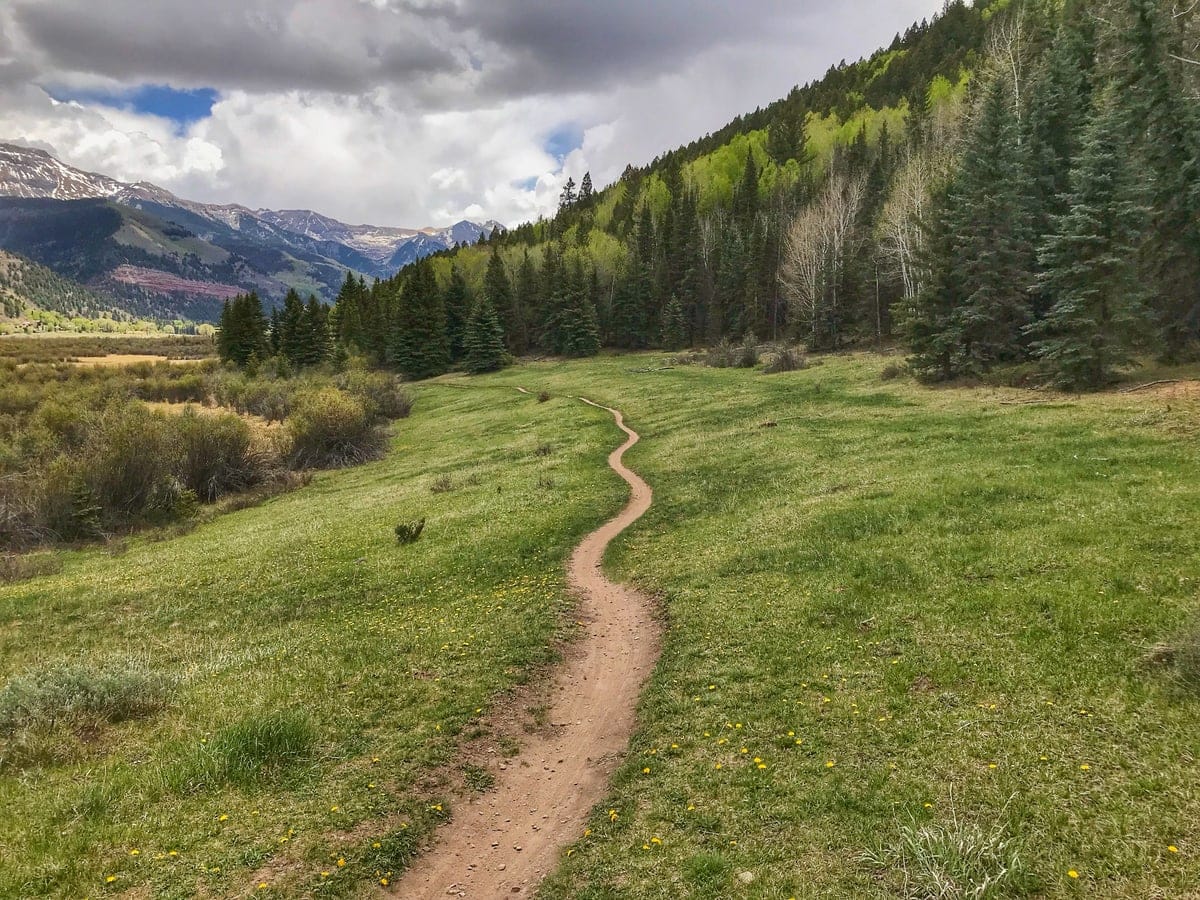 With many miles of Telluride trails to choose from, taking a hike (or trail run) around town is a fabulous way to spend a day out in nature. Summer and fall are the prime time to hit the higher elevations as the snowfields will be replaced by wildflowers and fall colors, in season.
You can opt for a close-to-town trail like the Jud Weibe Memorial Trail for an easy half-day hike or head further into the backcountry with options like Silver Lake or Lewis Mine Trail to further explore the Bridal Veil Basin. Ajax Peak and Imogene Pass are great options if you're in search of some elevation gain — and the associated Rocky Mountain views.
Related Read: 7 Beautiful Hikes Near Red Rocks Amphitheatre, Colorado
7. Ski, Skate, or Sled at Telluride Nordic Center.
Another great winter option is a trip to the Telluride Nordic Center. You can rent classic or skate ski gear and book a lesson to get started. Or, if you're already a Nordic pro, you can head out to one of the six areas to explore the trails around town.
The Nordic center also rents sleds, ice skates, and snowshoes making it a great option for families if you've got little ones who can't handle a full day at the ski resort but who still would love some fun in the snow.
Related Read: 8 Best Mountain Towns in Colorado Offering Year-Round Adventure
8. Hit the Trails at Telluride Bike Park.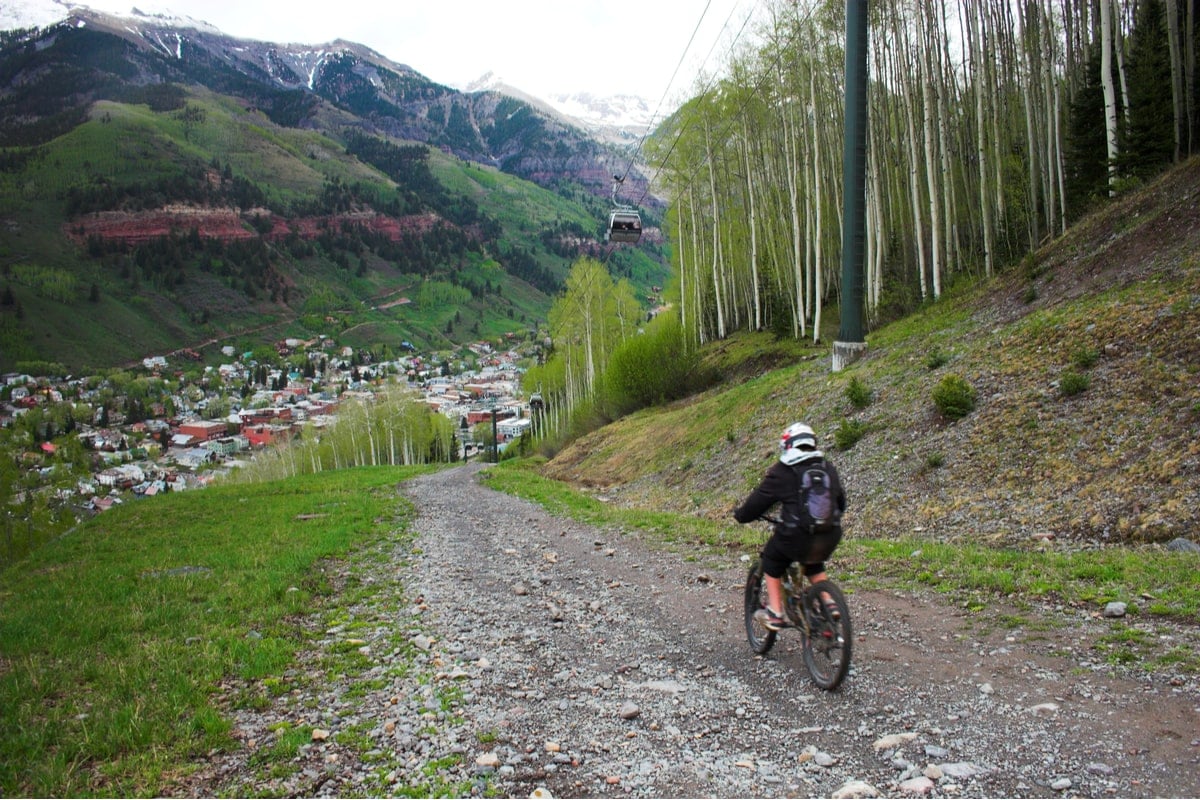 In the summer, the slopes at the Telluride Ski Resort are transformed into a mountain biking playground.
Whether you like freeriding or are seeking out some cross-country-style singletrack climbs, the Telluride Bike Park offers everything from mellow flow trails to technical downhill runs with challenging man-made features.
You can purchase a park pass or a single-day ticket to access the lifts to enjoy the best of gravity-assisted fun without having to work up too much of a sweat.
Related Read: 12 Epic Outdoor Summer Vacation Spots in the U.S.
9. Tackle Telluride's Via Ferrata.
Not for those with a fear of heights, Telluride's Via Ferrata is a climbing route that traverses the east end and south-facing wall of the town's box canyon. The route will have you climbing along exposed metal rungs high above the valley floor. It is not for beginners and does require technical climbing abilities and gear.
Experienced climbers can take on the Via Ferrata on their own and newer climbers can book a guided tour with local, accredited guides like Mountain Trip for a catered experience focused on safety. According to the Telluride Mountain Club, the Via Ferrata isn't for everyone, but it is for everyone who is prepared.
10. Take a Scenic Drive on the Million Dollar Highway.
For a driving tour of the greater Telluride area, you can't beat the Million Dollar Highway. This approximately 25-mile section of road is part of the San Juan Skyway Colorado Scenic Byway and stretches from Ouray to Silverton. From Telluride, you can take an out-and-back tour through Ridgeway and Ouray ending at Silverton.
The paved road winds through mountain canyons and climbs over Red Mountain Pass all while delivering stunning views of the San Juan Mountains in nearly every direction. Plan some extra time in your road trip to stop off in the towns along the way. Without stops, the drive to Silverton should take you a little over two hours and is best done in the summer or fall to take advantage of dry roads and scenic vistas.
Related Read: The 10 Best Scenic Drives In Colorado
11. Book a Stay at Dunton Hot Springs.
Though not located in Telluride proper, if you don't mind an hour's drive outside of town (and a scenic drive at that), a trip to Dunton Hot Springs will deliver some serious R&R. Once an 1800s ghost town, the resort has been revitalized into a romantic and glamorous getaway in the heart of a high-alpine valley.
You can add on a variety of packages, from fly fishing and charcuterie tasting to a full spa schedule, to make the most of your trip. From the restored old mining town cabins to the exquisite hot springs, an overnight stay at Dunton will add a little extra luxury to your Telluride vacay.
12. Rent a SUP and Test the waters.
If you're eager to get on the water, Telluride offers several spots you can enjoy on a stand-up paddleboard. Woods Lake, Down Valley Park, and Elk Lake in Mountain Village offer smooth waters for an easy paddle. Pack a picnic to follow for an extra treat.
If you're looking for a little more of a challenge, head to the San Miguel River for a little white water to spice things up. Several outfitters in Telluride rent SUPs (as well as kayaks and canoes) to set you up for your day out paddling.
Related Read: 9 Natural Hot Springs in Colorado for Soaking Away Your Troubles
13. Go on a Snowmobile Tour in the San Juan Mountains.
For a break from skiing in the winter, consider taking a snowmobile tour to explore the many miles of groomed trails outside of Telluride. Telluride Outfitters and Telluride Outside offer a variety of half-day and full-day tours that will get you out in the mountains.
You can opt for a family-friendly tour if you've got the kids in tow or pick a more advanced option for a route that dives deep into the backcountry. Several other options include a visit to the Alta Ghost Town or a tour of Dunton Hot Springs.
No matter what you choose, you'll enjoy seeing the woods and mountains covered in a blanket of snow and getting to places that most people don't get to see in the dead of winter.
Explore Colorado!
Get epic travel ideas delivered to your inbox with Weekend Wanderer, our newsletter inspiring more than 10,000 readers every week.
Was this article helpful?
---