We research, evaluate and select travel destinations based on a number of factors, including our writers' experience, user reviews and more. We may earn a commission when you book or purchase through our links. See our editorial policy to learn more.
---
Millions of outdoor enthusiasts visit Breckenridge every year for a snowy escape to one of Colorado's best mountain towns in the Tenmile Range.
If there's one thing this tiny village is known for, it's the five impressive mountain peaks and more than185 ski trails accessible to the public. But just because the town of Breckenridge is touted as a winter and ski destination, doesn't mean it's not also a fantastic summer getaway too!
Breckenridge, CO
Plan Your Epic Breck Getaway
⭐⭐⭐⭐
Find your next Breckenridge VRBO rental, whether you're looking for a cozy ski-in condo or a spacious cabin with views for days.
Find Your VRBO
Its stellar location amongst the mountains promises easy access to countless hiking and biking trails in the area. Not to mention the opportunity to learn about America's Gold Rush history right where it happened. There's a lot to love in this beautiful town that enjoys 300 days of sunshine and more than 366 inches of snow each year.
Let us help you plan your amazing Colorado adventure with our recommended list of the best VRBO rentals in Breckenridge.
Related Read: 10 Relaxing Cabin Rentals in Breckenridge, Colorado
1. Main Street Vacation Home
Why you should stay: Spacious three-bedroom home that's family-friendly and located across the street from the Breckenridge Gondola.
Sleeps: 9
Minimum stay: 2 nights
Pets allowed: no
This Main Street vacation home gives guests a lot to rave about! With stunning mountain views from the porch, an outdoor hot tub to soothe your tired body after an active day, and a fantastic location in the heart of town, you'll find a comfy stay at this Breckenridge VRBO rental.
Suitable for a large party of up to nine guests, the home was recently renovated and updated with travelers in mind. Enjoy the newly remodeled kitchen and stainless steel appliances as well as the spacious three-bedroom layout complete with sofa sleeper.
2. Ski Hill Condo
Why you should stay: Ski to and from the Four O'Clock slopes and enjoy staying only steps away from the local ski lift.
Sleeps: 8
Minimum stay: 3 nights
Pets allowed: no
If you're visiting Breckenridge to ski, the Ski Hill Condo may be just the place for you. Situated only steps away from the town's Gondola that connects you to the very best trails in town, it couldn't be easier to ski to and from this Breckenridge VRBO during your stay.
The stunning interior of this open concept condo has a unique spiral staircase that leads up to a sleeping loft where multiple beds await. New furniture and additional beds have been recently added to this rental, including a new sleeper sofa and a set of bunk beds for four other guests.
3. Ski Townhome
Why you should stay: A fantastic location at the crossroads of the local ski run and main street plus a private hot tub for post-adventure relaxation.
Sleeps: 8
Minimum stay: 4 nights
Pets allowed: no
Breckenridge's Ski Townhome makes for a perfect family weekend enjoying winter sports in the mountains.
The layout of this townhome is special given that all three bedrooms and three full baths have their own separate levels, for utmost privacy when desired. The living room also has a sleeper sofa bringing the total of allowed guests up to eight.
Visitors appreciate that the property is in an ideal location between Main Street and the Four O'Clock ski run, putting you near the best Breckenridge attractions. The hosts provide board games, sleds, access to the private hot tub, a fully equipped kitchen, and more for endless possibilities during your stay.
4. Ski-In Condo
Why you should stay: A romantic studio condo for two complete with on-site swimming pool and hot tub for a year-round escape.
Sleeps: 2
Minimum stay: 2 nights
Pets allowed: no
We love this cute little Ski-In Condo studio as a romantic getaway for two to the snowy mountains in Breckenridge. Complete with a Therapedic eco-gel mattress and stocked studio kitchen, this place is ready to impress in both the winter and the summer.
Located just minutes away from the ski lift, best restaurants, and shops of Main Street, as well as easy access to nearby hiking and biking trails, this VRBO rental nearly guarantees you'll have a fabulous trip in Breckenridge.
5. Upscale Penthouse
Why you should stay: An upscale family apartment with penthouse views, a private rooftop sun deck, and four-seasons covered balcony.
Sleeps: 5
Minimum stay: 5 nights
Pets allowed: no
Who wouldn't want to spend their time in Breckenridge in an upscale penthouse? Not only does this family-style condo rock an awesome rooftop sun deck for the summer, but it also has a four-seasons covered balcony perfect for storing your winter gear.
The fireplace, wood cedar ceilings, and bright airiness only add to this warm and inviting, highly-rated space. The excellent location is just the cherry on top of this great option for Breckenridge accommodation.
6. Moonstone House Breckenridge
Why you should stay: Feel mountain seclusion with the convenience of town at this stunning kid-friendly Breckenridge VRBO rental.
Sleeps: 8
Minimum stay: 2 nights
Pets allowed: no
Moonstone House Breckenridge is a beautiful Victorian-style home that emanates classic Colorado style.
This three-story, three-bedroom home sits right on the edge of national forest, providing peaceful nature seclusion and privacy while still in close range to the nearby ski hills and hiking trails.
Inside, the fully equipped kitchen, cozy dining room, and large living room with a rock fireplace await you for an evening of relaxation and family bonding.
7. Fabulous Log Home
Why you should stay: Sit back and relax in this charming log home that has unbeatable views and a luxurious sauna and hot tub.
Sleeps: 4
Minimum stay: 2 nights
Pets allowed: no
For the ultimate authentic mountain experience, consider this log home on your hunt for the perfect Breckenridge lodging. Gleaming wooden beams greet you inside and out, as well as epic mountain views from the large outdoor deck.
If that wasn't enough to entice you, there's even a private sauna and hot tub where you can warm up after long chilly days in the snow. This two-bedroom property is only miles away from downtown Breckenridge and boasts impressive amenities without sacrificing the convenience of town.
8. Wildwood Suites
Why you should stay: Pet-friendly condo nestled in the pine trees of downtown Breckenridge.
Sleeps: 6
Minimum stay: 2 nights
Pets allowed: yes
At Wildwood Suites, fresh mountain air and peaceful forest views can be found right in your backyard. Inside, vaulted ceilings create an airy and open atmosphere making the one-bedroom space feel expansive.
There are three beds in total – a queen and two twin beds – plus a sleeper sofa to accommodate your party of six. In the morning, walk to the ski shuttle a few minutes down the road and in the evening come home and relax in the hot tub under the stars.
9. Elegant Mountain Home
Why you should stay: Get cozy in this warm and inviting mountain home tucked into a quiet neighborhood near downtown Breckenridge.
Sleeps: 8
Minimum stay: 4 nights
Pets allowed: no
Positioned just two blocks away from Main Street, this mountain home keeps you away from the traffic and noise of the main road without sacrificing the ability to easily walk around to the best local restaurants and attractions.
This homey Breckenridge VRBO offers three bedrooms and a sleeper sofa to host up to eight guests, not to mention the private hot tub and deck, propane grill and indoor fireplace for use during your stay.
10. A-Frame Cabin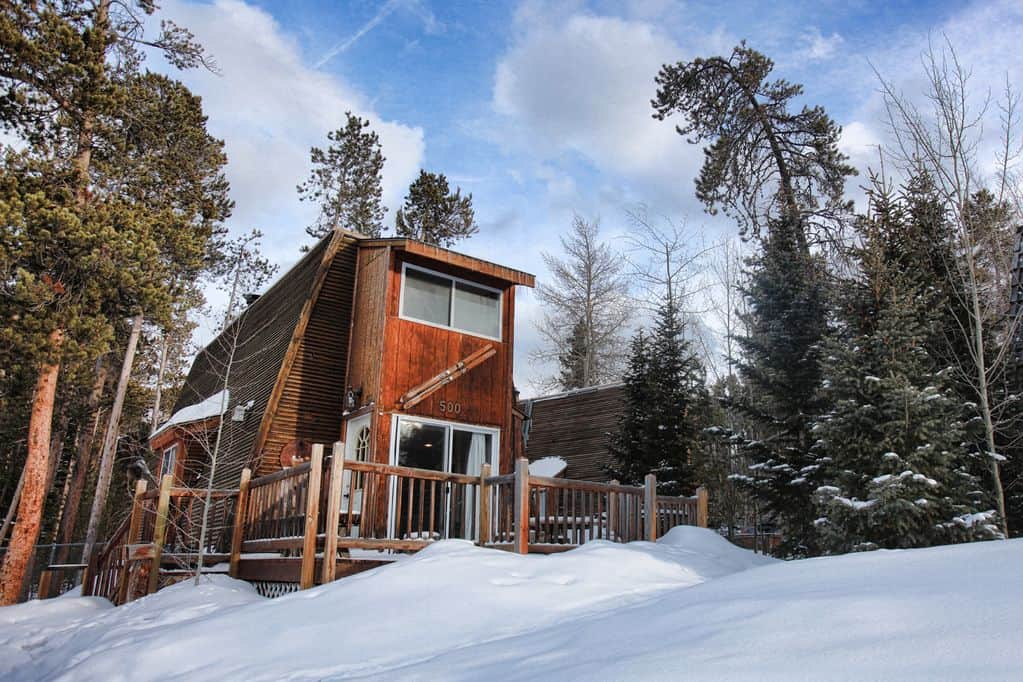 Why you should stay: Unique and picturesque A-frame cabin with nature views, two decks, and two fireplaces.
Sleeps: 6
Minimum stay: 3 nights
Pets allowed: no
If you're seeking a unique Breckenridge VRBO, we recommend this architecturally stunning A-frame cabin that's within walking distance to the ski hill's Peak 9.
A two-story home with two-bedrooms, two fireplaces as well as a front and back deck, this quaint little cabin will surely make you feel at home in Breckenridge.
11. Luxury Condo
Why you should stay: Fully renovated condo with luxury interior and heated floors for an ultimate weekend of skiing and snowboarding.
Sleeps: 4
Minimum stay: 4 nights
Pets allowed: no
Elegant decor and high-end amenities can be found at this luxury condo just steps away from the lift for Peak 9 and the center of Breckenridge.
Although on paper this property appears to be a small two bed-room vacation rental, the interior has been thoughtfully designed and recently remodeled to make the most of the space. As many as four guests can enjoy the property's heated floors and onsite pool and hot tub for year-round fun.
12. Updated Breckenridge Condo
Why you should stay: A modern and open-concept condo that offers guests great views and a comfortable stay in Breckenridge.
Sleeps: 6
Minimum stay: 2 nights
Pets allowed: no
This updated condo for six is a modern marvel where no details have been overlooked.
Guests love everything about this condo, from the cathedral vaulted ceilings to the balcony's sweeping mountain views, as well as the easy check-in and check-out process.
Getting to and from the local slopes is also a breeze via the free shuttle to Peak 7 located steps away from the property. You won't want to miss out on this cozy Breckenridge condo.
13. A-Frame Chalet
Why you should stay: Stargaze from the hot tub and stoke the indoor fireplace in this pleasant A-frame chalet.
Sleeps: 4
Minimum stay: 2 nights
Pets allowed: no
With an exceptional review score of 5/5 stars at the time of this writing, this magical A-frame chalet ensures guests have a memorable experience.
The property is a peaceful, quiet lot situated a half a mile from Main Street. With expansive windows and two spacious bedrooms, this A-frame can host up to four guests.
Aside from the classic must-haves, the home also has a hot tub and wood-burning fireplace to add that extra level of luxury that every snow adventure needs.
The Best Things to Do in Breckenridge, Colorado
Now that we've squared away everything you need to know about where to stay in Breckenridge, let's cover the fun stuff – the top Breckenridge attractions.
Explore Colorado!
Sign up for the Weekend Wanderer to join thousands of readers getting epic travel, hiking, camping and gear ideas every week.
---