We research, evaluate and select travel destinations based on a number of factors, including our writers' experience, user reviews and more. We may earn a commission when you book or purchase through our links. See our editorial policy to learn more.
Was this article helpful?
---
Discover your own slice of paradise with one of these secluded Montana cabin rentals.
If there's a place where there's still wilderness left to discover, a place where you can be the only living creature for a mile in every direction, a place where what's old is better than what's new…well, it would be Montana.
Though famous national parks Glacier and Yellowstone get all of the glory, there are vast stretches of rarely visited terrain with just as much mystery and majesty (and maybe more, since there are far fewer people.) Many of Montana's best landscapes are removed from the clutches of society and are the perfect places to find genuine tranquility.
"Spending two years on my uncle's ranch in Montana as a young man gave me the wisdom and the thrust to do westerns."
If you want to experience the best of what Big Sky Country has to offer, you'll want to seek out seclusion and solitude. Read on to discover the best secluded Montana cabin rentals – get ready to go (sometimes) off-the-grid.
Related Read: 12 Stunning Airbnbs & Vacation Rentals in Bozeman, Montana
1. Beargrass Cabin
Why you should stay: A remote log cabin within driving distance to Glacier National Park.
Nearest town: Whitefish
Sleeps: 6
Minimum stay: 5 nights
Rates from: $265/night
Take the family out into the idyllic wilderness in the mountains west of Whitefish. Blue skies and green forests dominate the landscape around the picture-perfect Beargrass Cabin.
Sitting on six acres of private property, there's not a neighbor in sight in any direction. You'll have the surrounding forest and mountain vistas all to yourself, though the spirited town of Whitefish is only a short drive down the road, and Glacier National Park's western entrance is less than an hour away.
Check Availability
2. Charming Creekside Cabin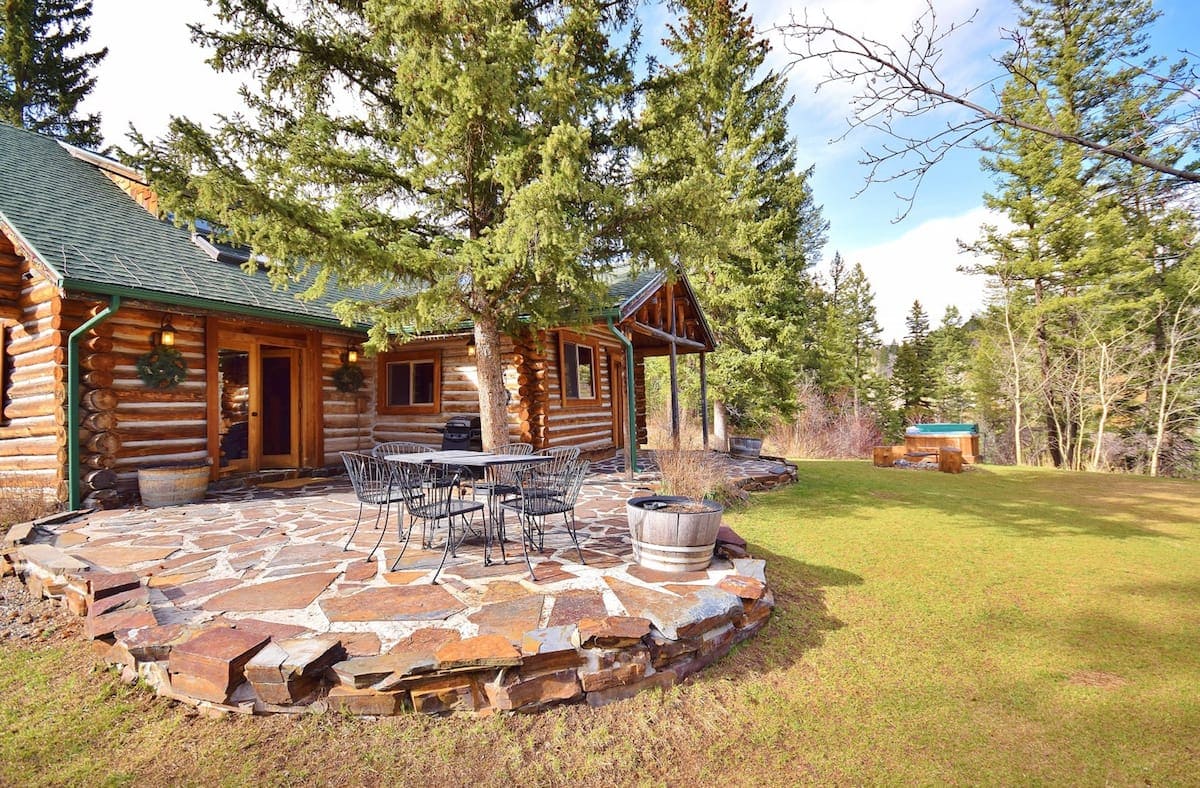 Why you should stay: A rad cabin near biking and biking trails plus Big Sky Resort.
Nearest town: Bozeman
Sleeps: 8
Minimum stay: 3 nights
Rates from: $299/night
Situated not 10 minutes from downtown Bozeman, this Charming Creekside Cabin is both wonderfully convenient and utterly private. It's one of the best Montana cabin rentals in the winter since Bozeman is home to epic Big Sky Mountain Resort.
This is the log cabin of your dreams. A creek runs past the front door and there are miles of established hiking and mountain biking trails less than a mile away. The owners observe the Sabbath, which means they don't work on Fridays – but that's good news for guests, who are invited to stay for free on Friday evenings as part of their booking.
"…a perfect place to relax and unwind. It has everything you could need and more especially for being a log cabin in the woods. We can't wait to stay there again!"
Check Availability
Related Read: 11 Extraordinary Glamping Stays Near Glacier National Park, Montana
3. Corber Cabin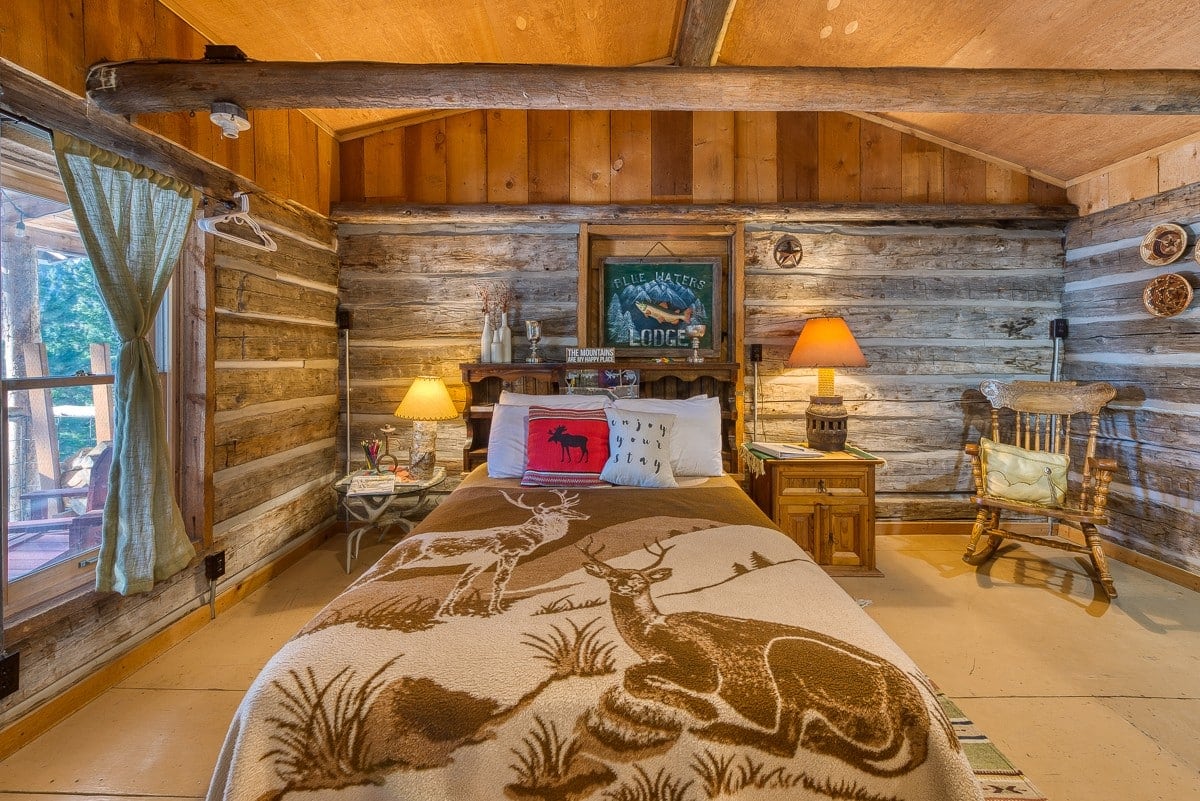 Why you should stay: Stay in a century-old cabin backing to Bitterroot National Forest.
Nearest town: Darby
Sleeps: 4
Minimum stay: 1 night
Rates from: $70/night
The rustic and adorable Corber Cabin has plenty of character and is surprisingly well-equipped. The owners updated the aged structure with modern amenities and appliances, but it still maintains the look and charm of a historic mountain cabin. This is one of the best Montana cabin rentals for folks who travel with their dogs since the pet fee is only $10 per night. There's also an extra $10 per person fee after the first two guests.
There's no cell service, Wi-Fi, or television anywhere near the property. This is the cabin you rent when you want to fully disconnect from the outside world and focus all your attention on nature (or your travel companion.)  Hunters, photographers and hikers will appreciate being able to reach the national forest simply by walking behind the home.
Check Availability
4. Calowahcan Cabin
Why you should stay: Cute, cozy, and romantic with stellar mountain views.
Nearest town: Ronan
Sleeps: 2
Minimum stay: 1 night
Rates from: $175/night
There's no better cabin for a close couple than the Calowahcan Cabin. Set in the meadows below the Mission Mountains, this picturesque retreat showcases all that makes northern Montana so special.
The artfully designed interior creates an inviting dwelling that you'll never want to escape – but the outdoors is always beckoning anyway. There are dozens of trailheads in the area for hikers and bikers, and you're only a few minutes away from Flathead Lake, a popular outdoor recreation destination. But if the water is too cold, no problem – you'll also be within driving distance to some of Montana's best hot springs.
Follow 'em: @calowahcancabin
5. Remote Missoula Shanty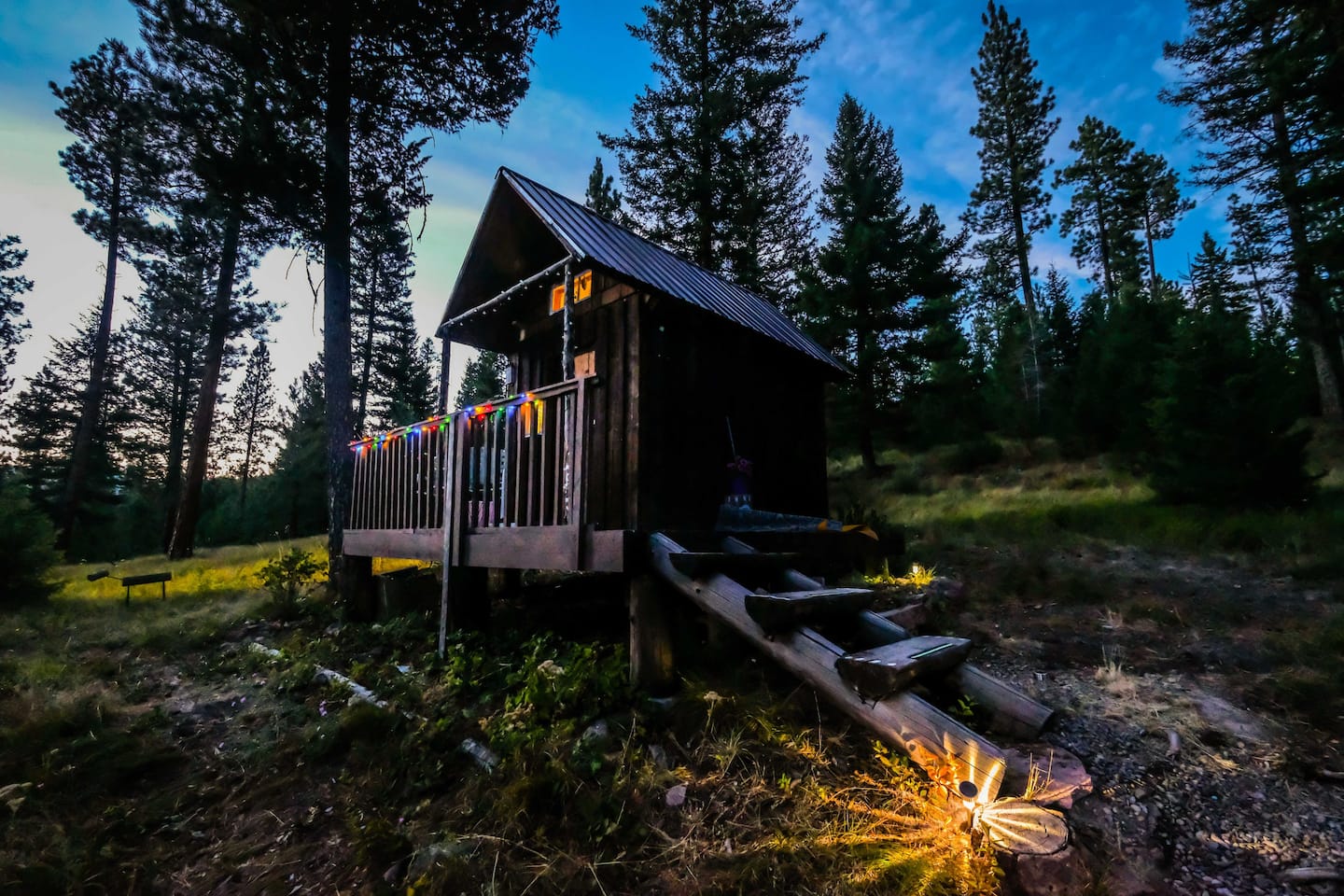 Why you should stay: Escape to an off-grid solar-powered getaway on 100 private acres.
Nearest town: Bonner
Sleeps: 3
Minimum stay: 3 night
Rates from: $97/night
If you're looking for a truly get-away-from-it-all wilderness respite, this Remote Missoula Shanty is your best bet. Despite its tiny home dimensions, there's plenty of room to spread out thanks to how well the hosts arranged the outdoor space.
"This was a really special spot! The shanty is very cute and the property is beautiful and totally secluded. Using the hot tub every night under the stars was a definite highlight."
And while this Montana cabin rental is called a shanty, it's actually fairly charming – how many shanties do you know with Jacuzzis under the stars, after all? It's also dog-friendly and 420-friendly, too.
Check Availability
Follow 'em: @TheHohnstead
6. The Blind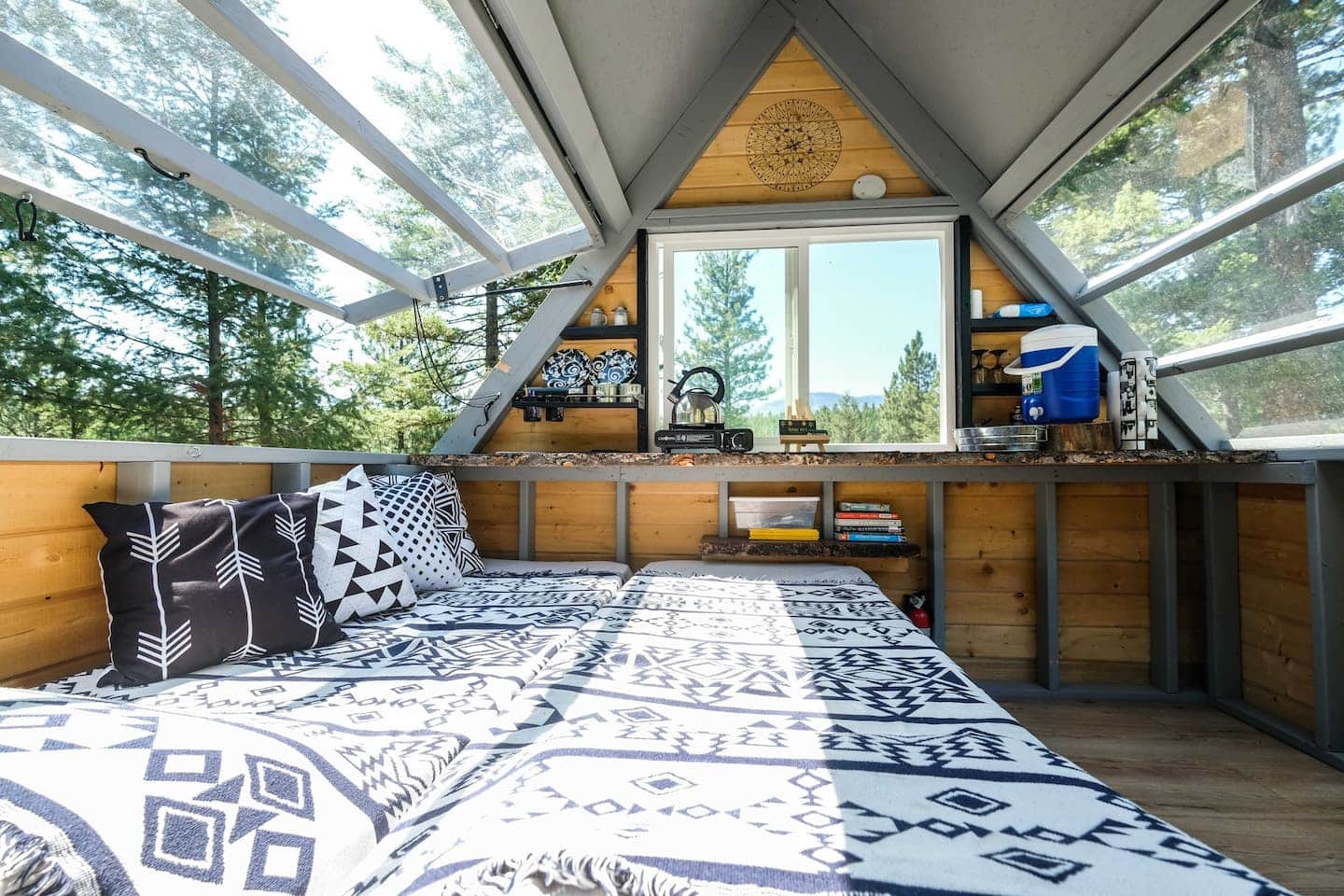 Why you should stay: A unique, off-the-grid, double-see-through, forested A-frame.
Nearest town: Bonner
Sleeps: 2
Minimum stay: 3 nights
Rates from: $148/night
This captivating cabin serves up panoramic views from inside its four walls, but maybe the coolest parts of this A-frame are the side windows that flip up Lamborghini-style. You can close them if you want, of course, but the best way to stay here is to let the breeze flow. You'll be one with nature, close to the roaming elk, deer, and moose traversing the property.
There's a solar-powered hot tub and gravity shower on the premises, but this off-grid cabin is cut off from data lines and cell signals. But if you can't completely live without civilization, the hip college town of Missoula is less than half an hour away. This is on the same property as the Missoula shanty, so you can book both if you have a small group.
Check Availability
Related Read: 9 Epic Glamping Sites Near Yellowstone National Park
7. Black Mountain Chalet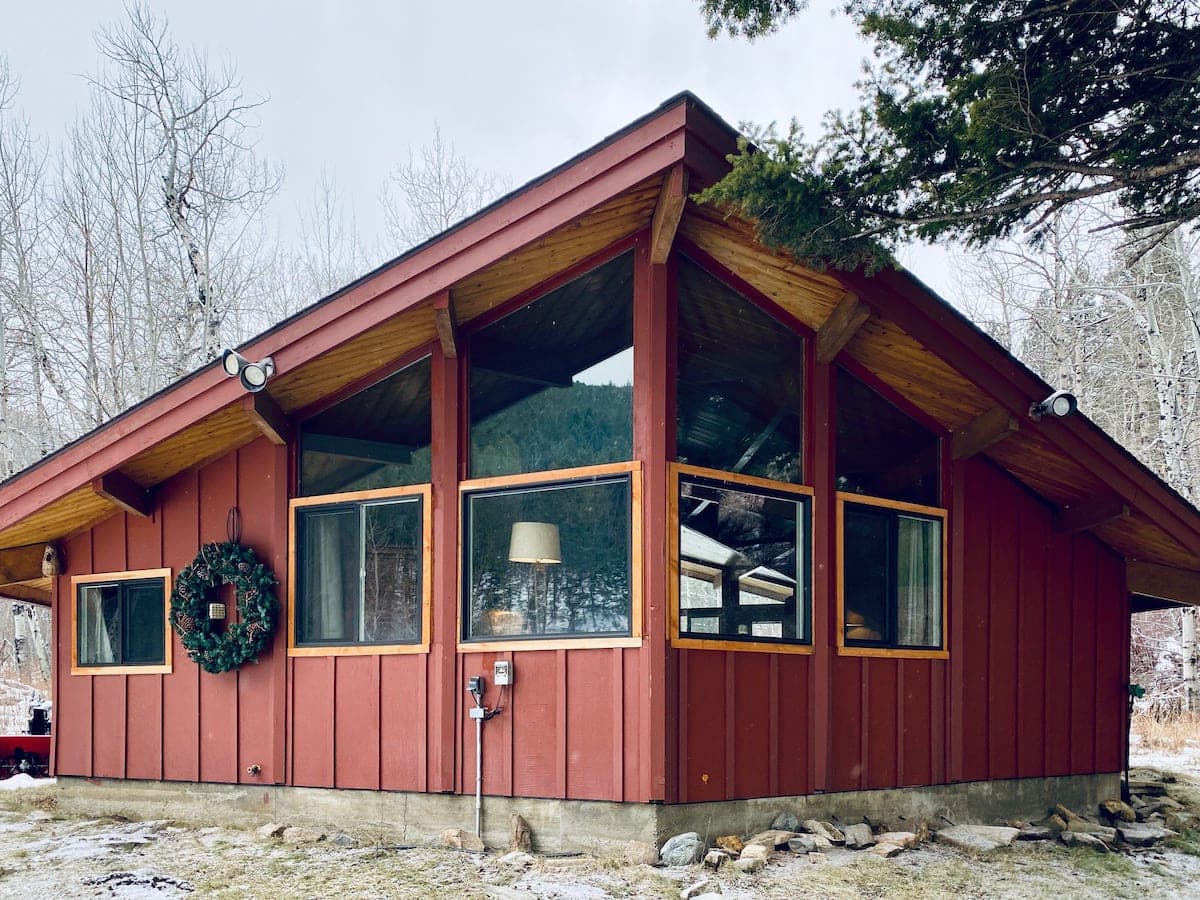 Why you should stay: Thoughtful accommodations near world-class dining and epic hot-spring soaking.
Nearest town: Helena
Sleeps: 2
Minimum stay: 1 night
Rates from: $150/night
Perhaps one of the most elegant Montana cabin rentals on this list, those who demand refinement and luxury with their escape to the outdoors will fall in love with the Black Mountain Chalet. This cabin has every comfort you could ask for on a secluded and beautiful property.
Minutes away, though, are the newly renovated Broadwater Hot Springs and the award-winning Wassweiler Dinner House. So you can have a great day of soaking followed by an elegant dinner before returning to this lovely abode.
Check Availability
Related read: 10 Fascinating Facts about Stagecoach Mary, Motherly Wild West Pioneer
8. Livingston Log Home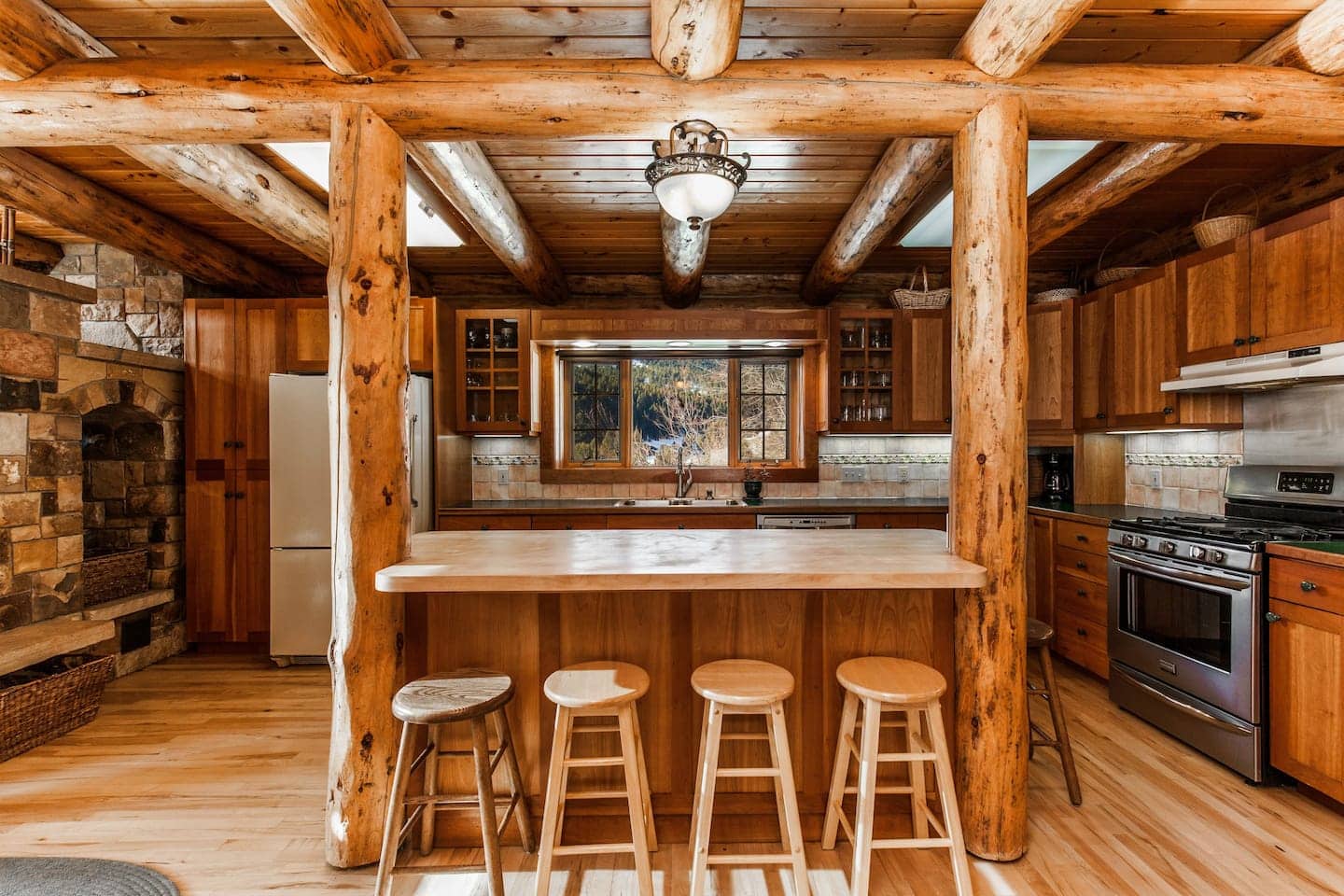 Why you should stay: A family-sized home that feels like a private, forested resort.
Nearest town: Livingston
Sleeps: 10
Minimum stay: 3 night
Rates from: $295/night
You and your crew will have over 45 acres of wonder-filled woodland to explore outside this Livingston Log Home. The property has several hiking trails leading to hot springs and ponds, and there's a creek with seasonal salmon just a few steps away from the cabin. It's really a classic Montana experience.
The plush furnishings of the multi-story cabin are a big highlight with guests. The upper balcony is the perfect place to sit and watch wildlife, and there's a hot tub for nighttime stargazing. You even get a creekside tipi in case you want to sleep outdoors. The cabin will make for the perfect multi-generational family vacation.
Check Availability
9. Moonlight Ridge Cabin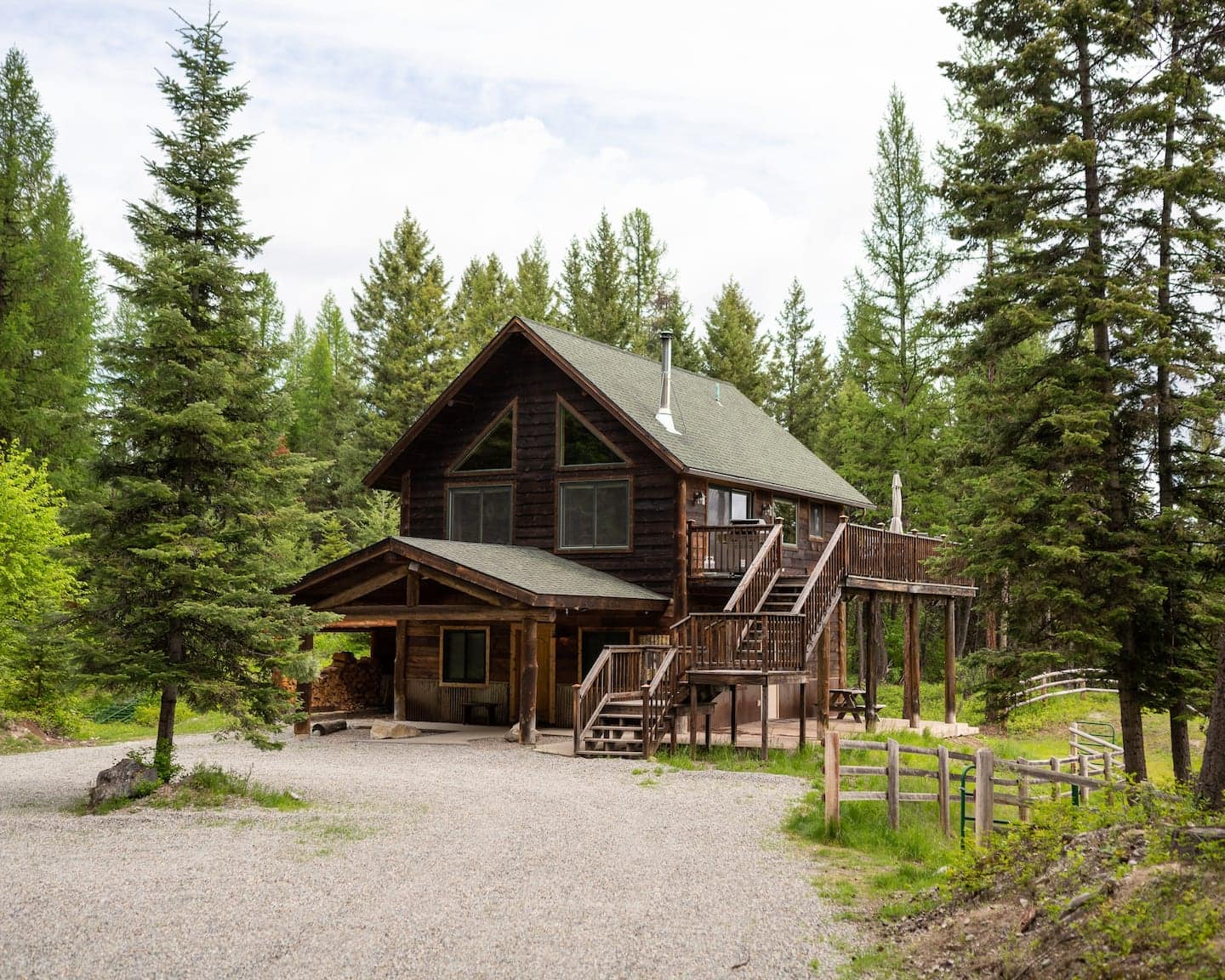 Why you should stay: A remote cabin near the best Montana has to offer.
Nearest town: Whitefish
Sleeps: 4
Minimum stay: 3 night
Rates from: $119/night
Okay, Montana has a lot to offer, so not everything in the state is near the Moonlight Ridge Cabin – but a whole lot of great attractions are. The cabin is on 20 private acres in a forested neighborhood near Tally Lake. Fishing, kayaking, and swimming are popular activities nearby, but that's just the tip of the area's outdoor iceberg.
The northern Montana hub of Whitefish is 12 miles away and is a great town for food and breweries (and a great spot to meet other outdoor enthusiasts who can give you the scoop on the best trails.) Glacier National Park is just around the bend, and there are national forests and other wild wonderlands to explore in every direction on the way out of town.
Check Availability
10. The Last Best Cabin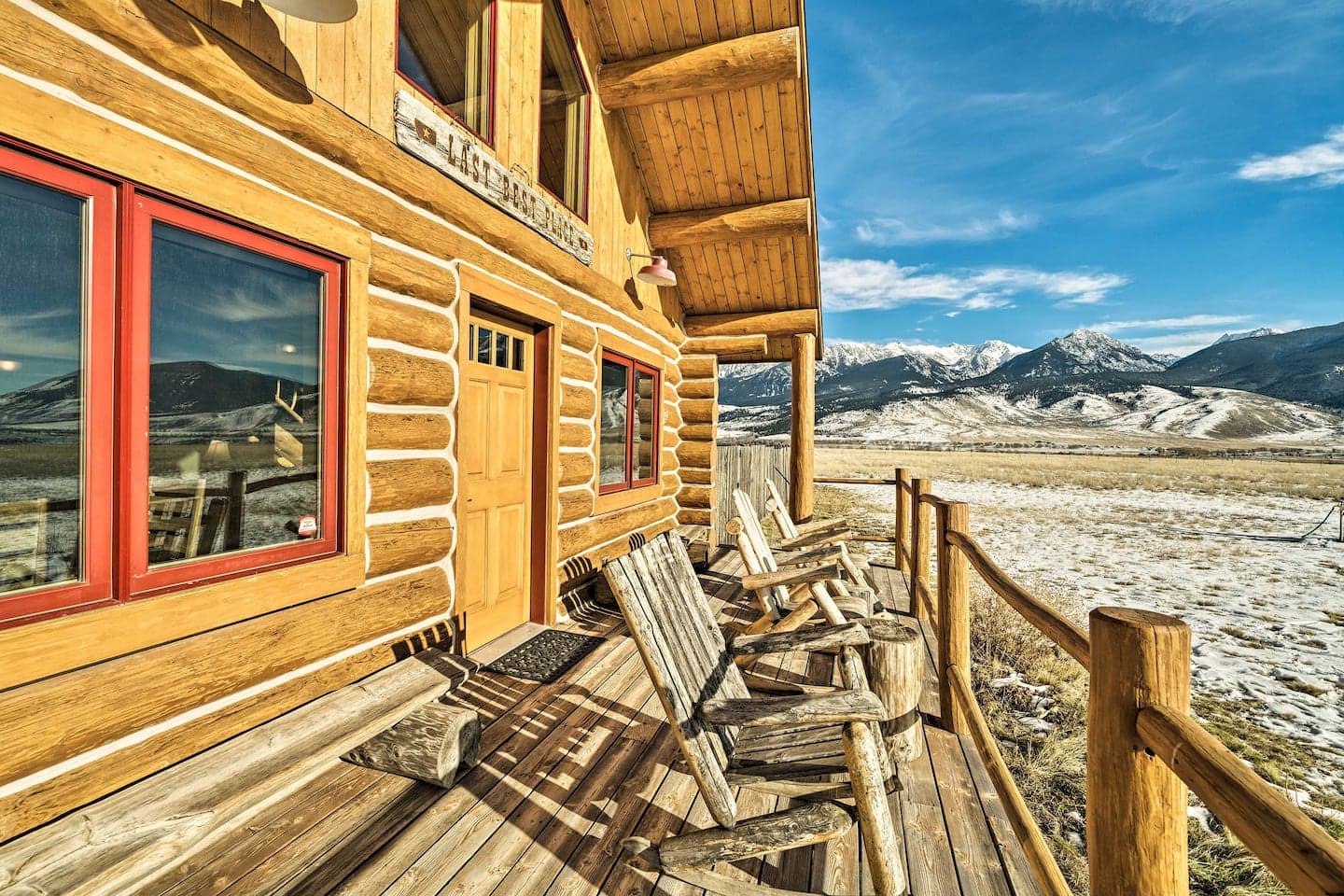 Why you should stay: Breathtaking views along Montana's famous highway to Yellowstone.
Nearest town: Livingston
Sleeps: 5
Minimum stay: 3 nights
Rates from: $151/night
This natural log cabin is the perfect place to stay when visiting Yellowstone National Park. From the outside, you'll get to take in the sweeping meadow and mountain views of where the buffalo literally roam. It's smack in the middle of a valley, the kind of place where you see it from afar and say "oh my gosh, I hope that's it."
Inside, the open layout and vaulted ceilings welcome a gathering of friends and family around the warmth of the fireplace. There's also a fire pit and a barbecue grill outside in case you want to do some outdoor cooking. The home's nightly rate varies wildly, so check a few dates to see when you can get the best deal.
Check Availability
11. Mill Creek Cabin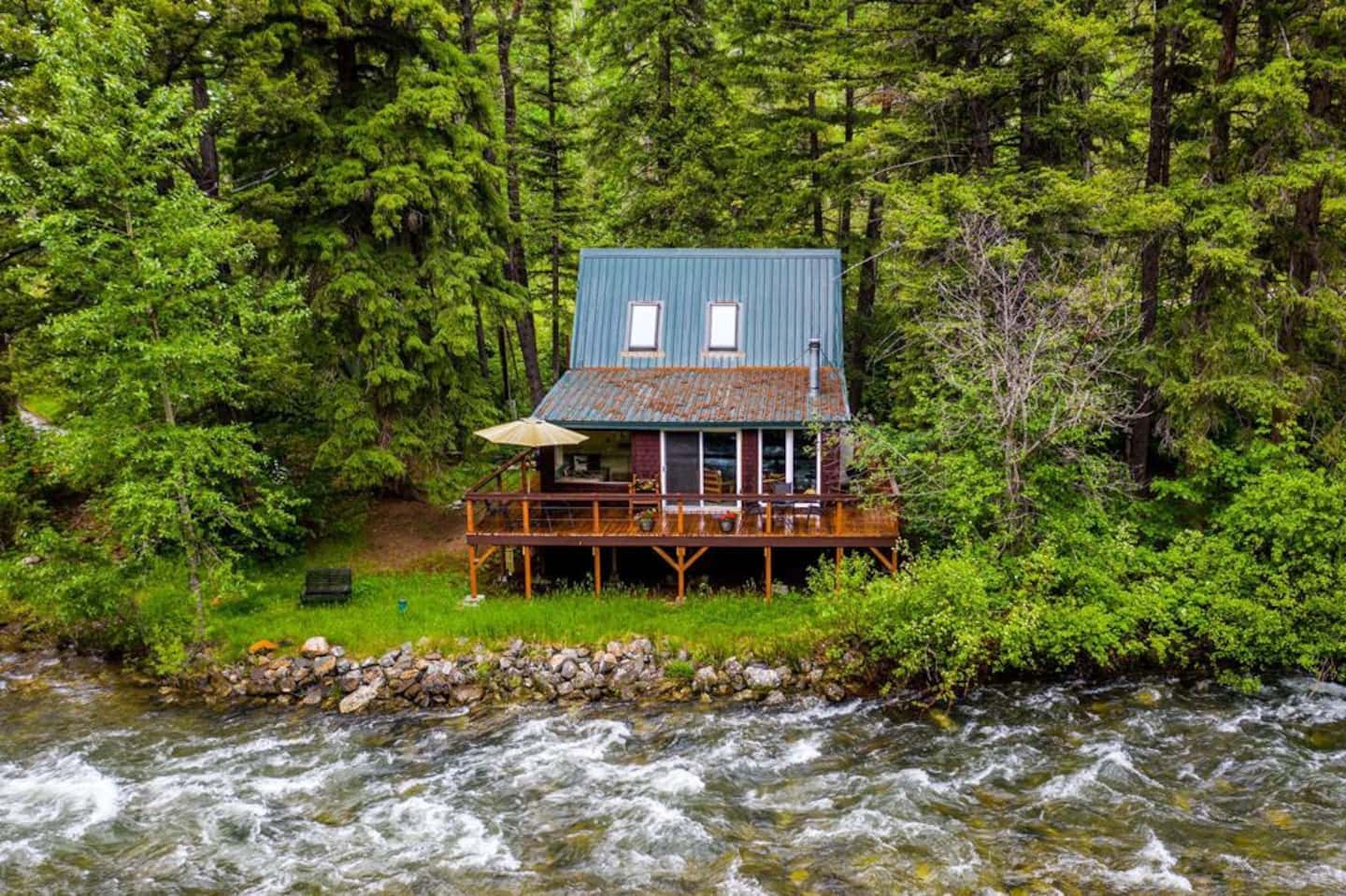 Why you should stay: Private and peaceful lodging on a babbling creek.
Nearest town: Pray
Sleeps: 4
Minimum stay: 4 night
Rates from: $191/night
Close enough to Yellowstone for a day trip into the park yet tucked away deep inside its own hidden valley, Mill Creek Cabin offers a true wilderness retreat far away from the cities and park crowds. You can fish from the backyard, and if you head a little further up the river, you'll find hiking trails most park tourists have never even heard of.
"The secluded aspect of Allison's cabin is invaluable. The peaceful sound of the flowing water made slumber sublime. The drive from here to and through Yellowstone is remarkable."
Chico Hot Springs & Resort is a stone's throw away, and the town of Livingston is close enough for a quick trip when you need to refill and refuel. It's a stunning home and a wonderful compliment to Montana's natural beauty.
Check Availability
Explore More of the West
Get epic travel ideas delivered to your inbox with Weekend Wanderer, our newsletter inspiring more than 10,000 readers every week.
Was this article helpful?
---