We research, evaluate and select travel destinations based on a number of factors, including our writers' experience, user reviews and more. We may earn a commission when you book or purchase through our links. See our editorial policy to learn more.
Was this article helpful?
---
Make a road trip of your drive from Denver to Albuquerque with this alternative route that winds through epic landscapes and historical sites.
A straight drive down I-25 from Denver to Albuquerque is about 447 miles and takes about six and a half hours. It's a quick line south, and it's a fine route if time is your driver. But if you have time there's a better way to plan your Denver to Albuquerque road trip — winding in and out of the mountains, and hitting all the highlights along the way.
Enjoy hikes, mountain vistas, Spanish colonial architecture, art galleries, Native American history, mountain biking, and hot air balloon rides along this 567-mile scenic route from Denver to Albuquerque — and of course it can be done in the other direction too!
Related Read: 11 Beautiful National Forests in Colorado for Outdoor Recreation
Denver to Albuquerque Road Trip by Section
The map above shows the full "scenic" route from Denver south to Cañon City, west to Salida, south to Taos, Santa Fe, and eventually Albuquerque.
Segment 1: Denver to Cañon City
This 162-mile segment takes about three hours from start to finish. This segment runs the southern extent of the Colorado Front Range.
Despite the urban-feeling landscape, the stops along the way get you out of the hubbub and rush of the city traffic.
Related Read: 9 Cozily Romantic Stays Near Denver, Colorado
Highlight 1: Red Rock Canyon & Garden of the Gods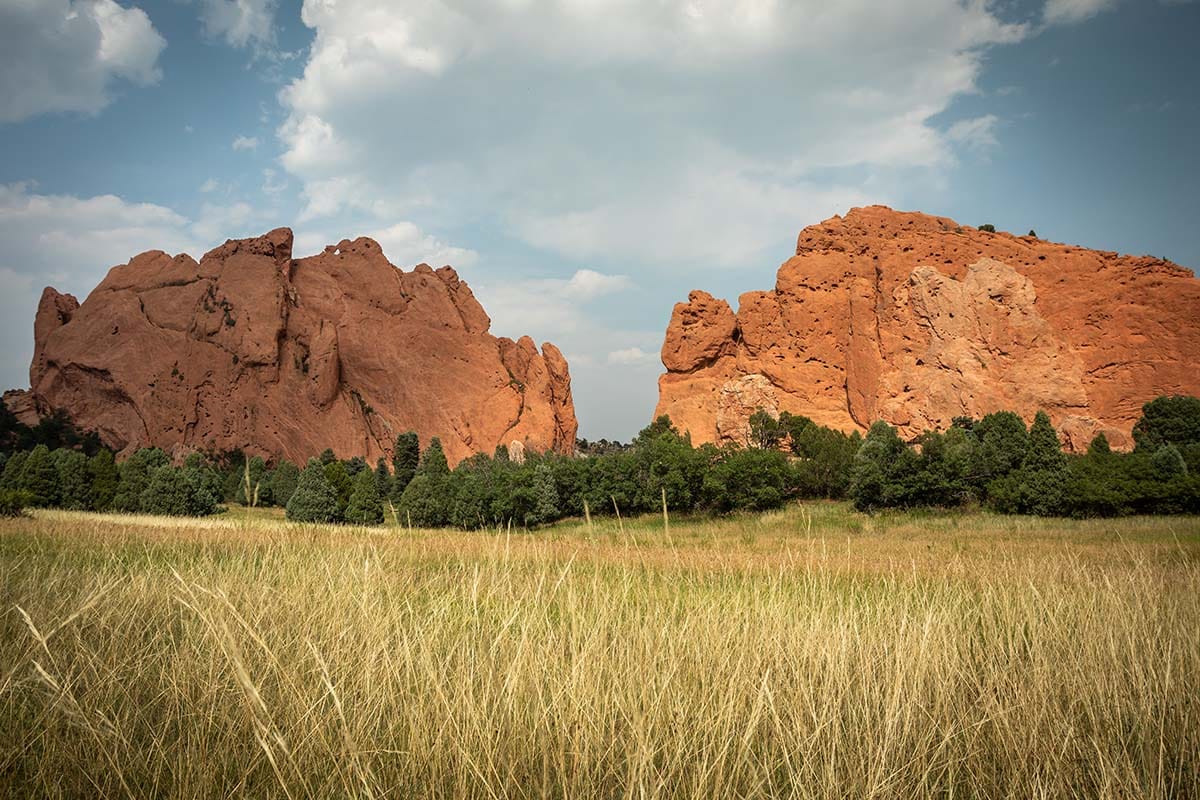 Red Rock Canyon Open Space and the Garden of the Gods Park are located in Colorado Springs, tucked just off the main drag. The two parks are located directly across the street from each other and offer up some of the most extensive hiking systems in the region.
The trails weave through the iconic landscape of this region, the red rock sandstone spires bursting out of lush pine forest.
Highlight 2: Pueblo Reservoir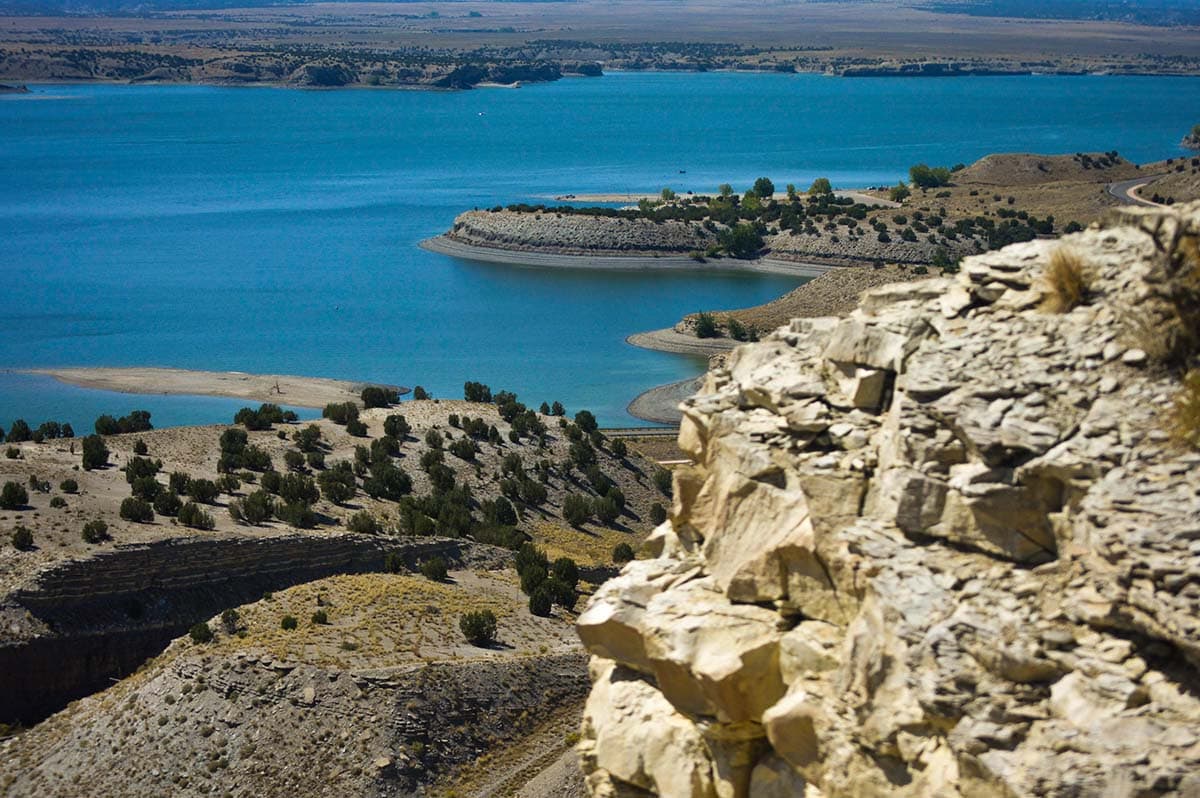 Hopefully, you brought your mountain bike along on the trip. A stop by the trails at Pueblo Reservoir will have you grinning from ear to ear. Opt for the long loops on mesas over the water or zip down a few laps on the canyon loops to get a little more technical riding in.
If you want some water time several places on the reservoir to rent boats or jet skis. If you can't get your hands on a boat, you can still enjoy the water by fishing along the lakeshore. Remember, the only place to swim in the reservoir is Rock Canyon Swim Beach.
This side trip typically adds about 30 minutes of drive time to the route.
Highlight 3: Cañon City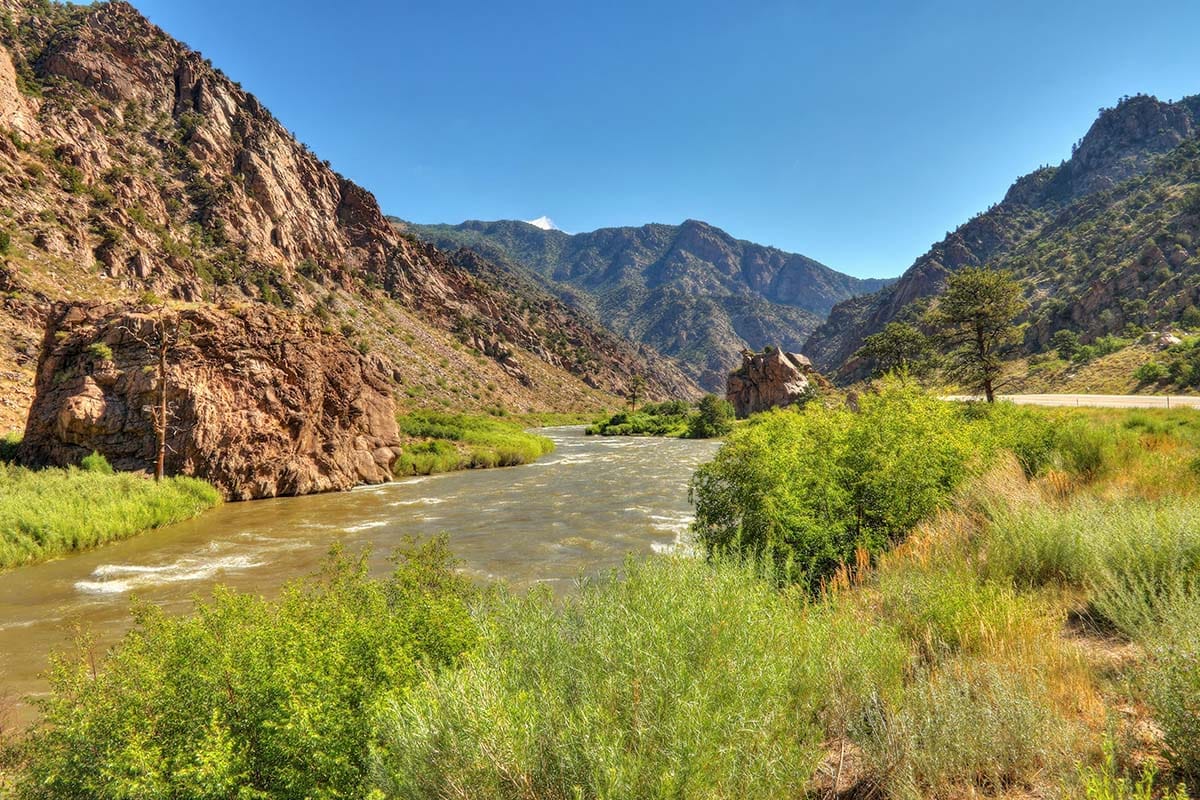 Cañon City is a hub for numerous fun activities! First, stop by the Garden Park Fossil Area to learn more about Late Jurassic dinosaurs. This has been a productive fossil site since 1877 and includes discoveries such as the first complete skeleton of Allosaurus and mostly complete Stegosaurus skeletons. A visit is a great opportunity to learn about this region's paleontology.
Another great spot is the Royal Gorge Bridge and Park, homesite of America's highest suspension bridge and zip line, as well as some incredible hiking and biking trails. If rock climbing is more your style, a trip to the famous Shelf Road climbing area is in order — it houses some of the best sport climbing in the Front Range of Colorado. The best times to visit are the spring and autumn when the temperatures are the nicest for climbing.
Related read: 10 Awesome Things to Do in Denver with Kids
Where to Stay
The stops along this section are largely dominated by more remote lodging options. Camping options or RV parks are available at Pueblo Reservoir, Royal Gorge, and Shelf Road.
Of course, if you want to upscale your lodging for a night, you can stay at the Big Horn Mountain Top Lodge, an entire house rental that overlooks the Royal Gorge. It is also the only lodging at the park, so make sure to book well in advance.
Segment 2: Canon City to Taos
This segment is a bit longer than the first but is well worth the time it takes to complete. At 256 miles, this segment runs all the way south to Taos through the San Louis Valley.
You're sure to enjoy the views of the Sangre de Cristo Range for the entire length of this segment.
Highlight 1: Joyful Journey Hot Springs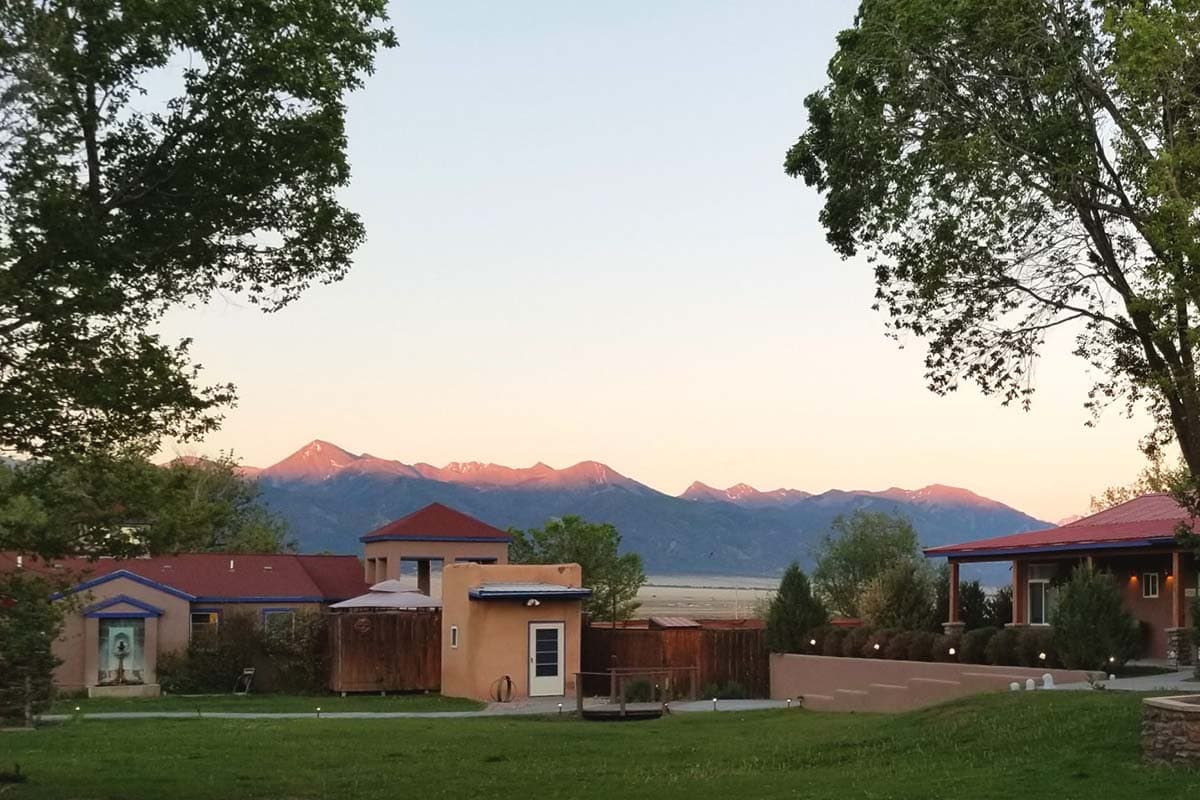 As you head south through Salida and into the San Luis, you'll eventually make your way past Joyful Journey Hot Springs Spa, just off the main route. Joyful is a full-service spa that offers everything from massages, facials, yoga, and art classes.
As for the hot springs, the pools are maintained at comfortable levels that accommodate everyone's tastes ranging from 98º to 108º F. The hot springs are rich in minerals, including boron, calcium, lithium, and magnesium, to name a few. A nice soak in one of these pools is a great way to cap off a long day hiking in the Sangre de Cristo Mountains.
Side Trip 1: Great Sand Dunes National Park and Preserve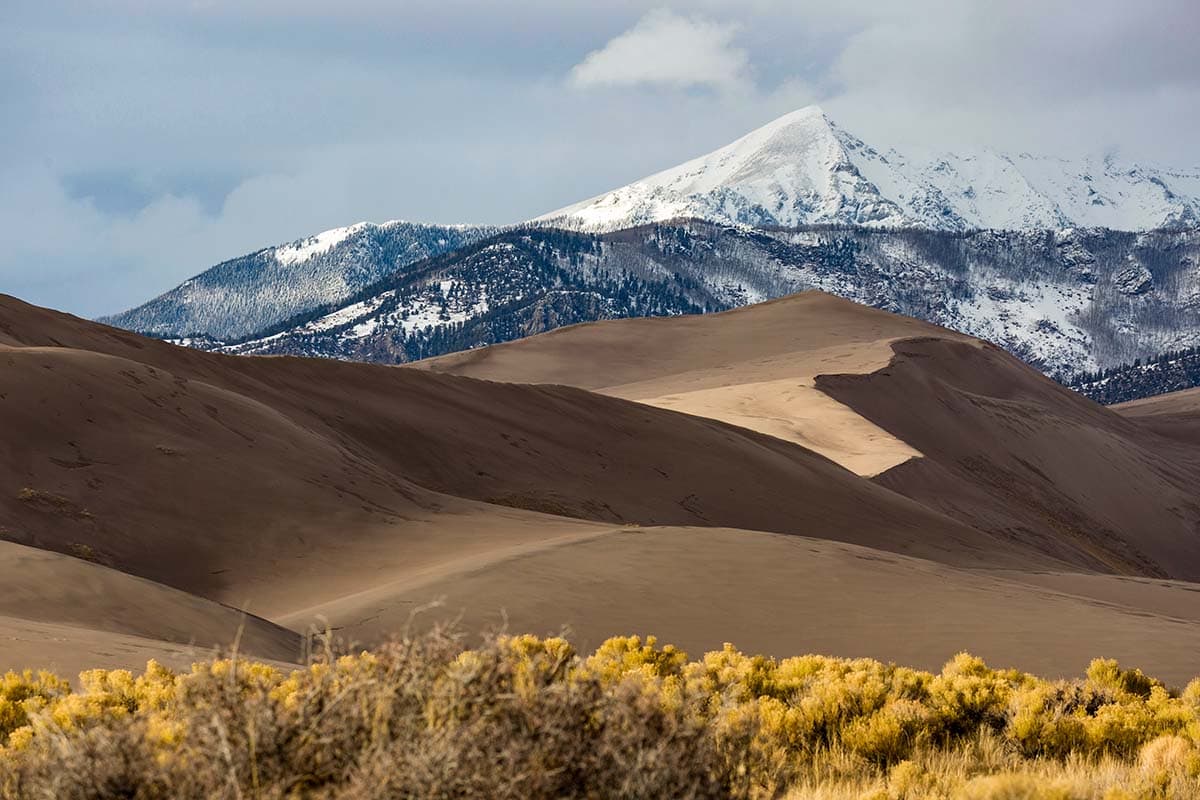 Imagine a place where a river divides a lush riparian environment and the stark, barren scape, huge dunes with massive snow-capped peaks in the distance. Amazingly, such a place exists right in the heart of the Sangre de Cristos. The next stop is one of beauty, education, and a whole lot of fun.
Great Sand Dunes National Park & Preserve offers an amazing place to go hiking and explore both sand and forest, go sandboarding, or explore the rich riparian habitat of Medano Creek. For the avid bird watcher, the great sand dunes are a hot spot on the migration route of the Great Sandhill Crane in the spring and autumn.
Highlight 2: Taos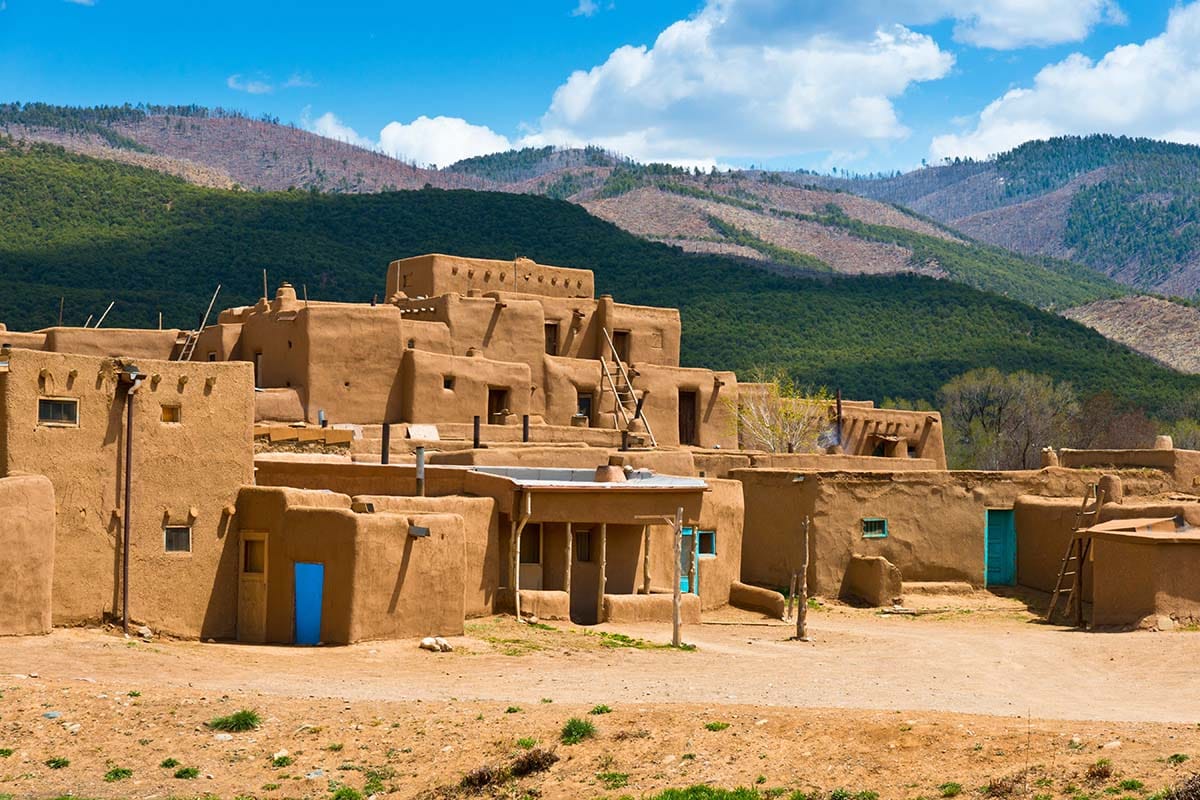 Finally, you cross the border into New Mexico and reach Taos. There is so much to do in Taos that — if you have time — you'll probably want to spend at least a day or two exploring the area.
Undoubtedly, the city's most popular and iconic feature is the UNESCO World Heritage Site and National Historic Landmark: Taos Pueblo. This pueblo was constructed by the ancestors of the Taos people between 1000 and 1450 AD, and approximately 150 people still live in the pueblo full-time today. Take a tour of the multi-storied adobe buildings and enjoy watching a public dance should your travel dates align!
Of course, no visit to Taos would be complete without a tour of the historic Taos Plaza, where you can enjoy shops, art galleries, and live concerts!
If you're looking for a little more adventure, take a trip down highway 64 to the Rio Grande Gorge Bridge, a three-span steel continuous-deck truss structure that spans the Rio Grande. It is 650 feet above the river and is 1280-feet long, and you'll be able to enjoy views of the gorge and the surrounding landscape. Of course, if you pass through Taos during the winter, make sure to take a few laps on the runs at the world-renowned ski resort.
Where to Stay
A great first stop is to stay the night at Joyful Journey in the lodge or one of the onsite yurts or tipis before heading out the next day to continue on your journey.
If you plan to stay at Great Sand Dunes National Park, there is plenty of camping in the park, but you'll need to book in advance to make sure you get a spot. Once you get to Taos, there are plenty of lodging options — inns, chalets, bed & breakfasts, motels — and some sweet cabin rentals too.
Segment 3: Taos to Albuquerque
The route from Taos to Albuquerque starts via the High Road to Taos Scenic Byway, wrapping through mountain villages and past awesome scenery.
The route via the High Road is 149 miles and is about 3 hours long but is littered with outstanding stops worth exploring and could easily take you several days.
Related Read: 12 Best Spots to See the Fall Colors in New Mexico
Highlight 1: The High Road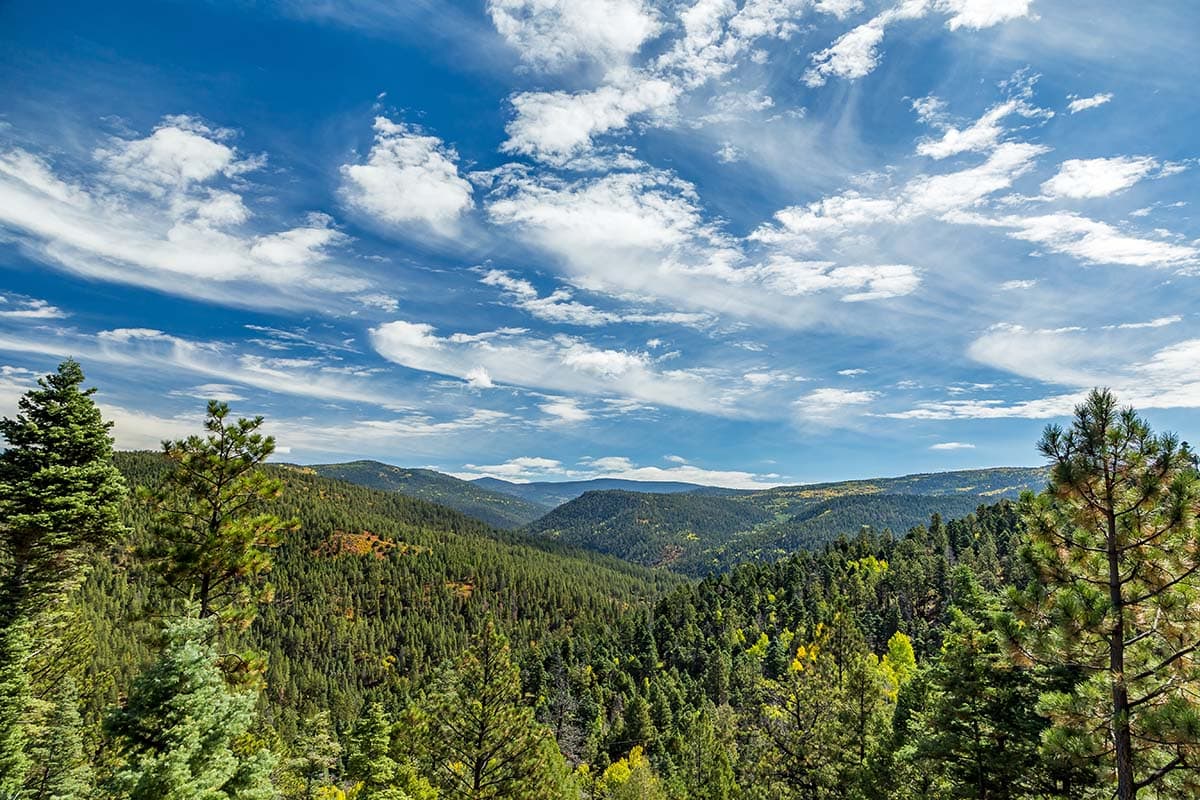 Legendary, the High Road winds through the Sangre de Christo mountains while traversing through tiny remote villages with local galleries and past spectacular views.
You'll pass towns with Spanish Colonial historical architecture such as Ranchos de Taos and Las Trampas Historial District, historic churches such as the San Jose de Gracia Church and Nuestra Senora del Rosario Truchas, and the historic pilgrimage site of El Santuario de Chimayo.
Chimayo is known for its pit of soil believed to have curative powers. But it's not just the dirt that draws hundreds of thousands of visitors each year; the Spanish colonial architecture, gardens, and historical art.
Related Read: 11 Awesomely Unique Places to Stay in New Mexico
Highlight 2: Santa Fe
Santa Fe is alive with a historical sense of art and culture. Explore Canyon Road to duck in and out of art galleries with artwork by famous artists, buy cultural wares such as hand-woven Navajo rugs and wood carvings. Jewelry, pottery, sculptures, and paintings dot the windows of adobe buildings, and flowers color the streets.
Of course, there are plenty of cultural sites to explore, such as the Plaza (enjoy concerts, native and Spanish markets, and community gatherings), Cathedral Basilica of St. Francis of Assisi, and the Santa Fe Farmers Market.
Related Read: 11 Magnificent Hikes Near Santa Fe, New Mexico
Highlight 3: Albuquerque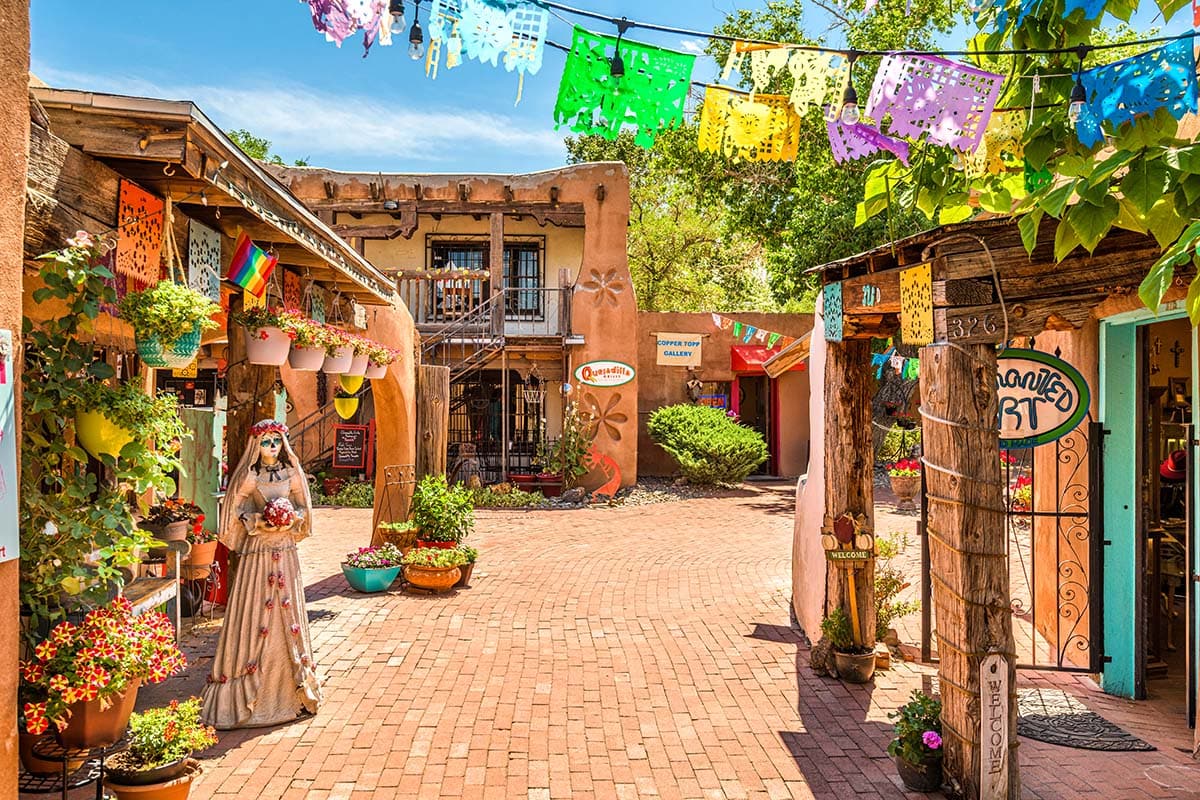 The end of the road, perhaps — but not the end of your trip! Albuquerque is rich with activities for everyone, from mountain biking, hiking, and kayaking to hot air balloon rides, sightseeing tours, and visiting museums and art galleries.
A tour up the Sandia Mountain Tram offers up stunning views — consider tramming up and hiking back down the mountain. Take a trip to the Petroglyph National Monument, one of the largest petroglyph sites in North America. Learn about the symbols that were carved into the rock 400 to 700 years ago, as well as about the people who carved them.
If you happen to visit in early October, make sure to participate in the Albuquerque International Balloon Fiesta. It's an amazing sight to watch the sky dotted with beautifully designed and colorful balloons. And of course, there are fantastic resorts and spas. Get a relaxing massage or rejuvenating herbal wrap at the Tamaya Mist Spa is one of the most renowned hotel spas in the country and well worth a visit.
Related Read: 10 Rad Weekend Road Trips from Albuquerque, New Mexico
Where to Stay in Albuquerque
Santa Fe and Albuquerque both have numerous lodging options, from resorts and spas to classic hotel chains. However, if you're looking for some unique stays, check out some Airbnb rentals in Santa Fe that offer refreshing stays.
Of course, Albuquerque has some unique stays of its own that are refreshing and will keep you feeling like you're at home.
Explore the Southwest
Get epic travel ideas delivered to your inbox with Weekend Wanderer, our newsletter inspiring more than 10,000 readers every week.
Was this article helpful?
---