We research, evaluate and select travel destinations based on a number of factors, including our writers' experience, user reviews and more. We may earn a commission when you book or purchase through our links. See our editorial policy to learn more.
---
Looking for a gorgeous getaway near the Mile High City? Go ahead and take advantage of the backcountry feel of these glamping destinations for a taste of Colorado's outdoorsy vibes without skimping on those creature comforts.
From adorable A-frames to secluded canvas tents, these seven glamping stays near Denver deliver the glamor of sleeping under the stars — minus the hassle of pitching your tent.
Plus, if you're feeling ambitious, you can always drive into Denver for a night on the town.
Related Read: 10 Best Mountain Cabins to Rent Near Denver, Colorado
1. Clear Creek Getaway
Why you should stay: Enjoy the best of both city and mountain livin' at this cute a-frame.
Nearest town: Idaho Springs
Sleeps: 2
Minimum Stay: 1 night
Rates from: $60/night
The Clear Creek Getaway is proof that good things come in small packages. This tiny a-frame is tucked in the woods making for the perfect secluded escape with easy access to lots of local activities.
This tiny home is equipped with solar lights and a propane grill, though you'll need to pack in your sleeping gear, food, and water. Not that you'll mind when you're brewing your morning cuppa joe or kicking your feet up under the stars on the back deck of your tiny home-away-from-home.
Though the A-frame's location is very private, you are only a short drive from some great local activities including river rafting, hiking, fly fishing, mountain biking, and skiing, depending on the season. Or head into the historic town of Idaho Springs to grab a bite and brew after a day out exploring.
"Such a unique, adorable space to stay! Conveniently located off the highway, but hidden in the trees. The cabin itself was perfect size for just me, but would be great for a couple as well. Very cute patio and grill!"
Check Availability
Related Read: 10 Exhilarating Things to Do in Aspen in the Summer
2. Gold Nugget Tree House
Why you should stay: Feel like a kid again with a stay at this picture-perfect treehouse.
Nearest town: Gold Hill
Sleeps: 2
Minimum Stay: 1 night
Rates from: $119/night
A night at the Gold Nugget Tree House is sure to be one to remember. From the king-sized bed to the fabulous deck views above the treetops, this glamping stay takes the glamor and kicks it up a notch. The rustic exterior blends into the surroundings, but once inside you'll feel like you've escaped to your own private paradise.
And while you can certainly tuck in, unplug, and unwind at the property, you are also a short drive from the quaint historic town of Gold Hill which offers up some lively local entertainment. Grab a coffee or glass of wine at the Gold Hill Store or book a reservation to enjoy a five-course meal at the Gold Hill Inn. In the summer evenings, you might be treated to some live music with some local flavor.
If exploring on foot or by bike is more your speed, you have your choice of local trails, including two hiking trails that are adjacent to the property. Road biking is also popular in the area. At the end of your explorations, catch a sunset from the treehouse deck with views of the Continental Divide and Longs Peak for the perfect finish to your day.
Check Availability
Related Read: 11 Dreamy Treehouse Rentals in Colorado
3. Yurt Haven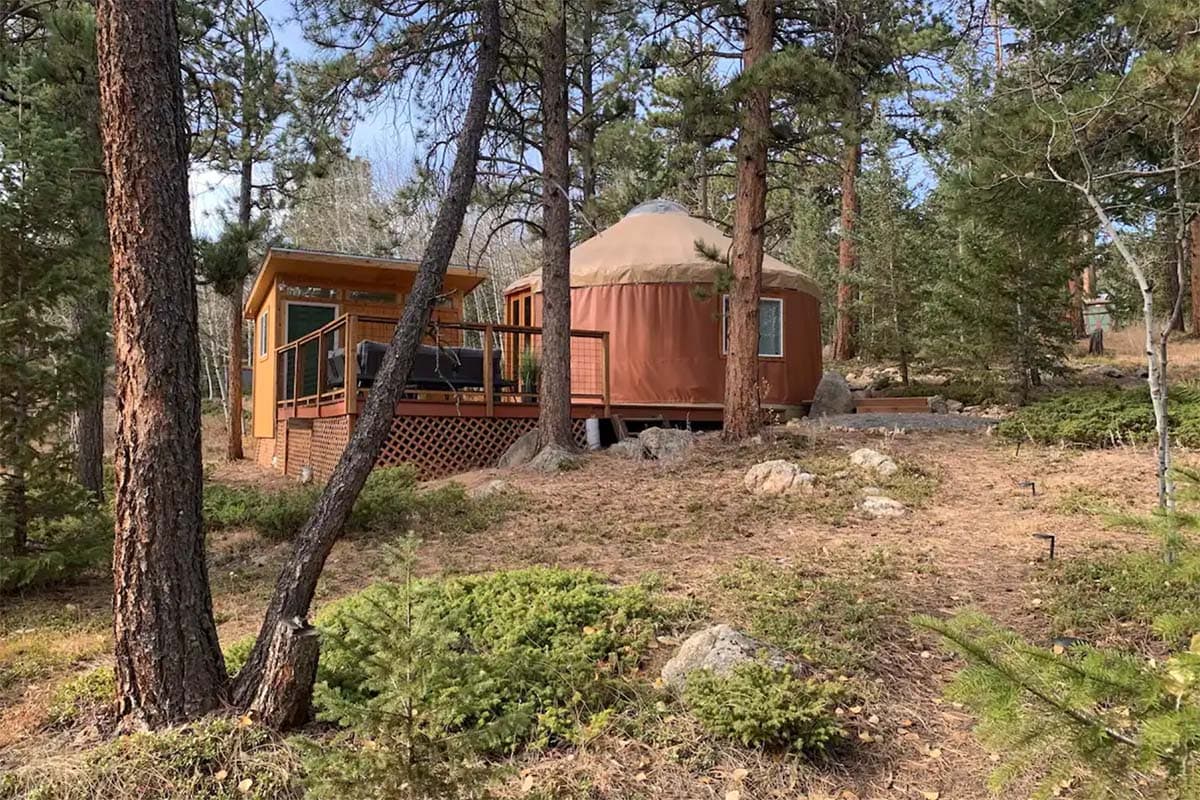 Why you should stay: A spacious yurt close to an abundance of outdoorsy adventures.
Nearest town: Nederland
Sleeps: 4
Minimum Stay: 1 night
Rates from: $175/night
The open layout of the 20-foot Yurt Haven is ideal for those looking for a glamping escape that allows them to stretch, sprawl, and get cozy while still having plug-in amenities like a microwave, toaster oven, and TV. Hey, just 'cuz you're staying in the woods doesn't mean you have to rough it.
The yurt is located on three private acres, and the back deck might be your favorite spot to soak up the solitude. You'll have plenty to do during your stay, too. Bring your skis or snowboard in the winter to catch some laps at Eldora Mountain. During the summer, you can head out hiking on the many miles of trails in the area. Climb up to the top of the Continental Divide for some stellar views.
Or for a more chill day, head into downtown Nederland to grab lunch and walk around the eclectic shops. And if you've brought the kids along (or are a kid at heart) finish out the afternoon with a ride on the Carousel of Happiness — adults are invited to ride along, too.
Check Availability
Related Read: 8 Best Yurt Rentals in Colorado for the Ultimate Wilderness Escape
4. Frontier Tent Glamping at Bliss Camp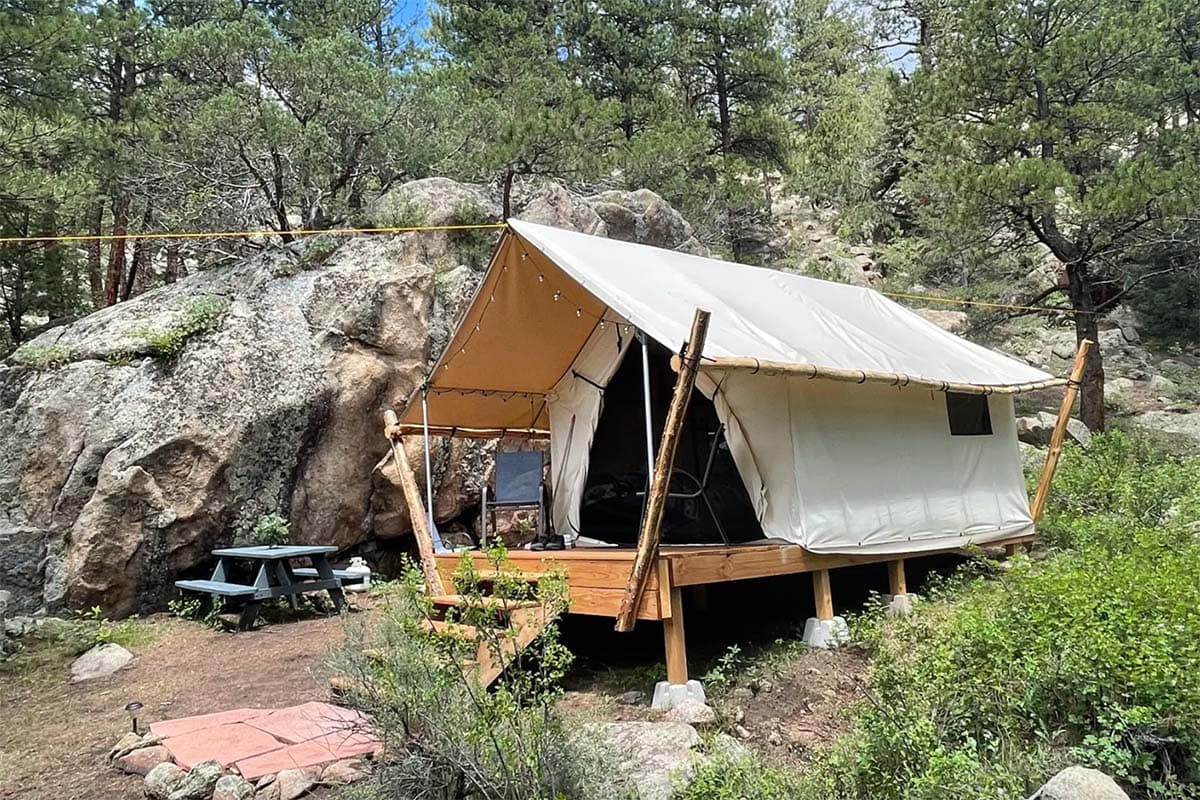 Why you should stay: An off-the-grid getaway close to Rocky Mountain National Park.
Nearest town: Lyons
Sleeps: 2
Minimum Stay: 2 nights
Rates from: $140/night
Looking for a remote, off-grid glamping experience that still delivers on a cozy overnight stop? Welcome to Frontier Tent Glamping at aptly-named Bliss Camp. This canvas wall tent is thoughtfully designed with comfort in mind, while still delivering on the back-woods vibes.
You can take a dip in the pond (in the summer) or rinse off in the solar shower after a day out exploring. The communal kitchen area is equipped with pots, pans, potable water, and a barbeque should you feel like cooking up a hearty meal.
And while the private canyon setting is very secluded, you are a short drive from the towns of Lyons and Estes Park. If hitting the trails or sightseeing in Rocky Mountain National Park is on your agenda, you can't find a much more convenient glamping destination to check off your bucket-list items at Colorado's most visited national park.
"Bliss Camp was 1000% MAGICAL. It can't possibly get much better than to have your own private stream, be surrounded by forest, and light hiking all around your tent. The outdoor kitchen and hot shower were amazing. We cannot wait to come back."
Check Availability
Related Read: 6 Scenic Drives Near Denver for When the Mountains are Calling
5. Rustic Glam Artist's Cabin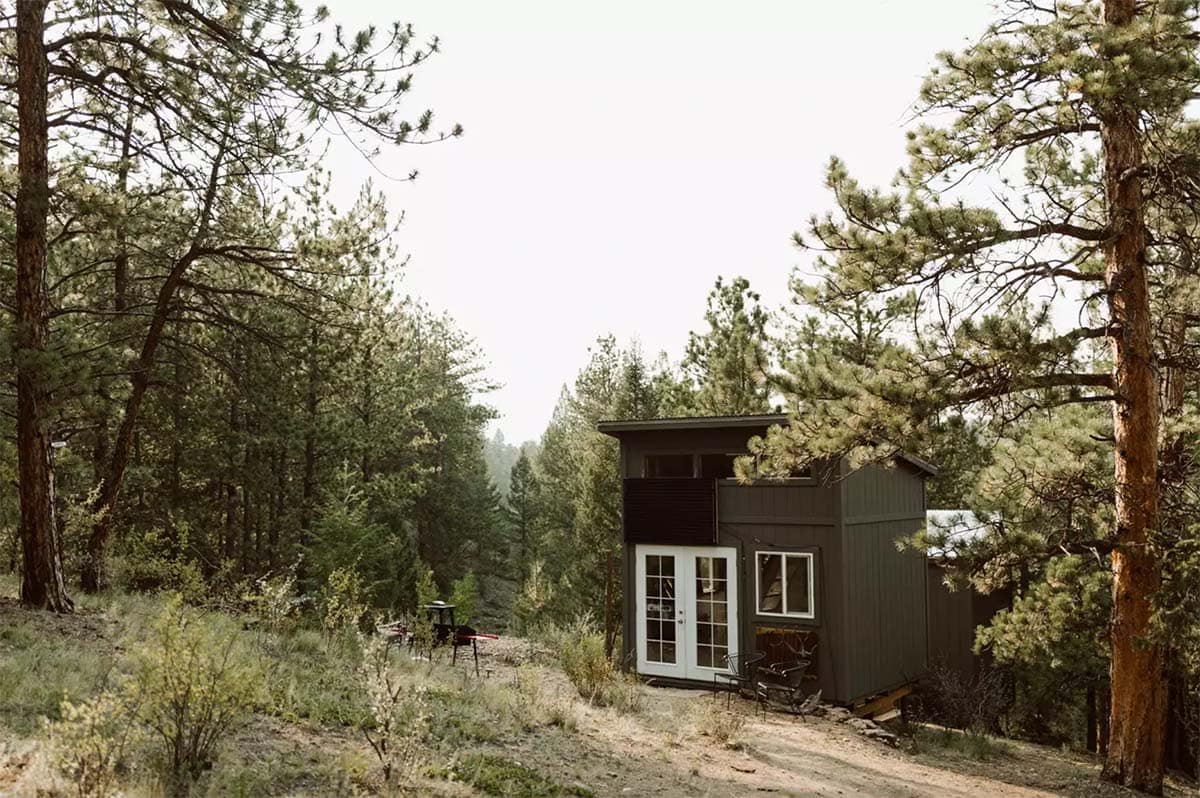 Why you should stay: A tiny slice of heaven.
Nearest town: Bailey
Sleeps: 2
Minimum Stay: 1 night
Rates from: $194/night
Tuck in at the Rustic Glam Artist's Cabin for a luxurious stay in the backwoods of Colorado. Located on 12 acres, the private retreat backs up to thousands of acres of national forest. And even though you will feel a world away, you'll be treated to a delightfully furnished tiny home that will have you re-thinking what you consider to be the necessities.
Inside, the artist's cabin features a comfortable sitting/dining area and a cozy sleeping loft. Outside, you can enjoy a meal at the private outdoor cooking and dining area. When no fire ban is in effect (always check the local county regulations before starting a fire) you can enjoy a campfire under the stars in the outdoor fireplace—don't forget the s'mores!
Nearby, you'll find lots to do including hiking, biking, fly fishing, and taking a scenic drive up Guanella Pass. In the fall, head to Kenosha Pass to do some aspen leaf-peeping, and in the winter, pack your snowshoes or XC skis to take advantage of the fresh powder.
"The personal touches and amenities made this cozy spot perfect to relax and unwind comfortably after a long day of travel. Loved the quiet, off-grid feel but still having everything you might want/need, tastefully designed and decorated!"
Check Availability
Related Read: 11 Beautiful National Forests in Colorado for Outdoor Recreation
6. High Alpine Miner's Cabin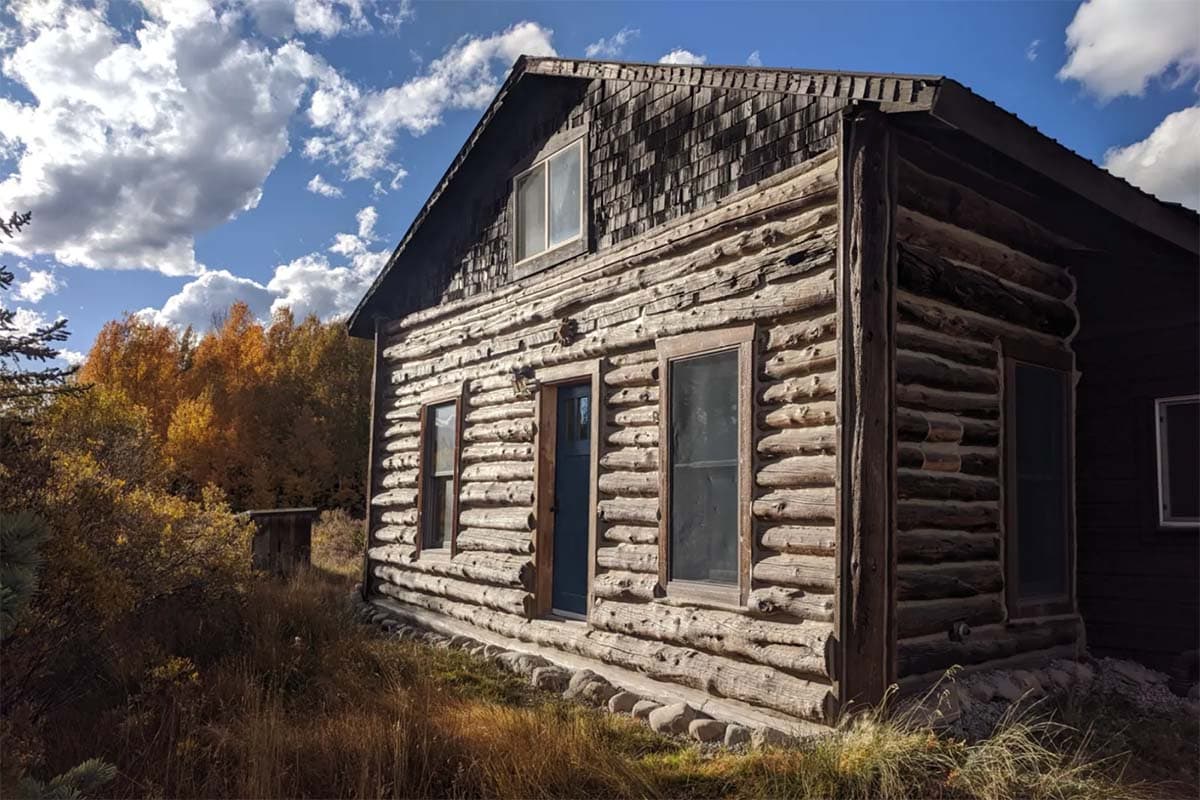 Why you should stay: A cozy cabin off the beaten path.
Nearest town: Alma
Sleeps: 6
Minimum Stay: 3 nights
Rates from: $110/night
With a history that dates back to 1883, the High Alpine Miner's Cabin has loads of rustic charm to make your glamping trip memorable. Plus, with room for six, you can bring along the family — or invite a few friends.
And don't let the rustic exterior of this cabin fool you. From the fully-decked interior to the barrel sauna in the backyard, this well-appointed high alpine home doesn't skimp on the luxuries. Sure, it isn't going to have quite the same wilderness feel like a tent or yurt, but if you've got some family members who prefer an overnight with four solid walls, this is a passable glamping stay that will satisfy both the campers and non-campers alike.
Plus, it's hard to beat the location. You can easily head out hiking, biking, fishing, biking, or off-roading. Or simply put your feet up and enjoy wildlife watching around the creek in the cabin's backyard.
Check Availability
Related Read: Mile High Hiking: 15 Best Hikes Near Denver, Colorado
7. Little Scraggy #3 Colonel's Tent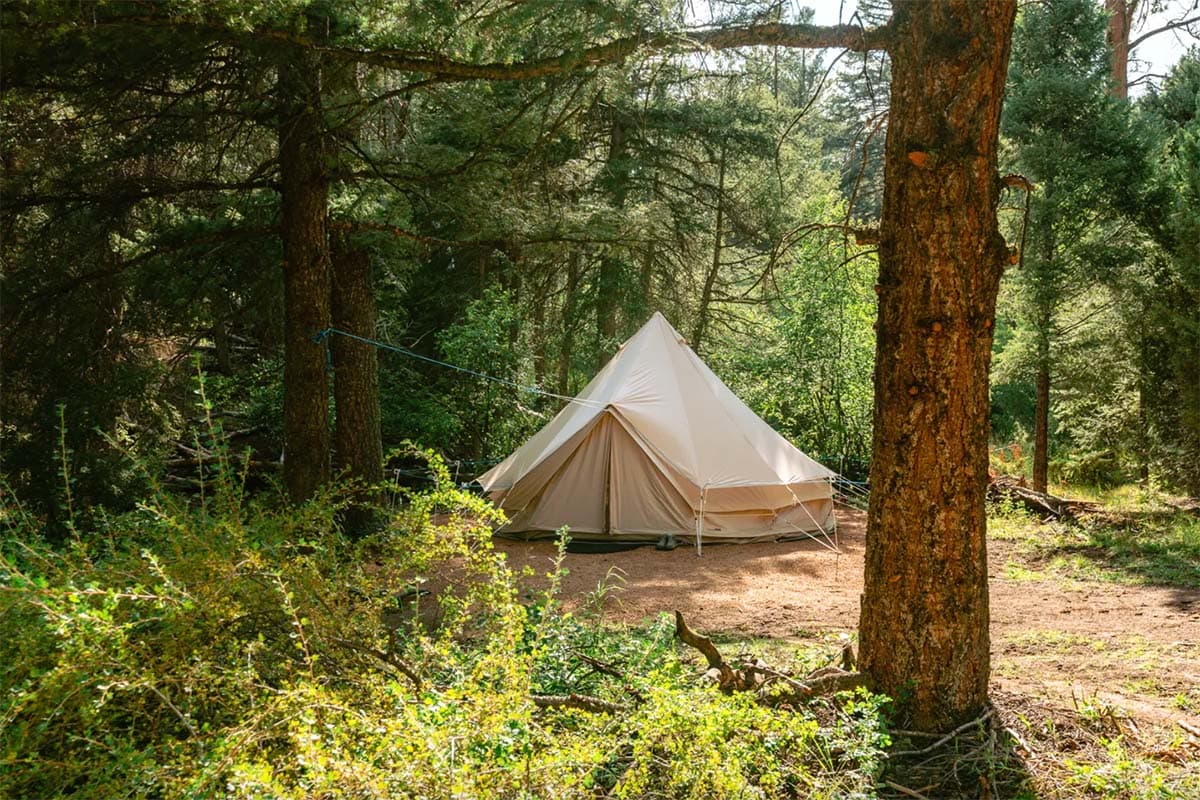 Why you should stay: Get out in nature without having to set up or break down camp.
Nearest town: Deckers
Sleeps: 6
Minimum Stay: 2 nights
Rates from: $75/night
An overnight stop at Little Scraggy #3 Colonel's Tent will redefine what a tent can be. Though you will need to bring your sleeping pads and bags (or blankets), the spacious tent offers plenty of room to do much more than just sleep — you'll find plenty of space to socialize, dine, and relax.
Outside, you can make use of the fire pit barrel, a patio table and chairs, and the gas grill (bring your own propane). Or if you don't feel like cooking, pop into Deckers or Pine for a bite to eat.
The tent is located on a 40-acre historic ranch homestead surrounded by Pike National Forest. Hiking enthusiasts can head out to explore Little Scraggy Peak or put in some miles on Segment #3 of the Colorado Trail. The Little Scraggy Trailhead is only a few miles away. Mountain bikers will love hitting up the singletrack at the extensive trail system of Buffalo Creek Recreation Area.
"As someone who goes primitive camping on the regular, Little Scraggy Colonel's Tent was nothing short of glamping luxury! The spacious tent included enough room for my partner and our dog to spread out our sleeping mats."
Check Availability
Related read: 7 Awesome Waterfalls Near Denver, Colorado
Find Your Next Adventure
Get epic travel ideas delivered to your inbox with Weekend Wanderer, our newsletter inspiring more than 10,000 readers every week.
---