We research, evaluate and select travel destinations based on a number of factors, including our writers' experience, user reviews and more. We may earn a commission when you book or purchase through our links. See our editorial policy to learn more.
---
One of the Mile High City's biggest perks is its proximity to all sorts of awesome outdoor recreation — including some of the best state parks that Colorado has to offer.
Whether you're looking for hiking, camping, climbing, watersports, or simply a picnic spot to take in the mountain views, these 7 state parks near Denver more than deliver, and they're easily accessible for a weekend or weeknight outing.
Planning on visiting more than one state park? Check out the options for an annual state park pass to get the most bang for your buck. Here are 7 state parks near Denver you need to check out next.
1. Barr Lake State Park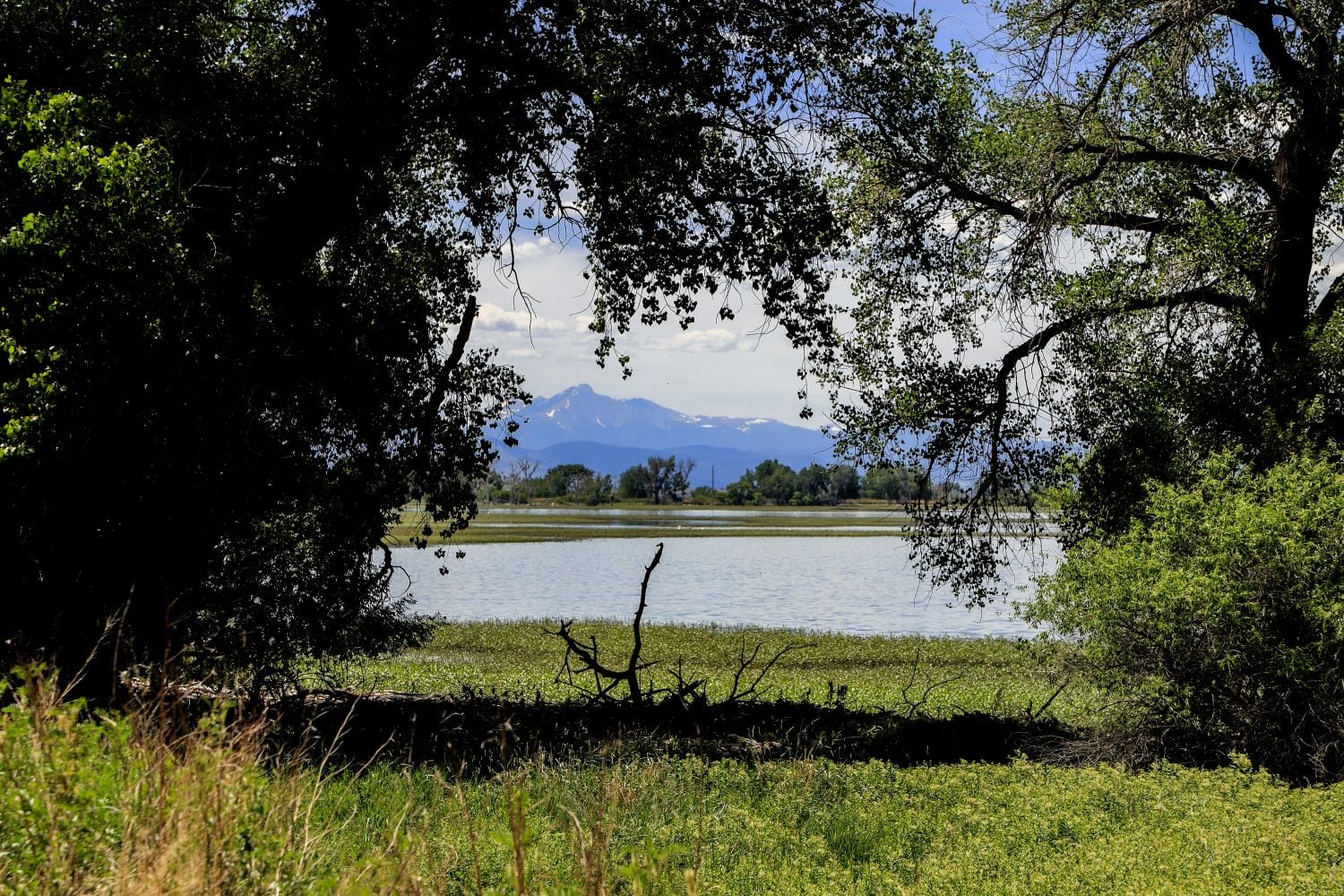 Why you should go: Great for nature lovers and budding naturalists, Barr Lake State Park is well known for its fantastic wildlife. A favorite spot for birdwatching, the park has documented over 350 species. I've found it's well worth bringing a pair of binoculars, as you never know what you might spot. On land, it's home to deer, elk, and more.
Pros: An easy 30-ish minute drive from the Denver metro area, Barr Lake offers a scenic escape on the eastern edge of the capital city's urban sprawl. Swing by the Nature Center for an intro to the area on arrival. According to one visitor, "This park is a hidden gem outside of Denver! It's relaxing. Staff are always kind and willing to talk to you."
On a clear day, the views of the Front Range are stunning across the water. The mostly flat trails make for easy walking or cruising on a bike.
Much of the trail around the lake is lined with cottonwood trees, which I've found offer much-appreciated shade on the hotter summer days. And if you enjoy getting out on the water, the lake is a local's favorite for boating, fishing, or kayaking.
Cons: In addition to a few short trails around the Nature Center, the 8.8-mile multiuse Lake Loop Trail, which is great for walking or biking, is the park's longest trail.
Compared to Colorado's other state parks, you might find the loop a bit mundane, as you don't have a ton of trail options to choose from. Also, pets aren't allowed in the wildlife refuge (the southern half of the park), so if you're bringing your dog, keep in mind that you can't walk the full loop around the lake.
If you go: 13401 Picadilly Rd, Brighton, CO 80603; (720)-520-1876
2. Chatfield State Park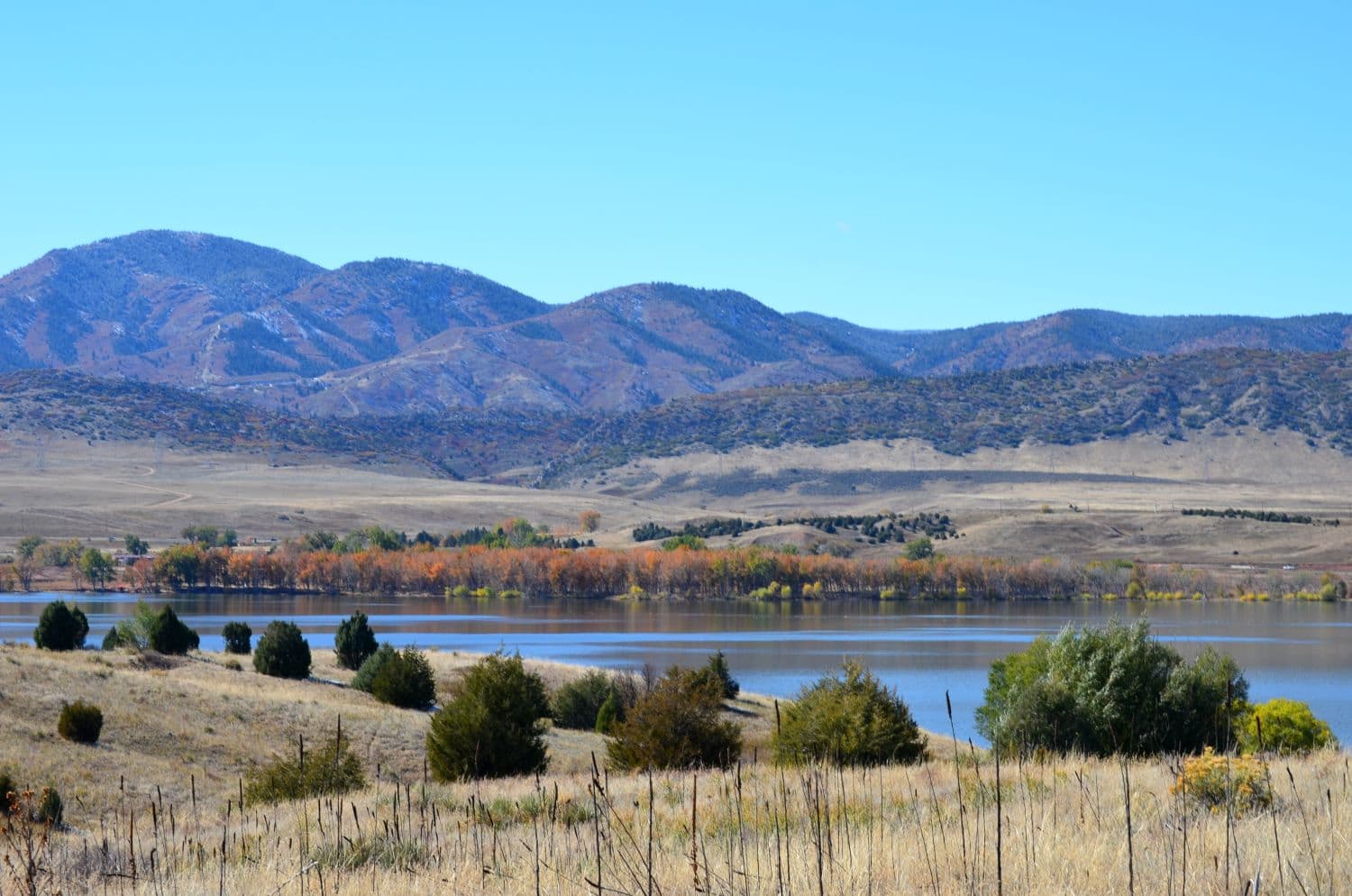 Why you should go: If you want to get out on the water in this land-locked state, Chatfield State Park is home to a decent-sized reservoir where you can boat, sail, jet-ski, and paddle.
Pros: A well-developed state park, Chatfield has a lot of amenities in nearly every area of the park – from plenty of restrooms and parking spots to gazebos, picnic areas, a swim beach, a dog park, and a large campground (197 sites). The park's location, tucked along the foothills, offers some particularly good vantage points.
As one overnight visitor reported, "We got here when it was dark, and waking up to the mountain view was absolutely breathtaking!"
Though the park has a decent network of trails to choose from, I have found that the paths that wind through the trees along the South Platte River offer a bit more solitude and scenery, if you want to explore the area on foot.
Cons: This state park isn't very remote, and with that comes some downsides, like highway noise, manmade structures, and plenty of reminders that you are, in fact, not that far from Denver.
The swim beach can sometimes be closed due to water quality issues, especially in the summer, so be sure to check before packing your swim trunks. And keep an eye out for rattlesnakes in the warmer months.
If you go: 11500 N. Roxborough Park Rd. Littleton, CO, 80125; (303) 791-7275
Related read: 7 Must-See Day Trips From Denver, Colorado
3. Cherry Creek State Park
Why you should go: A beautiful green space and reservoir located in the heart of the metro area, Cherry Creek State Park is the perfect weekday oasis when you need a nature fix but don't have time to drive to the mountains.
Pros: As far as accessibility goes, this state park is one of the easiest spots to stop off near Denver. As one visitor notes, "Always a great place for an evening walk. Some of the best sunsets in Colorado at various times of the year. Lots of wildlife that you can see without having to travel too far."
With multi-use trails, camping, wildlife watching, and watersports, you can pick your favorite way to explore the area. The swim beach is a popular spot for families in the summer, and if you have a furry family member who wants to join, the park also has an off-leash dog area for pups to play.
Cons: Due to its location in the heart of suburbia, this park is extremely popular, especially on summer weekends and holidays. Come prepared to share the space with plenty of other people. Camping sites, picnic areas, and prime fishing spots all fill up early. If you're planning an overnight stay, make reservations well in advance.
If you go: 4201 South Parker Road, Aurora, CO, 80014; (303) 690-1166
4. Eldorado Canyon State Park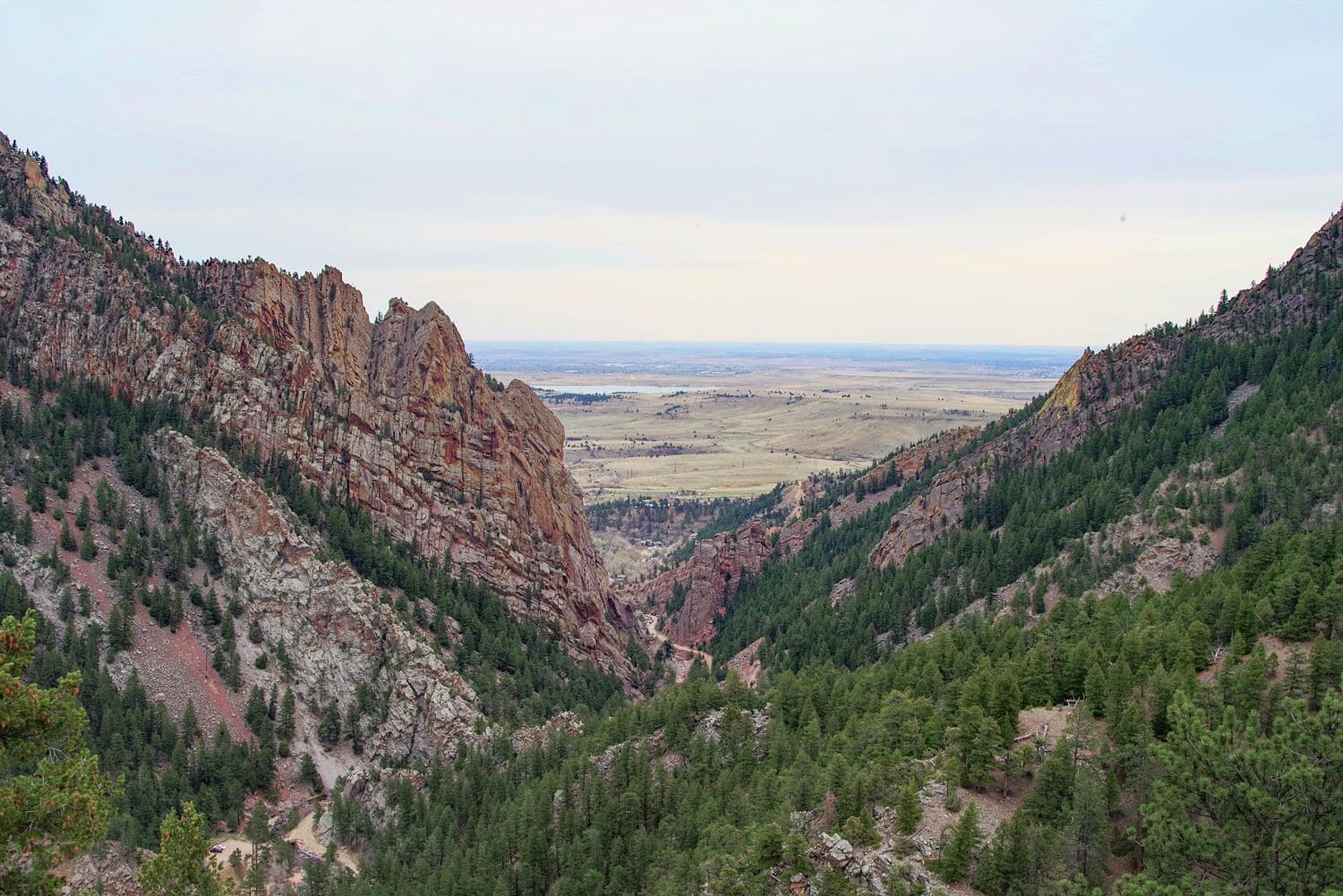 Why you should go: Escape the ordinary at a destination that feels like a movie set. The scenery here is outstanding, especially in the spring when the wildflowers bloom and during fall when the scrub oak turns a riotous shade of red.
Pros: A popular rock climbing destination, Eldorado Canyon State Park is home to over 500 routes that draw climbers of all experience levels. According to one visitor, "This canyon is rock-climbing heaven, and you will enjoy watching climbers pepper the cliffs of this beautiful place. I highly recommend a visit and many returns!"
If vertical endeavors aren't to your thing, the park also has some beautiful trails that let you take in the views of the canyon walls from a less intimate perspective.
The best views are from the Fowler Trail, which is a relatively easy, family-friendly hike with spectacular views of the Bastille, West Ridge, and Redgarden Wall. And, if you're looking for some post-hike refreshments, you can easily pop into Boulder to hit up Pearl Street for food, drinks, and shopping.
Cons: Reservations are required from May through September if you're planning on driving into the park, and parking is extremely limited and nearly impossible to get on the weekends if you don't arrive early. You can utilize the shuttle service, which runs during peak season.
The shuttle is a bit of a hassle, but it will at least ensure you get into the park. Some of the trails are steep with some significant elevation gain, and not all intersections are well-marked so grab a trail map if you're planning on exploring on foot.
If you go: 9 Kneale Road, Eldorado Springs, CO, 80025; (303) 494-3943
Related read: 6 Scenic Drives Near Denver for When the Mountains are Calling
5. Golden Gate Canyon State Park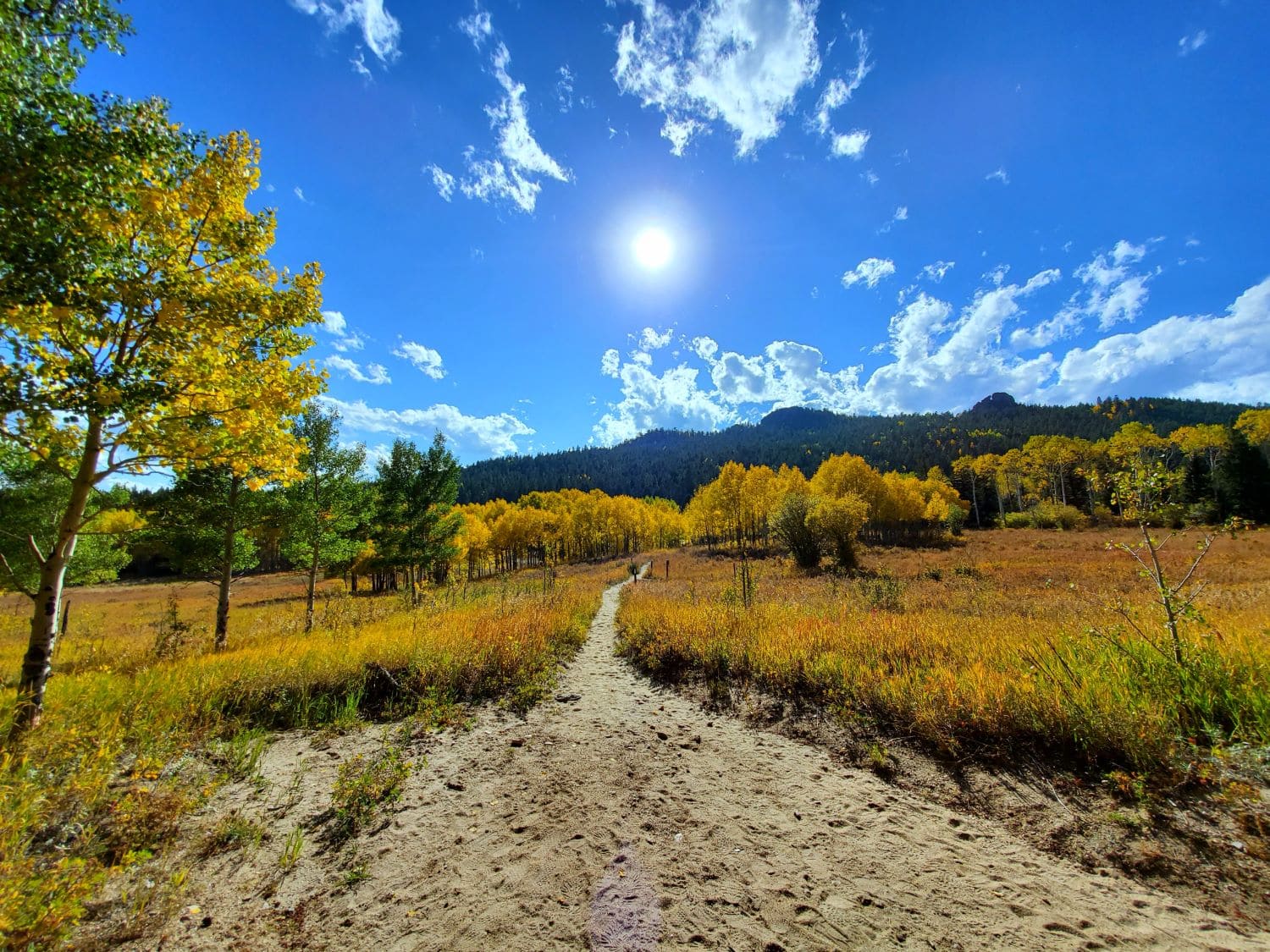 Why you should go: Desiring a day (or night) in a real mountain getaway? Golden Gate Canyon State Park feels world's away from the city, without being too far of a drive from Denver.
You'll enjoy sweeping views and crisp mountain air as you explore the trails, viewpoints, and campgrounds tucked among the ponderosa pines, aspen groves, and high-mountain meadows.
Pros: With over 35 miles of trails, you can easily opt for a quick hike or an all-day outing. Though the trails do have some decent elevation gain, in general, the footing is good with minimal technical, rocky sections. I enjoy trail running and hiking here as well.
If you want an overnight outing, I recommend booking a campsite. Stargazing in the quiet mountain setting is a great way to end a day of exploring the trails. Don't miss the views from Panorama Point. If you get the chance to visit in the fall, you'll be treated to splashes of golden aspen groves along the roads and the trails.
Cons: Be ready for a drive on a winding mountain road to reach your destination. Depending on where you are in the park, the altitude ranges from 7,600 to 10,400 feet, so keep this in mind, as you might feel the effects if you're not used to the elevation (stay hydrated and be aware of signs of altitude sickness, especially if you're visiting from sea level).
No campfires are allowed at the backcountry campsites and, depending on the conditions, a fire ban may also be in effect for the reservable campsites. check the park's website for current restrictions.
If you go: 92 Crawford Gulch Rd, Golden, CO 80403; (303) 582-3707
6. Roxborough State Park
Why you should go: Enjoy a landscape dotted with spectacular red rock formations. Plus, hikers of all ages can find a trail to suit their interests and ability levels. It's also a great spot to bring the kids (or grandkids) along to enjoy some fresh air.
Pros: Often compared to Garden of the Gods in Colorado Springs, Roxborough State Park has equally stunning red rock scenery and is closer to the Denver area, without quite as many tourists — though it does get busy on the weekends.
With 14 miles of trails designated for hiking, walking, and running (and snowshoeing or cross-country skiing in the winter), you can easily string together a great outing, no matter how far you feel like going.
As one visitor noted, "The views from each path were simply amazing and allowed for multiple-day visits to walk different trails." Stick to the trails around the Welcome Center if you're looking for an easy outing.
Or, if you want to get in a workout, hoof your way up to Carpenter Peak. Into photography? Golden hour at the park will not disappoint.
Cons: Unlike some of Colorado's other state parks, which allow for multiple activities, Roxborough is primarily geared toward hiking.
The park doesn't allow mountain biking, rock climbing, horseback riding, dogs, or camping. Parking is limited and fills up quickly on the weekends, so arrive early to ensure you get a spot. The trails can sometimes feel crowded, especially near the trailheads, but if you don't mind walking a little further you can usually find some solitude.
Be on the lookout for rattlesnakes and poison ivy.
If you go: 4751 East Roxborough Drive, Littleton, CO, 80125; (303) 973-3959
Related read: 9 Cozily Romantic Stays Near Denver, Colorado
7. Staunton State Park
Why you should go: With tons of hiking trails in addition to camping, climbing, fishing, biking, and even ADA-accessible activities, Staunton State Park truly has something for everyone…not to mention the fantastic scenery.
Pros: Located a relatively short drive up Highway 285, Staunton State Park offers a secluded mountain feel within easy driving distance of Denver.
The park's unique rock formations, ponds, waterfalls, and overlooks are scattered throughout, giving you plenty to explore. If you're looking for an all-day outing, I recommend the 12-mile round-trip hike to Elk Falls.
You'll escape the crowds near the trailhead and be rewarded with a stellar view of the cascade. The Mason Creek Trail is another great, slightly shorter option, with lots of viewpoints to enjoy along the way.
If you're lucky, you'll likely spot wildlife throughout the park while you're out and about. I've seen mule deer, coyotes, marmots, and a variety of birds during my outings.
Cons: Though Staunton is the newest park in the Colorado state park system, it didn't stay a secret for long. It is extremely popular on weekends and holidays, so if you want to find parking, show up early or be prepared to wait in line in hopes of snagging a spot.
If you go: 12102 S. Elk Creek Road, Pine, CO, 80470; (303) 816-0912
Explore Colorado
Get epic travel ideas delivered to your inbox with Weekend Wanderer, our newsletter inspiring more than 10,000 readers every week.
---