Visiting the Space Needle, exploring Pike Place Market, and touring the old underground city are staples on any Seattle trip, but you'll need your hiking boots to discover the area's most majestic attractions.
It shouldn't come as a surprise that the Seattle area is brimming with picturesque hikes. The Pacific Northwest is renowned for its natural splendor, and Seattle makes for an excellent home-base to explore the region's thick forests, lush valleys, rocky peaks, and majestic waterfalls.
To help jump-start your adventure, we've compiled a list of the best hikes within an hour's drive of Seattle. You'll find an eclectic assortment of trails spanning all difficulty levels, from family-friendly waterfall hikes to challenging summits and everything in between.
Since it's the Pacific Northwest and rain is inevitable, don't forget to grab a rain jacket whenever you hit the trail.
Related Read: When is the Best Time of Year to Visit Seattle?
1. Rattlesnake Ledge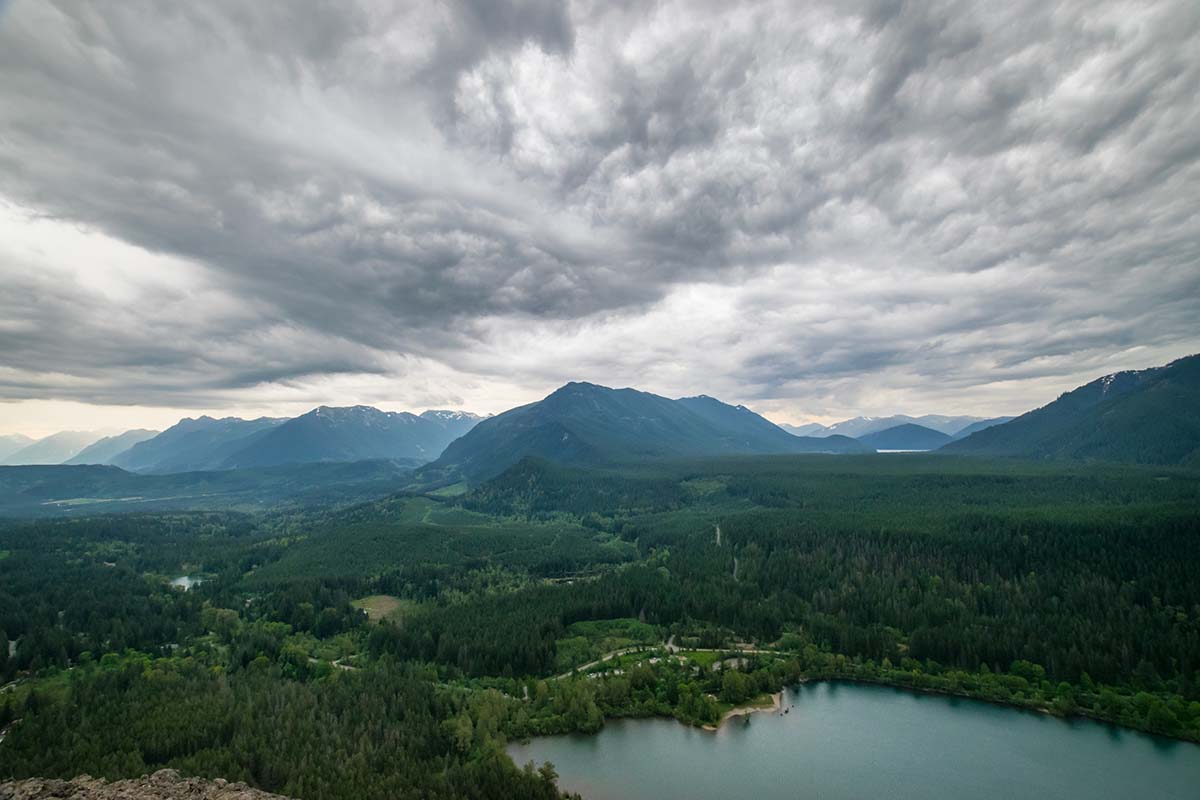 Why you should go: Jaw-dropping views of Rattlesnake Lake, Mount Washington, Mount Si, Chester Morse Lake, and the Cedar River Watershed.
Distance: 4 miles
Elevation Gain: 1,160 feet
Difficulty: Moderate
Rattlesnake Ledge is a strong contender for the most popular hike around Seattle. The trail climbs through two miles of secondary growth forest to a rocky ledge overlooking Rattlesnake Lake, where you'll enjoy incredible views of the surrounding landscape.
Given this trail's popularity, it's best to hit this hike during the week or in the early morning on weekends. If there's too much of a crowd at Rattlesnake Ledge, continue up the trail to Middle Ledge and Upper Ledge for quieter viewpoints with sweeping views to the northwest.
More Info: Rattlesnake Ledge Trail
2. Mount Si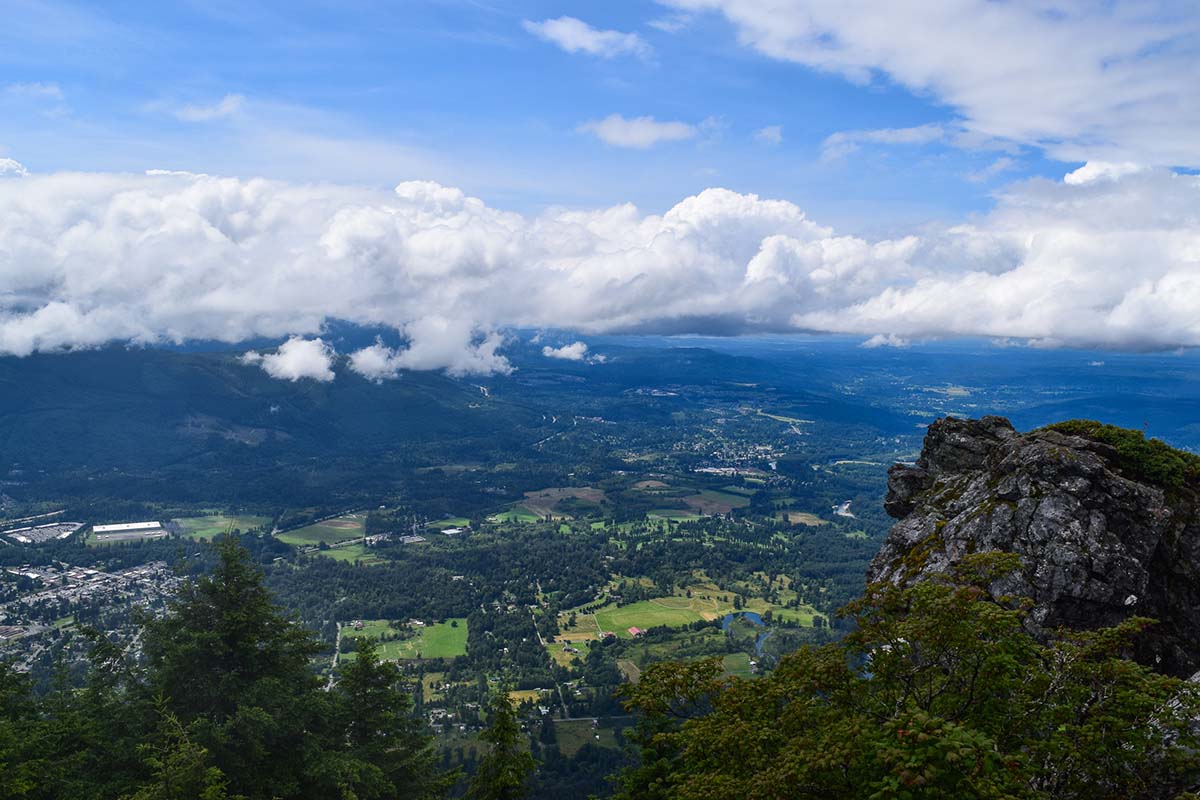 Why you should go: A challenging climb to the top of an iconic mountain, offering views of Mount Rainier, Snoqualmie Valley, Seattle, and the Olympic Mountain Range.
Distance: 8 miles
Elevation Gain: 3,150 feet
Difficulty: Challenging
Mount Si hits the sweet spot for challenging hikes. The trail gains more than 3,100 feet in a little over four miles, making it enough of an uphill battle to earn bragging rights but not too tough for novice hikers to tackle.
The Mount Si Trail initially climbs for 1.5 miles before reaching the Snag Flat, a stand of old-growth trees that's miraculously managed to survive logging and fires. You'll climb aggressively for another couple miles before a brief break in the canopy offers your first scenic views to the south.
Most hikers like to stop for lunch about a quarter-mile past the first viewpoint, at a talus slope that bisects the forest. From here, you'll enjoy an excellent view of Mount Rainier and the surrounding area.
When you finally reach the top and catch your breath, you'll see the Snoqualmie valley, the Olympic Mountains, and Seattle. Look up and you'll also see the Haystack, Mount Si's true summit.
More than 100,000 hikers scale Mount Si every year, so expect a full parking lot and busy trail on weekends and holidays. If it's too busy or challenging for your liking, check out the nearby Little Si Trail for a moderate 3.7-mile hike with gorgeous views of Snoqualmie Valley and Rattlesnake Mountain.
More Info: Mount Si Trail
3. Twin Falls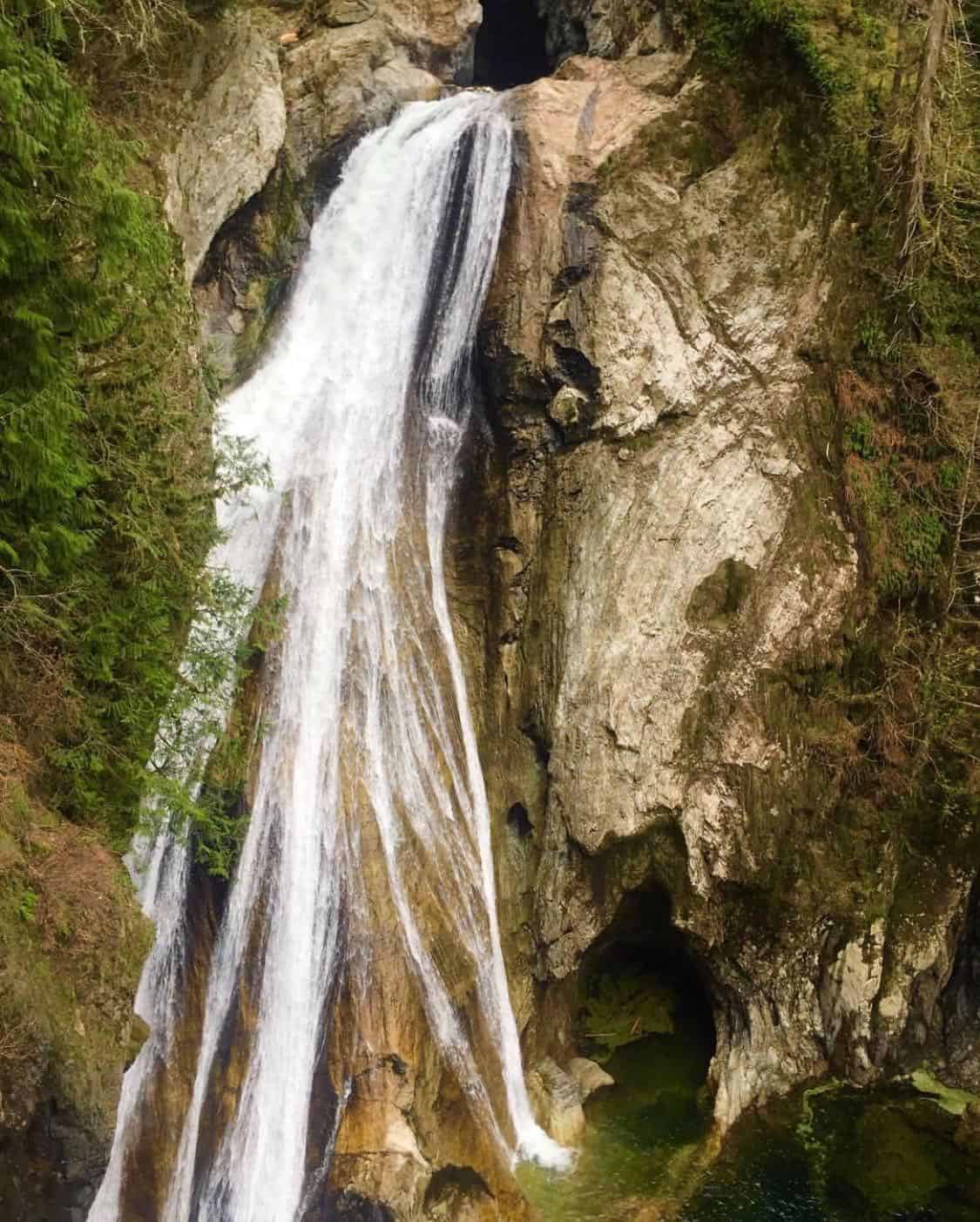 Why you should go: A pleasant riverside trail with views of the Upper and Lower Twin Falls and several small cascades.
Distance: 2.6 miles
Elevation Gain: 500 feet
Difficulty: Moderate
The Twin Falls Trail follows the bottom of the valley through thick forest, so don't expect panoramic views here. Instead, focus on the beauty surrounding the serene river, including walls of maidenhair ferns, wildflowers, skunk cabbage, salmonberries, and local wildlife.
You'll see the Lower Falls from The Benches atop the first hill, but don't stop here. The best views are found atop the second hill just a bit further.
After enjoying the Lower Falls, follow the stairs down to the Big Bridge for your first view of the Upper Falls and a few cascades upstream. Continue past another slope and set of stairs for an even better viewpoint.
More Info: Twin Falls Trail
4. Wallace Falls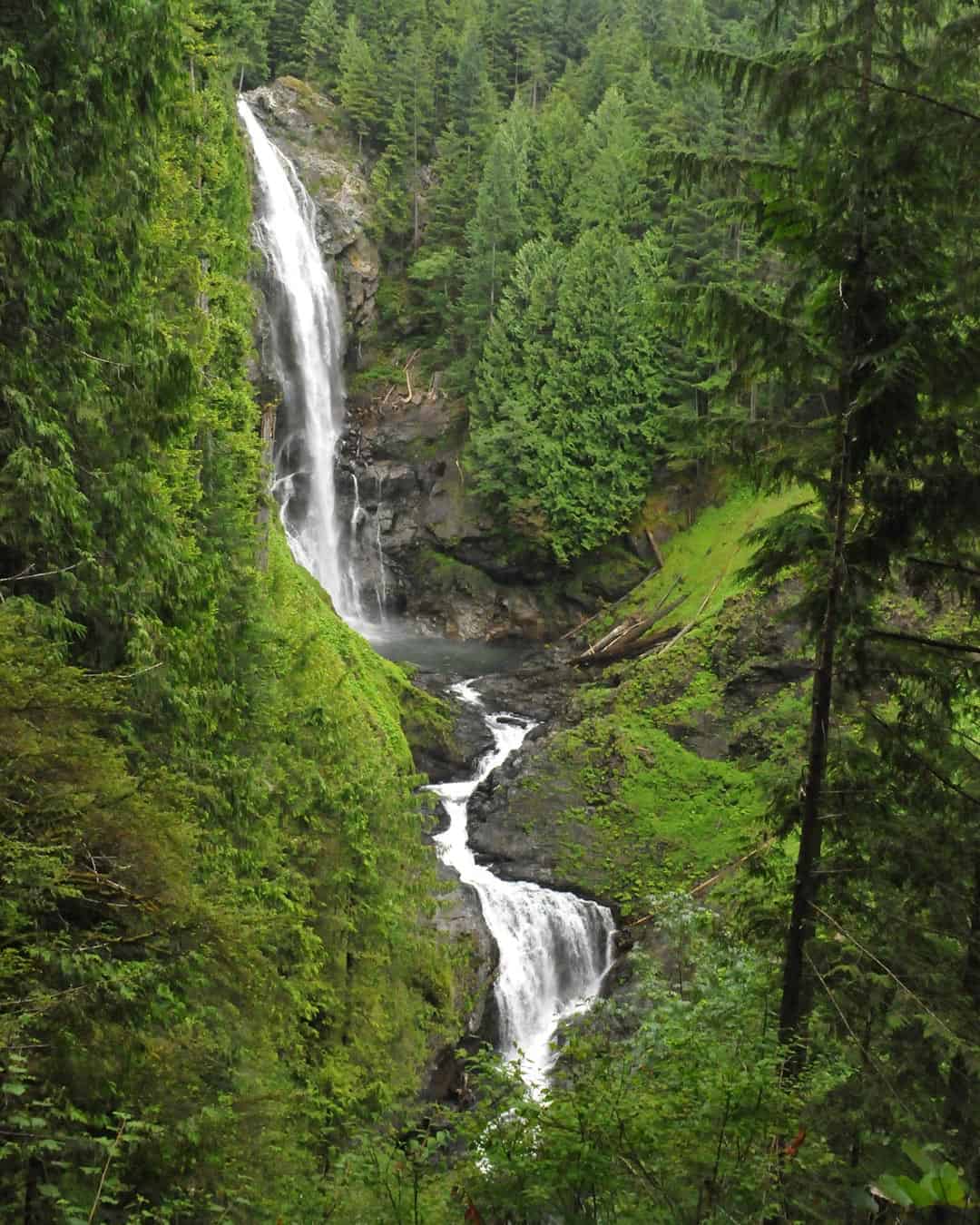 Why you should go: Visit some of the state's best waterfalls with views of the Skykomish River valley and the Olympic Mountains.
Distance: 5.6 miles
Elevation Gain: 1,300 feet
Difficulty: Moderate
Wallace Falls sees heavy foot traffic during the day, but hikers who get an early start will enjoy one of the most peaceful, breathtakingly beautiful waterfall hikes in Washington. Trust us when we say this one's worth waking up early for.
The trail to Wallace Falls is gorgeous from start to finish. After following the Wallace River for a while you'll make a short but steep climb to the picnic area next to the Lower Falls. Take a quick lunch break, then continue another half-mile to the Middle Falls. Here you'll find the best views in the park, with the overlook offering a panoramic vista of the Skykomish River valley and the distant Olympic Mountains.
The 2.5-mile trail to the Middle Falls viewpoint is beginner-friendly, and there's no shame in stopping here. But if there's still some juice in your legs, keep following the Woody Trail to the Upper Falls to visit the last of Wallace Falls' nine waterfalls.
More Info: Wallace Falls State Park
5. Lake 22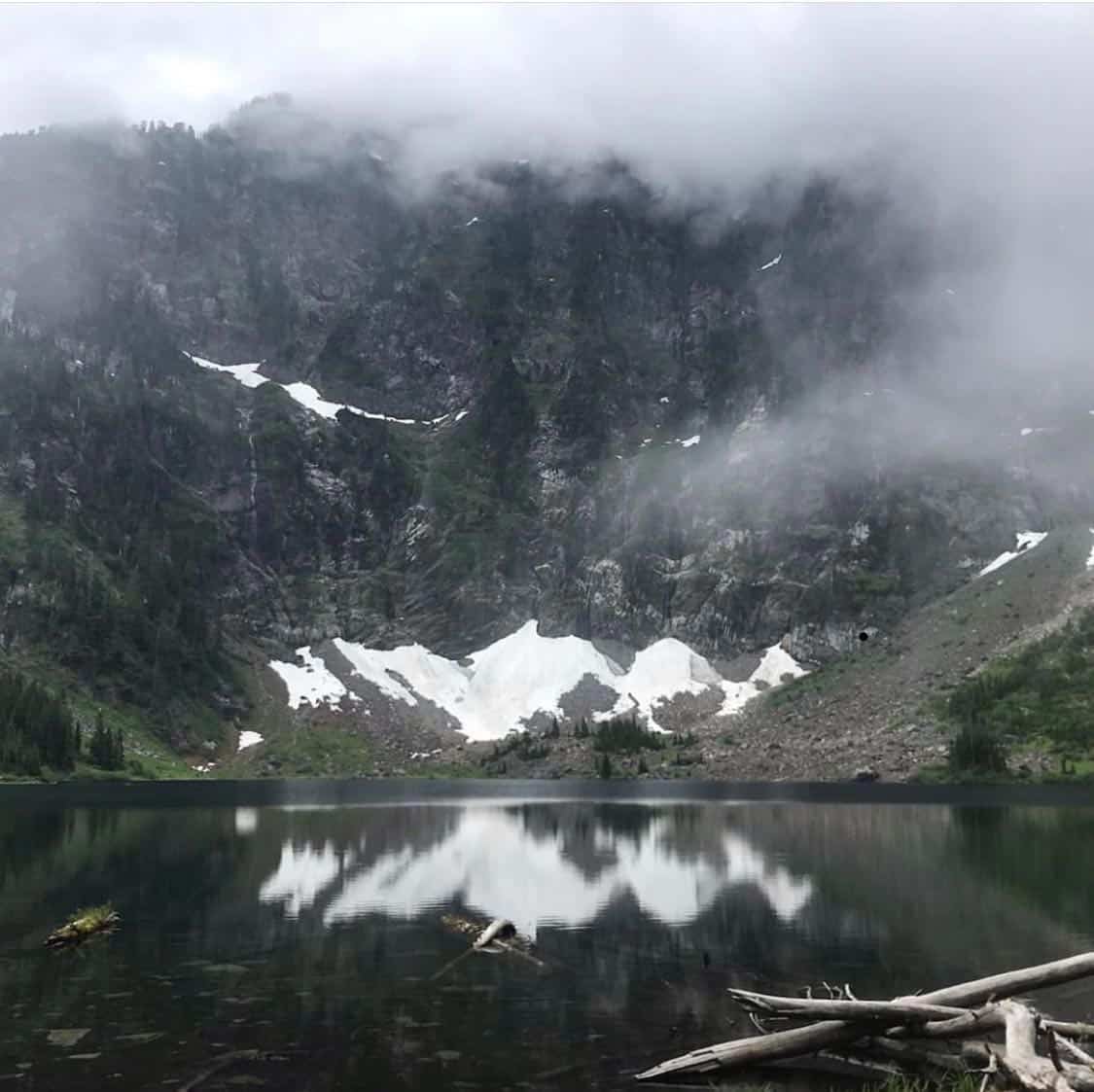 Why you should go: A classic Pacific Northwest hike featuring mountain rainforest, old-growth cedar and hemlock, wetlands, and epic mountain views.
Distance: 5.4 miles
Elevation Gain: 1,350 feet
Difficulty: Moderate
Lake 22 is a bit of a stretch for our "about an hour from Seattle" guidelines, but it's absolutely worth the extra 15 minutes in the car.
You'll find Lake 22 nestled on the northern shoulder of Mount Pilchuck. It's at the center of an oasis of alpine wetland, a journey that takes you through lush mountain rainforest and majestic old-growth forest that's protected by the Lake 22 Research Natural Area.
As you climb through the forest, you'll be surrounded by mountain hemlock, western hemlock, alder, and red cedar. Keep an eye open for bleeding heart, arnica, bunchberry, thimbleberry, and salmonberry along the trail. You're never far from the soothing sound of rushing water, and there are multiple waterfalls visible from the trail.
Picturesque views abound on the Lake 22 Trail. As you're climbing the middle section up a talus slope, you should be able to see Three Fingers and Whitehorse Mountain on a clear day. When you reach Lake 22, the sheer northern face of Mount Pilchuck dominates the landscape. In the morning when the water is still, you'll be mesmerized by the reflections of forest, rock, and sky on the surface of the pristine alpine lake.
6. Poo Poo Point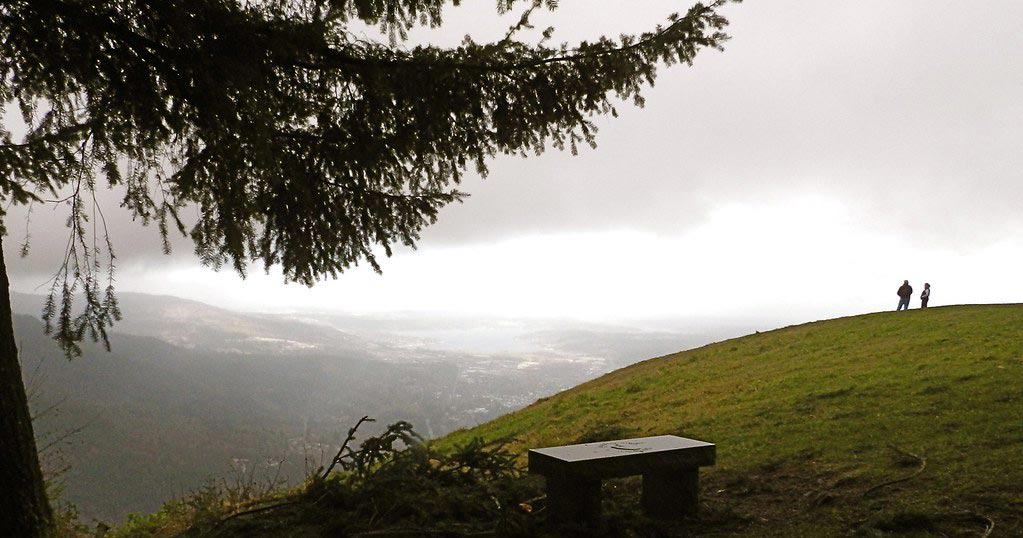 Why you should go: Climb to the shoulder of West Tiger Mountain, where you'll enjoy scenic views and the chance to watch paragliders launch into the sky.
Distance: 7.2 miles
Elevation Gain: 1,858 feet
Difficulty: Moderate
Poo Poo Point sits on a shoulder of West Tiger Mountain, a small knoll that's popular for paragliders. The Point gets its name from the steam engine whistles that used to echo throughout the Tigers in the old logging days.
There are two ways you can hike to Poo Poo Point. The most popular path is the High School Trail, which starts (you guessed it) at the high school in town. The alternate route, Chirico Trail, shaves off 3.4 miles, but is more challenging as it tackles the same elevation gain in a shorter distance.
Whichever way you go, you'll enjoy beautiful wildflowers in season as you climb through deciduous and coniferous forest. From the top, Poo Poo Point offers magnificent views across Issaquah and Lake Sammamish toward downtown Bellevue, with Cougar and Squak Mountains visible to the west.
7. Lake Serene & Bridal Veil Falls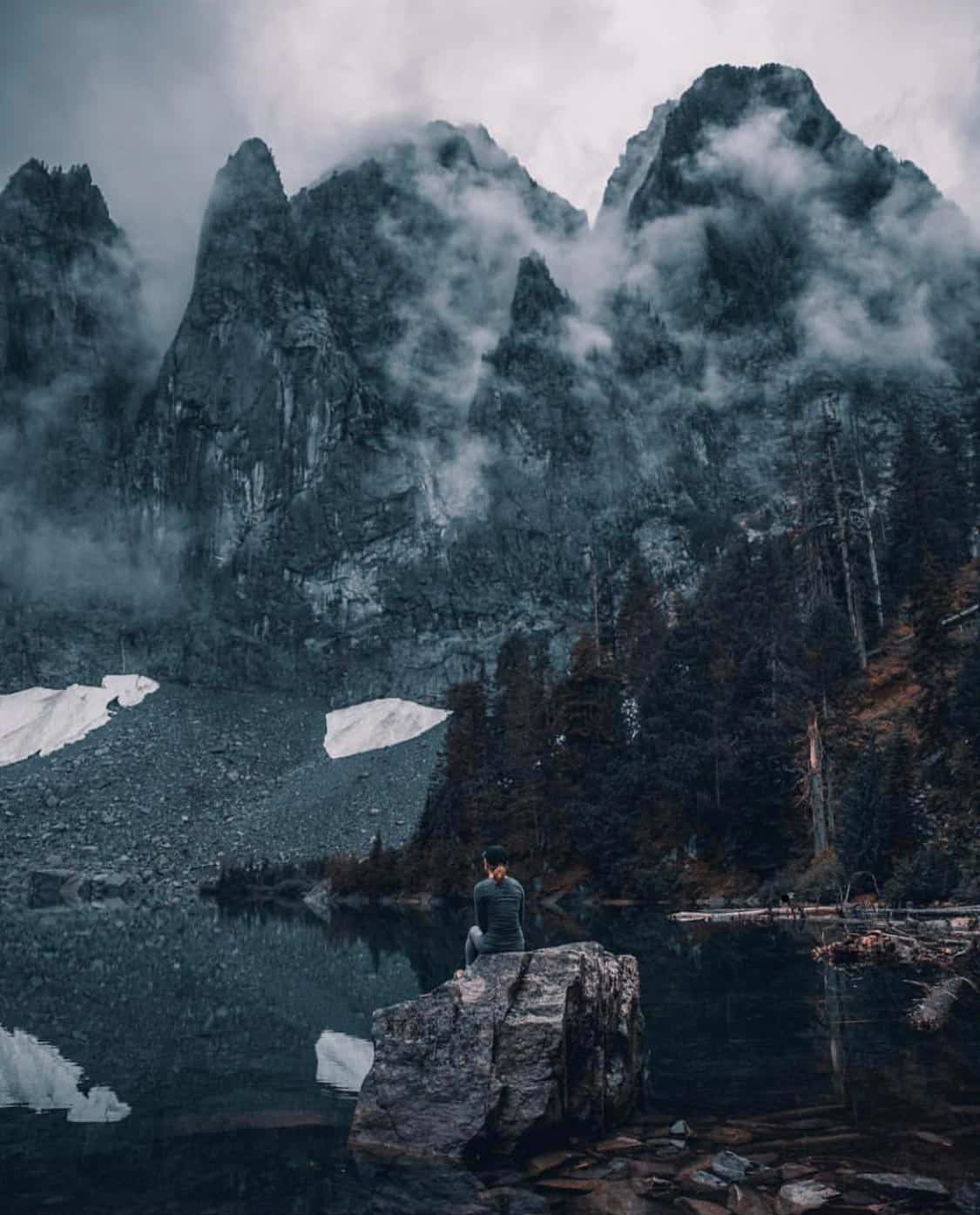 Why you should go: A challenging hike that rewards you with a gorgeous waterfall and a picturesque mountain lake.
Distance: 8.2 miles
Elevation Gain: 2,000 feet
Difficulty: Challenging
The path to Lake Serene and Bridal Veil Falls isn't easy, but it's worth every ounce of sweat you put into the journey. It's beautiful any time of day, but beat the crowds for an early start and you'll really see why they call it Lake Serene.
The trail initially follows an old road hedged by large salmonberry bushes and deciduous trees. Visit in June and you can pick fresh berries along the trail for a delicious snack.
The signed trail to Bridal Veil Falls splits from the main trail about 1.7 miles from the trailhead. It's a half-mile to the falls with a steep climb up some stairs. You'll find the best view of Bridal Veil Falls low and to the left.
Back on the main trail, the final climb is a steady ascent up rocks, roots, and stairs, gaining 1,300 feet in 1.5 miles. Mount Index commands the scenery beyond the basin, with towering cliffs rising 3,000 feet above the trainquil mountain lake.
More Info: Lake Serene Trail
8. Discovery Park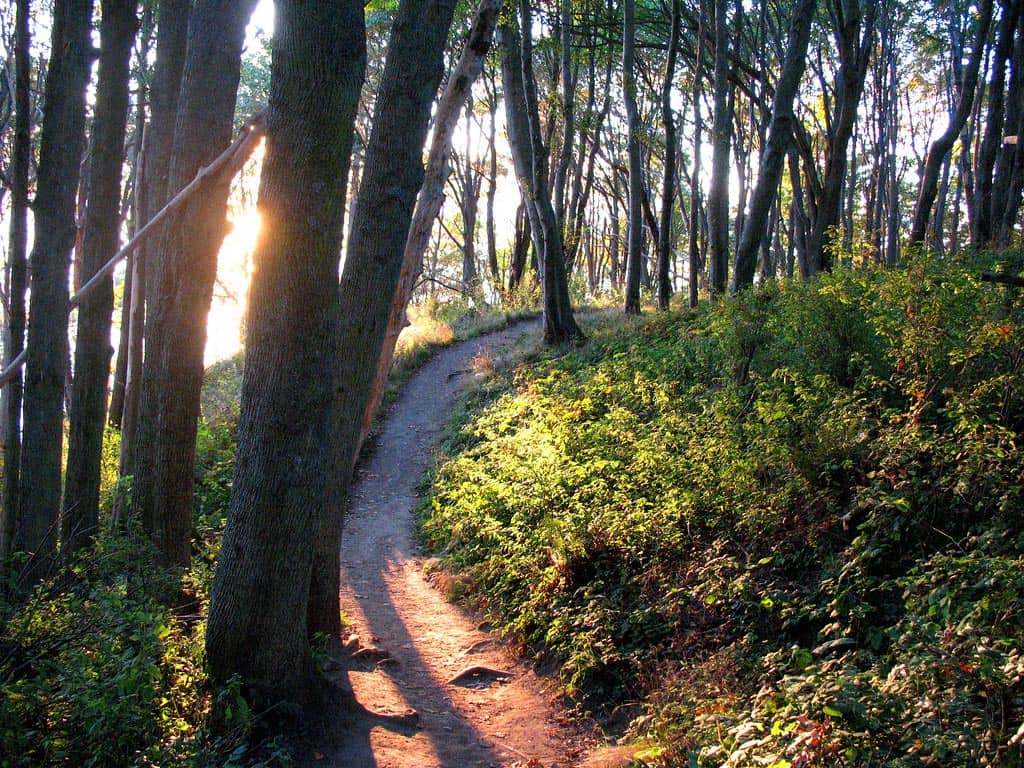 Why you should go: The best in-town nature walk in Seattle.
Distance: 2.8 miles
Elevation Gain: 140 feet
Difficulty: Easy
You can thank the US Army for Discovery Park. If it weren't for Fort Lawton, a small military base in active service from 1900 to 1973, this plot of prime real estate would have been lost to urban housing development years ago. Instead, Seattle residents get to enjoy 524 acres of forest and meadows with views of the Olympic Mountains across the Puget Sound.
As you're hiking around the Designated National Recreation Trail, you'll find that the local bird population is the true gem around here. The Seattle Audubon Society lists 270 species spotted in the park and offshore, including woodpeckers, owls, hawks, herons, and bald eagles.
More Info: Discovery Park Loop Trail
9. Mailbox Peak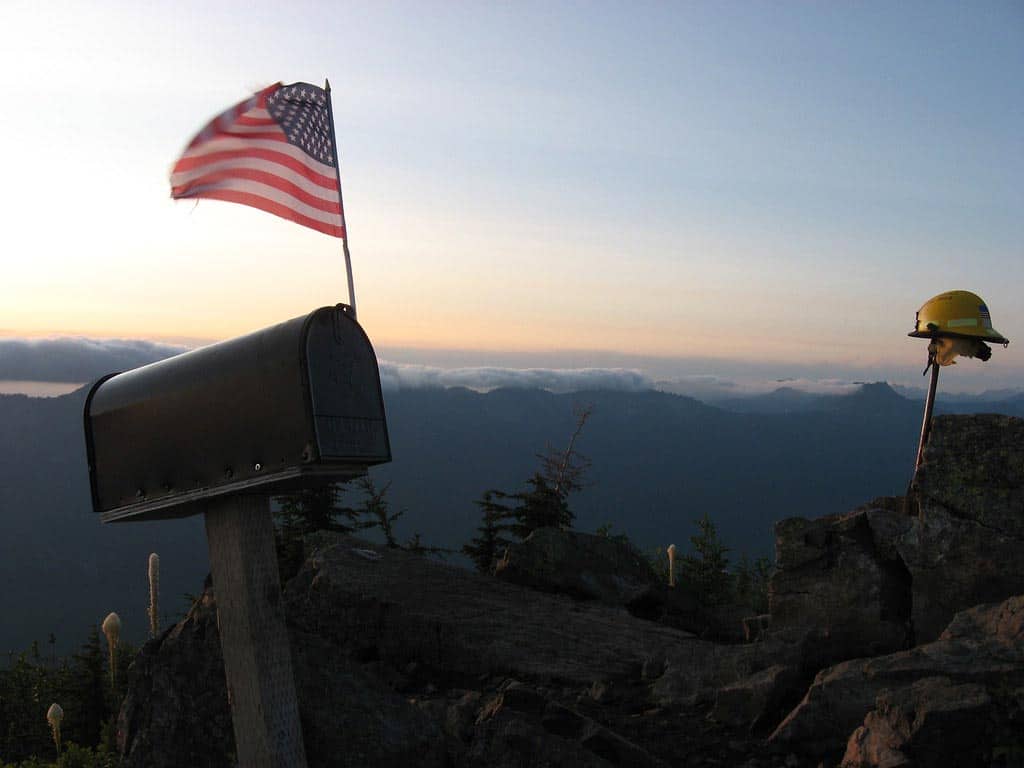 Why you should go: A legendary summit that comes with a lifetime of bragging rights if you can reach the top.
Distance: 9.4 miles
Elevation Gain: 4,000 feet
Difficulty: Challenging
Mailbox Peak is the stuff of legends. If you're looking for the ultimate Washington day hike that comes with a lifetime of bragging rights, this is it.
The new Mailbox Peak Trail is almost double the length of the old trail, breaking up the elevation gain so you're climbing roughly 850 feet per mile. The old trail is still around, but given the trail erosion and the alarmingly high number of injuries and rescues, we highly recommend sticking to the new path.
In the lower section, you'll pass over several bridges and creek crossings before tackling four miles of switchbacks up the northwest face of the mountain. After rejoining the old trail at 3,860 feet, the final stretch will set your thighs on fire with a grueling climb up to the peak at 4,822 feet.
Mailbox Peak is situated at the end of a long ridgeline, so you'll enjoy an unparalleled panoramic view that easily trumps other Washington summits like Bandera and Granite. Mount Rainier dominates the scenery, while the lush Middle Fork valley stretches to the northeast.
More Info: New Mailbox Peak Trail; Old Mailbox Peak Trail
10. Ira Spring Trail To Mason Lake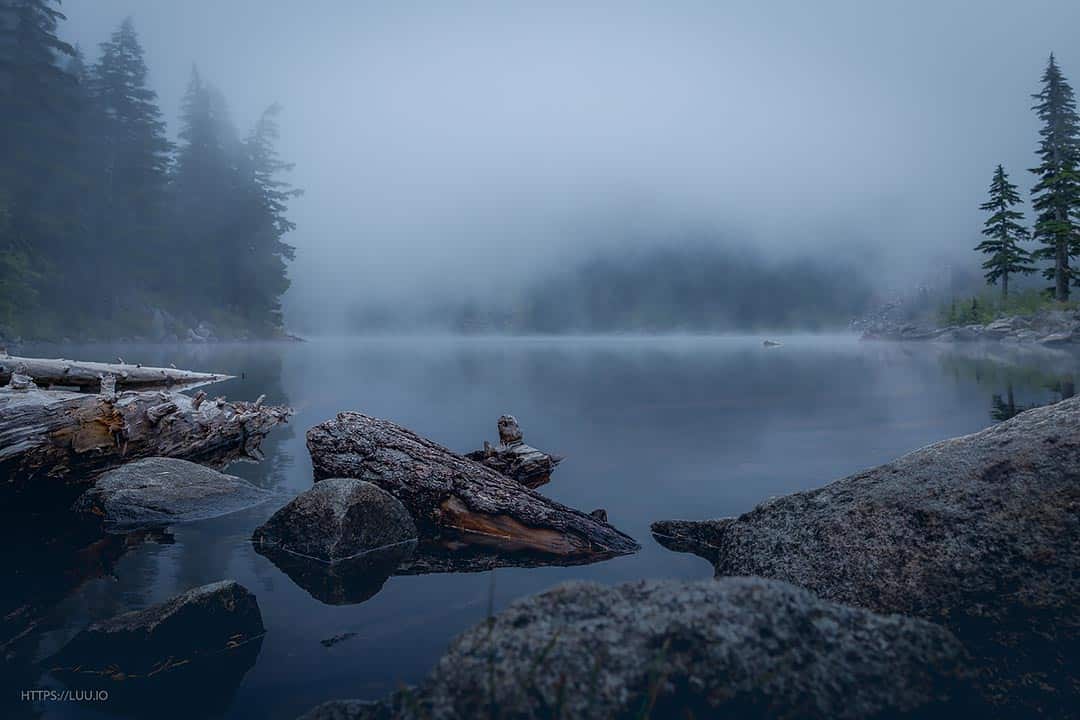 Why you should go: Sun-drenched ridgelines, blooming wildflowers, mountain vistas, and a pristine alpine lake.
Distance: 6.5 miles
Elevation Gain: 2,420 feet
Difficulty: Moderate
A popular summer trail, the Ira Spring Memorial Trail leads you up steep pitches and through alpine meadows to Mason Lake, a small but deep alpine pool with excellent camping and fishing.
The Ira Spring Trail is deceptively easy at first, wandering through dense forest and crossing Mason Creek over a small footbridge. The real climbing begins about 1.6 miles into the journey, where you'll ascend several steep pitches as the trail zigzags above the tree line to an alpine meadow. As you take a minute to catch your breath and rest your legs, soak in the meadow's blooming wildflowers and expansive mountain vistas.
When you reach the high point at 4,320 feet, you'll enjoy epic views to the south and west, with Mount Rainier visible on clear days. After dropping over the north side of the ridge into the Alpine Lakes Wilderness, it's a short hundred-yard walk to Mason Lake.
More Info: Ira Spring Trail to Mason Lake
11. Cherry Creek Falls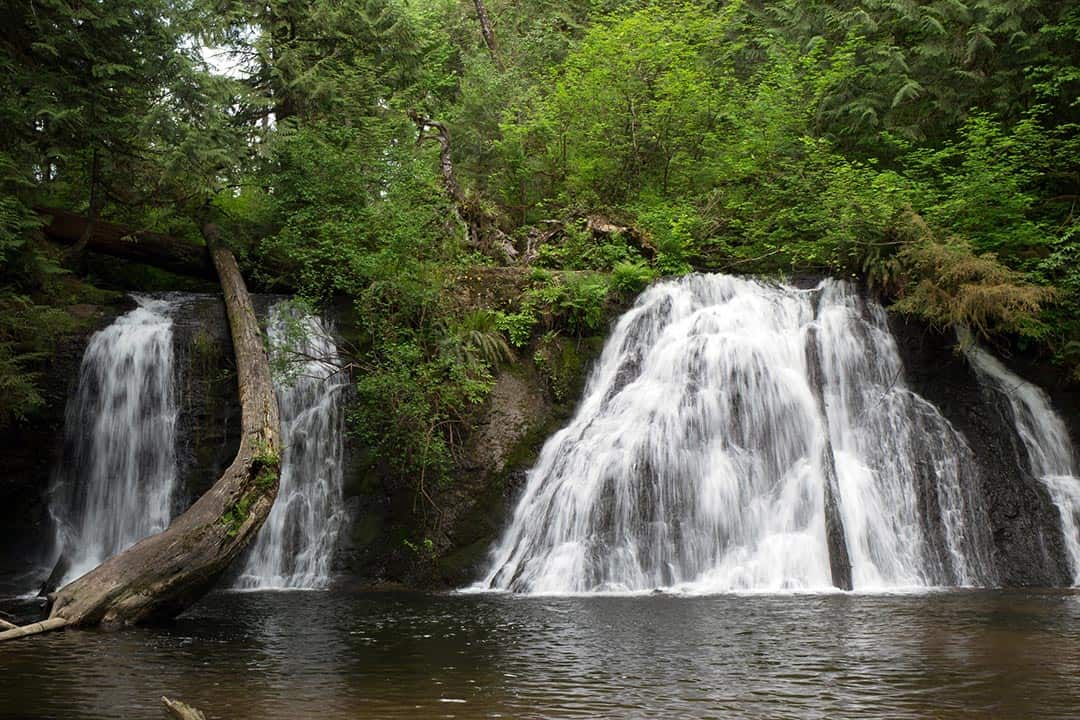 Why you should go: Take a dip in Cherry Creek next to a beautiful 25-foot waterfall.
Distance: 5 miles
Elevation Gain: 450 feet
Difficulty: Moderate
Cherry Creek Falls is the perfect hike for a hot summer day. Dress appropriately and you can cool off in the creek next to the falls after a pleasant 2.5-mile hike through the forest.
Cherry Creek Falls is the final waterfall along Cherry Creek, dropping 25 feet over a wide, rocky ledge into a large pool. You'll have to cross two creeks to get there, though thanks to a footbridge you'll only have to ford one of them.
Keep in mind that the first half-mile of the trail crosses private property. To preserve the relationship with the local landowners and keep the trail open to the public, please park legally, stick to the path, keep your pooch on a leash, and keep the noise to a minimum.
More Info: Cherry Creek Falls Trail
12. Mount Washington
View this post on Instagram
Why you should go: Skip the crowds at Mount Si in favor of solitude and epic views from the summit of Mount Washington.
Distance: 8.5 miles
Elevation Gain: 3,250 feet
Difficulty: Challenging
Mount Si is the big attraction in North Bend, but most people don't even realize there's another peak a few miles away with killer mountain-top views — Mount Washington.
The Mount Washington Trail alternates between steep climbs and moderate grades, with calf-busting switchbacks through an old-growth forest of pine. The trail opens up to occasional views to the north, but the first real viewpoint is a small clearing called Owl Hike Spot. Bring your camera and you'll nab a great photo of Rattlesnake Ledge from the westward vista.
The top of Mount Washington offers panoramic views of the surrounding area, including Chester Morse Lake and Masonry Pool — the two lakes that feed the Puget Sound.
More Info: Mount Washington Trail
13. Franklin Falls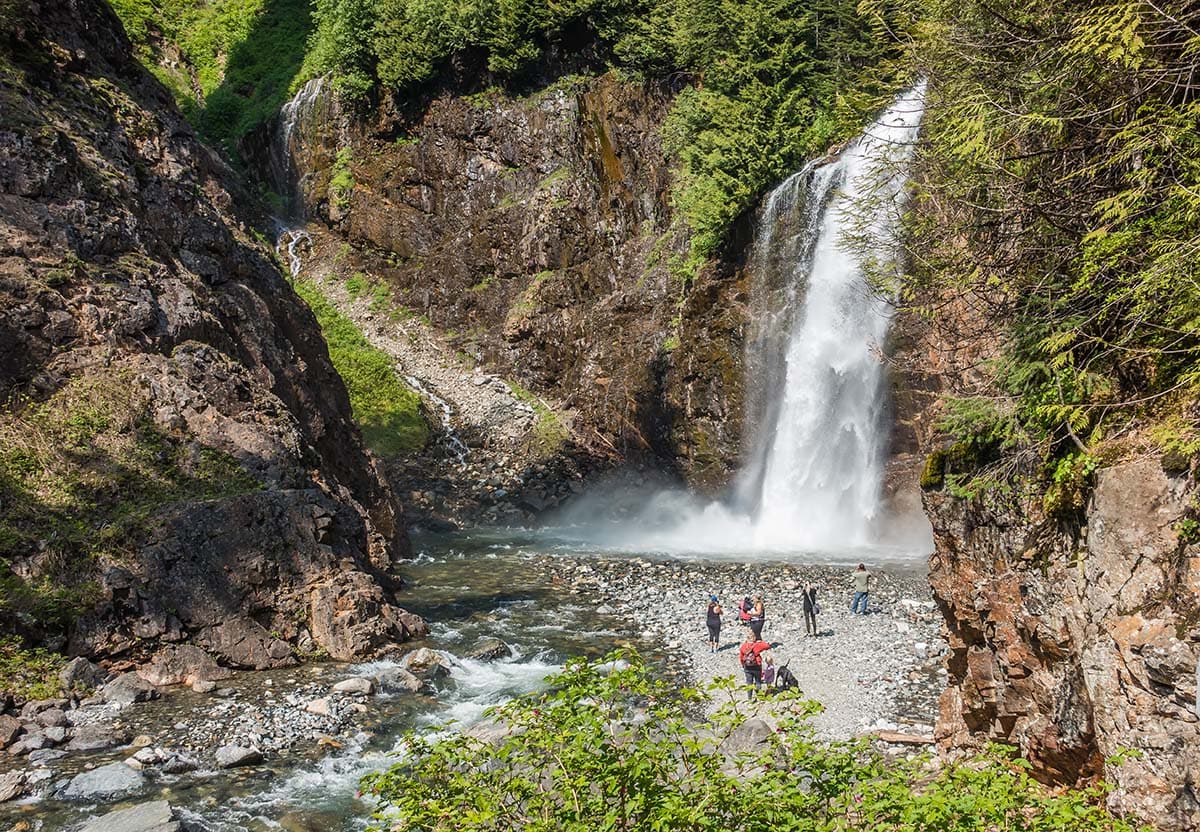 Why you should go: The best family-friendly waterfall hike near Seattle.
Distance: 2 miles
Elevation Gain: 400 feet
Difficulty: Easy
The Franklin Falls Trail is an easy day hike that's perfect for beginners and families with children. It's a short one-mile hike to the viewpoint with a moderate 400-foot elevation gain, and includes rock steps, stairs with a gentle incline, and bridges.
Franklin Falls is comprised of three separate tiers for a total of 135 feet, though you can only see the last (and largest) 70-foot waterfall from the viewpoint. The falls produce a heavy spray during the spring, so bring rain gear if you plan to venture close to the splash pool.
The best time to visit Franklin Falls is during peak runoff season from April to July. It's a great trail for hot days, as the thick canopy of coniferous trees provides ample shade and the mist from the waterfall at the end is quite refreshing.
More Info: Franklin Falls Trail
14. Snow Lake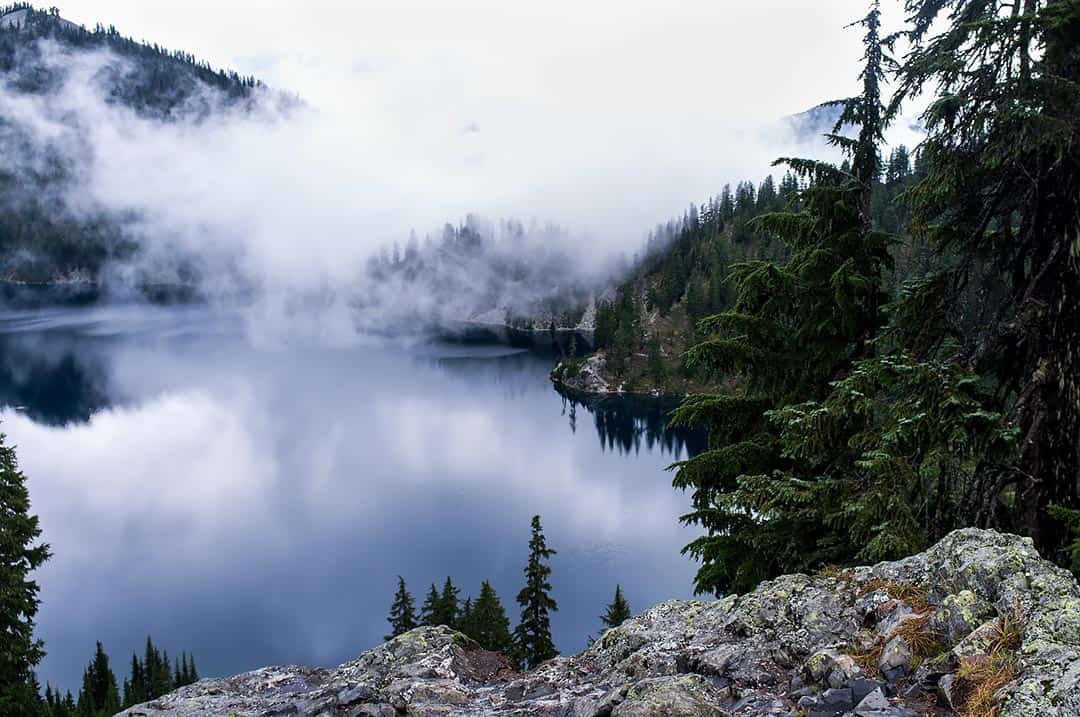 Why you should go: Popular hike to a stunning high-altitude lake in the Alpine Lakes Wilderness.
Distance: 7.2 miles
Elevation Gain: 1,800 feet
Difficulty: Moderate
Snow Lake is the most popular lake in the Alpine Lakes Wilderness for a reason — it's a relatively easy hike with spectacular scenery.
You'll get your first view of the lake about a half-mile from the saddle, with Roosevelt Peak commanding the scenery at the head of the lake. You can follow a short trail past an old cabin down to the shore, but don't stop here — the views keep getting better as you go.
Continuing along the trail, you'll cross the inlet and pass the lake's outlet that drains to the Middle Fork Snoqualmie Valley. This part of the trail features brilliant scenery, as the soaring ramparts of the neighboring mountains reflect beautifully in the icy-clear water.
You'll reach the lakeshore soon after crossing the outlet. Tucked underneath the uppermost 2,000 feet of Chair Peak, the translucent lake is backed by sheer cliffs crowned by polished rock. Look around and you'll spot numerous waterfalls cascading down the mountain to sheltered coves.
More Info: Snow Lake Trail
15. Talapus and Olallie Lakes
Why you should go: An excellent introduction to the great outdoors for beginning backpackers and hikers.
Distance: 6.2 miles
Elevation Gain: 1,220 feet
Difficulty: Moderate
The trail to Talapus and Ollalie Lakes begins in a dark, cool forest where you'll be surrounded by tall cedars and hemlocks. There's a great photo opp about 1.3 miles in, where Talapus Creek foams into a ravine just off the trail.
Past the viewpoint the trail gets increasingly boggy, so be prepared to get your boots wet. Don't worry, you'll have ample opportunity to rinse off your shoes (and yourself) when you reach picturesque Talapus Lake.
Many hikers stop at Talapus Lake to set up camp or enjoy a picnic, but it's worth the extra effort to press on to Ollalie Lake 1.5 miles beyond Talapus. On the shores of Ollalie Lake, you'll be delighted to find a lakeside haven with calm waters, gorgeous views of the basin, and plenty of open campsites.
More Info: Talapus and Olallie Lakes Trail
More Washington Adventures
Sign up for our free email to join thousands of readers getting epic travel, hiking, camping and gear ideas every week.
Was this article helpful?
---