We research, evaluate and select travel destinations based on a number of factors, including our writers' experience, user reviews and more. We may earn a commission when you book or purchase through our links. See our editorial policy to learn more.
---
With aspens quaking, mountainsides bursting with color, and a cool crispness in the air, fall is a beautiful time in the Centennial State.
In fact, it has some of the first places in the country to see the leaves turn gold, including the high elevation fall hotspots such as Leadville and Breckinridge. Lower elevations, such as Durango and the Western Slope areas, see a color change slightly later in the season. Dare we say that the season puts the color in Colorado?
But colorful foliage isn't the only thing to look forward to in the Fall season. This is that golden time of year after summer crowds dissipate and before the ramp up of the winter sports season. September, October, and November can be a great time to experience a whole host of iconic Colorado experiences, such as cozying up in a cabin, soaking in some hot springs, and fishing for kokanee salmon.
Here are ten ideas to get the best out of the fall season.
1. Soak in some hot water.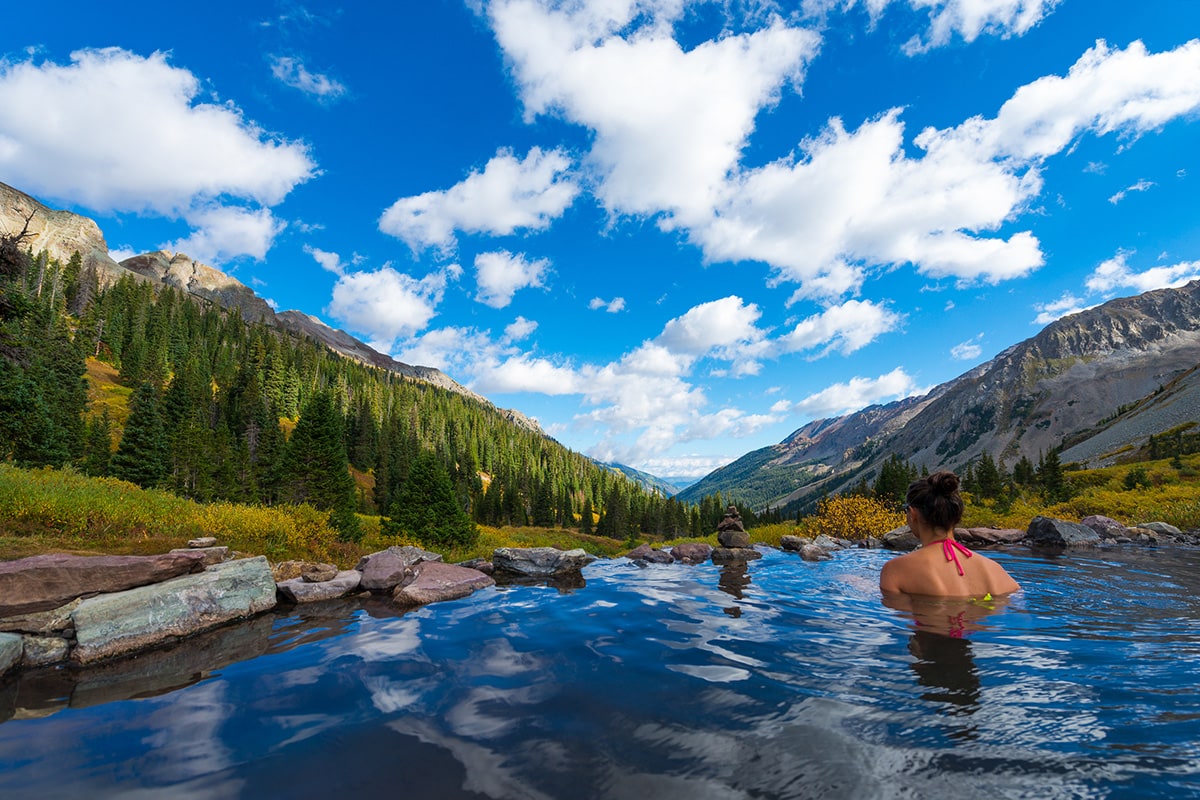 There are twenty-nine hot springs in Colorado, spread nicely across its 104,185 square miles, each catering to a different set of needs. From family-friendly mineral pools to posh, all-inclusive resorts, there is a hot water paradise for everyone.
A soak is the perfect activity as temperatures cool, especially post hike, bike, or climb. Start your search in Glenwood Springs, where the large, mineral rich pool Glenwood Hot Springs Resort soothe bathers of all ages or enjoy the 16 soaking pools at Iron Mountain Hot Springs — each a different size, shape and temperature — perched on the Colorado River. For a unique steaming experience, visit the Yampah Spa Vapor Caves where you can relax in natural, underground, geothermal steam baths.
You'll find a luxurious stay at Mount Princeton Hot Springs Resort, in Nathrop, between the towns of Buena Vista and Salida. For straight-up pampering, check out the spa treatments at Strawberry Park Hot Springs in Steamboat Springs or Durango Hot Springs or The Springs Resort & Spa in Pagosa Springs. Whatever you choose, enjoy the soak.
Related Read: 9 Cozily Romantic Stays Near Denver, Colorado
2. Get a view from the highest railway in the United States.
Hit a 14er without the hike on the Broadmoor Manitou and Pikes Peak Cog Railway for stunning 360-degree views of the Pikes Peak region. The 9-mile journey from Manitou Springs up to Pikes Peak is a showcase of the Collegiate and Sangre de Cristo mountain ranges, the mining town of Cripple Creek, the Continental Divide and—if the weather cooperates—the skyscrapers of Denver.
The Cog has been taking guests up the mountain since 1891, and last year a new visitor center opened with rotating exhibitions, a revamped gift shop, and indoor and outdoor dining. Don't forget try a "world famous" Pikes Peak donut to enjoy along with the view.
At 14,115 feet, Pikes Peak is not the highest of Colorado's 54 peaks, but it is arguably the most famous. The most eastern big peak of the Rocky Mountain chain, it become a symbol of the 1859 Gold Rush for the miners and pioneers who used the slogan, "Pikes Peak or Bust" on their journey.
Related Read: 14 Pros and Cons of Living in Colorado
3. Bike gold-level trails amongst golden leaves.
Just 9 miles from Aspen lies the quaint village of Snowmass, where 75 miles of world class biking trails run through scenic peaks, meadows, and valleys. Here, the Rocky Mountains are as beautiful as they are accessible, where Gold Level Trails meander through stunning groves of golden aspens.
Mountain bike pros claimed Snowmass and the Roaring Fork Valley early, and if you bike it, you'll see why. This is the first IMBA (International Mountain Biking Association) Gold-Level Ride Center™ in Colorado, the 5th in United States, and the 7th in the world.
The top of the mountain boasts incredible vistas, including an alternative view of the cherished Maroon Bells. For more adventure post- or pre-ride, The Lost Forest is a mid-mountain playground that features the Treeline Trial Challenge Course, a trout pond, a zipline canopy tour, hiking trails, and the epic Breathtaker Alpine Coaster.
Related Read: The 6 Best Camping Spots Near Twin Lakes, Colorado
4. Get spooked at a Colorado haunt.
'Tis the season of ghosts, ghouls, and clanking in the night, and Colorado has plenty of places to get your fill of spooky stories and paranormal activity. Colorado's Wild West and mining history has filled its historic hotels, saloons, and bordellos with enough material to fill a years worth of nights with scary campfire stories.
The Hotel Colorado in Glenwood Springs may be getting a multi-million dollar renovation this year, but it still ranks as one of the most haunted locations, where guests and workers have reported sounds of a woman's wailing and flickering lights. Perhaps it owes its spook factor to the fact that the basement was once used as a crematorium for World War II military personnel?!
A drive through Phantom Canyon Road, off the Gold Belt Tour Byway, is an unpaved, harrowing road that climbs 4,000 feet to the ghost towns of Wilbur, Adelaide and Glenbrook. Near Cripple Creek, many have claimed to see the ghosts that gave the road its name, including one of an executed 1890s prison inmate in uniform, seen walking the railway days after his death.
Urbanites can check out the haunts at the Oxford Hotel in Denver, the city's oldest boutique hotel. Bartenders at the Prohibition-era Cruise Room routinely report a ghostly postal worker who orders a beer and chatters about having to get gifts to "the children."
And, finally, the Stanley Hotel in Estes Park, where inspiration for Stephen King's classic horror, "The Shining," took root, often has the sound of children in the halls when no children are in existence.
Related Read: 11 Best Places to Camp Near Lakes in Colorado
5. Take an open-air Jeep ride or ATV at historic Camp Hale.
During WWII, thousands of servicemen came to the Eagle River Valley, just south of Vail between Leadville and Red Cliff, for high elevation training in mountain climbing, skiing, cold weather survival, and weapons and ordnance.
Explore this history and the beauty of the area at Camp Hale with Nova Guides on an open air jeep ride or ATV tour. This is a wonderful activity at any time of year, but with the crisp autumn air and the burst of colors in the hills, the landscape shines here before the snows fall.
Related Read: 7 Scenic Weekend Road Trips from Denver, Colorado
6. Rent a cozy cabin.
There might not be a snugglier spot to watch the season change than a rural cabin. While some high-elevation locations close down for the winter season for snow, there are plenty of places to curl up with a good book, put on a fire, or play some games with family or friends after exploring the magical world of Colorado outside.
In Gilpin County, near Golden Gate Canyon State Park, you'll find this traditional log cabin stunner that sleeps four. Or opt for a quiet, rustic retreat near Salida, next to a pond and with an outdoor hot tub.
For a truly unique stay, check out this house built right into a red rock cliff just outside Cortez and Mesa Verde National Park. Or, for a more contemporary feel, this cabin nearby is a sleek ode to a modern A-frame.
Finally, if the words luxurious and rustic can be stitched together, they do so beautifully in the San Juan Mountains at Dunton Hot Springs, where you can stay in a high-end authentic 19th century cabin that comes with a hot springs soak and all of the food and beverages you need for your stay.
Related Read: 8 Best Mountain Towns in Colorado Offering Year-Round Adventure
7. Eat Some post-harvest chile in Pueblo.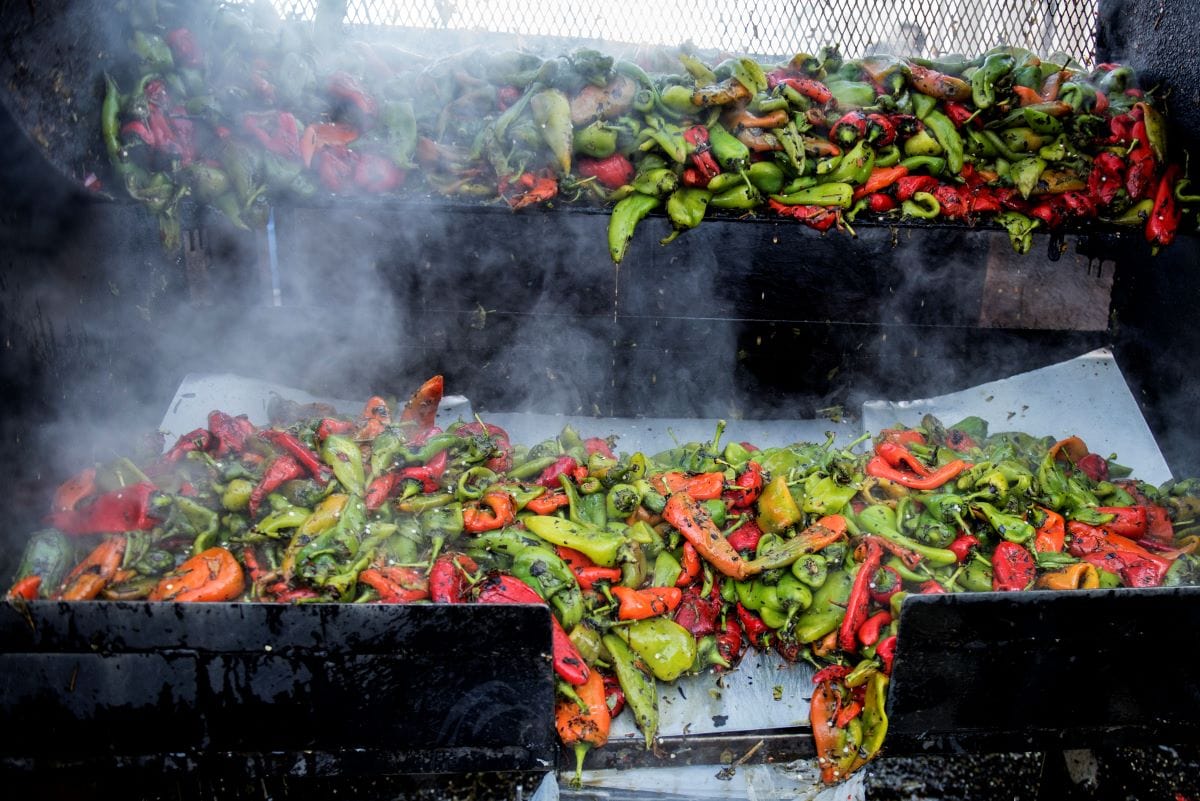 New Mexico may have name recognition for their Hatch green chile, but Pueblo, south of Colorado Springs, has its own seasonal batch of green chile to vie for. The best way to dig into the flavor of the Pueblo Green Chiles is with the Green Chile Slopper, an open-faced burger submerged in green chile and topped with raw onions.
A great place to start is Gray's Coors Tavern, where this saucy plate may have been invented. Another tavern, The Sunset Inn, claims the the title of Slopper creator, too. Other top Slopper joints include Brues Alehouse Brewing Co., Bingo Burger, and The Gold Dust Saloon.
But the Slopper isn't the only dish using the local chile crop. Green chile cheese curds are to die for at Springside Cheese Shop, the Shamrock Brewing Company makes a mean green chile mac and cheese, and Angelo's Pizza spices it up with their Pueblo green chile toppings. As if the list wasn't long enough, Walter's Brewery & Taproom supplies thirsty patrons with their Pueblo Chile Beer.
Related Read: The 10 Best Scenic Drives In Colorado
8. Hike a magnificent national recreation trail on the world's largest flat-top mountain.
Olathe Corn and Palisade Peach seasons may be finished, but that doesn't mean Colorado's Western Slope should fall off your list. Fall is a great time for checking out the 11,000-foot Grand Mesa situated near Grand Junction. Dotted with aspen groves, towering spires, more than 300 lakes, and stunning vistas, the scenery you'll find is a balm to the soul.
Offering 350,000 acres of recreational nirvana, Grand Mesa has numerous alpine hikes, but Crag Crest Trail is a highlight and should be on anyone's list for exploring the area. The 10-mile loop traces the spine of the mesa and can be done in its entirety, or in shorter sections.
And, since those peaches and corn aren't in season, check out the wine scene post-hike at stops like the luxurious Two Rivers Winery and Chateau for a range of noble varietals or the boutique Graystone Winery, specializing in white ports and ruby reds.
9. Fly fish for Kokanee Salmon on the Gunnison River.
Head to the Crested Butte and Gunnison area for the fly fishing event of the season, the Colorado kokanee salmon migration. This rare land-locked sockeye salmon is only found in a few places in the American West, ranking this experience a bucket list contender for many anglers.
Unlike their ocean dwelling brothers, kokanee salmon complete their lifespan in rivers and reservoirs instead of returning to rivers from the ocean to spawn. Since kokanee were stocked in Blue Mesa Reservoir in the 1960s, they have been known for their hearty ability to fight, so bring your heavy line and rod.
Experienced anglers can check into an outfitter or fly shop to check on the status of the run, or hire a guide. For a luxurious all-inclusive stay, check out Taylor River Lodge, where a guide can show you the best spots to fish. Every year the salmon run is different, so if the run is weak, be prepared to chase some trout!
Related Read: The 10 Best Hikes in Crested Butte, Colorado
10. Catch color on a scenic byway.
Colorado has no shortage of beautiful drives, whether they be through high altitude mountain passes, rolling valleys or ghostly mining towns. There are plenty of scenic byways to choose from — 26 to be exact — with half of those with national designation.
Less than an hour from Fort Collins, Denver, or Boulder is the oldest of all scenic byways of the state — the Peak to Peak Scenic Byway, where you can take in the views off the Continental Divide on 55 miles of road.
One of Colorado's most impressive drives has to be the San Juan Skyway, and spanning many elevations, the color season here is long. The route traverses through Durango, Telluride (on a spur), and is just off Mesa Verde National Park. The road between the alpine villages of Ouray and Silverton is known as the Million Dollar Highway, as much for the mining money made here as the spectacular views.
Though not an official scenic byway, Kebler Pass connects Crested Butte with Paonia in the west, through Aspen and the Roaring Fork Valley. This route starts at 9,000 feet and showcases the largest aspen grove in the state and the second biggest in the world.
Explore Colorado
Get epic travel ideas delivered to your inbox with Weekend Wanderer, our newsletter inspiring thousands of readers every week.
---