Washington's reputation for primo hiking trails is often associated with the Pacific Northwest's mighty Cascade mountains and verdant coastline, but Spokane has a number of the best trails in the state.
Eastern Washington is a geologically interesting area where ancient lava flows and glaciers have created a smorgasbord of rocky oddities and incredible mountains.
Granite boulders and columnar basalt aside, Spokane is also home to gorgeous rivers, tumbling waterfalls, vast state parks, and several nature conservation areas.
Located near the Washington-Idaho border, there's even great hiking near Spokane but on the Idaho-side near Coeur d'Alene.
The best Spokane hikes highlight the varied landscapes in and around the Lilac City. Several of the trails we detailed below reside within the city limits, and they show off some outstanding scenery despite their downtown proximity.
Seasonal changes dramatically alter the lands around Spokane, bringing heavy snows in the winter, high heat in the summer, and vivid colors in between. You'll have to see for yourself how each of the four seasons changes the trails below.
Related Read: 10 Scenic Drives in Washington State That'll Blow Your Mind
1. Bowl and Pitcher Loop
Why you should go: Saunter along the Spokane River on this forested route that's minutes from downtown.
Distance: 2.1 miles
Elevation Gain: 166 feet
Difficulty: Easy
Feel tranquility seep into your soul as you cross the swinging bridge from the day-use area into Riverside State Park. Though the Bowl and Pitcher Loop is geographically near the heart of Spokane, the roar of the river drowns out the urban din.
Interesting basalt outcroppings bulge out onto the trail and also form rocky balusters on the opposite side of the river. These eye-catching boulders are a sight to behold.
The backside of the loop curves away from the river and into the pine forest where an old Civilian Conservation Corps camp resides. You'll find picnic tables, restrooms, and a beach area that can be heavily populated on fair-weather days.
2. Palisades Park Loop
View this post on Instagram
Why you should go: Diverse wildlands on the edge of the city featuring a seasonal waterfall.
Distance: 5 miles
Elevation Gain: 472 feet
Difficulty: Easy
Palisades Park showcases what Spokane was like before it became an eastern Washington concrete jungle. While residing only a few miles from the city's biggest shopping plazas, including the local REI, this outdoor playground remains wild and rugged.
The Palisades Park Loop clings to the exterior borders of the park, but intrepid hikers have blazed countless unnamed paths through the brush, creating a network of trails that crisscross the area.
The highlight of the trail is Mystic Falls, a seasonal waterfall sometimes referred to as Indian Canyon Falls. The strength of the waterfall depends upon how much snow is left in the hills, but the grotto at its base is beautiful at any time of year.
Related Read: 9 Fun and Scenic Idaho Lake Camping Destinations
3. Riverside Hills Loop
View this post on Instagram
Why you should go: Summit two small hills for great views of the Spokane River and surrounding landscape.
Distance: 3.3 miles
Elevation Gain: 251 feet
Difficulty: Easy
A quick cardio loop that's easily accessible from downtown Spokane, the Riverside Hills Loop scales both Boat Hill and Water Tower Hill via a gently graded path.
These aren't tall hills, but they present enough of a challenge to get the heart pumping, especially if you run the route. Set in Riverside State Park, this trail crosses through an evergreen forest and climbs the two hills, both of which rise above the Spokane River.
The bit of height you've gained is enough to catch sweeping views of the nearby landscape, and there is an old water tower on one of the aptly-named hills with layers of graffiti on its rusting shell.
4. Antoine Peak Summit
Why you should go: 360-degree views overlooking the entire Spokane Metro Area.
Distance: 3.7 miles
Elevation Gain: 700 feet
Difficulty: Easy
Serving as an access road for the radio towers that reside on Antoine Peak, the Summit Trail is actually a two-track road that is regularly maintained and well-graded.
Rising high above the urban setting at its base, the view from Antoine Peak is as stunning as it is humbling. Once at the summit, you'll have a panoramic view encompassing all of Spokane, Spokane Valley, and Liberty Lake.
Seeing the busy city and towns below is sure to recalibrate your thoughts. When the stresses of daily life start to overwhelm you, I find that views like this, looking at a living city from above, help you regain a proper perspective of how small the world really is.
Related Read: The 10 Best Pet-Friendly Cabins in Washington
5. Tubbs Hill Loop
Why you should go: Spectacular scenery that highlights the majesty of Coeur d'Alene and its surrounding landscape.
Distance: 2 miles
Elevation Gain: 252 feet
Difficulty: Easy
Just over the state line in Spokane's little sister city of Coeur d'Alene, Tubbs Hill is a beautiful countryside escape overlooking Lake Coeur d'Alene. This a wonderful 120-acre gem that's worthy of every trail lover's attention.
The lakeside loop features magnificent scenery in all directions. There are multiple opportunities to access the lakeshore along the trail, including a few secluded beaches.
Alternatively or in addition to the loop, a summit trail cuts through the center of the peninsula toward a breathtaking view from above the lake and the small Idahoan city. Visitors to the area should make time for this romantic trek. It's simply stunning.
6. Medical Lake Loop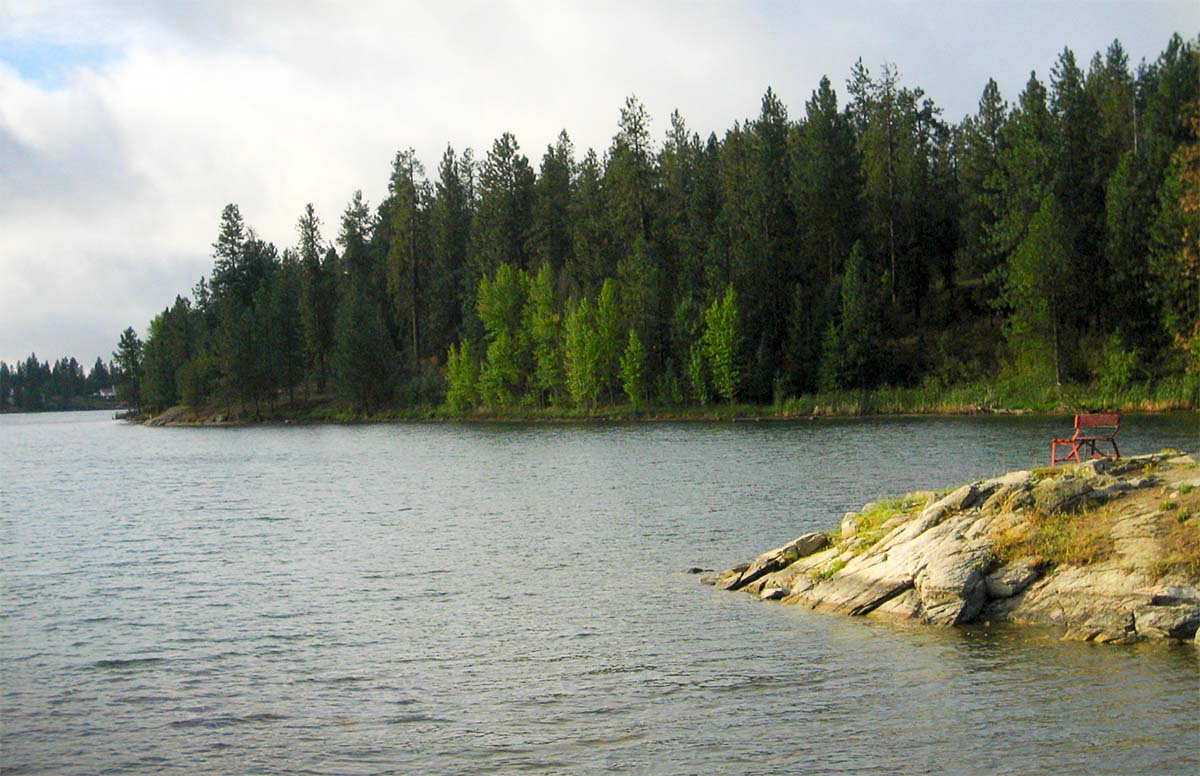 Why you should go: Circumnavigate the lake on a paved path that features a sandy beach, playground, and picnic tables.
Distance: 3 miles
Elevation Gain: 44 feet
Difficulty: Easy
Don't let the name fool you — Medical Lake is a scenic lake loved by wetland critters, migratory birds, and fair-weather kayakers. The flat, paved loop which encircles the lake is wheelchair-friendly and accessible to everyone.
The lake's name would appear to be a result of its proximity to the adjacent Eastern State Hospital, but it's actually of Native American origin. The tribe of the Spokane people believed that the mud of the lake held curative properties. White settlers propagated this idea and gave the lake its name.
Regardless of its purported healing benefits, the wildlife-strewn lake waters and surrounding forested landscape are a beauty to behold. The Waterfront Park on the south end of the lake features a sandy beach and playground for the family to enjoy.
Related Read: 9 Amazing Lake Camping Sites in Washington
7. Painted Rocks Trail
Why you should go: Wetland wildlife and historic petroglyphs make this a well-rounded hike.
Distance: 3.4 miles
Elevation Gain: 72 feet
Difficulty: Easy
Walk above the Little Spokane River Marsh on your way to the Painted Rocks, a collection of boulders that were marked with petroglyphs by Native Americans.
The marsh is alive with wetland critters and nomadic beasts like deer, moose, and great blue heron. In general, the single-track path stays high and dry from the swamp, but you'll want to wear boots after fresh rain or recent snowmelt.
Though the petroglyphs have faded over time, they are still fascinating to observe. You can end your hike after viewing the petroglyphs and return the way you came, or you can continue onto a more challenging hike up the Knothead Trail.
This extended eight-mile loop climbs up several switchbacks toward grand views of Spokane and will ultimately bring you back to the parking lot.
8. Spokane River Centennial Trail
Why you should go: Accessible to everyone while providing urban conveniences, natural wonders, and history lessons.
Distance: 63 miles
Elevation Gain: 849 feet
Difficulty: Easy
Despite its length, the Spokane River Centennial Trail is an easy path along the river that everyone can enjoy. This scenic trail was constructed in 1989 to celebrate Washington State's centennial.
There are dozens of access points along the trail's length which leaves from Nine Miles Falls west of Spokane, travels along the river through the city, and stretches to its eastern terminus at Gateway Regional Park at the state border of Idaho.
Hiking Project has a detailed list of the trail's most popular segments. Along the route, much of which is paved, you'll find waterfalls, raging rapids, city parks, rolling meadows, and so much more.
Related Read: 12 Secluded Cabin Rentals in Washington for Private & Remote Getaways
9. MacKenzie Natural Area Loop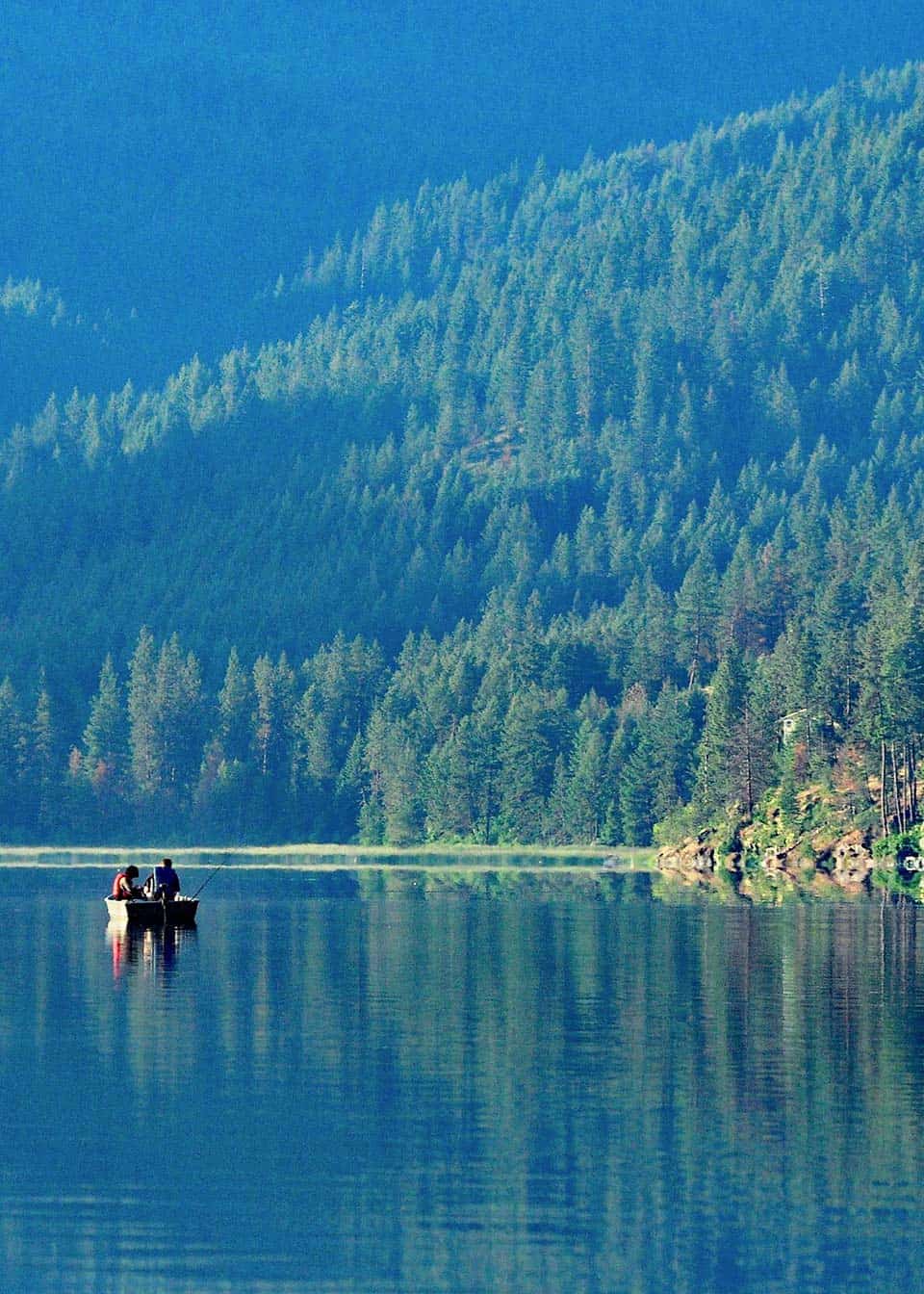 Why you should go: Quiet woodland trail with lake views and frequent wildlife sightings.
Distance: 1.8 miles
Elevation Gain: 378 feet
Difficulty: Easy
The nearby gathering grounds around Liberty Lake are a popular destination for Spokane-area locals, but few people tread into the McKenzie Natural Area on the lake's eastern shore.
The McKenzie Natural Area Loop is an easy single-track stroll over grassy hills between widely-spaced spruce and pine trees. An ever-present view of Liberty Lake and its lightly lapping shore provide a serene backdrop to this quiet forest.
Turkeys, deer, and moose frequent these woods. This lightly trafficked side of the lake is where wildlife likes to roam.
10. Iller Creek Loop Trail
Why you should go: A forested retreat on the edge of the city that offers a quick escape into nature.
Distance: 5 miles
Elevation Gain: 1,200 feet
Difficulty: Moderate
Climbing high into the Dishman Hills Conservation Area on the edge of Spokane Valley, the Iller Creek Loop Trail is home to huge boulders, sparse pine forest, and great valley views.
This loop veers off on a number of spurs that head toward parking lots, ponds, and rocky summits. There are also numerous paths that cut through the loop for those wanting a shorter trek.
Be mindful of your footing as the undulating trail passes over many sections of rocky rubble and slick stretches of smooth rock. Those seeking a forested refuge rich with deer tracks and birdsong will love this nearby natural respite.
Related Read: The 14 Best Hikes in North Cascades National Park, Washington
11. St. George's Trail
Why you should go: Discover rarely seen columnar basalt pillars, the likes of which often draw large crowds at popular national parks.
Distance: 7 miles
Elevation Gain: 1,184 feet
Difficulty: Moderate
St. George's Trail can either be hiked out and back or end to end with a vehicle parked at both sides of the trail, the latter cutting the overall length and elevation gain in half.
This beautiful forested trail is sprinkled with eye-catching columnar basalt and splendid valley vistas. The path will take you around the property of St. George's School, a preparatory boarding school that's located on the banks of the Little Spokane River.
Hikers looking for an extended foray can cross the river into the Van Horn Bass Conservation Area which boasts miles of trail through the aforementioned Little Spokane Marsh and past the Painted Rock petroglyphs.
12. Pine Bluff – Deep Creek Loop
Why you should go: Interesting geological formations and fantastic views from above the Spokane River.
Distance: 7.6 miles
Elevation Gain: 735 feet
Difficulty: Moderate
Here, at the northern end of Riverside State Park, lie some of the most interesting geological formations around Spokane. Deep Creek holds large basalt outcroppings which are over 16 million years old, and the climb to the top of Pine Bluff will have you stepping over layers of eroded lava rock.
Pillow Basalt and Latah formations are just a couple of the geological interests along this trail. But the Pine Bluff Deep Creek Loop is about more than a pile of old rocks — there are also excellent views and wildflowers to see.
Spring is when colorful blossoms abound, and the numerous broadleaf trees in the area provide rich autumn hues that give the vibrant spring flowers a run for their money.
Related Read: Ultimate Itinerary: The Great Pacific Northwest Road Trip
13. Long Loop
View this post on Instagram
Why you should go: A quintessential Spokane hiking trail that is wedged between urban and rural landscapes.
Distance: 10 miles
Elevation Gain: 1,098 feet
Difficulty: Moderate
From the city streets to a quiet suburban hillside, the Long Loop travels the entire length of Spokane's southwestern bluffs. Once at elevation, this lengthy trail remains relatively flat for its duration. That means it's time to enjoy some ridge walking!
While the terrain in these hills is open to exploration, and countless unmarked trails have been scoured into the bluffs by hikers and mountain bikers, the thin open space is bordered by a highway on one side and a creek on the other, giving a cozy confine to adventure within.
The trail passes near several neighborhoods as well as parks, playgrounds, and even a golf course. You'll have opportunities to step off the trail to grab a beverage or snacks from a convenience store every now and then.
Either the city or a sprawling rural landscape is always within view. Be on the lookout for deer, coyotes, and moose. Yes, suburban moose!
14. Mount Kit Carson Trail
Why you should go: You want to summit one of the tallest mountains around, and you want to work up a sweat while you're at it.
Distance: 7.5 miles
Elevation Gain: 1,500 feet
Difficulty: Moderate
Mount Kit Carson is the second tallest peak in the area, standing short of Mount Spokane's peak. The trail leading to the mountain's summit has several starting points, most of which are former roads that have been converted to trail.
The shortest route begins at Cook's Cabin trailhead where a historic Civilian Conservations Corps cabin and artistic rock work is on display with interpretive signage. You'll then climb through miles of dense forest on your way to the rocky summit.
The wide-open views from Mount Kit Carson's peak extend across Washington and Idaho, encompassing Spokane, Coeur d'Alene, and large swaths of forests decorated with hidden lakes.
Related Read: 12 Epic Outdoor Summer Vacation Spots in the U.S.
15. Bead Lake Trail
Why you should go: A remote trail through scented cedar groves with excellent backcountry camping spots.
Distance: 12.4 miles
Elevation Gain: 1,321 feet
Difficulty: Moderate
Bead Lake Trail is an out-and-back trail that is enjoyed by day hikers, backpackers, and mountain bikers. The backpacking community has created several excellent camping locations along this trail, and further routes can be explored by those seeking a longer excursion.
The trail starts off hugging the shoreline of Bead Lake, a popular fishing location that's flush with naturally reproducing populations of kokanee, trout, burbot, and pikeminnows.
Hikers will make their way around to the north side of the lake where cedar groves cast their shadows onto the trail and babbling brooks fill the forest with their chatter.
This is a remote trail that delves deep into the woods. It's a pleasant place to hike when you want to temporarily leave the trappings of civilization behind.
16. Three Peaks Loop
Why you should go: Summit three of the tallest peaks in all of Spokane County, including Mount Spokane.
Distance: 13.9 miles
Elevation Gain: 3,280 feet
Difficulty: Challenging
Three Peaks Loop climbs to the peak of Mount Spokane, the tallest mountain in the region at 5,883 feet, and also leads to the summits of the adjacent sister peaks Mount Kit Carson and Day Mountain.
The initial climb from the Trail 110 trailhead is the most difficult portion of this trek, and it can be skipped if you're more in the mood for an easier ridge-walking affair. To accomplish this, simply drive to Mount Spokane's Peak and begin the high altitude adventure from the parking lot.
Either adventure you choose will be filled with some of the best views in all of eastern Washington. The trail itself is primarily buried within the dense forest that's ripe with gooseberries and huckleberries at the right time of year, but on approaching each of the three peaks the overbearing forests burst open, unveiling rocky summits and sweeping views.
Keep Exploring
Get epic travel ideas delivered to your inbox with Weekend Wanderer, our newsletter inspiring more than 10,000 readers every week.
Was this article helpful?
---