In a state known for blue skies and 300 days of sunshine each year, it should come as no surprise that Colorado's Rocky Mountain National Park is a year-round destination for locals and visitors alike.
Home to some of the tallest peaks in the continental U.S., the park encompasses 415 square miles on both sides of the Continental Divide. The rocky summits, serene mountain lakes, stunning high-alpine tundras, and forested valleys are just some of the beautiful landscapes you can find in Rocky Mountain National Park.
And with spring wildflowers, a showy golden display of fall aspens, and the chance to spot a wide variety of wildlife year-round, you can be sure your visit will be memorable any time of the year. If you're trying to figure out when to visit Rocky Mountain National Park, check out the insight below to help figure out what season is best for you.
Related Read: Traveler's Guide to the Best Colorado National Parks
Travel Tips For Rocky Mountain NP
Regardless of when you visit, come prepared for a variety of conditions. The Colorado Rockies are notorious for unpredictable and unseasonable changes in weather. You can go from sunny blue skies to a snow squall at the toss of a hat.
Review the 10 essentials and pack a few extra layers.
There are five campgrounds in the park and backcountry camping is also permitted. Be sure to book in advance as reservations fill fast during peak season. There are a variety of lodging options in the town of Estes Park on the east side and Grand Lake on the west side.
There is no reliable cell service beyond the park entrances. Plan accordingly.
Trail Ridge Road and Old Fall River Road close in the winter for vehicle traffic. You can check the park's website for the current road status.
Check out this list of 10 epic things to do in Rocky Mountain National Park to make sure you hit the highlights.
Breaking Down The Seasons
Though this incredibly popular national park is one of the most visited in the United States, with over 4.6 million visitors recorded in 2019, deciding when to visit Rocky Mountain National Park largely depends on what you hope to see and do during your visit — contending with crowds won't necessarily dampen the experience if you know what to expect. Each season in Rocky Mountain National Park has unique offerings and considerations.
Winter (Dec.–Mar.): The Best Time For Solitude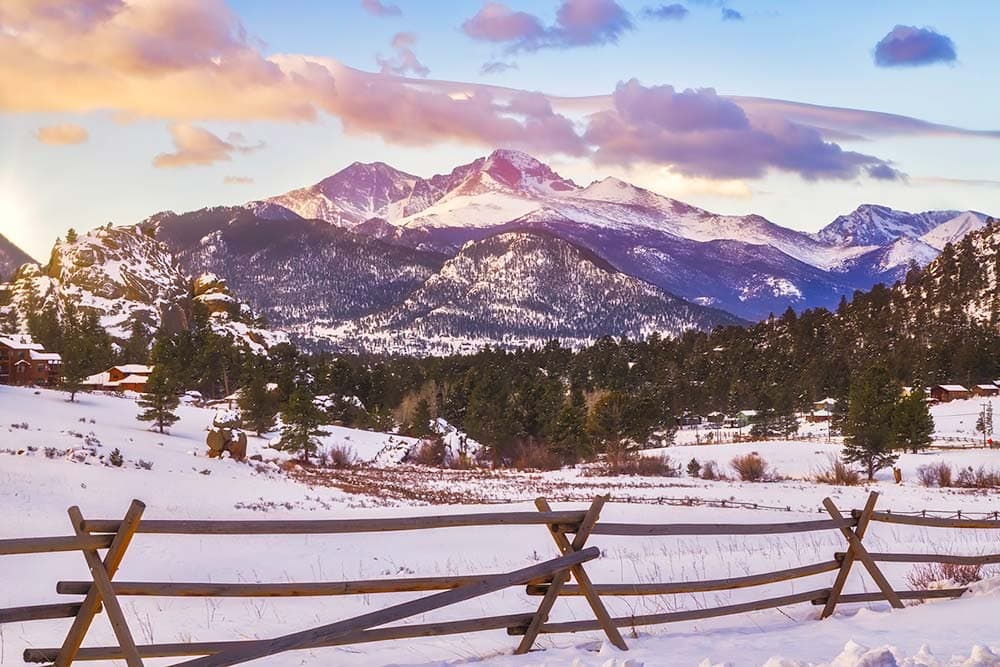 With the proper gear and preparation, winter recreation in Rocky Mountain can be a great way to explore the park without the usual summer crowds. During the winter, lower-elevation terrain on the east side of the park is usually free of deep snow. The west side of the park typically sees more snow, less wind, and colder temperatures. And if you plan to head to higher ground, be ready for deep snowpack, high winds, and the potential for blizzard conditions. Most high-country overnight trips require gear suitable for -35 degrees or below. It gets cold, to put it mildly.
Winter brings a variety of recreational activities, however. Cross-country skiing and snowshoeing are best in January, February, and March once there's adequate snow coverage at lower elevation. Or you grab your touring setup and head on a tour deeper into the park — after checking the avalanche conditions. Kids will like sledding at Hidden Valley.
If you're up for a bit of winter camping, Moraine Park Campground stays open year-round and sites are available on a first-come, first-served basis in the winter. More extreme adventurers can head into the backcountry for the full solitude of winter wilderness camping. Make sure you know what you're doing; winter camping can require serious survival skills.
Overall, winter is a quieter season for the park. Trail Ridge Road is closed and there are fewer amenities in town. There will be fewer people in the park and also less wildlife out and about. But if you're looking for a chance to get a little peace and quiet and see the park in all its splendor, winter is a great time to visit — just remember to pack your layers.
Related Read: 11 Best Winter Hiking Destinations in Colorado
Spring (Apr.–May): The Best Time For Adventurous Outings
Spring in the Rocky Mountains can be unpredictable, and even though you might think winter sports would be transitioning to spring activities, the park can still get occasional snowstorms and below-freezing temperatures well into May.
When it does start to warm up, you'll have to contend with snowmelt and other consequences of thawing on trails and at campsites. The snowmelt produces beautiful wildflowers at low elevations in late April or early May, but you may still encounter deep snowpack on the peaks. The streams will be running high, making it a great time for waterfall photography. It's always a good idea to check current conditions before heading out.
Generally, spring is a good time to get in a few last snowshoe or ski tours and then trade in your winter gear for your hiking boots. Camping will largely be restricted to accessible backcountry sites and Moraine Park Campground, with the park's other campgrounds typically opening in late May or early June. Trail Ridge Road usually opens in late May.
Though the logistics of springtime travel in Rocky Mountain National Park can be a bit challenging, if you visit with a flexible mindset and don't mind dealing with the varying conditions on a given day, you can find some truly beautiful corners of the park as the mountains begin to shrug off the deep freeze of winter.
Related Read: 9 Estes Park Cabins with Hot Tubs for Soakin' in the Mountains
Summer (Jun.–Aug.): The Best Time For Wildflowers and Camping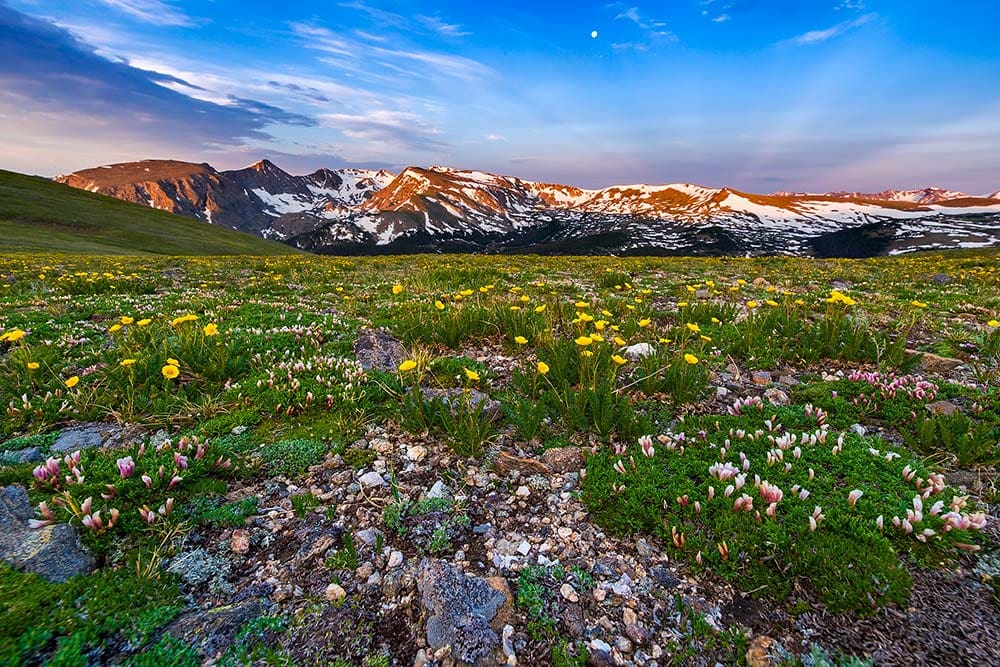 Summer in the park is a glorious affair. The wildflowers are blooming in full swing from last May to early August, and conditions are prime for hiking, backpacking, trail running, climbing, and horseback riding. Afternoon thunderstorms are common at high elevations, so be sure to plan accordingly if you're peak bagging or heading up above treeline.
Other great summer activities include camping, fishing, wildlife watching, or simply taking a scenic drive around the park. If you're hoping to camp in the park, be sure to book your reservations as far in advance as possible since the park's sites fill up quickly. There are also a few first-come, first-serve campgrounds — get there very early if you hope to snag a spot.
Summer is the busiest time of the year. Come prepared for traffic and lines and know that parking at the trailheads will be at a premium. You'll have to work a bit harder and hike a bit farther get away from the crowds.
Related Read: 10 Unique Swimming Holes in Colorado
Autumn (Sep.–Nov.): The Best Time For Wildlife And Fall Colors
September is normally one of the busiest months in Rocky Mountain National Park, primarily as the yearly "leaf peepers" come to enjoy the golden aspens that usually change color in mid-September.
If you time your visit right, September and October see clear, crisp days with cooler nights and generally drier weather, making it a great time for outdoor activities and camping (while the weather holds.) The first snows arrive in November and the park transitions to winter activities. Trail Ridge Road usually closes for the winter around mid-October.
If you're particularly interested in seeing some of the park's big game, wildlife watching this time of year is spiced up by the annual elk rut, which begins in September and continues through most of October. Though you can see elk year-round in the park, the mating season offers a chance to snap some pics (from a safe distance) of the park's resident elk herd.
There isn't a clear answer on when to visit Rocky Mountain NP since each season offers something extremely different. The breakdown above offers guidance, but you never know what you may get – you could have an oddly warm December, or find snow flurries into July. But as long as your goal is experience the park and seeing the beauty it offers, you wont be disappointed, no matter what Mother Nature has in store.
Related Read: 9 Glorious Places to See Colorado's Fall Colors
Explore More of Colorado
Sign up for the Weekend Wanderer to join thousands of readers getting epic travel ideas every week.
---