Have a free weekend and want to get out of town? You don't have to drive far from Austin to reach another place worth your while.
Sure, there's plenty to see and do without leaving Austin's city limits, but when the travel itch hits, the state capital's location in central Texas makes it the perfect starting point for your weekend adventure. From metropolitan adventures to nature escapes, these are the best weekend road trips from Austin.
Quick note: As you're planning your getaway, just keep in mind that traffic can get bad around the big city centers during the morning and evening rush hours. To spend more time exploring and less time on the road, it's in your best interest to plan your drives around these busy time periods. Or at least have some podcasts pre-downloaded.
Related Read: 9 Best Texas Scenic Drives for Enjoying the Lone Star State Countryside
1. San Antonio
Austin is neighbors with another one of Texas' major cities: San Antonio. Nicknamed both Alamo City and the River City, San Antonio is known among other things for its historical attractions, amusement parks, and Hispanic heritage. It was founded all the way back in 1718 so it has plenty of history on offer.
While you're in San Antonio, you can't miss seeing two of the top attractions not just in the city, but in the whole state: The Alamo (the famous 18th-century mission), and the River Walk, a picturesque stretch of shops and restaurants along the water. Aside from those spots, make time to see the other beautiful Spanish missions. Along with the Alamo, they form a collective national historical park and are listed as a UNESCO World Heritage Site.
If you love a good theme park, you'll be happy to know there are two big ones in San Antonio. First, there's Six Flags Fiesta Texas, which is full of roller coasters and other thrill rides. Then, there's SeaWorld, which is the country's largest marine life park.
Distance from Austin: 80 miles
Drive time without stops: 1 hour, 20 mins
Related read: The 8 Best Weekend Road Trips from Dallas, Texas
2. Fredericksburg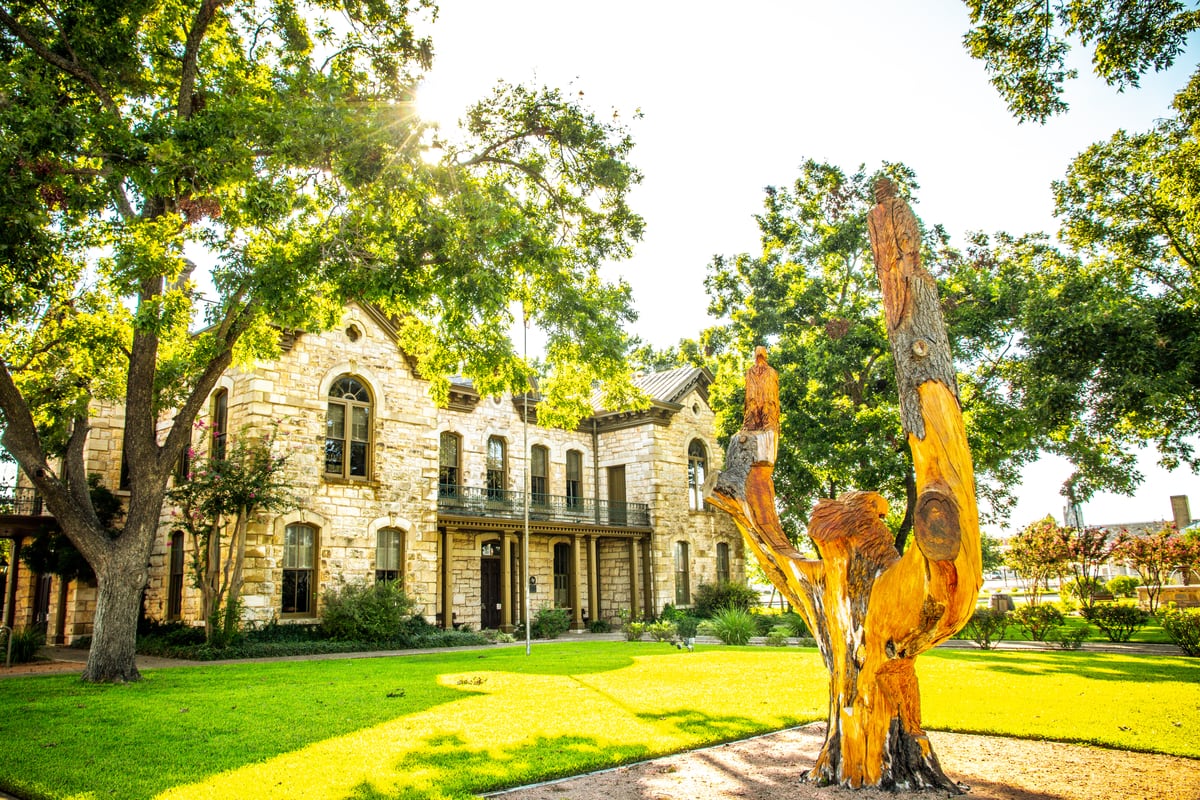 Good news, vino lovers: there's no need to fly to Sonoma to have a wine-themed getaway. Fredericksburg is the center of the Texas wine country and the best weekend trip from Austin if you're obsessed with all things pino. From here, you can easily book a wine tour or shuttle, or you can make your own itinerary by hopping between the many tasting rooms in the city center and the vineyards in the immediate surroundings.
Not into wine? Fredericksburg still has a lot to offer its visitors. For history buffs, there's the National Museum of the Pacific War as well as the Pioneer Museum. For hiking enthusiasts, Enchanted Rock State Natural Area is has views to justify its impressive name.
Another thing that makes Fredericksburg unique is its German heritage. The city was founded by German immigrants in 1846, and you'll see that celebrated in some of the local restaurants and biergartens (yes, they have biergartens!)
Distance from Austin: 78 miles
Drive time without stops: 1 hour, 30 mins
3. Houston
Houston is the largest city in Texas by population and by area. Needless to say, you'll find more than enough to fill your itinerary if you choose to spend your weekend trip from Austin here.
It may be hard to believe, but Houston has over 150 museums and cultural institutions, and you can hop between many of them with a visit to the city's Museum District. Some of the best include the Houston Museum of Natural Science, the Museum of Fine Arts, The Menil Collection, and the Holocaust Museum.
If it's your first time in Houston, you'll also want to visit Space Center Houston (the city is called "Space City," after all). This attraction is the official visitor center of NASA and features awesome exhibits on science and space exploration, including real and replica spacecrafts.
You'll also find a few beloved green spaces tucked into Houston's sprawling city landscape. Buffalo Bayou Park, Hermann Park, Memorial Park, and Discovery Green are all popular spots with locals and the perfect spot for a picnic or walk in between museum visits.
Distance from Austin: 162 miles
Drive time without stops: 2 hours, 30 mins
4. Dallas
A straight shot north from Austin on I-35, Dallas is one of Texas' biggest cities. Given that fact, you can settle down in the neighborhood that best matches your interests, or spend a little bit of time checking out a few of the city's unique pockets.
Does your perfect day sound like hopping between local boutiques, galleries, and restaurants? Then the Bishop Arts District (slogan: "Dallas' most independent neighborhood") is calling your name. Interested in catching some live music? Deep Ellum, a neighborhood known for its entertainment venues and nightlife, is the place to go. Want to shop 'til you drop? Then it's Uptown for you. In terms of variety, the city offers plenty, even if you have a group of travel companions taking a weekend trip from Austin all interested in different activities.
Museum-wise, there's quite the range here from the Dallas Museum of Art to the Perot Museum of Nature and Science to the Nasher Sculpture Center. Another top attraction is the Sixth Floor Museum at Dealey Plaza, which commemorates JFK's life, death, legacy, and is located in the spot from which Kennedy's assassin took aim.
Distance from Austin: 195 miles
Drive time without stops: 3 hours
5. Corpus Christi
Austin may not be on the coast, but a weekend is definitely enough time to get there and have some leisurely fun in the sun. South of Austin on the Gulf Coast, Corpus Christi is a popular weekend trip from Austin for beach-minded Texans.
Close to the city center, you have North Beach and McGee Beach, but drive a little bit further and you can get to Padre Island – the world's longest barrier island – where you'll find the popular Whitecap Beach. Near there is also Mustang Island State Park, which offers more than five miles of coastline and lots of opportunities for camping, paddling, and birdwatching. You can have a party type of atmosphere, or more of a "relax and feed the seagulls" type of weekend.
It's not just about fun in the sun in Corpus Christi, though. Other local attractions include the Texas State Aquarium (a nonprofit aquarium dedicated to conservation and rehabilitation), The Selena Museum (honoring Selena Quintanilla-Pérez, the late "Queen of Tejano music"), and the USS Lexington (a World War II aircraft turned museum).
Distance from Austin: 199 miles
Drive time without stops: 3 hours, 20 mins
6. Galveston
Near Houston, Galveston is another option for a coastal weekend trip. With 32 miles of shoreline, the island has a few different beaches where you can post up for the day. Another way to enjoy that ocean air is to walk along the historic Seawall, which dates back to 1902 and was built for protection from hurricanes.
Speaking of 1902, Galveston has quite a few beautiful historic sites. There's the Strand Historic District (a national historic landmark district with Victorian-era buildings) as well as Bishop's Palace and Moody Mansion, two impressive Victorian mansions you can tour. Are they haunted? Up to you.
If you can find some time to step away from the beach, head to Moody Gardens, a popular attraction recognizable by its three large pyramids. There's one with an aquarium, one with tropical flora and fauna, and one with science exhibits and activities. For even more fun, you can pay a visit to Schlitterbahn Waterpark.
Distance from Austin: 215 miles
Drive time without stops: 3 hours, 45 mins
7. Garner State Park
If you're getting out of town because you want to connect with nature and get away from the concrete vibes for a bit, the best weekend trip from Austin for you will be Garner State Park, which spans over 1,700 acres and has 16 miles of trails to hike. It's a nearly perfect place to get away for the weekend. West of Austin in Concan, it's one of the most popular state parks in Texas.
Since a few miles of the Frio River run through the park, it's particularly nice to come here when the weather is warm so you can go for a swim or float the river. Another reason to come during the summer? The park's famous nightly Summer Dances at the park's concession building and dance pavilion, a tradition that started back in the 1940s.
In terms of camping, there are tent sites, screened shelters, and cabins available, and you can make reservations online.You can also rent on-site everything you need for water-bound fun, like inner tubes, paddle boats, and kayaks.
Distance from Austin: 175 miles
Drive time without stops: 3 hours
Related Read: The 9 Best State Parks Near Austin, Texas
8. Lost Maples State Natural Area
Not too far from Garner State Park is another popular place to commune with nature: Lost Maples State Natural Area in Vanderpool. Totaling about 2,900 acres, this area is famous for its fall foliage, so plan for a weekend trip from from Austin in October or November if you want to try and catch the beautiful transformation of colors. There's even a fall foliage color report you can check online that's updated weekly during the season.
Even if you go to Lost Maples during a season other than autumn, you'll be in for a good time. You can hike over 10 miles of trails; the East and West Trail loops in particular take you to some pretty great views. There's also fishing in the Sabinal River or Can Creek (you don't need a license to fish from a shore or pier here), and birdwatching (keep an eye out for the endangered golden-cheeked warbler).
Lost Maples has 30 campsites with water and electricity as well as primitive campsites you can backpack to, all of which you can reserve online in advance.
Distance from Austin: 143 miles
Drive time without stops: 3 hours
More Weekend Getaways in Texas
Sign up for Weekend Wanderer to join thousands of readers getting epic travel and gear ideas every week.
Was this article helpful?
---