We research, evaluate and select travel destinations based on a number of factors, including our writers' experience, user reviews and more. We may earn a commission when you book or purchase through our links. See our editorial policy to learn more.
Was this article helpful?
---
There's no denying the charm of Chicago, with its elevated trains and bustling theater district, but there's something special about the promise of fresh air and tranquility found at a cabin.
Midwesterners love nothing more than cabin getaways, which offer a rare opportunity to slow down, disconnect, and recharge in beautiful surroundings. Luckily, Chicago's prime location in the heart of the Midwest makes it easy to escape to the peaceful countryside or the shores of the Great Lakes.
With the nearby lakeshores, state parks, and quaint small towns, Chicagoans have plenty of fantastic getaways at their fingertips. So the next time you crave an escape from The Second City, venture out to one of these charming cabins near Chicago.
Related Read: Best Cabin Rentals in Illinois
1. The Writer's Cabin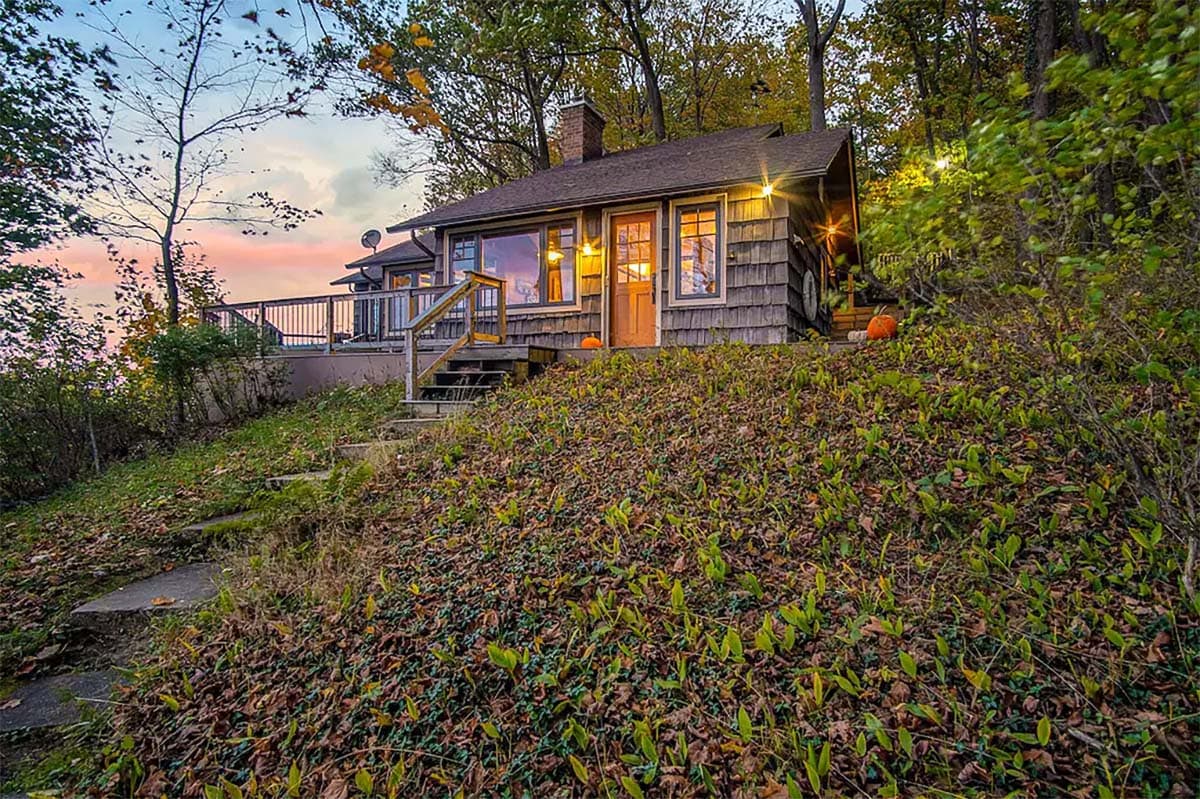 Why you should stay: A Lake Michigan cabin perched atop a hill not far from Michigan's Saugatuck Dunes State Park.
Location: Holland, Michigan
Sleeps: 6
Minimum stay: 3 nights
Rates from: $750/night
The Writer's Cabin is a storybook three-bedroom on a quiet 60 acres of wooded lakefront. Once owned by the notable scientist and author Paul De Kruif, it's clear how the cabin's seclusion and elevated views of the lake once acted as a place for work and inspiration. Today, the interior has been updated with modern conveniences while maintaining much of the home's original old-world charm.
Outside, guests can view the Big Red Lighthouse on the horizon from the cabin's wrap-around deck, and the yard features a gravel fire circle with stump stools under the canopy of dense foliage. The hosts have also equipped the home with kayaks and paddleboards for those who want to get out on the lake. This charming cabin is not far from Holland, one of Michigan's beloved beach towns, about two and a half hours from Chicago.
Check Availability
Related Read: The Best Great Lakes Islands for a Scenic Midwest Vacation
2. Dunefarmhouse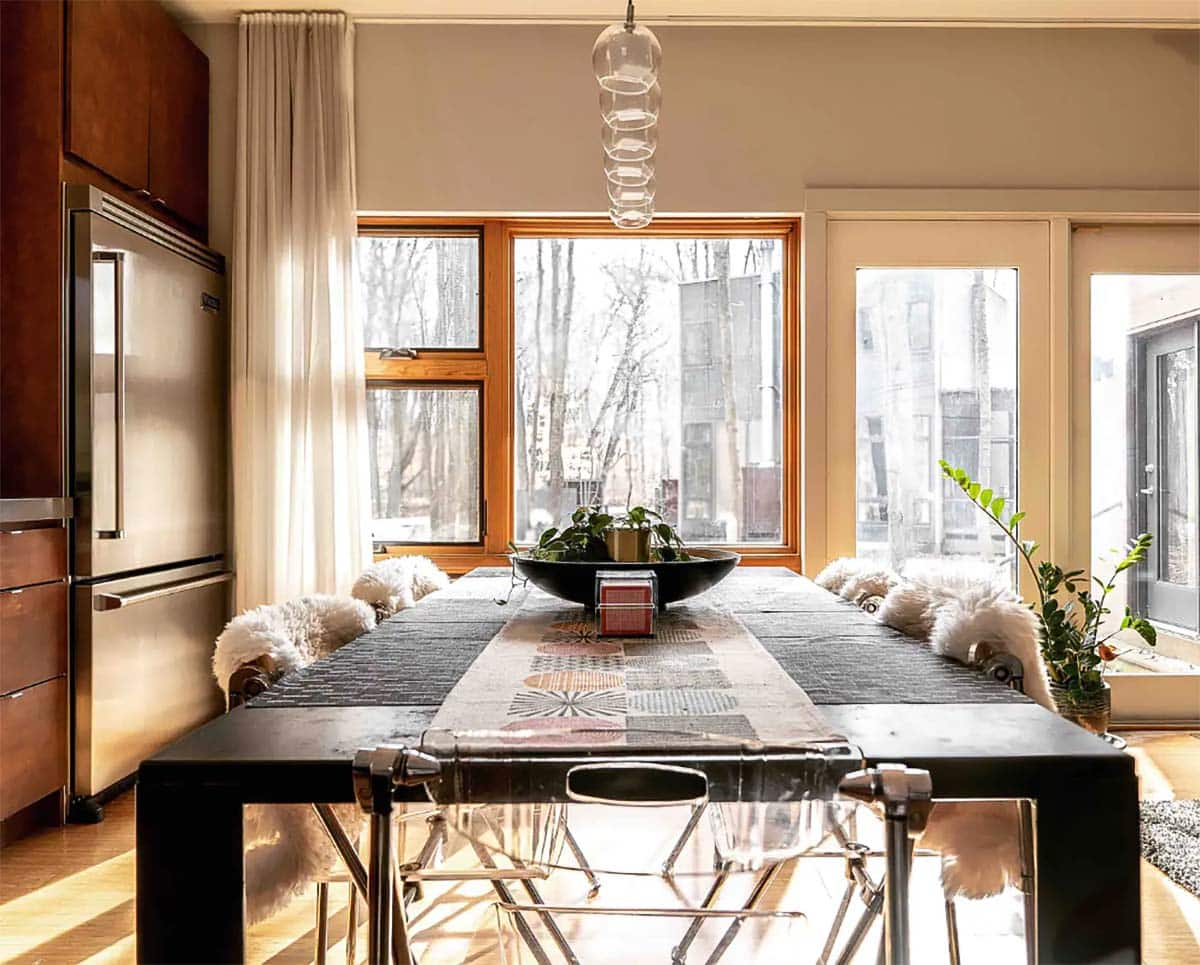 Why you should stay: A modern home immersed in wooded privacy on an old dairy farm just over an hour from Chicago.
Location: Michigan City, Indiana
Sleeps: 4
Minimum stay: 2-3 nights
Rates from: $255/night
Escape to the woods in style at the Dunefarmhouse, a contemporary home on a sprawling property dubbed Tyron Farm. This two-bedroom home is easy on the eyes and offers exceptional amenities, including a wood-burning fireplace, screened-in porch, and mid-century modern touches.
Guests are invited to stroll along the marked 5k trail that crosses the wooded property, and exciting Michigan City attractions like Washington Park Beach and Indiana Dunes National Park are nearby, offering plenty to do during your stay. Tyron Farm is located about a ten-minute drive from the shops and restaurants found in downtown Michigan City.
Check Availability
Follow 'em: @Dunefarmhouse
3. Getaway Starved Rock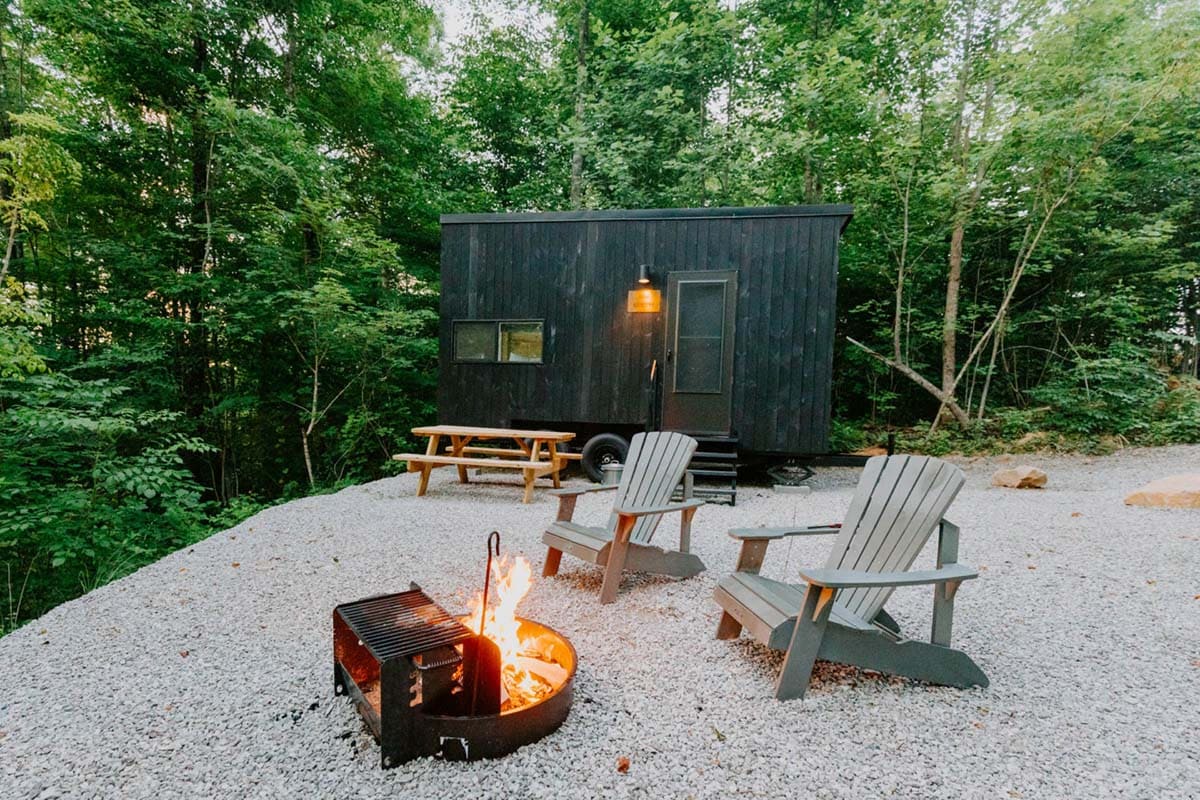 Why you should stay: A peaceful glamping resort with well-appointed tiny cabins just 20 minutes from Starved Rock State Park.
Location: Ottawa, Illinois
Sleeps: 2-4
Minimum stay: 1 night
Rates from: $145/night
Camp out in style at Getaway Starved Rock, a glamping resort with locations across the nation. The Starved Rock site features nearly 60 cabins spread out on more than 250 acres, ensuring a bit of privacy during your stay. Each tiny cabin is equipped with temperature control, plush linens, and hot showers. Dogs are more than welcome, and guests are provided with pet supplies if needed.
The "glampground" is conveniently located near a few state parks, including Starved Rock, Matthiessen, and Illini, offering plenty of hiking and picnicking opportunities. The Illinois River also flows nearby, providing a lovely spot to tan and play in the water when the weather is warm. Getaway Starved Rock is about an hour and a half southwest of Chicago.
Check Availability
Follow 'em: @GetawayHouse
4. Heavenly 7 Retreat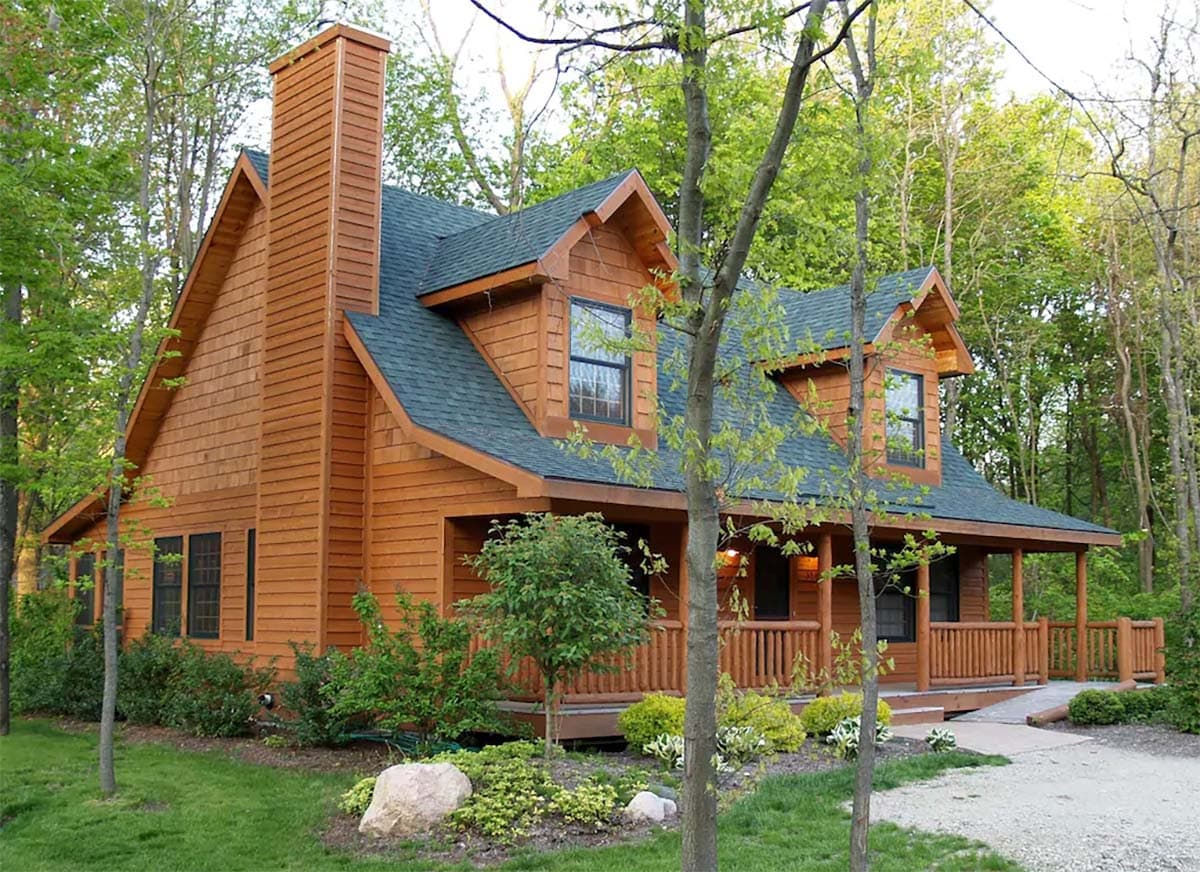 Why you should stay: A family-friendly log cabin in a residential community with access to a heated swimming pool and nearby beaches.
Location: Saugatuck, Michigan
Sleeps: 8
Minimum stay: 2 nights
Rates from: $299/night
Aptly named, Heavenly 7 Retreat provides a lovely place for much-needed R&R. The home's open floor plan features vaulted ceilings and a floor-to-ceiling stone fireplace, creating a bright and welcoming environment. Cozy accents fill the space, including knotty pine walls and outdoorsy decor that perfectly embody the classic cabin atmosphere of the Midwest. The magic continues in the primary bedroom with a private, spa-like bathroom equipped with a double vanity and a jacuzzi tub.
Guest Mike shares, "Heavenly 7 Retreat was beyond our expectations! The "log cabin" was spacious and comfortable, and the owner thought of all the amenities that a family would need and then some. The beds were very comfortable and the rooms were spacious."
Check Availability
Related Read: 7 Best Great Lakes Destinations for an Unforgettable Vacation
5. Hüüsli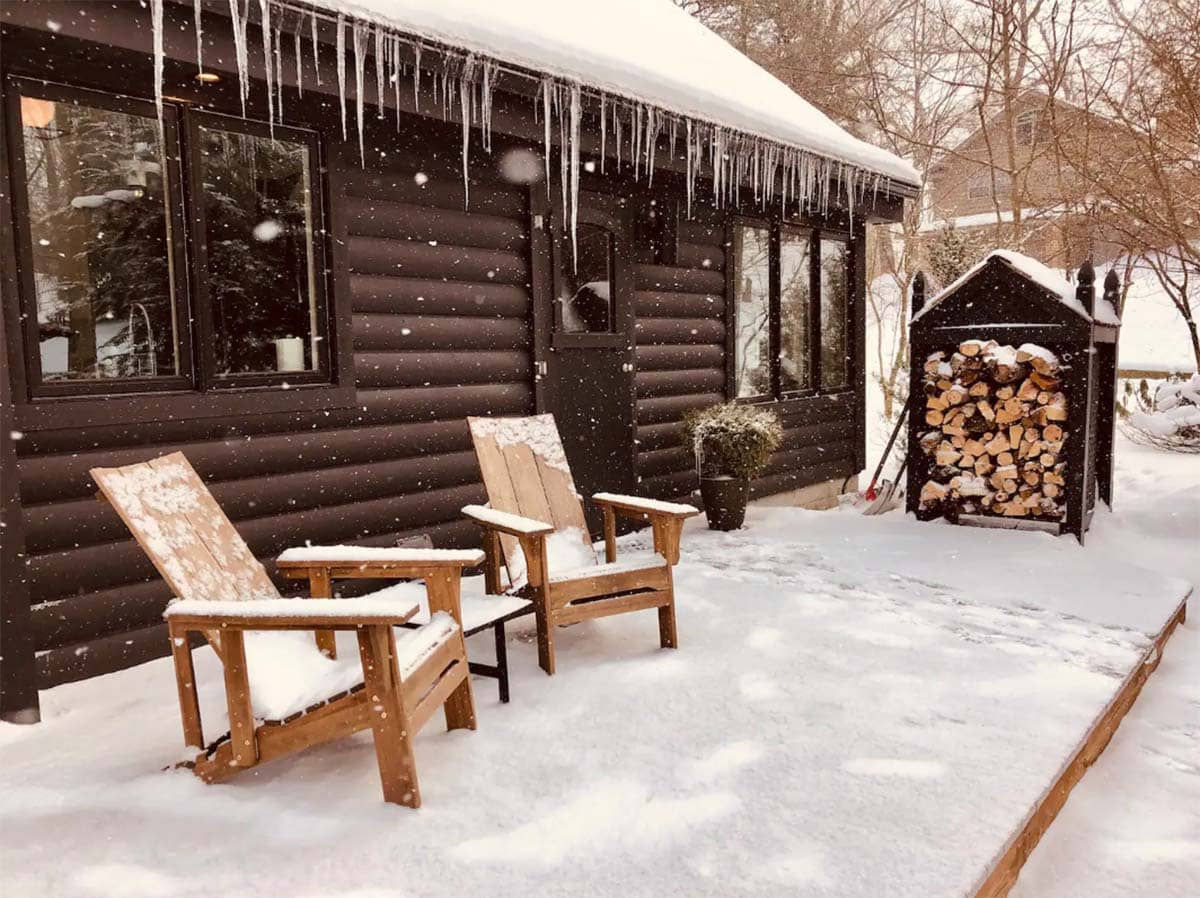 Why you should stay: A romantic cabin with modern amenities just over an hour from Chicago.
Location: Michiana, Michigan
Sleeps: 4
Minimum stay: 2 nights
Rates from: $249/night
Hüüsli is a bright and airy little cabin that provides a lovely escape to the beach. Every inch of the interior has been thoughtfully curated, from the calming neutrals to the contrasting exposed beams. The wood-burning fireplace in the living room ensures a cozy evening when it's chilly, and the kitchen's well-stocked coffee corner promises an energizing start to each day.
In the four-season room, a seating area and dining table are cozy places to work from home, dine, or play games. You'll find this two-bedroom getaway in a charming little beach community near New Buffalo, Michigan City, and Indiana Dunes National Park.
Check Availability
Follow 'em: @Huusli_Cabin
6. Kingfisher Cove Cabin 27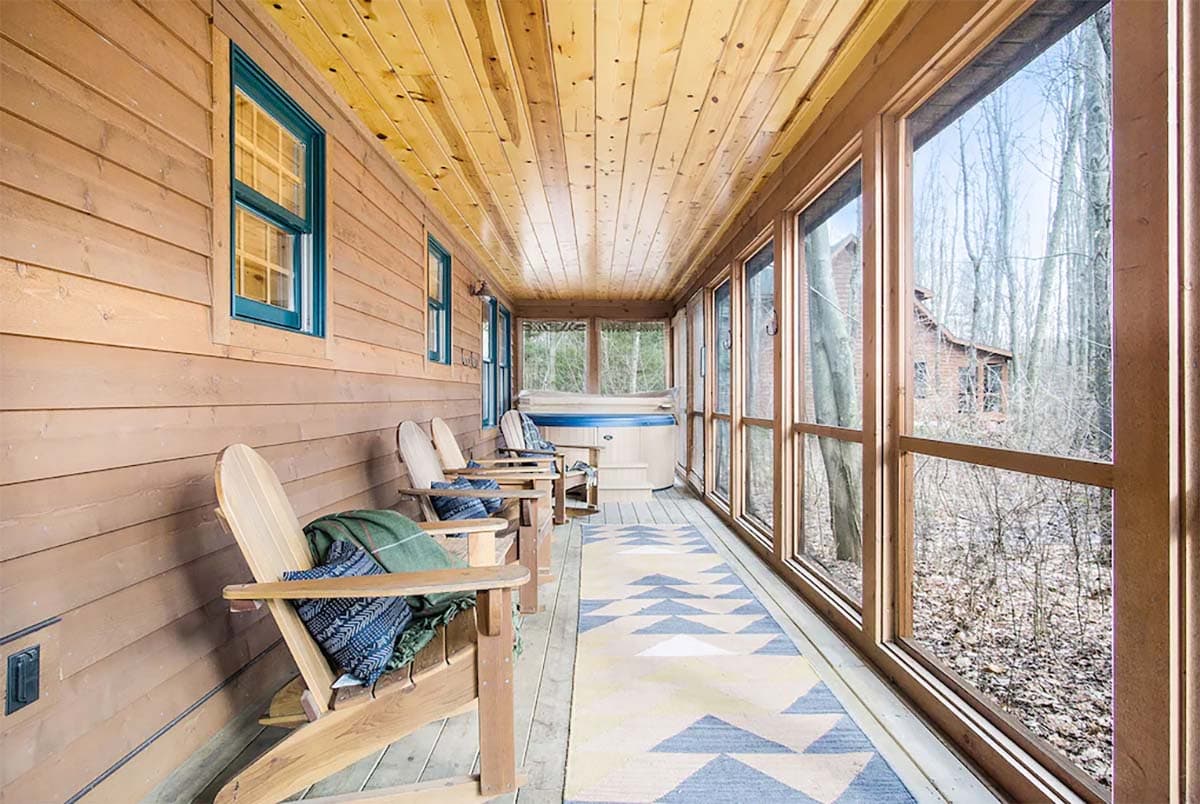 Why you should stay: A cozy three-bedroom cabin in the woods with a hot tub.
Location: Saugatuck, Michigan
Sleeps: 8
Minimum stay: 2 nights
Rates from: $286/night
Kingfisher Cove Cabin 27 is a spacious three-bedroom abode in Saugatuck, Michigan, one of the state's biggest LGBTQ vacation spots. Situated on a peaceful property near Goshorn Lake, this rental is ideal for big-city folk itching to relish small-town living. The property is located just a short drive from downtown Saugatuck, known for its many shops, galleries, restaurants, and beautiful Oval and Douglas beaches.
Inside, the home's open-concept living area features a fireplace and comfortable seating, while the fully equipped kitchen offers everything needed to prepare delicious meals. The outdoor space is equally impressive, with a screened-in deck complete with a grill and plenty of seating, perfect for enjoying some fresh air. Guests can also relax and unwind in the hot tub, surrounded by the serenely calm woods.
Check Availability
7. The Buffalo House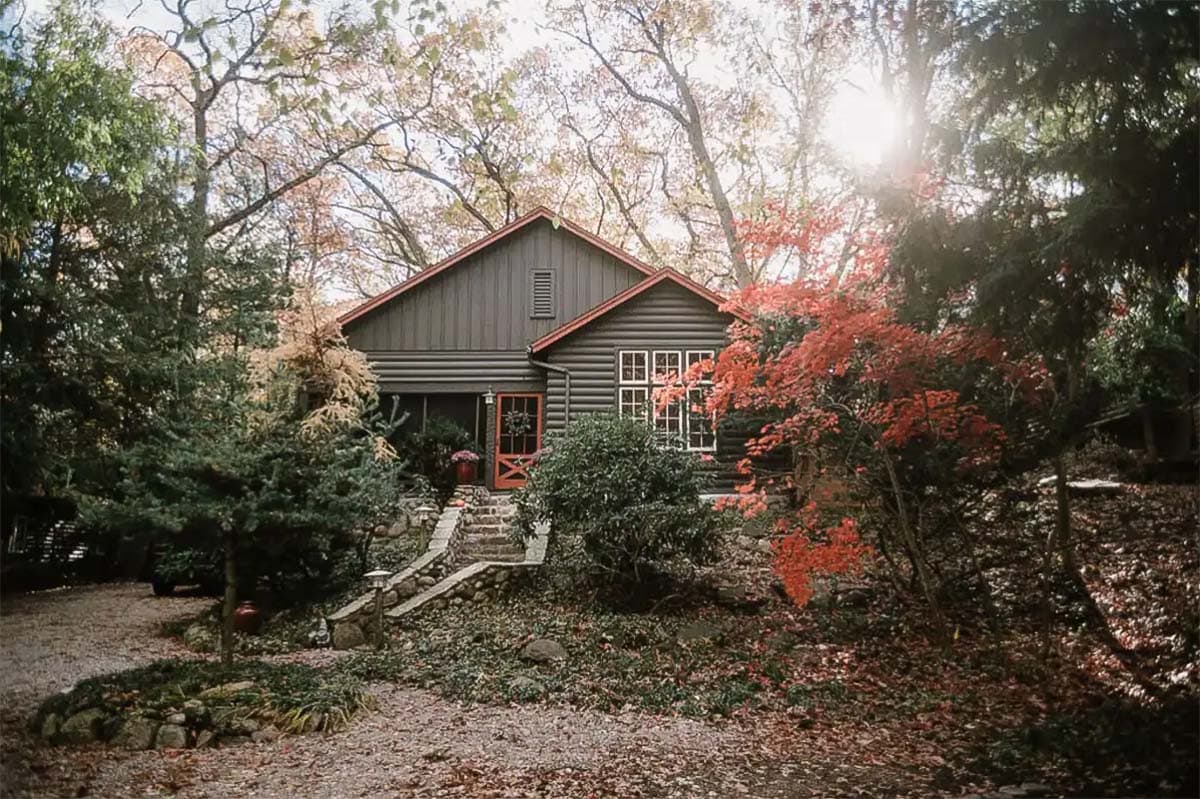 Why you should stay: A quaint 1932 log home within walking distance of the sandy shores of Lake Michigan.
Location: Michiana, Michigan
Sleeps: 8
Minimum stay: 1-2 nights
Rates from: $225/night
The Buffalo House is a 1932 log home that has been lovingly restored into the homey vacation rental it is today. Although updated with modern conveniences, retro elements like wood paneling and taxidermy decor play on the home's antique charms, creating a space that feels like an old hunting lodge. Other incredible amenities include the sunroom and fire circle, where guests can grill and roast marshmallows.
Summertime visitors can take their pick from the various beaches around Michiana, including one just a block away from the property. Visiting kiddos will love the trampoline and treehouse in the yard, as well as the nearby park. The Buffalo House is conveniently situated on the Indiana and Michigan border, just over an hour from Chicago.
Check Availability
Follow 'em: @BuffaloHouseMichigan
8. Waya's Den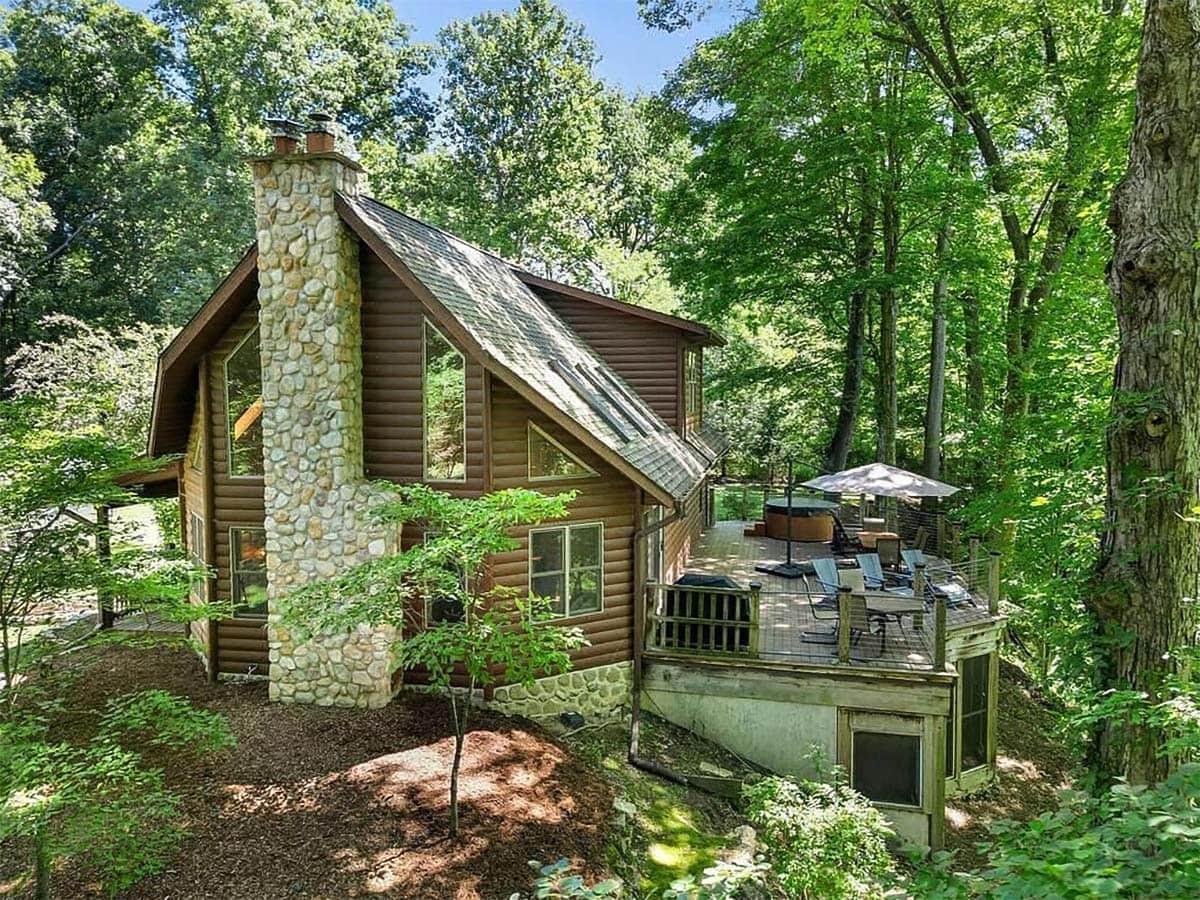 Why you should stay: A spacious riverfront cabin with a hot tub that welcomes pets along the border of Michigan and Illinois.
Location: New Buffalo, Michigan
Sleeps: 14
Minimum stay: 3-7 nights
Rates from: $700/night
Waya's Den is a massive log home boasting three stories and four bedrooms, making it ideal for large groups looking to spend quality time in the countryside. One step inside this exceptional home and you'll be immediately taken by the grand chalet-style windows, towering stone fireplace, and gleaming wood elements.
The home features plenty of lounge space, including a second living area in the basement, a lower-level screened-in porch, and an open-air deck complete with a hot tub and grill. Every morning guests are treated to the peaceful sights and sounds of the passing Galien River and the surrounding canopy of trees. During your stay, take advantage of popular things to do in the area like a tour of Journeyman Distillery in Three Oaks, the Whittaker Golf course, and of course, the area's beaches.
Check Availability
Explore the Midwest
Get epic travel ideas delivered to your inbox with Weekend Wanderer, our newsletter inspiring thousands of readers every week.
Was this article helpful?
---