We research, evaluate and select travel destinations based on a number of factors, including our writers' experience, user reviews and more. We may earn a commission when you book or purchase through our links. See our editorial policy to learn more.
Was this article helpful?
---
America's Great Lakes are easily the most under-appreciated bodies of water in the world. Despite being filled with lakeside towns, bustling cities, sprawling parklands, and even islands, they have never received the global attention they deserve.
This is a shame because, as anyone who's visited knows, the lakes are absolutely stunning. They don't look like lakes, they look like oceans, and they aren't just bodies of water, they're the economic center of the Midwest. They were also important to indigenous people who lived in the region as long as 6,000 years ago, making them steeped in histroy as well.
There's no better way to experience the Great Lakes than by visiting one of their numerous islands. From party hotspots to off-grid wildlands, you can find a little bit of everything in the Great Lakes. Check out these island getaways in Superior, Huron, Michigan, Erie, and Ontario.
Lake Erie
Bordered by Ohio, Michigan, New York, Canada's Ontario province, and even a little slice of Pennsylvania, Lake Erie is the most bustling of all the lakes.
It's also famous for where it drains into Lake Ontario…perhaps you've heard of a little destination called Niagara Falls? The islands in Lake Erie are populated, lively, and draw big crowds during the summer.
South Bass Island, Ohio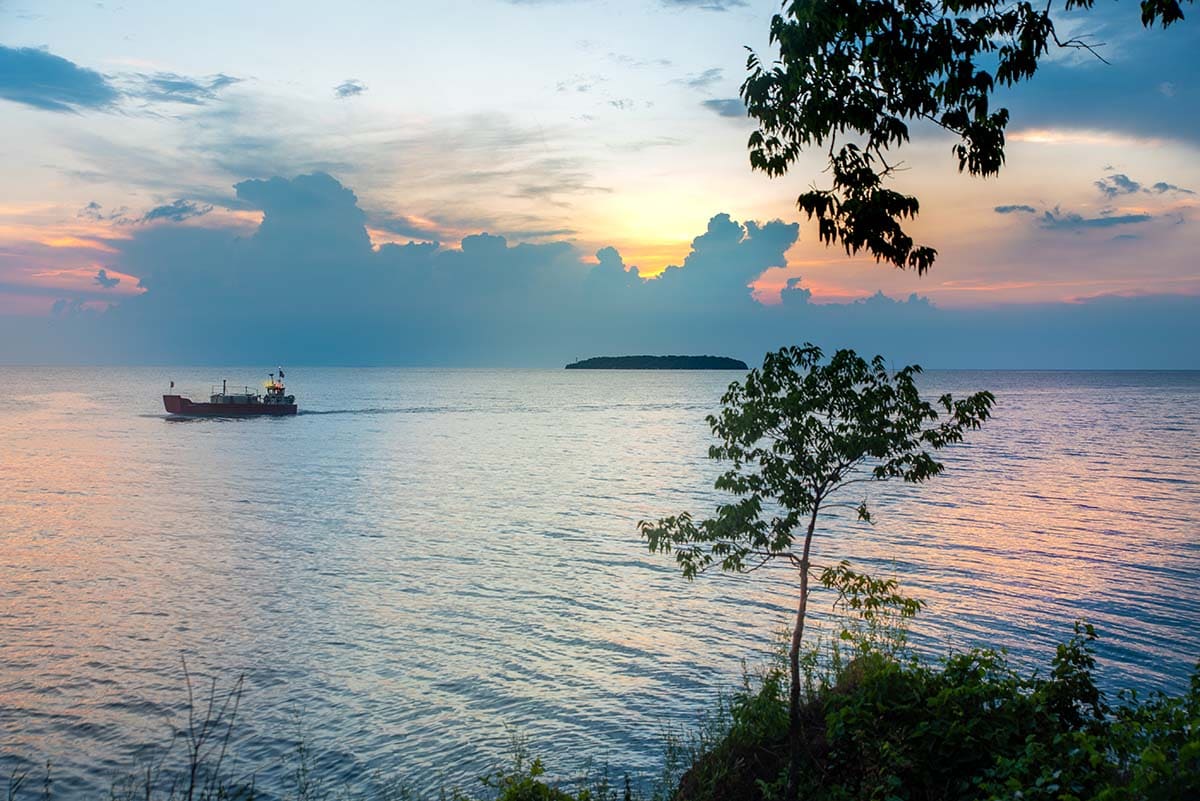 People visit Ohio's South Bass Island for a few reasons — It's beautiful, there are some parks, and even a few monuments — but the real reason people visit is to party in the town of Put-in-Bay.
Loaded with small hotels, vacation rentals, and lots of bars, the town is Ohio's party hotspot. It's a little like mixing Key West with New Orleans' French Quarter. This obviously isn't everyone's cup of tea, but for those who want to party hard (with gorgeous lakeside views), this is the place.
Popular hotels include the Put-in-Bay Resort and the Grand Islander Resort, and popular bars include the MIST Pool Bar, where you can rent cabanas and sip cocktails by the pool, and Joe's, one of the island's oldest establishments.
Kelleys Island, Ohio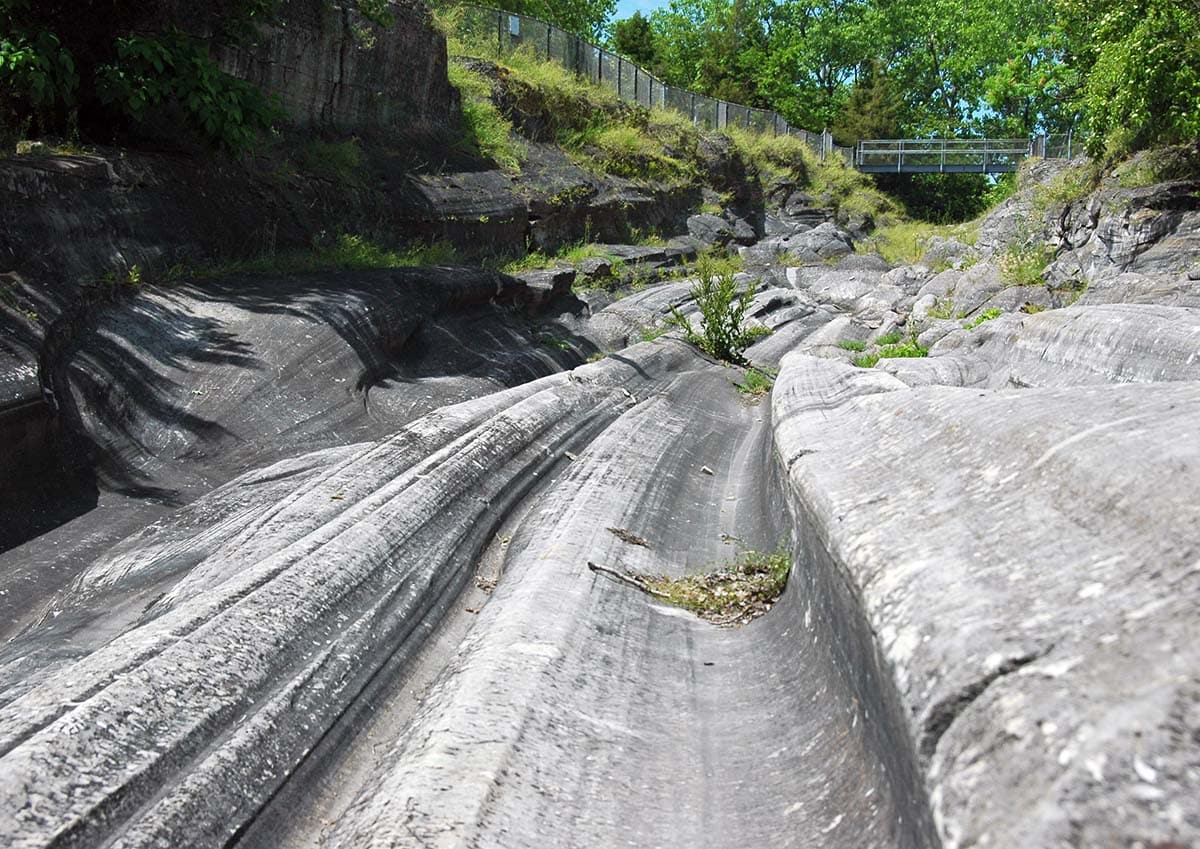 Conveniently, a majority of Lake Erie's islands are located right next to each other. South Bass sits directly next to North Bass and Bass Island (also called Middle Bass), and just a few minutes away is Kelleys Island. Here's a brief history lesson for everyone — the Great Lakes were created by a glacial recession during the Wisconsin Glaciation (our most recent ice age). As the glaciers slowly moved, they plowed down everything in their path, and as they melted, they filled up the valleys they created, forming the Great Lakes. The melting started about 10,000 years ago and didn't finish until just about 4,000 years ago.
Kelleys Island is now famous for its glacial grooves at Kelleys Island State Park, where visitors can see large sections of exposed rock that's thousands of years old and has been perfectly smoothed from the grinding of glaciers. At one point in time, the island was also partially submerged, and now fossils of corals can be found in some of the rock. It's a great destination for those who love learning about history and exploring the outdoors.
In recent years the island has seen more development but it remains way calmer than South Bass. You can also easily transfer between the two islands on the Jet Express.
Related Read: 7 Best Great Lakes Destinations for an Unforgettable Vacation
Lake Michigan
Bordered by Michigan and Wisconsin, Lake Michigan is a lake of contrasts. From giant metropolises like Chicago and Milwaukee to sand dunes, pastoral farmland, and rugged cliffs, Lake Michigan is both the center of the Midwest, but also worlds away from city life and the daily grind.
Washington Island, Wisconsin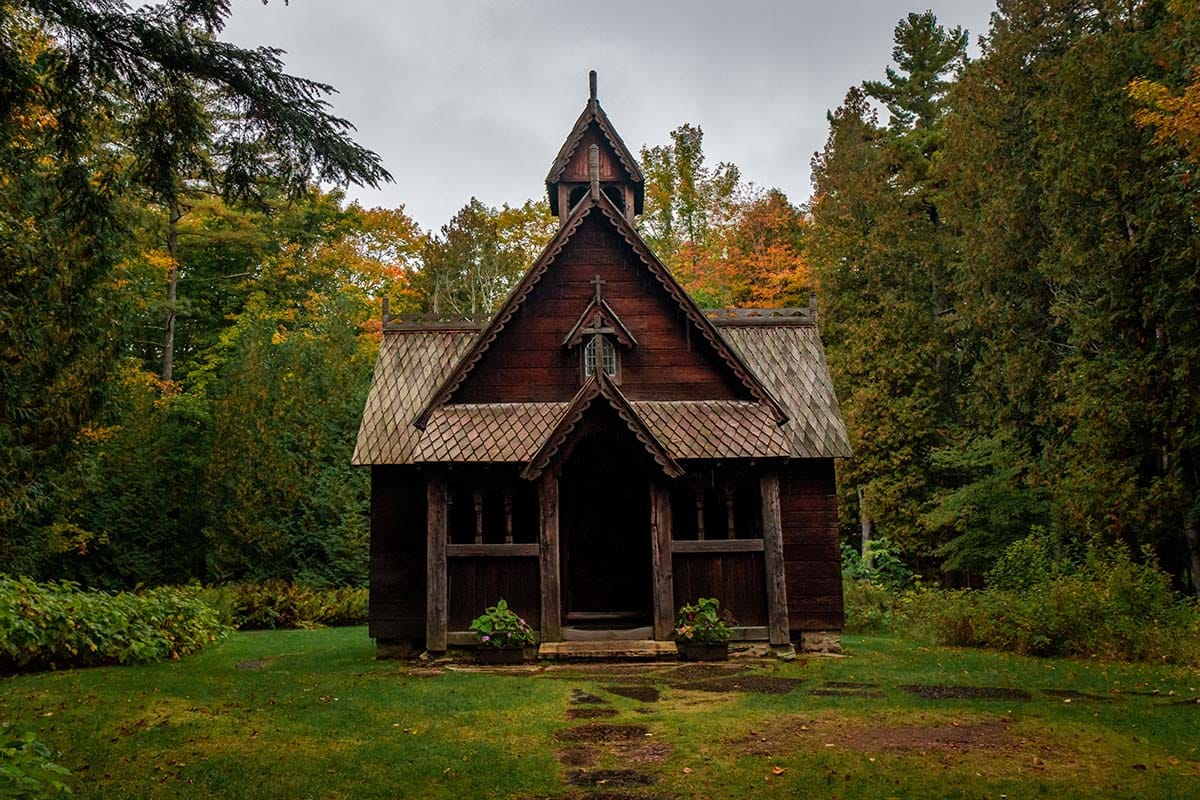 Washington Island is a large island off the coast of Wisconsin and is loaded with a collection of things to see and do that you might not expect. The island has a massive lavender industry and you can visit to take a stroll through the fields or to buy products handmade from local lavender. There's also a seriously cool (and a bit creepy) medieval Norweigaian church, the Stavkirke, which is a tribute to Wisconsin's Nordic heritage.
There's tons of lodging options on the island as well, spanning everything from historic inns to campgrounds, making it a great destination for overnight stays. When it's time for food, a cant-miss experience is the Albatross Drive-In, which serves up throwback classics like burgers, banana splits, and, being Wisconsin, cheese curds. Washington Island is the place to go if you want a good dose of variety.
Beaver Island, Michigan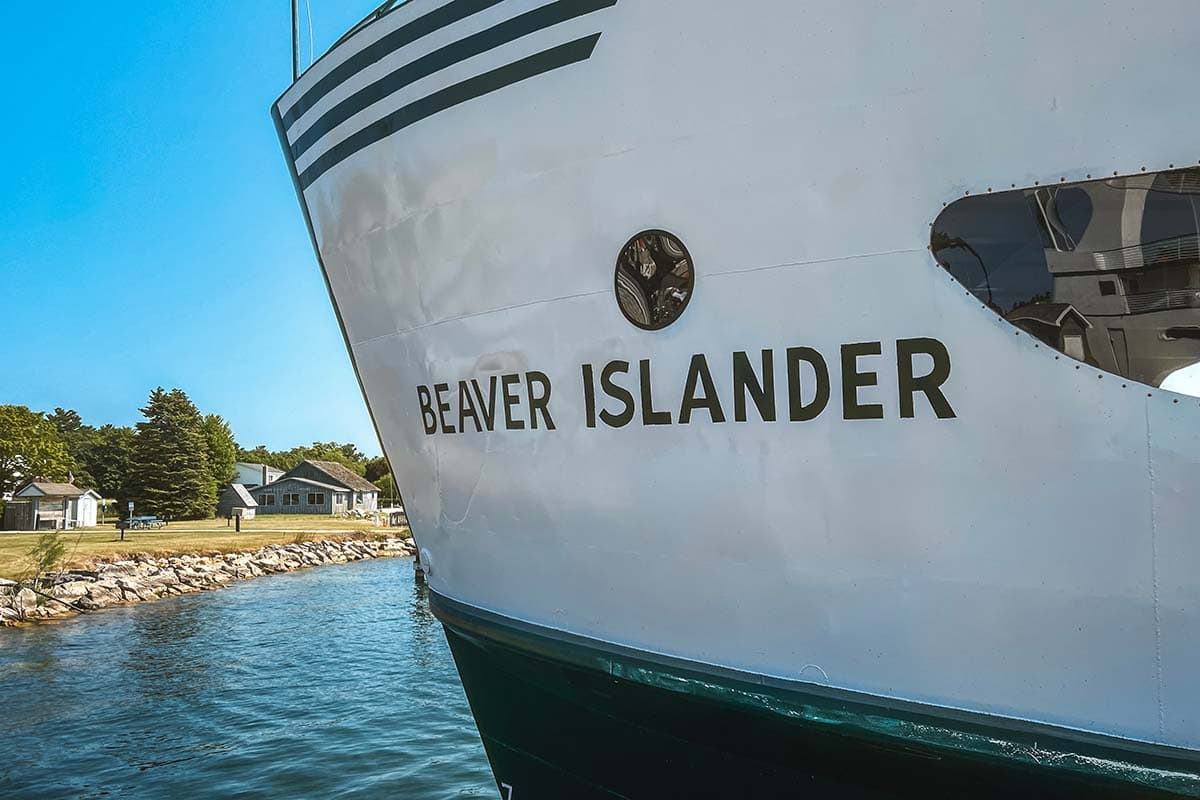 Located northwest of Michigan's Lower Peninsula, Beaver Island is an outdoorsman's paradise. There are a few small towns offering inns, cottages, restaurants, and bars, but the real draw is the outdoor opportunities. The island is loaded with nature preserves and trails, perfect for hiking and biking, and thanks to the deep, clean waters Lake Michigan is known for, the island is a popular destination for fishing.
This isn't the kind of place you visit to party hard. Instead, it's where you go to unwind, unplug, and experience the beauty of the lakes. So bring your fishing pole and a good book, and spend the weekend disconnecting from the busy world around you.
Related Read: 8 Cozy Cabins Near Chicago Offering an Escape to Nature
Lake Huron
Making a border between Michigan and Canada, Lake Huron is best known for Mackinac Island, easily the most famous of all the Great Lakes islands. But beyond Mackinac, Lake Huron is a stunningly beautiful destination with tons to do for those who enjoy the outdoors.
Mackinac Island, Michigan
One of the few Great Lakes islands that has some international clout, Mackinac Island is historic, beautiful, and filled with adventure. For those who crave luxury, a stay at the island's famous Grand Hotel is a must. From afternoon tea to horseback riding, the Grand Hotel is a throwback to the resorts of yesteryear.
And speaking of yesteryear, no cars are allowed on the island. Instead, you get around by walking, biking, or horse-drawn carriages. Another old-timey tradition on the island is its fudge. Mackinac is famous for the chocolate treat and has been producing it since the 1800s. A ferocious debate ensues about which of the island's shops makes the best fudge — is it May's, Ryba's, or Murdick's? You'll just have to visit and decide for yourself.
For those who love the outdoors, be sure to rent a bike and make your way around the island on the Lake Shore Trail which is 8 miles total and rims the entire island, giving you breathtaking lakefront views the whole way.
Drummond Island, Michigan
View this post on Instagram
Drummond Island was once a logging hotspot, and during its heyday, there were even two rail lines on the small island with steam engines hauling timber toward the harbor. Nowadays, the island is much more laid back and a majority of it is preserved as park space. Thanks to its protected status, the island is home to rare and endangered plants and animals, including rare orchids.
Drummond Island is loaded with hiking trails during the summer and snowmobile trails during the winter, but offshore is even more exciting. Paddling opportunities, shipwrecks, and even an island park — Harbor Island National Wildlife Refuge — make Drummond Island perfect for water lovers.
For visitors, the Drummond Island Resort gives the full lodge experience with lots of taxidermies and exposed timber, and lakefront vacation rentals offer more privacy for those looking to escape.
Lake Superior
The biggest lake in the Great Lakes and the largest freshwater lake in the world by surface area, Lake Superior is massive and offers 2,800 miles of shoreline (that's the distance from Washington DC to Portland, Oregon). It's also the most rugged and wild of the Great Lakes, being known for its wildlife and adventurous surroundings.
Apostle Islands, Wisconsin
Wisconsin's Apostle Islands National Lakeshore is made up of 21 islands that have been carved into intricate and beautiful shapes thanks to thousands of years of erosion. That erosion has also created stunning sea caves that can be kayaked through during the summer and walked through during the winter when the lake freezes over.
Surprisingly, there's also wildlife on the islands. The NPS says that it's not uncommon to find bears, deer, and foxes on the islands. Some come over on the ice during winter, but others actually swim out to the islands since they're close to the mainland.
The National Lakeshore protects 21 islands — but there's actually 22 islands in the archipelago. The largest, Madeline Island, is not part of the park and is its own incorporated area. There, you can explore the island's history at the Madeline Island Museum, take a hike at Big Bay State Park, or stay overnight at The Inn on Madeline Island.
Related Read: 7 Enchanting Treehouse Rentals in Wisconsin
Isle Royale, Michigan
Shotty cell service, only a few buildings on the entire island, and with less than 26,000 visitors last year, Isle Royale National Park is a true disconnection from the modern world — and that's exactly why visitors love it so much.
The main island has 165 miles of hiking trails through forests and meadows, and along the shore, swimming, paddling, boating, fishing, and even scuba diving are popular activities. Most visitors come to Isle Royale to see true nature, unspoiled by overtourism. What they find are towering balsam firs, gorgeous red maples, and many flowering plants that are arctic disjuncts, meaning their native habitats are much further north, but because of the island's unique climate, they've been able to call Isle Royale home.
The park is also a haven for animals, with foxes, wolves, moose, and otters all thriving on the island. Surprisingly though, one species the island doesn't have is bears.
Lake Ontario
Lake Ontario is the end of the road for the Great Lakes. The water that started in Lake Superior flowed into Lake Michigan and Lake Huron, which then poured into Lake Erie, and then literally plummeted over Niagara Falls into Lake Ontario. From here, the water will make its way to Quebec along the St. Lawrence River before draining into the Atlantic Ocean. But despite being the final (and smallest) of the Great Lakes, Lake Ontario has lots to offer.
Toronto Islands, Ontario
Just off the coast of downtown Toronto are the Toronto Islands, a collection of 15 small islands and isles. Though these islands are small, they have an incredible array of diversity – sprawling greenspaces, an airport, a marina, a residential neighborhood, and even a small amusement park.
You can go biking, grab lunch, sit by the shore, or even ride a log flume…all with the towering Toronto skyline as your backdrop. It's a beautiful destination, and its uniqueness only adds to its charm. And with the Toronto region having almost 10 million residents, they're a great escape from the crowded city.
Wellesley Island, New York
Where the St. Lawrence river meets Lake Ontario, you'll find New York's Wellesley Island. It's a great mix of rustic and luxury, with sweeping coastal views, gorgeous autumn colors, and excellent hiking, camping, and paddling at Wellesley Island State Park.
But the island is also home to a beautiful golf course at the Thousand Islands Country Club (open to the public) and the quaint town of Thousand Island Park, which is home to a yoga studio, art gallery, restaurant, pub, and small inn.
Just off the coast is an even smaller island, Heart Island, home to the Boldt Castle. This was once the vacation home of George C. Boldt, the proprietor of the famed Waldorf Astoria hotel in Manhattan. These days the castle is open for tours, showing off the home's stunning interior and unique history, similar to the gilded mansions you'd find in Newport.
Explore More in the Midwest
Get epic travel ideas delivered to your inbox with Weekend Wanderer, our newsletter inspiring more than 10,000 readers every week.
Was this article helpful?
---